Thanksgiving is a time to be grateful! And what better to be grateful for than delicious Thanksgiving leftovers? Enjoy these 27 Best Thanksgiving Leftover Recipes and menu ideas featuring quick and easy, sweet and savory side dishes and entrees for breakfast, lunch, and dinner!
Whether you have leftover turkey, mashed potatoes, cranberry sauce, or sweet potato pie, you name it, I have you covered. Check out this comprehensive roundup of delicious leftover recipes designed to make your meals the day after Thanksgiving just as great as on the big day itself.
From Thanksgiving Leftover Turkey Casseroles to Mashed Potato Tacos and Pumpkin Pie Pancakes, there is something for everyone, even your pickiest eaters. Keep the celebration going with these delicious Thanksgiving leftover recipes!
Easy Thanksgiving Leftover Turkey Tetrazzini – Grits and Pinecones
If you are like me, you typically have more Thanksgiving leftovers than you know what to deal with. This recipe for Easy Leftover Turkey Tetrazzini will have you wishing you had leftover turkey all year long. The good news, cooked chicken, is a great substitute!
Turkey Pasta Bake – Girl Heart Food
Looking for an easy leftover turkey idea? Turkey pasta bake is the answer! This Turkey Pasta has plenty of turkey, artichokes, and sun-dried tomatoes. It's generously topped with cheesy mozzarella and baked up until golden brown and bubbly. Sure to be a favorite in your home as it is ours.
Thanksgiving Leftover Game Day Sliders – Berly's Kitchen
Thanksgiving Leftover Gameday Sliders are a great way to use Thanksgiving leftovers in one simple sandwich. These sliders are perfect for lounging in front of the television after a long day of cooking.
Leftover Turkey Salad – Pudge Factor
Want an easy and delicious way to use some of your leftover Thanksgiving turkey? If so, you should try this Leftover Turkey Salad. It takes minutes to make and is awesome on crackers.
Is your's a more sophisticated taste? Then fill pita bread with lettuce, tomato, and Leftover Turkey Salad for an excellent brunch or lunch! Better yet, pair it with potato salad and cucumber dill salad for a light and refreshing dinner!
Creamy Leftover Thanksgiving Turkey and Wild Rice Soup – Grits and Pinecones
Tired of the same old Thanksgiving turkey leftovers and need a change? I have just the thing for you, Creamy Leftover Turkey and Wild Rice Soup! It's a great way to transform leftover Thanksgiving turkey into a hearty and satisfying meal.
Paleo Cranberry Crumb Bars – Bakerita
These Paleo Cranberry Crumb Bars use leftover cranberry sauce to make an irresistible gluten-free, refined sugar-free, and vegan dessert. The crumb mixture doubles as the crust and crumb topping.
Easy Thanksgiving Leftover Turkey Egg Rolls – Grits and Pinecones
Crispy and delicious, Easy Leftover Turkey Egg Rolls with cranberry dipping sauce is the answer to the age-old question, what to do with the leftover Thanksgiving turkey and cranberry sauce?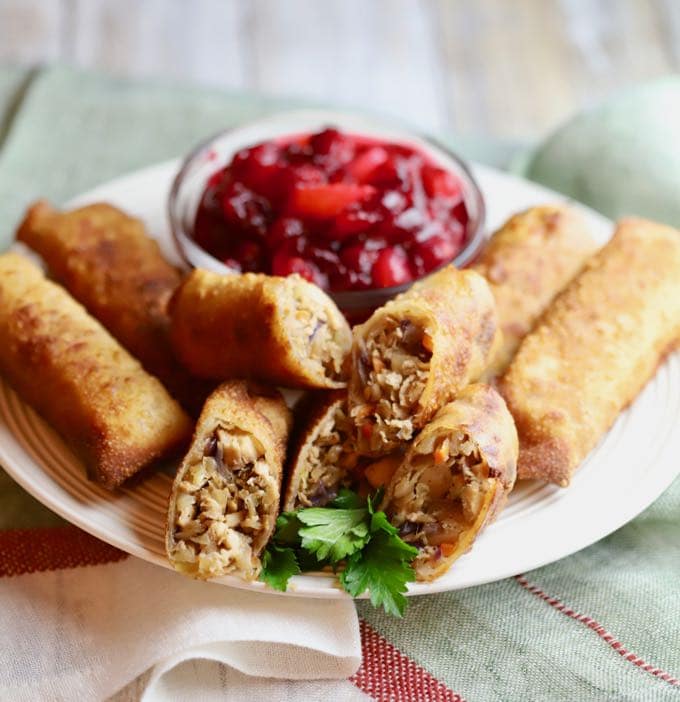 Leftover Pumpkin Pie Pancakes – The Hungry Waitress
Pumpkin Pie Pancakes are best served with a sweet jam or cranberry sauce. Use up that leftover Pumpkin Pie!
Bacon-Wrapped Stuffing Bites – Who Needs a Cape
Bacon-Wrapped Stuffing Bites are a wonderful holiday appetizer! Use up leftover stuffing and wrap thick, flavorful bacon around for the perfect treat.
Turkey Pot Pie – Sugar Spun Run
Made in a cast-iron skillet with seasonal sweet potatoes, fresh rosemary, and a hint of smoked paprika, this Turkey Pot Pie is the perfect way to use up the last of your Thanksgiving turkey leftovers!
Best and Easiest Leftover Turkey Chili Recipe – Grits and Pinecones
This is the best and easiest Leftover Thanksgiving Turkey Chili Recipe you will ever prepare. It's the perfect post-Thanksgiving dish, and, best of all, it answers the question of what to do with all that leftover turkey.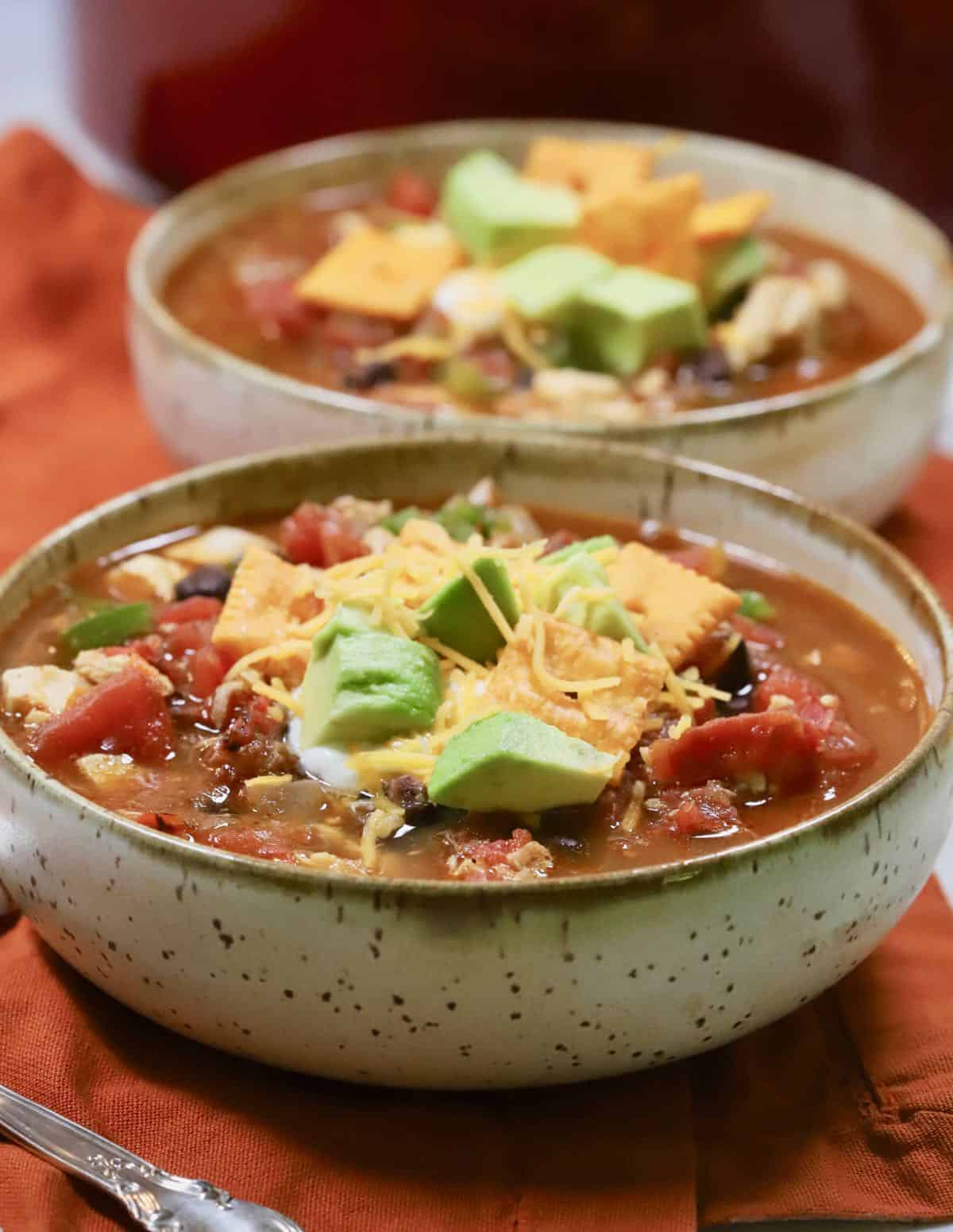 Turkey Tortilla Soup – Beyond the Chicken Coop
Thanksgiving dinner is a big deal and takes a lot of planning. Even when I start planning for the holiday dinner, I also start planning for the leftovers! The leftovers are just about as important as the main dinner!
This turkey tortilla soup is a must for the after-holiday menu. It's delicious, easy to make, and uses up that huge turkey you just had to make!
Thanksgiving Leftovers Crescent Dough Bombs – Sugar Spun Run
Need an easy recipe to use up some of your Thanksgiving leftovers? These Thanksgiving Crescent Dough Bombs are the perfect baked lunch or appetizer recipe to use up leftover turkey, stuffing, cranberry sauce, and sweet potato casserole.
Loaded Crispy Baked Potato Croquettes – Grits and Pinecones
Loaded Crispy Baked Potato Croquettes are a delicious, quick, and easy way to use up leftover mashed potatoes after Thanksgiving, or anytime for that matter.
Turkey Pasta Skillet – An Italian In My Kitchen
Leftover Chicken or Turkey Pasta Skillet is the perfect leftover pasta dish. Just add your favorite veggies, mushroom and peppers are a great choice, and some cut-up leftover turkey and lunch or dinner is served. Delicious!
Thanksgiving Leftover Strata – The Flavor Bender
This Thanksgiving Leftover Strata transforms all your leftovers into a layered casserole that's chock-full of flavor with pockets of gooey cheese, crispy bacon, juicy turkey, sweet and tart cranberry sauce, all topped with crunchy croutons and a drizzle of cheesy turkey gravy!
Cranberry Maple Vinaigrette – Swirls of Flavor
Cranberry Maple Vinaigrette is an easy recipe for a homemade salad dressing that combines your leftover cranberry sauce with maple syrup and balsamic vinegar for a sweet and tangy vinaigrette that complements any salad!
Easy Cheesy Leftover Turkey Tetrazzini – The Hungry Waitress
Tetrazzini is a perfect leftover compilation of ingredients. You can use chicken, turkey, or vegetables. I learned to love Tetrazzini from when mom would make it from the turkey scraps from Thanksgiving. I almost looked forward to the Tetrazzini more than the Thanksgiving turkey! Almost…
Turkey Cranberry Panini – Happy Foods Tube
This is an easy recipe for turkey cranberry panini. Use the leftovers from your Thanksgiving dinner to create this easy and quick grilled turkey sandwich packed with flavors!
Thanksgiving Poutine (Thanksgiving Leftovers)- Savoring The Good
One of the most delicious ways to use Thanksgiving leftovers is to make this easy turkey poutine recipe. Instead of a turkey sandwich, serve the leftover turkey, giblet gravy, and cranberry sauce over crispy sweet potato fries and melty cheese curds to make turkey poutine. This recipe is so delicious, you might make Turkey poutine year-round!
Leftover Turkey Crepes – Pudge Factor
What does one do with leftover turkey? Well, in our house, we do two things. First, we boil the bones to make a rich broth and then make turkey soup. Second, we make these amazing turkey crêpes.
Thanksgiving Leftover Turkey Cristo – My Life Cookbook
This Thanksgiving Leftover Turkey Cristo is the most delicious way to eat your leftover turkey and cranberry sauce. The special sauce makes it!
Mashed Potato Tacos (Ultimate Vegan Comfort Food) – Shane and Simple
Mashed Potato Tacos! The perfect way not to let leftovers go to waste. Layered with vegan sour cream, hot sauce, crunchy fat-free potato chips, and delicious green onions. Vegan comfort food at its finest!
Turkey and Mashed Potato Casserole – Olivia's Cuisine
What if I told you there is a way to revamp all that leftover food into something delicious? No, not a sandwich! We all know turkey sandwiches are great, but this year we are looking for something better. So I see your turkey sandwich, and I raise you a Turkey and Mashed Potatoes Casserole! Ta-daaaaaaaa!
Thanksgiving Leftover Turkey Enchiladas – Grits and Pinecones
Are you wondering what to do with all of your Thanksgiving leftovers? Well, you could freeze them, but if you still have a house full of company and a plate full of leftover turkey, check out this delicious and easy leftover turkey enchiladas recipe.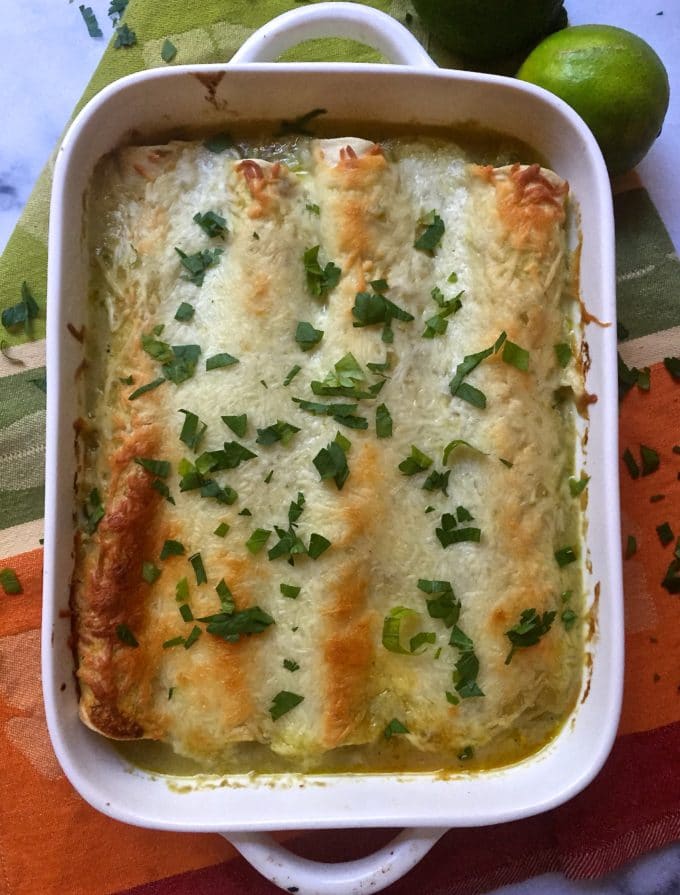 Leftover Pumpkin Pie Milkshake – The Rising Spoon
An over-the-top delicious milkshake recipe using a big slice of leftover pumpkin pie (yes, the whole thing – crust and all)! It blends up in less than 5 minutes and is simple to make dairy or gluten-free if desired. If you've ever needed an excuse to bake a pumpkin pie (besides Thanksgiving) and don't have any leftovers right now – this is it!
Mashed Potato Stuffing Cakes – My Organized Chaos
A delicious recipe for Mashed Potato Stuffing Cakes with mashed potatoes, stuffing, and even turkey. Perfect for Thanksgiving leftovers or Christmas dinner leftovers.
What food always has the most Thanksgiving leftovers?
If you guessed turkey, you would be right! It's followed closely by dressing or stuffing and then cranberry sauce.
What should I make the day after Thanksgiving?
Surprise your family or guests with one of these awesome recipes instead of the same old turkey sandwiches!
What can I do with holiday leftovers?
I'll bet you didn't know there were so many ways to repurpose Thanksgiving leftovers! I think some of these recipes sound even better than the original dish. 
Which are your favorites? Right now, for me, it's a close contest between the Mashed Potato Tacos and the Mashed Potato Stuffing Cakes. Can you tell I'm a lover of all things mashed potatoes?
Easy Christmas recipes:
Because Christmas is right around the corner, I thought you might be interested in getting a head start on your menu planning with these Christmas recipe collections:
And if you are a breakfast lover as I am, I know you will love this collection of 25 Best Christmas Breakfast/Brunch Recipes.
★★★★★ If you make this recipe, please leave a comment and give it a star rating. I would love to know how you liked it!
Thank you so much for visiting Grits and Pinecones! I hope you come back soon!