It's that time of year and children will be returning to school in just a few days. And, you are going to love these fast, easy, delicious and mostly make-ahead recipe ideas for healthy lunch box treats and after school snacks.
I've teamed up with my sister at the Pudge Factor Blog and other top bloggers to give you lots of options for quick and easy recipes. My hope is over the course of the school year you will come back to this post often and try them all!
These delicious Easy Mini Blueberry Hand Pies are a perfect snack or dessert for the big and little kids in your house. Full of fresh, nutritious blueberries, these cute, simple pies for busy people are just the thing for a make-ahead, back-to-school snack, a lunchbox treat or even a quick breakfast on the run.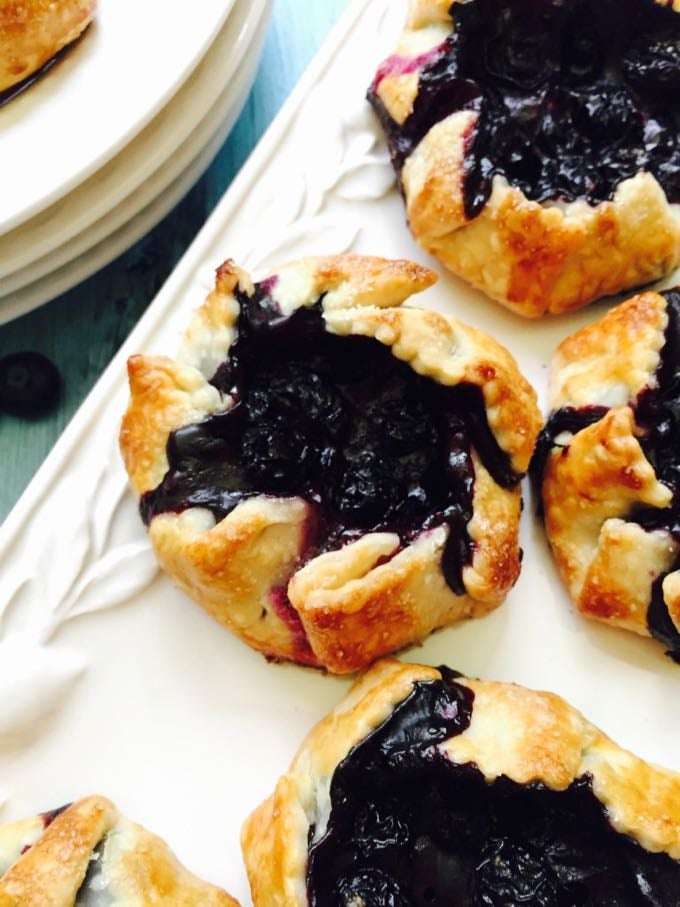 Chewy No-Bake Granola Bars are chock-full of healthy oats, almonds, dried cranberries, and chocolate chips. Unlike a lot of homemade granola bars, these delicious treats hold together when cut. They're simple to make and stay soft for up to a week in an airtight container. Granola bars, are the perfect snack to provide you with energy any time of the day.
There isn't much to them, really. You'll need to make up a batch of my Easy Peanut Butter Granola. You'll also need some fruit – you can use fresh or thawed from frozen. And you'll need some yogurt. Today I'm using raspberries and blueberries, with vanilla yogurt, for a patriot look for the 4th of July! But you can use any combination that suits your fancy. Simply layer your ingredients in a pretty glass or jar – granola, fruit, yogurt, fruit. Keep building layers until you have filled your container. Then dig in!
Plant-based carrot cake energy bites, vegan and gluten-free. It's a quick and easy no-bake snack that's healthy but still tastes like dessert, ready in 10 minutes!
This apple sandwiches recipe is not only pretty, but it's also lots of fun to make (and eat)! It's perfect for an after school snack or in a school lunchbox. You can even let the kids get involved to help make them. You can just prepare the apples and then let the kids take over for the fun part of the sandwich building!
A chewy, bite-sized snack made with Cinnamon PEBBLES™ and melted marshmallows, which are then formed into little round bites that are dipped in a cinnamon white chocolate coating. It's the perfect snack for your afternoon cravings!
These delicious frozen chocolate fruit bites are perfect for an adorable no-bake treat on a holiday party tray, after school snack, or kids party. These adorable bites are Vegan, Vegetarian, Dairy-Free, Gluten-Free! A healthy dose of fruit, peanut butter, and delicious dark chocolate.
A creamy dreamy hummus appetizer perfect for any gathering for all special diets.
Soft and chewy baked oatmeal squares, in perfect portions for snack-time. Gluten-free, dairy-free and peanut-free, making them a great choice for breakfast or school snacks!
These muffins are not only tasty but also good for your toddlers. Made with healthy ingredients, they are the ideal morning or afternoon breakfast for the whole family.These muffins are made with very little flour so they have an almost cheesecake-like texture. They are between savory and sweet: there is only a mild sweetness from the pumpkin and the added salt is very little in order to make them suitable for kids.
No-Bake Protein Peanut Butter Balls are an easy and healthy treat that you can pop in your mouth any time of the day. Energy packed with only 5 ingredients!
This amazing pesto pizza recipe takes less than 15 minutes to prepare and has only five ingredients. While this individual-sized pizza made with English muffins and topped with fresh tomatoes and bacon, isn't fancy-schmancy enough for a dinner party, it is the ultimate quick and easy afterschool snack for the kids or even a quick weeknight dinner.
These healthy no-bake cookies get the kid stamp of approval and feature a delightful flavor pairing of white chocolate and cranberries. We're guessing the grown-ups in your house will enjoy them as well!
Wholesome zucchini chocolate chip muffins made with honey and Greek yogurt are kid-friendly and toddler-approved. Perfect for busy mornings and on-the-go snacks, and you'll know everyone's getting a little green veg in each bite!
These stuffed cucumber bites are an easy cold appetizer or snack. They make a tasty addition to a picnic or packed lunch too.
This Veggie Wrap is loaded with healthy veggies, crunchy apples, and a spicy hummus for a kick. It makes a super quick and easy lunch or snack!
This easy, cheesy Pepperoni Pizza Quesadilla recipe takes just minutes to throw together! With fiber-rich whole grains and lots of protein, it's perfect as a quick meal or a hearty, nourishing, keep-you-powered-up snack! Plus, it's got all the delicious flavors of a pepperoni pizza – a total family favorite anytime!
18 Blueberry Cheesecake Snack Bites – 4 Sons R Us
With these Blueberry Cheesecake Snack Bites, you can have your cake for breakfast or as an afternoon indulgence and enjoy every last bite. Ditch the guilt, and grab one of these healthy snack bites when you need something filling that won't weigh you, or your conscience down.
These little muffins are perfect to have on hand for snacks throughout the week, and they are a great way to sneak some veggies into little bellies too!
If you like peanuts, you'll absolutely love these incredible Skinny Peanut Cookies adapted from Maida Heatter's Book of Great Cookies. They're called skinny because they spread to a thin wafer when they're baking. These cookies are filled and topped with peanutty goodness. It's hard to eat just one with their crispy edges, chewy interior, and crunchy peanuts and they would make a great after school snack or lunchbox treat!
Easy Watermelon Lemonade Ice Pops has to be the easiest recipe ever! With only two ingredients, fresh yummy watermelon, and frozen lemonade concentrate, and two steps you can have a delicious, light and refreshing after school snack or treat that your kids will love!
Well, what do you think? Isn't this an incredible list of yummy snacks and lunchbox treats? Leave me a comment and let me know which one of these snacks is your child's favorite or which recipe you plan to try first. Or, leave me a link to your favorite after school snack or lunchbox treat!