Thank you so much for coming along on my food blogging journey in 2015. It's been a wonderful experience and I have enjoyed every minute of it.
I'm still learning about the technology part, and still working on my cooking, and photography skills. I've had some folks mistakenly think that I must be a gourmet cook to embark on such an ambitious project, but that couldn't be further from the truth. I just have more time now that I am retired to try new dishes and experiment. I'm learning new things every day and I'm enjoying the process.
I thought you might be interested to know which of the 36 recipes I posted received the most attention in 2015. It turns out the most popular recipes were also some of the easiest to prepare!
More Most Popular Grits and Pinecones Recipes by Year:
The most popular recipes in 2015 in order of popularity are:
2. Chili Rubbed Pork Tenderloin with Apricot Glaze
3. Cornmeal Cookies with Tomato Jam
4. Chicken Mushroom Marsala Pasta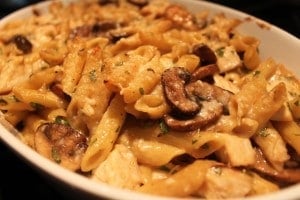 5. Gazpacho
6. Mushroom and Bacon Stuffed Pork Tenderloin
8. Cranberry, Pistachio and Apricot White Chocolate Bark
9. Caramel Soaked French Toast
10. Chocolate Peppermint Fudge
I started this blog in August, and have had over 1500 visitors. In the blogging world, this is really a small number. But, you have to start somewhere, and I appreciate each and every one of you that stopped by and supported me along the way.
I do have one favor to ask! If you have time, please leave a comment and let me know what types of recipes you might like to see next year!
I'll see you in 2016!
Merry Christmas and Happy New Year!
From my family to yours, we wish you beautiful moments, treasured memories and all the blessings a heart can know in this most joyous of seasons!
Sharon