I'm sure it wouldn't surprise you to know that chicken entrées make up the most popular dinner meal. Did you know that searches on Pinterest and the Internet for chicken recipes outrank all other recipe searches?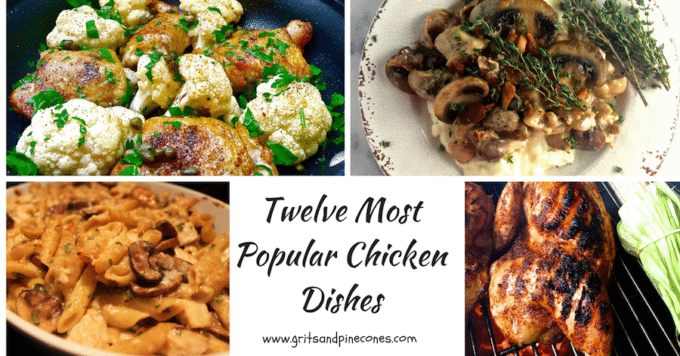 Today, I am sharing twelve of my most popular and most delicious chicken recipes. These no-fail chicken recipes have been viewed thousands of times and always get rave reviews. You have probably even made some of them yourself, so you understand what I'm saying. They are all delicious, quick and easy to prepare and great choices for the "what's for dinner tonight" dilemma. Try some or all of them and you will see for yourself why they are so popular!
For more information including a complete printable recipe for each dish, simply click on the recipe name.
1. Bacon, Mushroom, and Thyme Chicken
Are you looking for a great chicken recipe? Would you like to know how to prepare a quick and easy chicken entrée that will make your family and friends think you are a superstar in the kitchen? Well, hold on to your spatula because I have all that and more for you with tasty and popular Bacon, Mushroom, and Thyme Chicken!
2. Chicken, Sausage, and Wild Rice Casserole
This popular Chicken, Sausage, and Wild Rice Casserole will quickly become one of your "go-to" casseroles. You know the kind, a delectable casserole that you can always count on to turn out perfectly every time you prepare it. Plus, it's easy, quick to make, can be made ahead of time, freezes beautifully, and did I mention it is absolutely delicious?
3. Grilled Chicken Skewers with Tomato Relish
Just in time for the weekend, I have a popular, yummy, quick and easy grilled chicken dish for you. This foolproof recipe uses flavorful boneless, skinless chicken thighs which have been marinated in a delicious sauce of pineapple juice, soy sauce, and brown sugar and then grilled. And, as if it wasn't already tasty enough, the chicken is then topped with a bright, bold and scrumptious tomato relish made with grilled cherry tomatoes, scallions, and lemons which complement the complex flavors of the marinated chicken.
Nothing brings out the flavor of chicken like grilling and this popular recipe for Grilled Chicken is out of this world good. The smoke from the charcoal adds a taste that you can't get with any other cooking method. The secret to grilling great chicken is to season it first by putting a spice rub on it and then add the barbecue sauce in the last few minutes, right before you take it off the grill.
5. Chili Rubbed Chicken Thighs
Chili Rubbed Chicken Thighs is my second most popular recipe of all time, with over 1,200 folks printing out the recipe. Chili Rubbed Chicken Thighs is a delicious, easy and quick way to answer the age-old "What's for dinner tonight?" question. Always popular at my house, these sumptuous, juicy, sweet and spicy chicken thighs are sure to please even your pickiest eaters. And, the best part is they are only 148 calories each! Plus, they only take 15 minutes to make, which means you can have them on the table in record time.
6. Easy Chicken and Cauliflower Skillet
Easy Chicken and Cauliflower Skillet is another popular, delicious, quick and easy meal that I know you and your family will love! This one-skillet dish is a long-time favorite of mine that is light and healthy and features sauteed chicken baked with yummy cauliflower, covered with a sherry vinegar sauce, parsley, and capers.
7. Chicken, Mushroom Marsala Pasta
I am always looking for recipes that are easy and quick enough for a weeknight dinner but are also nice enough to be served to guests at a dinner party. This popular recipe does both, and it can be prepared ahead of time so you have time to spend with your family or guests. It also freezes beautifully. In fact, I usually double the recipe and serve one-half and freeze the other half to serve at another time. And, did I mention it is absolutely delicious? You have got to try it!
8. Tequila Lime Chicken Enchiladas
Tequila Lime Chicken Enchiladas – doesn't just the name make you hungry? Well, wait until you taste them, you will become a believer. This recipe, which is somewhat different from traditional chicken enchiladas, features shredded chicken marinated in tequila, lime juice, and a "secret" ingredient, brown sugar.
Not only does this popular and delicious dish of crispy lemony chicken taste divine, but it is also really easy. You won't believe how quickly you can get it on the table to rave reviews from your family. In this picture, I served it over white rice, but it is even more delicious and healthier if you serve it over quinoa or brown rice. Add some broccoli or a nice salad and well, it just doesn't get much tastier.
If you are looking for a light, healthy, quick dinner, then boy-oh-boy, do I have the recipe for you! I'm not kidding, these popular Chicken Lettuce Wraps are absolutely delicious, come in at only 232 calories, and they are probably one of the easiest and quickest meals you will ever prepare. Plus, they are inexpensive to make, and you can easily double the recipe as needed.
11. Chicken Marsala
Chicken Marsala is one of our family's favorite dishes. It's not only delicious, but it's also quick, easy and healthy, and everything cooks in one pan! Chicken Marsala is also a popular dish that is quick enough for a weeknight meal, but it's also perfect for company too!
12. Chicken and Broccoli Stir-Fry
Go stir-fry crazy with this healthy, filling, and packed with flavor, Chicken and Broccoli Stir-Fry dish! This popular stir-fry meal is super easy to make and it's perfect for those nights when you are pressed for time because believe it or not, it cooks in only 10 minutes!
Need even more menu ideas or inspiration, check all of my chicken recipes here!