Every one of these fourteen recipes is easy and made with basic ingredients you might already have in your pantry, freezer, or fridge. I'm also including a printable shopping list to go along with the meal plan to make it simpler for you to shop.
You might already have everything you need but, if not, hopefully, the list will make it easier to run to the grocery store and purchase what you do need.
Every day is an adventure these days, and we are all in uncharted territory. I know anxiety levels are high, and I hope that these suggested recipes, tips, and printable shopping list will help alleviate some of your stress, at least about what to serve your family in the event you have to stay home.
The main thing I want you to remember with all of these recipes is none are set in stone. Be creative with substitutions, and don't worry about having all of the ingredients, especially fresh produce or garnishes. Who knows, you might come up with an entirely new family favorite.
These are all dinner recipes, but I also include suggestions below for breakfast and lunch, as well as ideas for sides to serve with each dish. Most of the casseroles contain six to eight servings. If you are cooking for less, consider dividing up the casserole into two or three dishes and either freeze the remaining ones or share one with a neighbor or friend who might not be able to get out.
Caveat: These recipes by their very nature make a lot and you most likely will have leftovers. If you have a small family, you might want to just choose five to seven of them and plan on eating leftovers every other night.
Day 1, Easy Roasted Bone-In Chicken Breasts
You won't believe how much moister and more flavorful Easy Roasted Bone-In Chicken Breasts are than their counterpart, the more popular skinless, boneless chicken breasts.
Cook five extra to use in Chicken and Dumplings, Chicken Chili with a Twist, and Sour Cream Chicken Enchiladas. Once the extra breasts have cooled, debone them and cut the chicken into bite-size pieces. Measure out two cups and freeze in a plastic food storage bag. Repeat with the rest of the leftover chicken.
Serve the roasted chicken breasts with baked potatoes and your favorite canned or frozen vegetables.
Day 2, Easy Baked Spaghetti Pie Casserole
My oh my, Spaghetti Pie! Easy Baked Spaghetti Pie Casserole is a delicious combination of spaghetti noodles, spicy Italian sausage, earthy mushrooms, black olives, and a rich, creamy tomato sauce full of not one, but three kinds of cheese: fontina, feta, and Parmesan!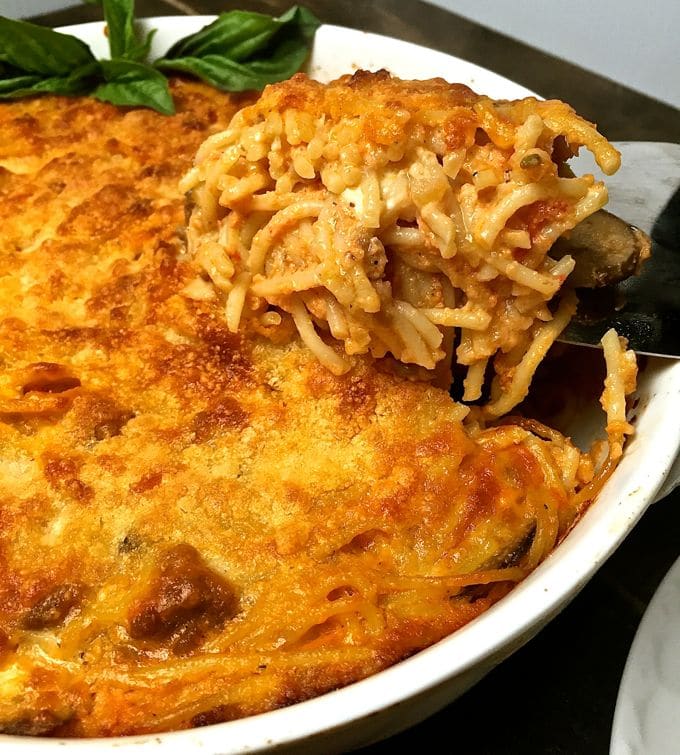 You can substitute ground beef for the sausage and canned or jarred mushrooms for fresh, or just leave them out. If you have all of the cheeses, fine, use them all. If not, substitute another kind or just leave one or more varieties out. It will still be delicious!
This meal can stand on its own, but you could add a bagged salad if you like.
Day 3, Hearty Chicken Chili with a Twist
Hearty Chicken Chili with a Twist is the very definition of comfort food! Except while most comfort foods are loaded with cream and cheese, which is what makes them comforting, this easy chicken chili is healthy and good for you too!
Use one of the chicken breasts you cooked earlier. If you don't have or can't find jarred salsa verde, which is the twist, throw in a jar of prepared salsa. Also, the peppers and onions make it extra flavorful, but if you don't have bell pepper, leave it out.
Also, feel free to use frozen onions instead of fresh ones. I always keep some in my freezer; they work great in recipes and are an incredible timesaver.
Serve with homemade cornbread or cornbread made with a mix.
Day 4, Broccoli Stuffed Twice-Baked Potatoes or Buffalo Chicken Twice Baked Potatoes
Regular twice-baked potatoes are the ultimate make-ahead side or light main dish. They are a delicious indulgence with their fluffy white interior mixed with creamy butter, tangy sour cream, grated cheddar cheese, and sweet and savory bacon.
Broccoli Stuffed Twice-Baked Potatoes are nothing more than the basic Twice-Baked Potato recipe with broccoli florets mixed in. Buffalo Chicken Twice-Baked Potatoes contain a mixture of cooked chicken, a little buffalo sauce, and a small amount of ranch or blue cheese dressing. Both are delicious in their own right, and both would make a grand lunch or light dinner.
Make whichever kind your family would like best and, if the spirit moves you, go ahead and bake several more potatoes than you need and stuff them with your favorite filling. Place in an airtight container and freeze for another day.
Serve with a bagged salad or sweet and sour green beans.
Day 5, Easy Cheesy Ground Beef Casserole
Easy Cheesy Ground Beef Casserole is a hearty, freezer-friendly, kid-friendly, one-pan meal, which is perfect for weeknight dinners when you are short on time! It's loaded with ground beef, egg noodles, tomatoes, and what else, cheese! There are no green peppers or onions to put off your picky eaters, just pure, wholesome deliciousness!
One other nice thing about this easy and tasty dish is, depending on how many folks you are feeding, it can be divided up into two to three casseroles. One for dinner tonight, and the other one or two to be stashed in the freezer and baked whenever you need them. Also, leftovers are just as good, if not better, the next day.
No egg noodles? Feel free to substitute any type of pasta you have on hand.
Serve with a simple green salad or canned or frozen vegetables.
Day 6, Cast-Iron Roast Chicken
Cast-Iron Roast Chicken has deliciously crisp skin with flavor-packed, tender, and juicy meat. This main dish roasted whole chicken is easy enough for a weeknight dinner, yet also fancy enough for company or a special occasion!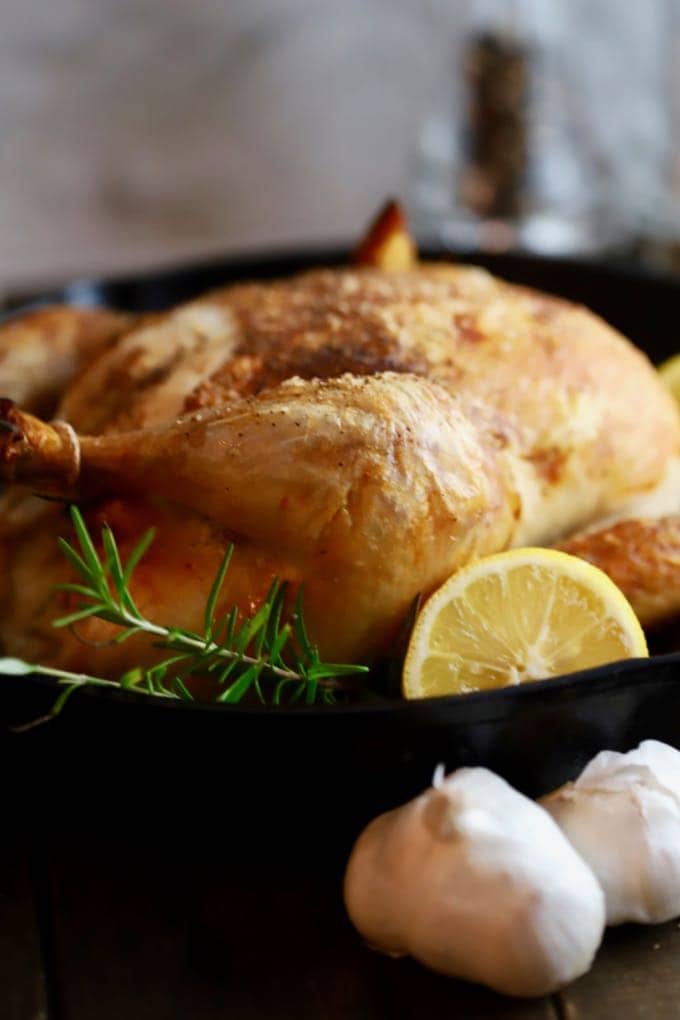 Crispy roast chicken is classic comfort food and, in many parts of the country, it's a Sunday supper tradition. And while you can undoubtedly roast a whole chicken in a regular baking pan, it is also one of the best recipes to cook in a cast-iron skillet.
Leftovers, if you have them, can be used to make chicken salad for lunch the next day, or depending on how much you have leftover, you could make my Roasted Chicken Noodle Soup.
Tip: Check out my recipe for homemade chicken stock and use the chicken carcass to make the most wonderful chicken stock.
Serve with corn pudding and canned or frozen vegetables.
Day 7, Southern-Style Baked Mac and Cheese
Macaroni and cheese is synonymous with Southern entertaining. You would be hard-pressed to find any type of holiday or celebration involving food in the South without a macaroni and cheese casserole front and center on the table.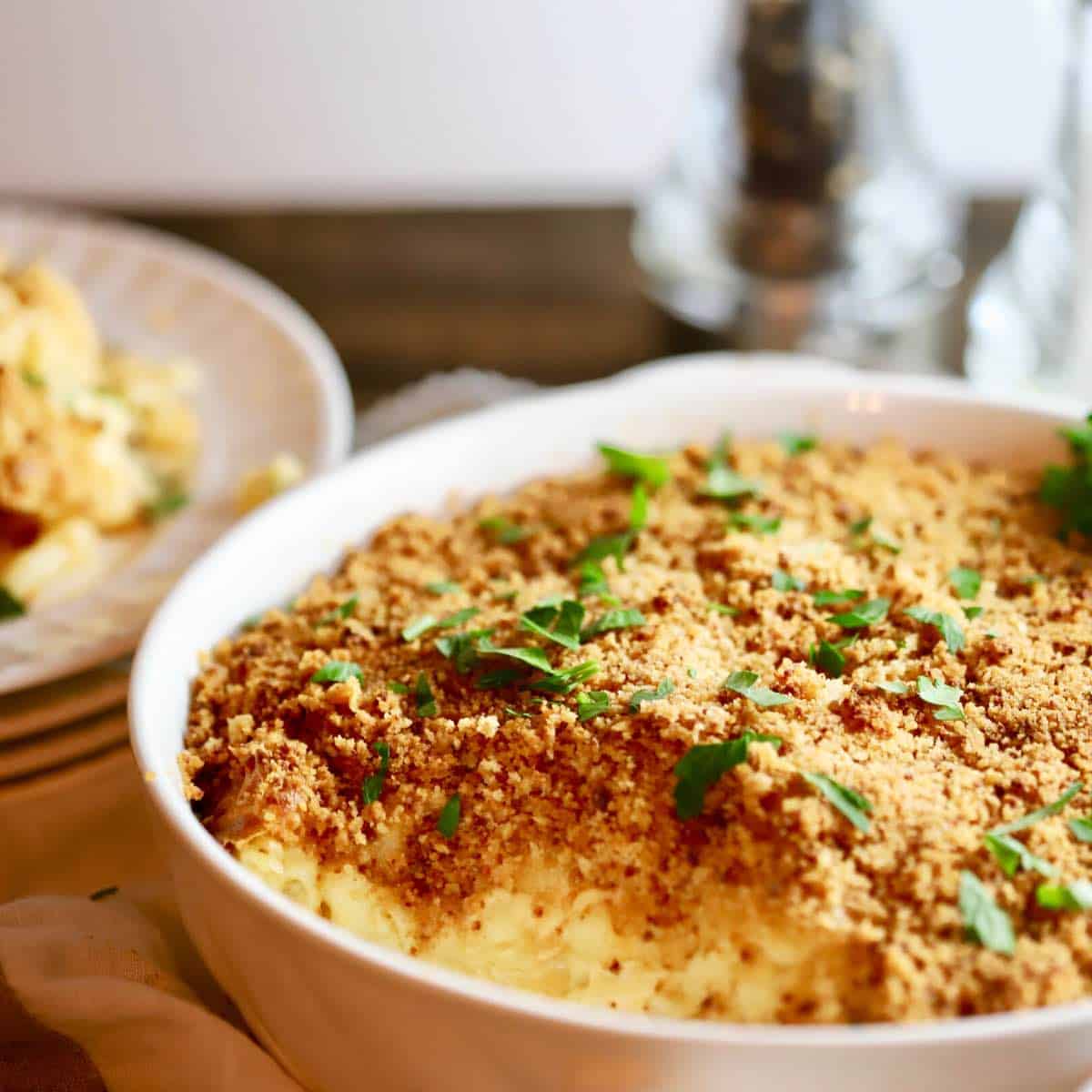 There are thousands of mac and cheese recipes out there, some fancy and some not. You can find recipes in which the mac and cheese is cooked in a crockpot or an instant pot, or even in a pan on the stove. And, while all are delicious, sometimes classic and simple is best. My Southern-Style Baked Mac and Cheese Casserole recipe is just that, a simple, classic, tasty casserole. I hope you will give it a try.
While this protein-rich casserole can be served on its own, you can also add bacon, hot dogs, hamburger meat or tomatoes to make it more of a main dish.
Serve with sliced fresh tomatoes and frozen or canned green beans.
Day 8, Easy Southern Chicken and Dumplings
Easy Southern Chicken and Dumplings is classic comfort food and a true family favorite. It's full of juicy pieces of chicken and tender, plump dumplings swimming in a delicious, hearty broth with carrots and celery thrown in for good measure.
With a little help from the leftover chicken from a few days ago and a can of refrigerated biscuits, you can have this ridiculously good bowl of deliciousness on the table in about 30 minutes! That's a win in my book.
Serve with my easy homemade hoecakes.
Day 9, Pulled Pork Sandwiches with Balsamic Barbecue Sauce
Low and slow is the name of the game with this easy recipe for oven-cooked, tender, and juicy homemade BBQ Pulled Pork Sandwiches with Balsamic Barbecue Sauce. And, no hassle of cooking the pork all day on the grill or in a smoker!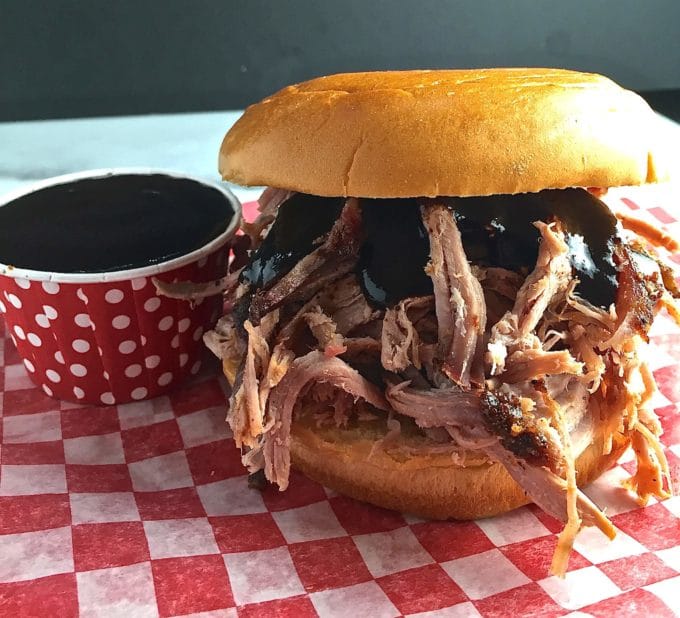 Don't feel like making homemade barbecue sauce? Just use your favorite jarred variety. I included a jar of BBQ sauce on the shopping list instead of the homemade sauce ingredients.
A bonus, leftover pork, can be used to make pulled pork tacos later in the week.
Serve with homemade french fries or your favorite purchased chips.
Day 10, Sour Cream Chicken Enchiladas
Ultimate Sour Cream Chicken Enchiladas are spicy and incredibly yummy. This is another dish that uses leftover chicken from our first recipe.
A family favorite, this chicken enchiladas recipe is quick, easy to prepare, and a comfort food nirvana. Full of tender chicken, smothered in cheesy goodness, chicken enchiladas with sour cream aren't just for Cinco de Mayo!
Sour cream chicken enchiladas are a great make-ahead dish. And, they can easily be frozen for up to three months. This recipe makes eight enchiladas, so I usually freeze half and then cook the rest. Also, like most pasta and casserole dishes, leftover enchiladas are even better the next day.
A nice margarita would round out this delicious Mexican-style meal.
Day 11, Oven-Roasted Pork Tenderloin with Mustard Sauce
Oven-Roasted Pork Tenderloin with Mustard Sauce is marinated overnight in a decadent marinade of bourbon, brown sugar, and soy sauce and then roasted in the oven. The easy make-ahead, tangy, spicy mustard sauce is served on the side and ramps up the already unbelievable flavor.
Leftovers, if you have them, can be used to make delicious sandwiches.
Serve with mashed potatoes or rice, and carrot and celery sticks.
Day 12, Cast-Iron Skillet Macho Nachos
The nice thing about nachos is that you can add or change ingredients according to your taste and what you have on hand. Swap the ground chuck for chicken, and you have chicken nachos. Leave the meat out altogether, and you still have nachos. I think the only rule for nachos is you have to have tortilla chips and cheese. The rest is up to you!
Nachos will be a nice change of pace, and it's something the whole family will love!
Again, a nice frozen margarita would pair perfectly with these nachos.
Day 13, Easy Chicken Parmesan – A Family Favorite
Easy Chicken Parmesan is a family favorite, with tender, crispy chicken topped with homemade tomato sauce and melted mozzarella cheese. It's ridiculously easy to make and even more delicious than it looks.
The tomato sauce is easy to make, but, of course, you can also substitute your favorite jarred marinara sauce. You can also substitute any type of cheese you have for the mozzarella. Your dish may taste a little different, but it will still be delicious.
While chicken parmesan is usually served with spaghetti noodles, you can substitute any type of pasta you have on hand.
Day 14, Chili-Rubbed Ribeye Steak with Maple-Bourbon Butter
Finally, after two weeks' worth of pantry meals, it's time for pure self-indulgence. You have earned it!
Chili-Rubbed Ribeye Steak with Maple-Bourbon Butter is tender, juicy ribeye steak, seasoned with a chili powder, brown sugar rub, seared in a cast-iron skillet, then finished in the oven. If that wasn't enough deliciousness, it's topped with a decadent maple-bourbon butter!
You can substitute any type of steak you have, and you don't have to top it with the maple-bourbon butter, but I hope you do. In any case, sit back and enjoy your steak with a baked regular or sweet potato, and some steamed frozen broccoli.
Suggestions for breakfast staples:
Cereal, grits, complete pancake mix where you just add water, and oatmeal. Add-ons include milk for the cereal, cheese for the grits, butter, and syrup for the pancakes and whatever add-ons you like for the oatmeal.
Eggs can also be prepared in many different ways and will last a long time in your fridge. They are also great to make egg salad for sandwiches and deviled eggs.
Cinnamon raisin bread, bagels, and frozen biscuits. If you buy bagels, you might want to purchase a container of spreadable cream cheese.
Suggestions for lunch staples:
You will most likely have leftovers for most of the dinner recipes listed, and these are great for lunch. Other things you might want to consider are having a loaf or two of bread for sandwiches. The old standby peanut butter and jelly has been a lifesaver for us over the years after hurricanes. Canned tuna or chicken are also good choices.
Don't forget to pick up your family's favorite chips and treats, including some ice cream. Several boxes of brownie mix will go along way in making sure they don't feel deprived.
Printable shopping list:
This shopping list only includes groceries for the 14 listed recipes. Other suggestions for sides and pantry staples including breakfast and lunch suggestions are not included. Download Shopping List
The bottom line:
The bottom line is to be flexible and creative in your meal planning and execution. We will emerge on the other side of this challenge with a greater appreciation of the simpler things in life and all the blessings we have. We can do this!
You may also be interested in a roundup post I have put together with suggestions on meals which can be prepared with pantry staples after a hurricane: 16 Easy Hurricane Meal Preparation Tips, Recipes and Meal Ideas.