Ten Simple and Delicious Soup Recipes for Dinner is a roundup of some of the most popular and incredibly delicious soup recipes on my blog. Nothing beats a bowl of steaming soup to make you feel warm and cozy all over. And, these family favorite and kid-approved soups are just what you need to usher in our cooler weather.
If you are looking for simple soup recipes for a chilly fall evening, a quick family dinner, or when you simply want a big bowl of soup, check out these amazingly quick and easy soup recipes. You will find something for everyone, even your pickiest eaters!
All of these soup recipes are delicious in their own right. All are packed with fiber, vitamins, and minerals and all are quick and easy to make.
Easy Creamy Southern Sweet Potato Soup is as smooth as velvet, a little spicy and pure creamy deliciousness. Sweet and savory with carrots and sweet potatoes, this homemade soup is quick to make and even quicker to disappear. Topped with candied pecans, this easy soup recipe is 100% delicious and about as warm and cozy as you can get!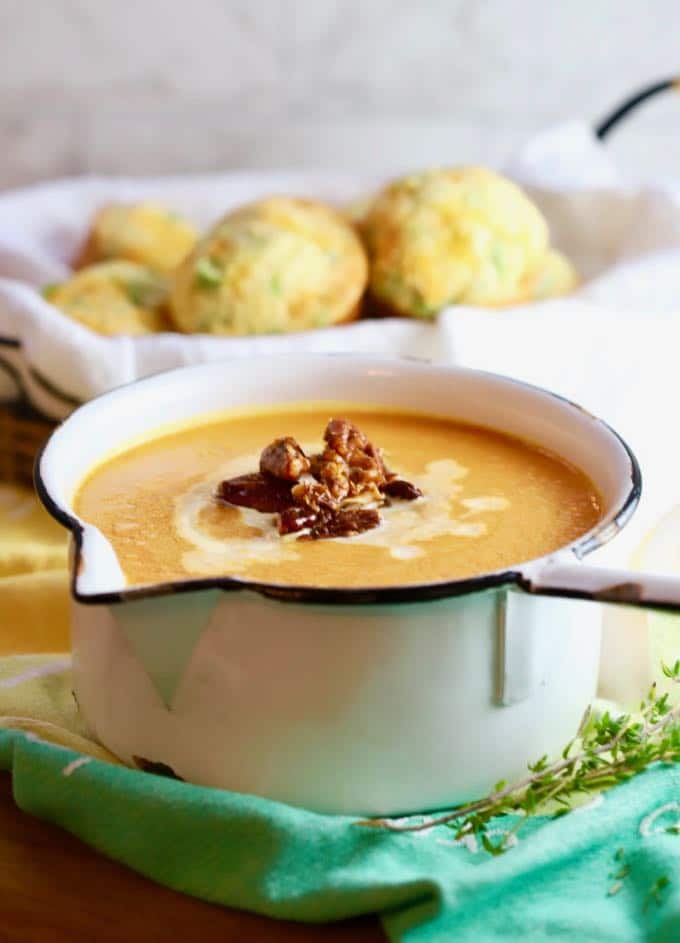 Tomato Tortilla Soup s a delicious, quick, easy, and best of all healthy answer to the "what's for dinner tonight" question. Less than 200 calories and an excellent source of Vitamins A and C. Tomato Tortilla Soup is quintessential comfort food at its finest. Throw in a golden brown and oozing with cheese grilled cheese sandwich – now that's a classic lunch or dinner combination!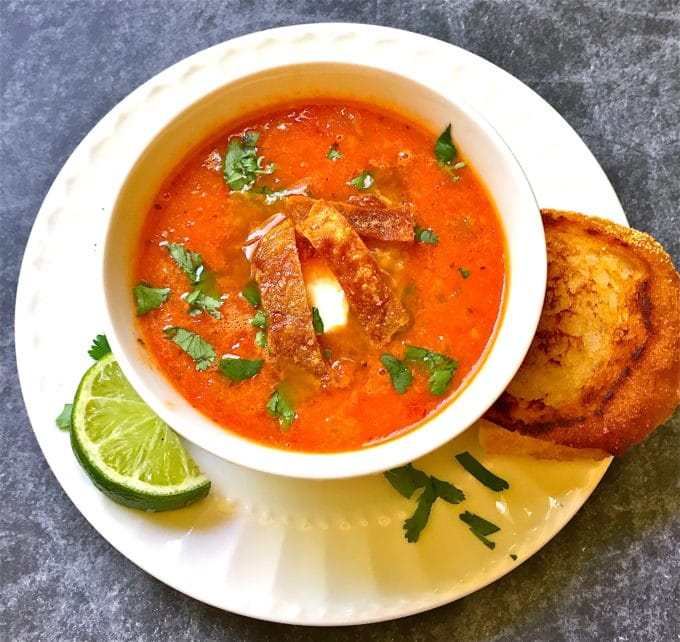 Creamy Homemade White Bean Soup with Broccoli is an irresistible blend of smooth textured and nutty flavored cannellini beans and roasted broccoli. It's a nutritional powerhouse. Don't settle for bland white bean soup! With this flavorful recipe, you'll have everyone begging for seconds.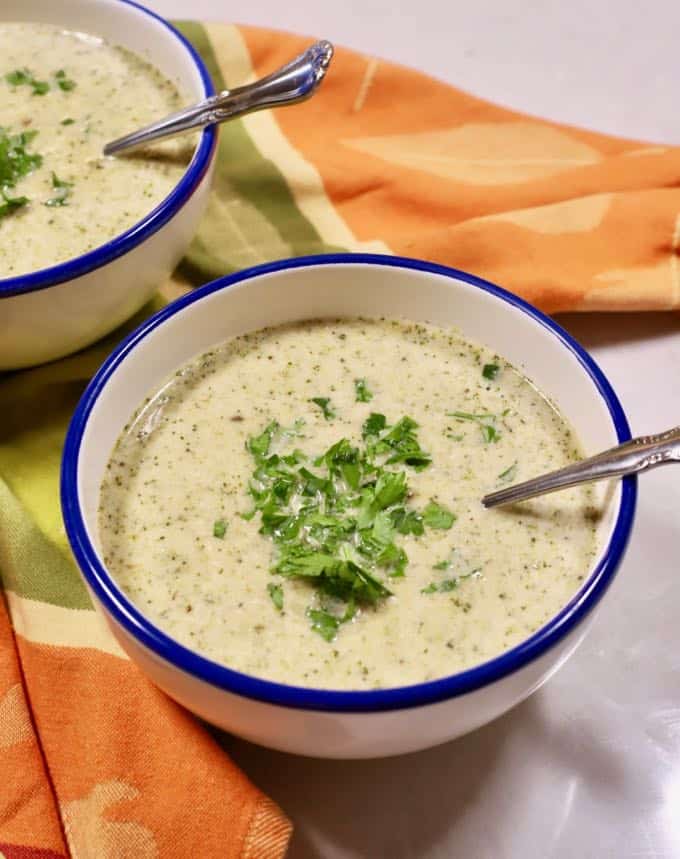 Are you looking for a quick and easy stew recipe? What about a pork stew recipe that is versatile and you can have on the table in less than 15 minutes? What if I told you that this Quick and Easy Mexican Pork Stew recipe is low in calories, healthy and hearty, plus full of vitamins, fiber, and minerals, and is delicious? Have I got your attention?
Healthy, healthy, healthy! This nutritious soup fairly screams healthy and good for you. It's chock full of veggies and protein-packed lentils. And, this hearty, and delicious soup is low in calories and full of vitamins, most notably vitamins A & C, plus iron, folate, and fiber.
Butternut Squash and Pear Soup with Fennel is a hearty, vegetarian, gluten-free, and healthy soup. Incredibly delicious without heavy cream, this butternut squash soup recipe is loaded with vegetables, including fennel, and even has pears thrown in the mix.
Easy Southern Chicken and Dumplings is classic comfort food and a true family favorite. It's full of juicy pieces of chicken and tender, plump dumplings swimming in a delicious, hearty broth. And it has carrots and celery thrown in for good measure.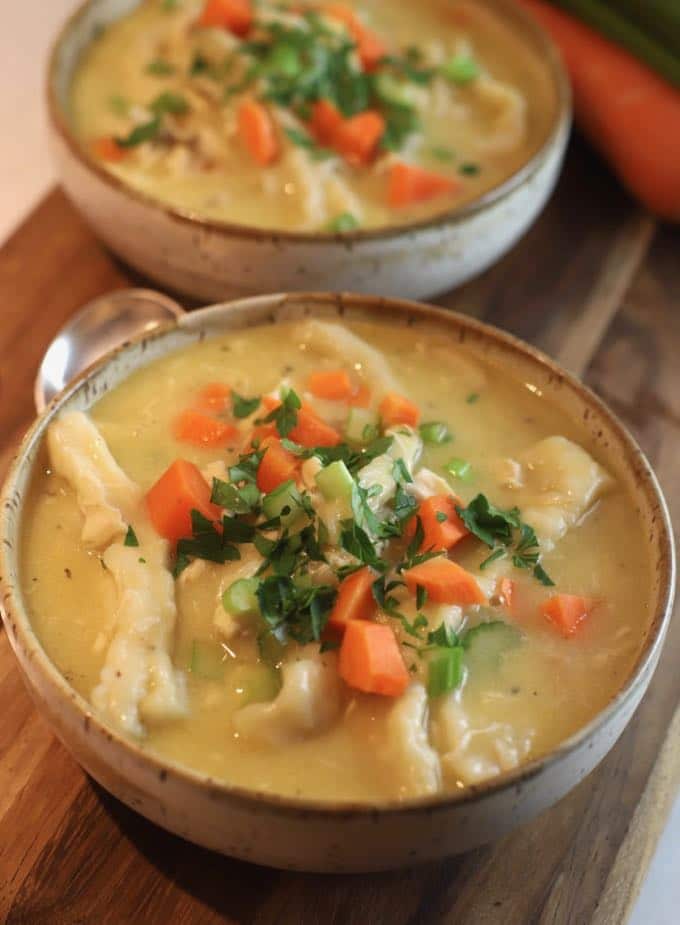 Turkey leftovers on Thanksgiving are one of those undeniable parts of life that you can always count on, and this Creamy Leftover Turkey and Wild Rice Soup is a perfect recipe to put all of that leftover turkey to good use! And, it's the most delicious, hearty, thick-and-creamy, comforting soup you could ask for.
Roasted Chicken Noodle Soup is a great answer to the ever-persistent, "what's for dinner tonight," question! It's chicken noodle soup with a twist because it's full of moist and flavorful roasted chicken! Roasted Chicken Noodle Soup has it all; it's a quick and hearty meal, it's full of healthy vegetables and, best of all, it's absolutely delicious!
This delicious and nutritious soup comes in at only 349 calories. Whether you eat it for lunch or dinner, it would be a great way to start your January weight loss journey. Also for those of you that are vegetarian, you could simply substitute vegetable stock for chicken stock, and leave out the chicken.
What to serve with these delicious soup recipes?
Since soups are usually a self-contained one-bowl meal, I usually only serve a simple quick bread like Easy Southern Sweet Potato Bread with Pecans, Easy Southern Cheddar Biscuits, Broccoli Cheddar Cheese Cornbread Muffins, Easy Sausage Cheese Bread, or Traditional Southern Style Cornbread.
What's your family's favorite soup? And, which of these delicious choices will you choose to make tonight?
My husband's all-time favorite is the Butternut Squash Soup with Pears and Fennel and mine is Southern Chicken and Dumplings. What about you?
If you need even more recipes or menu ideas, click here for all of my soup recipes.
★ If you make any of these delicious soups, please leave a comment. I would love to know how you liked it!
Thank you so much for visiting Grits and Pinecones!