You might be asking yourself are there any benefits from eating soup? Are you wondering if you could you lose weight if you ate more soup? Is it easy to make soup? How about, how long does it take to make soup? Can I make soup in a crockpot? And finally, where can I find some good soup recipes? I'm so glad you asked! You are definitely in the right place.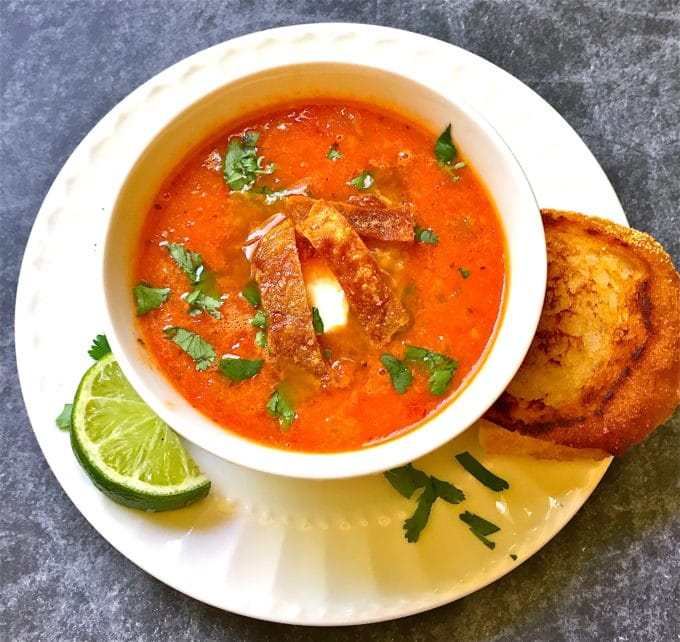 Today I am going to share recipes for not one but six different soup recipes; Tomato Tortilla Soup, Broccoli White Bean Soup, Healthy Lentil Soup, Butternut Squash, Fennel and Pear Soup, Easy Fifteen Minute Roasted Pork Stoup, and last but not least Ten Minute Gazpacho. Simply click on the underlined titles and you will be taken to the complete recipe. All of these soups are delicious in their own right, all are packed with fiber, vitamins, and minerals and all are quick and easy to make. And all of these yummy soups will make you a hero in your kitchen!
Yesterday was the first day of fall or autumn. Of course here in North Florida, you would never guess that it's fall, it's 91 degrees today and hot, hot, hot. Sept. 22 is the autumnal equinox, the time when the sun crosses the celestial equator, the imaginary line in the sky that corresponds to the earth's equator. All of this is to say; it's time to think cooler weather and yummy, healthy, hearty soups. Just the thing to usher in fall.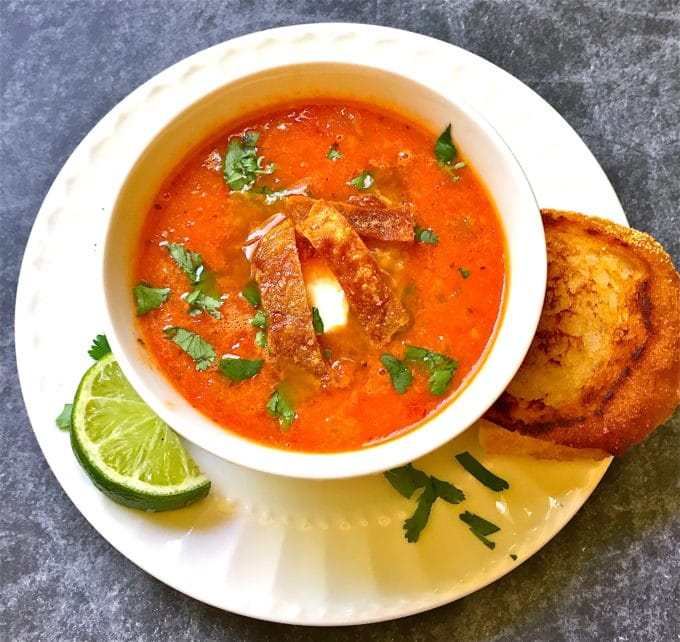 Tomato Tortilla Soup is a delicious, quick, easy, and best of all healthy answer to the "what's for dinner tonight" question. Less than 200 calories and an excellent source of Vitamins A and C, Tomato Tortilla Soup is quintessential comfort food at its finest. Throw in a golden brown and oozing with cheese grilled cheese sandwich – now that's a classic lunch or dinner combination!
Broccoli and White Bean Soup – Even the name sounds healthy. And, while this soup is loaded with vitamins, fiber and minerals and all good things for you, the best part is, it's delicious! This creamy soup is made with tasty roasted broccoli, garlic, shallots, and cannelloni beans, and it's perfect for lunch or dinner. It's also really quick and easy to make! So, the next time you are in the mood for soup, give it a try, I know you will love it!
Easy Fifteen Minute Roasted Pork Stoup
You have to try this Easy Fifteen Minute Roasted Pork Stoup! It's simply out of this world! Salsa verde and cumin give it a southwest kick, and fire roasted tomatoes give it a wonderful depth of flavor. Best of all, you just dump everything in a pot and heat it up. So, it's perfect for days when you don't have the time, or inclination to make a big meal. It's also really easy to change-up to accommodate your family's taste. Substitute chicken for pork, and you have a winner. Want a meatless meal? Simply leave the pork out and use vegetable broth. However you fix it, it's delicious! In case you are wondering, "stoup" is a cross between soup and stew.
Healthy, healthy, healthy! This nutritious Healthy Lentil Soup fairly screams that it's healthy and good for you. Chock full of veggies and protein packed lentils, this hearty, and delicious soup is low in calories and full of vitamins, most notably vitamins A & C, plus iron, folate, and fiber. It's the total package. Plus, lentils make soup making easy, they cook quickly and are incredibly tasty. Also, depending on your family size, there should be enough for dinner and lunch as well as leftovers to freeze for another meal. It's a comfort food bonanza!
Butternut Squash, Fennel, and Pear Soup
This scrumptious Butternut Squash, Fennel, and Pear Soup was adapted from a recipe in Dori Greenspan's wonderful cookbook, Around my French Table. This soup is the very essence of healthy low-calorie cooking, plus it is delicious! We love it, and I know you will too! The ingredients are butternut or acorn squash, onions, shallots, olive oil, a fennel bulb, celery, garlic, ginger, cumin, nutmeg, chicken or vegetable broth, ripe pears, orange peel, and lemons.
Ten Minute Gazpacho is really just a healthy liquid salad! Gazpacho (pronounced gaz·pa·cho) is a Spanish-style soup made from tomatoes and other vegetables and spices, and it is served cold. It is a cool, refreshing and best of all, healthy soup and very low in calories. It's also one of my favorite soups, good for lunch or dinner and one of my "go-to" dishes in hot weather. But wait, did you know you could also heat it up and serve it hot too? Of course, then it wouldn't be Gazpacho, it would be called vegetable soup?