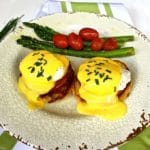 Print Recipe
Foolproof Eggs Benedict
Make Mom Foolproof Eggs Benedict for Mother's Day. It's an English muffin, Canadian bacon, a perfectly poached egg, and dreamy homemade Hollandaise sauce.
Baked Eggs
4

large eggs

4

tsp

whipping cream or heavy cream

Kosher salt and ground black pepper
Hollandaise Sauce
3

egg yolks

1/4

tsp

salt

pinch

cayenne pepper

1-1/2

tsp

fresh lemon juice

1

stick

unsalted butter
Additional Ingredients
2

English muffins

1

Tbsp

butter

4

slices

Canadian bacon

thick
Baked Eggs Directions
Preheat your oven to 350 degrees.

Lightly grease with butter, or spray a regular muffin pan with non-stick spray.

Crack an egg into 4 of the muffin cups.

Pour 1 tsp of cream over the top of each egg. Sprinkle salt and pepper to taste over each egg.

Bake for 12-15 minutes depending on how soft or firm you want your egg. (For runny yolks, bake them about 12 minutes, for hard yolks; bake them closer to 14 minutes.)

If you have a house divided and some like runny yolks, and some like them hard, simply remove the eggs that you want the yolks to be runny at 12 minutes, then put the remaining eggs back in the oven for an additional 2 minutes.

When the eggs are done, use a spoon to carefully remove them from the muffin pan and keep warm by covering it with a piece of foil until you are ready to assemble your Eggs Benedict.
Julia Child's Easy Blender Hollandaise Sauce Directions
While your eggs are baking, place egg yokes, salt, pepper and lemon juice in your blender jar.

Cut the butter into small pieces and place in a small saucepan over medium-high heat. Heat until the butter is melted, and it is hot and foamy.

Cover your blender jar and process the egg yolks, lemon juice and salt and pepper on high for 2-3 seconds.

Remove the small removable top in the middle of your blender lid and while the blender is still running, immediately start pouring the hot melted butter in very slowly, in a thin stream of droplets. Don't rush this step and be careful, don't let any of the hot liquid spray out on you. It's helpful to have a kitchen towel handy to use as a shield.

By the time 2/3 of the butter has been added, you should have a thick creamy sauce. Do not add the milky residue at the bottom of the pan.

Taste the sauce and add more salt, pepper or lemon juice if desired and blend again.

Use the sauce within a few minutes of blending or set the blender jar in lukewarm (not hot) water to keep it from solidifying.

Before assembling the Eggs Benedict, melt 1 Tbsp of butter in a large skillet and spread additional butter on the cut side of the English muffins. Place the Canadian bacon and the English muffins in the skillet to heat up the bacon and toast the muffins. When the muffins are toasted, remove everything from the skillet.
Assembly
To assemble, place ½ of an English muffin on a plate. Top with a slice of Canadian bacon and one baked egg and spoon about ¼ of the Hollandaise Sauce over everything. Repeat with the remaining muffins and eggs. Garnish with chopped chives or parsley if desired.
Calories:
639
kcal
|
Carbohydrates:
32
g
|
Protein:
29
g
|
Fat:
55
g
|
Saturated Fat:
28
g
|
Polyunsaturated Fat:
3
g
|
Monounsaturated Fat:
8
g
|
Cholesterol:
863
mg
|
Sodium:
981
mg
|
Potassium:
301
mg
|
Fiber:
1
g
|
Sugar:
2
g
|
Vitamin A:
2100
IU
|
Vitamin C:
1.7
mg
|
Calcium:
170
mg
|
Iron:
3.8
mg