Here's the scoop – this roundup post of 35 Different Ice Cream Flavors with Recipes has ice cream flavors that are impossible to resist and will have your family and guests licking their bowls clean.
Whether you are looking for classic fruit-flavored sherbet ice cream or the newest and most exciting flavors, you will find them here. I've also included the most popular types of ice cream flavors, unique and unusual ice cream flavors, and everything from gourmet to funky. Your only problem will be deciding which delicious flavor to make first.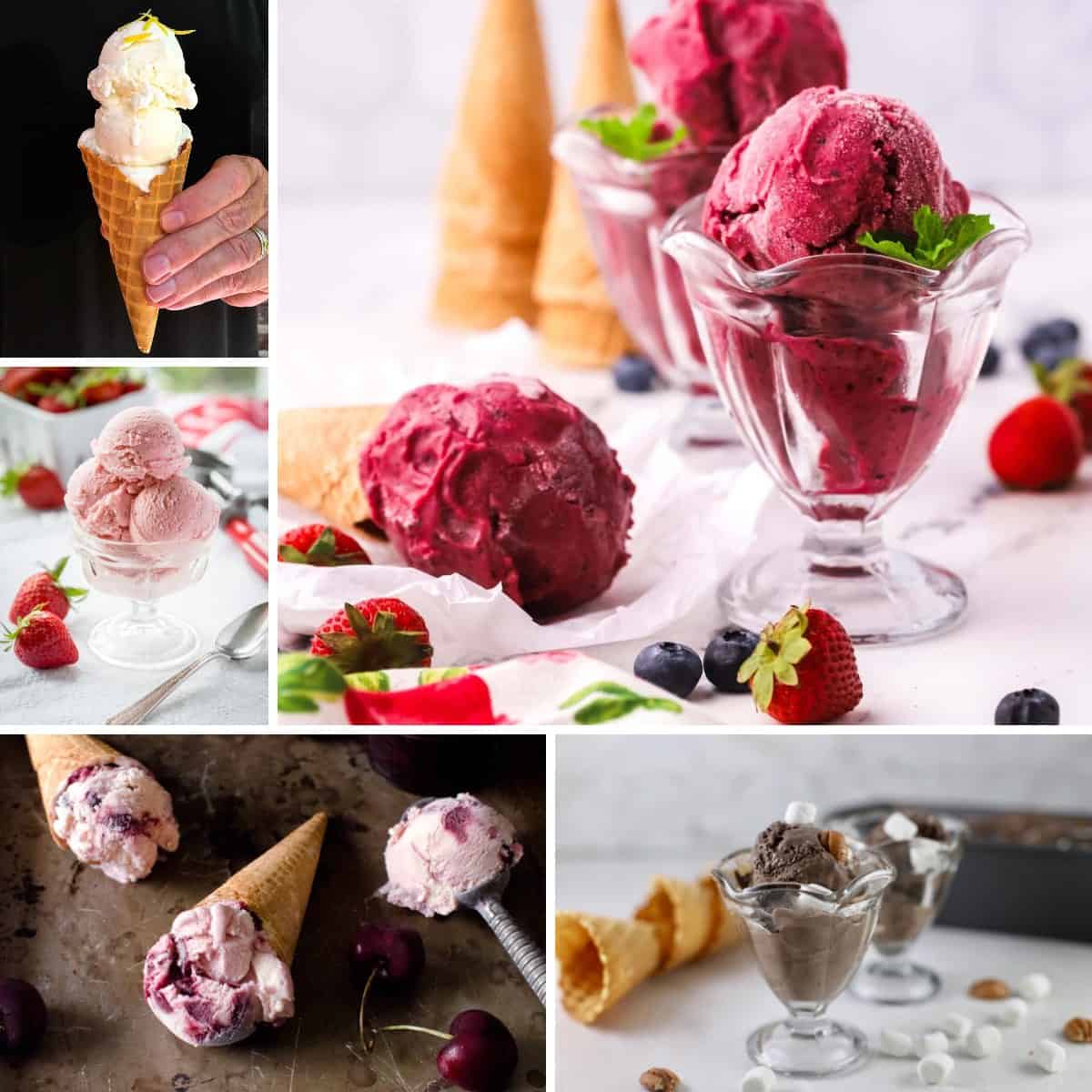 What? Have you never made ice cream at home? No worries, each recipe includes photos and step-by-step instructions showing you how to make your favorite flavor of ice cream!
I've also included no-churn recipes for those of you without an ice cream maker, some sugar-free choices, egg-free choices, and even some vegan and gluten-free options. There is literally something for everyone in this roundup! Homemade ice cream is so easy to make that you will never want to buy it again after making one or more of these incredible flavors of ice cream.
Not only is ice cream a popular summer frozen dessert, but it's also the perfect anytime sweet and creamy dessert or snack, ideal for feeding a crowd, and a favorite with both big and little kids! So grab your ice cream scoop, pick out your favorite recipe and let's make ice cream!
Easy Homemade Orange Sherbet Ice Cream – Grits and Pinecones
Warmer weather is here, and what better way to beat the heat than with easy-to-make, refreshing, and tangy Homemade Orange Sherbet?
Made with simple ingredients such as freshly squeezed orange juice, buttermilk, and Karo syrup, this refreshing frozen orange dessert is the perfect treat for any occasion. Plus, it can be whipped up in no time with an electric ice cream maker.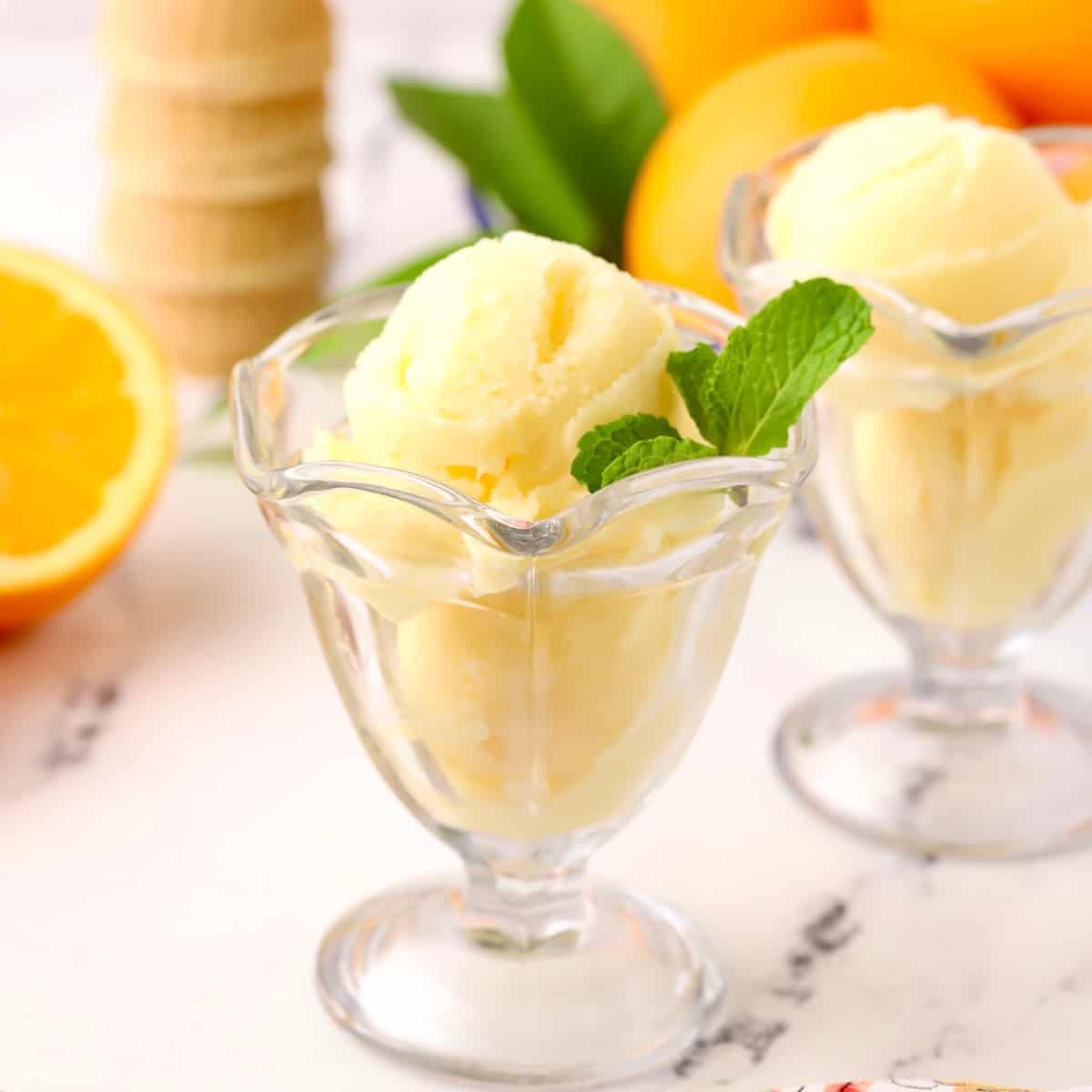 Easy No-Cook Meyer Lemon Ice Cream – Grits and Pinecones
My first ice cream recipe for you today is my Easy No-Cook Meyer Lemon Ice Cream. This homemade silky smooth and lemony ice cream is just the thing to help you cool off on a hot summer day and, if you like lemons, you will love this delicious confection!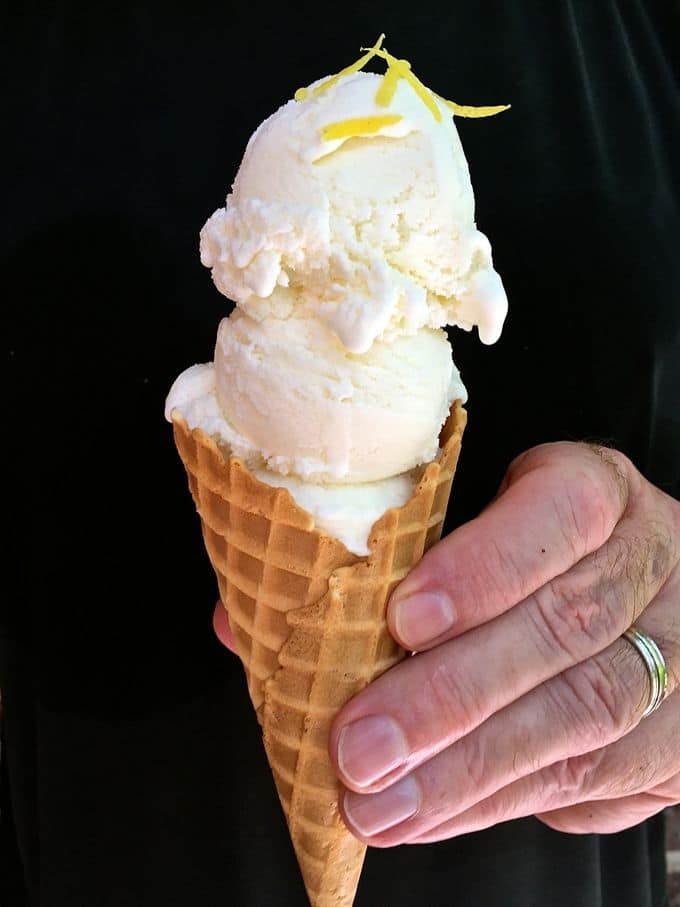 No-Egg Creamy Georgia Peach Ice Cream – Pudge Factor
If you like fresh Georgia peaches, you'll absolutely love this No-Egg Creamy Georgia Peach Ice Cream. Filled with chunks of delicious Georgia peaches, this ice cream is easy to make, doesn't require any cooking, and tastes awesome. In addition, it's velvety smooth without the telltale icy texture that plagues a lot of homemade ice creams.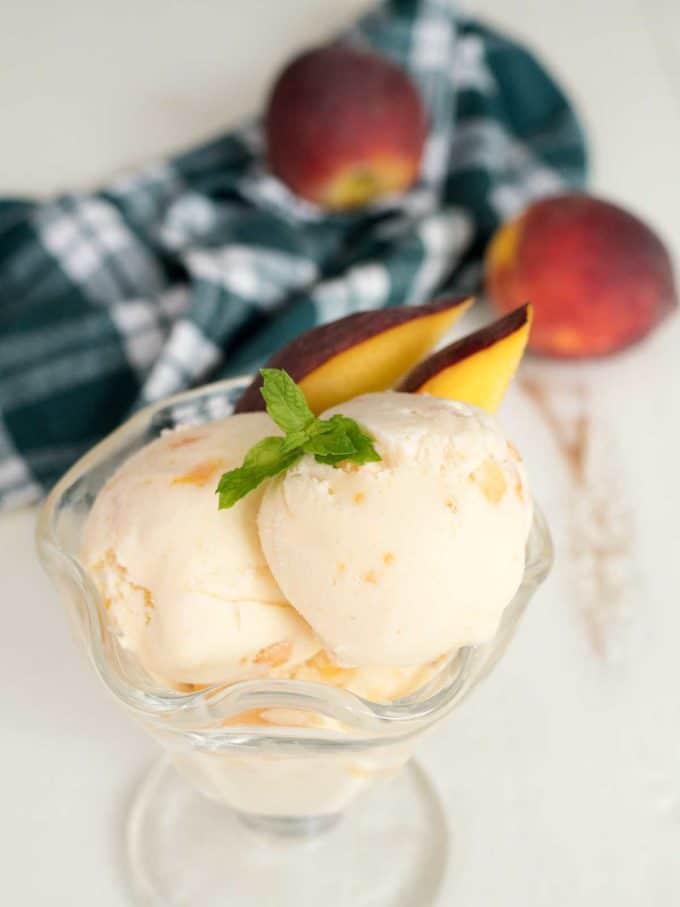 No Churn Creamy Coconut Ice Cream – Wanderzest Blog
No Churn Creamy Coconut Ice Cream. The name says it all; it's a sweet, creamy, coconutty ice cream served in a coconut shell and topped with toasted coconut or mango or pineapple…you choose! Now, doesn't that sound magical? So, if you are in the mood for homemade ice cream and don't have an ice cream maker, this is the recipe you need to try! Just make sure you take special care to create the ice cream custard base, as this is what makes the ice cream so rich and creamy.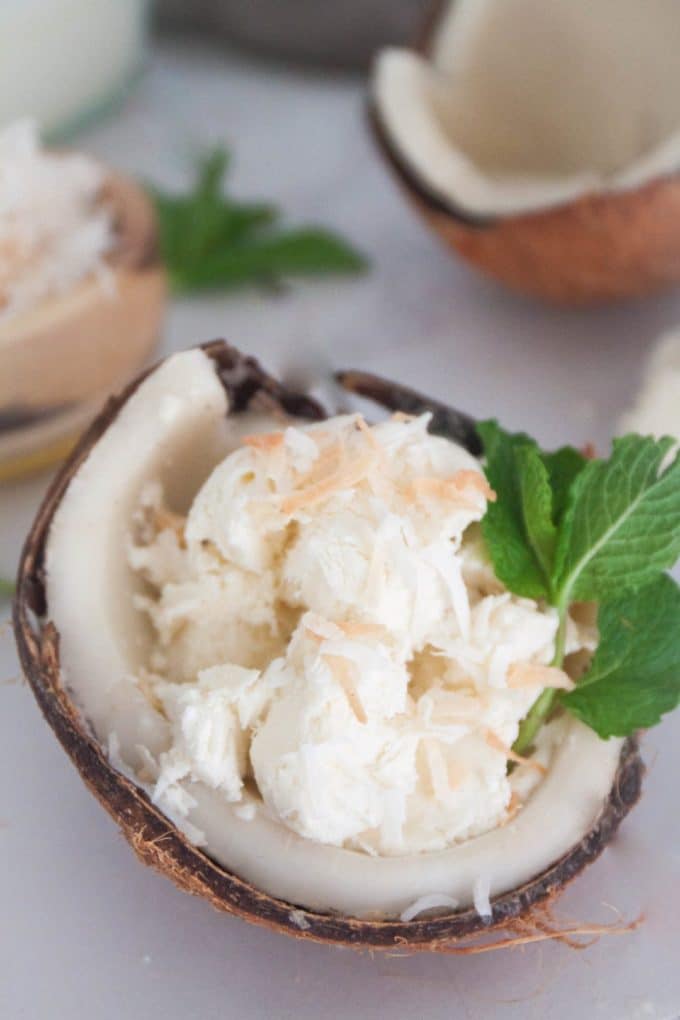 Easy Homemade Strawberry Sherbet – Grits and Pinecones
Easy Homemade Strawberry Sherbet is a sweet-tart, light, refreshing frozen dessert made with fresh luscious strawberries. The perfect ending to the perfect meal, this simple sherbet ice cream recipe only takes minutes to prepare, and then your ice cream maker takes over.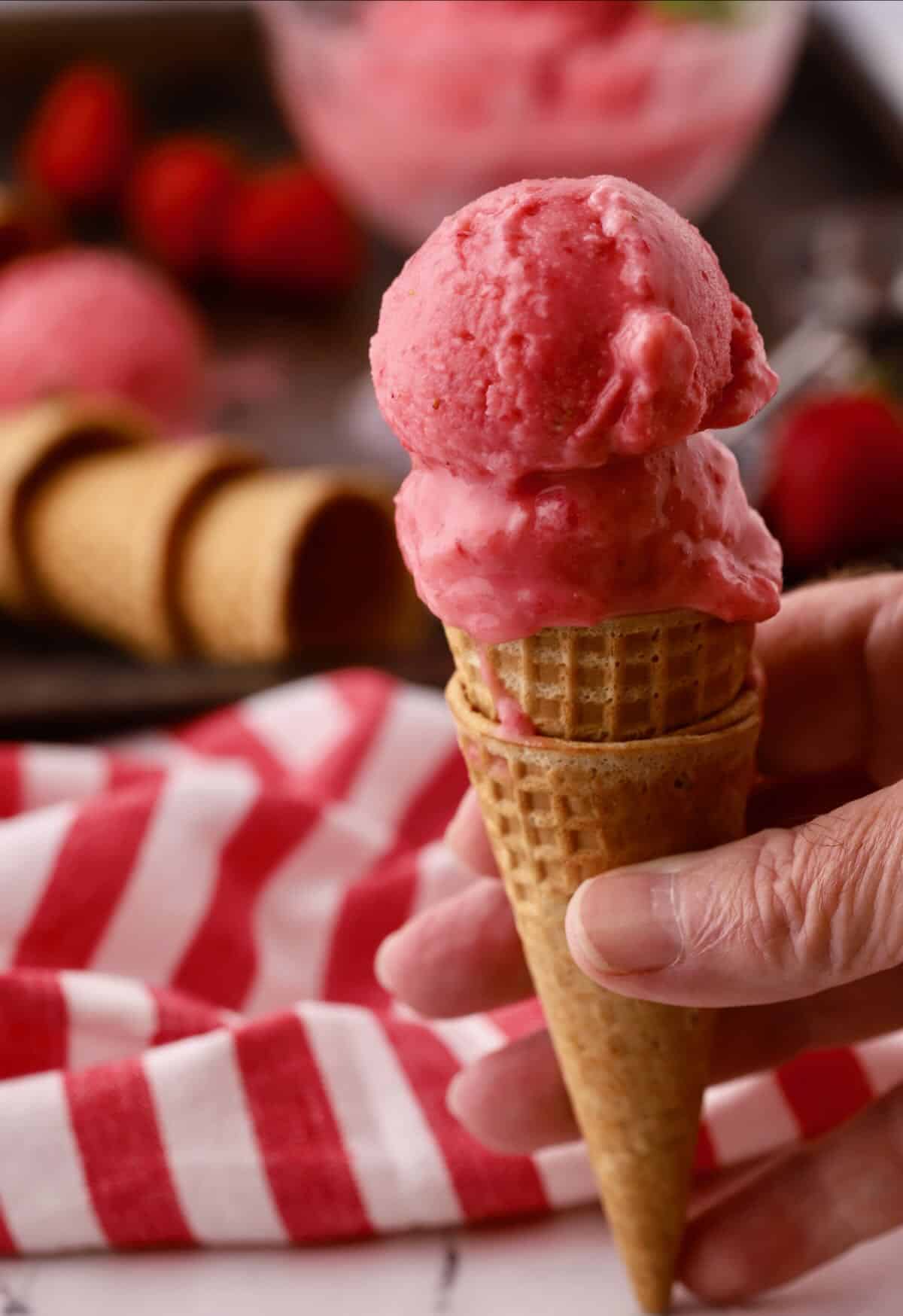 Cinnamon Bun Ice Cream – Away From The Box
Making your own ice cream at home offers many benefits. You can choose whatever flavor you want, control how sweet it is or the amount of fat in it, and save a lot of money. This recipe is literally a cinnamon bun in a bowl and borne from my love of cinnamon ice cream. My local grocery store has an "artisanal" brand, which carries a fantastic cinnamon flavor. But at $5 a pint, I'm gonna have to pass. Hard pass. This recipe is better AND cheaper.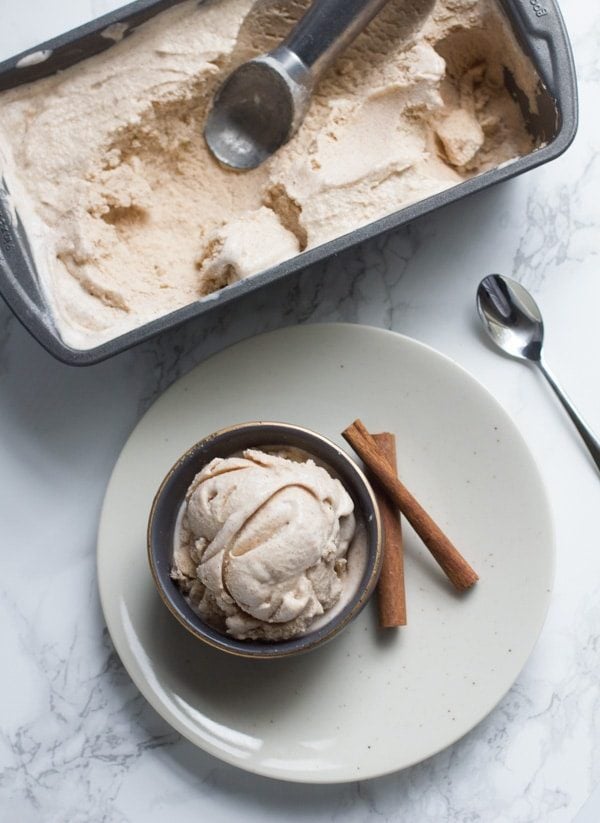 Homemade Fresh Peach Ice Cream – Grits and Pinecones
There is one thing I know for sure, a big dish of cold Homemade Fresh Peach Ice Cream makes our hot and muggy summers just a little more bearable! Fresh Georgia and South Carolina peaches are a harbinger of summer at southern farmers' markets. What better to usher in summer than Homemade Fresh Peach Ice Cream featuring luscious, juicy, and sweet peaches mixed with a rich, creamy and decadent vanilla custard base! Like my easy Old-Fashioned Southern Peach Cobbler, both make the perfect summer dessert.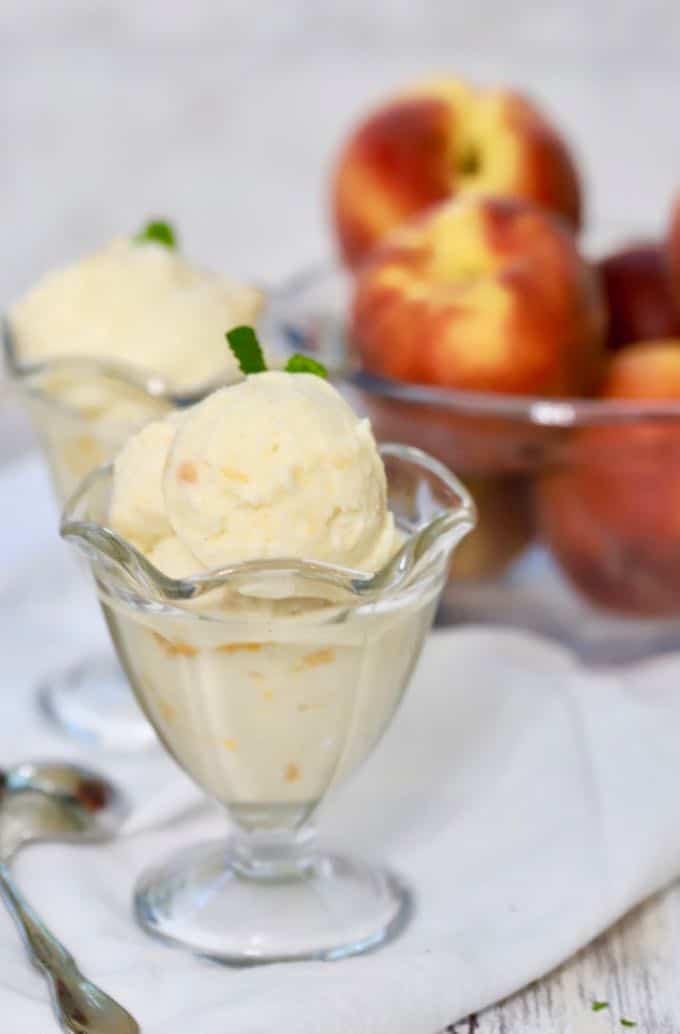 Lemon-Oreo Ice Cream – Taste and See
Have you ever tried lemon Oreos? They're like eating a little taste of summer in every bite; the perfect balance of sweet and tart and they are a key ingredient in Lemon-Oreo Ice Cream. This delicious dessert only requires 5 ingredients and takes about 15 minutes to whip up!! Plus, this ice cream creation is "no churn" AKA no work, and no ice cream maker required. Mind-blowing, right?!?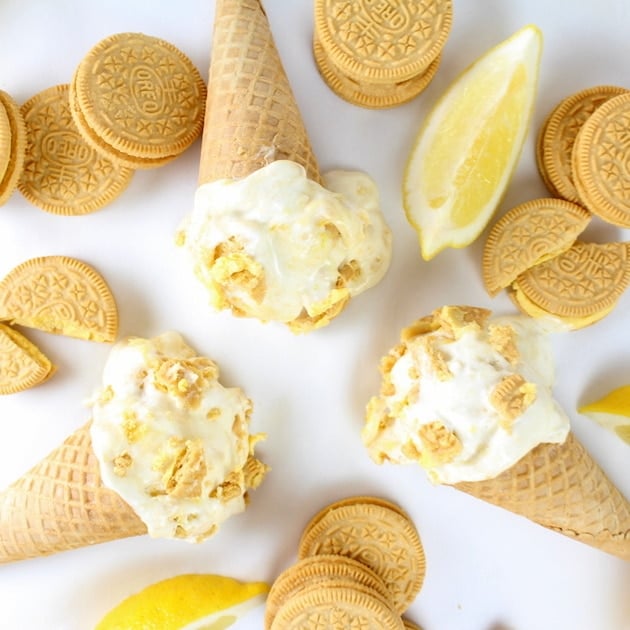 Kahlua Cherry Ice Cream – The Flavor Bender
Here's to July – the National Ice Cream Month! And what better way to celebrate ice cream month and the tail end of the cherry season than with a boozy Cherry Kahlua Ice Cream! You wouldn't believe how addictively delicious this ice cream is, and that's before you even get to the Kahula!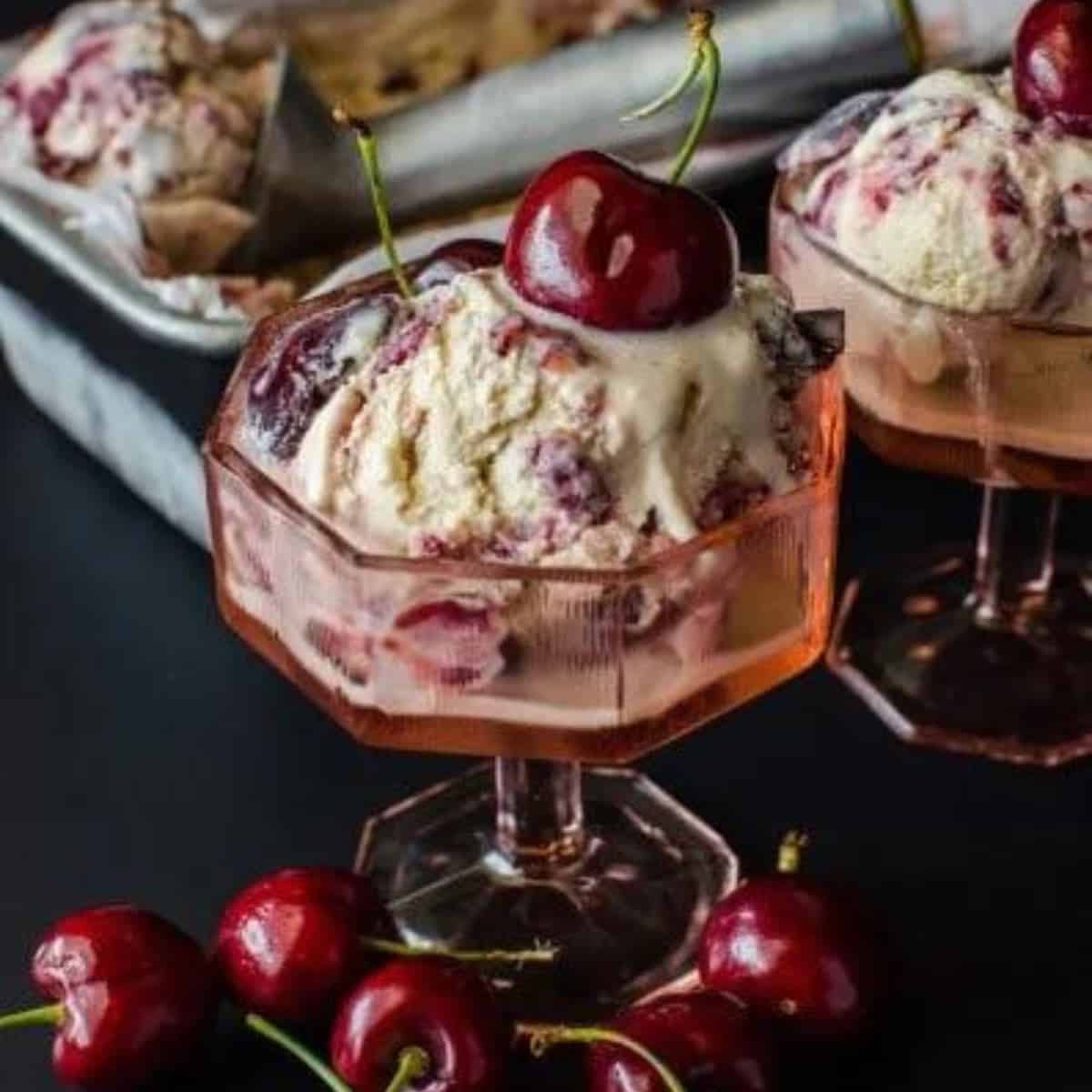 Sugar-Free Blueberry Cheesecake Ice Cream with Lavender – Happy Kitchen Rocks
Let's talk about this blueberry cheesecake ice cream with lavender. Creamy, flavorful, and sweet without sugar, Next time you crave a really big piece of blueberry cheesecake, make this ice cream. Seriously, it's so good and besides, it's sugar-free! This means you can stop feeling guilty about your cravings and satisfy them to the full extent.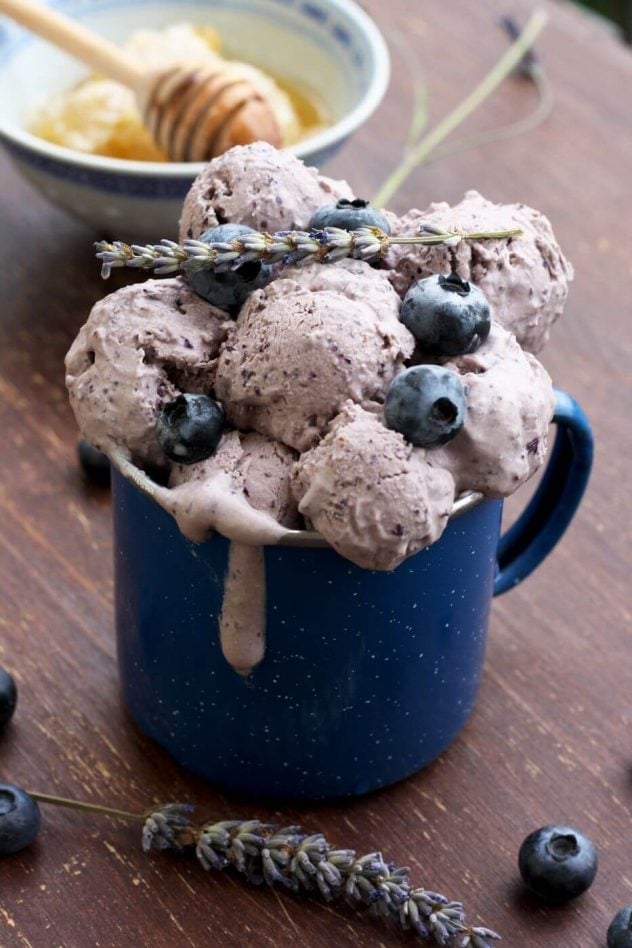 No-Churn Vegan Chocolate Ice Cream – Maria Ushakova
This no-churn vegan chocolate ice cream is so rich, smooth, and creamy that nobody would ever guess that it's dairy and egg-free. In addition, it's quite easy to make. If you have a muffin pan and a food processor or a high-quality blender, you can whip up this vegan chocolate ice cream in just 15 minutes (plus the freezing time). No ice cream maker and no tedious churning are required.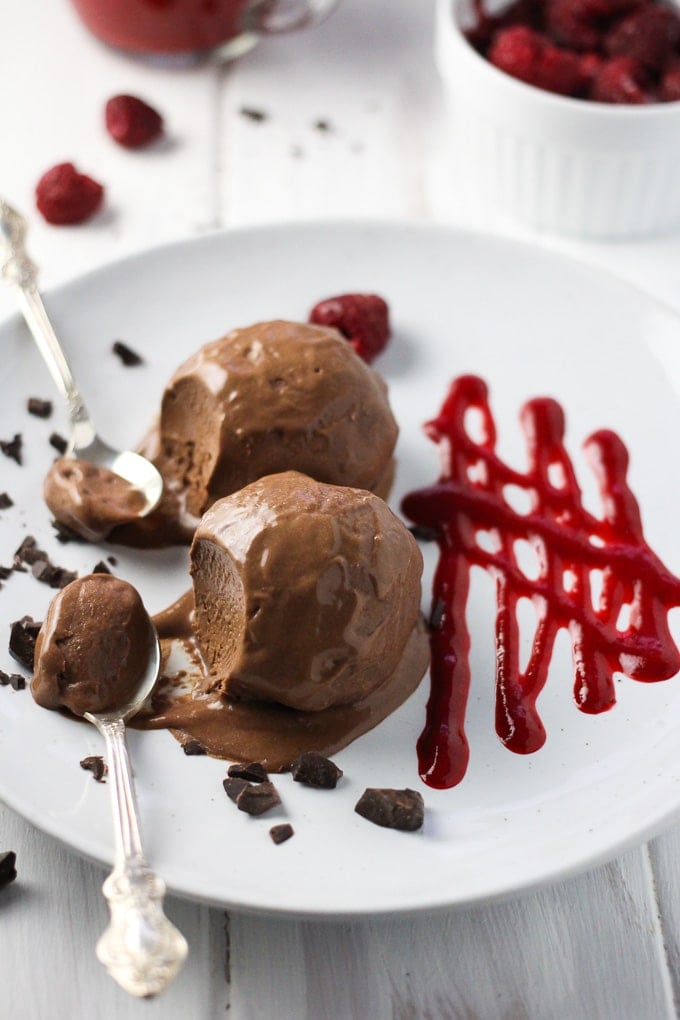 Easy Homemade Mixed Berry Sherbet- Grits and Pinecones
Easy Homemade Mixed Berry Sherbet is a sweet, tangy, and delicious ending to any meal. This simple fruit sherbet, made with a combination of frozen berries including strawberries, blackberries, raspberries, and blueberries, is light and refreshing and just the thing to help you cool off on a hot summer evening.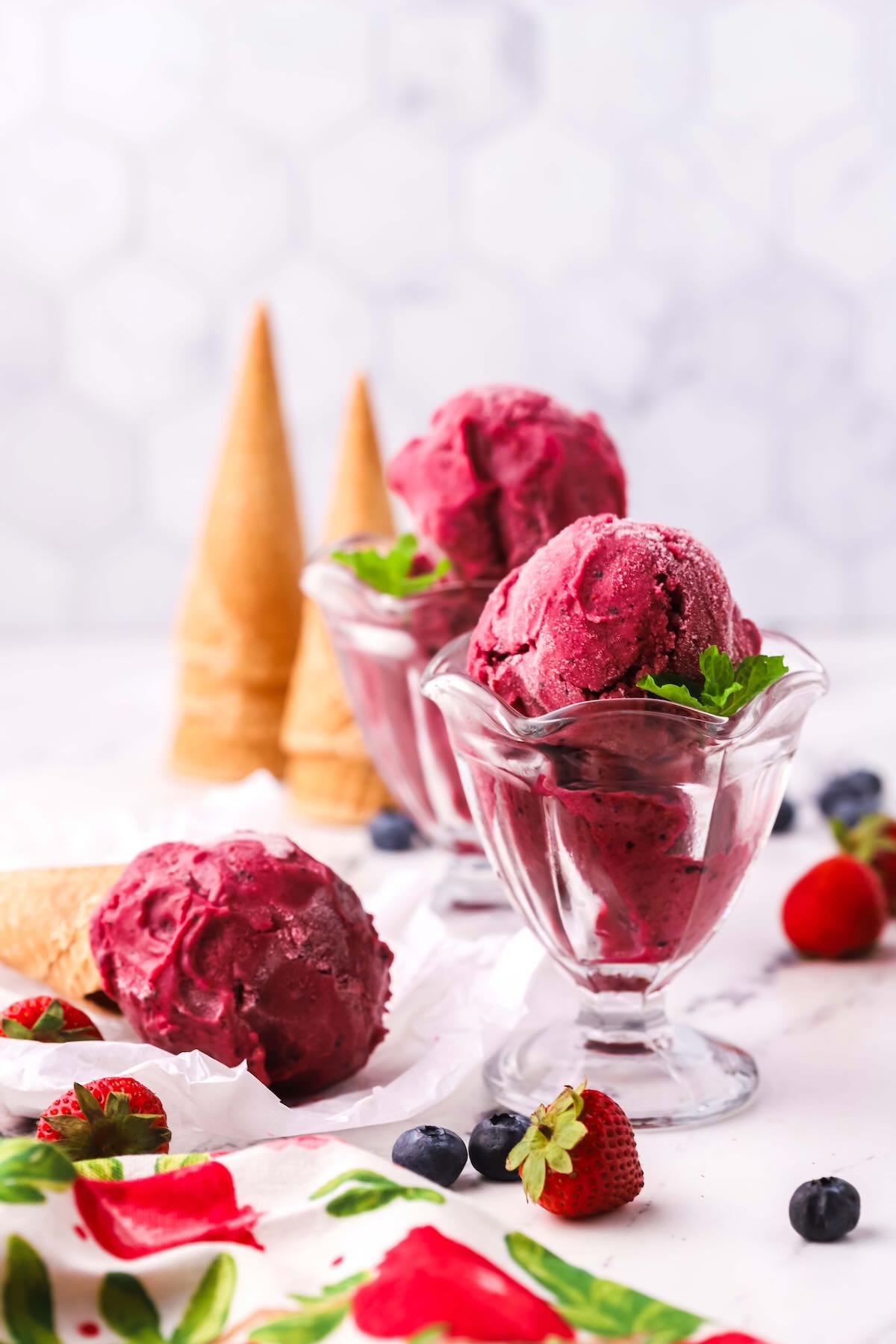 No-Churn Mint Chocolate Chip Ice Cream – Marsha's Baking Addiction
This deliciously smooth and creamy ice cream is infused with peppermint, and loaded with dark chocolate chunks! It is also no-churn and only requires using a handheld mixer to whip up some heavy cream. It's so quick and easy to throw together and only contains 6 simple ingredients. The base ingredients are heavy cream and sweetened condensed milk. The rest is just flavoring, coloring, and add-ins! (mmmm… dark chocolate chunks.)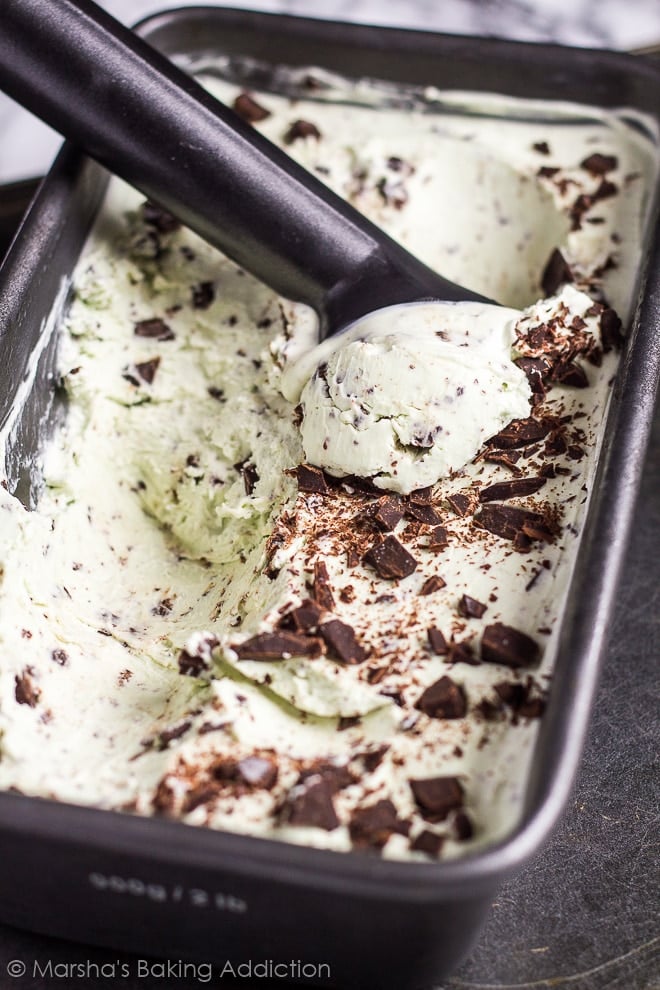 Easy No-Churn Chocolate S'mores Ice Cream – Meatloaf and Melodrama
No-Churn Chocolate S'mores Ice Cream is loaded with graham crackers, chocolate chunks, and mini marshmallows. You don't need an ice cream maker to enjoy this easy summer treat! You just make some whipped cream, and then you fold it into sweetened condensed milk and add whatever flavors and mix-ins you want. Then, you let it hang out in the freezer for a little while, and you've got a super tasty treat.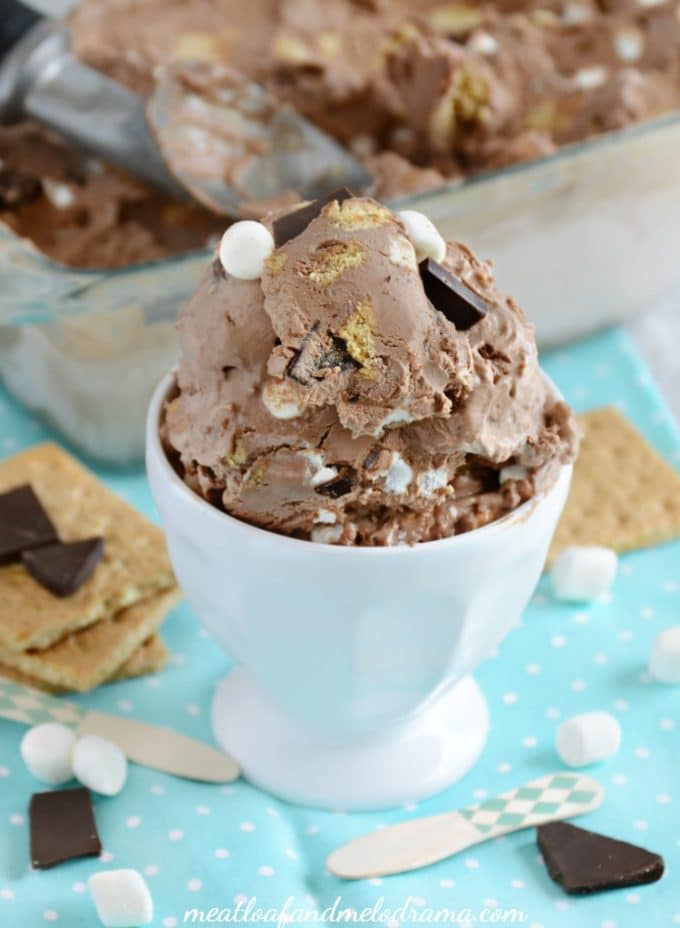 Andes Mint Chip Ice Cream – What the Fork
This Andes Mint Chip Ice Cream is a great summer treat. It's creamy, has a wonderful mint flavor, and is full of crunchy Andes Mint Creme de Menthe bits. It's the perfect minty dessert.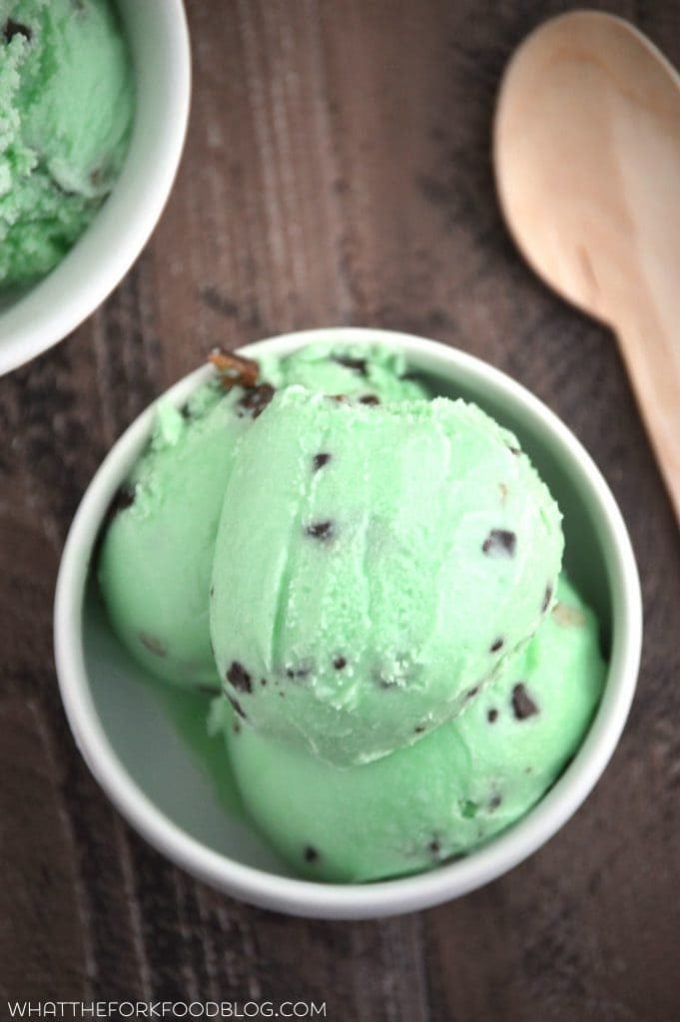 Game of Thrones Ice Cream – Let's Eat Cake
Game of Thrones fans, rejoice! This Game of Thrones recipe for black sesame ice cream —named after the cold, undead Whitewalkers — is the perfect addition to your Game of Thrones party. Don't be scared off by the color of the grey ice cream, the black sesame gives it a peanut butter-like flavor and the blue M&Ms add a nice chocolatey crunchiness!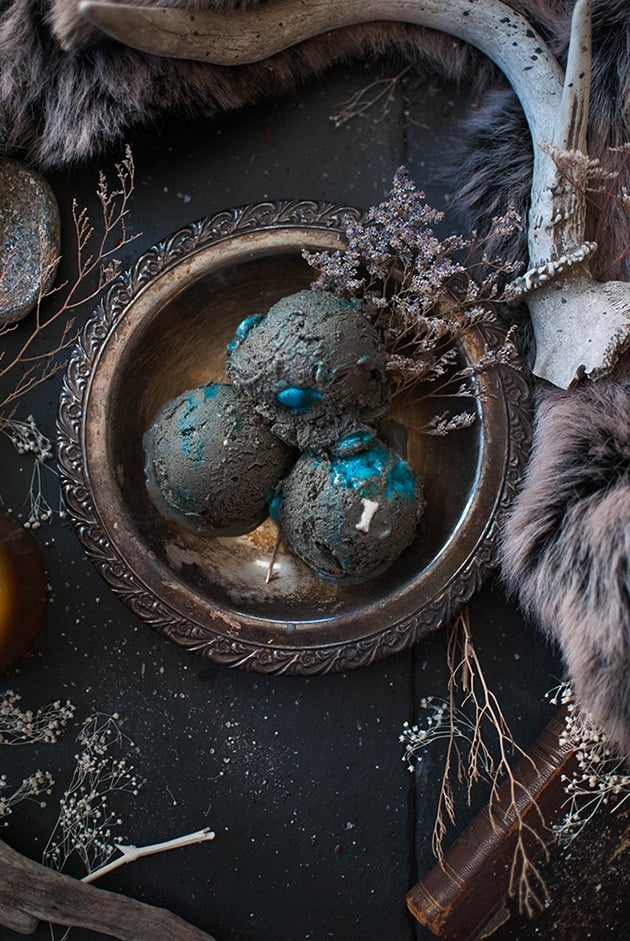 Black Cherry Buttermilk Ice Cream – A Side of Sweet
This black cherry buttermilk ice cream recipe has a surprising tang. It's refreshing and delicious on a hot summer day and easy to make. I love the buttermilk ice cream base because it's tangy and refreshing in a really unexpected way. Cherries are in peak season right now and I just knew that black cherries would also go great with a buttermilk base. My hunch was correct and the recipe exceeded my expectations. It is so, so good – perfectly sweet and rich while not being overwhelming. I recommend you don't waste any time and try it for yourself immediately!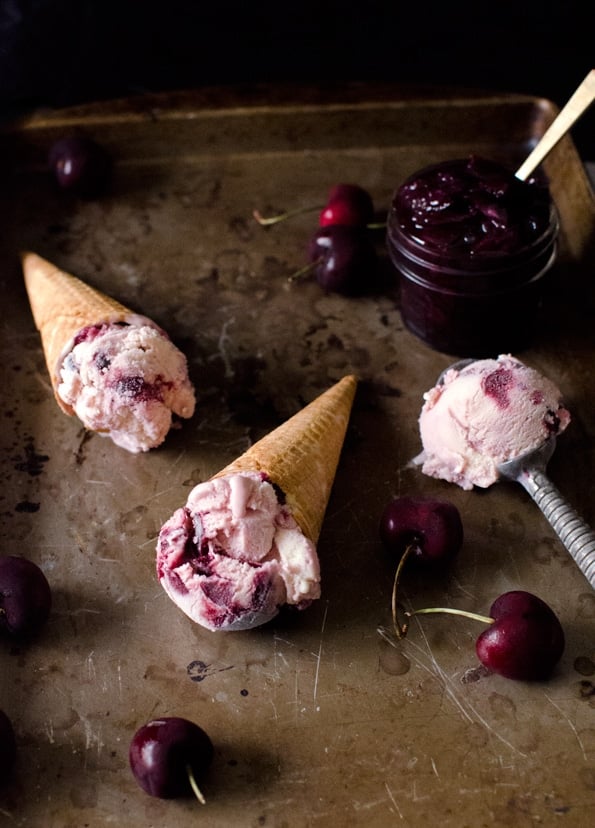 Dark Sweet Cherry Sherbet – Grits and Pinecones
Luscious and decadent Dark Sweet Cherry Sherbet with Pomegranate juice is quick and easy to make. But the best part is this luscious dessert clocks in at only 165 calories a serving. It's a sherbet bonanza! So as they say, "you can have your dessert, and eat it too".
Blueberry Compote Ice Cream – Raia's Recipes
This amazing ice cream recipe is a delicious blend of egg yolks, creme fraiche, and sugar. I recommend using farm-fresh yolks since they offer the most nutritional value, but organic would be fine if that's all you can get. As for the creme fraiche, I'm sure you can purchase that in a health food store, but I would highly recommend you culture your own at home! It really is easy and the taste is superb! I also used evaporated cane juice for the sweetener, but I think coconut sugar would work just as well.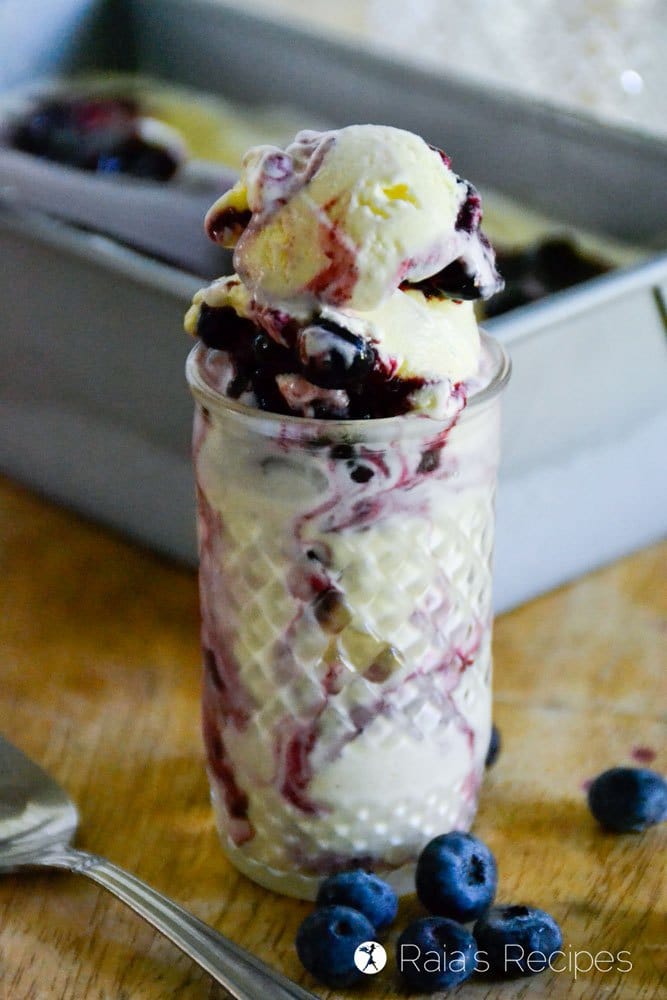 No-Churn Fresh Raspberry Swirl Ice Cream – An Italian in my Kitchen
Raspberry Swirl Ice Cream, is a creamy no-churn ice cream, made with fresh raspberries. Fast, easy and so delicious!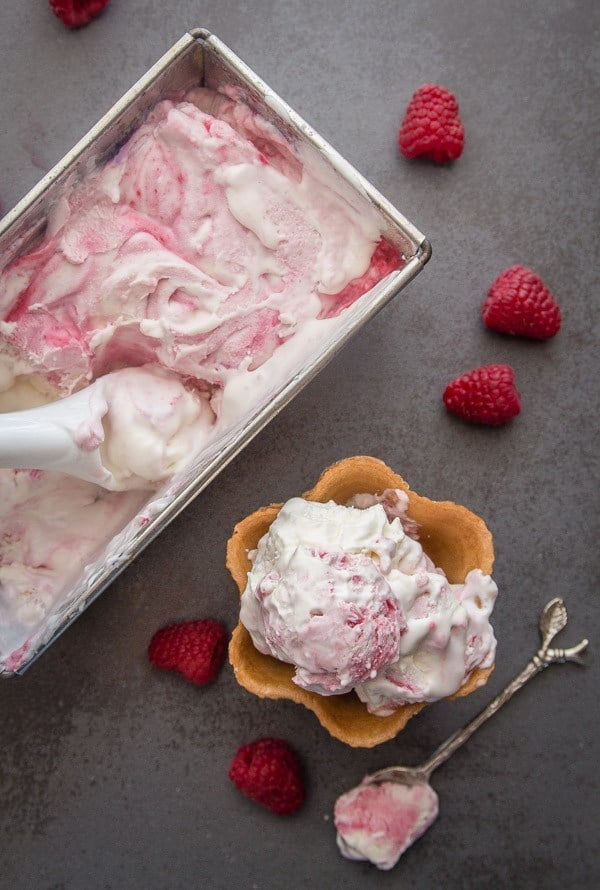 Chocolate Chocolate-Chunk Raspberry Swirl Ice Cream – Saving Room for Dessert
If you're on the fence about how much chocolate is too much, try a scoop of this Chocolate Chocolate-Chunk Raspberry Swirl Ice Cream. There is amazing depth in the dreamy, creamy, chocolate base. Even though a scoop of the plain chocolate egg-less ice cream might be enough to satisfy your craving, we filled it with semi-sweet chocolate chunks and added a great big ribbon of raspberry sauce.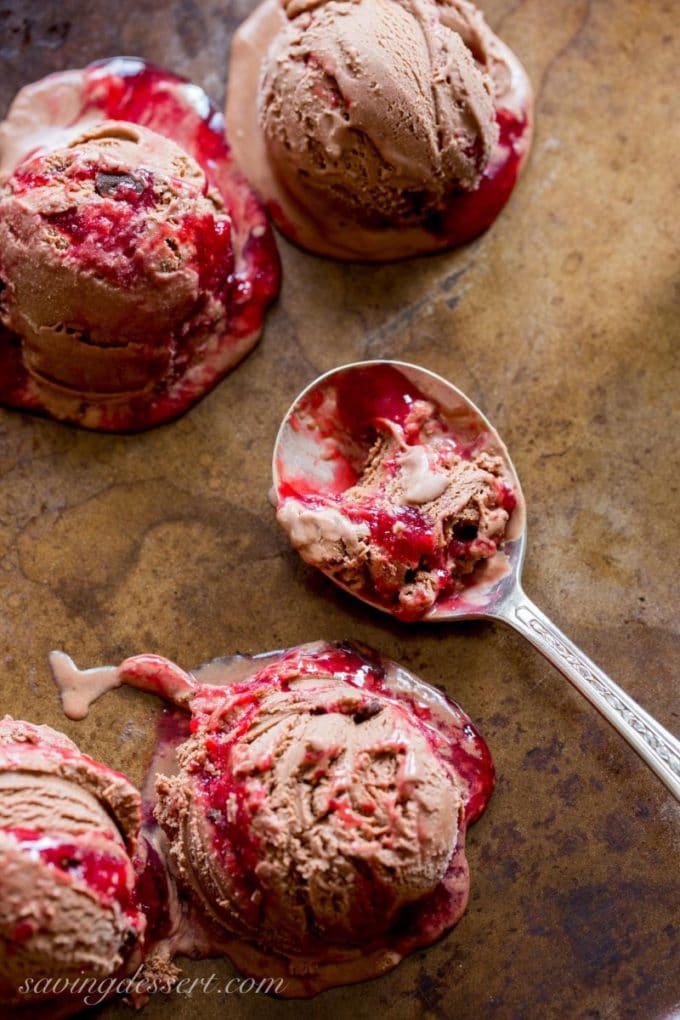 Peanut Butter Swirl Ice Cream Dairy Free, Low Carb, THM S – Joy Filled Eats
This Peanut Butter Swirl Ice Cream is perfect for any ice cream craving. It has the perfect contrast between the sweetness of the ice cream and the saltiness of the peanut butter swirl. A scoop or two after dinner and your evening will be complete. The secret ingredient in this ice cream is raw cocoa butter. It helps make the ice cream creamy while adding healthy fat. It has a delicate white chocolate flavor and I recommend giving it a try.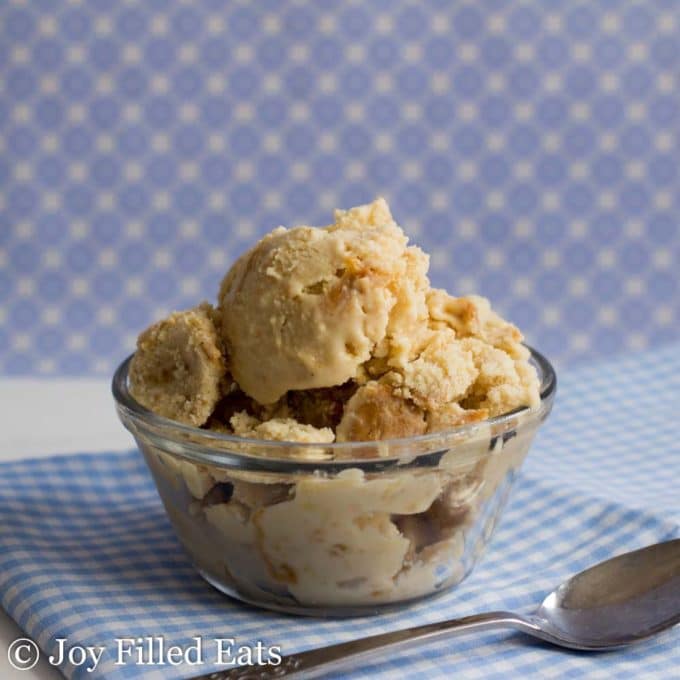 Dark Chocolate Cherry Custard Ice Cream – Homemade Food Junkie
Dark Chocolate Cherry Custard Ice Cream is summertime fruity freshness and dark chocolate decadence blended into a creamy base of frozen custard. So good!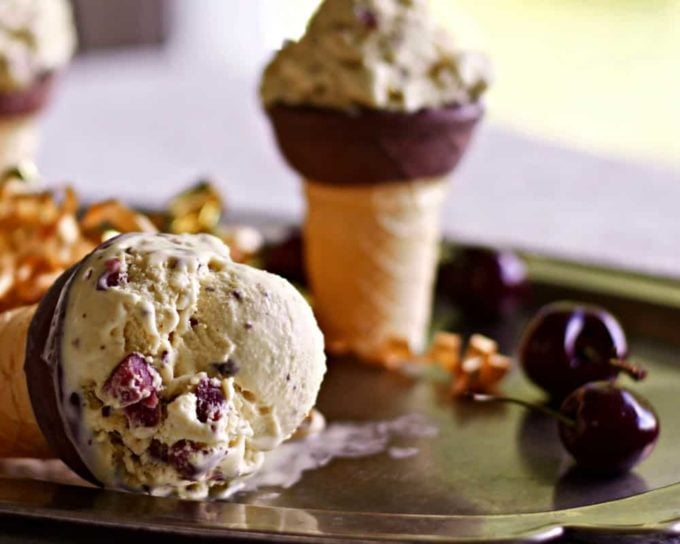 No-Churn Red Wine Strawberry and Salted Dark Chocolate Ice Cream – Pass Me Some Tasty
Sorry kids, this ice cream is for adults only. No-churn red wine, strawberry, and salted dark chocolate ice cream. Just dwell on that for a moment (feel free to use the picture below for dwelling inspiration)….Leave your ice cream maker in the cupboard because when it comes to crazy good ice cream, we don't want to have to wait around for it.
No pre-freezing your ice cream container, no cooking heavy cream and milk, and then whisk in egg yolks hoping to create a no-clump custard, and definitely no waiting for your ice cream maker to finish churning before you can even get to the freezing process. This ice cream is happening now friends. Yeeaaasss!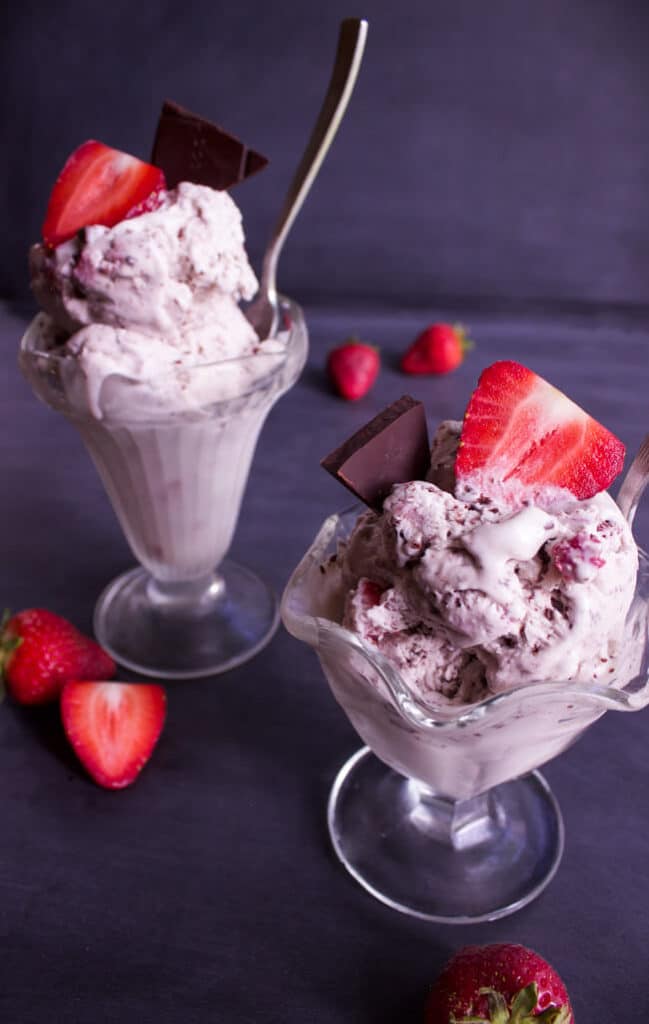 No-Churn Rocky Road Ice Cream – Grits and Pinecones
Rocky Road Ice Cream is full of rich, creamy chocolate ice cream, soft fluffy marshmallows, and buttery roasted pecans. It's pure frozen deliciousness and makes a perfect dessert or snack.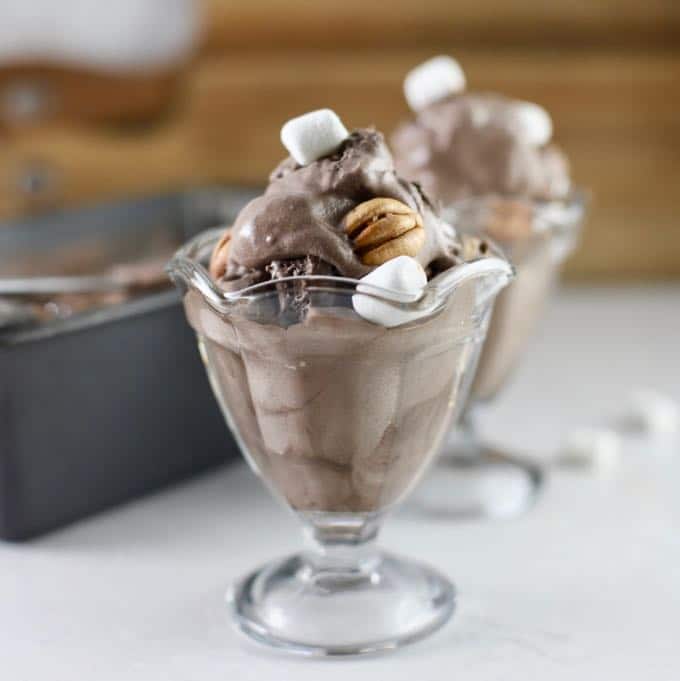 Cake Batter Ice Cream – Eating Richly
Have you been daydreaming of a visit to a nearby creamery for some cake batter ice cream? This recipe will make your sweet dreams a reality! Cake batter ice cream is one of my favorite flavors, so I was really excited to learn how easy it is to make at home. You simply stir your favorite cake mix into a basic vanilla ice cream recipe!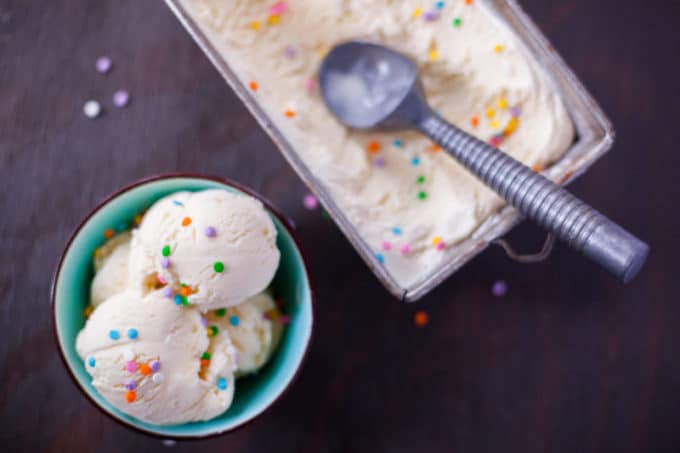 Blackberry Swirl Ice Cream – House of Nash Eats
This blackberry swirl ice cream is a combination of my adoration of fresh, seasonal fruit, sweet, creamy desserts, and two little girls who are obsessed with all things purple. And ice cream. I mean, of course, ice cream. It is sweet, but not too sweet, and it freezes without getting all icy. And every scoop is gorgeous, with those vivid purple swirls tucked into dreamy white clouds of vanilla.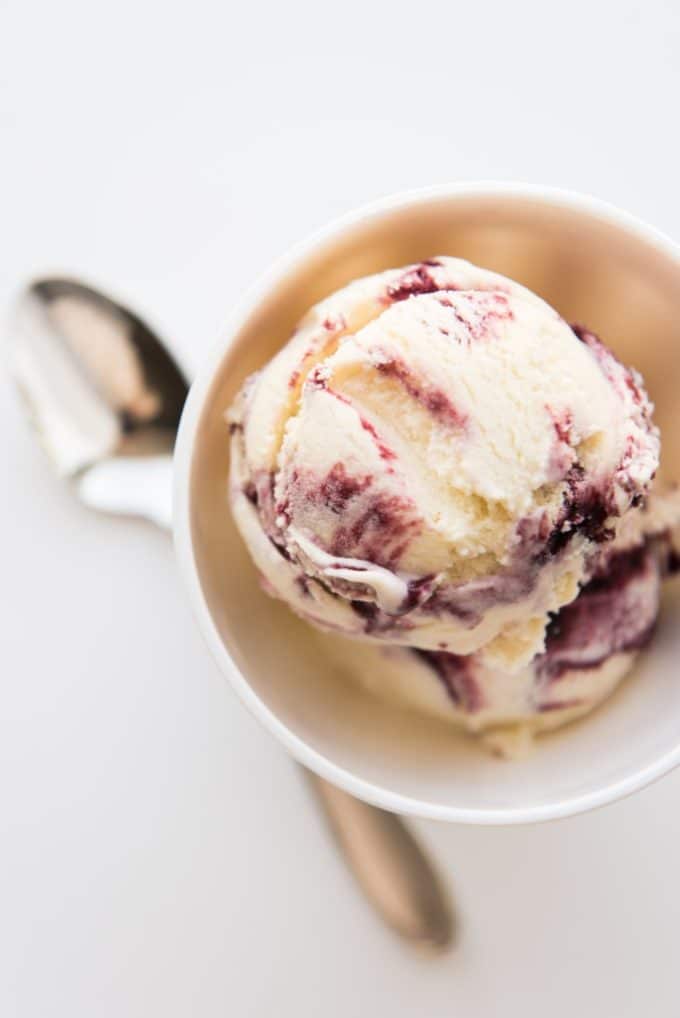 Pecan Pralines and Cream Ice Cream – Grits and Pinecones
A festive holiday or anytime dessert, full of decadent heavy cream and crunchy roasted pecans, luscious Pecan Pralines and Cream Ice Cream will make a sweet ending to any meal!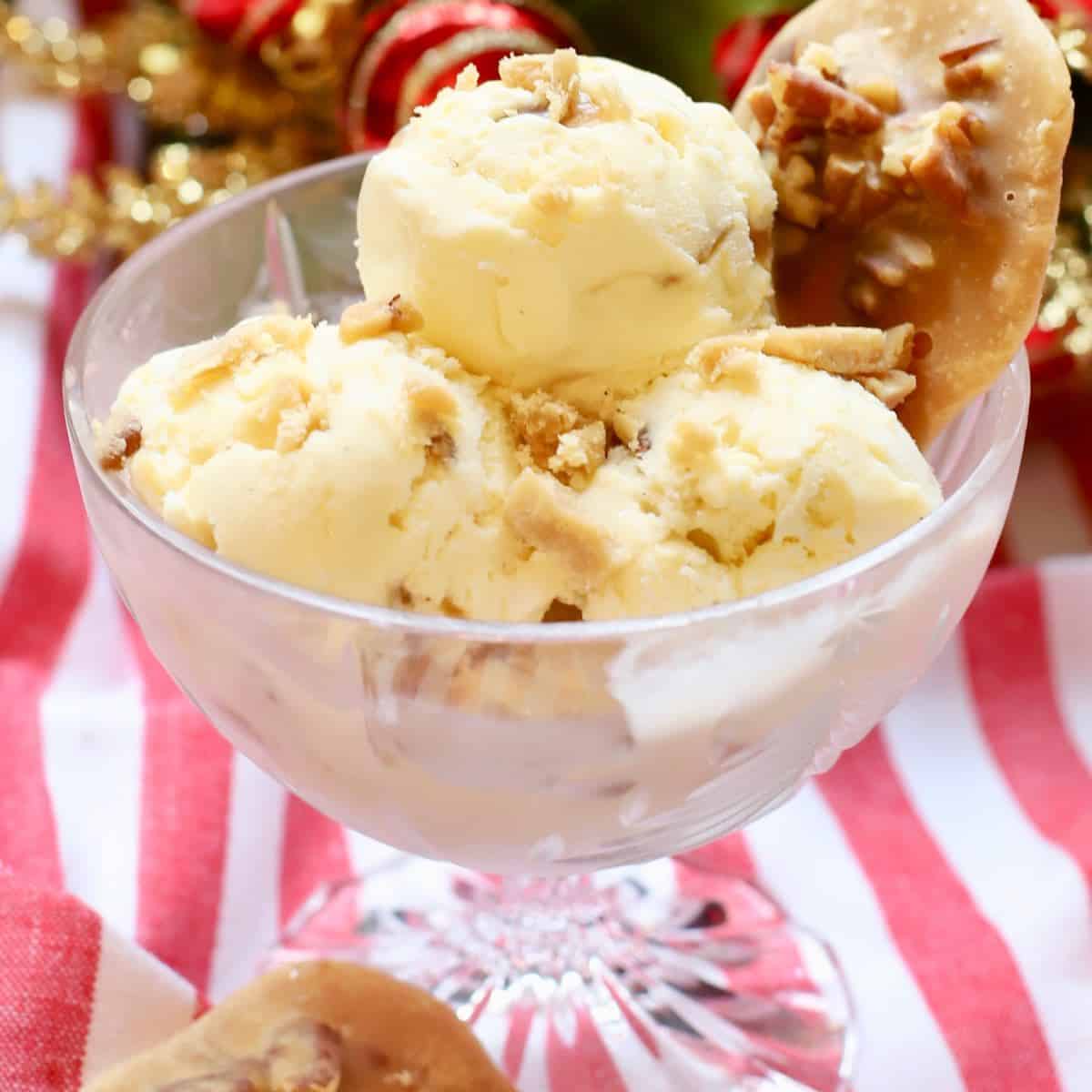 No-Churn Butter Pecan Ice Cream – One Dish Kitchen
Rich and creamy Butter Pecan Ice Cream – this no-churn, no-cook ice cream is so easy to make and sure to become a favorite. No ice cream maker is needed for this delicious summertime treat.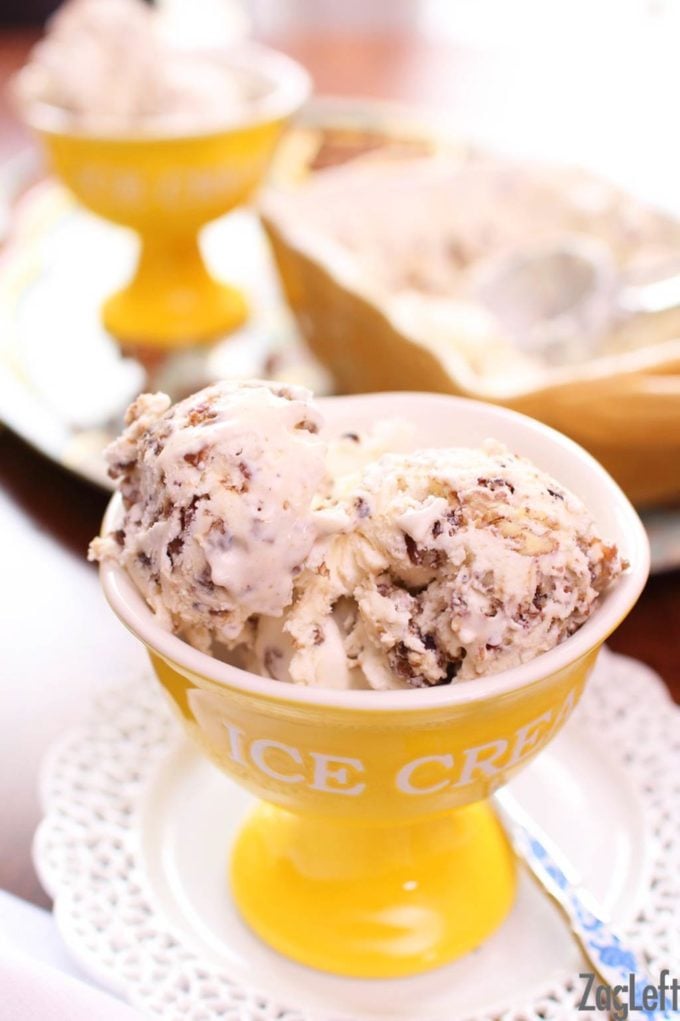 Vanilla Bean Ice Cream with Hand-Dipped Cones – The Organic Kitchen
For the true vanilla ice cream, lover loaded with chocolate goodies for the chocolate ice cream lover. The best of both worlds!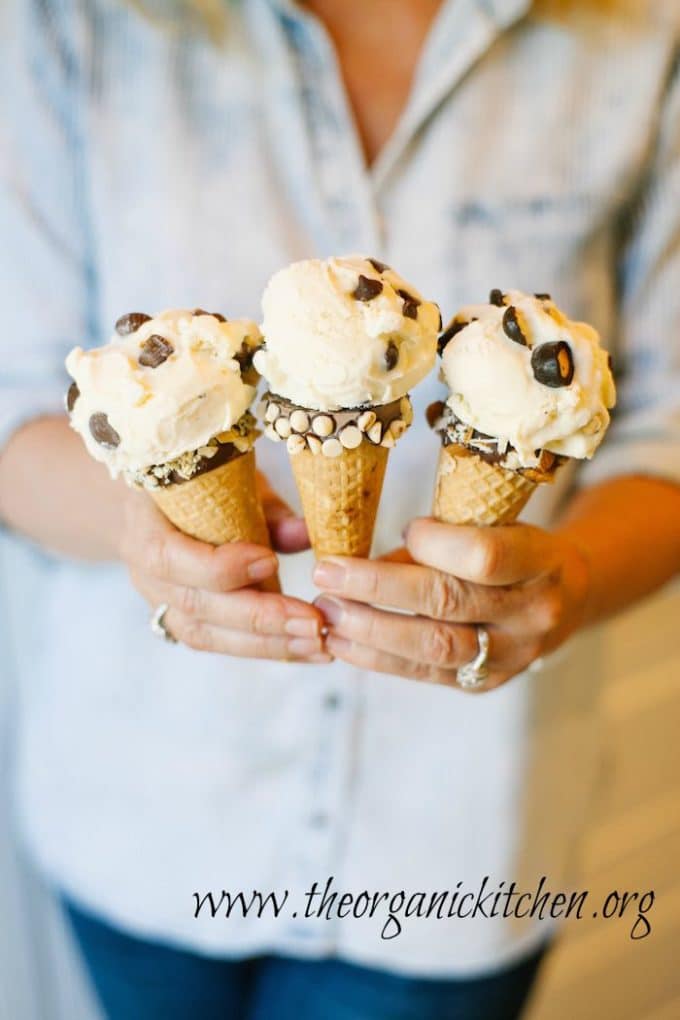 Limoncello Ice Cream – Pudge Factor
Limoncello Ice Cream is incredible, and silky smooth because of the impact of the alcohol from the Limoncello. As it turns out, the addition of alcohol to the ice cream mixture lowers the freezing point. This retards the formation of ice crystals that sometimes plague homemade ice cream.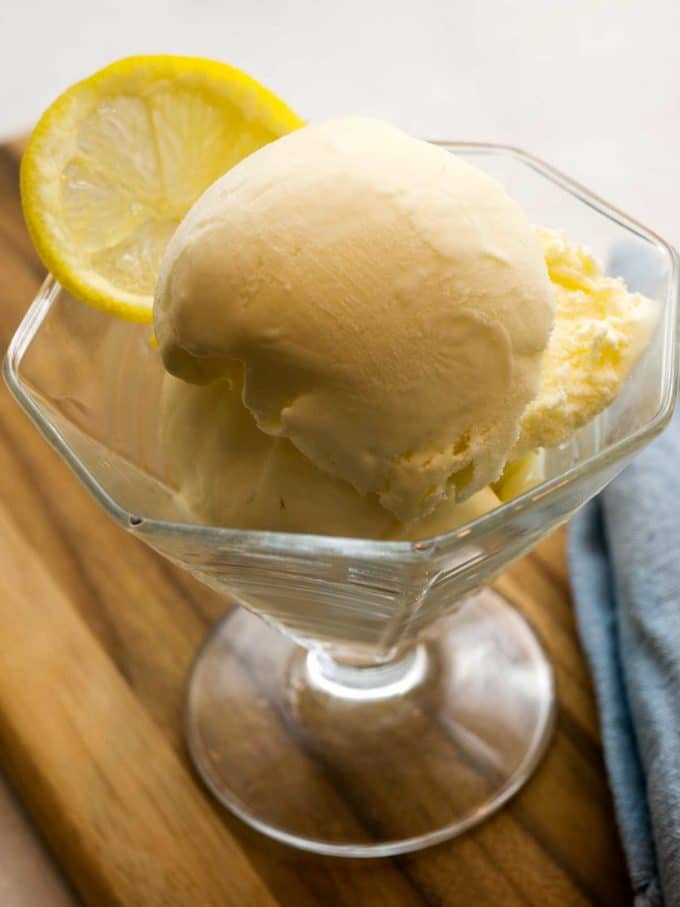 Fresh Strawberry Ice Cream – Saving Room for Dessert
Fresh Strawberry Ice Cream ~ creamy and smooth, with tart (not sour) undertones that you'd expect from a good ripe strawberry. With a touch of Grand Marnier, buttermilk, and mascarpone cheese, the richness shines through in this eggless, dreamy, frozen treat!
Raspberry Ice Cream – Sugar-Free, Low Carb, Gluten-Free – Wholesome Yum
This easy raspberry ice cream recipe takes just 2 minutes and needs 3 ingredients! It's a healthy way to satisfy your ice cream craving instantly.
Triple Chocolate Ice Cream with Waffle Cones – Pudge Factor
Triple Chocolate Ice Cream is a true chocolate lover's dream! It's velvety smooth, intensely chocolatey, and absolutely delicious. When paired with homemade waffle cones, it is extraordinary!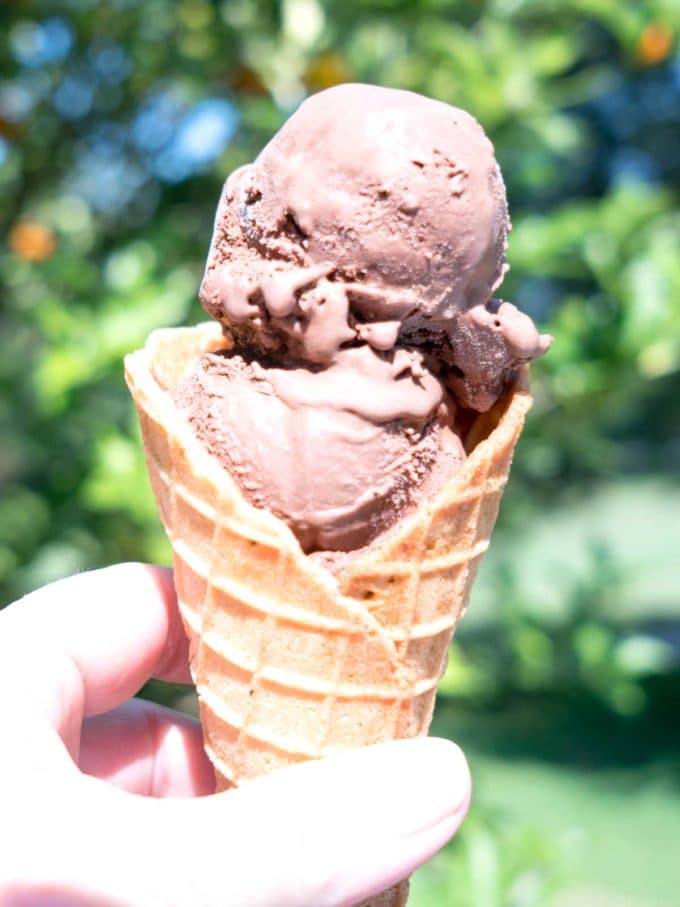 Best Homemade Vanilla Bean Ice Cream – Cooking LSL
Smooth, Creamy, and Flavorful, this seriously is the best homemade vanilla bean ice cream, I've ever made. Check out this simple custard-based ice cream – French style.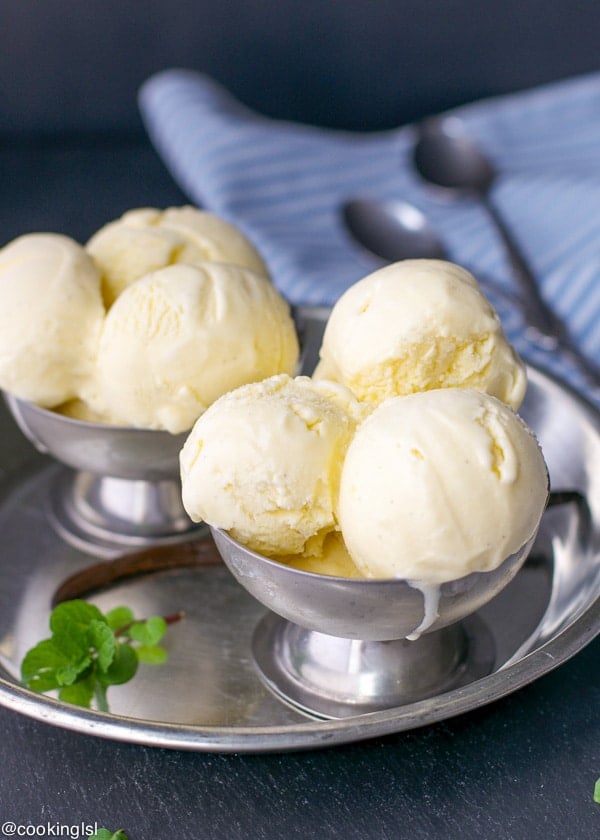 Vegan Banana Bread Ice Cream – 24 Carrot Life
My trick? A tablespoon of rum! The rum keeps everything from freezing completely so you still have a scoopable ice cream texture, and you really can't taste it. With a touch of brown sugar, lots of cinnamon, and some chopped toasted pecans this ice cream totally reminds me of banana bread. I topped my ice cream with some homemade pecan butter that was just made of roasted pecans, cinnamon, and a touch of sea salt.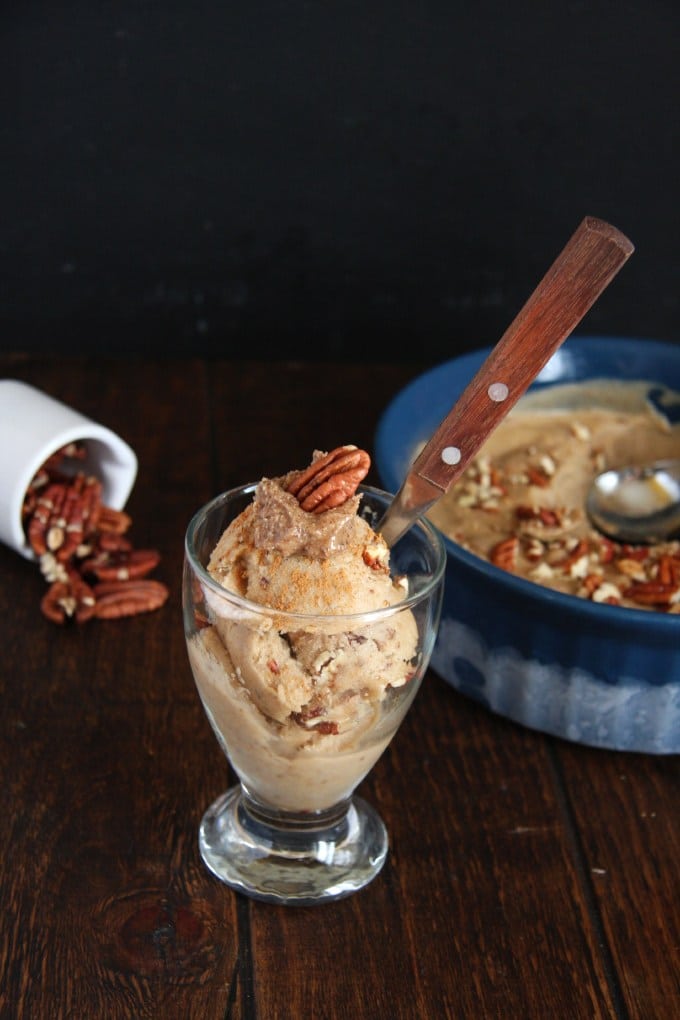 Bourbon Ice Cream – Grits and Pinecones
If you love ice cream and are a bourbon aficionado, you will fall in love with this decadent recipe for adult-only Bourbon Ice Cream. The custard base starts with the basics: rich, heavy cream, egg yolks, sugar, and vanilla paste. The magic happens with the addition of brown sugar with its deep molasses flavor and bourbon, which adds the characteristic vanilla, caramel, and oak flavor profile.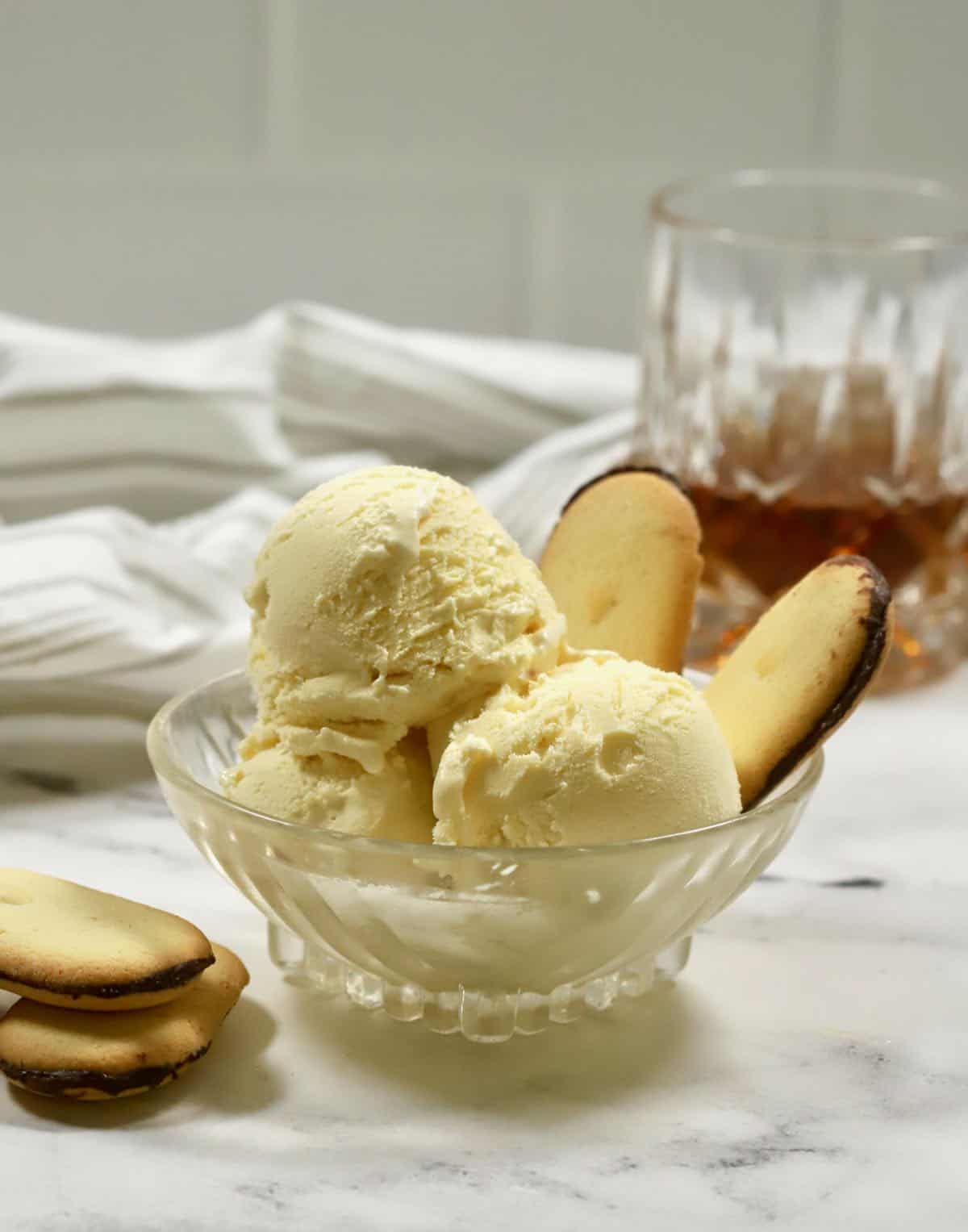 Frequently asked questions:
What are the most popular ice cream flavors?
It depends on who you ask and the results are not that surprising. According to a survey conducted by Newsweek, the three top flavors in America are classic chocolate, vanilla, and strawberry.
What ingredients make ice cream creamy?
The answer is fat from dairy and egg yolks. The creamiest and richest ice creams contain a high percentage of full-fat dairy products including heavy cream and egg yolks.
When is national ice cream month?
July is National Ice Cream Month according to the International Dairy Foods Association,(IDFA)  "In 1984, President Ronald Reagan designated July as National Ice Cream Month and the third Sunday of the month as National Ice Cream Day. For 2022, it will be on Sunday, July 17.

Also, some interesting trivia from the IDFA: the average American eats four gallons of ice cream per year.
What are some popular toppings?
Of course, the sky is the limit as far as toppings, but a few ideas to consider include sprinkles, chopped nuts, hot fudge, chocolate syrup, caramel sauce, crushed cookies including Oreos, whipped cream, chocolate and butterscotch chips, maraschino cherries, marshmallow cream, and crushed candies such as peanut butter cups and malted milk balls, toasted coconut, and fruit such as sliced strawberries and blueberries.
What are the most common ingredients used to make ice cream?
Because ice cream is considered dairy, you won't be surprised to learn that the most common ingredients include heavy cream, half-and-half, whole milk, sweetened condensed milk, and evaporated milk. Cream of coconut and almond milk are also used. Other common ingredients include egg yolks, corn syrup, sugar and vanilla extract, paste, or beans.
More dessert recipes:
If you enjoy frozen desserts such as these, you might also like these popular recipes on my blog:
If you need more recipes or menu ideas, you can find all of my dessert recipes at this link.
Well, what do you think? Isn't this an incredible list of luscious homemade ice cream flavors and recipes? Leave me a comment and let me know which one is your favorite or which recipe you plan to try first. Or, leave me a comment letting me know what is the most unique flavor you have ever tried!
Thank you for visiting Grits and Pinecones! I hope you come back!