The fourth installment in my Simple Summer Supper Series is Parmesan Chicken with Cucumber Salsa.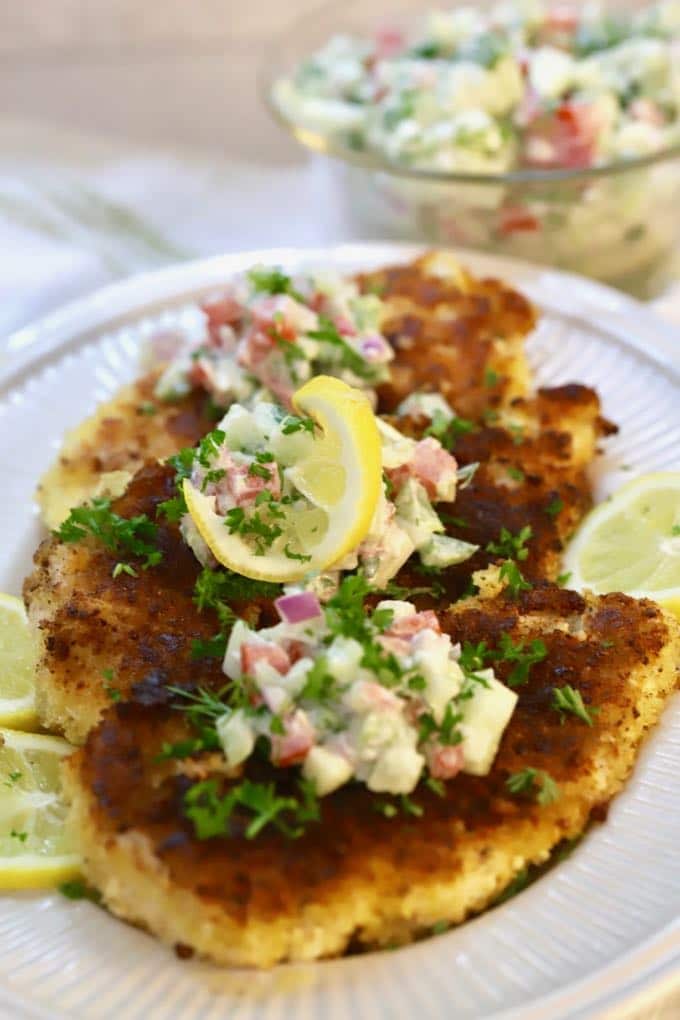 Parmesan Crusted Chicken and Creamy Cucumber Salsa is a light summer meal which consists of chicken breast sliced in half and pounded into thin cutlets. These cutlets are then covered in flaky panko and nutty parmesan cheese and quickly sautéd until they are extra crispy!
The icing on the cake, or in this case, the topping on this easy parmesan crusted chicken, is a cool, creamy and crunchy cucumber salsa, made with fresh cucumbers, tomatoes, lemon juice, a bit of sour cream, and because it's salsa, a jalapeño pepper!
This meal does take about ten minutes longer to prepare than my other Simple Summer Suppers, but it is time well spent, and it's an easy summer dinner recipe the entire family will enjoy. And, if you have been looking for easy recipes using cucumbers from your garden, this cucumber salsa has your name on it!
What goes with Parmesan Chicken and Cucumber Salsa?
As with my other Simple Summer Suppers, easy Parmesan Chicken with Cucumber Salsa can stand on its own, but you can certainly add something like my Southern Fresh White Acre Peas or Easy Southern Broccoli Salad to round it out.
If you like this recipe, you might also be interested in my other Simple Summer Suppers including Southern BBQ Shrimp and Cheese Grits, Pan Fried Fish and Blistered Tomatoes, and Spaghetti with Fresh Cherry Tomato Sauce.…