If you like cheese grits, then you will love my new twist on this classic Southern dish, Southern Spicy Tomato-Cheese Grits!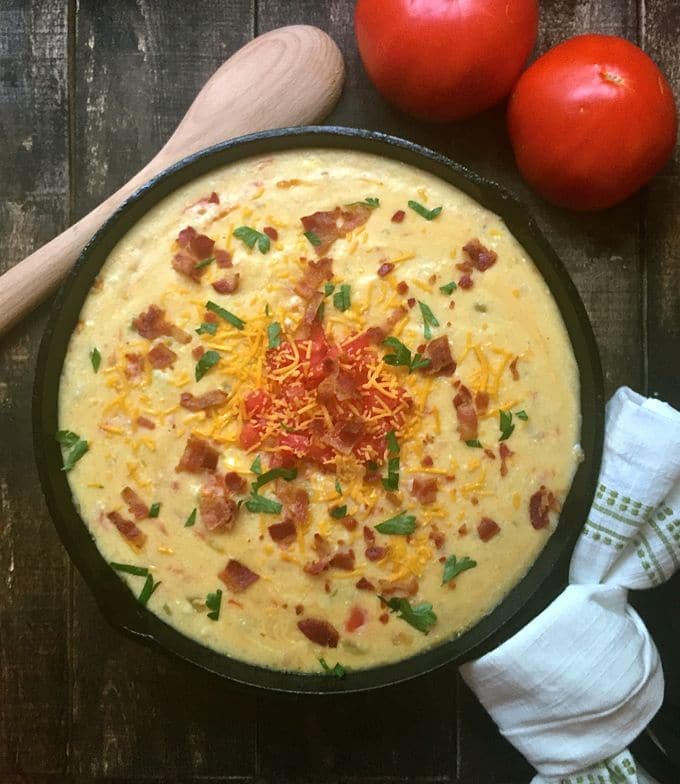 Southern Spicy Tomato-Cheese Grits combines three of my favorite foods, grits, cheese, and bacon in a wonderfully delicious and flavorful one-dish meal that is so versatile it can be served for breakfast or brunch, lunch or even a light dinner. We had this yummy dish a week ago for dinner, and I took some to a friend who just had surgery. And, can I just tell you it was scrumptious! It's a quick and easy meal to prepare, and you can have it on the table in under 30 minutes. Perfect for those nights when you don't want to prepare a large meal and just want something simple. Of course, it's also perfect served as a yummy breakfast or brunch dish for a lazy Sunday or when you have company.
And yes, I'm still obsessed with summer tomatoes and, combined with bacon and two kinds of cheese, these tomatoes which were from our friend Mike's garden, elevate a simple grits dish from ordinary to extraordinary!
If you like this grits recipe, you should also try my delicious make-ahead Southern Cheese Grits Casserole and Easy Cheesy Parmesan Shrimp and Grits. Also, you might be interested in my Easy Classic Southern Tomato Pie recipe and my Tomato Cobbler with Cornmeal-Cheddar Biscuits recipe.
This recipe does call for peeled tomatoes, which can be a pain, but I am including easy step by step instructions below for "How to Peel Tomatoes," that will have the peels almost falling off the tomatoes….