Nothing says spring or summer like a yummy Pineapple Upside-Down Cake! An old-fashioned, classic Easter dessert, Easy Pineapple Upside-Down Cake features caramelized pineapple and maraschino cherries over a rich, moist, buttery delicious cake!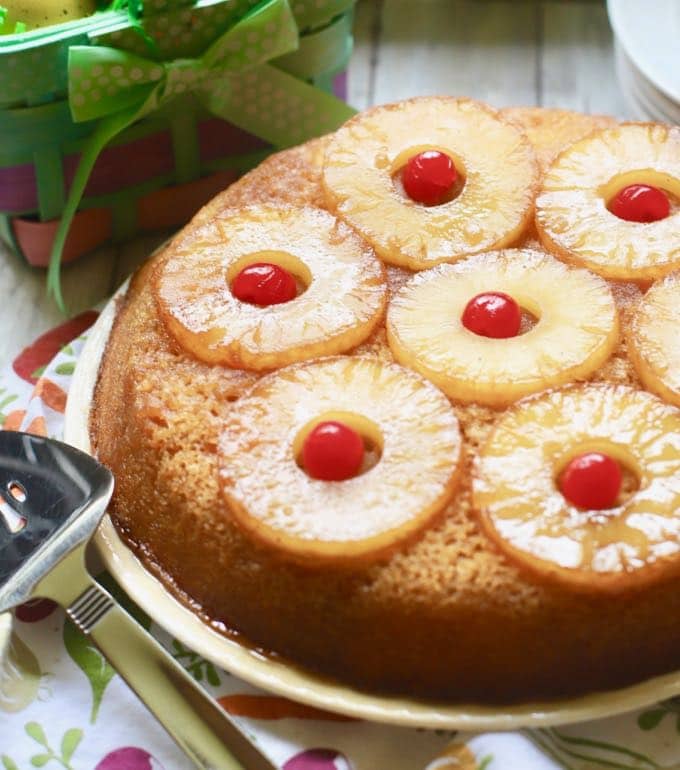 Because Pineapple Upside-Down Cake is traditionally baked in a cast iron skillet it was originally called a Pineapple Upside-Down Skillet Cake. And, if you have never had a Pineapple Upside-Down Cake, you might be wondering, just exactly what is an upside-down cake? Well, simply, it's a cake that is cooked in a single pan; the topping or in this case, the pineapple, cherries, butter and brown sugar goes in first, then the batter is poured over the topping. After the cake has baked, the pan is flipped upside down, and you end up with a glorious homemade Pineapple Upside-Down Cake!
This Pineapple Upside-Down Cake recipe is easy because you start with a box of yellow cake mix. Yes, you could make the entire thing from scratch, but for this cake, using a cake mix saves time and ingredients, and the outcome is scrumptious. And, isn't this what cooking is all about?
If you like old-fashioned cakes like this one, you might also like these recipes: Minnie Lee Croley's Sour Cream Pound Cake, My Favorite Carrot Cake, and Apple Dapple Cake with Caramel Glaze.…