Memorial Day is one of America's most solemn occasions and is observed on the last Monday of May; this year on Monday, May 29th. Memorial Day honors the men and women who have died while serving in the U.S. military.  Cities and towns across America will lower their flags to half-mast to honor those who made the ultimate sacrifice for our country, and each year a national moment of remembrance takes place at 3:00 p.m. local time.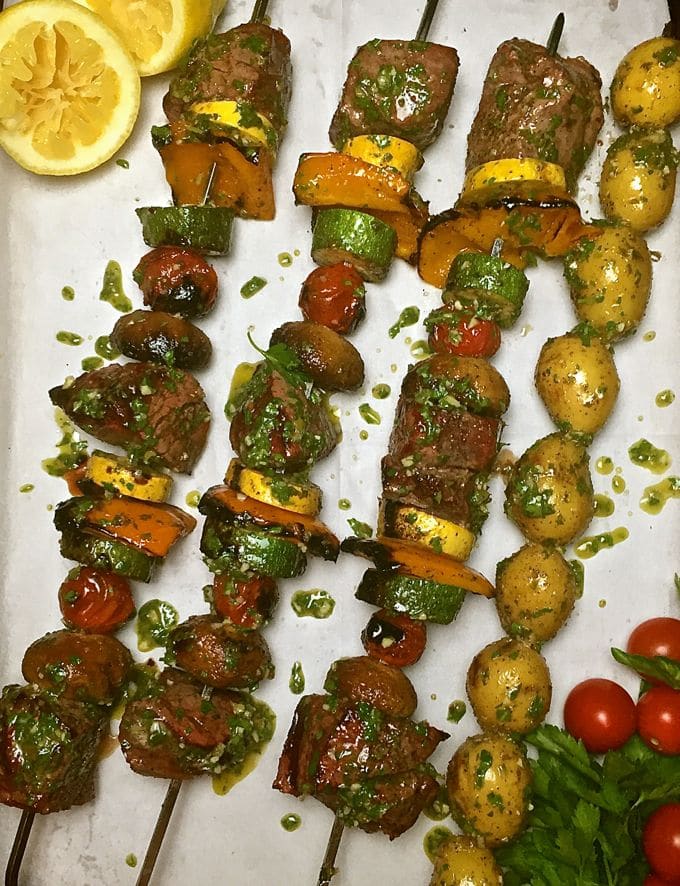 On a less somber note, in addition to honoring our fallen heroes, Memorial Day weekend also unofficially marks the beginning of summer and many families celebrate by holding outdoor picnics and barbecues.  Since many of you will probably be grilling this weekend, I thought this would be the perfect opportunity to share this easy, healthy and delicious recipe for grilled Steak Shish Kabobs with Chimichurri Sauce.
You won't believe how easy grilled Steak Shish Kabobs with Chimichurri Sauce are to make and they are guaranteed to please even the picky eaters in your house. You can even let each person personalize their skewer with their favorite ingredients. Steak Shish Kabobs with Chimichurri Sauce is also versatile and while I'm using steak, you can really substitute any protein you prefer, including pork, chicken or seafood and any vegetable that you can fit on a skewer. One other nice thing about Steak Shish Kabobs with Chimichurri Sauce is that while you can serve it over rice or pasta, with the addition of a starch, such as potatoes, it becomes a complete meal on a stick!
So, you may be wondering what's so special about this recipe? You may have even had shish kabobs before and, while they were good, they weren't anything special. Well, it's the lemony chimichurri sauce which not only ramps up the flavor of these shish kabobs, it would be delicious on just about any other grilled beef, pork, chicken or seafood dish.
Now, before I start getting comments from those of you from Argentina or Brazil, I'm not claiming this is an authentic Argentinian chimichurri, but what I will say is that after tasting this sauce, you will think that its one of the best sauces you have ever had.  Period!  Let's just say it's chimichurri with a southern flair. The acidity from the vinegar and lemon juice, the heat from the red pepper flakes, and the freshness of the parsley is out of this world good!
So why not ditch your plans for hamburgers or hot dogs this Memorial Day and give this scrumptious grilled dish with its special chimichurri sauce a try. I promise you will thank me when the accolades come in!…