Grilled Fish Tacos with Spicy Slaw and Avocado Crema just might become your new favorite taco dish, full of chargrilled fish, coleslaw and avocado crema. These tacos feature the perfect balance of smoke, heat, and creaminess.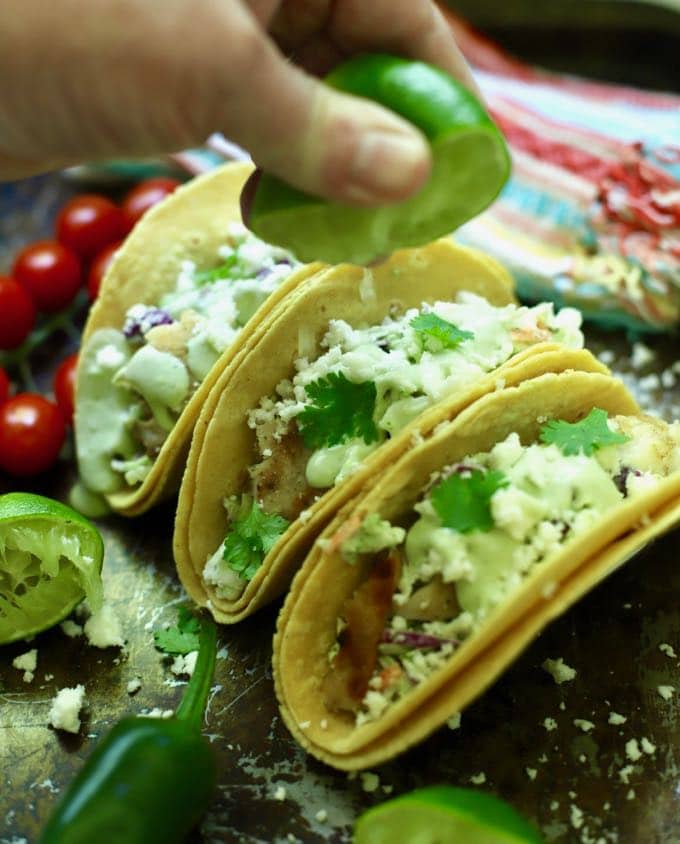 Cinco de Mayo is just around the corner and how better to celebrate Cinco de Mayo, or Taco Tuesday, than with a new recipe for grilled fish tacos?
Now, I have never met a taco that I didn't like, but my favorite tacos are fish tacos. Whether the fish is grilled, fried or broiled, they are all delicious. They are also quick and easy to prepare, and the fish only takes minutes to cook.
More taco recipes to try:
If you like tacos as much as I do, I'm betting you might also like these favorite taco recipes: Fish Tacos with Mango Salsa, Easy Salsa Verde Tacos, Shrimp Tacos with Mango Slaw, and Easy Slow Cooker Pulled Pork Tacos.
And, while technically these are not tacos in the strictest sense of the word, these taco-like recipes certainly deserve a quick look too: Beef Taco Salad with Avocado Cilantro Lime Dressing, Fish Taco Bowl with Green Apple Guacamole, and Easy Crunchy Taco Cups. Can you tell I love tacos?
The star of the show: best fish for grilled fish tacos:
The best fish for fish tacos, whether grilled or not, are mild, white, firm fish such as tilapia, grouper, snapper, bass, halibut, flounder, cod, and catfish. Try and find fillets that are close to the same thickness so that they will cook evenly. I usually look for fillets which are around 1/2 inch thick or thinner.
The fish fillets are lightly coated with smokey cumin, garlic powder, salt, and ground black pepper and can be grilled indoors on a grill pan or an outdoor grill.
No boring coleslaw here: how to put the spice in spicy coleslaw:
One of the essential components of this grilled fish taco recipe is my spicy coleslaw. To make things easier, I purchased a bag of coleslaw, but it's the sweet and spicy dressing which sets this coleslaw apart. Full of scallions, spicy jalapenos, cilantro, lime juice, and sour cream, this dressing is not your Mama's coleslaw dressing.
To keep the heat down a bit, I removed the seeds from my jalapeno. If you like more spice or heat, leave the seeds in.
Avocado crema, say what?
With buttery avocado, fresh lime juice, cilantro, and crema, this topping seals the deal and wraps the entire taco package in a layer of creamy deliciousness.
Crema Mexicana is similar to sour cream or crème fraîche. All are slightly soured and thickened but crema is the thinnest. Most grocery stores carry it now, but if you can't find it, regular sour cream works just fine!
Can't forget the cheese!
Did you know that in authentic Mexican restaurants they don't usually add cheese to their tacos? Shocking but true. Cheese on tacos is more of a Tex-Mex or Americanized Mexican thing. Authentic or not, cotija or fresco cheese is the final component in my Grilled Fish Tacos with Spicy Coleslaw and Avocado Crema.
Again, most grocery stores carry a good selection of these cheeses, but if you can't find it, shredded Monterey Jack or a Mexican blend makes a good substitute….