These adorable, delicious and only slightly creepy Chocolate Halloween Cupcakes with Chocolate Buttercream Icing will delight both adults and kids this Halloween!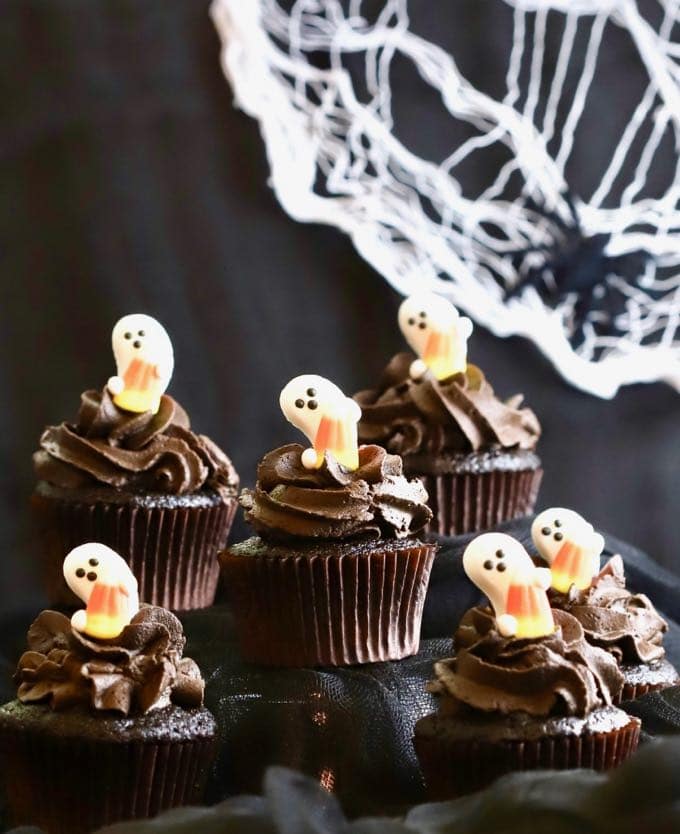 If you like chocolate, you will love the double-dose of chocolate in these rich, moist, chocolate cupcakes topped with the most decadent creamy dark chocolate buttercream icing. Of course, these easy Halloween inspired cupcakes can be served any time of the year, and it's the Halloween cupcake toppers that will bring a smile to your family's faces and make it a fun Halloween treat!
This year, I topped my cupcakes with both creepy Halloween Peeps and Wilton's adorable candy ghosts, each holding a candy corn. I couldn't decide which of the toppers were cuter and finally decided to show you both options. Each of these creepy Halloween cupcake toppers can be found in most grocery stores or ordered online from Amazon. You can also top your cupcakes with different colors of Halloween sprinkles.
This easy Halloween recipe starts with a simple chocolate cupcake recipe which you can make without an electric mixer. If you have kids that like to help in the kitchen, this is the perfect recipe for them.  The chocolate buttercream icing is equally easy to make with only six ingredients, but you will need an electric mixer or a strong arm and lots of patience to get the icing silky smooth….