If you have never had Cornmeal Biscuits you are in for a real treat! And, if you have never had Orange Butter, oh my goodness, you don't know what you are missing. But, put them together and try to imagine just how delicious hot crispy Cornmeal Biscuits would be slathered with melty, citrusy Orange Butter. I can promise you after one bite, your taste buds will think they have died and gone to heaven!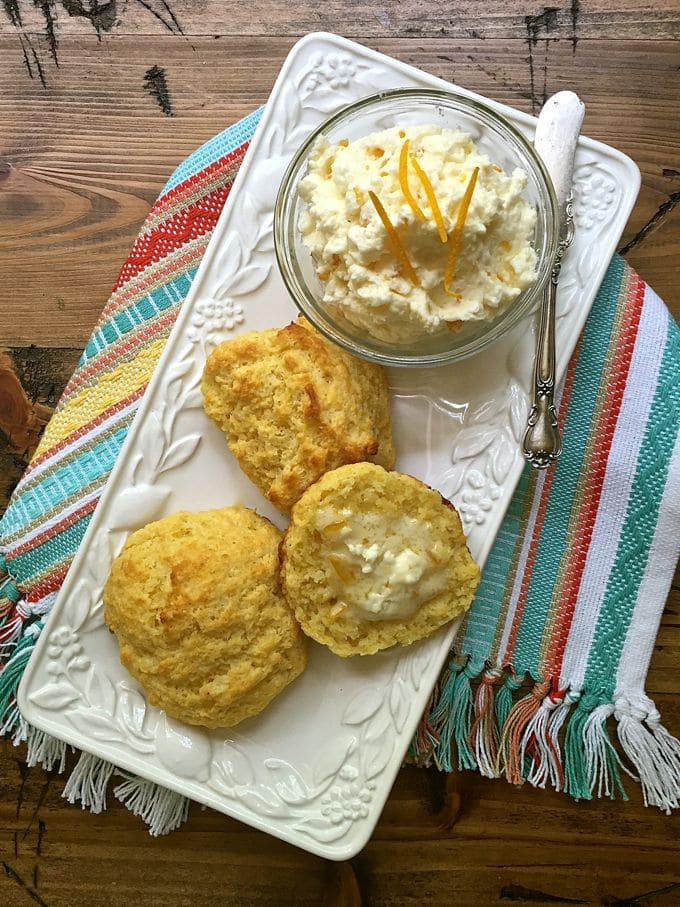 And, it gets even better because, besides the incredible texture and taste of these super-delicious biscuits, the next best thing is they are oh so easy to make! Yes, believe it or not, because Cornmeal Biscuits are drop biscuits, all you have to do is mix everything together in a bowl and drop them on a baking sheet. No kneading, no flour all over your countertops, no sticky dough everywhere, Cornmeal Biscuits are super-simple to make.  And the Orange Butter, well, it practically makes itself…
Oh, by the way, for those of you that are wondering what to do to treat Mom on Mother's Day, a little birdie told me she would love, love, love to have Cornmeal Biscuits with Orange Butter for breakfast or brunch. Or, if you really want to surprise her, how about breakfast in bed that morning? After all, she deserves it!
If you like this biscuit recipe, you also might want to check out my Sweet Potato Biscuits with Cranberry Aioli recipe. And, if you like cornbread, check out my Old-Fashioned Southern Cornbread or Mexican Jalapeno Cornbread recipes!…