Happy Birthday, America! The 4th of July is right around the corner and how better to celebrate than serving this easy and delicious, make-ahead, Red, White, and Blue No-Bake Icebox Cake!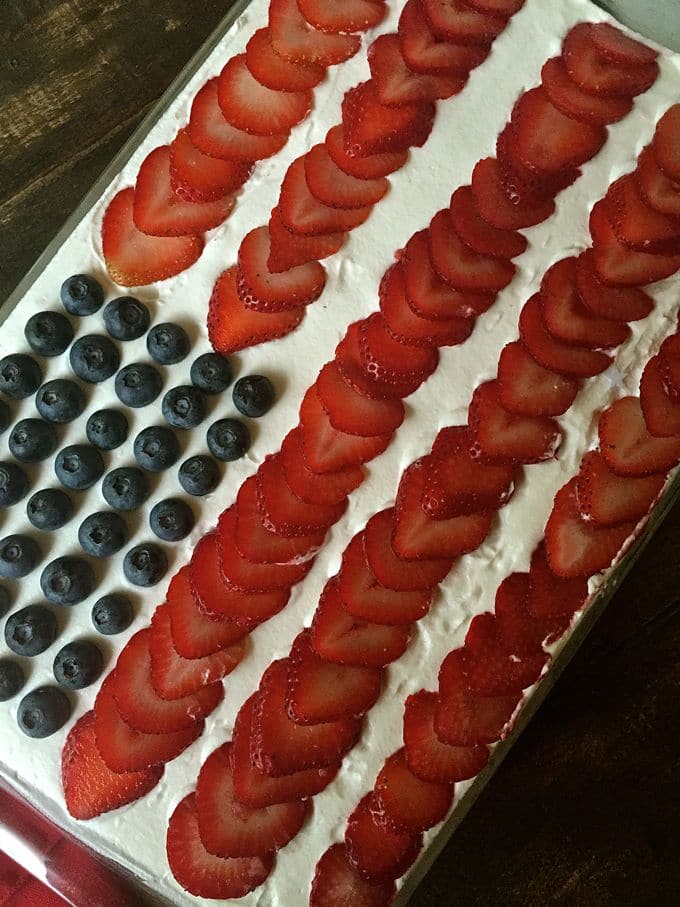 Traditionally on the 4th of July, many families across America celebrate the birth of America's independence by hosting cookouts and picnics, going to the beach or lake and watching parades. Of course, everyone always enjoys the fireworks displays in the evening.
With only five ingredients, this No-Bake Icebox Cake is a dream to make and just as dreamy to eat. Red, White, and Blue No-Bake Icebox Cake is the perfect dessert to take to a neighborhood barbecue or cookout, and your family and friends will think you slaved for hours to make this fun and patriotic dessert.
In case you are wondering why this is called an icebox cake, it's because you put it in the refrigerator (icebox) overnight instead of baking it. It's also about the easiest and quickest cake you will ever make. In fact, it's so easy why not let your children in on the fun and let them make it. The only thing that takes any time at all for this cake is coring and slicing the strawberries.
You can use any type of soft fruit you like as a filling, but because I wanted this cake to be red, white, and blue for the 4th of July, I used blueberries and strawberries. You could also substitute blackberries for the blueberries and raspberries or cherries for the strawberries.
Looking for other great recipes for the 4th of July? Check out my post, Twenty Four Amazing 4th of July Recipes, a roundup of easy recipes for the 4th from some of the country's top bloggers….