One bite of Grilled Pork Tenderloin with Peach Salsa and your taste buds will be doing their happy dance!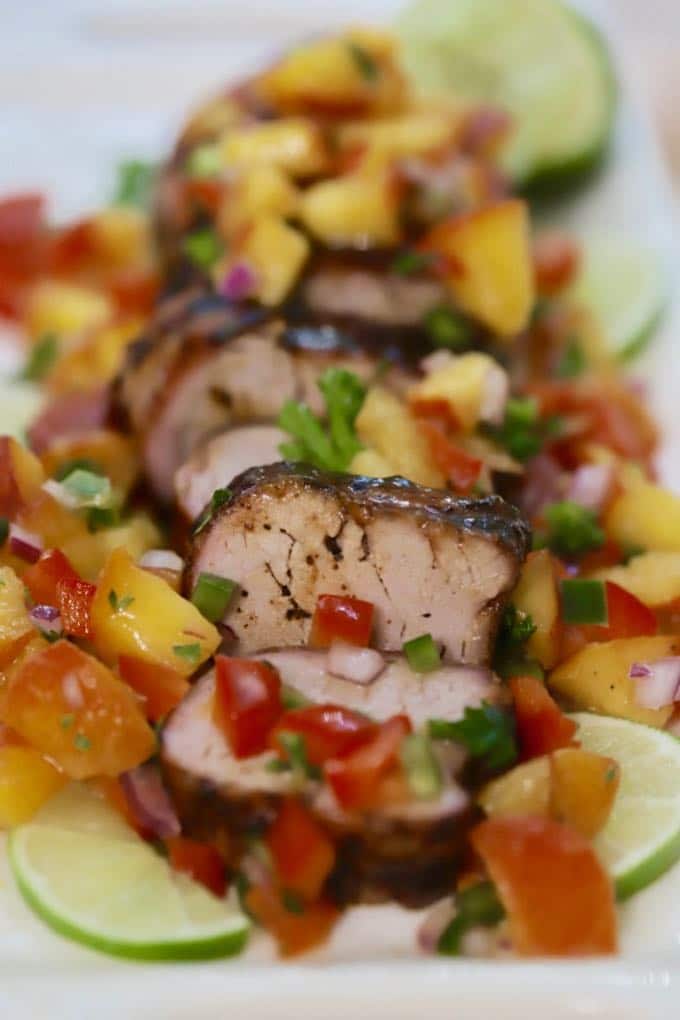 Grilled Pork Tenderloin with Peach Salsa begins with a simple pork tenderloin rub of chili powder, brown sugar, and garlic powder which flavors the meat and keeps it moist.
After marinating, the pork tenderloin is grilled until it is tender and juicy and then covered with a decadent sweet and savory peach glaze made with peach preserves and barbecue sauce. But wait, the deliciousness doesn't end there, although you could certainly serve the grilled pork tenderloin with peach glaze at this point.
The icing on the cake or in this case, the icing on the pork is a quick and easy, healthy peach salsa recipe which calls for fresh, luscious, sweet summer peaches and zesty jalapeños, along with some fresh red bell pepper, a little onion, fresh tangy lime juice, and cilantro.
Peaches and pork go together like peanut butter and jelly or salt and pepper.  And this Grilled Pork Tenderloin with Peach Salsa is a wonderful example of an entree which is as perfect for a casual summer backyard BBQ as it is impressive for a fancy dinner party.
If you like pork tenderloin, you might also enjoy these delicious and popular recipes: Pork Tenderloin with Mustard Sauce, Bacon and Mushroom Stuffed Pork Tenderloin, Pork Tenderloin with Blackberry Sauce. Need more ideas? Click here for some other main dish recipe choices.…