Making Homemade Chicken Stock is not only easier than you think, but it's also a great way to save money, utilize leftover chicken and clean out your refrigerator vegetable bin.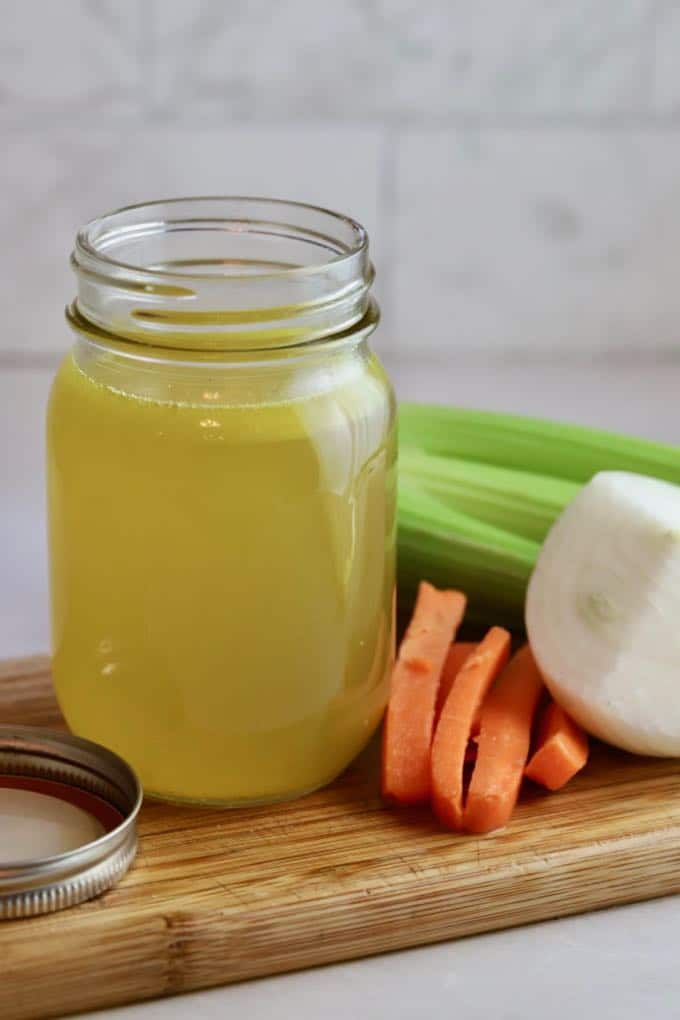 Yes, I know you can buy chicken stock, but you won't believe the difference in taste in the boxed brands vs. homemade. Not only is making your own chicken stock easy, but it will also save you money. Plus, you can control the level of sodium and ramp up the nutrition level of your stock even more by adding vegetables.
I use chicken stock in many of my recipes, including chicken soups, chicken casseroles, gravy, and sauces. Chicken stock is also a crucial ingredient in my Traditional Irish Potato Soup, and believe it or not, even in my Southern Spicy Tomato-Cheese Grits.
What's in chicken stock?
You already know that making homemade chicken stock is a great way to repurpose or utilize leftover chicken and bones. But, did you know it's also a wonderful way to use up those leftover sad, limp veggies that are past their prime in your vegetable bin?
The usual suspects are carrots, celery, and onions, but you can also use celery leaves, carrot tops, parsnips, and leftover herbs like parsley, thyme, and rosemary. A little leftover pan sauce or gravy also works well to add extra flavor, and leftover roasted veggies can be used as well.
I usually make my homemade chicken stock with the leftovers from my Easy Roasted Bone-In Chicken Breasts or Simple Crispy Roast Chicken. Of course, if you have leftovers from a deli roasted chicken that works too!
What's the difference between chicken stock and chicken broth?
Now you may be wondering exactly what the difference is between chicken stock and chicken broth? According to Food Network, chicken stock tends to be made more from bony parts, and chicken broth is made more out of meat. Chicken stock also tends to have a richer flavor, due to the gelatin released by long-simmering bones.
Can chicken stock and broth be used interchangeably?
The short answer is yes! I do it all of the time. There are slight taste differences, but you won't ever notice it in most recipes. You can also substitute turkey stock. If you are in a pinch, and only have vegetable broth, you could use that as well. Beef stock or broth does have a strong beefy flavor, and I would only use that if you have no other choice. And, then I would dilute it with water.
How long does chicken stock last?
In our house, chicken stock doesn't last long because I use it all the time. However, you can store it covered in the refrigerator for up to 4 days, and in the freezer for several months….