Almost every Southern cook has a tried and true recipe for chicken divan, potato salad, and cheese crackers or cheese straws in his or her arsenal of recipes. Everyone, that is except me. I've got potato salad and chicken divan down pat, but cheese crackers have always eluded me!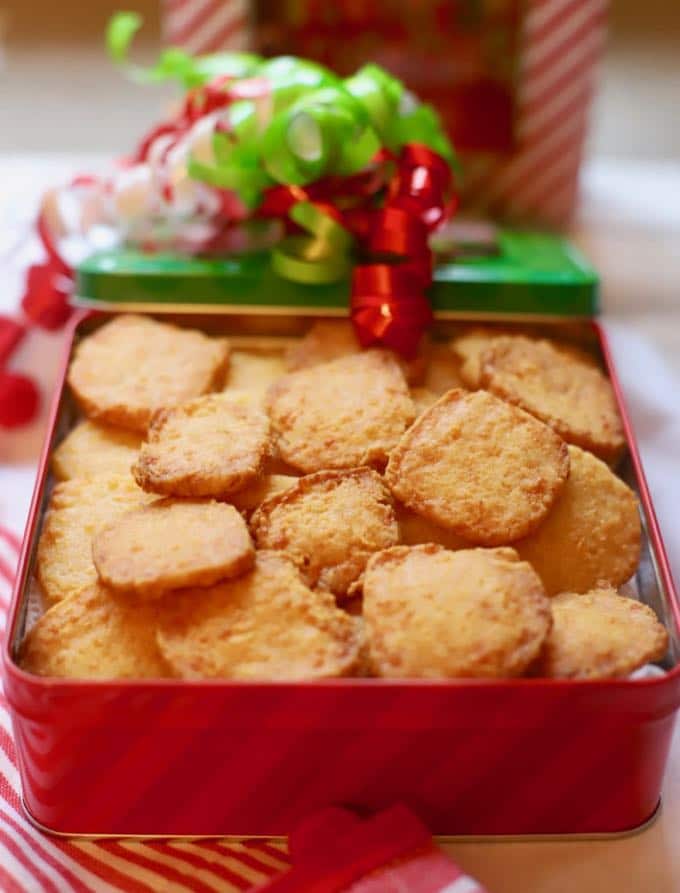 Although I love cheese crackers and eat and serve them at every opportunity, I have never perfected a good recipe. As a result, I've been forced to pay extravagant prices at the bakery or store. I'm actually not much of a baker, so it shouldn't be surprising that I don't have a good recipe. Flour and I do not get along. It's not that I'm allergic to gluten or anything, it's just every time I make anything containing flour it ends up all over our kitchen and me and it's exasperating. But, be that as it may, I needed a good recipe for cheese crackers!
In case you are wondering, in the South, these flavorful cheese crackers are also known as Cheese Wafers or Cheese Crisps.
I've been begging my friend Courtney Glazer for what seems like years to share her yummy recipe for Crispy Cheesy Southern Cheese Crackers. Courtney's cheese crackers are legendary and everything a cheese cracker should be: crispy, cheesy and utterly delectable! The problem was, Courtney didn't have an actual recipe. Like so many good cooks, she never actually measured anything, she just made them. That is until now. Finally, I prevailed on her to measure and document her process and share it with me, so now I can share it with you!…