Sausage Bread is a great choice for a fabulous make-ahead Christmas Morning Breakfast or brunch or Mother's or Father's Day. Also, this versatile, delicious, and easy to make bread is also delicious served as an appetizer with marinara sauce or even as a light entrée with a salad. Yum! Read on to find out how to make this quick treat!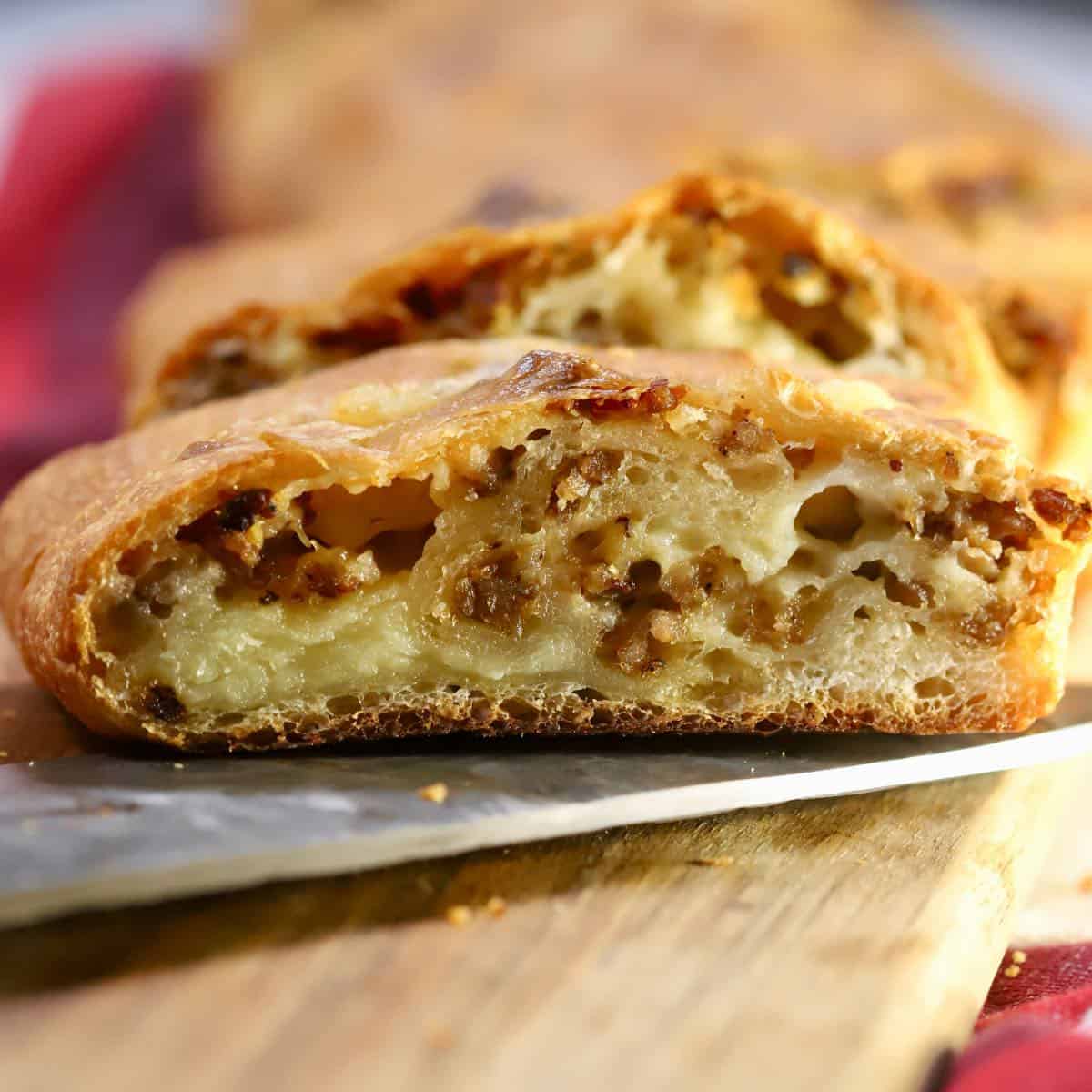 Some blogger I am! It's been almost a month since I last posted one of my recipes. Of course, I have all sorts of excuses, and I honestly don't have a clue where the time has gone. I have started every day with the best of intentions and then the next thing I know another day has gone by without me posting anything.
So without any more excuses, let me go back to Labor Day weekend and tell you a little about how much fun we had and share one of the super easy dishes we feasted on. In the next few days, I also will share a few other dishes that we enjoyed that I think you might like.
My two children and their spouses joined my husband and me down at our river cabin, and we spent the weekend jet skiing and just relaxing. One of the reasons I was able to relax was I did most of the food prep ahead of time so I wouldn't be stuck in the kitchen while everyone else was down at the dock, or out on the river.
One of my favorite make-ahead breakfast menus for when we have company is Sausage Bread, Caramel Soaked French Toast, and Summer Fruit Salad with Orange Syrup. In fact, I had this same menu at a brunch for 20 we hosted for out-of-town company and family that came to help my husband and me celebrate our recent marriage. And, it has been my go-to-make-ahead Christmas Day Breakfast menu for more years than I can count. On Christmas, I usually serve Old Fashioned Southern Ambrosia instead of the summer fruit salad.
Need even more ideas, check out my easy 32 Mother's Day Breakfast and Brunch Recipes!
When I started my blog, my sister, who is a fabulous cook and, has her own cooking blog Pudge Factor, also suggested sharing this recipe for Sausage Bread because it is so easy and simple to prepare.
This three ingredient bread is not only great for breakfast but is an equally great party appetizer as well. You can also change the taste by adding different types of sausage or cheese and adding anything else you might like.  It's even good for a light dinner with a marinara sauce for dipping.
To start, preheat your oven to 350 degrees F. Then open the can of dough and find the seam. Once you have the seam, carefully unroll the dough on a cookie sheet lined with parchment paper. You should have a rectangle.
Sprinkle 2 cups of shredded mozzarella cheese evenly on the dough and then the cooked, drained and crumbled sausage. ( To make this a make-ahead dish, I cooked my sausage and crumbled it the day before we went down to the river.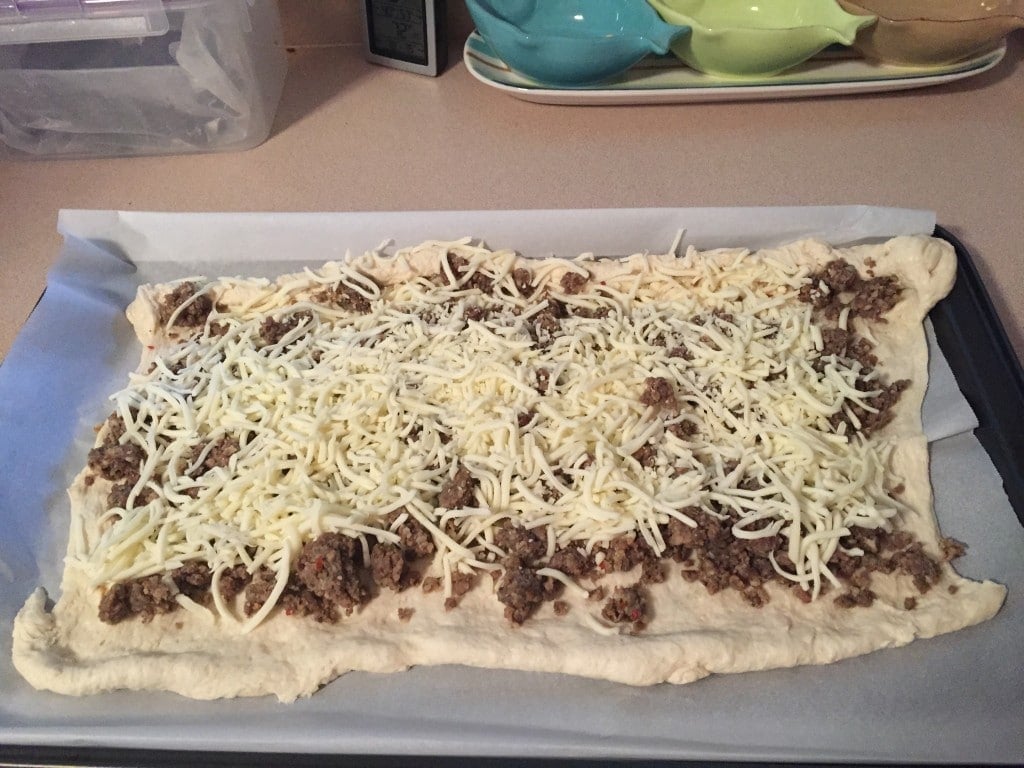 Now comes the fun part. Starting at one end, very carefully roll up the bread dough jelly roll style as tight as you can, and pinch the ends slightly to keep the filling from oozing out. Also, make sure that the seam is under your bread log and cut a few shallow slits on the top.
Pop it in a 350-degree oven for about 30 minutes.
Once done, let it sit for about 5 minutes if you can get your family to wait that long, and slice it into about 1-1 1/2 inch slices.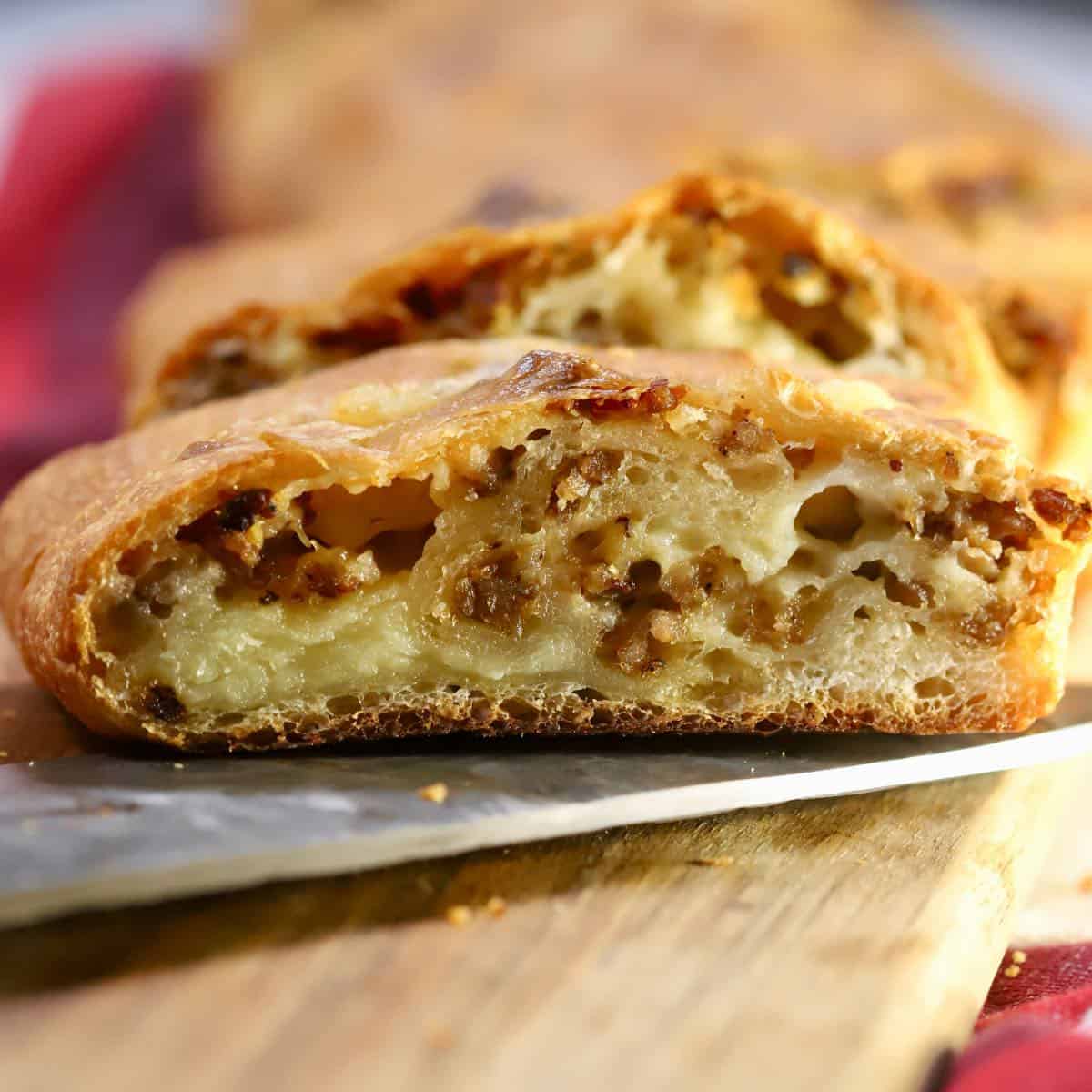 Cook sausage in a large skillet over medium-high heat, stirring frequently and breaking the sausage up into small crumbles, until the sausage is no longer pink. Drain well on paper towels.

Unroll dough into a rectangular shape on a parchment paper lined cookie sheet.

Spread evenly with cooked sausage and cheese.

Starting with one long end, roll-up jelly roll style as tightly as you can. Turn seam side down and cut a few shallow slits in the top.

Bake at 350 degrees for 30 minutes or until done.

Remove from oven and let stand 5-10 minutes and slice into 1-11/2 inch pieces.
Nutrition Facts
Sausage Bread
Amount Per Serving
Calories 470
Calories from Fat 324
% Daily Value*
Total Fat 36g 55%
Cholesterol 110mg 37%
Sodium 900mg 38%
Potassium 70mg 2%
Total Carbohydrates 27g 9%
Protein 37g 74%
* Percent Daily Values are based on a 2000 calorie diet.