Entertaining has never been so easy. Check out these 23 Easy Dinner Party recipes for everything from elegant and sophisticated dinner parties to casual crowd-pleasing backyard barbecues. Keep it fun, simple, and relaxed with these mostly make-ahead, impressive, yet foolproof easy main course recipes for stress-free entertaining.
My number one tip for hosting a successful dinner party is to try to minimize as much last minute preparation as possible. Do as much as you can the day before your party. You want to be able to spend time with your guests and enjoy their company and not be stuck in the kitchen babysitting a complex main dish. There is also nothing wrong with lightening your load and asking each guest to bring a dish.
So, take a breath and make sure to have fun. It's so easy to get wrapped up in the process of preparing and cooking for a dinner party that sometimes we forget to actually have fun and take part in the party. Take my advice and enjoy the meal, sip a cool drink, and take the time to enjoy a relaxing evening with friends. That's what it is all about!
Nothing says dinner party like a showstopping, melt-in-your-mouth, Perfect Beef Tenderloin with Gorgonzola Sauce. This elegant and impressive, oven-roasted dish is a classic entrée for special occasions or makes a great appetizer for a holiday party. Check out this easy recipe, it's a must try!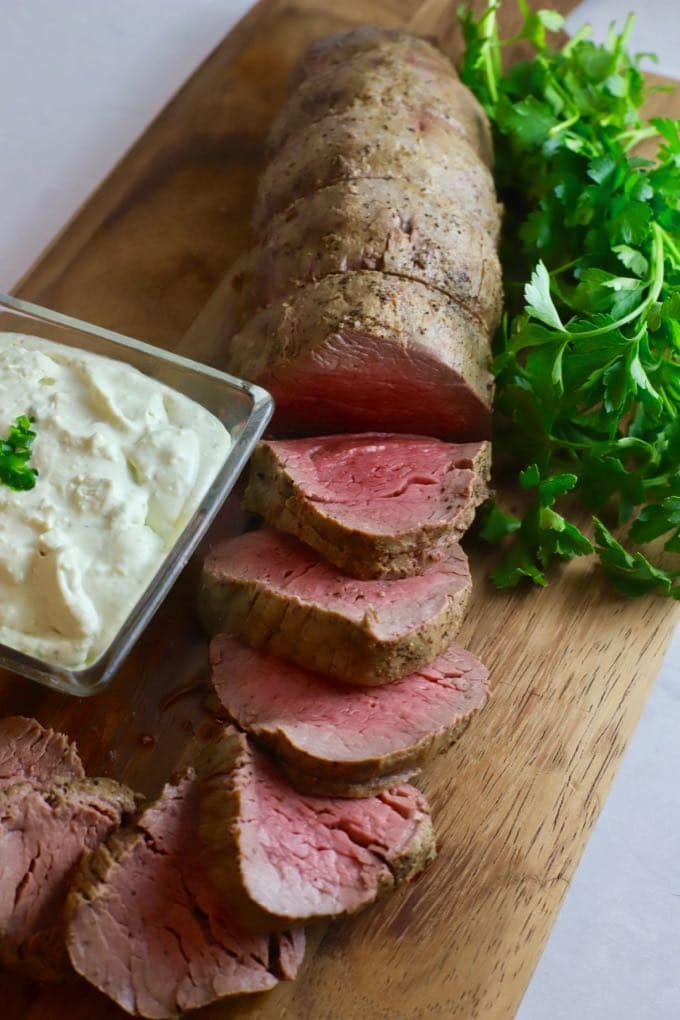 Broiled Lobster Tail is a decadent, impressive, but easy-to-make dinner party entrée. The preparation isn't as difficult as you might imagine and this meal can be made at home for a fraction of the cost of eating out.
Beef Braciole is a company-worthy, classic, hearty, homestyle southern Italian dish that's perfect for a winter night! Thin slices of beef, a savory filling in a wine-infused sauce you'll fall in love with!
Creamy Chicken Scallopini with Mushrooms is not only easy to make but also incredibly delicious! This Chicken Scallopini with Mushrooms is perfect for both weekday meals and casual dinner parties. The tender chicken smothered in creamy mushroom gravy is out of this world!
Easy Red Wine Braised Beef Short Ribs are the answer to your dinner party dreams. They are full of flavor, classic comfort food, and so tender the beef falls off the bone. Braised beef short ribs are also the perfect make-ahead main dish for a special holiday dinner or a fabulous dinner party.
These stuffed Cornish Hens will be a stunning display of beauty on any table where they find themselves. Shimmering with an apricot glaze and packed with wild rice stuffing that's loaded with dried apricots and cranberries, this dish is sure to be a "show stopper" for any get-together or dinner party you throw.
This Salmon Wellington recipe features individually portioned puff pastry packets filled with spring greens, mushrooms, goat cheese, and salmon, along with an easy mustard sauce.
The title of this recipe, Apricot Cranberry Stuffed Pork Loin Roast, doesn't really do it justice. Yes, the pork loin roast is full of luscious apricots and tart cranberries, but there are so many more delicious ingredients in the stuffing, including cornbread, applesauce, garlic, shallots, celery, sage, thyme, and rosemary. It's an elegant and flavor-packed dish for a special dinner party or holiday dinner.
One Pot Creamy Tuscan Chicken is the ultimate in simplicity and taste. Thinly sliced chicken breasts are pan-fried and finished in a creamy Italian style sauce that's bursting with goodness and flavor. Served over pasta, One Pot Creamy Tuscan Chicken is perfect for an elegant dinner party but easy enough to serve any night of the week.
When making these Braised Duck Breasts with Apples and Onions, your kitchen will smell like a high-end restaurant. Succulent duck meat melds together with a deliciously sweet and tart apple-onion sauce with cranberries. It's a special meal perfect for any celebration or just a cozy weekend dinner.
If you are looking for a delicious make-ahead dish to feed a crowd, then I have the perfect recipe for you: Easy Make-Ahead Baked Ziti! This yummy, hearty, Easy Make-Ahead Baked Ziti recipe includes ziti pasta with not one but three kinds of cheese, sausage and hamburger meat, and chunks of tomato in a rich tomato sauce. It is a comfort food nirvana! Make-Ahead Baked Ziti also freezes well and is perfect for dinner parties because it feeds 12.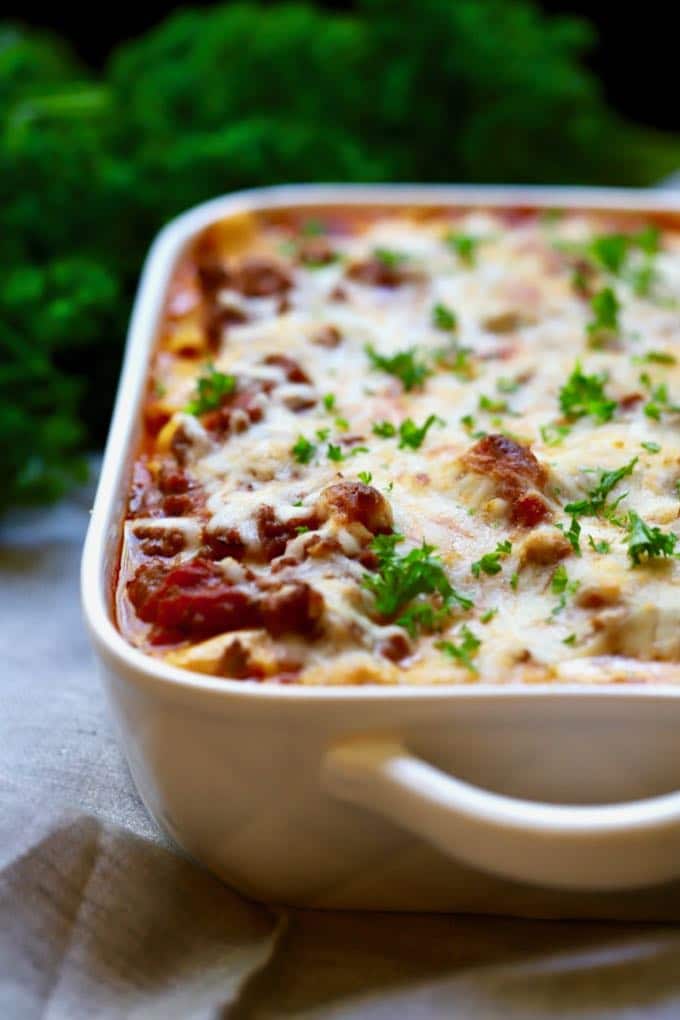 Shrimp Newburg in Puff Pastry Shells is an easy, but elegant entrée for your next dinner party. It is equally elegant for your Mardi Gras feast. Succulent shrimp in a spicy cream sauce spooned on crispy puff pastry says it all!
Chicken Breasts stuffed with zucchini and ricotta make an impressive and delicious main dish to serve at your next dinner party!
Bacon and Mushroom Stuffed Pork Tenderloin features pork tenderloin stuffed with a bacon and mushroom filling which is so delicious you could serve it as a side dish all by itself. Tender and juicy, the pork almost melts in your mouth. This pork tenderloin recipe does take a little more effort than just popping it in the oven, but the few extra minutes are so worth it. It makes a beautiful presentation and is perfect for holiday entertaining or a dinner party.
A juicy Pan Seared Salmon fillet sits atop soft fluffy smashed potatoes, spiked with scallions and drizzled with horseradish cream. This Pan Seared Salmon with Creamy Smashed Potatoes is an elegant yet simple dinner party main course.
Easy Chicken Mushroom Marsala Pasta is a recipe that is not only delicious, but it's also family-friendly and quick and easy enough for a weeknight dinner! It's also a perfect make-ahead dinner party recipe, and this chicken casserole is the very definition of comfort food at it's finest!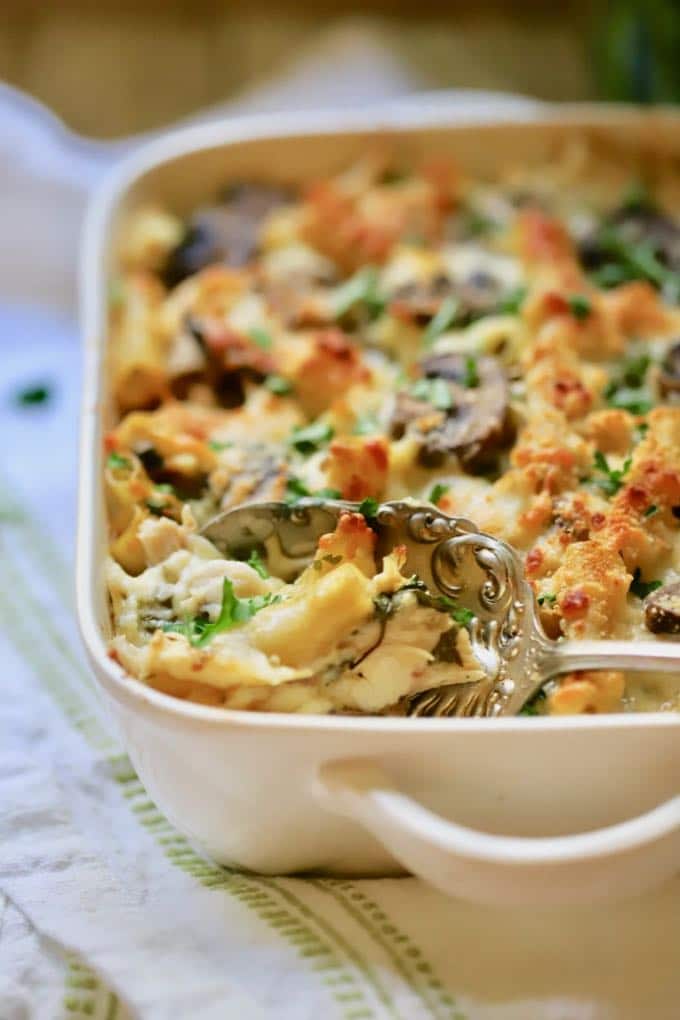 This lightened up version of a classic Shrimp Alfredo cooks entirely in one skillet for an easy dinner recipe that's ready in less than 30 minutes!
Beef tenderloin roasts and beef rib roasts are excellent choices for special occasion meals, but did you know there is a fabulous economical beef roast choice that tastes as wonderful as any of those pricier beef roasts? That's right! This Eye of Round Roast is an outstanding beef roast for your all your special occasion meals, including dinner parties!
Ratatouille Recipe: delicious and spectacular vegan, gluten-free dish that will be a star of any table. Healthy, flavorful, impressive looking and comforting dish.
The flavor of these Roasted Lamb Chops is unmatched by any other recipe I've tried – each bite just melts in your mouth. Need more convincing? You can have them on the table in less than half an hour with just 5 minutes of prep and the recipe can easily be scaled; they're a perfect date night recipe for two or dinner party recipe for eight!
This Coq au Vin Blanc may become your most favorite chicken dish! It has wonderful complex flavors and tastes like pure comfort food. Perfect for entertaining or for a warming weekend family dinner. Entertaining has never been so easy.
Feels Fancy Figgy Chicken is my new go-to dish when I need to make something on the quick but I want it to feel a little fancy. Sweet caramelized shallots, sticky dried figs, fresh thyme, and Madagascar Bourbon vanilla – it FEELS fancy! But it's really just a simple chicken dish you can whip up anytime.
Ah, Shrimp and Blue Cheese Pasta, just the name really tells you all there is to know about this delicious, and decadent pasta dish that I know you and your family will love. It's definitely too rich to have often, but it is perfect for special occasions or for a dinner party.
If there is any problem with this list, it's that it makes it so hard to choose. But, I'm confident you can find at least a few new main course recipes and menu ideas. And, I hope your next dinner party is a blast! No restaurant can compare to a night with friends, homemade food, and a relaxed and confident host (that's you).
Be sure to leave a comment and let me know which dish you choose and how your party went!
If you make any of these recipes:
Please rate it and let me know what you think in the comments section. Also, take a picture, post it on Instagram, tag @gritsandpinecones, and hashtag it #gritsandpinecones.
I love hearing from you and seeing what you have made!
To get the latest recipes by email right in your inbox enter your email address here!
Also, follow me on Pinterest, Facebook, and Instagram.
Thank you so much for visiting Grits and Pinecones!