Whether you are cooking for a crowd or just two, looking for the perfect BBQ menu, planning a party, or need classic food ideas, you will find them here in this roundup of top-rated 4th of July Recipes and Menu ideas for 2023.
My 4th of July recipe roundup includes menu ideas for red, white, and blue-themed food, quick and easy appetizers, fresh vegetable sides and salads, traditional BBQ and grill favorites, backyard cookout classics, potluck favorites, and scrumptious desserts for a sweet ending to a perfect day.
These all-time patriotic and classic recipes are kid-approved and sure to wow your family and friends! So, roll out the red, white, and blue, fire up the grill, and invite your family and friends to the ultimate 4th of July celebration!
1 The Best and Easiest Grilled Chicken – Grits and Pinecones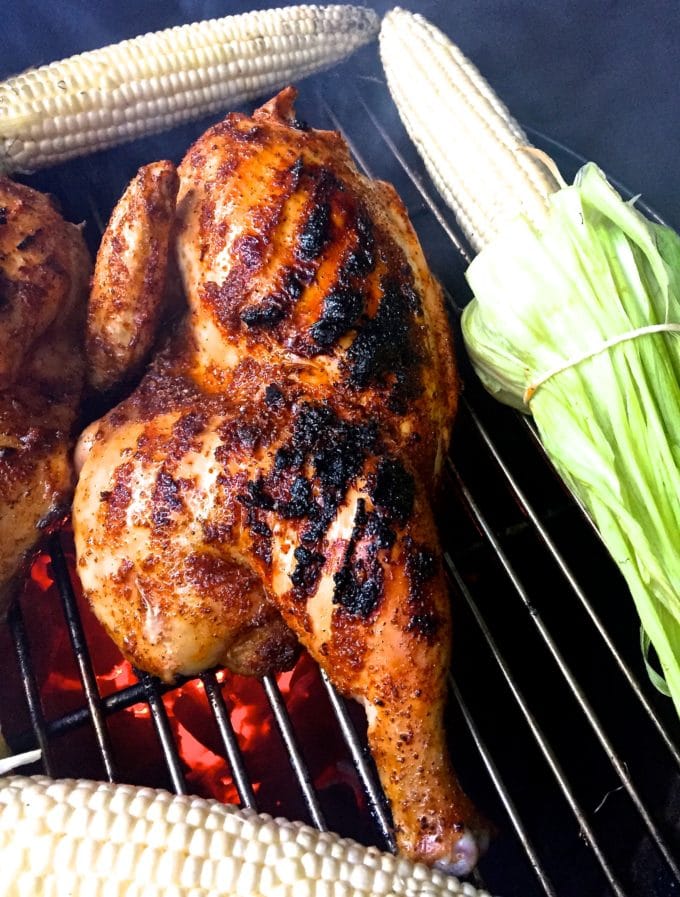 Nothing brings out the flavor of chicken like grilling, and this recipe for The Best and Easiest Grilled Chicken is finger-lickin' good. It's the perfect 4th of July recipe for your cookout or BBQ.
2 Red White and Blue No-Bake Ice Box Cake – Grits and Pinecones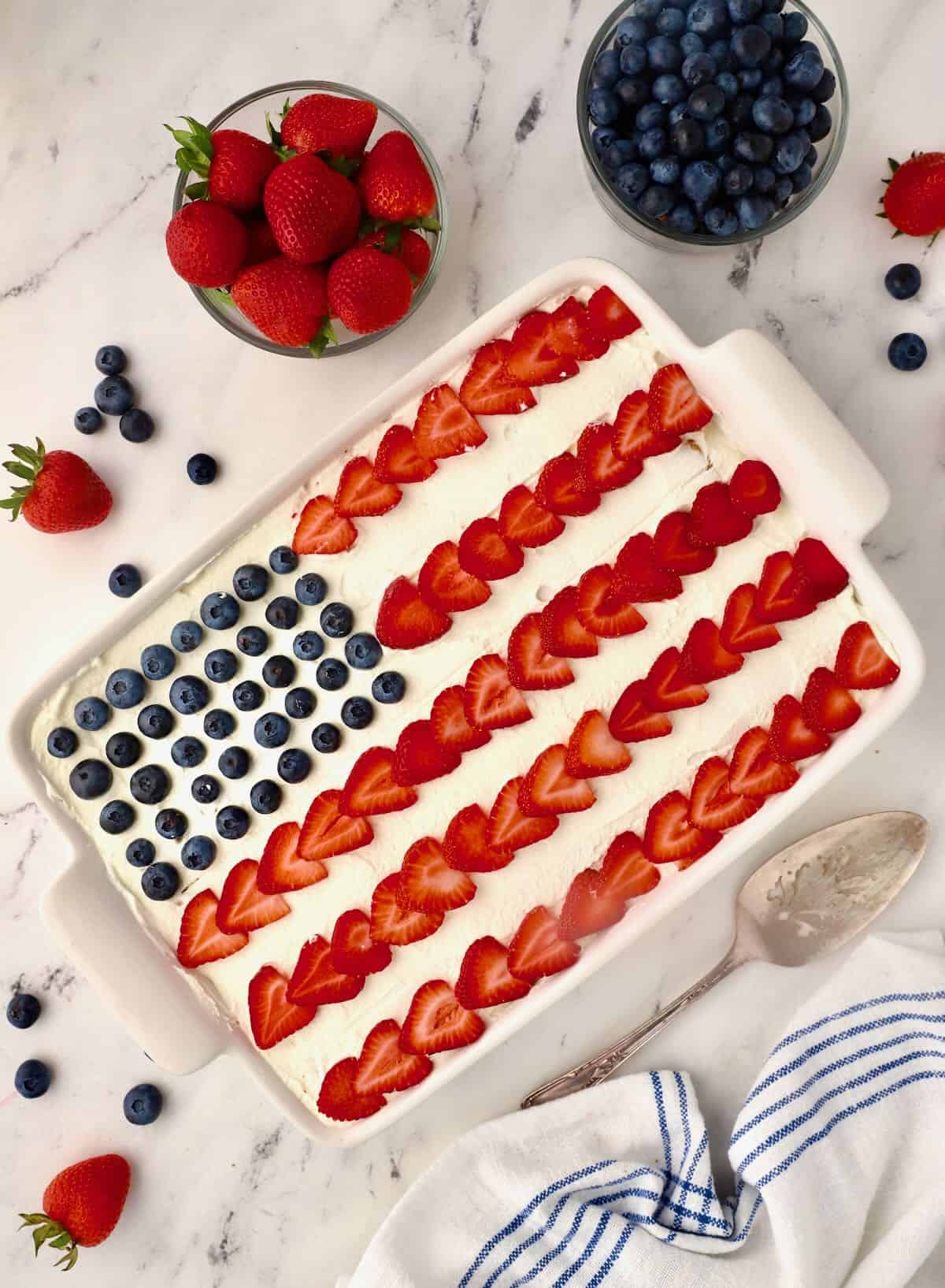 This Red, White, and Blue No-Bake Icebox Cake is a dream to make and just as dreamy to eat. And, it's the perfect dessert to take to a 4th of July celebration.
3 Southern Broccoli Salad with Craisins – Grits and Pinecones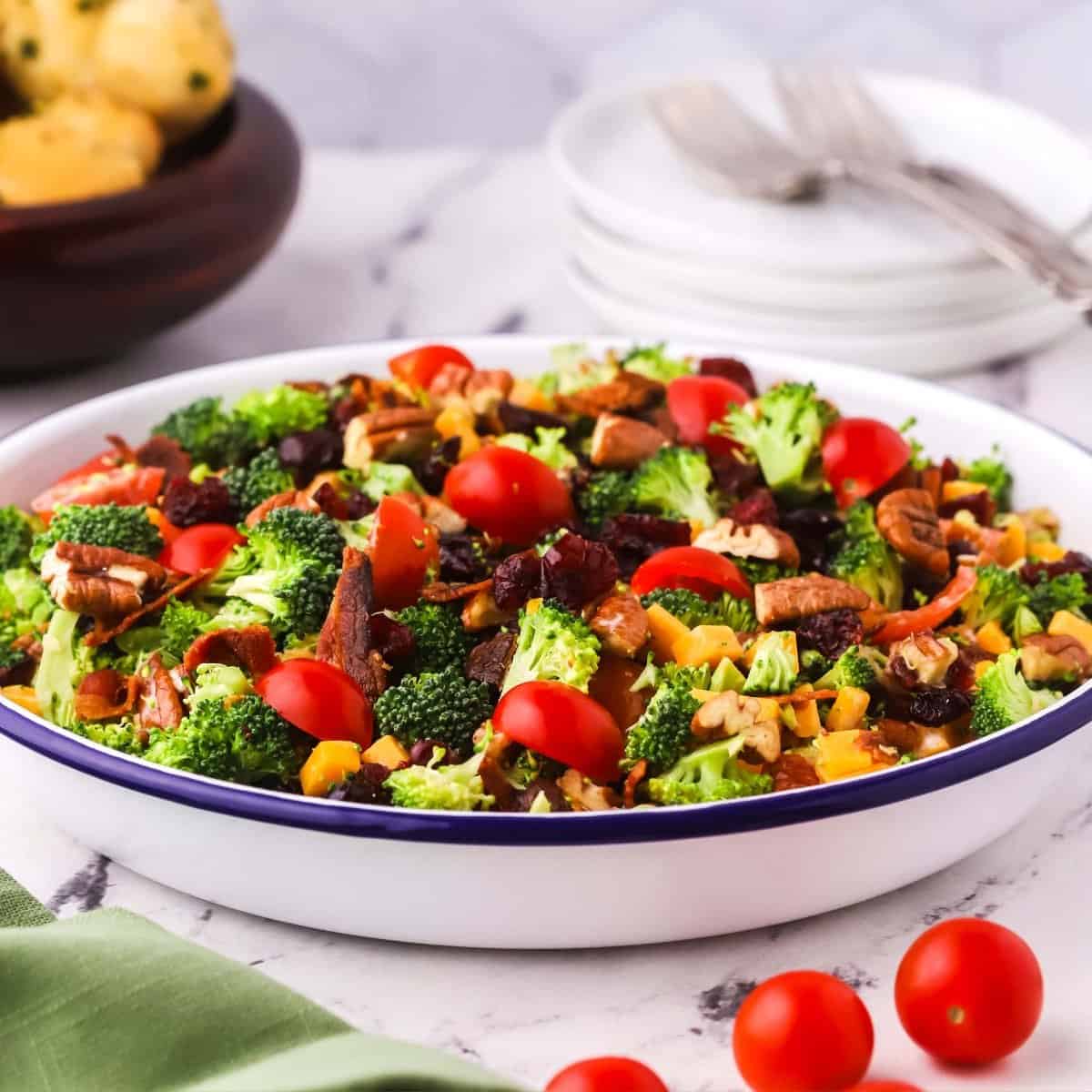 Easy old-fashioned Southern Broccoli Salad is a crowd favorite and always a hit at potlucks and cookouts. It's irresistibly delicious with crisp, chopped fresh broccoli, juicy cherry tomatoes, and Craisins.
Add in cheddar cheese, crunchy bacon, and roasted pecans, and top it with a creamy homemade dressing, and this classic, make-ahead broccoli salad is a low-carb wonder and the vegetable side dish of your dreams.
4 Blackberry Pie – Grits and Pinecones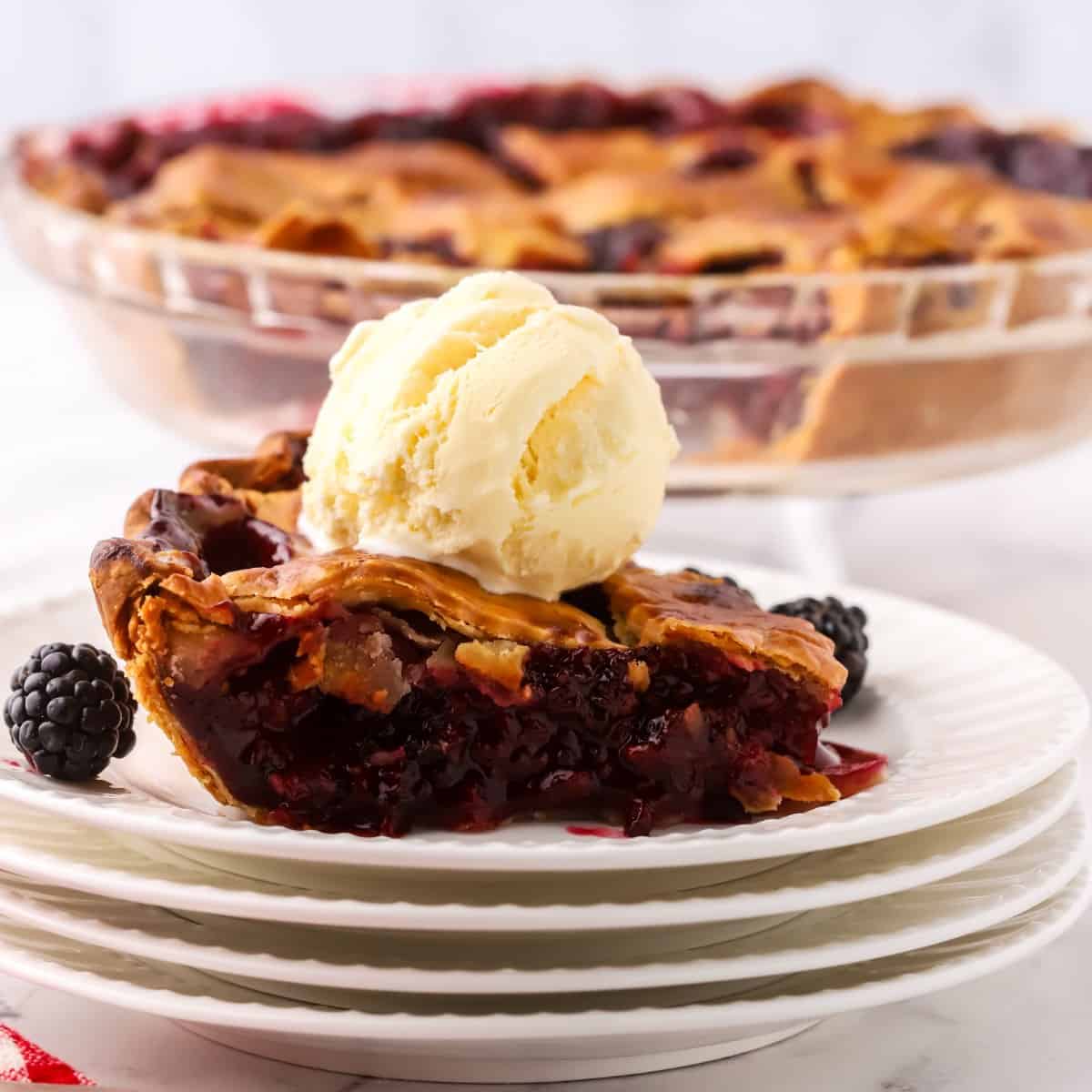 This quick and easy recipe for homemade, Old-Fashioned Blackberry Pie features the perfect balance of sweet and tart flavors with a filling of fresh or frozen, juicy, sweet blackberries or dewberries wrapped in a flakey, buttery pie crust. Add a scoop of vanilla ice cream, and it's the stuff dessert legends are made of.
5 Smoked Burgers – Grits and Pinecones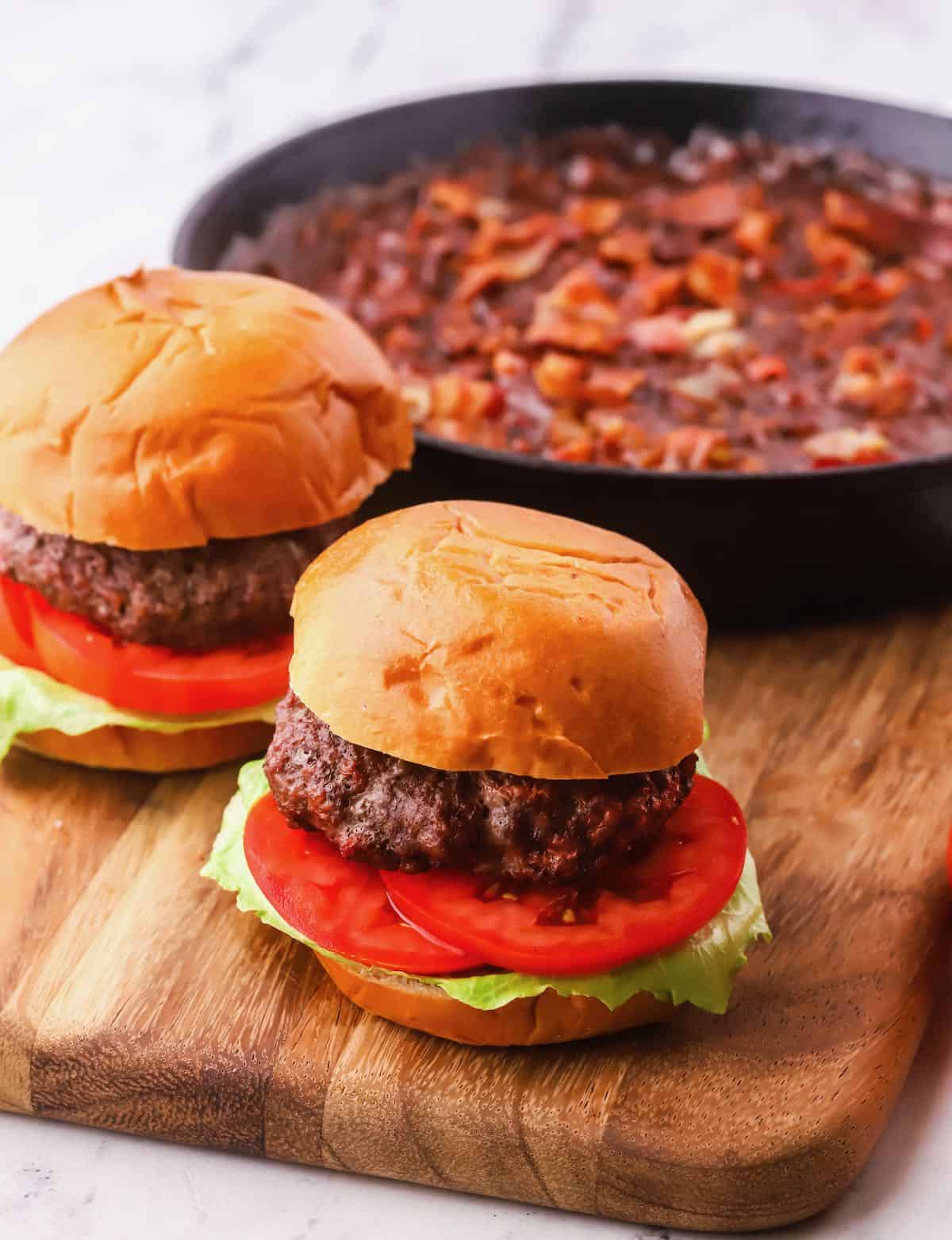 Smoked Burgers, which are prized for their rich meaty flavor, feature ground chuck patties that are smoked low and slow in a grill or smoker. Then they are reverse-seared in a cast-iron skillet to give them a great crust on the outside and juicy, tender beef on the inside.
6 Red, White, and Blue Sangria Sparklers – A Fork's Tail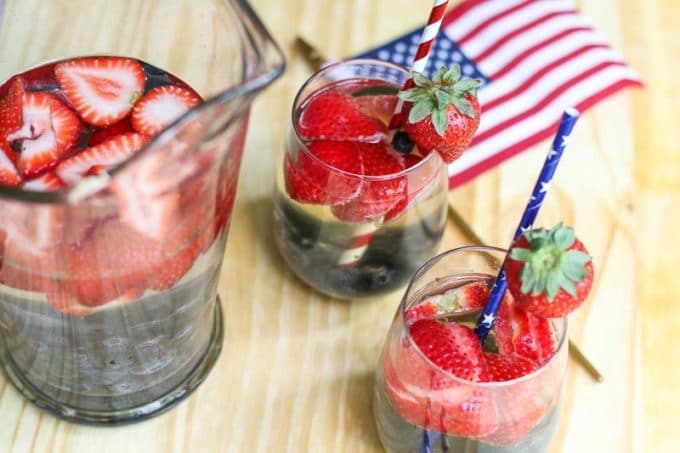 These Red, White, and Blue Sangria Sparklers would be a perfect way to kick off the 4th of July festivities. They taste just as good as they look and are super easy to make.
7 Cucumber and Tomato Salad – Grits and Pinecones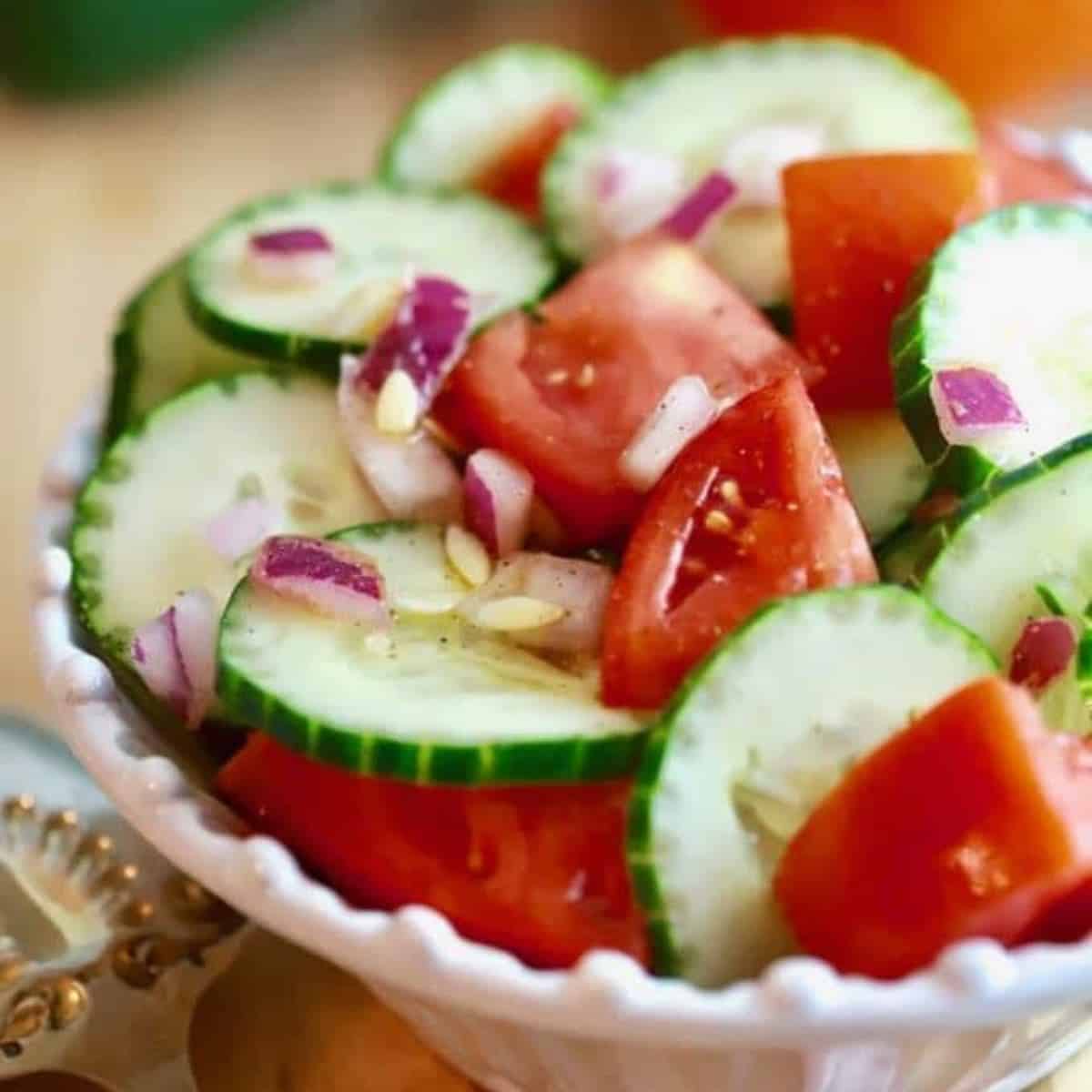 Southern Cucumber and Tomato Salad features a lovely combination of fresh flavors with crisp, cool cucumbers, sweet, ripe tomatoes, and just a touch of zesty red onions. These vegetables are marinated in a simple but tasty, sweet and tangy salad dressing made with apple cider vinegar.
An old-fashioned recipe, this light and refreshing cucumber and tomato salad tastes as good as it looks. It is very popular in the South, especially during the summer at backyard barbecues and potlucks. It's also perfect for picnics or a day at the beach because it can be served at room temperature.
8 Smoked Spatchcock Chicken – Grits and Pinecones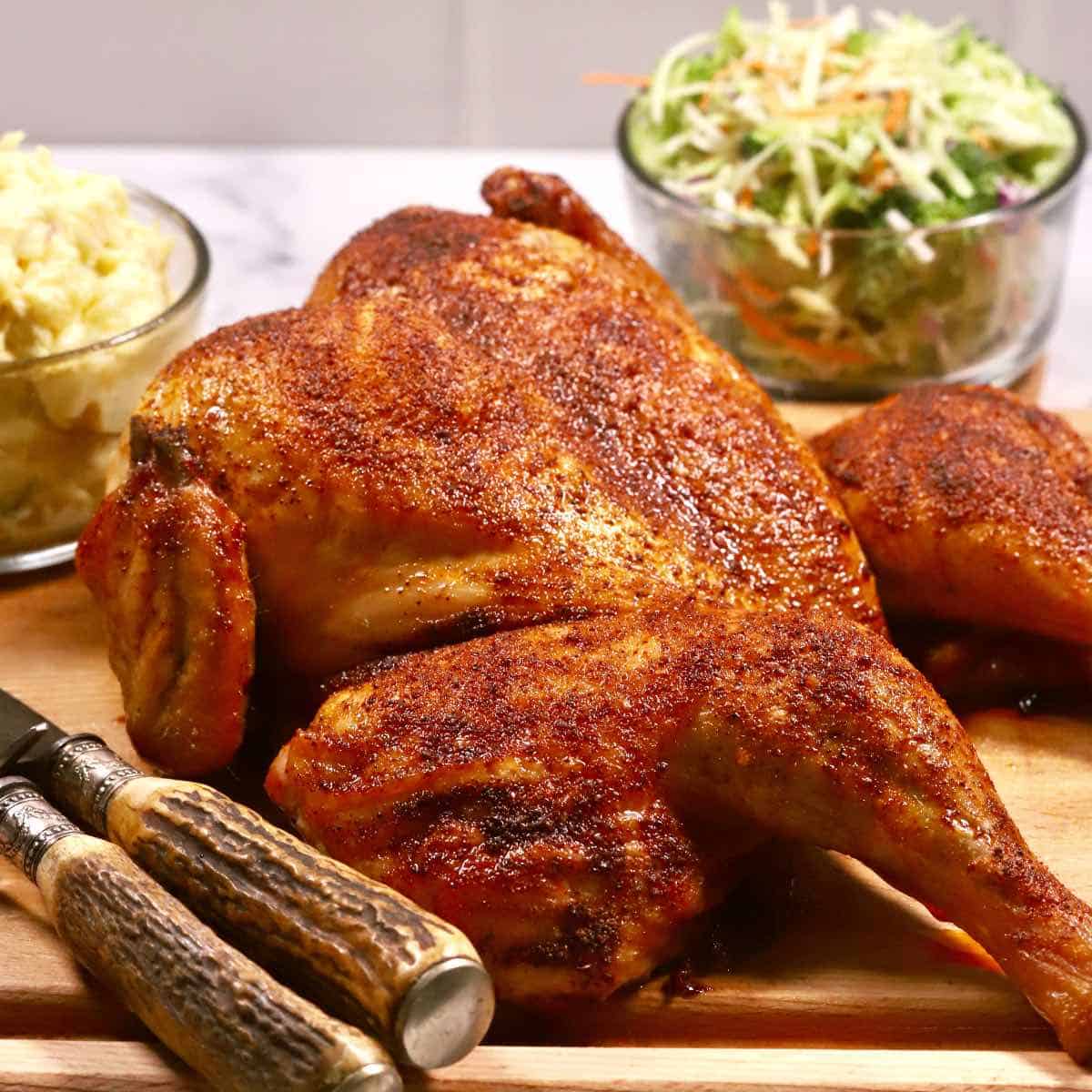 Say goodbye to dry overcooked grilled chicken, and say hello to moist, succulent, and flavorful Smoked Spatchcock Chicken.
Smoking a chicken slowly at a low temperature not only gives it a pleasing smoky flavor, but spatchcocking also helps to flatten it, allowing it to cook evenly and perfectly every time. This smoked split whole chicken is easy to prepare and simply delicious.
9 Easy Southern Tomato Pie – Grits and Pinecones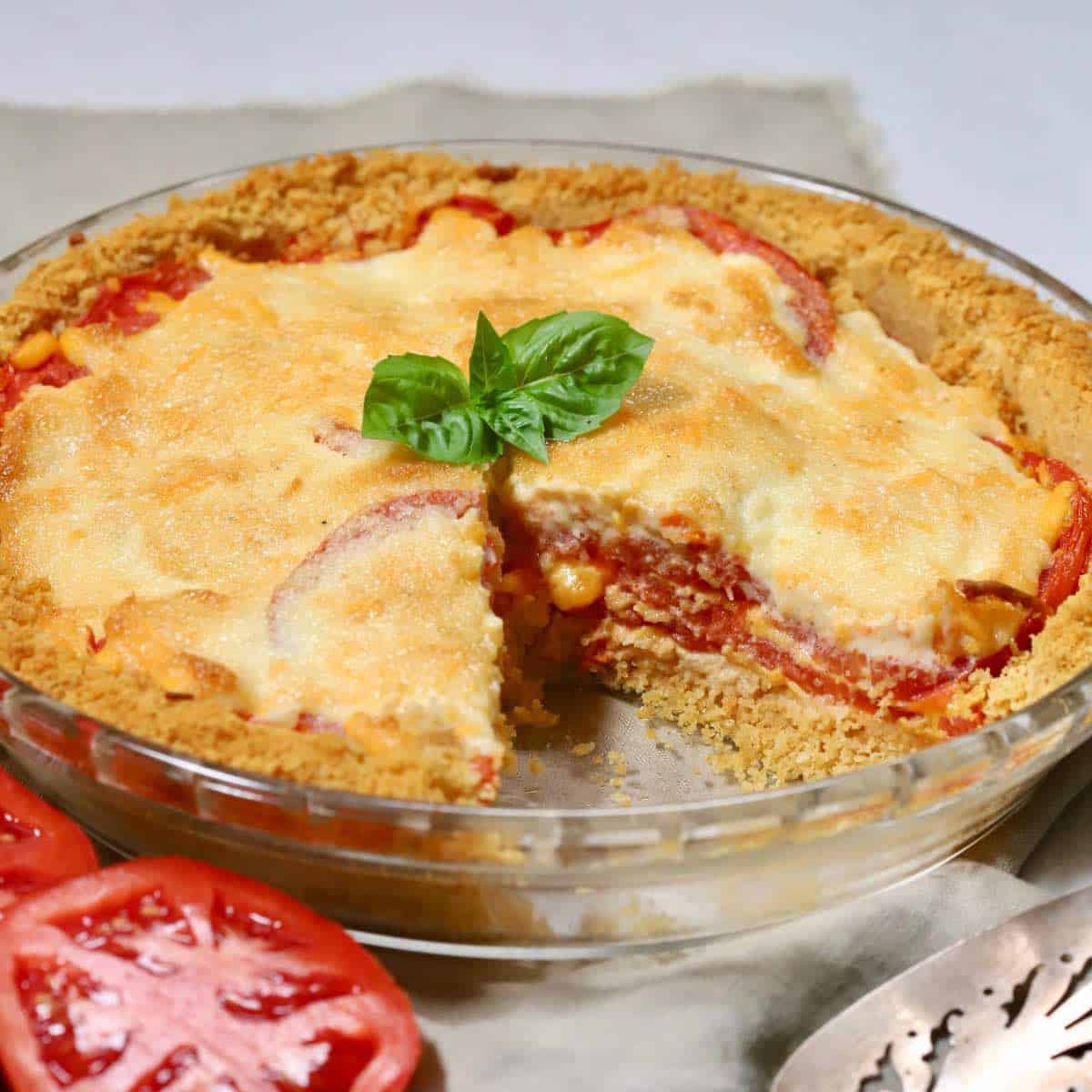 Easy Southern Tomato Pie is a savory classic full of fresh sweet ripe tomatoes, with melted cheddar cheese, and blanketed with a tangy mixture of mayonnaise, Dijon mustard, and parmesan cheese.
All of this cheesy, tomatoey deliciousness is baked in a rich buttery crust, made with Ritz crackers and even more parmesan cheese.
10 5-Minute 4th of July Appetizer-Stars Spangled Skewers – Stacy Homemaker
Star-Spangled skewers are the easiest 4th of July recipe that you'll ever make! They only take 5 minutes to assemble, and you can store them in the fridge until party time! Vegetarian and gluten-free.
11 Watermelon Feta Salad with Basil and Blueberries – Grits and Pinecones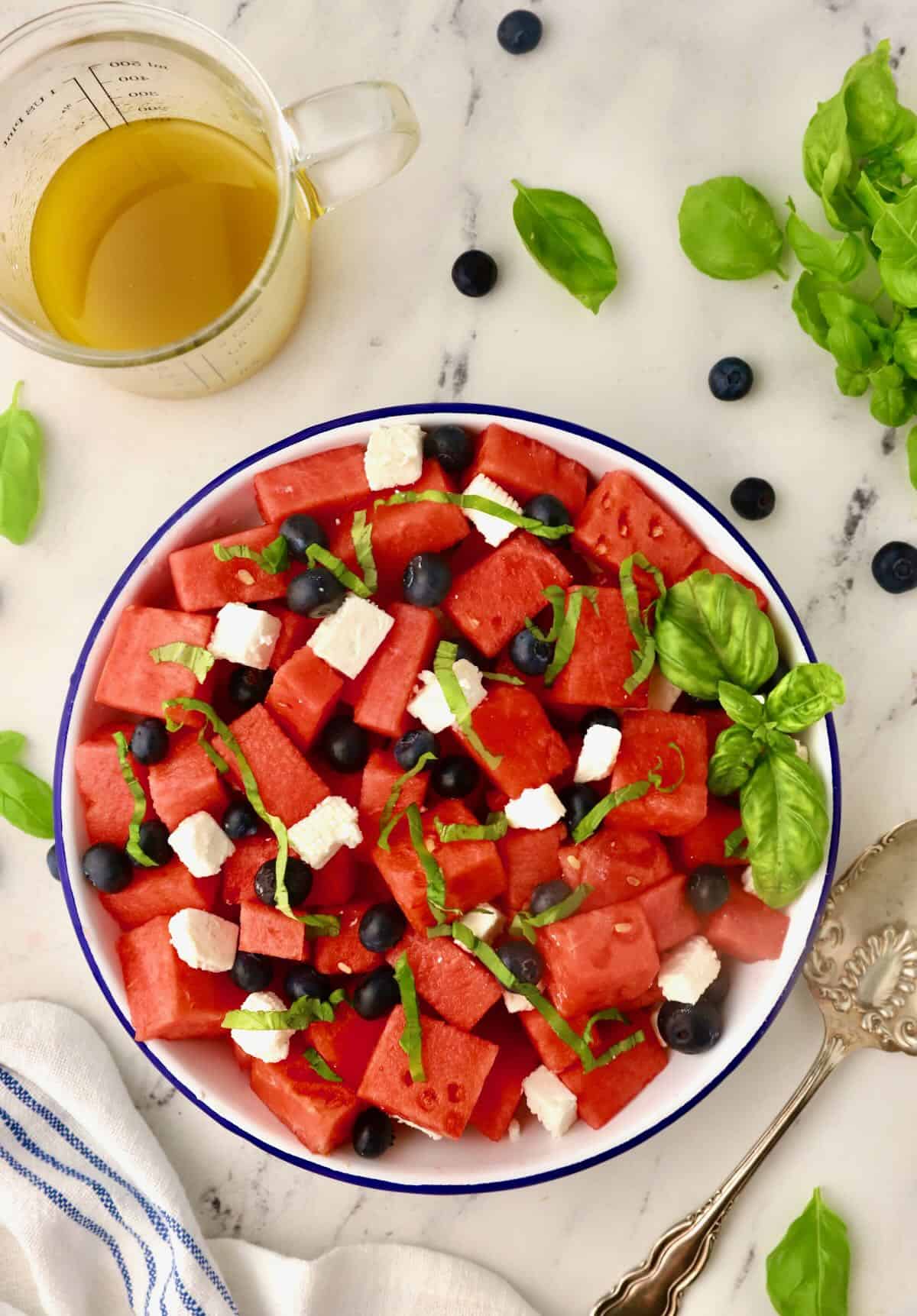 Every bite of this make-ahead, cold and refreshing Watermelon Feta Salad with Basil and Blueberries tastes like a party in your mouth! It features a winning combination of sweet ripe watermelon, tangy feta cheese, juicy blueberries, fresh basil, and an optional tangy homemade vinegarette dressing.
With its gorgeous red, white, and blue patriotic colors, it also makes a terrific Fourth of July fruit salad.
12 Amazing Grilled Vegetable Kabobs – Grits and Pinecones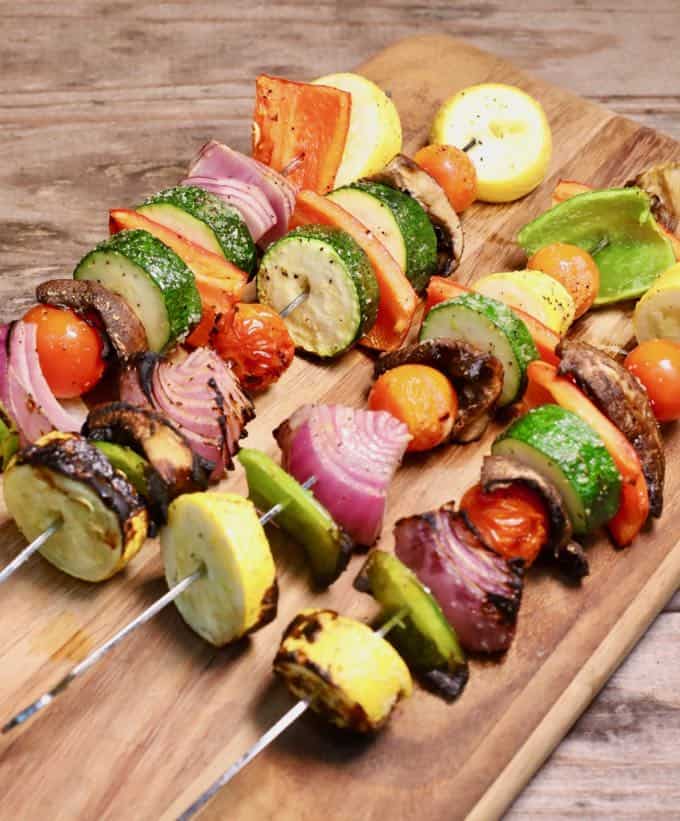 Amazing Grilled Vegetable Kabobs are just that, amazing! Sweet, smoky, caramelized grilled veggies packed with flavor and cooked on a skewer are the ultimate BBQ side dish.
Quick and easy to prepare, vegetable kabobs aka veggie skewers are quick to disappear too. Even your pickiest eaters will love these grilled vegetables!
13 Southern Potato Salad – Grits and Pinecones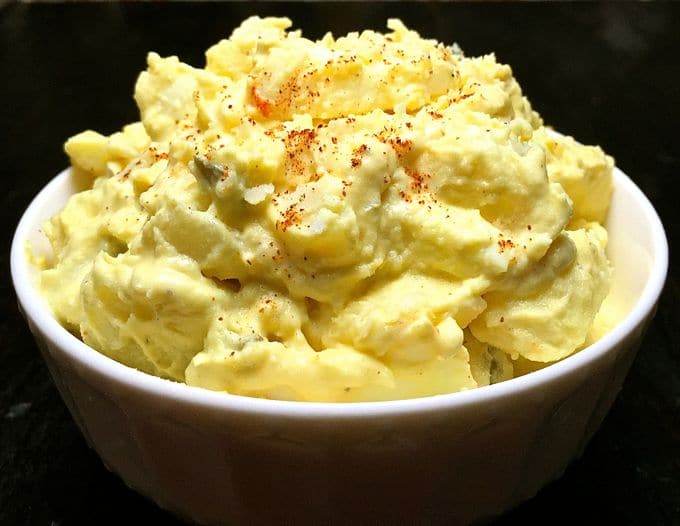 The 4th of July or summer picnics wouldn't be the same without a tasty helping of potato salad. Like Grandma used to make, this old-fashioned potato salad recipe is easy and loaded with dill pickles and hard-boiled eggs!
14 Jalapeno Popper Corn Salad – 4 Sons' R' Us
Throw a few ears of corn on the grill and toss the cooked kernels into a bowl. Stir in some tasty mix-ins like bacon, jalapeno, and cheddar cheese until you've got this fresh and creamy Jalapeno Popper Grilled Corn Salad. It'll be your new go-to side salad dish.
15 Red White and Blue Ice Cream Pie – Grits and Pinecones
16 Ultimate Layered Cornbread Salad – Grits and Pinecones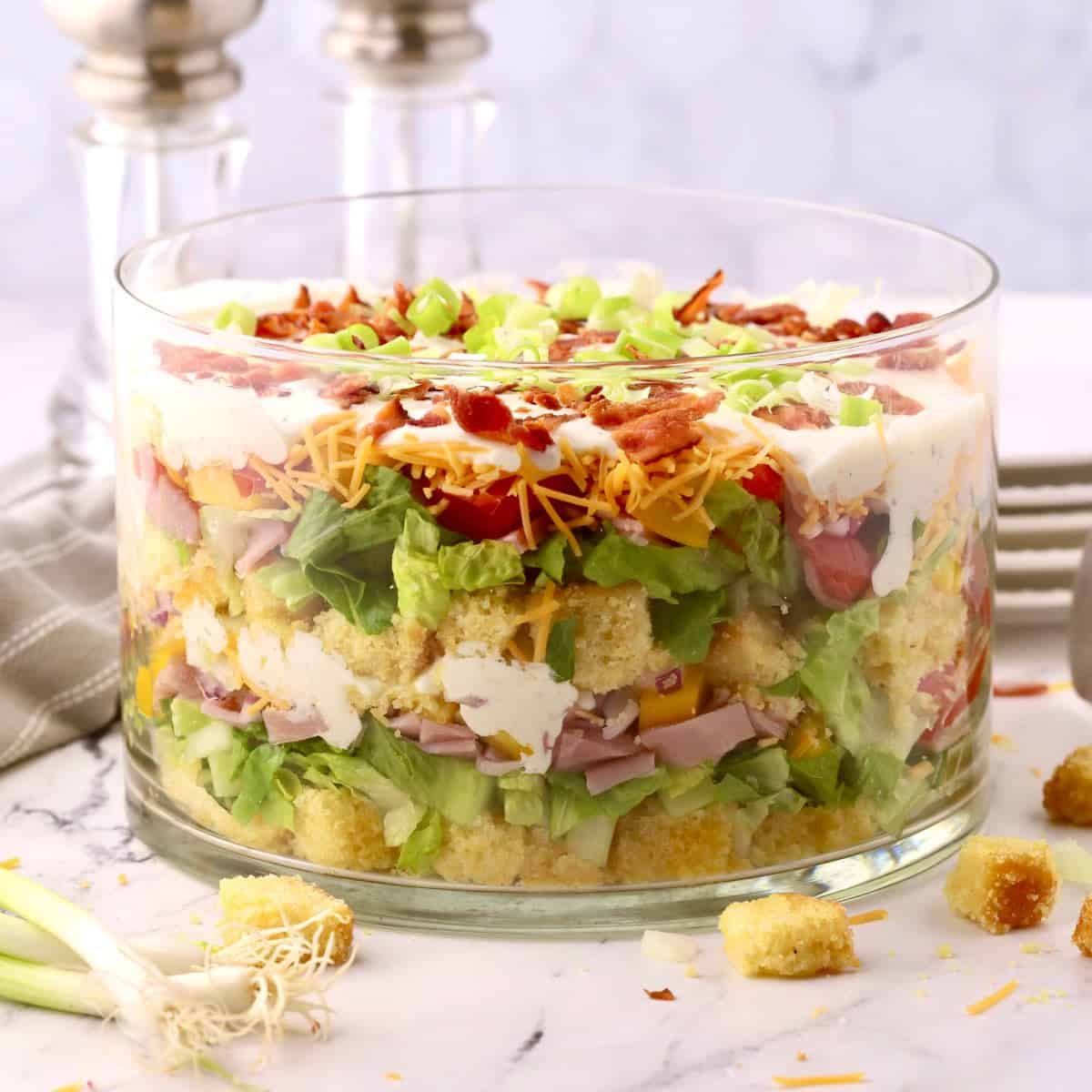 Easy make-ahead Southern Cornbread Salad is layer after layer of pure old-fashioned goodness with chunks of cornbread surrounded by romaine lettuce, fresh tomatoes, ham, bell pepper, onion, celery, and, of course, shredded cheese.
Topped with bacon and a herby ranch dressing, cornbread salad not only makes a beautiful presentation but it's also perfect for a neighborhood potluck or just a fun dinner with friends.
17 Creamy Southern Coleslaw – Pudge Factor
Creamy Southern coleslaw is full of creamy goodness, with the perfect blend of sweet and sour. It's consistently amazing and goes well with so many dishes. What's even better is that the food processor does most of the work.
18 Smoked Baked Beans – Grits and Pinecones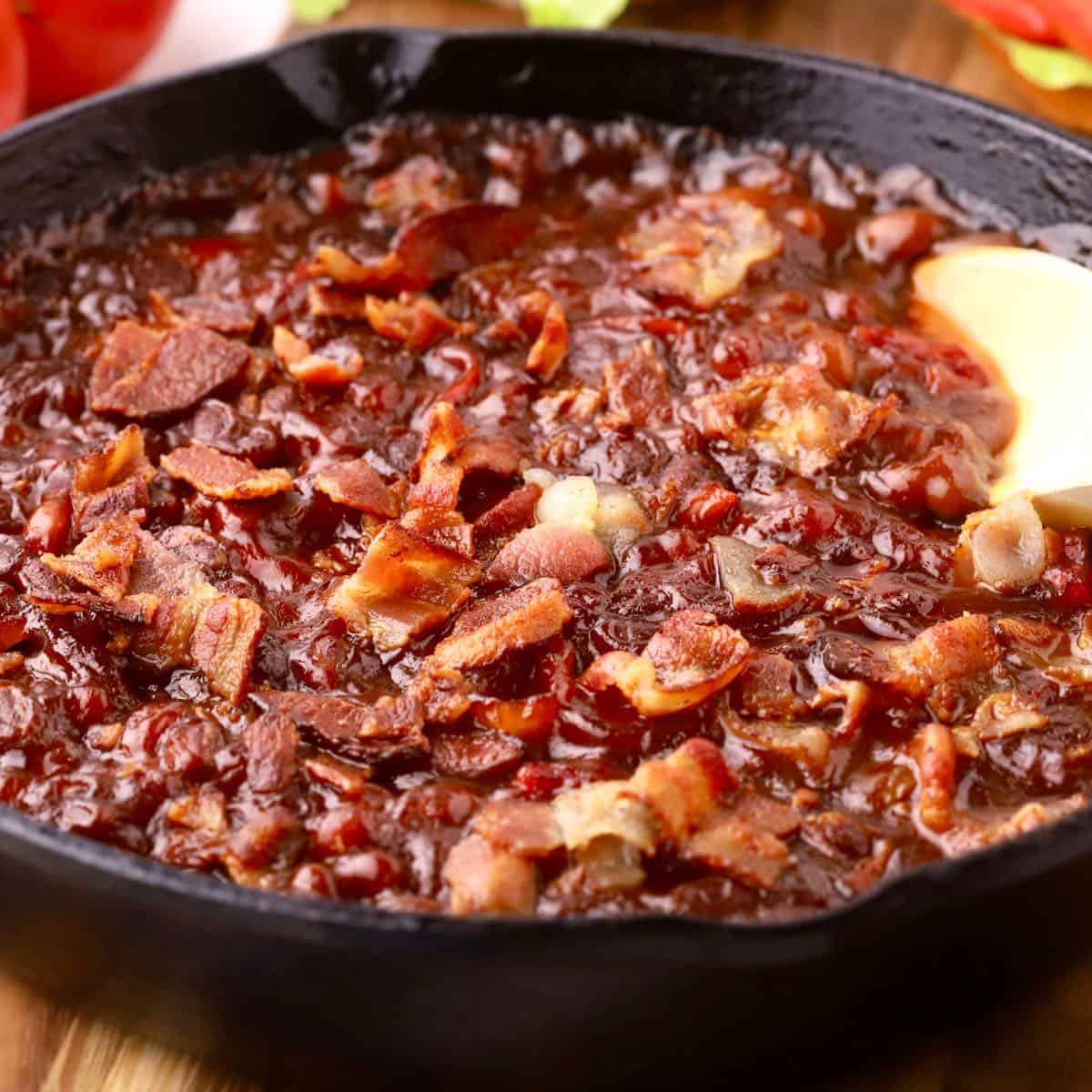 A quintessential BBQ side dish, Smoked Baked Beans made with brown sugar and bacon are smoked low and slow in a cast-iron skillet for a rich smoky flavor. Absolutely delicious and supremely easy to prepare, this foolproof recipe always gets rave reviews.
19 Southern Deviled Eggs – Grits and Pinecones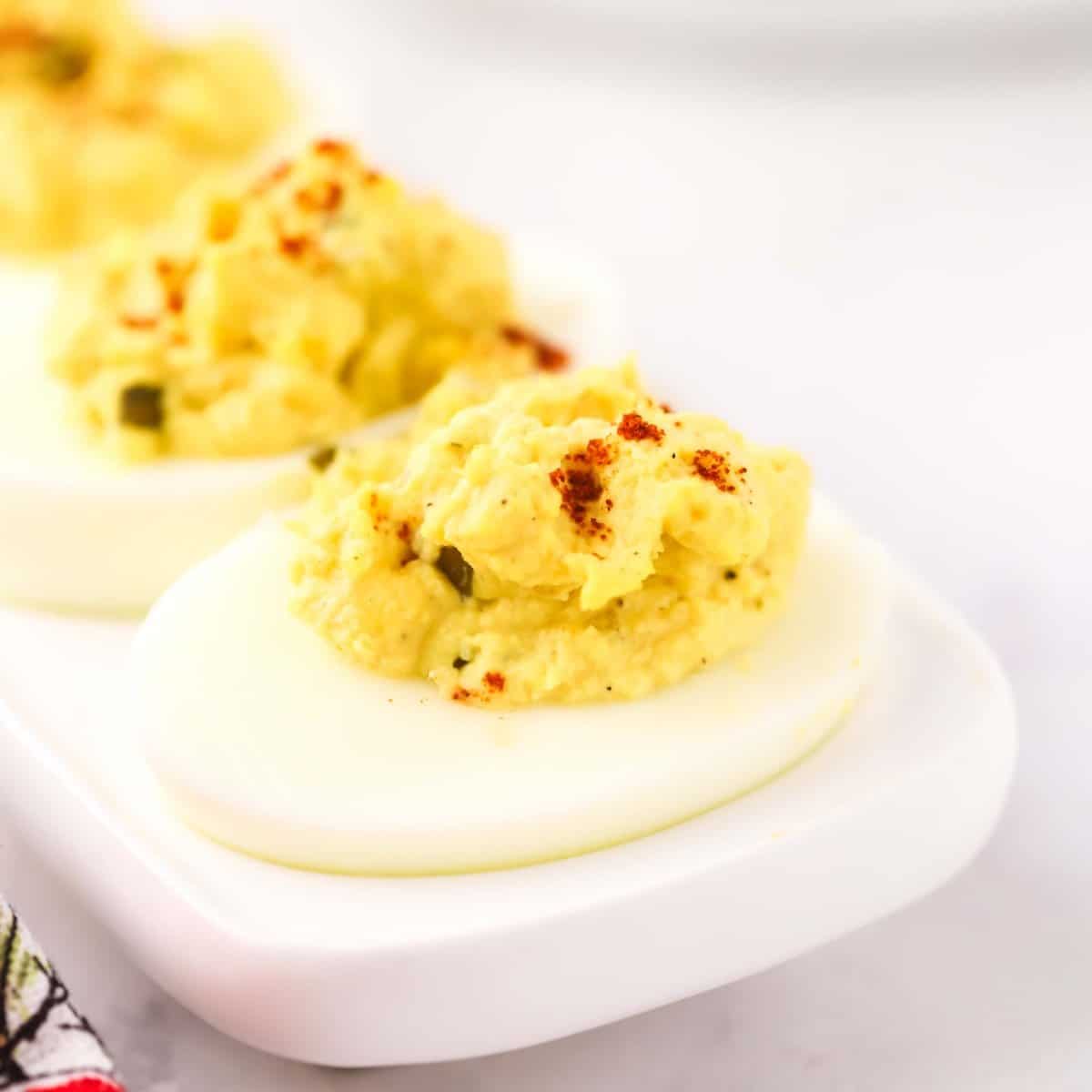 Quick and easy Southern Deviled Eggs are devilishly delicious. The tasty filling is full of rich egg flavor and loaded with creamy mayonnaise, spicy yellow mustard, dill pickles, and my secret ingredient, dill pickle juice.
Deviled eggs are always a popular side dish at holiday dinners, potlucks, BBQs, baby showers, picnics, and neighborhood cookouts. They are as versatile as they are delicious and can also be served as an appetizer or a snack for brunch, lunch, dinner, and even breakfast.
20 Patriotic Snack Mix Cones – Pudge Factor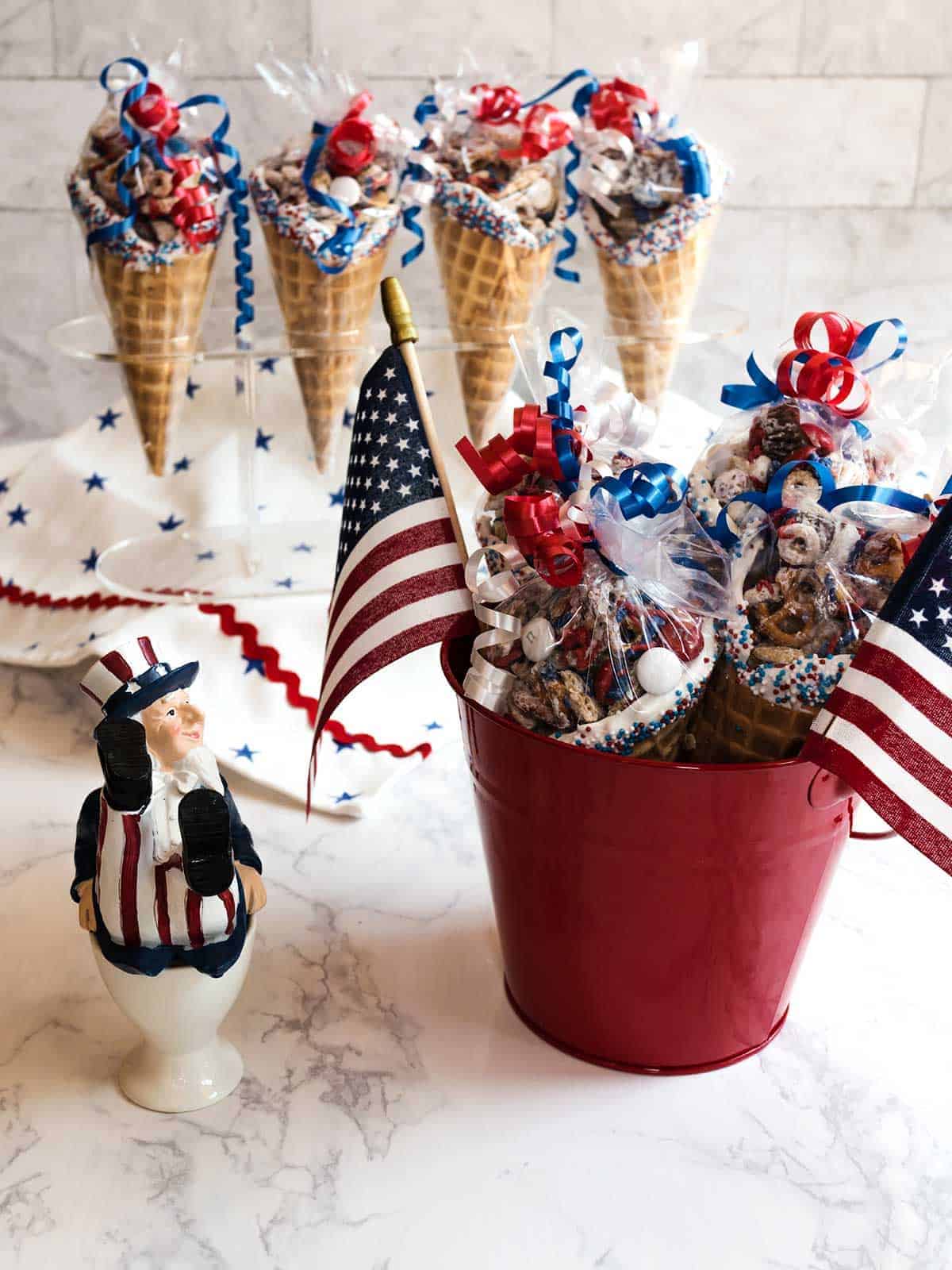 Patriotic Snack Mix Cones are a perfect treat for your summer patriotic festivities. They're simple to make and impressive enough for your pickiest eater. Store-bought waffle cones are topped with white chocolate and red, white, and blue sprinkles and filled with an awesome snack mix.
21 Grilled Basil Pesto Potato Skewers – Lord Byron's Kitchen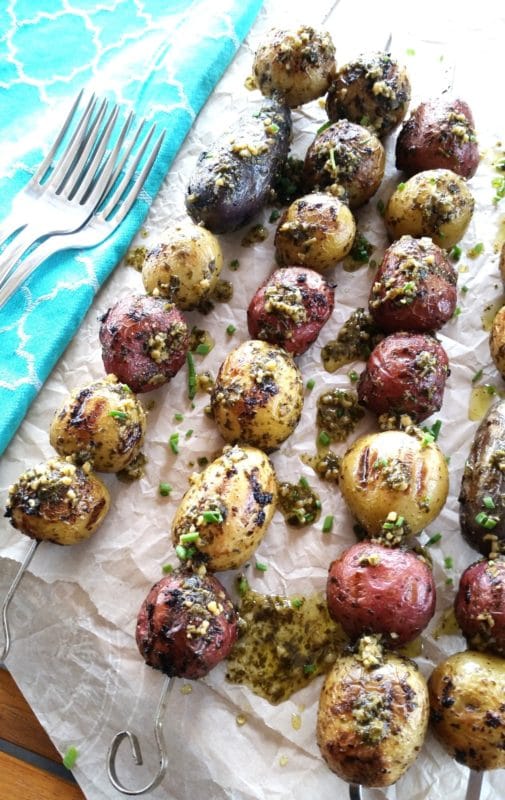 Grilled Basil Pesto Potato Skewers are parboiled and then grilled, which gives them a smooth texture on the inside and a slightly soft outside with just the right amount of grilled bits. And, of course, lastly, there's the awesome flavor of basil, garlic, and parmesan cheese from the basil pesto.
22 Skinny Berry Cheesecake Bars – A Healthy Cusine
Skinny Berry Cheesecake Bars are creamy, dreamy lemony cheesecake no-bake filling on top of a gluten-free nutty almond crust and topped with healthy berries. The perfect 4th of July recipe!
23 Grilled Beer Can Chicken – Grits and Pinecones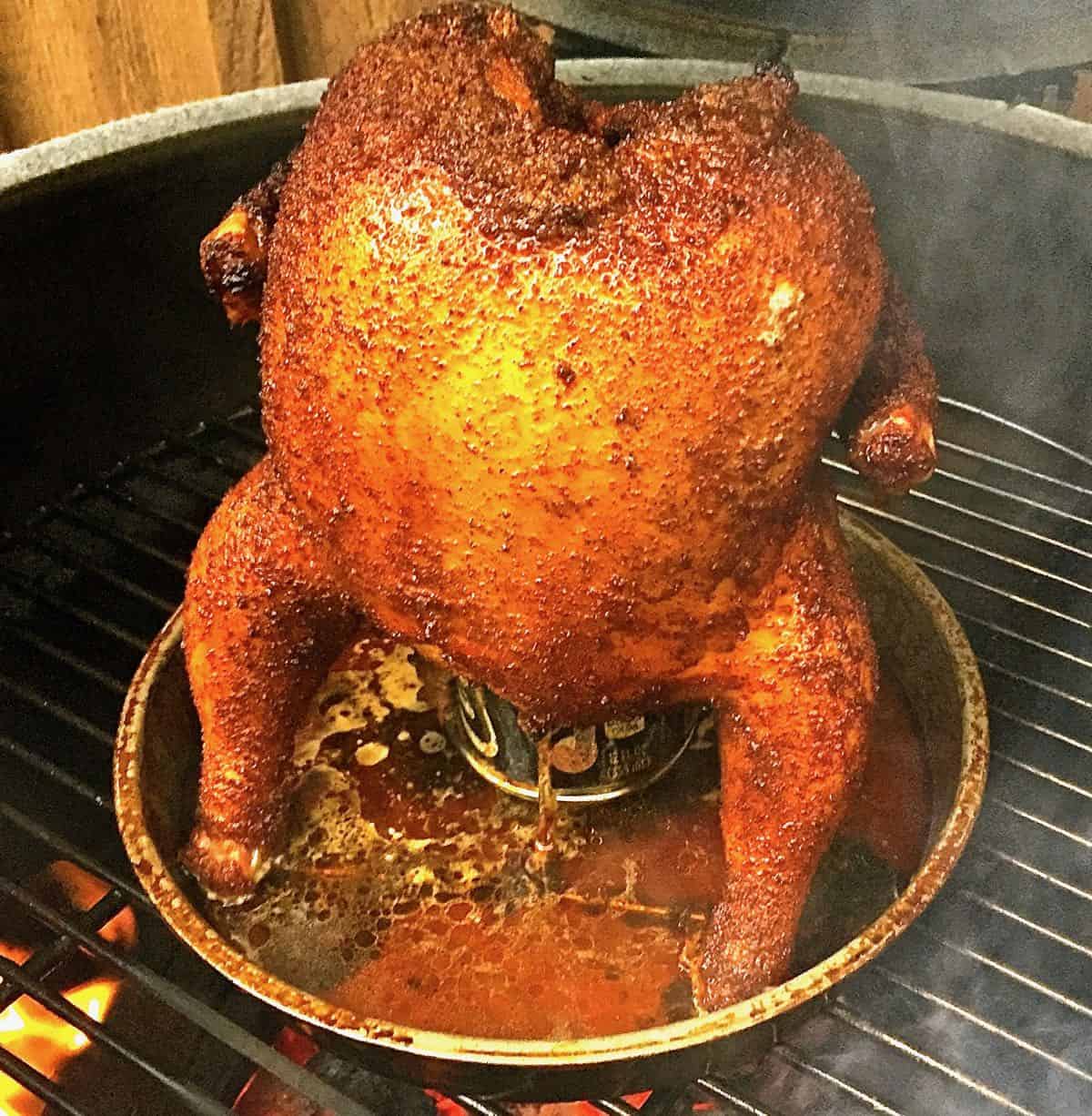 Grilled Beer Can Chicken is a fun and different way to achieve perfect grilled chicken that will have your friends and family thinking you are a prize-winning BBQ Pit Master!
24 Corn Salad – Grits and Pinecones
Easy Southern Corn Salad is a flavorful and colorful summer side dish that is kid-friendly and perfect for casual backyard barbecues and potlucks.
Full of fresh-picked sweet corn, this make-ahead wonder only takes minutes to prepare and pairs beautifully with grilled or smoked entrees.
25 Corn Tomato and Avocado Salad – Grits and Pinecones
This delicious and healthy Corn, Tomato, and Avocado Salad is the very essence of summer eating! You know those days when the temperature is soaring, and all you want is something light, cool, and refreshing to eat.
26 Strawberry Cheesecake Bars – The Seaside Baker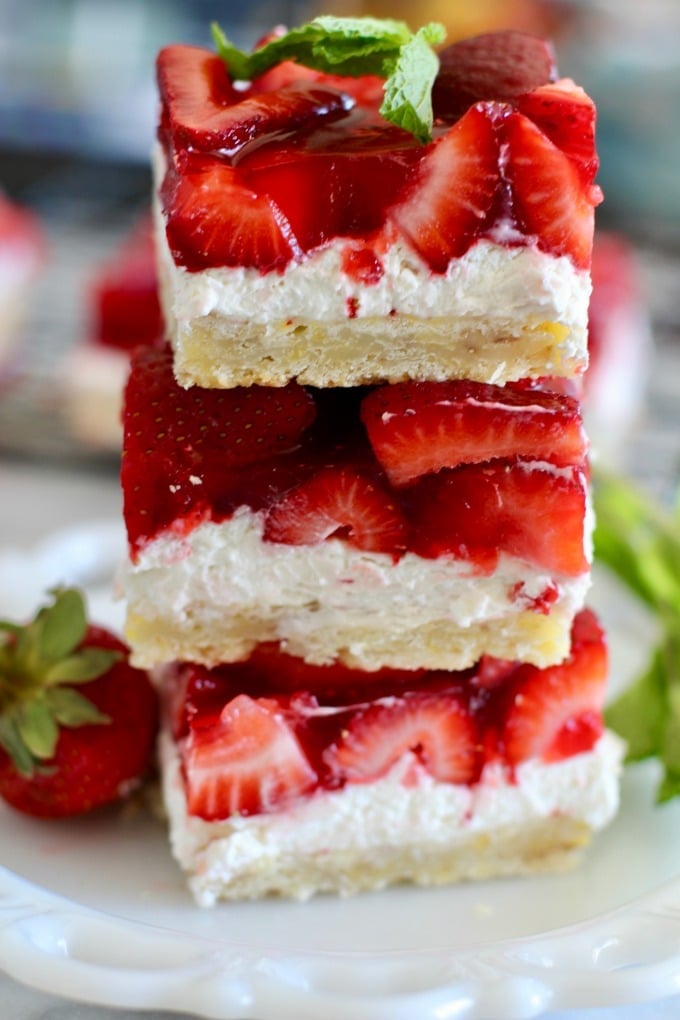 These strawberry cheesecake bars will be the hit at your next summer picnic! Creamy, rich, and piled high with fresh glazed strawberries.
27 Lemony Lentil Asparagus and Tomato Salad with Feta Cheese – From a Chef's Kitchen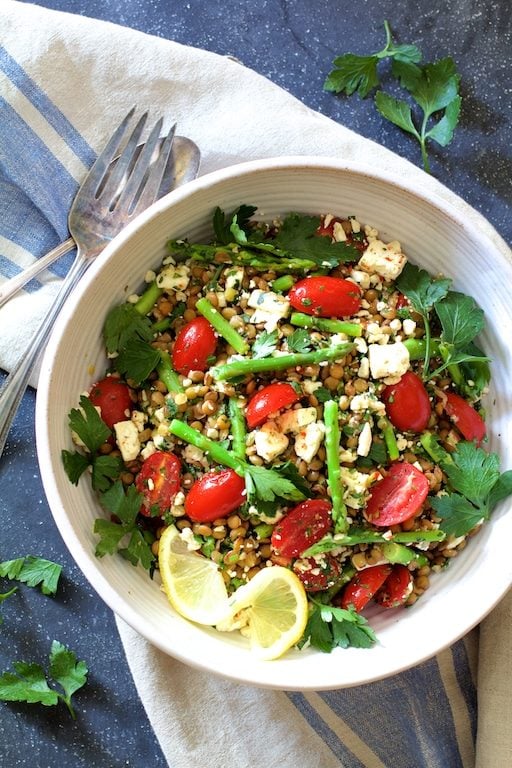 Lemony Lentil, Asparagus, and Tomato Salad with Feta Cheese is light, healthful, and will go with just about anything!
28 Best Oven-Baked Baby Back Ribs and Dry Rub – Grits and Pinecones
This recipe for the Best Oven-Baked Baby Back Ribs and Dry Rub is for you if you love BBQ ribs but don't have a grill, it's raining, or you are looking for an easy way to cook them in the oven!
29 Old-Fashioned Southern Peach Cobbler – Grits and Pinecones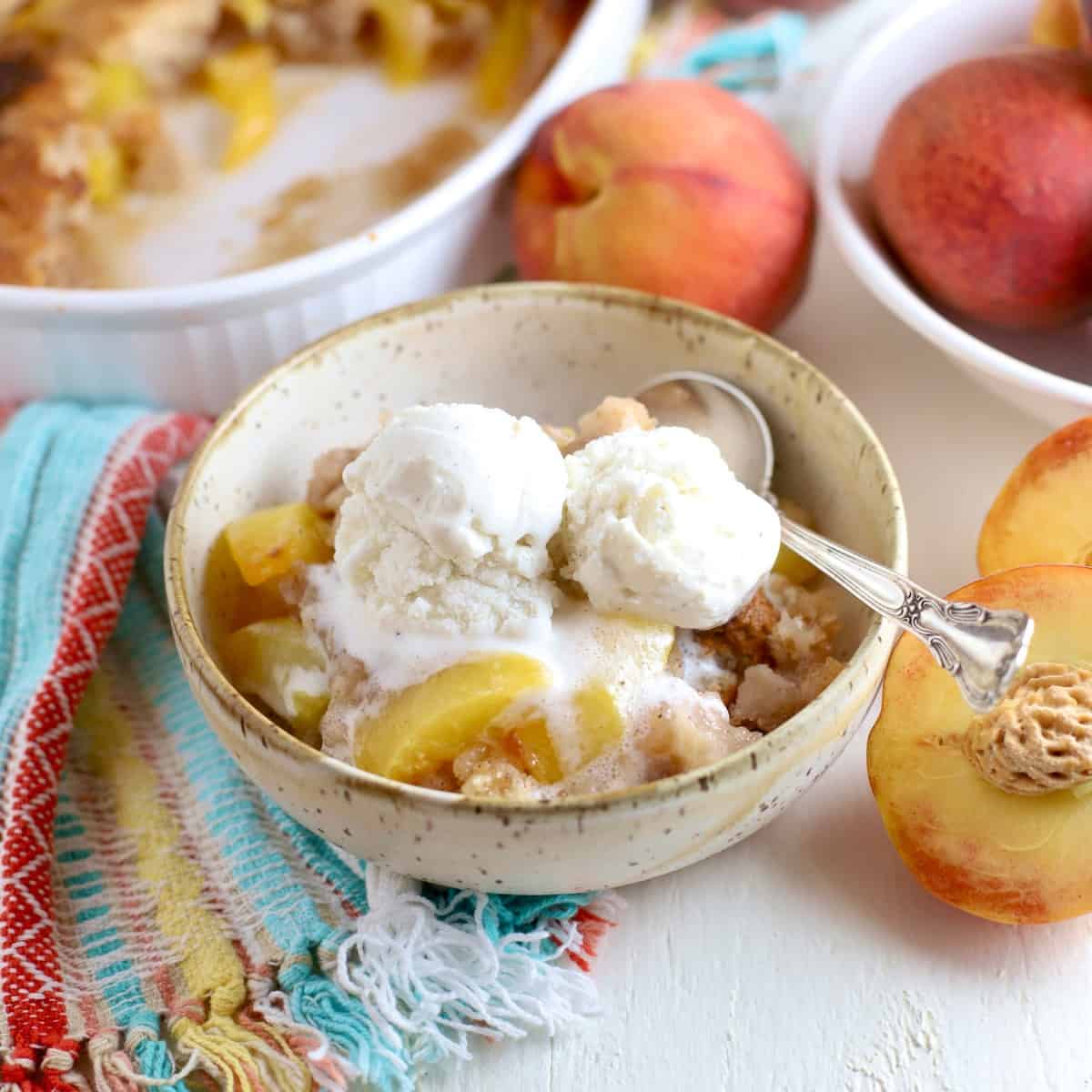 Easy Old-Fashioned Southern Peach Cobbler is a simple cobbler recipe baked in a cast-iron skillet, featuring fresh, frozen, or canned, sweet, juicy peaches and a perfect homemade crust. One bite of this luscious, made-from-scratch cobbler, and you will understand the true meaning of comfort food.
Served warm and topped with one or more scoops of vanilla ice cream, this tasty peach cobbler is nothing short of a peach lover's dream!
30 Greek Potato Salad – Pinch and Swirl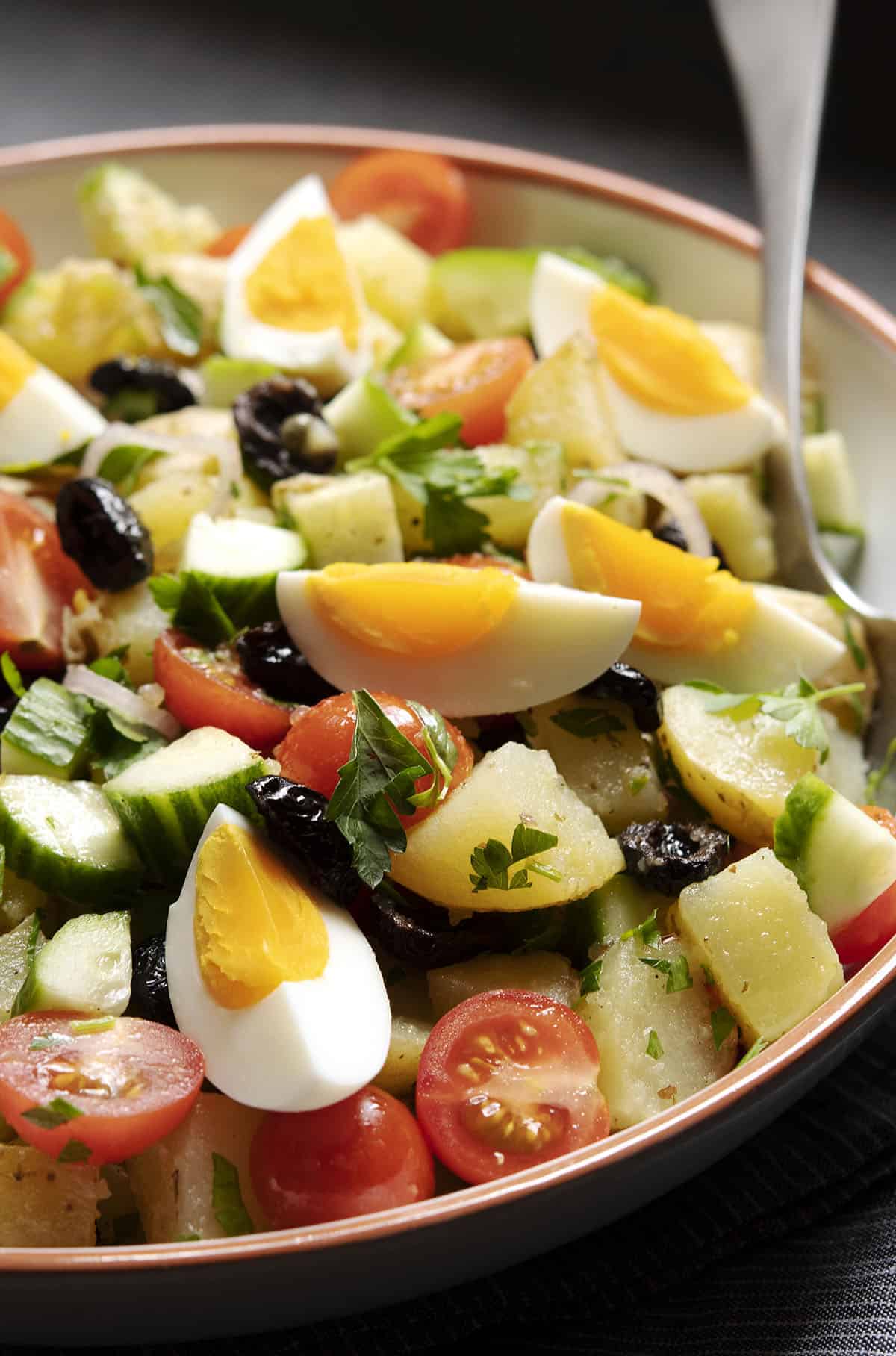 With this Greek Potato Salad, every bite is different. Choose your combination from buttery potatoes, briny olives, salty capers, sweet tomatoes, hard-boiled eggs, and crunchy cucumbers!
31 Strawberry Lemonade Vodka Cocktail – Lemon Blossoms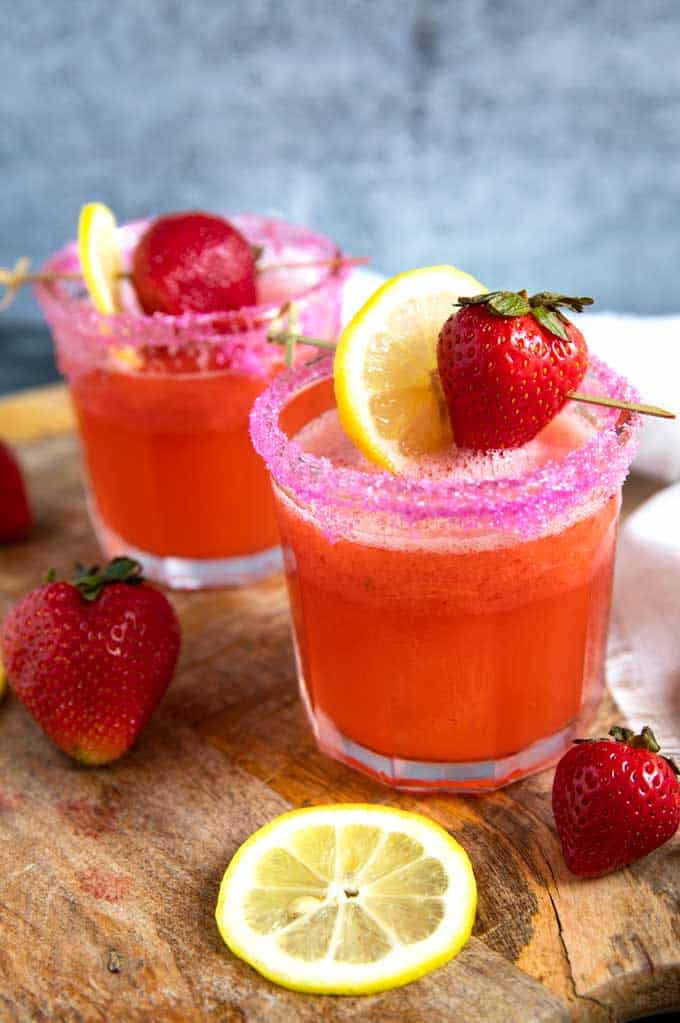 Strawberry Lemonade Vodka Cocktail combines the flavors of fresh strawberries, lemon sorbet, and vodka into one amazing mixed drink! This simple and refreshing vodka lemonade is one of our favorite party cocktails!
32 No-Bake Coconut Strawberry Jars – The Flavor Bender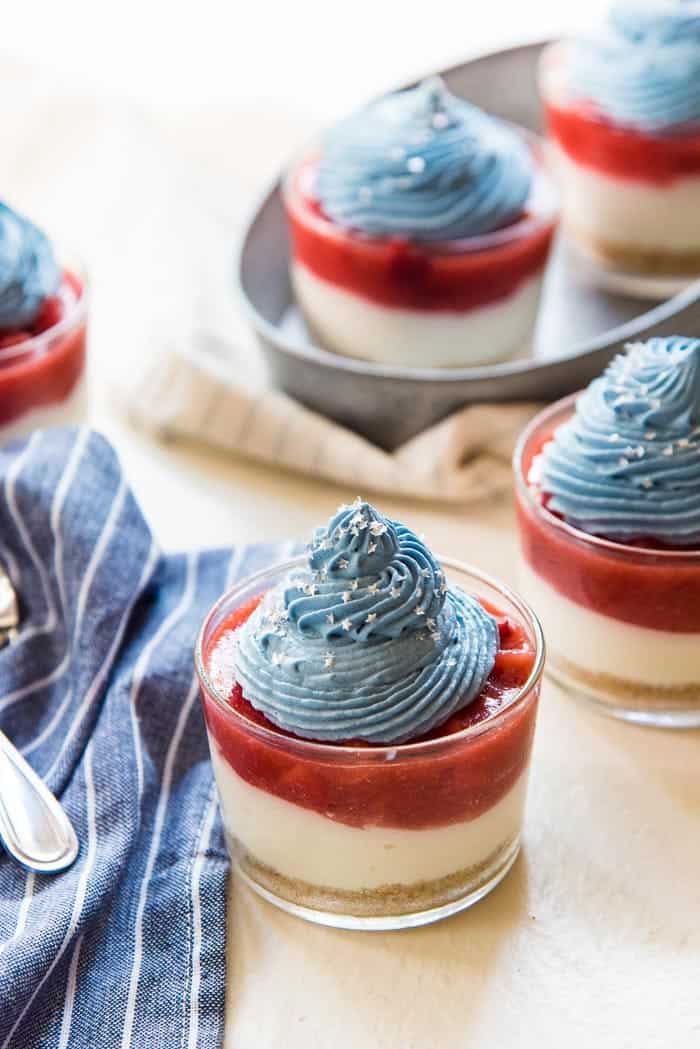 No-bake coconut cheesecake + fresh strawberry pie filling make for the PERFECT summer and Fourth of July dessert! There's no artificial coloring or flavoring in these No-Bake Coconut Strawberry Cheesecake Jars, and they can be made gluten-free, dairy-free, and vegan too!
33 Summer Pasta Salad – Grits and Pinecones
Summer Pasta Salad is a delicious, garden-fresh veggie-filled salad loaded with summer squash, zucchini, carrots, scallions, edamame, broccoli, and cherry tomatoes! It's topped with a simple light and fresh dressing.
34 Grilled Peaches with Honey Whipped Mascarpone Cream – Ramshackle Pantry
This Grilled Peaches with Honey Whipped Mascarpone Cream is decadent, delicious, and a beautiful summer dessert!
35 Frozen Lemonade Pie – Grits and Pinecones
Easy Frozen Lemonade Pie is the perfect combination of sweet and tart flavors, all wrapped up in a crunchy graham cracker crust. Light and refreshing with a sublime lemony flavor, it's a perfect no-fuss dessert that will quickly become a family favorite.
36 Easy Watermelon Lemonade Ice Pops – Grits and Pinecones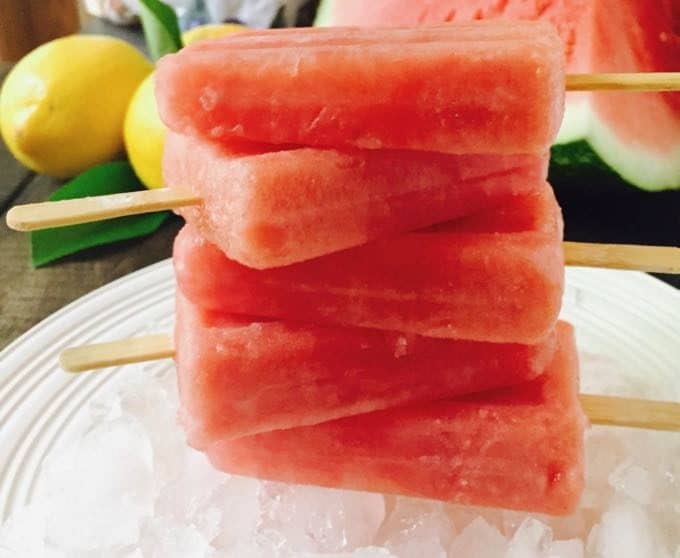 Easy Watermelon Lemonade Ice Pops has to be the easiest recipe ever! With only two ingredients, fresh yummy watermelon and frozen lemonade concentrate, and two steps, you can have a delicious, light, and refreshing 4th of July dessert that both kids and adults will love.
37 Seven Layer Flag Dip – Pudge Factor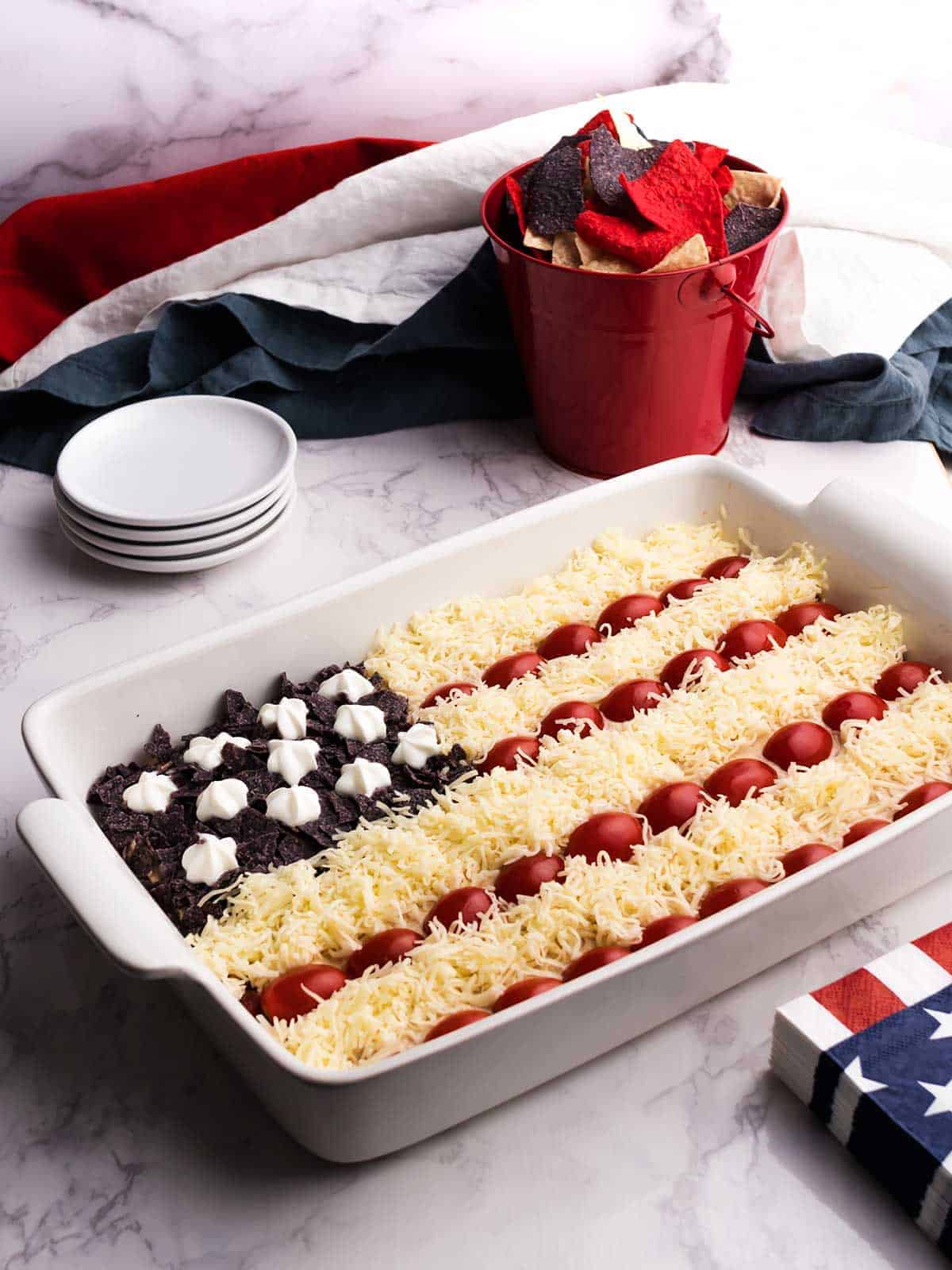 7-Layer Flag Dip is a traditional Mexican-inspired dip with layers of refried beans, guacamole, salsa, and sour cream mixed with taco seasoning. It's topped with grape tomatoes for the red stripes, shredded Monterey Jack cheese for the white strips, and crushed blue tortillas with sour cream for the stars. It's perfect for Memorial Day, Flag Day, the 4th of July, or any time you want to share your summer patriotic festivities with family and friends.
38 Red, White and Blue Yogurt Popsicles – The View from the Great Island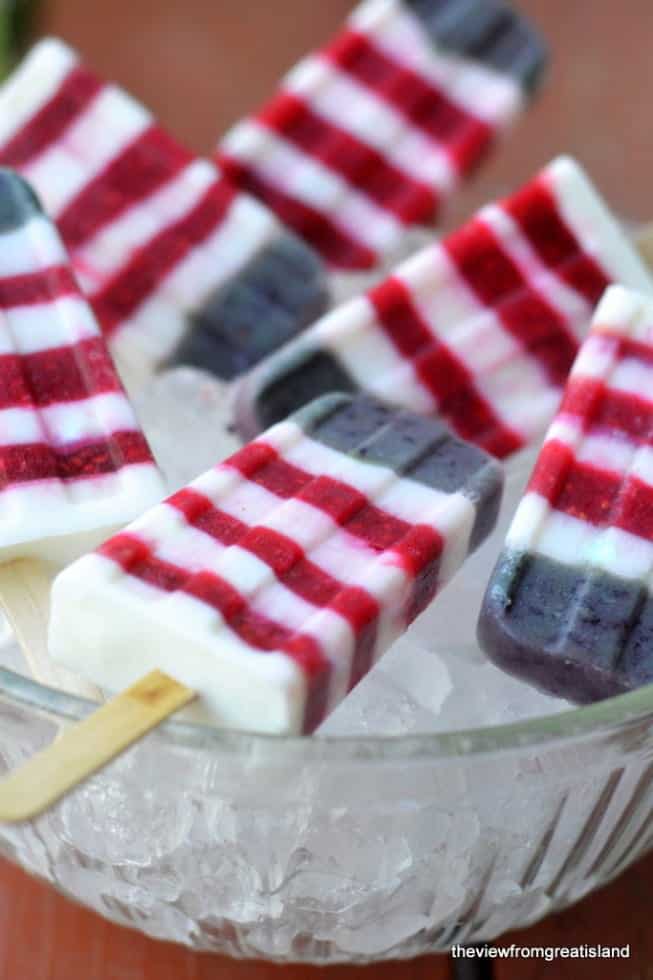 Show your colors this summer with these healthy patriotic Red White and Blueberry Yogurt Popsicles! Kids of all ages love these berry-licious frozen treats, so layer up a batch this Memorial Day or 4th of July!
Frequently asked questions:
More menu ideas:
Do you need even more menu ideas or inspiration? Check out all of my 4th of July recipes at this link.
Have a happy and safe 4th of July!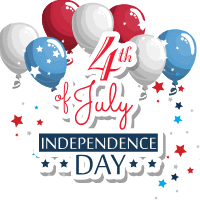 ⭐️⭐️⭐️ ⭐️ ⭐️ If you make any of these recipes, please leave a comment and give it a star rating. I would love to know how you liked it!
Thank you so much for visiting Grits and Pinecones. I hope you'll come back soon!