Roll out the red, white and blue, fire up the grill and invite your family and friends to the ultimate 4th of July cook-out celebration! A great 4th starts with great food so be sure to check out my round-up of twenty-four top-rated 4th of July BBQ and Cookout Recipes from some of the country's best food bloggers. These all-time patriotic and classic recipe favorites are sure to wow your family and friends! Plus as a bonus, I have added an easy recipe for a delicious, and patriotic Red, White, and Blue No-Bake Ice Box Cake!
Nothing brings out the flavor of chicken like grilling and this recipe for The Best and Easiest Grilled Chicken is finger-licking good and perfect for your 4th of July celebration!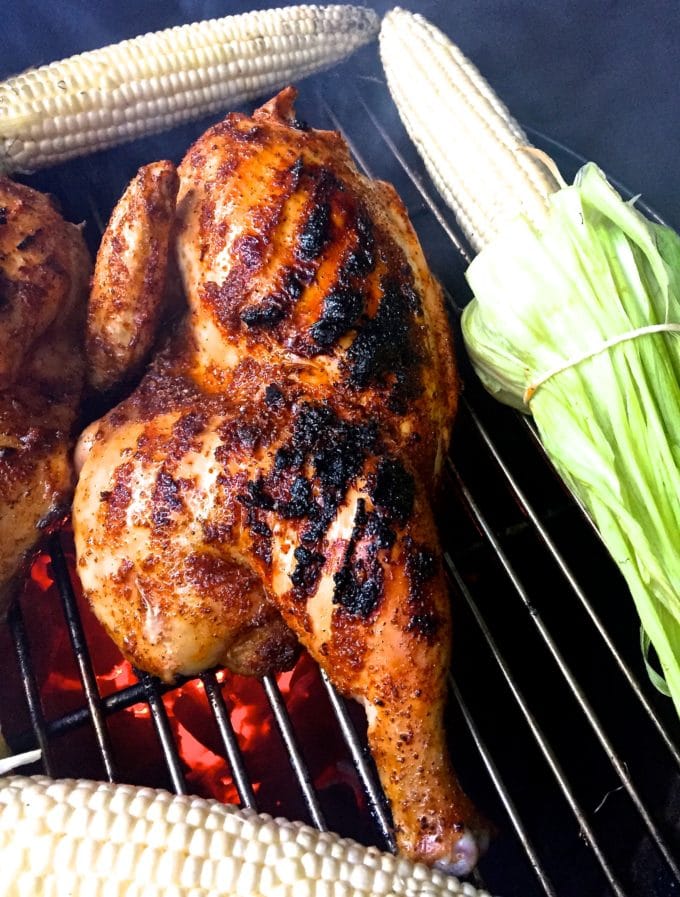 Lemony Lentil, Asparagus and Tomato Salad with Feta Cheese is light, healthful and will go with just about anything!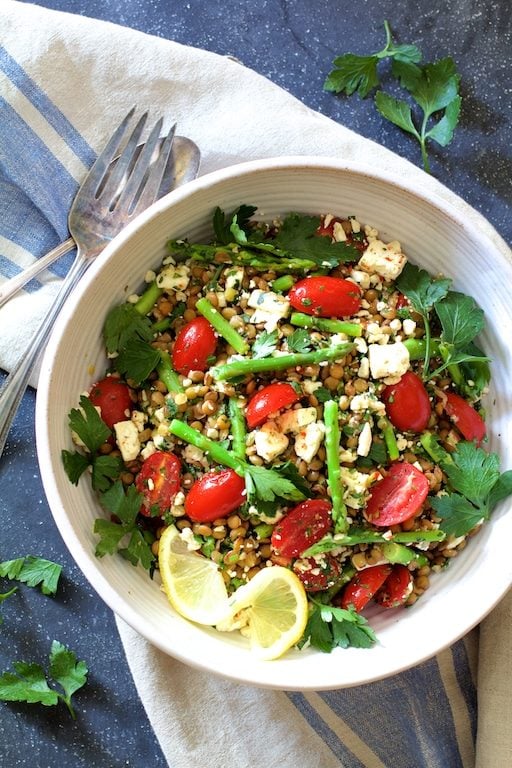 Broccoli Salad with Pineapple, Bacon, and Spiced Pecans ~ don't be surprised if everybody skips the main course altogether and heads straight for this salad!  This classic broccoli salad gets an extra burst of sweetness from fresh pineapple, and lots of crunch from bacon and chili rubbed pecans.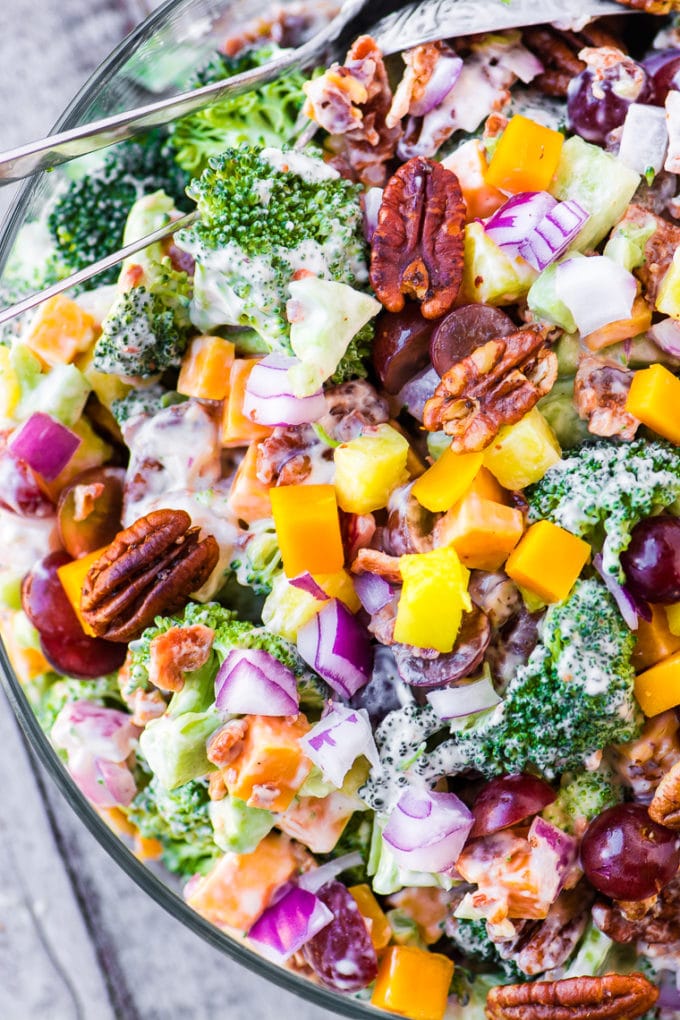 Patriotic Pie for Independence Day. American Flag pies are my favorite red, white and blue dessert and perfect for your backyard cookout.
These Red, White, and Blue Sangria Sparklers would be a perfect way to kick off the 4th of July festivities. They taste just as good as they look and are super easy to make.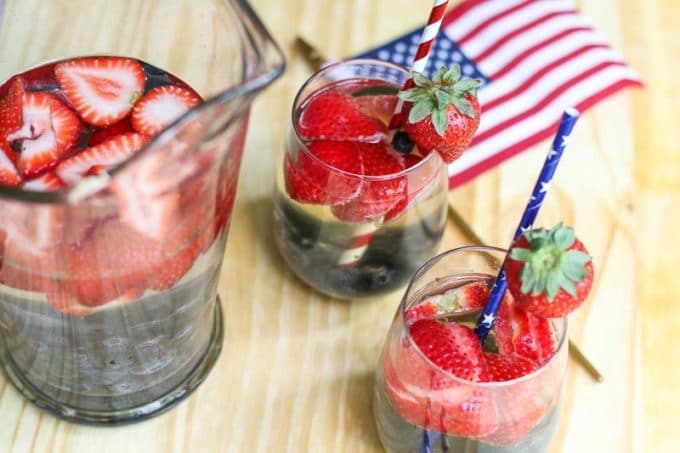 Grilled low and slow yields fall off the bone tender BBQ Ribs, brush with a tangy BBQ sauce for lip-smacking deliciousness. Perfect for summertime entertaining!
Fresh Tomato Tart is a luscious creamy based tart topped with flavorful garden fresh tomatoes in a flaky puff pastry crust. It's a snap to make and is an absolutely delicious way to use the bright red tomatoes from your garden.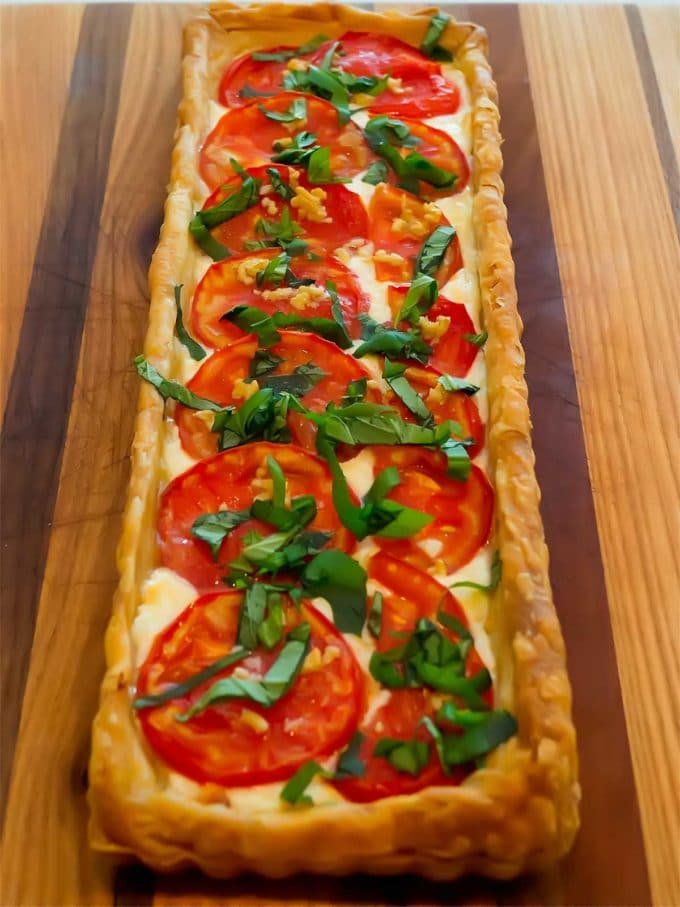 Star-Spangled skewers are the easiest 4th of July appetizer that you'll ever make! They only take 5 minutes to assemble, and you can store them in the fridge until party time! Vegetarian and gluten-free.
Celebrate the 4th of July in style with these patriotic red white and blue chocolate-covered strawberries!  Strawberries are dipped in melted white chocolate and blue sugar sprinkles, making it the easiest and yummiest 4th of July dessert ever!
These grilled honey mustard chicken skewers are sure to become a family BBQ favorite this summer! The 3-ingredient marinade is super easy and tastes amazing.
4th of July or picnics wouldn't be the same without a tasty helping of potato salad, and this is the best recipe for classic Southern Potato Salad! Just like Grandma used to make, this old-fashioned potato salad recipe is easy and is loaded with dill pickles and hard-boiled eggs!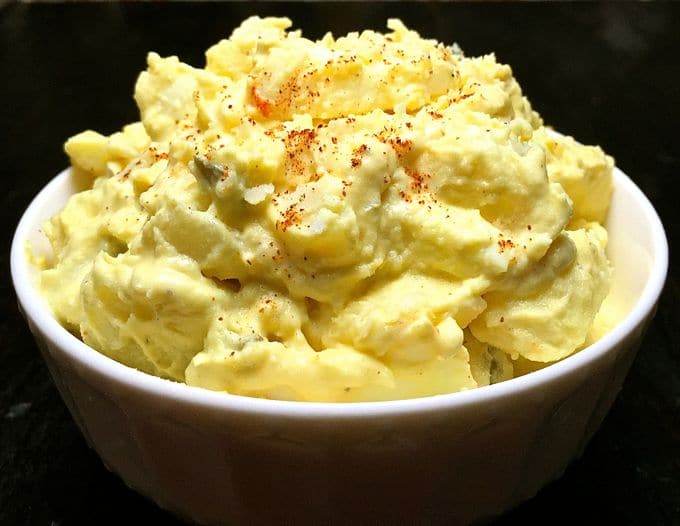 Throw a few ears of corn on the grill and toss the cooked kernels into a bowl. Stir in some tasty mix-ins like bacon, jalapeno, and cheddar cheese until you've got this fresh and creamy Jalapeno Popper Grilled Corn Salad. It'll be your new go-to side salad dish.
How about a no-bake ice cream pie for the 4th of July. This has layers of an almond pastry that is reminiscent of a graham cracker crust, a creamy vanilla ice cream studded with mixed berries, fresh whipped cream, and then more berries to show off the red, white, and blue.
These spicy Grilled Chili Lime Shrimp Kabobs make a great main course for a summer barbecue. They are suitable for low-carb, ketogenic, Atkins, gluten-free, Paleo, and Banting diets.
Creamy Southern coleslaw is full of creamy goodness, with the perfect blend of sweet and sour. It's consistently amazing and goes well with so many dishes. What's even better is that the food processor does most of the work.
Grandma Cash's Hamburger Bean Casserole is a must-have on our family party menu. This recipe is now in our family's second and third generation kitchens, as a "have to have" for summer events.
This is what Summer is all about. Fresh produce, grill marks, and dinner where all the dishes can go into the dishwasher. So many things to get excited about. This board is perfect for outdoor entertaining.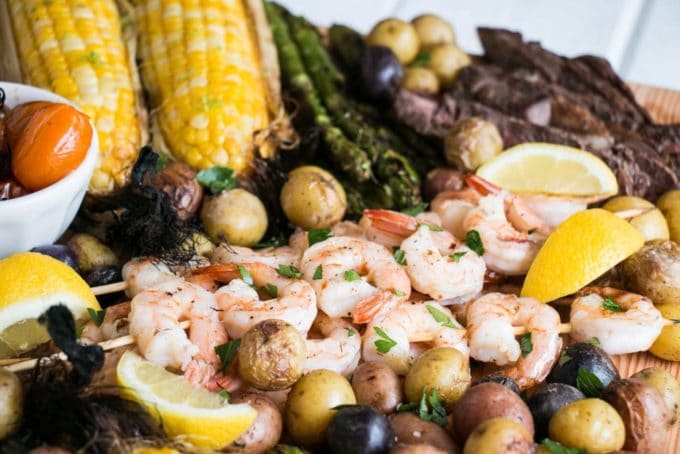 Lightly chargrilled corn on the cob makes the perfect side dish for your BBQ Spread.
Grilled Basil Pesto Potato Skewers are parboiled and then grilled, which gives them a smooth texture on the inside, and a slightly soft outside with just the right amount of grilled bits.  And, of course, lastly, there's the awesome flavor of basil, garlic, and parmesan cheese from the basil pesto.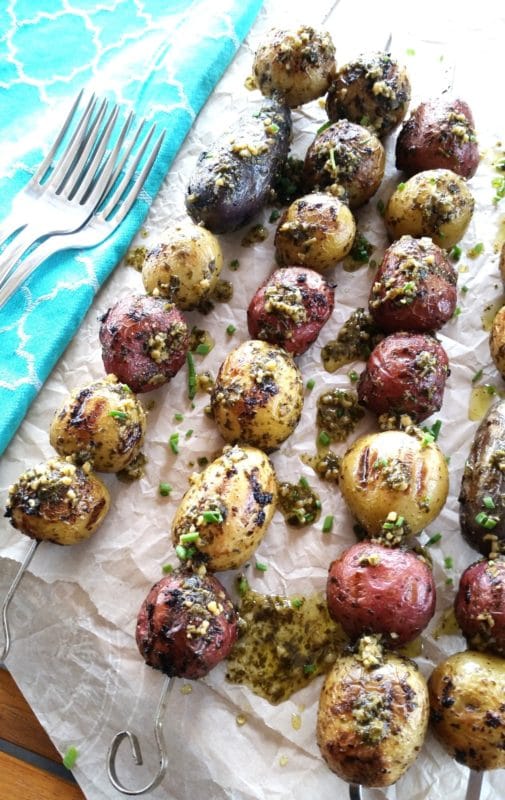 Skinny Berry Cheesecake Bars are creamy, dreamy lemony cheesecake no-bake filling on top of a gluten-free nutty almond crust and topped with healthy berries.
Fire up your grill and start barbecue season off with this delicious recipe for Grilled Pork Loin Filet with Raspberry Barbecue Sauce!
Healthy Low-Carb Parmesan Cauliflower Salad slightly steamed for a softer and more digestible texture, mixed with flavor-boosting parmesan cheese and topped with fresh tomatoes and blueberries.
This delicious and healthy Corn, Tomato, and Avocado Salad is the very essence of summer eating! You know those days when the temperature is soaring, and all you want is something light, cool, and refreshing to eat.
These strawberry cheesecake bars will be the hit at your next summer picnic! Creamy, rich, and piled high with fresh glazed strawberries.
This Red, White, and Blue No-Bake Icebox Cake is a dream to make and just as dreamy to eat. And, it's the perfect dessert to take to a 4th of July celebration.
If you make any of the recipes above, please leave me a comment and let me know how you liked it! I love hearing from you!  Also, please follow me on Pinterest, Facebook, and Instagram. And finally, to be the first to receive notifications of new posts by email enter your email address here or in the Subscribe box. Thank you so much for visiting Grits and Pinecones!