Scare up some smiles with my collection of 50+ Easy Halloween Potluck Ideas for 2023.  Whether you are attending a neighborhood potluck or planning a Halloween party yourself, you will love these quick and easy, scary-delicious treats and party food recipes.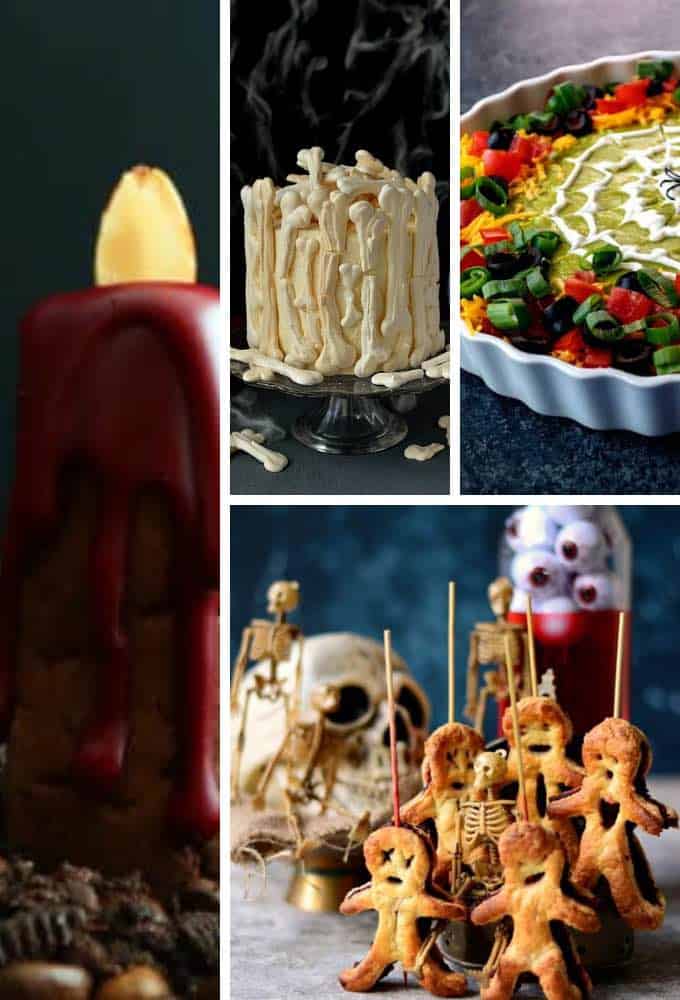 Updated for 2022, this roundup includes fast and easy Halloween food ideas and snacks for kids, main dish dinner ideas, potluck ideas, and even some healthy snacks!
You will also find spooky treats, appetizers, cute finger foods, sweets, and desserts, plus menu ideas and recipes for both adult and kids' parties.
From cocktails like my Witches Brew – Halloween Punch with a Kick to cute Halloween treats like my Easy Halloween Jalapeño Mummies and Easy Halloween Meringue Ghosts, there is literally something for everyone.
1. Easy Halloween Jalapeño Mummies – Grits and Pinecones
Are you looking for recipes or appetizer ideas to serve at a Halloween party or easy food ideas for the kids? Well, you are in the right place.
Easy Halloween Jalapeño Mummies are a cute, spooktacular treat that is easy to prepare and will have your family and friends marveling at how creative you are.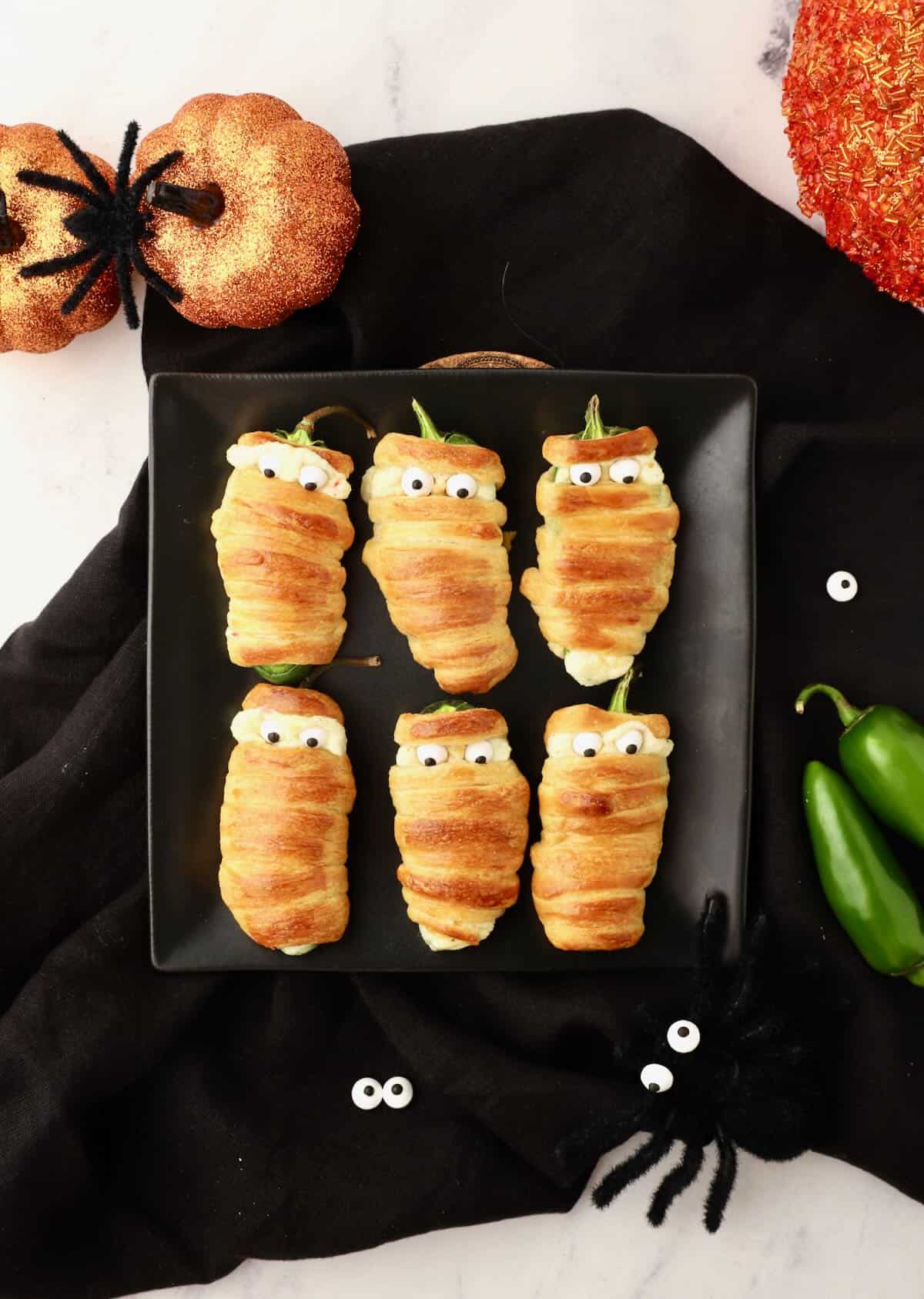 2. Spider Bread with Mexican Corn Dip – Pudge Factor
Spider Bread with Mexican Corn Dip is the ultimate Halloween appetizer. By itself, the Mexican Corn Dip is totally addictive. When paired with the beyond cute Spider Bread, it will dazzle your friends and family.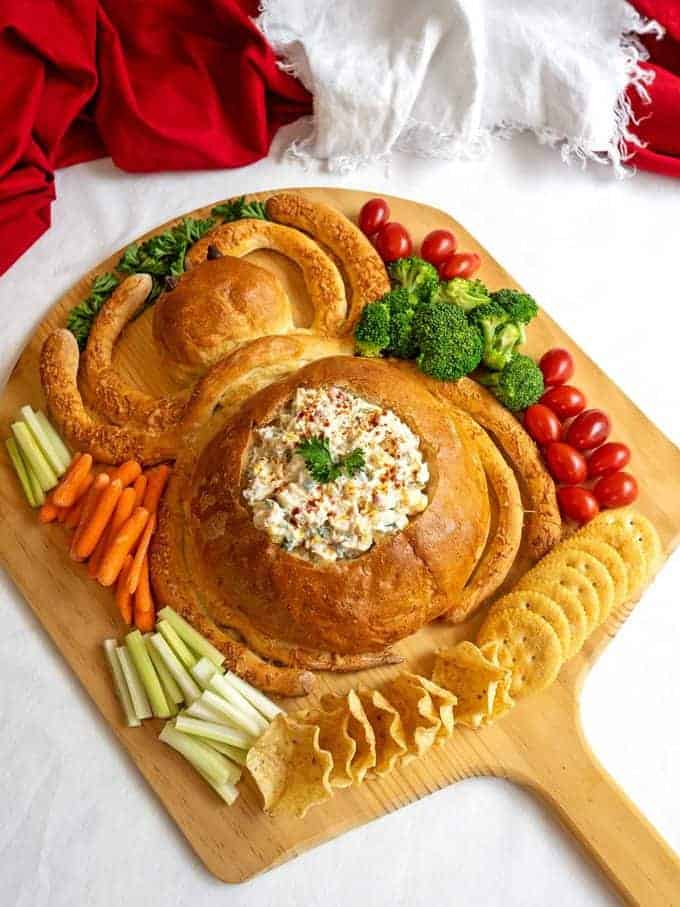 3. Bleeding Candle Cookies – Kitchen @ Hoskins
Spooky dark chocolate shortbread cookie candles with bloody vanilla icing dripping down!! These cookies might look complicated but not as hard as might think! The dough comes together with just one bowl and a wooden spatula.
4. Monster Munch Halloween Snack Mix – Grits and Pinecones
A sweet and salty treat, my Monster Munch Halloween Snack Mix will appeal to both kids and adults. It only takes a few minutes to whip up, and this crispy, crunchy snack mix will quickly become a family favorite.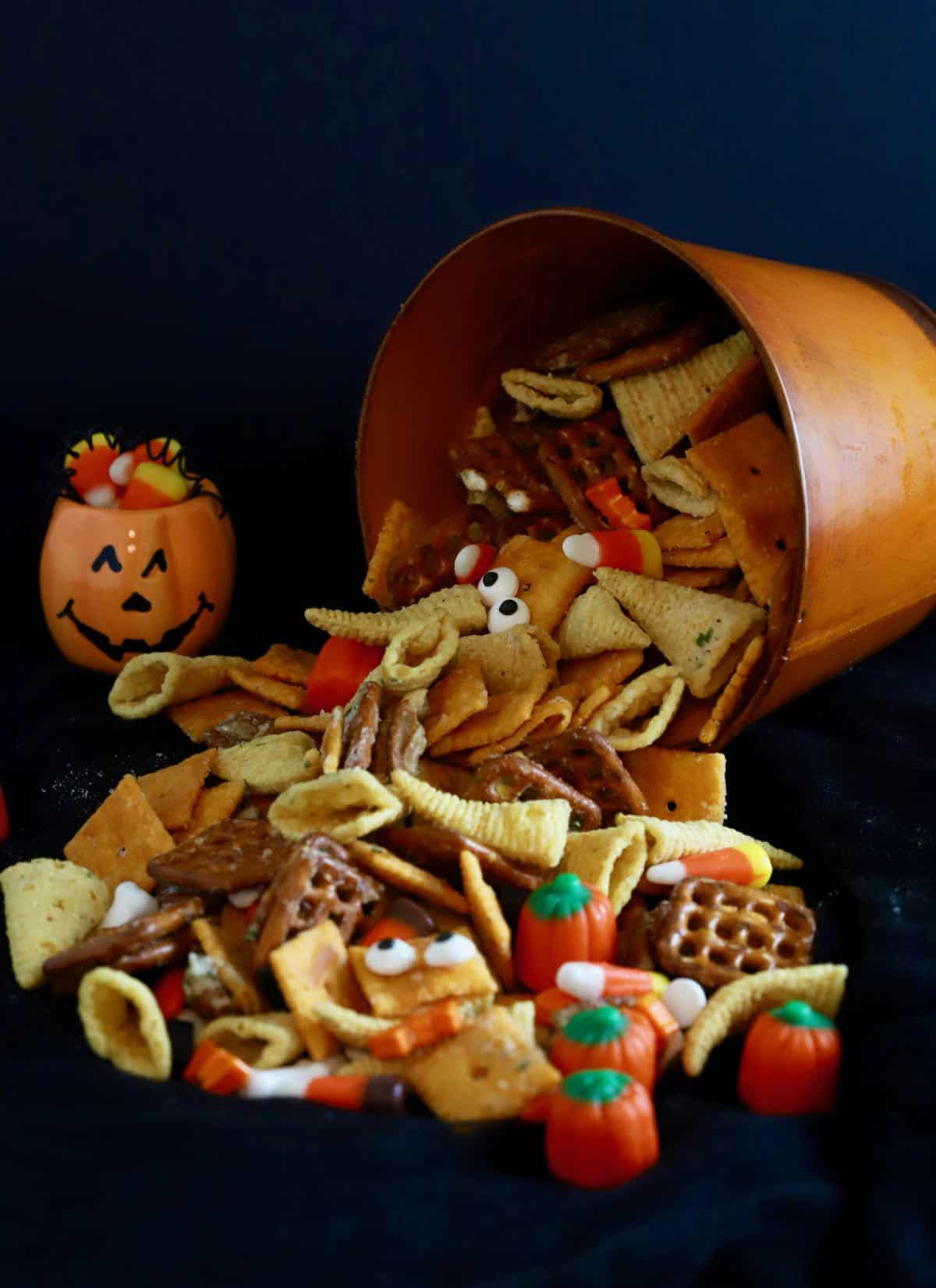 5. Halloween Spooky Spider Deviled Eggs – Grits and Pinecones
Spooky Spider Deviled Eggs are a fun, healthy after-school snack for the kids or a great side dish or appetizer to serve at a Halloween party or dinner. Check out my step-by-step instructions to make the cutest and easiest deviled eggs you have ever seen!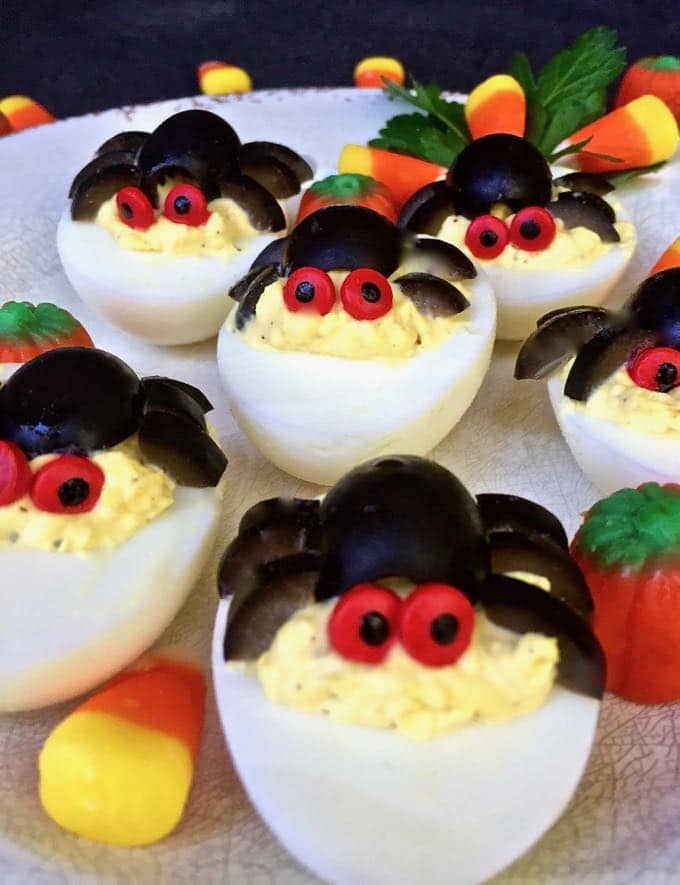 6. Dark Chocolate and Oreo Mini Skull Cakes – Brooklyn Homemaker
The flavor of these little cakes is deep dark chocolate perfect with a super tender and moist crumb. Thanks to that simple powdered sugar glaze, these little cakes almost taste like a reeeeeally good moist chocolate doughnut.
Now tell me, what kid (or adult) could resist a super moist chocolate cake filled with oreo cookie crumbs? Especially one in the shape of a cute-yet-terrifying little skull???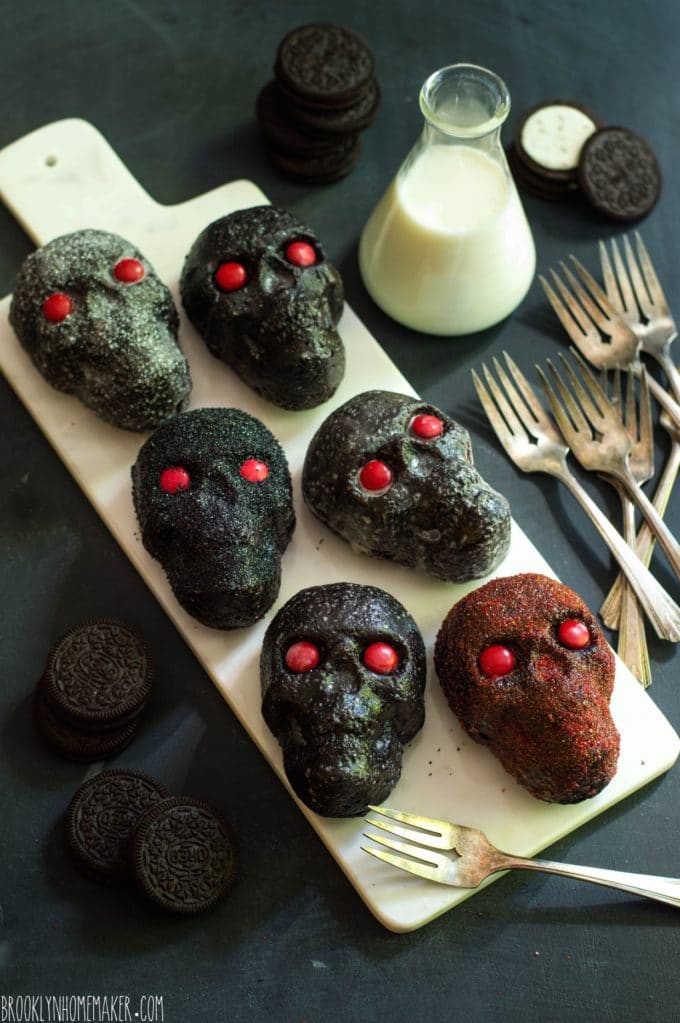 7. Vegan Pastry Voodoo Dolls – Love is in My Tummy
This Halloween, shake things up a bit with these VEGAN Pastry Voodoo Dolls – not as sugary as the usual treats, but quite interesting, delicious, and even healthy! No food colors or anything artificial are used here!
When they first came out of the oven, my husband thought they were cute (like little gingerbread men), but after seeing these photos, he finds them creepy! I, on the other hand, felt like a serial killer while carving out their eyes and mouth (I kept cringing with every slice), but after seeing them 'hanging out' with the skeletons, I thought they looked kinda cute.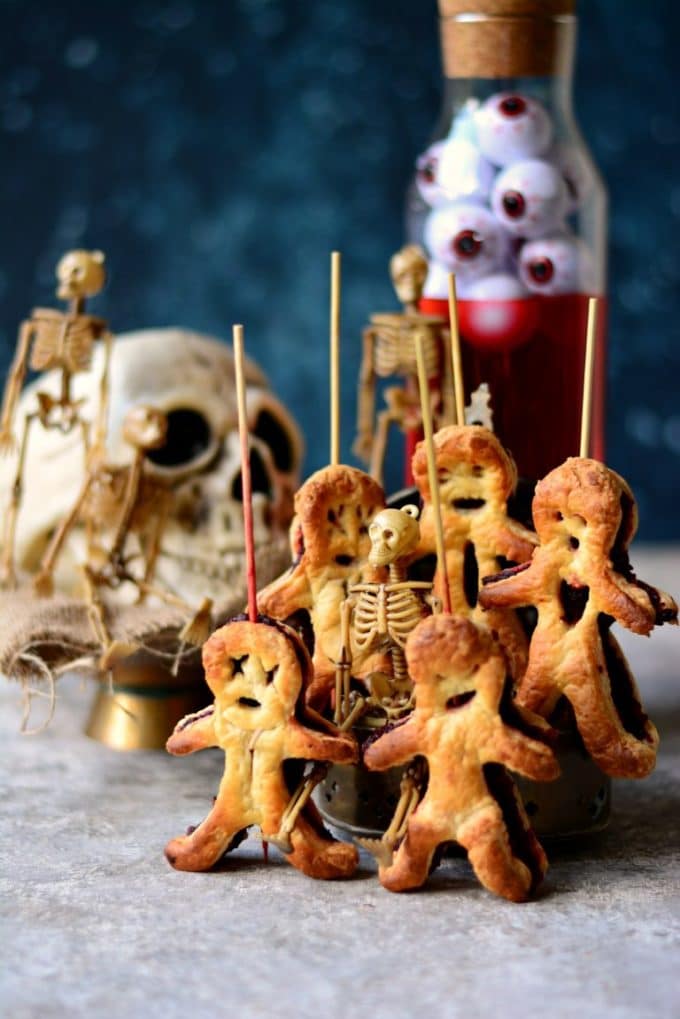 8. Meringue Bone Palace Halloween Cake – Domestic Gothess
This is the perfect impressive centerpiece for a Halloween party, and it doesn't look just look good, but it tastes delicious too; the perfect mix of chocolate, vanilla, berries, and crunchy meringue.
Basically, it's a chocolate cake filled with vanilla swiss meringue buttercream and raspberry jam, covered in meringue bones with berry coulis 'blood' on the side.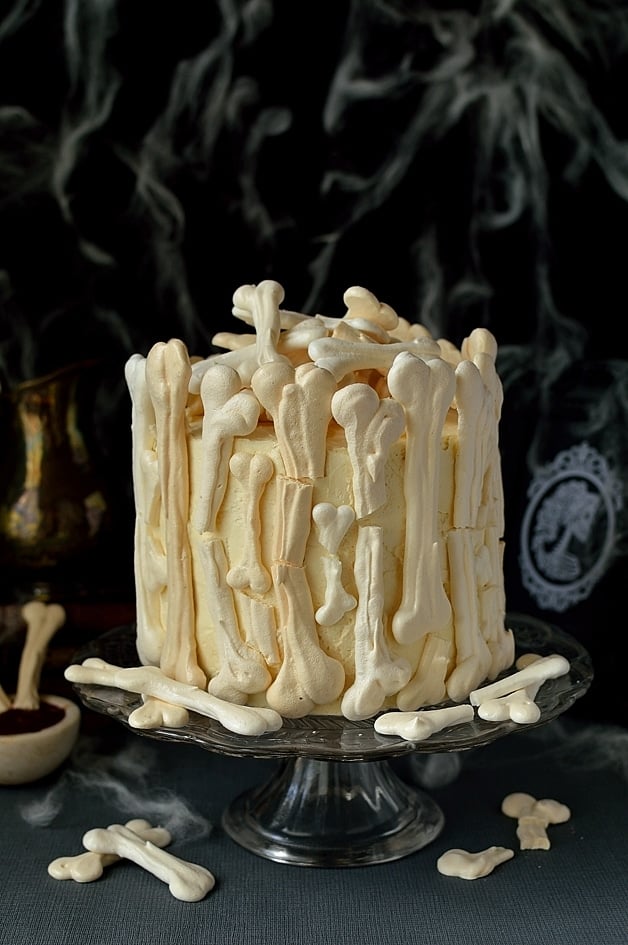 9. Spooky Spider Pops – Pudge Factor
Quick and easy to make, these Spooky Spider Pops are perfect for your next Halloween Party! Kids, young and old will love these yummy treats. The ingredients include chocolate chips, butterscotch chips, unsalted peanuts, chow mein noodles, M&M's for the eyes, and lollipop sticks.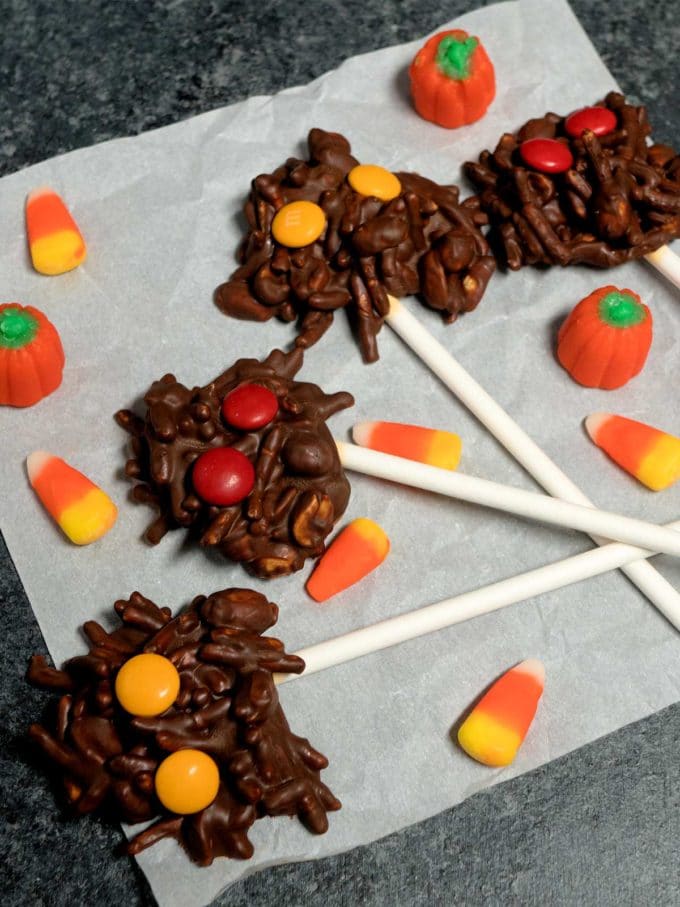 10. Scary Monster Nacho Tacos – Glitter and Bubbles
I think I could eat a taco every day if I ever decided to relinquish all self-control. So it only seemed appropriate to include Scary Monster Nacho Tacos on my Halloween table. And let's be honest – when are tacos not appropriate?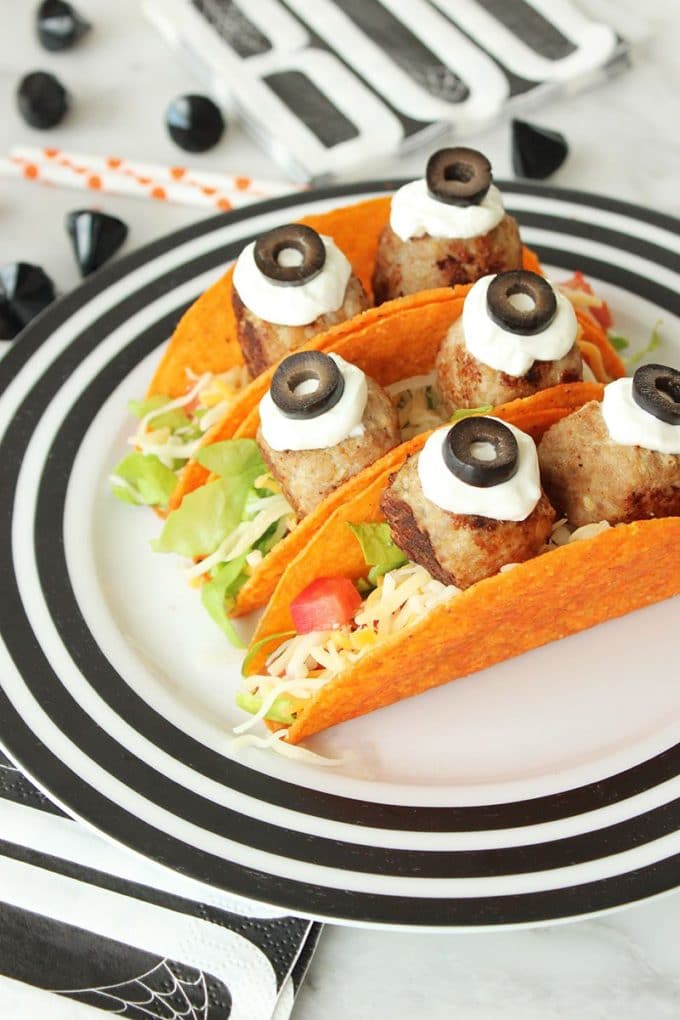 11. Graveyard Chocolate Cheesecake Dip – Grits and Pinecones
Are you looking for an easy, fun appetizer recipe to serve at a Halloween party or just to surprise your kids when they get home from school? How about one that doesn't require any cooking and you can have it on the table in less than 15 minutes? Interested? Read on and find out how to make this delicious and spooky Halloween Graveyard Chocolate Cheesecake Dip.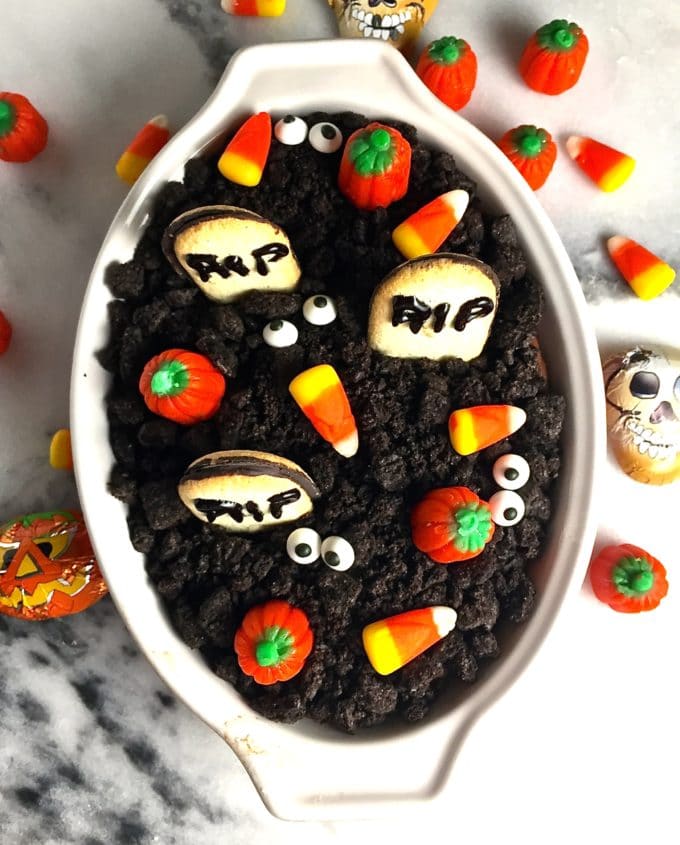 12. Halloween Spider Web Cupcakes – Kitchen Sanctuary
Easy to make and so striking – the kids will love helping to make these Halloween Spider Web Chocolate Cupcakes.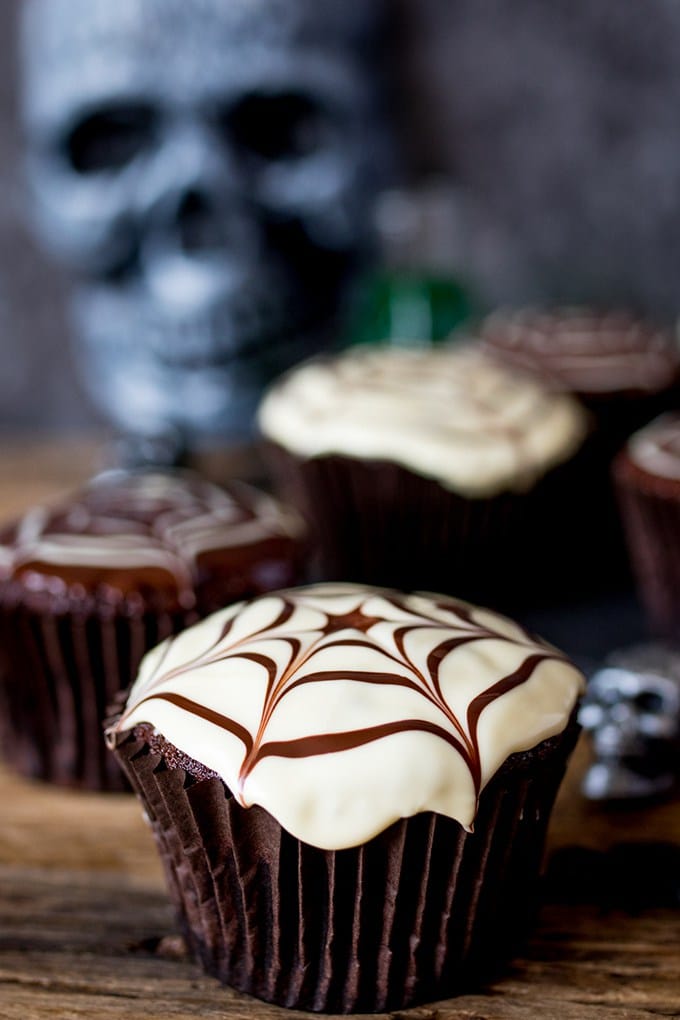 13. Graveyard Candy Apples – Gourmet Halloween Treat – Easy Cooking with Molly
A spooktacular and delicious treat that's easy and fun to make. These can be made two days in advance, and this recipe makes a dozen.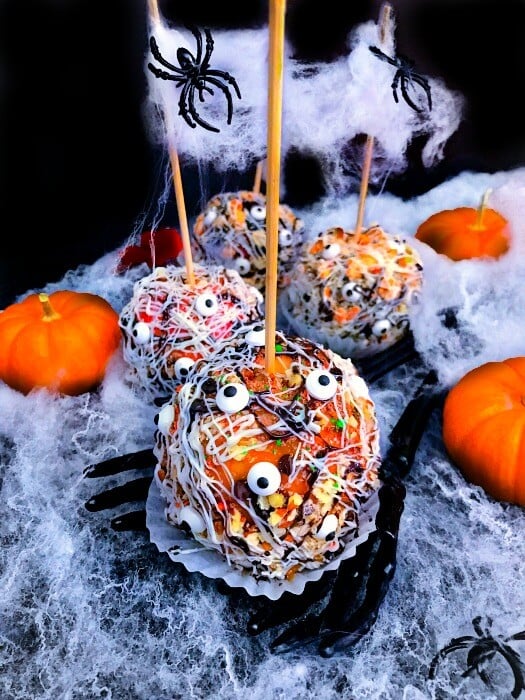 14. Brownie Bottom Pumpkin Cheesecake – The Flavor Bender
There's no better time for some memorable holiday baking that brings family and friends together than Fall! Celebrate the season this year with this Brownie Bottom Pumpkin Cheesecake with Chocolate Fudge Sauce.
It's a super chocolatey, fudgy brownie layer with a spiced and incredibly creamy pumpkin layer on top, plus a chocolate fudge sauce "cobweb" drizzle for a fun Halloween twist! It's a delicious combination of brownie-bottom cheesecake and pumpkin cheesecake brownies – the best of both worlds!
15. Easy Halloween Meringue Ghosts – Grits and Pinecones
Scare up some smiles this Halloween with these Easy Meringue Ghost Cookies! I'll show you there is no trick to making these hauntingly delicious Meringue Ghost treats that both your big and little monsters will love.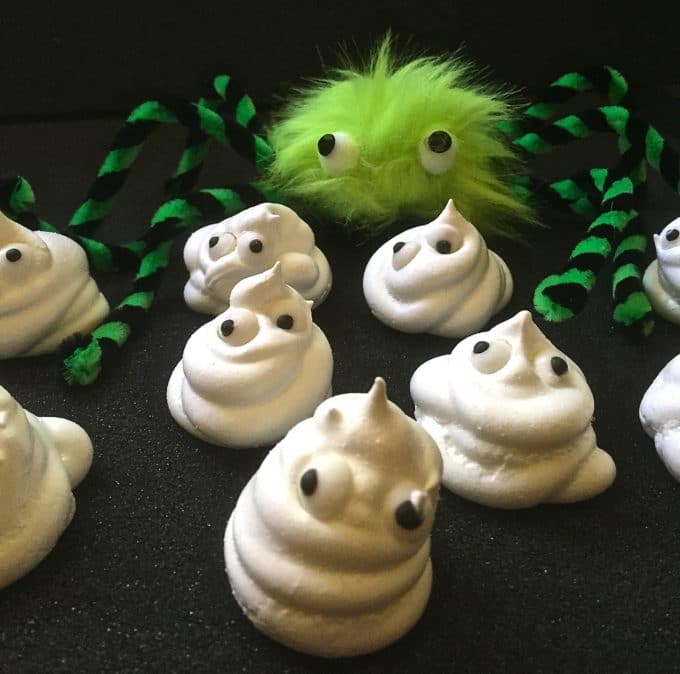 16. Jack O'Lantern Ham and Swiss Hand Pies – Pudge Factor
For a quick bite during the hectic Halloween season, grab a delicious Jack O'Lantern Ham and Swiss Hand Pie. They are way easier to make than carving a pumpkin and taste as good as they look!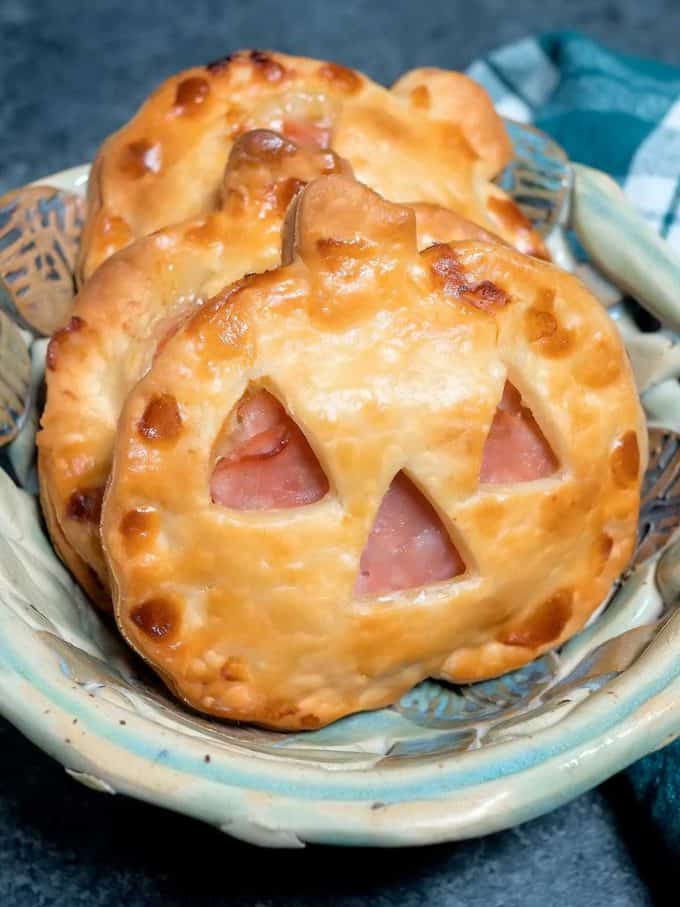 17. Spicy Little Devil's Food Cupcakes – A Bajillian Recipes
Super moist and intensely dark chocolate devil's food cupcakes with a kick of cinnamon, chili powder, and cayenne, topped with red velvet buttercream and darling little devil horns!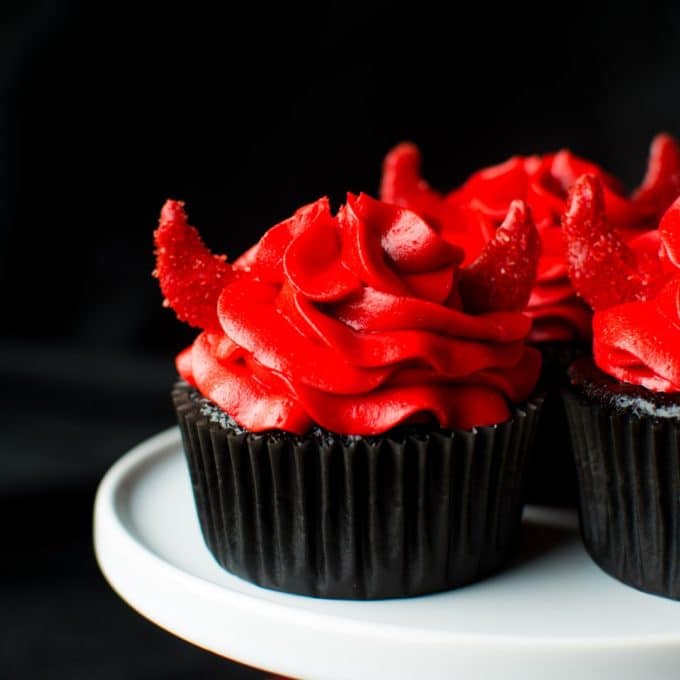 18. Chocolate Chip Sandwich Cookie Spiders – Bakers Party Shop
We're sharing chocolate chip sandwich cookie spiders just in time for your Halloween parties and dessert tables! These cookies are fun and easy to make with the help of Foodstirs Organic Chocolate Chippy Cookie Mix and Organic Vanilla Frosting Mix.
We added our spin to the cookies and turned them into sandwich cookie spiders! Kids will love these…and they are delicious too!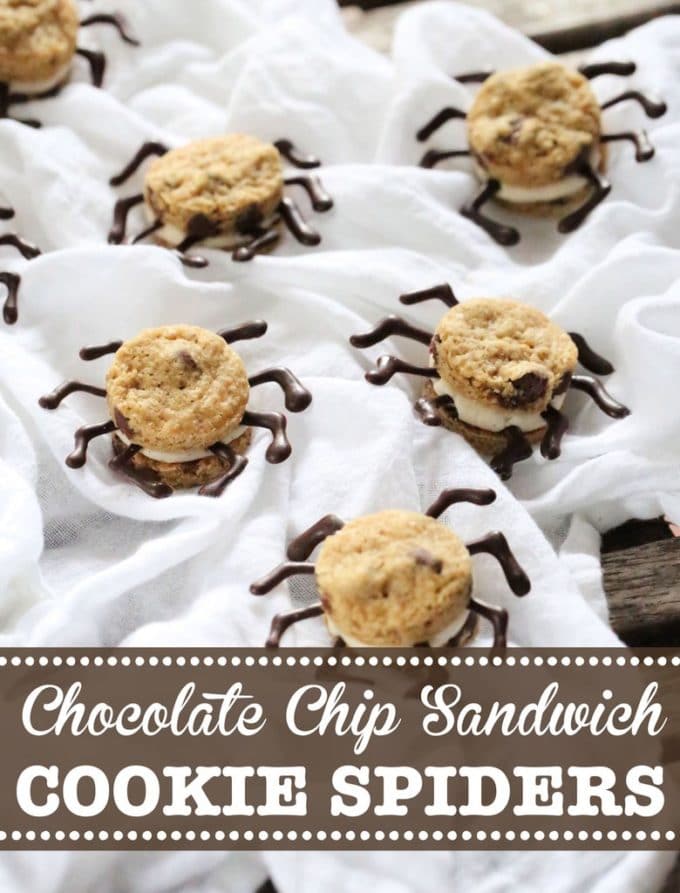 19. Halloween Monster Oreos Pudding Cups – Sizzling Eats
We just love the tricks, treats, and silliness of Halloween, so these Monster Oreos were a no-brainer. When you have little kids, is so much fun! Making sweet creations from ready-made treats like Oreos is a blast!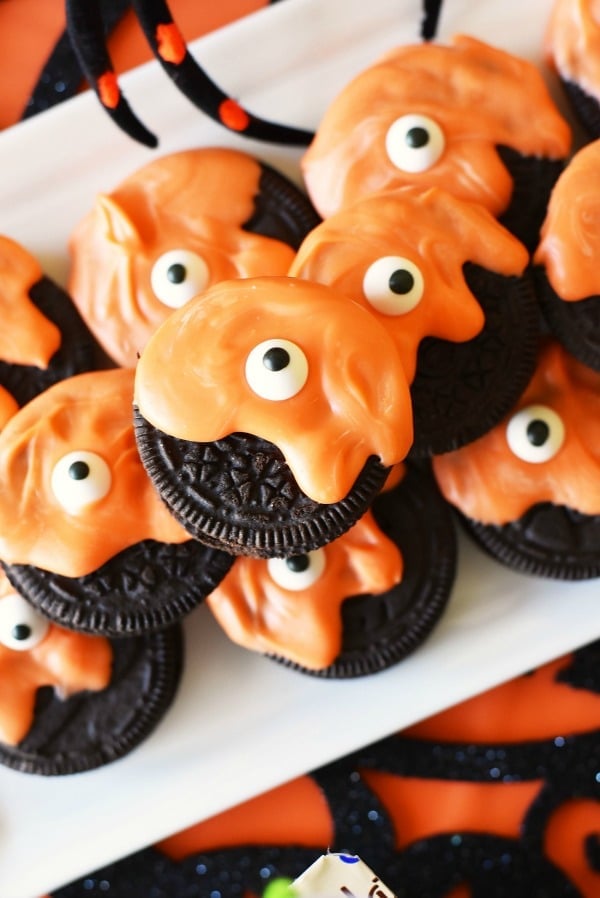 20. 2-Ingredient Ghost Chocolate Cups – Primavera Kitchen
Easy two-ingredient Ghost Chocolate Cups are the perfect and fun Halloween treat that is done in less than 15 minutes, and your kids can help you to make them!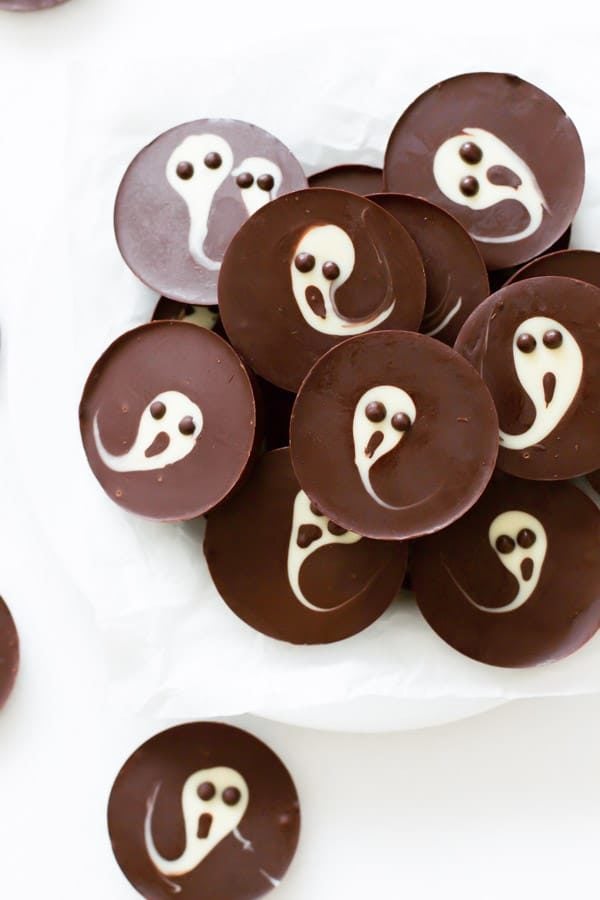 21. Easy Halloween Yogurt Cups – The Seasoned Mom
These easy Halloween Yogurt Cups are a 5-minute snack idea that the kids cannot resist! Create spooky spider webs and festive pumpkin patches that are perfect for celebrations, school parties, or other fall gatherings.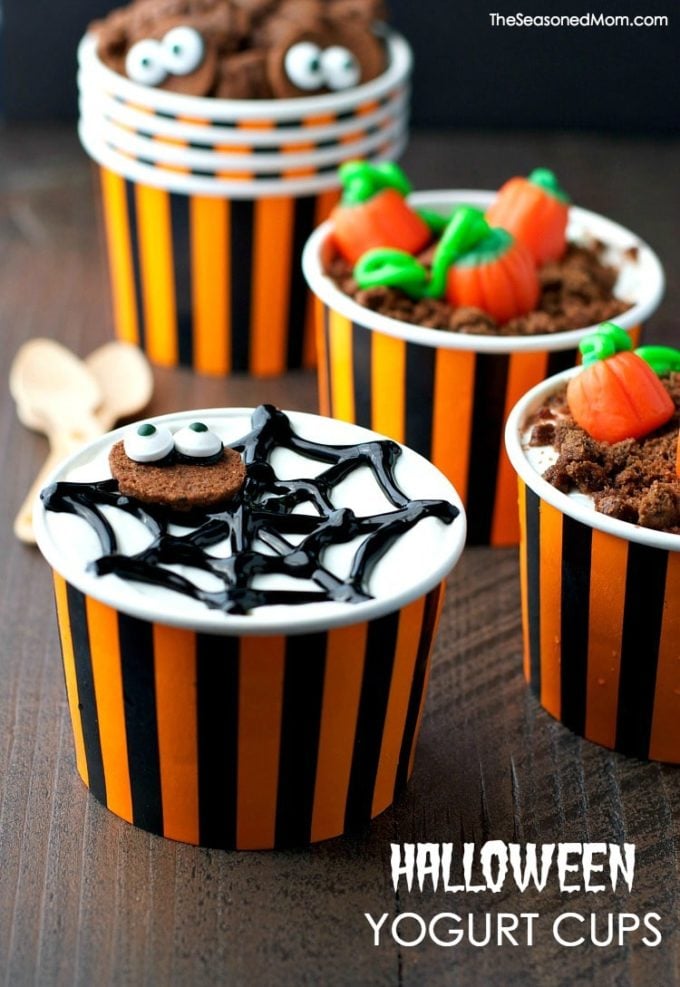 22. Nutter Butter Boos – Homemade Interest
These old-school Nutter Butter Boos are cute ghost cookies that make an easy dessert that is the perfect Halloween party food. These cute little guys are super easy to make and perfect for all of those upcoming parties.
All you need are three simple ingredients: Nutter Butter Cookies, white chocolate or almond bark (my preference), and regular chocolate.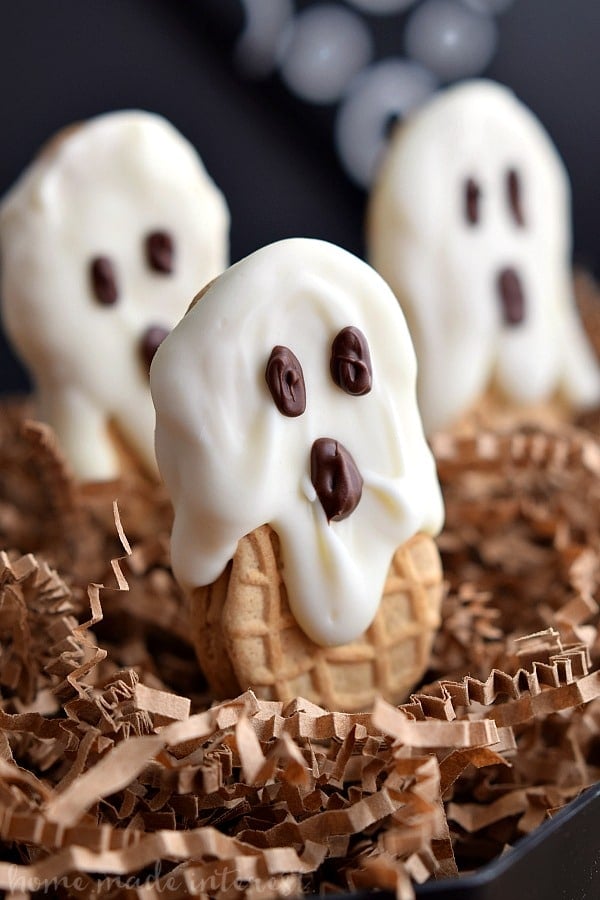 23. Halloween Stuffed Pumpkins – Happy Kitchen Rocks
Easy carved pumpkins with wholesome wild rice stuffing. Serve these spooky kid-friendly stuffed pumpkins for a healthy holiday treat!
24. Pumpkin Patch Cookie Cups – Pudge Factor
How cute is this? With only four ingredients, these adorable Pumpkin Patch Cookie Cups are super simple to make and taste delicious! I was inspired to make these after I saw them on the Pillsbury site.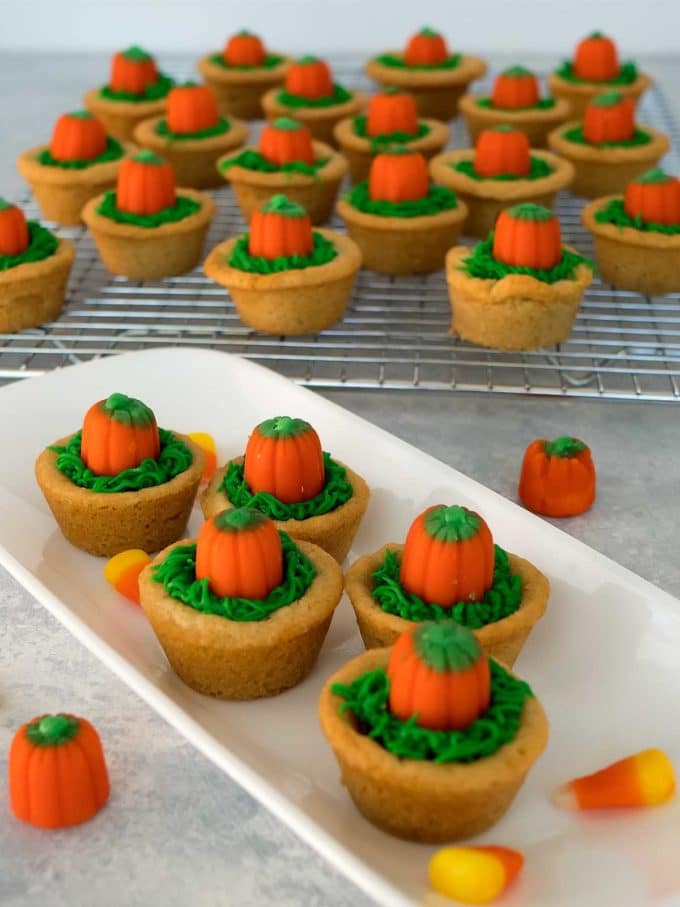 25. Halloween Sushi Mice – Kitchen @ Hoskins
Not-so-spooky mice made out of sushi are a great addition to the Halloween gathering! Aren't these guys adorable? Well, not everything has to be creepy and spooky. We can have some fun critters wandering around. Both kids and adults are sure to gather around these cuties!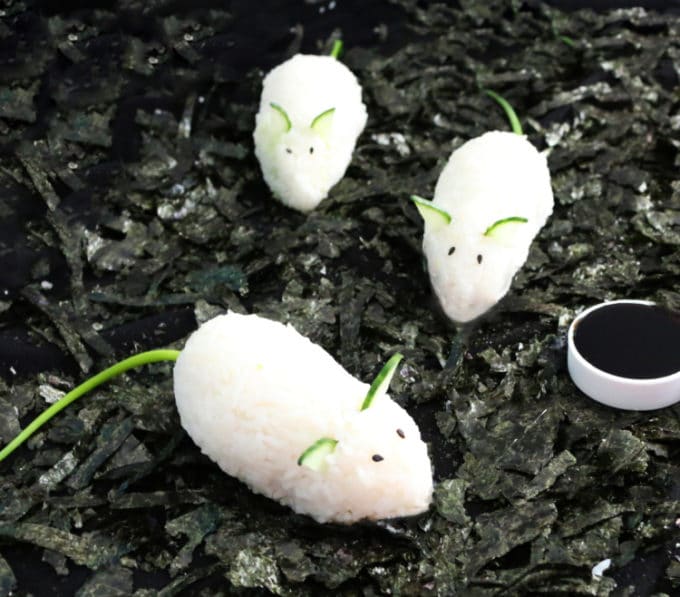 26. Witches' Brew Halloween Punch with a Kick – Grits and Pinecones
Scary delicious Witches' Brew Halloween Punch with a Kick will take the fear out of hosting a party and set the stage for a fun evening full of vampires, ghosts, and ghoulish party food.
And, with my simple, easy-to-follow directions and a little dry ice, the only thing scarier might be just how much witches' brew you might consume…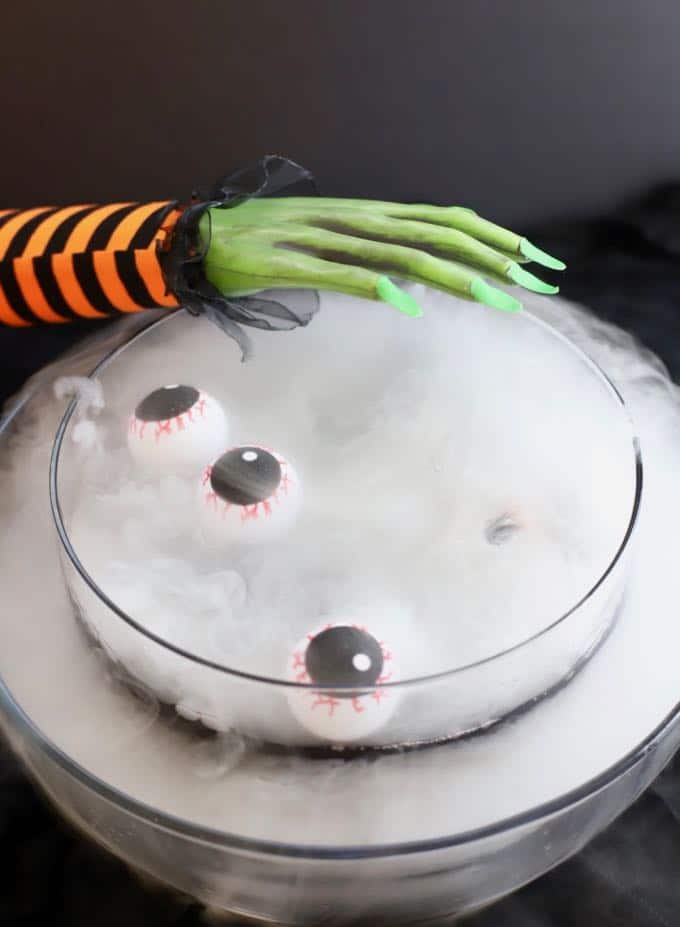 27. Halloween Surprise Bundt Cake – Pudge Factor
Brighten your festivities with this moist Surprise Bundt Cake. You'd never believe that this amazing cake is made from a store-bought mix. With the colors of orange, purple, and green swirled into the cake, every piece is a surprise.
28. Halloween Rocky Road Slices – The Flavor Bender
These addictively delicious Halloween Rocky Road Slices are chock-full of crunchy, soft, chewy, gooey sweet goodies that make them the perfect cute treat for trick-or-treaters.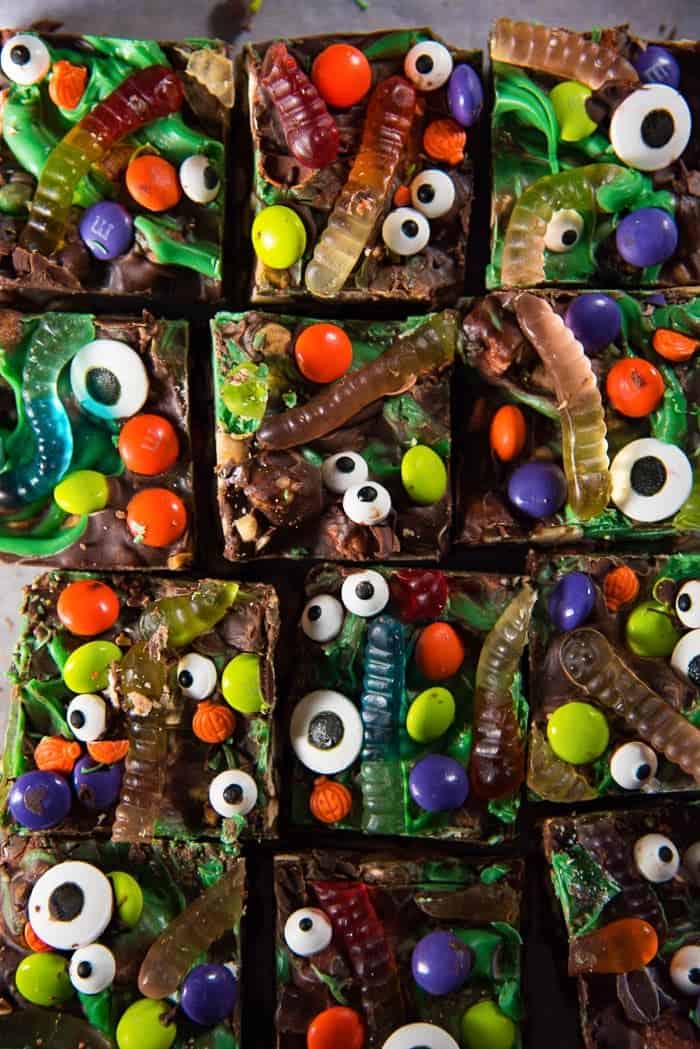 29. Easy Black Forest Trifle – Grits and Pinecones
Easy Halloween Black Forest Trifle is a spooktacularly delicious recipe full of the most adorable ghosts and goblins! This easy dessert takes only minutes to assemble and is sure to please even the pickiest big and little kids in your house.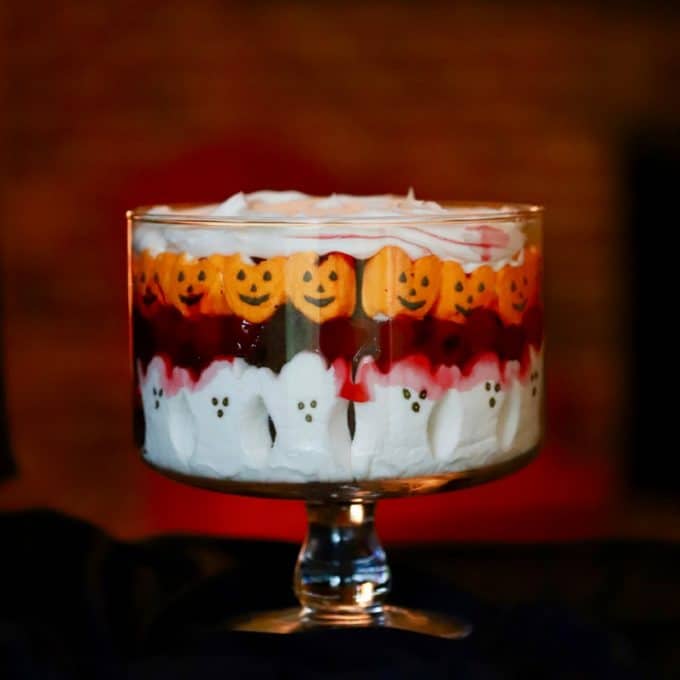 30. Halloween Ghost Pizza – The Pudge Factor
Halloween Ghost Pizza is the ultimate in simplicity and taste. Its crisp crust is topped with a simple homemade pizza sauce, Parmesan cheese, and Mozzarella cheese and finished with adorable Mozzarella ghosts.
One bite of this classic pizza and you'll never opt for the store-bought pizza again!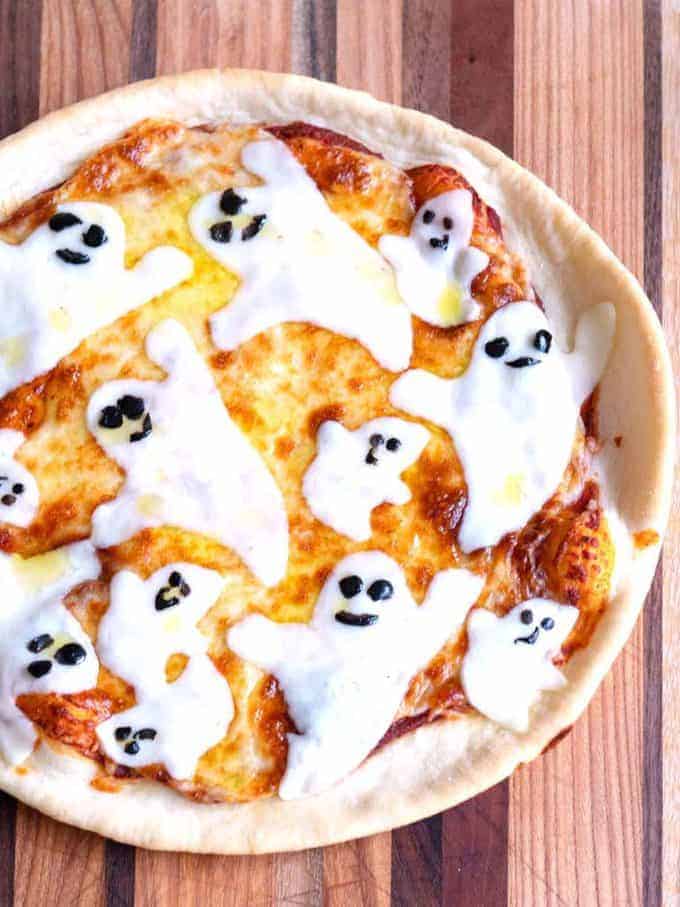 31. Witches Hat Cheese Ball – Sprinkles and Sprouts
This witches hat cheese ball is a great Halloween party appetizer; put it center stage on your buffet table, add a platter of crackers and vegetable sticks, and wow your guests with a fun and easy snack.
The cream cheese is mixed with bell pepper, green onions, and some herbs before being formed into a 'hat' shape and covered in black olives. Definitely one for your Halloween parties.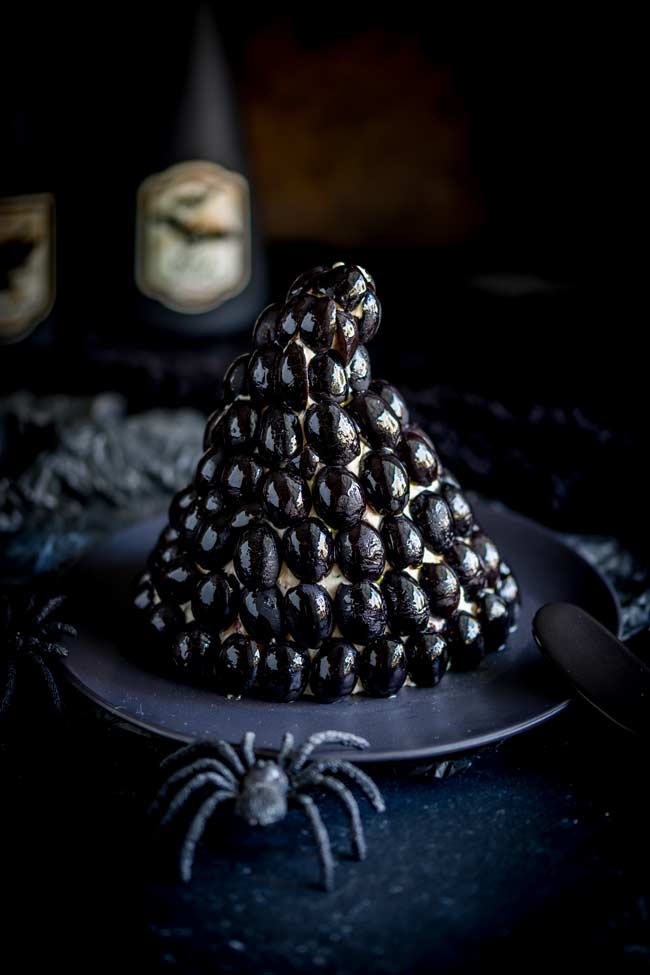 32. Chocolate Halloween Cupcakes and Icing – Grits and Pinecones
These adorable, delicious and only slightly creepy Chocolate Halloween Cupcakes with Chocolate Buttercream Icing will delight both adults and kids.
If you like chocolate, you will love the double dose of chocolate in these rich, moist chocolate cupcakes topped with the most decadent creamy dark chocolate buttercream icing.
Of course, these easy Halloween-inspired cupcakes can be served any time of the year, and it's the special cupcake toppers that will bring a smile to your family's faces and make it a fun treat!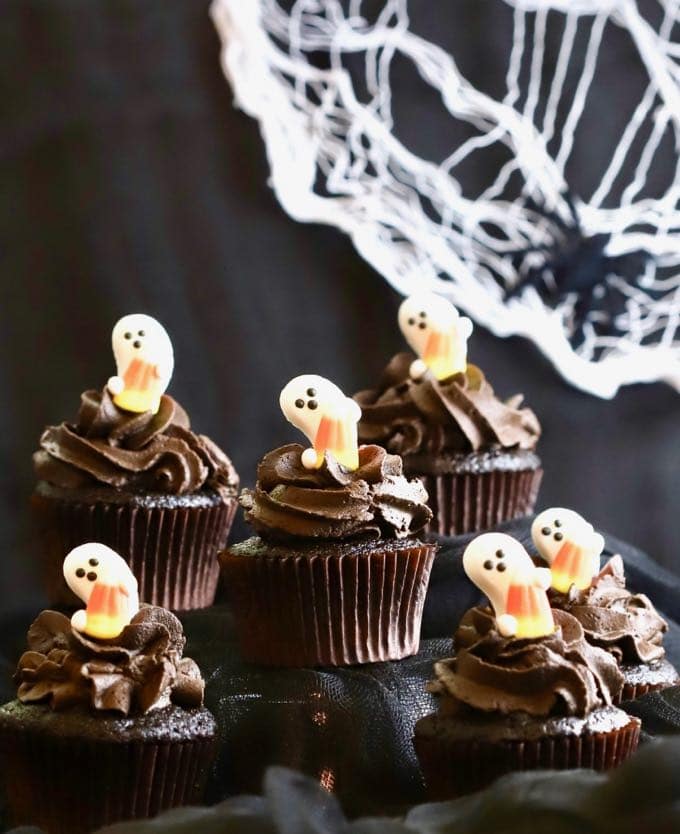 33. Spooky 8-Layer Taco Dip – Pudge Factor
Spooky 8-Layer Taco Dip is the perfect appetizer and party food for all of your Halloween festivities. This no-bake dip is a winner every time and is the first dip devoured at any party. It only takes 5 minutes to put together, but your guests will think that you spent all day in the kitchen!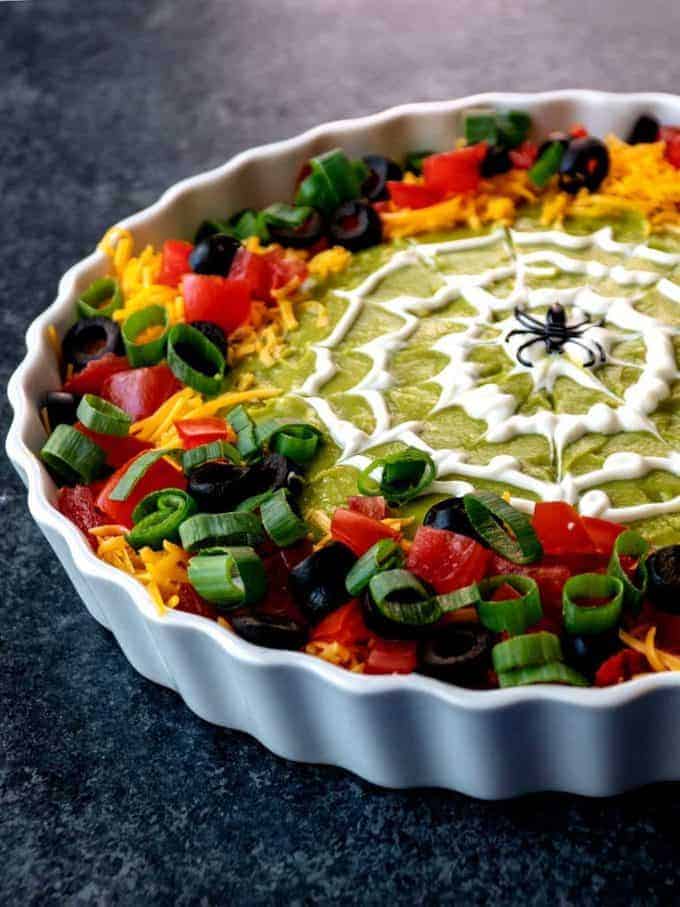 34. Easy Not So Scary Ghosts – Halloween Rice Krispie Treats – Unsophisticated Cook
When you need easy treats in a hurry, it just doesn't get any easier than these adorable little Rice Krispie treats' ghosts… From start to finish they take just about 15 minutes (plus cooling time)!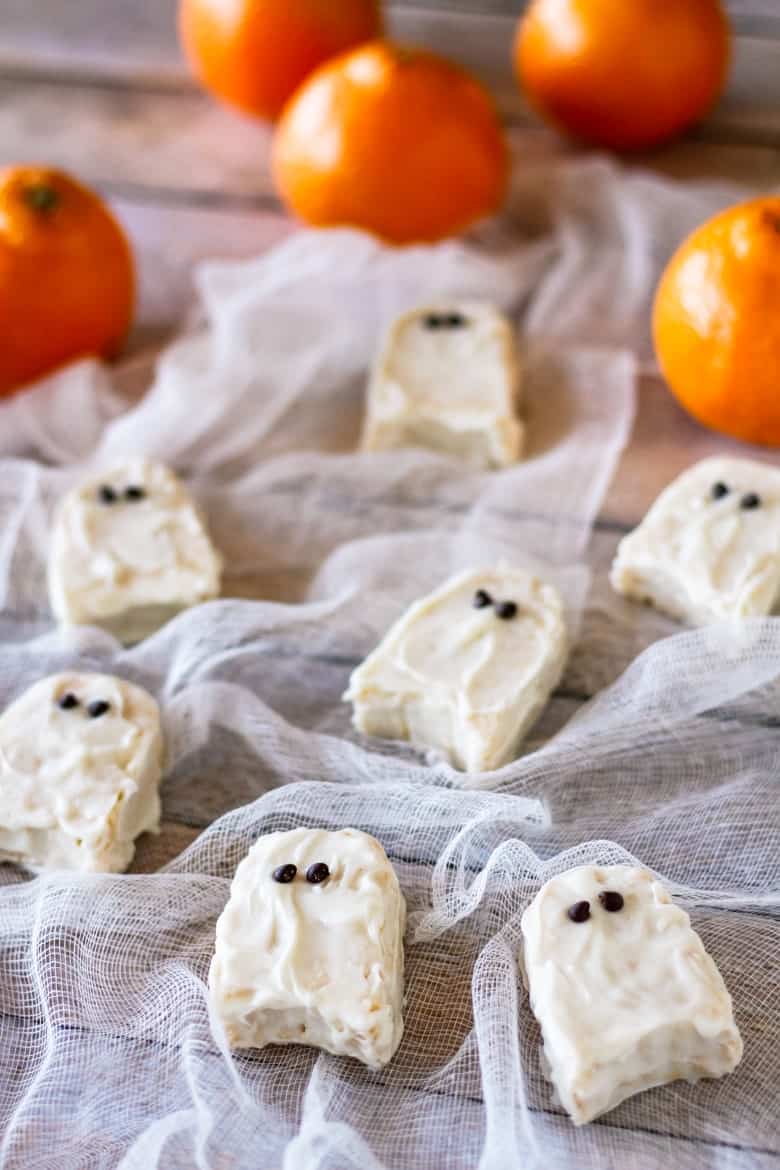 35. Halloween Kettle Corn – Pudge Factor
Who doesn't love Kettle Corn – crunchy popcorn that is slightly sweet and slightly salty? Halloween Kettle Corn is the perfect homemade treat to dazzle trick-or-treaters both young and old. If you can make popcorn, you can make this!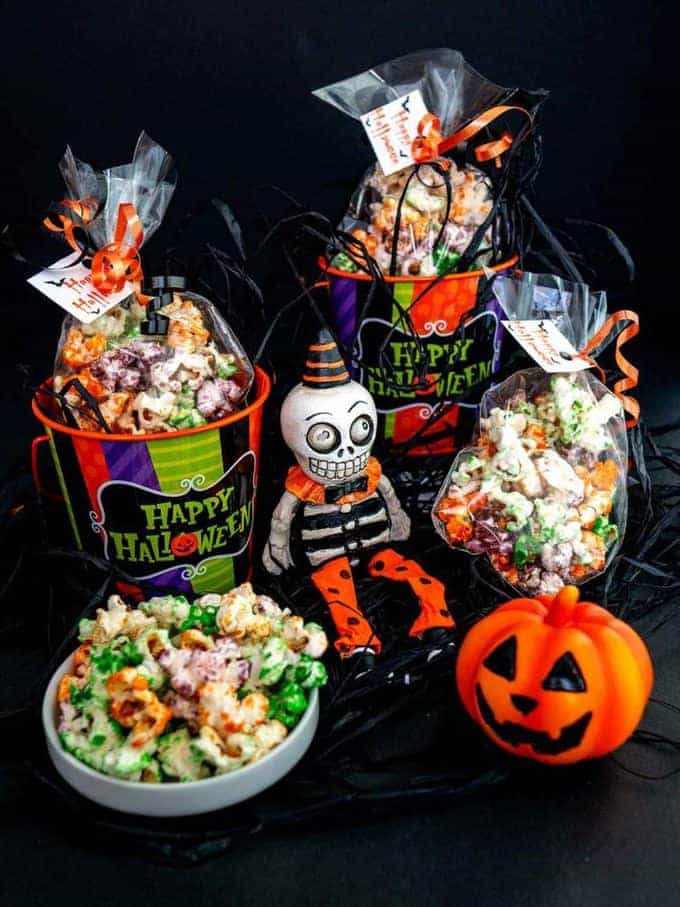 36. Spider Cookies – Celebrating Sweets
Spider Cookies – Sugar cookies decorated to look like spiders using chocolate frosting and mini peanut butter cups. A fun and easy dessert for Halloween!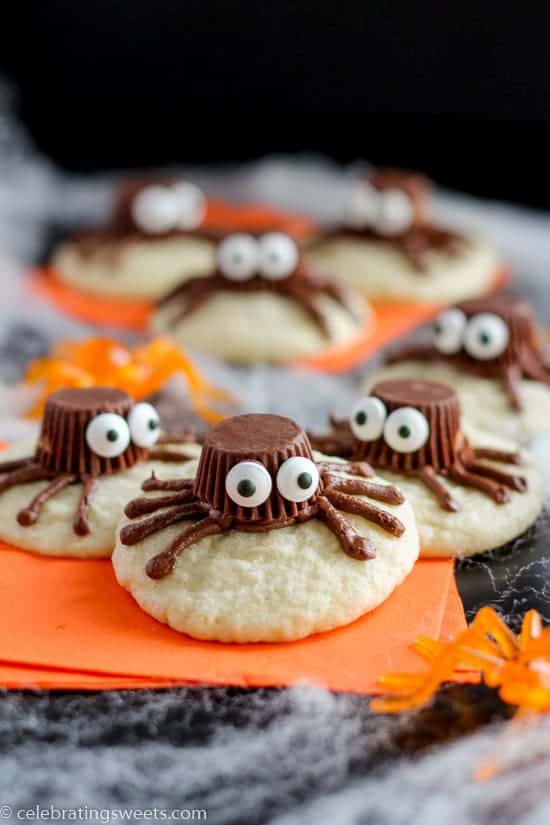 38. Halloween Party Mix – Berly's Kitchen
This Halloween Party Mix is chock full of all kinds of sweet and savory goodies! It has crunchy cereal, salty pretzels, chocolate candies, and candy corn and is tossed in a sweet caramel sauce. It's the perfect snack for your next party.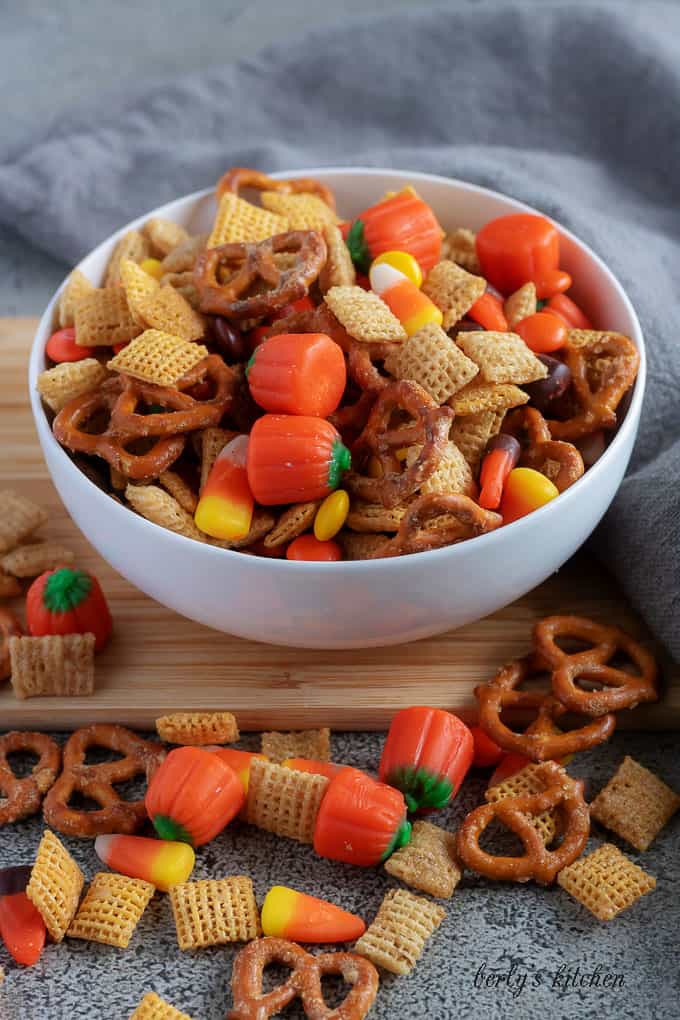 39. Halloween Stuffed Mummy Peppers – Brooklyn Farm Girl
These mummies only require three ingredients and make the cutest appetizer for a party! This is one of my favorite Halloween food ideas!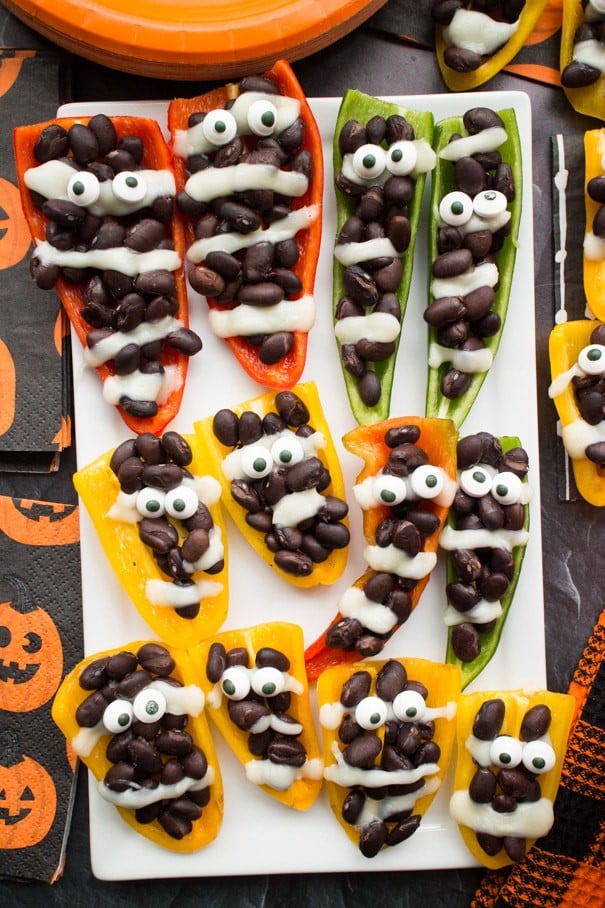 40. Halloween Oreo Monster Brownies – Gastronom
A fun treat for adults and kids alike, eat some Halloween dessert brownies with eyeballs on them!
41. Witch Hat Brownie Pops – Major Hoff Takes a Wife
Witch hat brownie pops will be the hit of your Halloween party! Simple to make with a box brownie mix, fast frosting, and an easy piping method!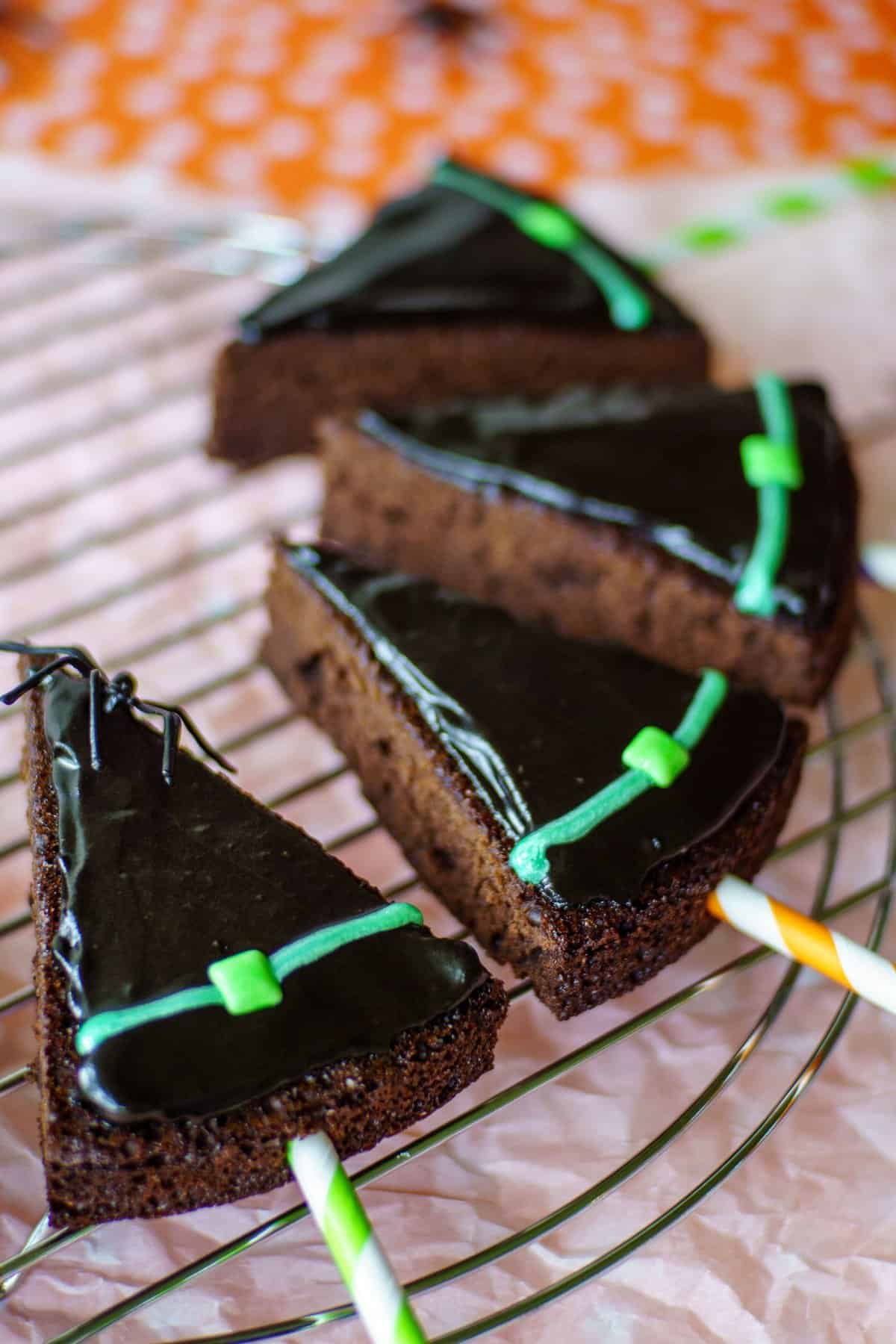 42. Halloween Chocolate Apples – Fab Food 4 All
Kids and grown-ups will love these Chocolate Apples with web design. Better still get your kids to help to make them!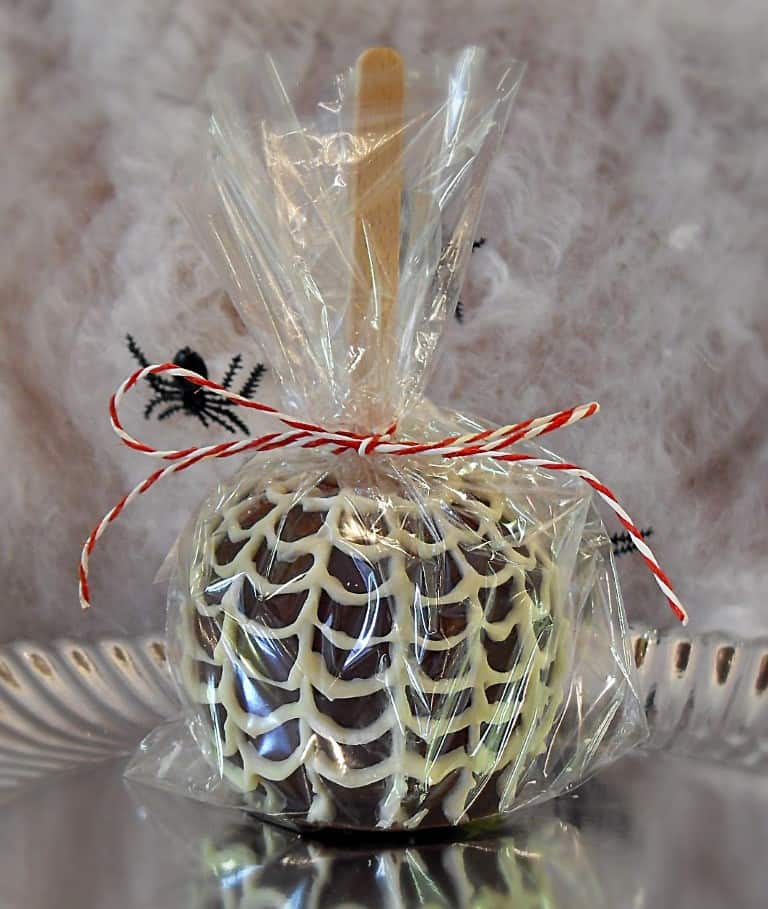 43. Halloween Monster Sugar Cookies – Meg's Everyday Indulgence
Gather up your sprinkles and candy googly eyes to celebrate with these adorably frightening Halloween Monster Sugar Cookies. Simple to make and even better to eat.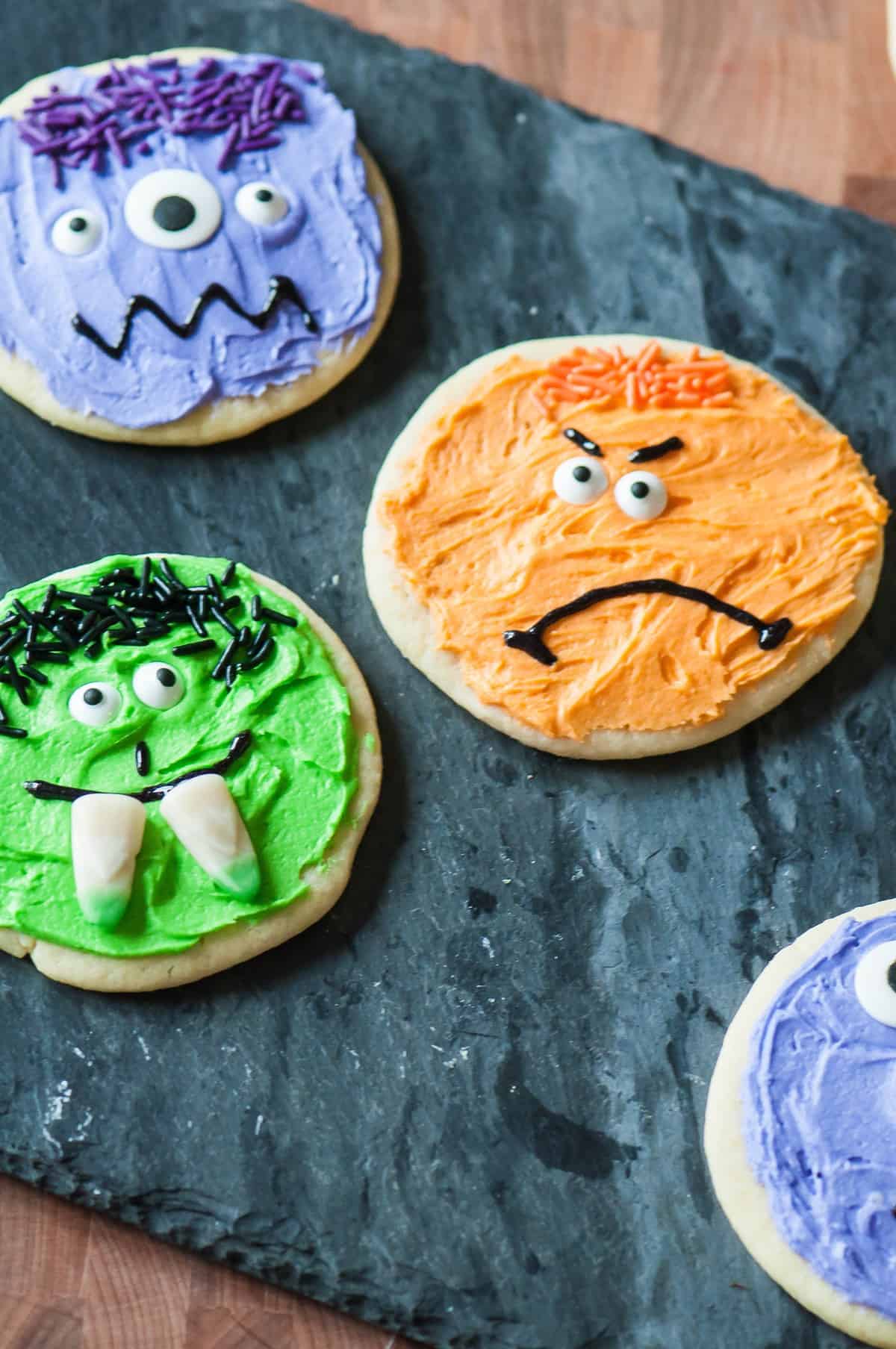 44. Pumpkin Fluff Party Dip – Julia's Simply Southern
Pumpkin Fluff Party Dip is something you can mix up in one bowl and then serve accordingly for your occasion. This dip is great for fruit, such as apples and grapes, alongside a variety of cookies. I chose vanilla wafers and molasses cookies.
OHHHH, and this recipe makes enough so that you can do a little taste testing and have plenty left for guests. You know…..for quality control purposes.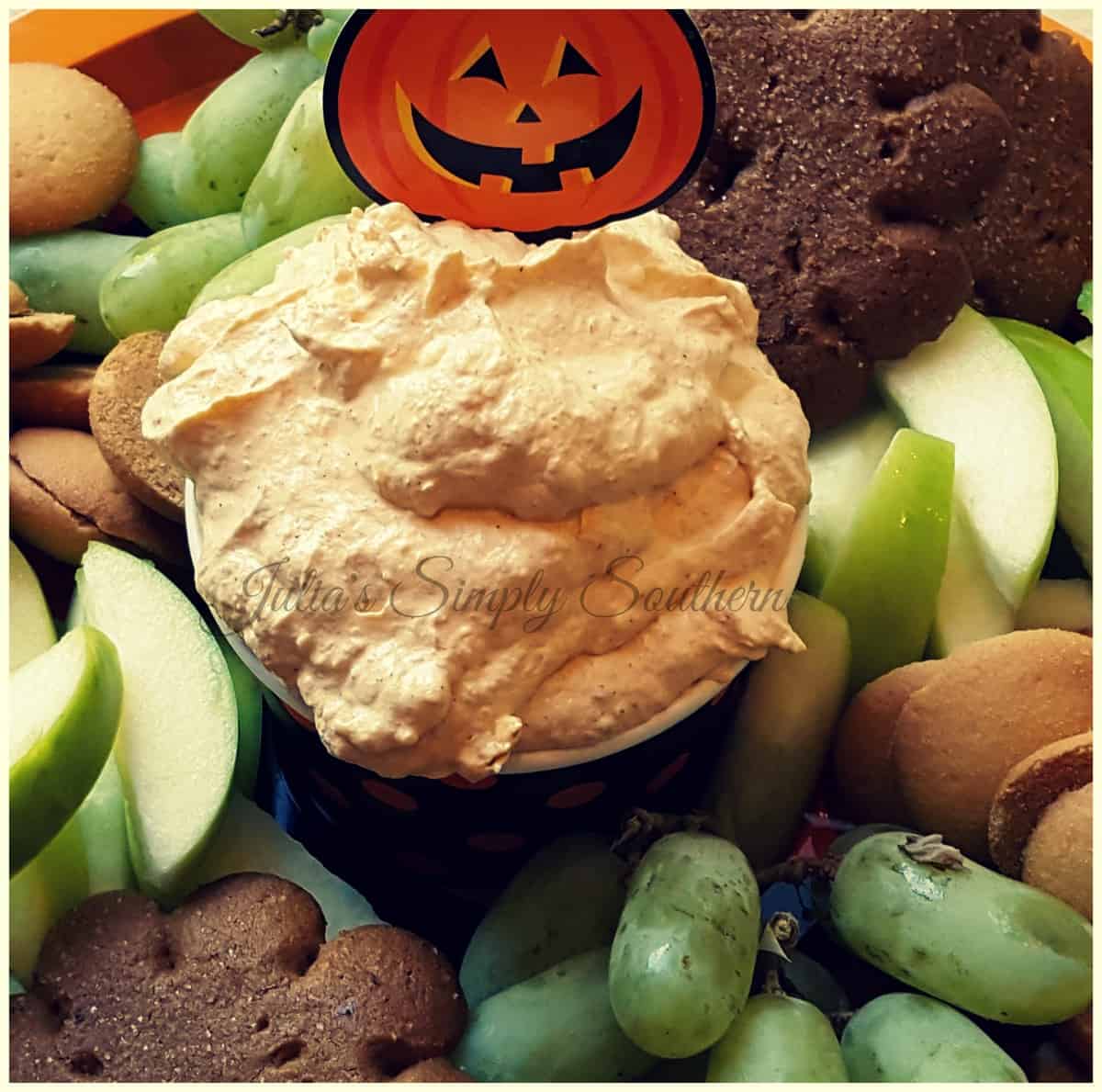 45. White Chocolate Boo Bark – Pumpkin'n Spice
This White Chocolate Boo Bark is filled with creamy white chocolate, Oreo cookies, chewy candy corn, and festive sprinkles. It's such an easy recipe and is the perfect snack to munch on with friends on Halloween!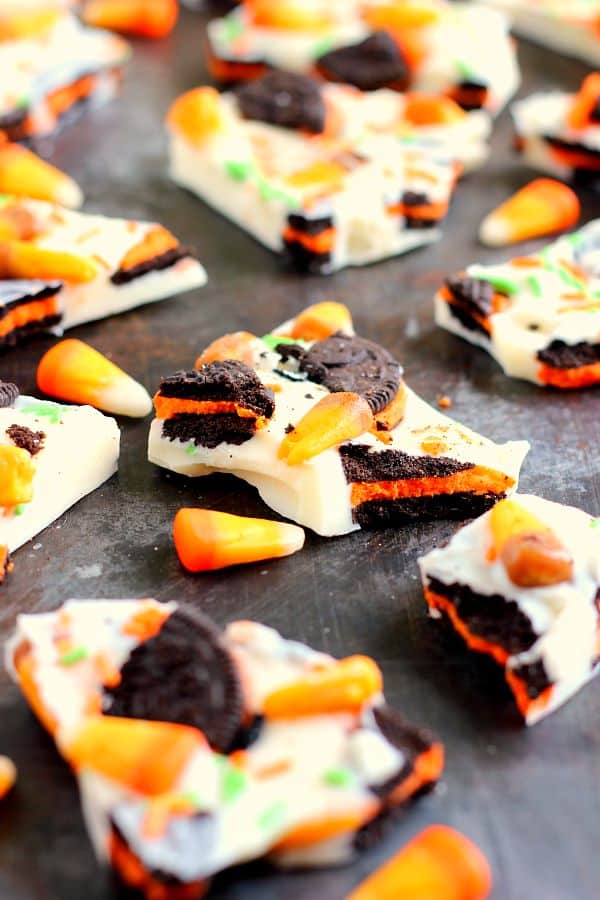 46. Halloween Meatballs the Kids Love – Because Mom Says
You are going to love this Halloween Meatballs recipe! It's an extremely simple recipe to make with only 4 ingredients required: meatballs, crescent dough, black olives, and cheese sticks! Who doesn't want a fast and easy dinner on Halloween night?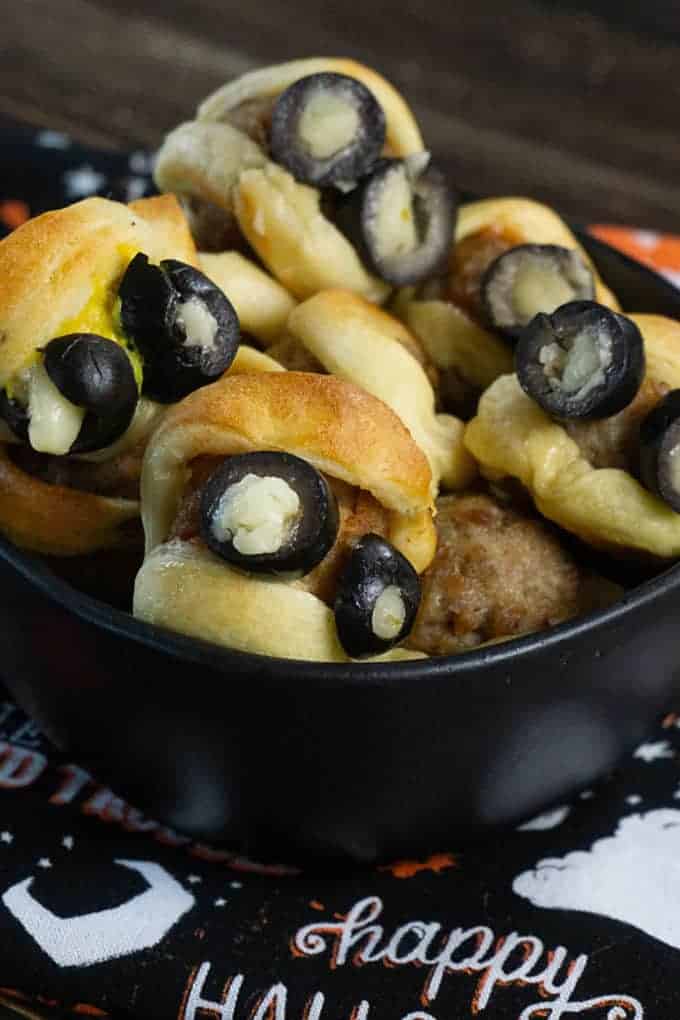 47. Black Velvet Cookies 'n Cream Cheesecake – Itsy Bitsy Kitchen
This black velvet cookies 'n cream cheesecake cake is packed with chocolate and full of Halloween spirit–perfect for any and all parties this time of year!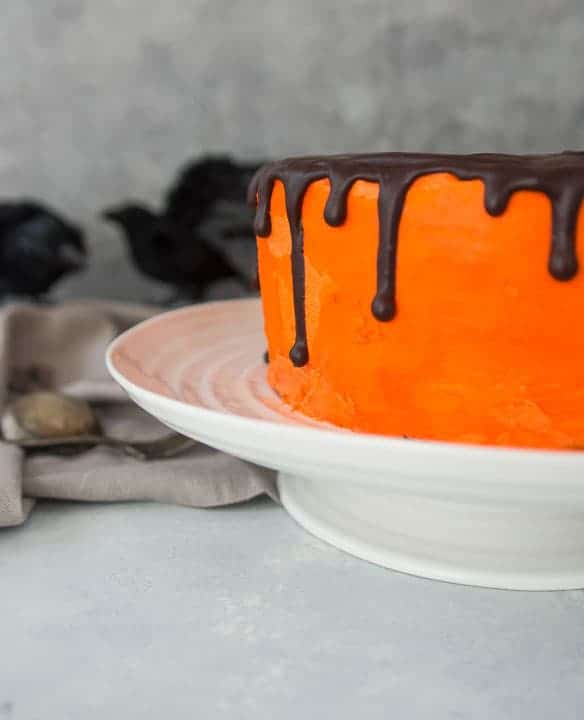 48. Peanut Butter Ball Pumpkins and Cats – The Monday Box
Peanut Butter Ball Pumpkins and Cats are the answer to your search for Fall or Halloween cuteness. Why settle for plain peanut butter balls (Buckeyes) when you can make candy with personality? The soft, sweet peanut butter center is dipped in chocolate, then decorated until irresistibly adorable.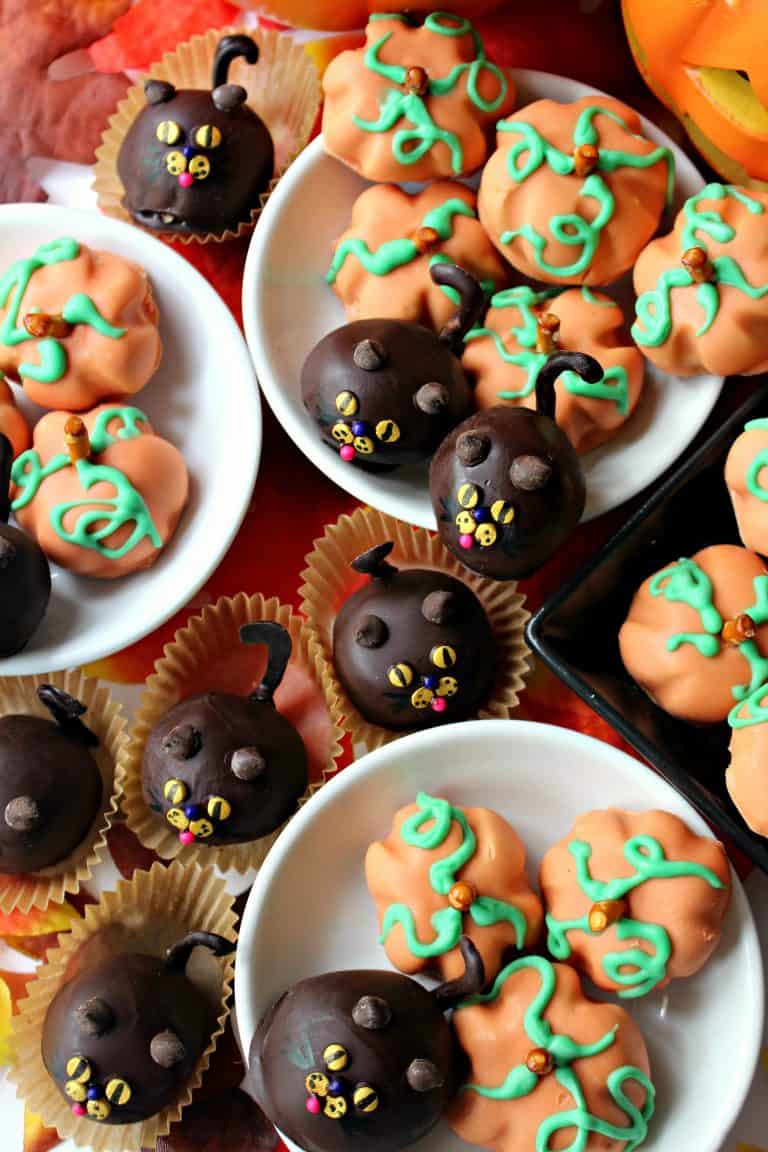 49. Mummy Meatloaf and Mummy Hotdogs – Bowl Me Over
Mummy Meatloaf and Mummy Hotdogs – fun food for the kids on Halloween! Wrapped in bacon and slathered with a sauce this is a meatloaf you can serve for any Sunday dinner. Ah… minus the decoration of course! Our family meatloaf recipe is delicious and easy.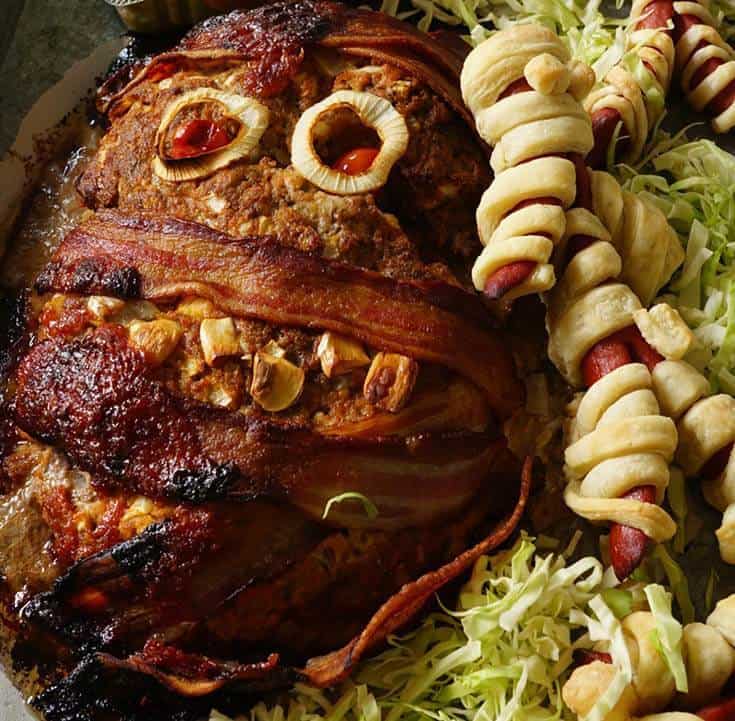 50. Halloween Candy Charcuterie Board – Pint Sized Baker
Candy at its BEST – displayed out for everyone in a fun Halloween Candy Charcuterie Board that's super easy to assemble and decorate.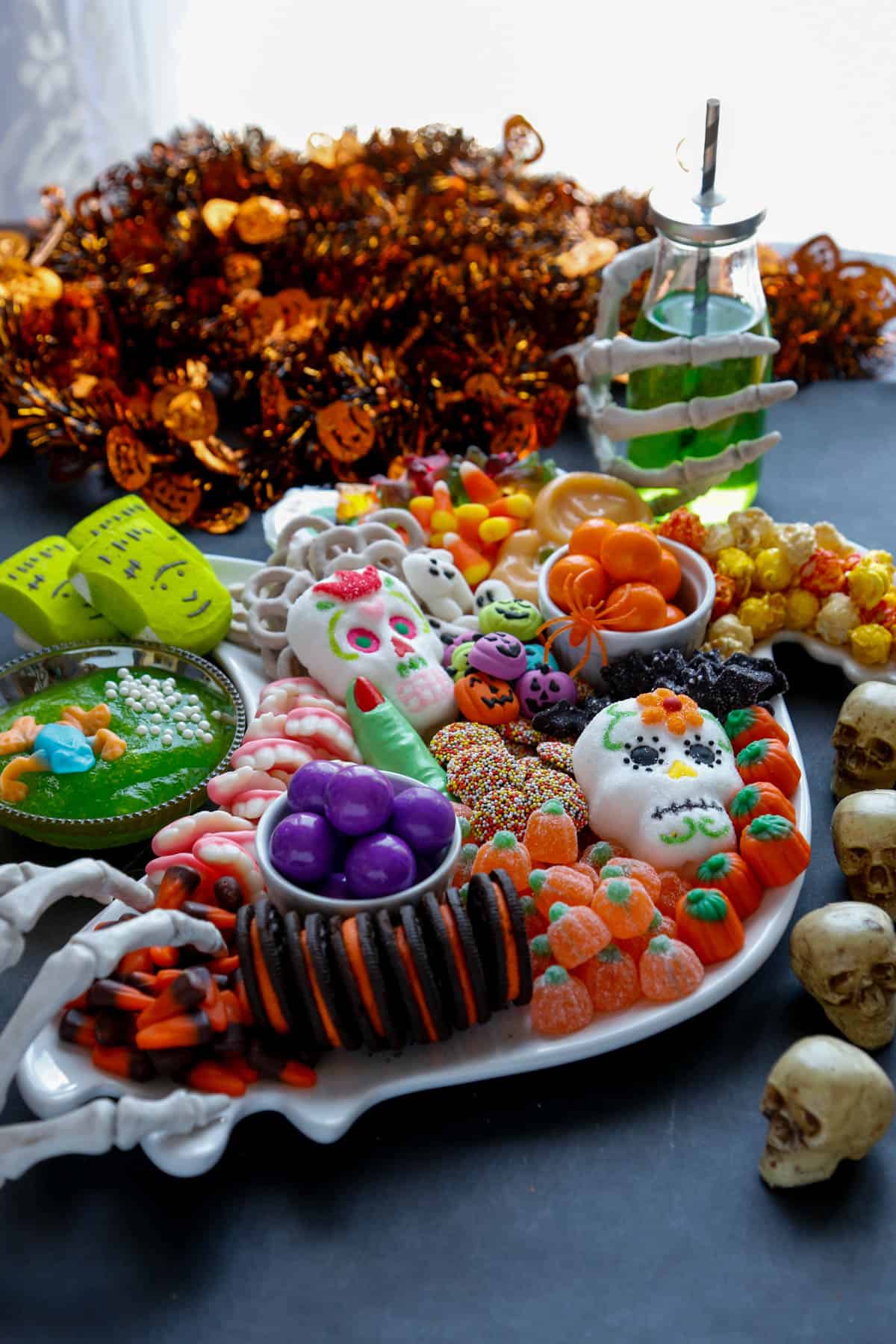 51. Halloween Monster Mouths – Texanerin Baking
These monster mouths are perfect healthy Halloween treats and just use apples, strawberry jam, nut butter, and almonds/sunflower seeds. Naturally paleo, vegan, nut-free, grain-free, gluten-free, and dairy-free.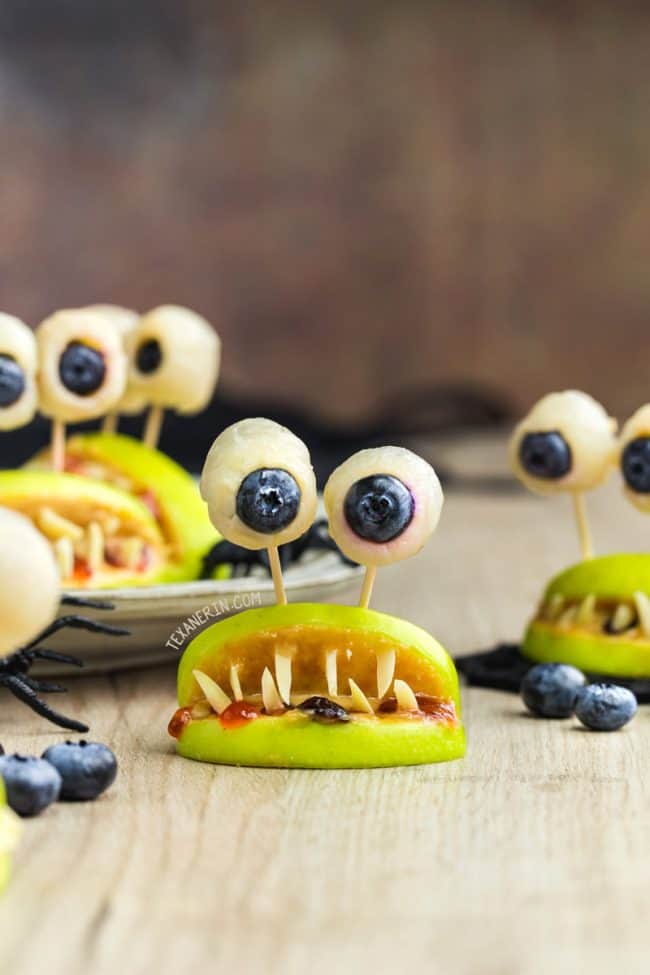 52. Halloween Pizza Potato Skins-Three Olives Branch
Serve up something savory and festive this year with Halloween Pizza Potato Skins featuring spiders on webs, ghosts, and mummies!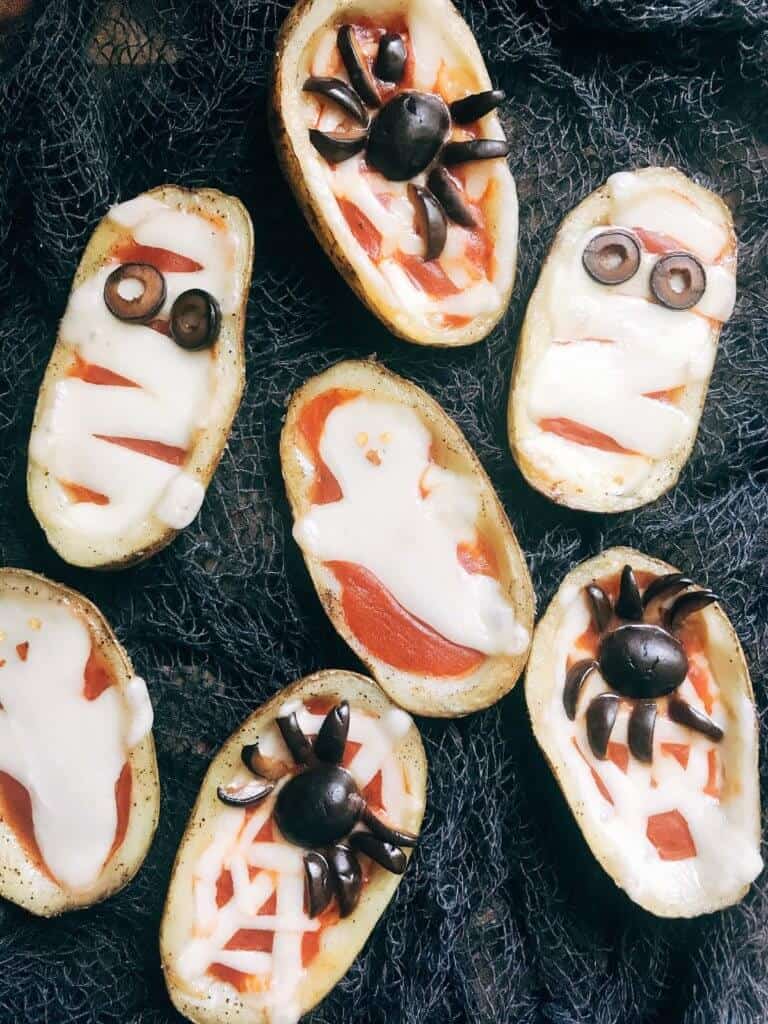 53. Halloween Sugar Cookies – Beyond Frosting
Skip the premade dough and try this quick sugar cookie recipe! These fun and festive Halloween Sugar Cookies are made with an easy cut-out cookie recipe with minimal time required to chill the dough.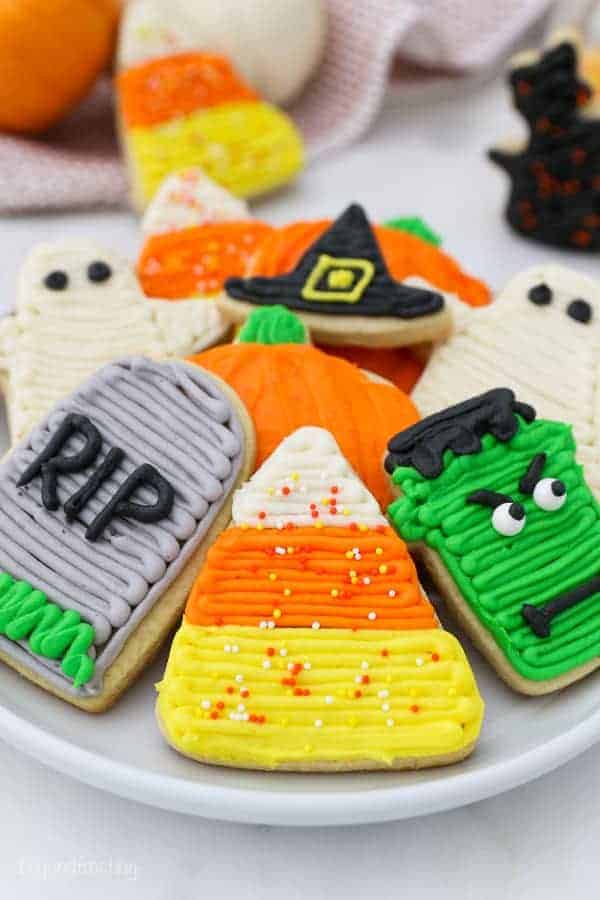 54. Mummy Pumpkin Hand Pies – Beyond the Chicken Coop
Mummy pumpkin hand pies are filled with delicious fall flavors. These are a treat loved by all ages!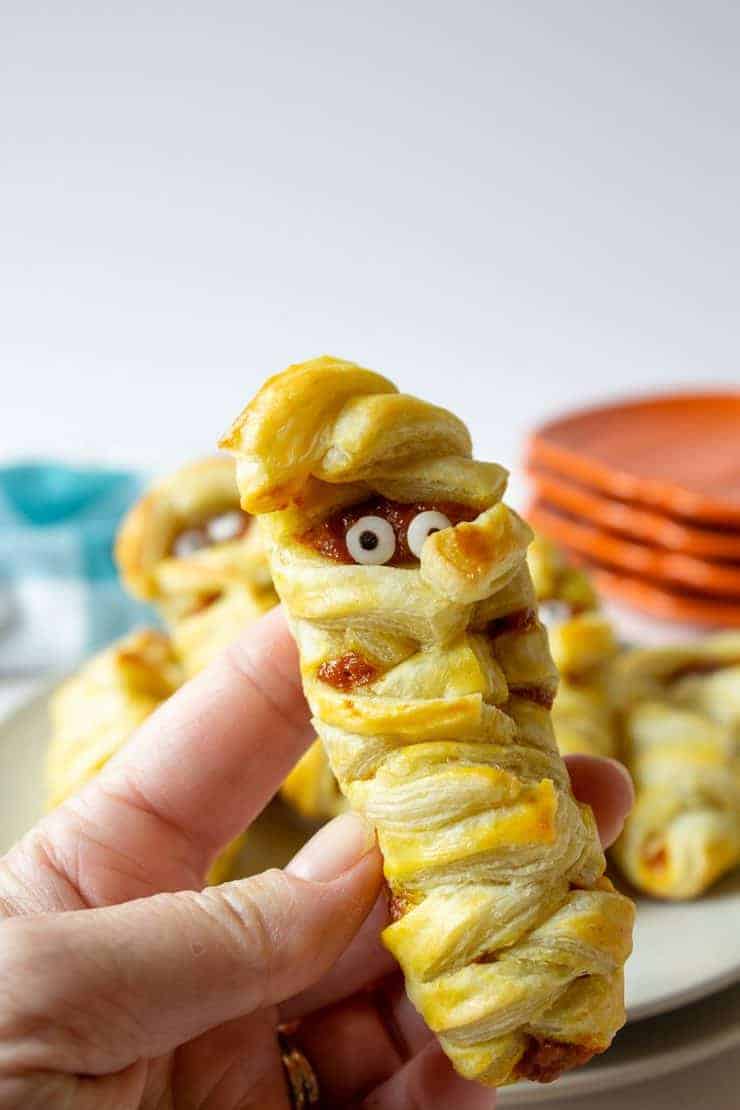 55. Easy Breadstick Bones – Retro Housewife Goes Green
Breadstick bones are a fun appetizer or side dish for a Halloween party. They are also great for family movie nights while watching Frankenweenie.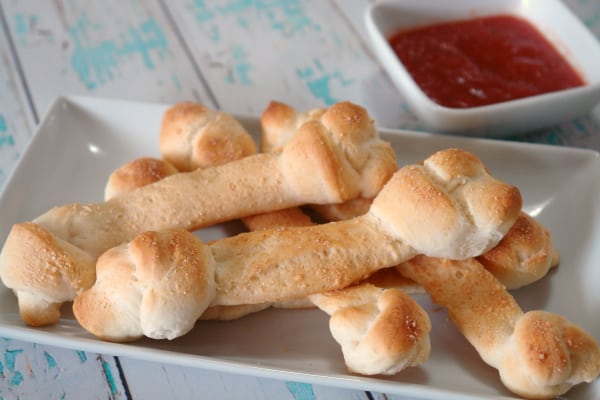 56. Frankenstein Cheese Ball Head – Noshing with the Nolands
Here Frankie is peaking over the veggies to give you a fright! He is pretty cute and not very menacing at all. Number one though, he is delicious and with a pile of fresh veggies maybe even a bit nutritious too!
He was even more special as I added in green onions and bell peppers from our garden plus some homemade sweet hot mustard, along with many other ingredients.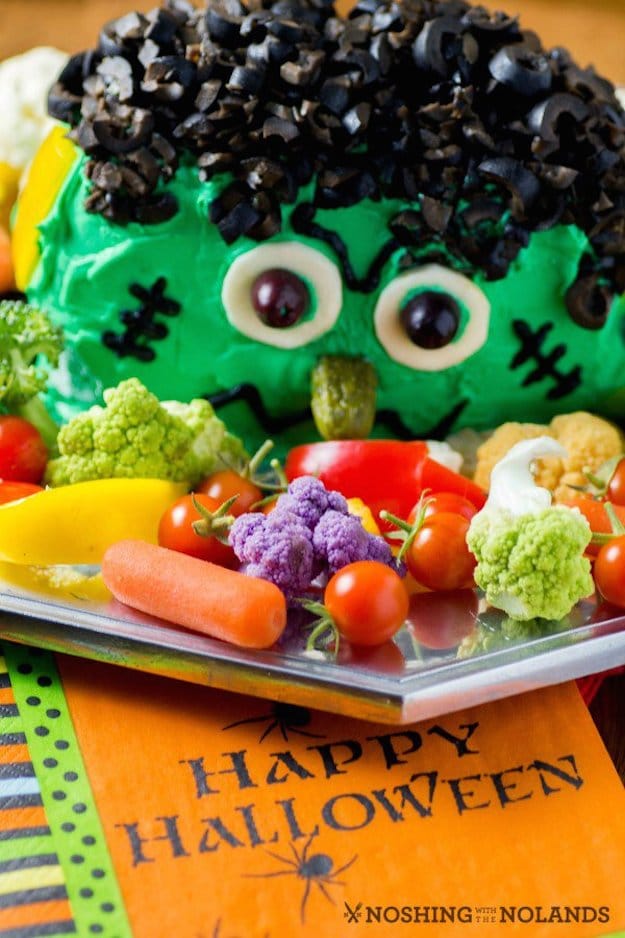 Bonus:
If you are looking for ideas for spooky cocktails to get the party started, check out this roundup post of 20 delicious Halloween libations by my friends over at the Gastronom Blog.
Your only problem will be deciding which of these quick and easy treats to make first! Not much of a cook? No worries, each of these spooktacularly delicious recipes include photos and easy step-by-step instructions.
Frequently asked questions:
What is Halloween?
Halloween, which is also known as All Saints Eve, is celebrated on the 31st of October in many countries around the world the day before All Saints Day, on November 1.

Although Halloween has been celebrated for hundreds of years, modern-day festivities are really more about having fun dressing up in comical or scary costumes, decorating homes and yards, and trick-or-treating.
What is the most popular food?
While everyone has their favorite food and it may vary by region, candy and treats rule the roost on Halloween, most specifically old-fashioned candy corn. Candied or caramel apples, M&Ms, and Reeses Peanut Butter Cups are also popular treats.
What is trunk or treat?
While I'm sure you know what trick or treat is, you might not yet be familiar with trunk or treat. Trunk or treat is when cars which are decorated for Halloween gather in a central spot, and the owners which are often in costume, open their trunks and give out treats. Many churches and community centers often sponsor truck or treating along with fall festivals.


Well, what do you think? Isn't this an incredible list of spooky but adorable Halloween recipes?
Leave me a comment and let me know which one of these spooktacular treats is your favorite or which recipes you plan to serve at your party. I love hearing from you!
Thank you so much for visiting Grits and Pinecones! I hope you come back!
**This roundup post was originally published on October 24, 2016.