Check out this easy recipe for everyone's favorite side dish, delicious and decadent, Make-Ahead Mashed Potatoes. They only take 15 minutes to make.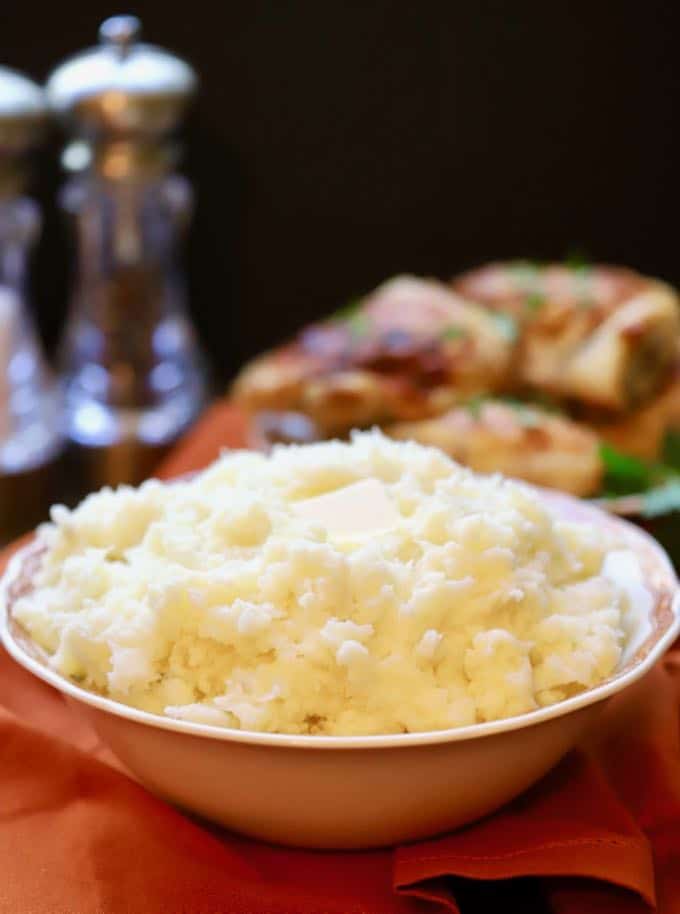 These delicious, creamy make-ahead mashed potatoes are a crowd-pleasing side dish and perfect for your holiday entertaining. It's definitely not diet food, and not something that you would serve every day, not that I wouldn't love to have it every day.
In fact, unfortunately, I've never met a mashed potato dish that I didn't love. But for special occasions, it's perfect! I have never served it that someone didn't ask for the recipe.
What makes this recipe different from all the rest?
Well, it has two secret ingredients that make it super simple and quick to make. The first secret ingredient is a bag of frozen mashed potatoes. That's right, no peeling or cutting up of potatoes. Just pop the package in the microwave and mash!
It couldn't get any easier. I do have to mention that around the holidays, it sells out quickly at the grocery store. So, if your store does have them, my suggestion is to buy several packages and keep in the freezer until you need them.
The second secret ingredient is cream cheese. The addition of the cream cheese allows you to make this dish up to three days ahead of when you want to serve it.
What to serve them with:
This decadent side-dish pairs beautifully with my New York Strip Roast, Southern Fried Chicken, or Southern Crispy Oven-Fried Chicken.
Here's what you will need:
You will need frozen Steam N' Mash Cut Russet Potatoes, milk (you can substitute half and half, or heavy cream), sour cream, cream cheese, salt and pepper, and butter.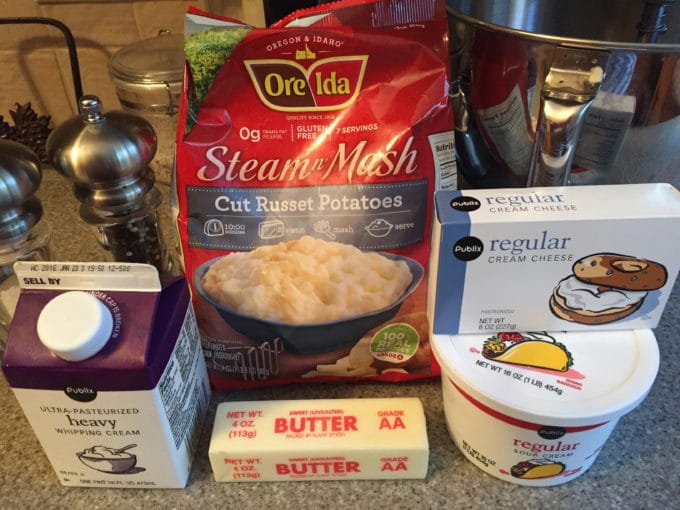 Here's how to make them:
Follow the directions on the package of frozen potatoes and pop in the microwave for 10 minutes.
While the potatoes are cooking, add the milk, sour cream, cream cheese, butter and salt, and pepper to a medium-size casserole dish.
After the potatoes have cooked, allow them to stand without opening the package for a few minutes and then pour the contents of the package into your dish. Using a potato masher, mash the mixture until it is smooth. If they are too stiff, add a little more milk.
At this point, they are ready to serve.
Make them ahead:
If you are making this dish ahead, simply cover tightly with plastic wrap and refrigerate up to three days.
To reheat, take out of the refrigerator about an hour before you are ready to bake to allow them to come to room temperature. When you are ready to reheat, bake in a 350-degree oven for approximately 30-35 minutes or until they are thoroughly heated.
Related recipes:
If you like decadent potato side dishes, you might also like these recipes: Easy Rustic Mashed Potatoes for Two, Twice Baked Potatoes Three Ways, and Pancetta and Rosemary Mashed Potatoes.
If you make this recipe, please be sure to rate it and leave a comment below. I love hearing from you! Also, please follow me on Pinterest, Facebook, and Instagram.
To be the first to receive notifications of new recipes by email enter your email address here or in the Subscribe box.
Thank you so much for visiting Grits and Pinecones!
Creamy Make-Ahead Mashed Potatoes
Check out this easy recipe for Creamy Make-Ahead Mashed Potatoes and find out how to make everyone's favorite side dish, delicious and decadent, homemade mashed potatoes in 15 minutes.
Ingredients
24

oz

package frozen Steam n' Mash Cut Russet Potatoes

1/2-3/4

cup

milk

you can substitute half and half or heavy cream

1/2

cup

sour cream

4

oz

cream cheese

softened and cubed

1/4

cup

butter

cubed

1/4

tsp

salt

1/8

tsp

pepper
Instructions
Preheat oven to 350 degrees

Follow directions for cooking the frozen potatoes on the package. Cook 10 minutes in microwave and let stand 2-3 minutes.

Meanwhile, add 1/2 cup milk, half and half or heavy cream, sour cream, cream cheese, butter and salt and pepper to a medium-size casserole dish.

Add the cooked potatoes and mash well.

If the potatoes are too thick, add 1/4 cup milk and mix again. Serve immediately.

To make the mashed potatoes ahead of time, place them in an oven-safe baking dish, cover tightly and refrigerate for up to three days or until you are ready to reheat them.

To reheat, remove from the refrigerator about an hour before you want to put them in the oven to let the potatoes come to room temperature.

Preheat the oven to 350 degrees.

Bake for 30-35 minutes, or until the potatoes are completely heated. Serve immediately
Nutrition
Calories:
418
kcal
Carbohydrates:
46
g
Protein:
8
g
Fat:
23
g
Saturated Fat:
14
g
Polyunsaturated Fat:
1
g
Monounsaturated Fat:
4
g
Cholesterol:
63
mg
Sodium:
102
mg
Potassium:
896
mg
Fiber:
3
g
Sugar:
3
g
Vitamin A:
800
IU
Vitamin C:
65.2
mg
Calcium:
110
mg
Iron:
2.3
mg