This delicious Green Chili Pie is quite possibly the easiest dish you will ever make! Not only is it easy, but it only has 3 ingredients! That's right, this isn't a typo, there are only 3 ingredients! And, if this isn't enough to peak your interest, there are really only 3 steps to make it!
This recipe came to me by way of one of my daughter's co-workers, Susan from Pensacola. Susan is originally from Panama City and this recipe was adapted from the Junior Service League of Panama City's Cookbook, Bay Leaves. Susan first tasted this yummy dish at a bridal shower and as they say, the rest is history.
Green Chili Pie would be perfect served as an appetizer at a brunch, bridal or baby shower, book club meeting, or you could serve it as a snack for your kids, or for lunch or breakfast. Really there is no limit to how you could serve it. I ate it for lunch today, and what a tasty lunch it was!
Interested in whipping up this fabulous pie today? Well, gather your 3 ingredients which are: a can of chopped green chilies, 4 eggs, and shredded cheddar cheese.
Lightly grease a 9-inch pie pan with butter. Spread a can of chopped chilies and their juice on the bottom of the pan.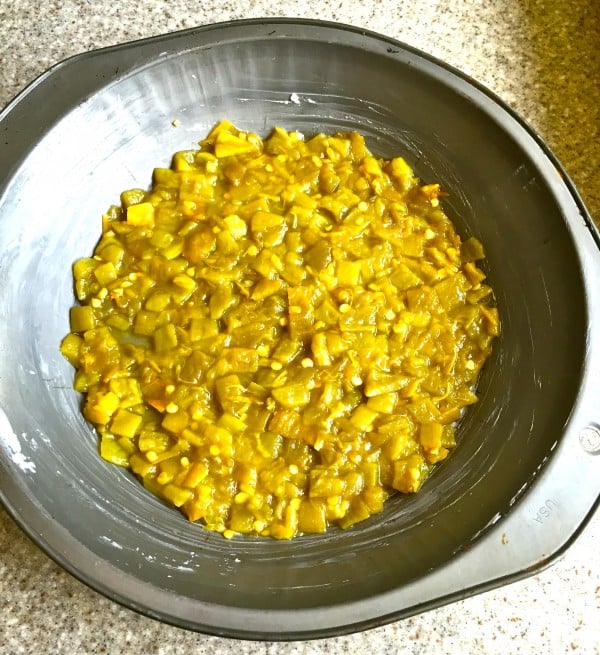 Pour in the shredded cheese and spread out evenly. Then, break the eggs into a separate bowl and whisk until they are thoroughly mixed.
Pour the egg mixture evenly over the cheese layer making sure all of the cheese is covered.
Bake in a 275-degree oven for 1 hour.
Cut into pie shaped pieces or bite size pieces. Serve hot or cold. Believe it or not, these bite-size delicacies are even better the next day.
Preheat your oven to 275 degrees.

Lightly grease a 9-inch pie pan and spread the chilies evenly over the bottom of the pan.

Spread the grated cheese over the chilies.

Pour the beaten eggs evenly over the cheese layer.

Bake for 1-hour at 275 degrees.

Cut into pie shaped or bite size pieces. Serve hot or cold.
Nutrition Facts
Green Chili Pie
Amount Per Serving
Calories 362
Calories from Fat 252
% Daily Value*
Total Fat 28g 43%
Cholesterol 212mg 71%
Sodium 650mg 27%
Potassium 147mg 4%
Total Carbohydrates 5g 2%
Protein 24g 48%
* Percent Daily Values are based on a 2000 calorie diet.
Do you like the recipes on Grits and Pinecones? Never miss out on a fabulous new recipe or meal idea again. Sign up to have my posts sent right to your email inbox! It's easy as pie! Just enter your email address in the Subscribe box at the top right-hand corner of this page. That's all there is to it!
If you like this recipe, please share it with your friends on Facebook, Pinterest, or Twitter!
Thanks for visiting! I hope you try the recipes and I hope you come back soon!