Start planning your Cinco de-Mayo menu now! From tacos to margaritas, or appetizers to desserts, there is something for everyone. Whether you are cooking for two or a crowd, these awesome 31 top-rated Mexican recipes are perfect for your Cinco de Mayo party! Olé!
Just in time for Cinco de Mayo I've teamed up with my sister at the Pudge Factor blog, to bring you 31 scrumptious Mexican and Southwestern-inspired Cinco de Mayo recipes. We have Cinco de Mayo appetizers, Cinco de Mayo entrées, Cinco-de Mayo sides, Cinco de Mayo desserts, and Cinco de Mayo cocktails so that you can host your very own Cinco de Mayo party! Olé!
If you are looking for an easy, quick, light, low-calorie, healthy, and delicious entrée, check out my Fish Tacos with Mango Salsa recipe. This yummy dish is a perfect choice for a Cinco de Mayo party!
Enchiladas with Awesome Red Sauce – the name says it all! The enchiladas start with a spicy meat mixture wrapped in a tortilla shell. Then, they're topped with an incredible red sauce, onions, and cheese, and baked to bubbling perfection.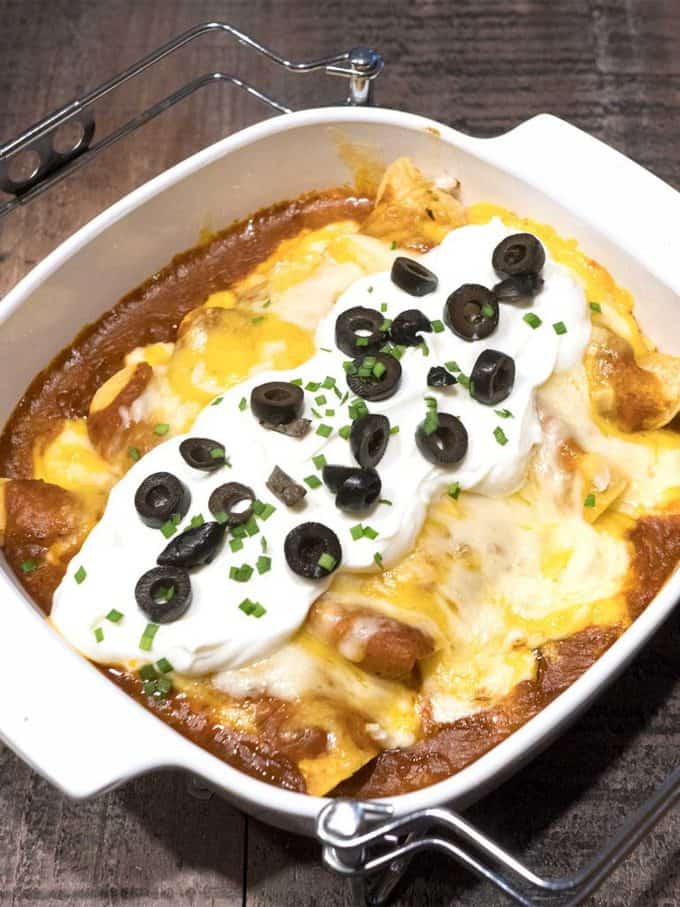 Mexican Chopped Salad with Honey-Lime Dressing is one of our favorite salads, and I serve it often, especially when we have company. This Mexican Chopped Salad is full of all things healthy and good for you, and the honey-lime dressing is sweet, spicy, and simply amazing!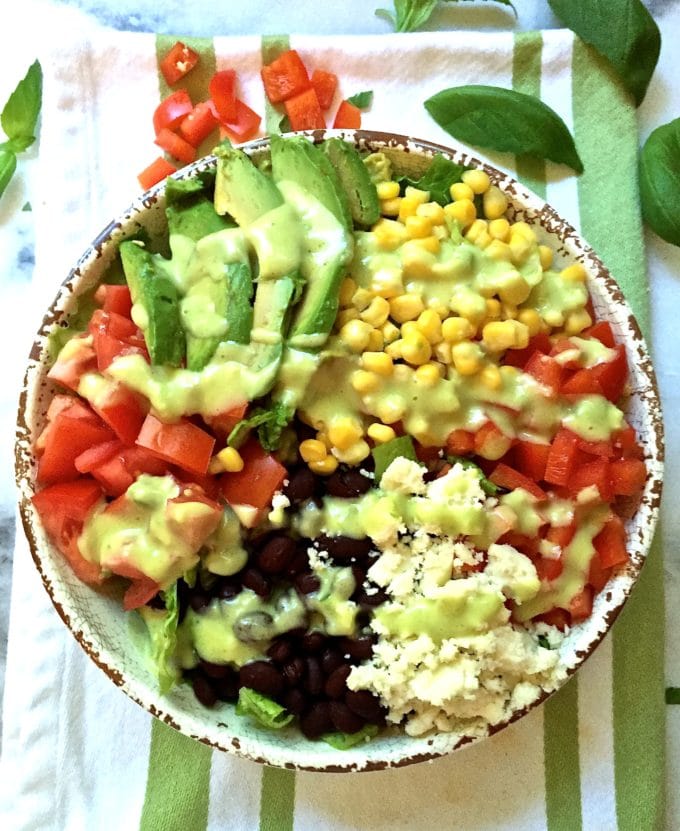 Tasty taco filling layered with melted cheese in crispy wonton wrappers makes the perfect appetizer. What's even better is that they're super easy to make and just as yummy made ahead of time and reheated!
Margaritas are synonymous with Mexican food and, of course, Cinco de Mayo! Jack's Ultimate Frozen Margaritas are a luscious frozen cocktail that is so delicious after your first sip; you will want to shout olé!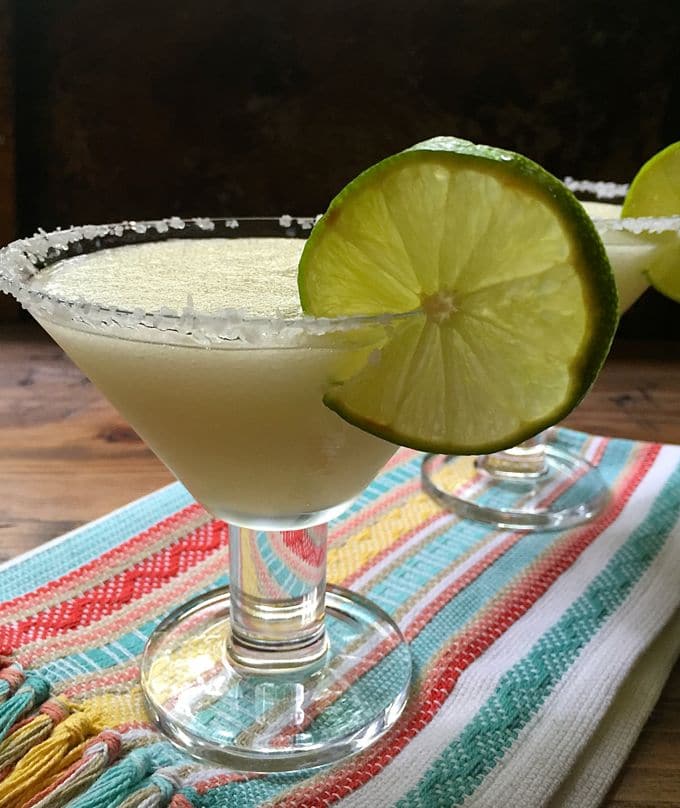 Mexican Wedding Cookies, are served at most weddings and celebrations in Mexico and are perfect for Cinco de Mayo. Known as Polvorones, these buttery confections are packed with toasted pecans and dusted with confectioners' sugar. They melt in your mouth and break into fine crumbs, leaving the extra crunch of the toasted pecans.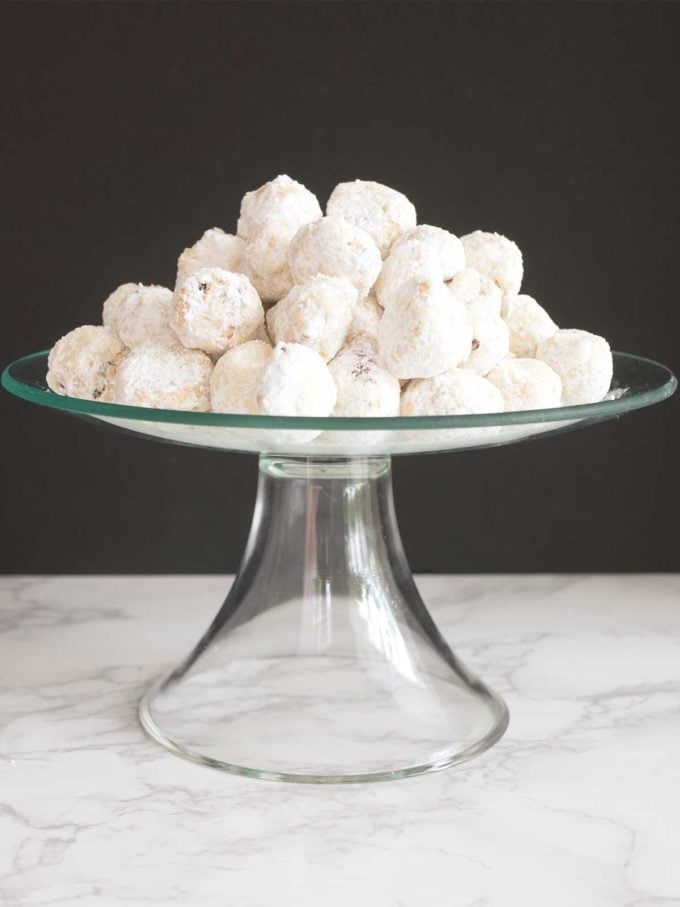 Tequila Lime Chicken Enchiladas – doesn't just the name make you hungry? Well, wait until you taste these delicious enchiladas, you will become a believer.
Mexican Key Lime Tartlets with Cream Cheese Pastry is a perfect end to your Cinco de Mayo feast. Their awesome blend of tart and sweet will have you clamoring for more of these delectable bite-sized morsels.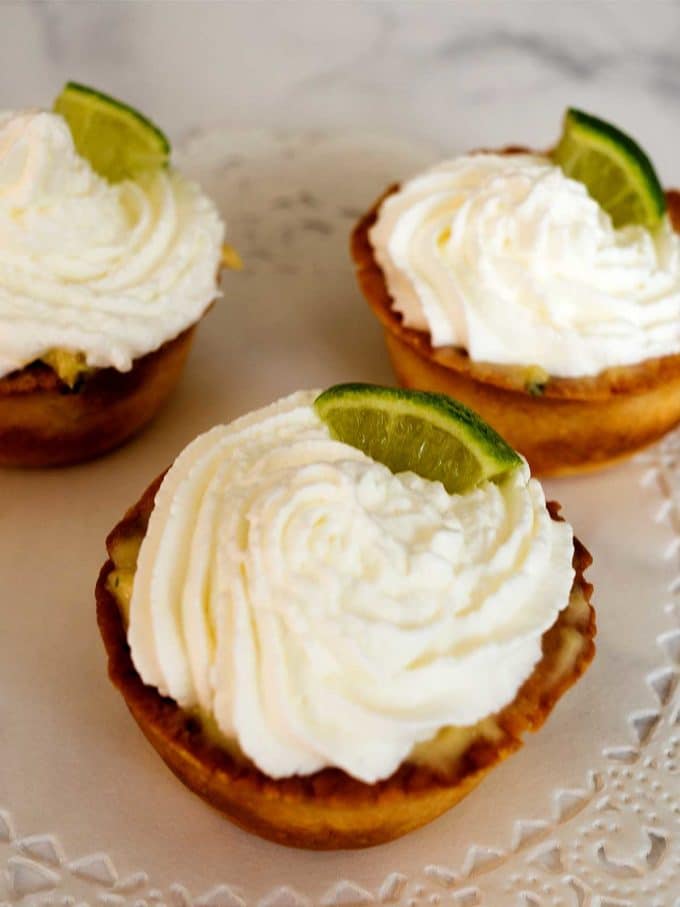 With a name like Easy Cheesy Hot Corn Dip, you would think that this delicious dip would be full of yummy corn and cheesy goodness, and you would be right!
Tequila Sunrise is a classic cocktail that's as tasty to imbibe as it is pretty to look at. It only contains three basic ingredients and is perfect for your Cinco de Mayo celebration.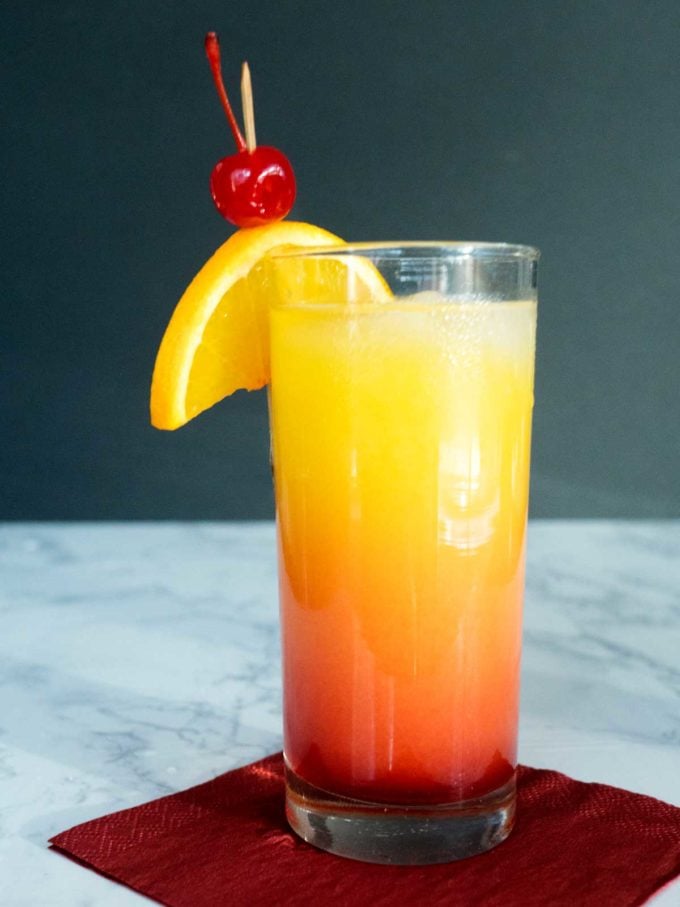 If you like cornbread, you will love this recipe for spicy Mexican Jalapeño Cornbread! Perfect for Cinco de Mayo, if it isn't already a favorite of yours, my guess is after one bite it will be.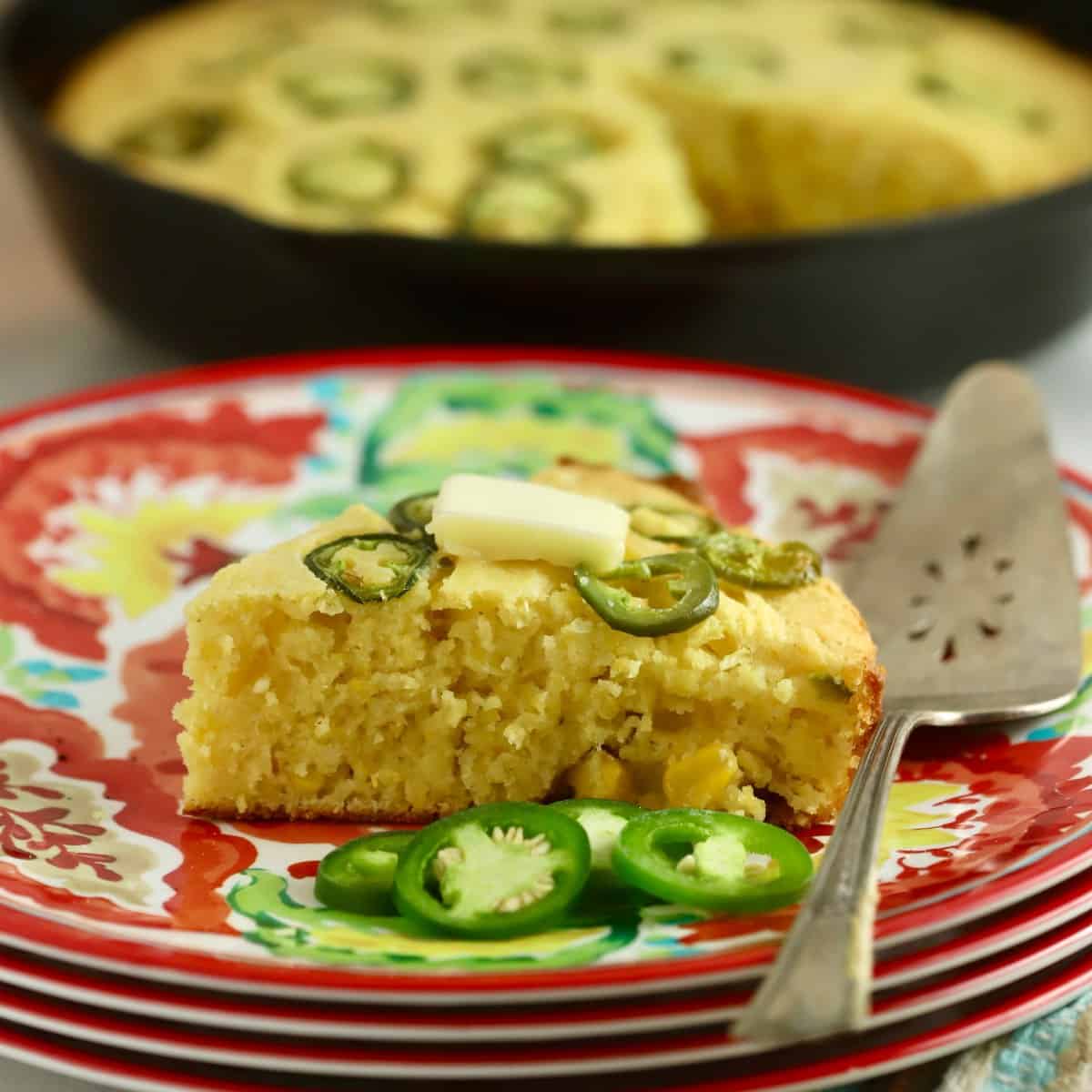 If you like nachos, you'll love this Easy Cheesy Nacho Casserole. I made it with a delicious spicy meat mixture with rice, two kinds of cheese, and sour cream. Then, I finished it off with additional cheese, tortilla chips, and an incredible nacho cheese sauce! It's not only easy to make but also can be made ahead of time and produces awesome leftovers.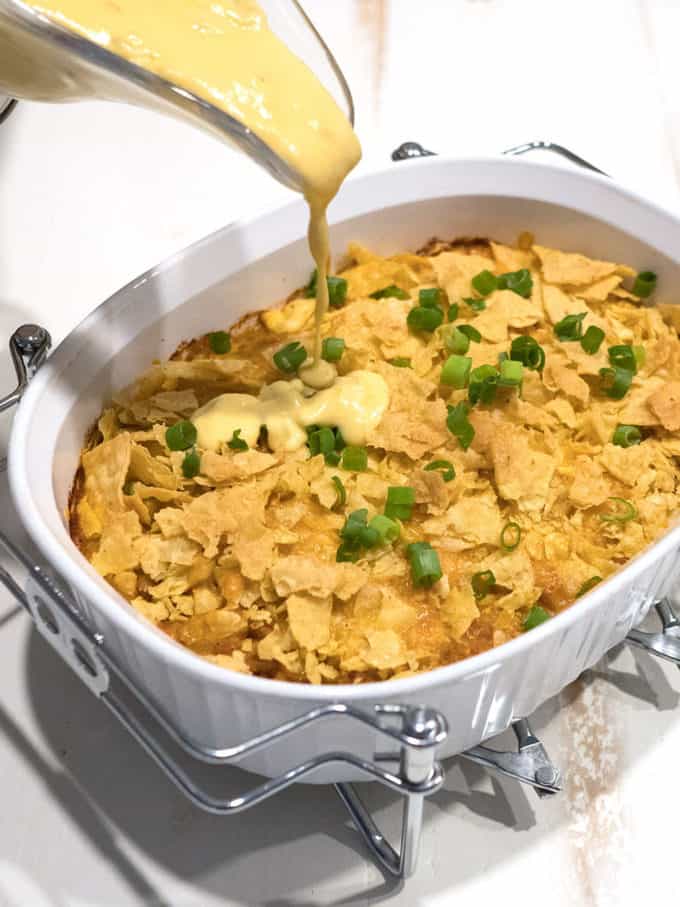 Perfect for Cinco de Mayo and clocking in at less than 200 calories, these Salsa Verde Chicken Tacos are a delicious, light and easy dish that your family will love!
If you like the Crunchwrap Supreme from a local fast-food chain, then you'll love this Tasty 7 Layer Quesadilla Wrap. While it's somewhat of a copycat, it's so much better. Tasty 7 Layer Quesadilla Wrap is not at all doughy, and you can taste the yummy ingredients!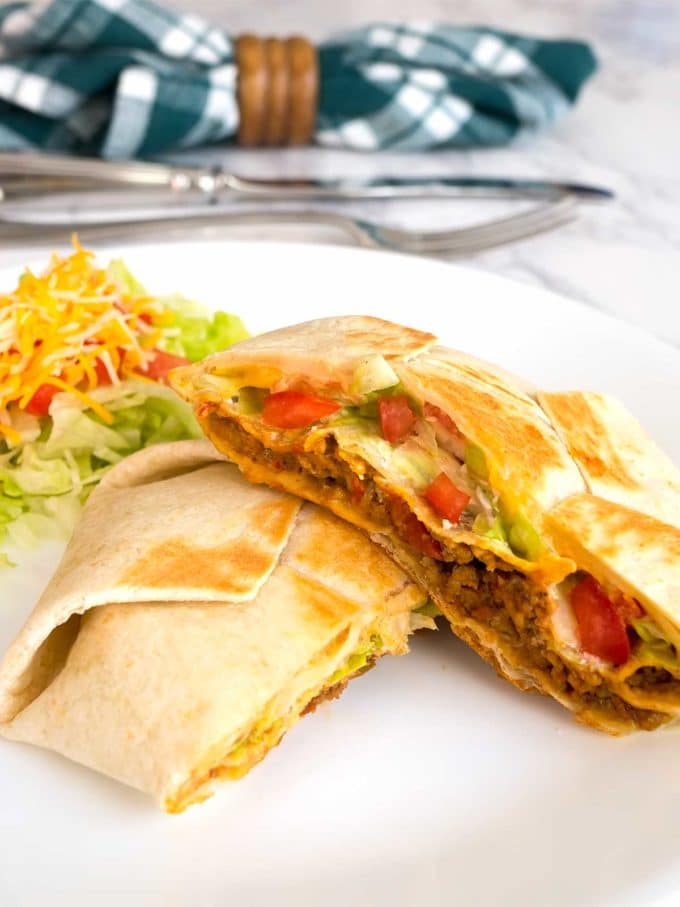 Baked Bacon Ranch Jalapeño Poppers are a delicious and I must say one of my favorite recipes for jalapeño poppers. These Baked Bacon Ranch Jalapeño Poppers are also one of the easiest jalapeño snacks to make and a perfect appetizer for your Cinco de Mayo celebrations.
I'm counting down to Cinco de Mayo. Today's treat is Mexican Rice. It has the perfect blend of ingredients to make it a memorable addition to your Cinco de Mayo celebration.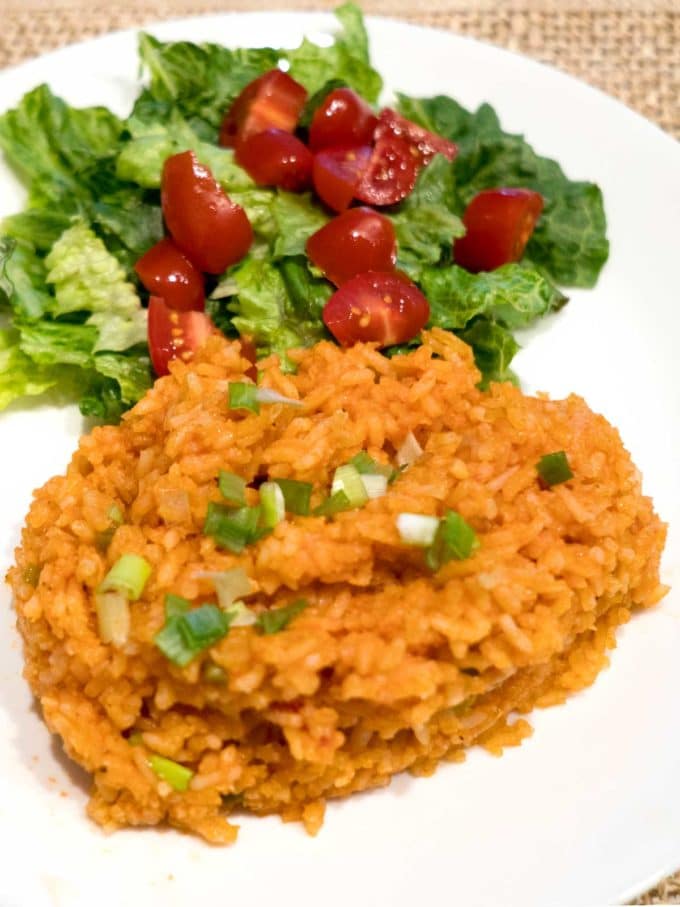 Slightly spicy, delicious make-ahead, Salsa Verde Chicken Enchiladas will be the "star of the show" if served to your family and friends on Cinco de Mayo.
Antojitos means "little cravings." It is typically sold as Mexican street food to be eaten at other than the main meal. If you serve Mini Antojitos as an appetizer, be prepared for them to literally fly off the plate. What's even better – they can be made ahead of time, frozen, and reheated.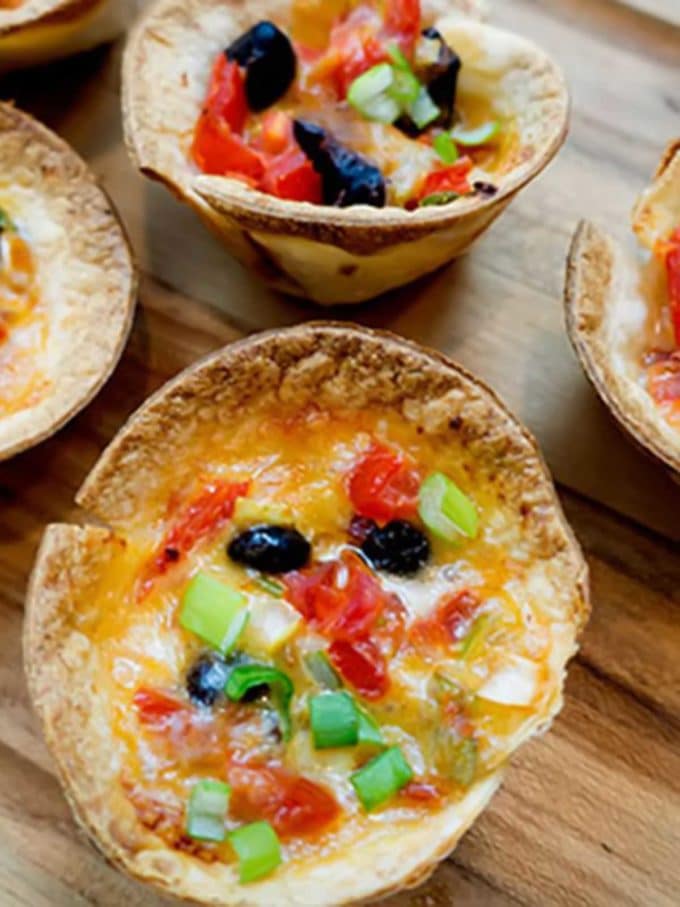 If you like grilled fish tacos, you will love my healthy, low-calorie, quick and easy Grilled Fish Taco Bowl with Green Apple and Guacamole for lunch or dinner!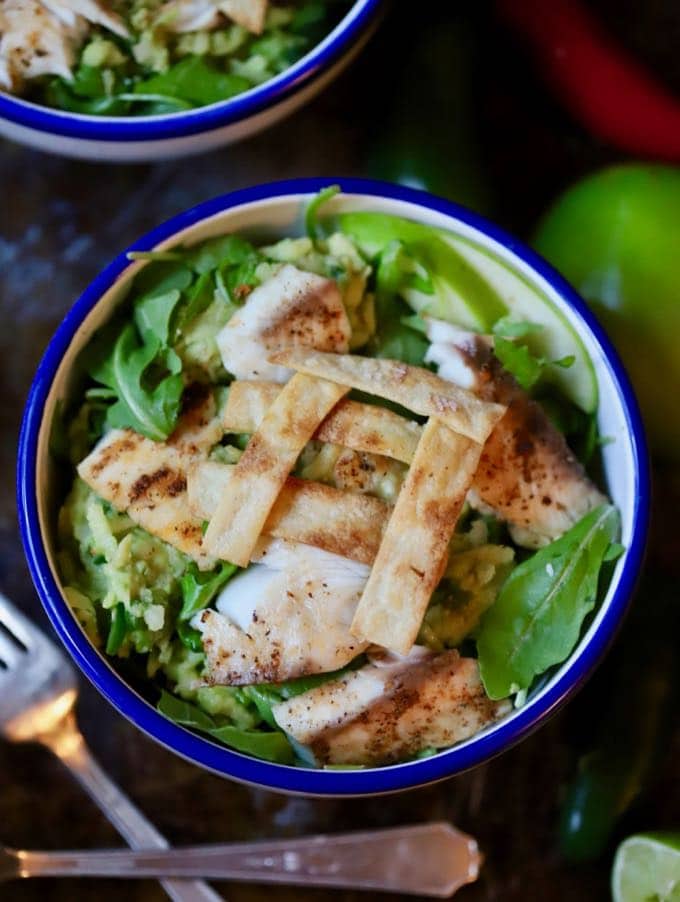 Frijoles Negros Rotos are also known as Smashed Black Beans. They are not only delicious on their own but also outstanding in black bean dip and in quesadillas. As an added bonus, the Smashed Black Beans are super easy to make.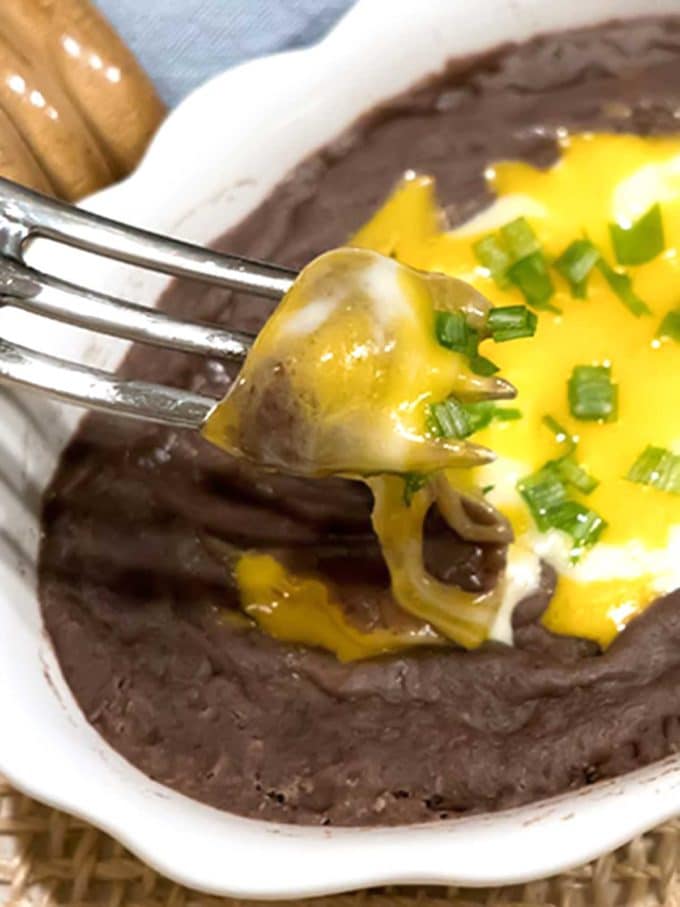 Shrimp and Bacon Quesadillas are delicious and mouth-watering quesadillas full of delicious briny shrimp, smokey bacon, and melted cheese all wrapped up in a warm crunchy tortilla.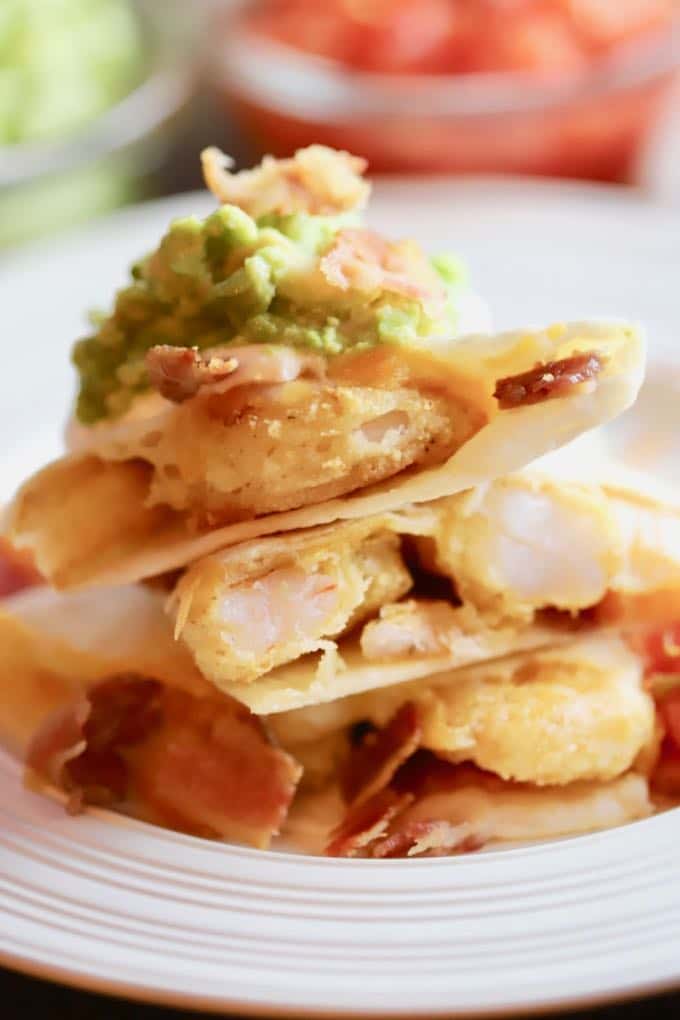 What better way to celebrate Cinco de Mayo than with a quick and easy salsa that's certain to please? This Cinco de Mayo Salsa is delicious and can be used in numerous ways.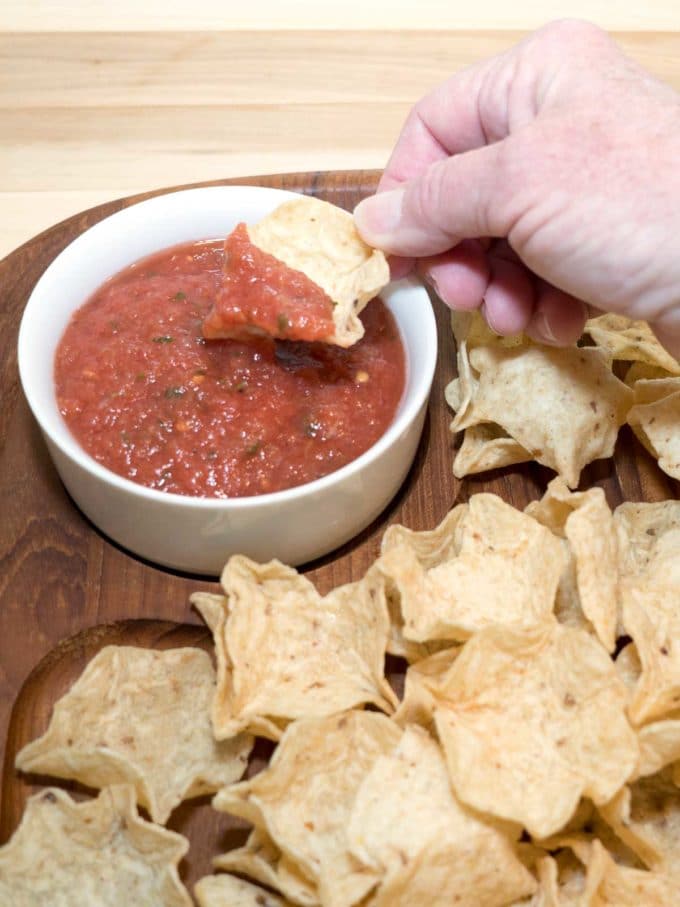 Sautéed sweet, briny fresh shrimp with a spicy, healthy, slaw with mango, tomato, and avocado, well it just doesn't get much more delicious than this!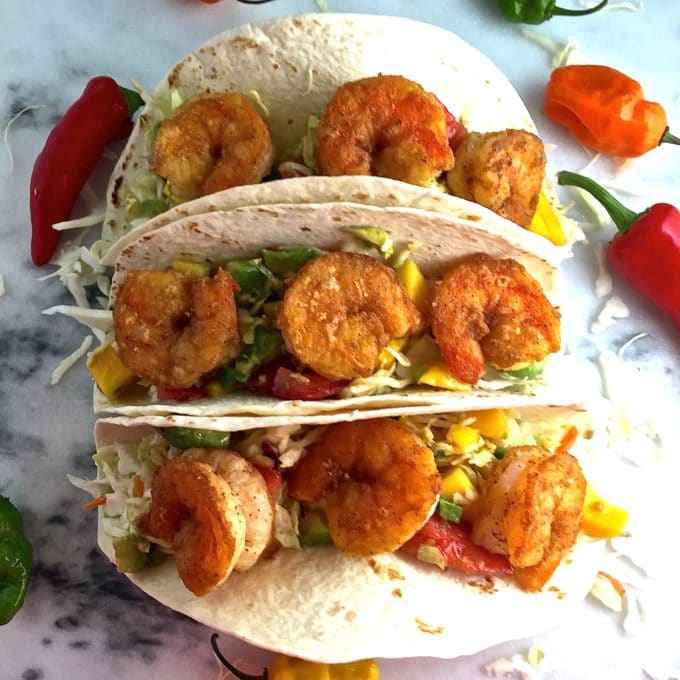 If you're looking for a perfect dish to serve for your Cinco de Mayo celebration, look no further. Chicken Enchiladas with Red Chili Sauce is easy to make, and delicious to eat!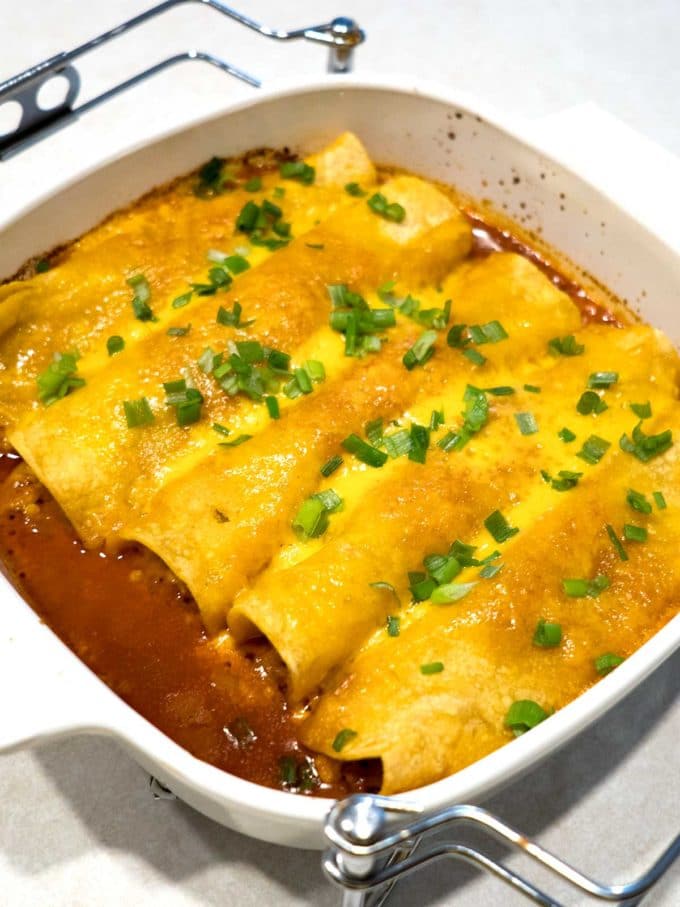 Are you looking for an easy Pulled Pork Taco recipe? Would you like to know how to use your slow cooker to make a delicious, juicy and flavorful pulled pork that can be used in a multitude of recipes and served at a Cinco de Mayo party? Check this recipe out!
Why buy taco seasoning at the grocery store when you can easily make your own? It's so much better than those little packets, and you know what's in it!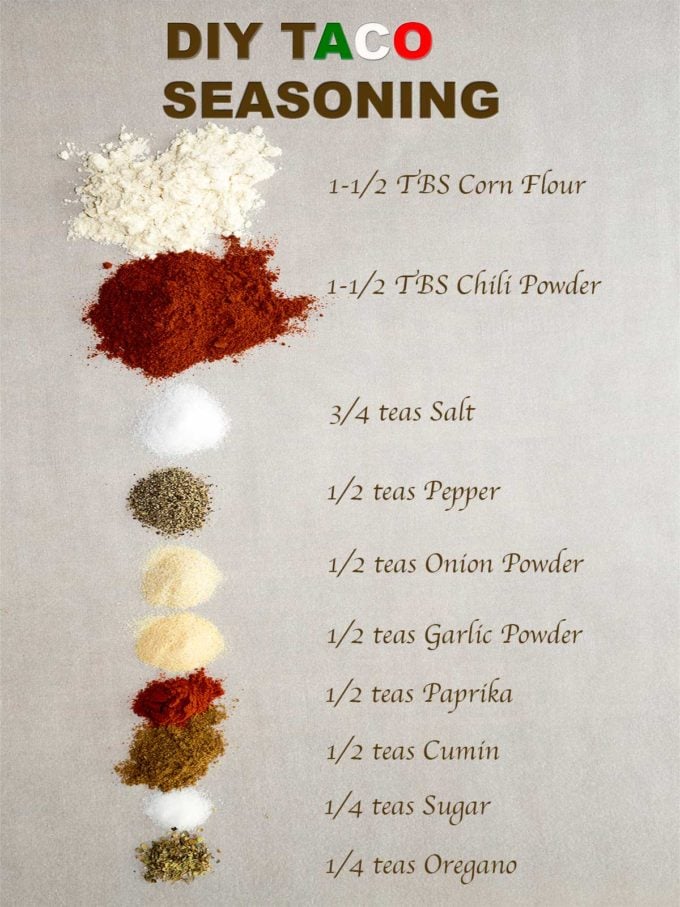 AKA Best Ever Easy Southern Caviar Dip but, no matter what you call it, or how you serve it, this easy to make, bursting with flavor, healthy dip/salad/salsa is perfect for your Cinco de Mayo celebration or anytime you want to impress your family or friends!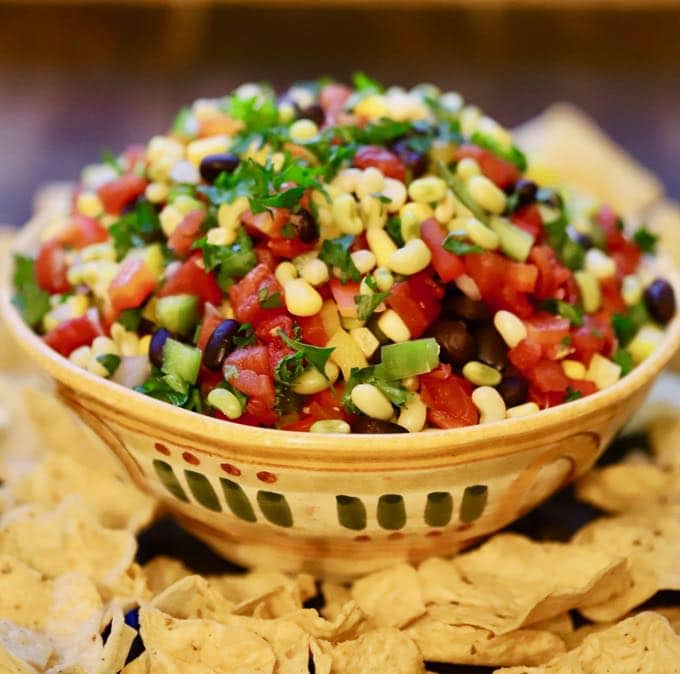 The combination of the Instant Pot and dried Black Beans is a match made in heaven! With the Instant Pot, you can cook the unsoaked dried beans in 30 minutes. Instant Pot Smashed Black Beans are creamy, spicy, and oh so easy to make. On top of that, they're absolutely delicious.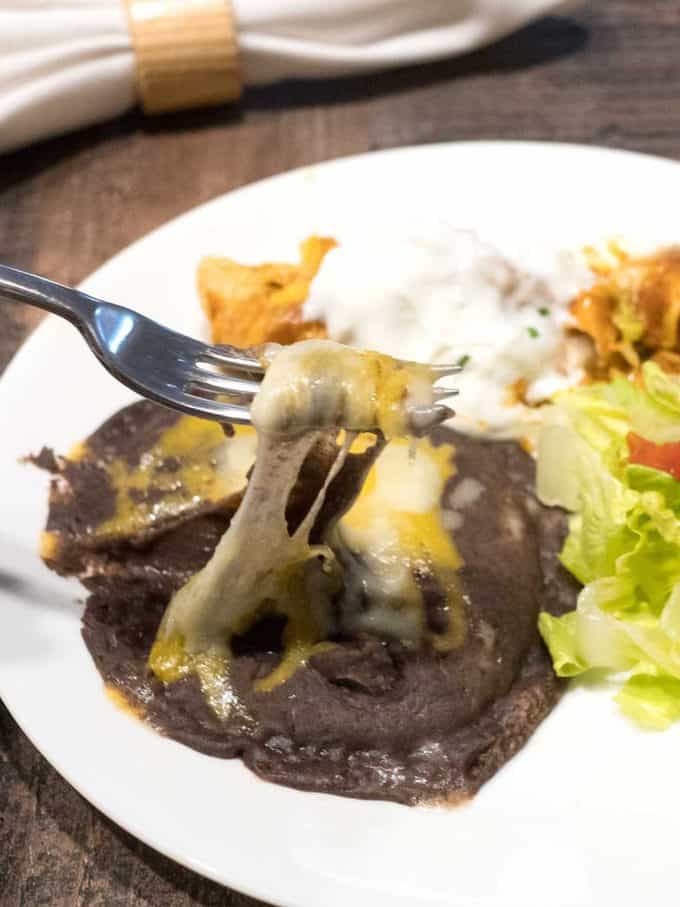 This recipe, which is somewhat different from traditional chicken enchiladas, features shredded chicken marinated in honey and lime juice. All of this deliciousness is then wrapped up in a tortilla along with some cheese and topped with an out-of-this-world salsa verde sauce, crema which is Mexican style cream and yes, even more, cheese. Take my word for it; this dish is really, really, really good!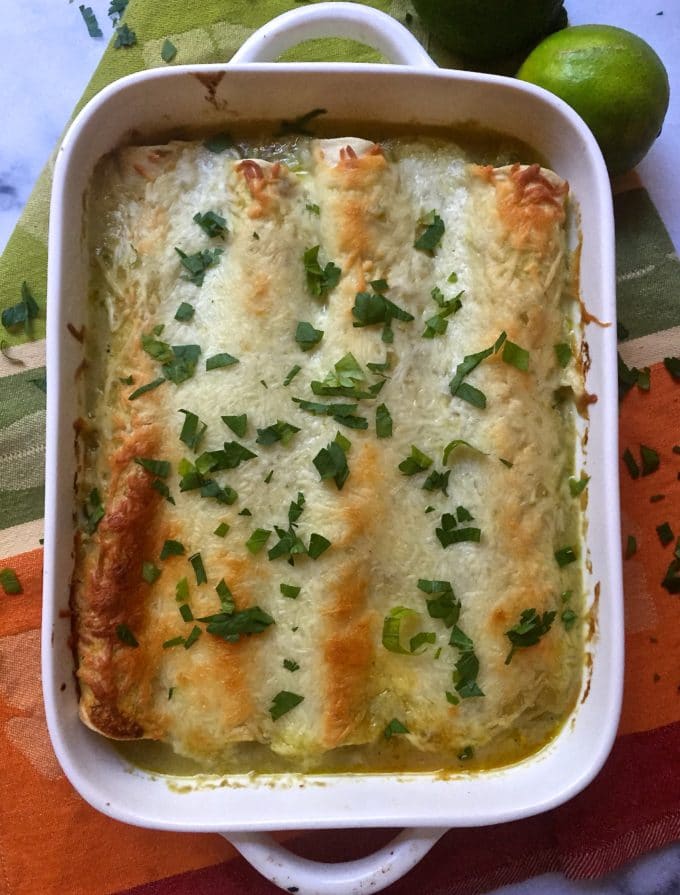 Ready in minutes, and made with real cheese, Easy Spicy Sausage Queso Dip is a real crowd-pleaser. This dip thickens as it cools, but doesn't become hard like other cheese-based dips. It's amazing with tortilla chips and spread on French bread or crackers.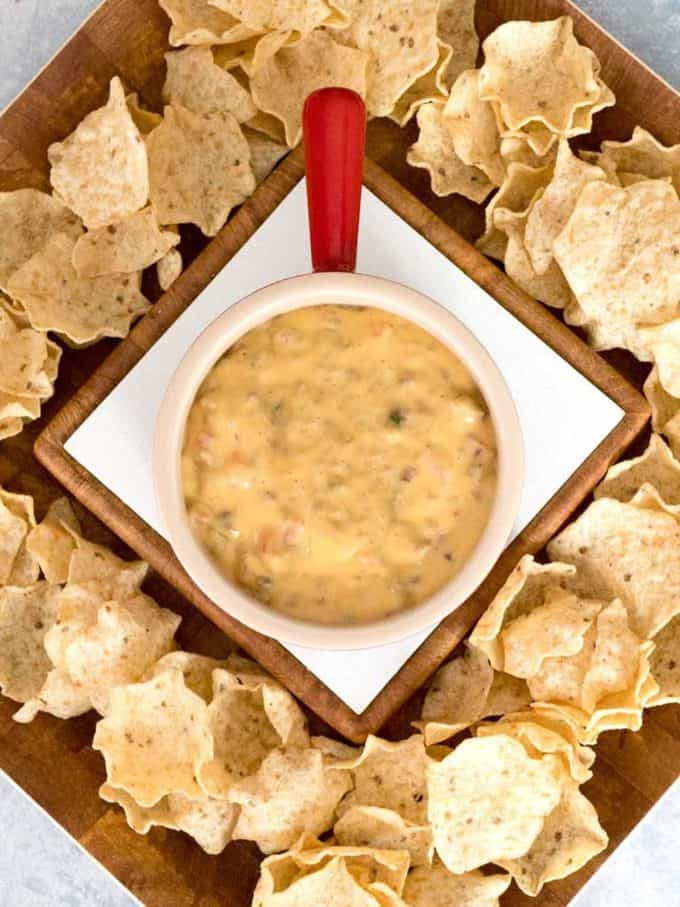 Have you ever wondered how to make a taco salad that is both delicious and healthy? How about my Beef Taco Salad with Avocado Cilantro-Lime Dressing? Are you looking for a quick and easy taco salad with a yummy dressing recipe that your family will love? How about my Taco Salad with Avocado Lime Dressing? Yes on both counts! You are definitely in the right place!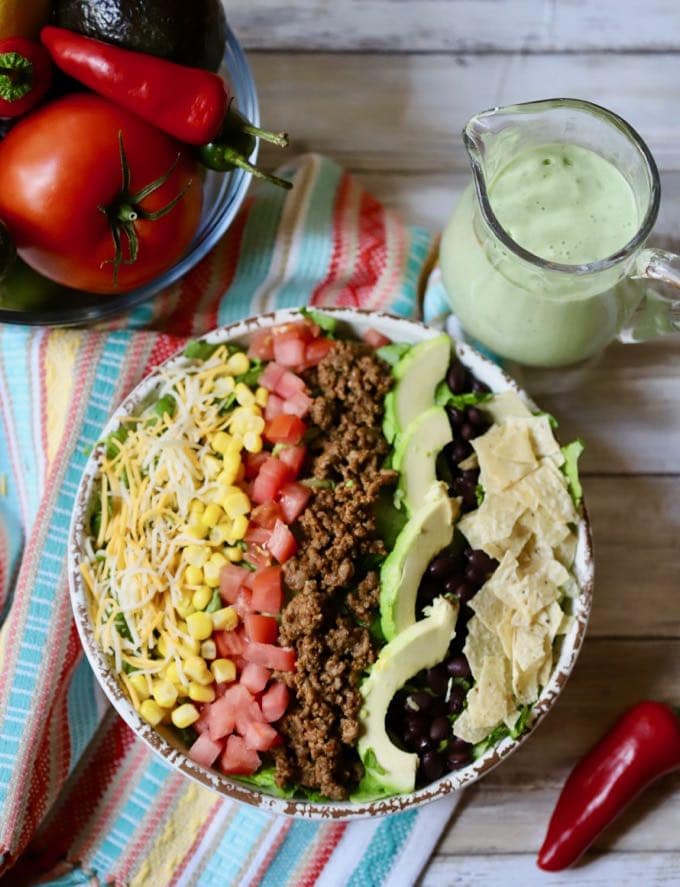 Well, have I convinced you, that you have the making of a spectacular Cinco de Mayo menu right here? No matter whether you are cooking for a crowd, or just one or two, these easy Cinco de Mayo recipes are just the ticket to make your life stress-free and a very popular cook!
Need more ideas? Check out these Cinco de Mayo and Mexican recipe posts: Cinco de Mayo Recipe Roundup, 11 Easy Mexican Recipes and Menu Ideas, and 29 Awesome Recipes to help you celebrate Cinco de Mayo.