If you like shrimp and spicy foods, Quick and Easy Buffalo Shrimp is for you! Simple to prepare, and perfect as a main dish or as an appetizer, it's the perfect marriage of briny shrimp and spices.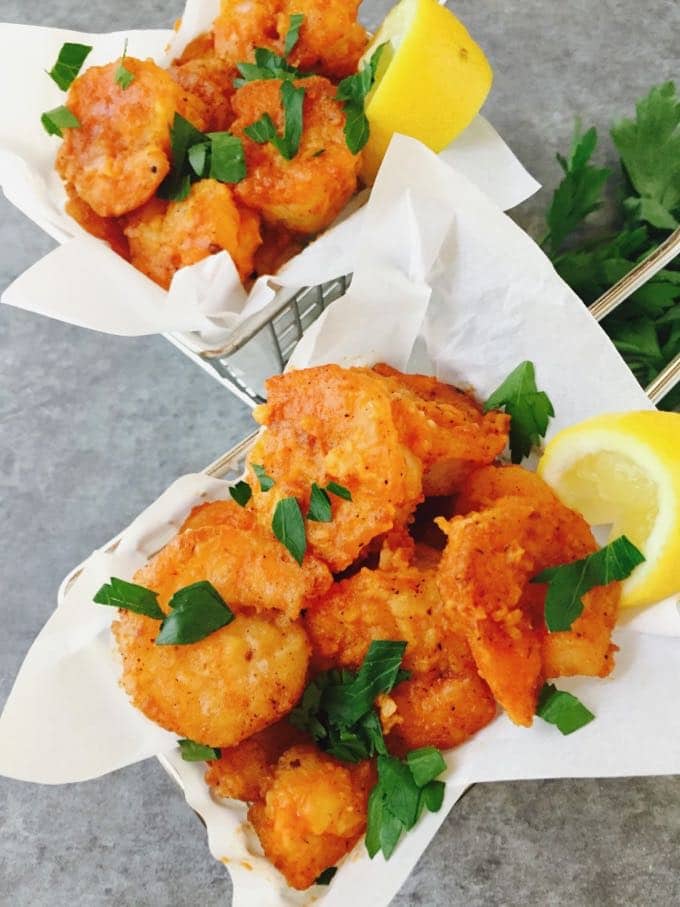 Our good friends, Karen, and Fred always serve this delicious appetizer at their annual holiday party. They also usually serve it every time we come to their house because they know we love it so much!  Of course, like many great cooks, Fred doesn't have an exact recipe. He just smiles and says he usually just adds a little of this and a dash of that. But I have watched him and made this over a dozen times now and think I'm as close as I can get to his wonderful shrimp.
The only downfall if there is one, Quick and Easy Buffalo Shrimp is this is not a dish you can make ahead of time. It's best if it is cooked and served immediately. Of course, you can have everything prepped and ready, and it only takes a few minutes to cook.
If you love shrimp like I do, you might also want to try these delicious shrimp recipes: Shrimp and Blue Cheese Pasta, Brown Sugar Glazed Bacon Wrapped Shrimp and Grilled Spicy Coconut Shrimp.



The ingredients list is short: peeled and deveined shrimp, all-purpose flour, salt, pepper, garlic powder, olive oil and Frank's Buffalo Sauce. It's up to you whether you want to remove the shrimp tails or not. I generally do.
To make these delicious shrimp, gather your ingredients, heat about 3 Tbsp of olive oil in a large skillet over medium-high heat.
In the meantime, put 1 cup of flour in a gallon size Ziploc plastic bag and add about 1 tsp of salt and 1/2 tsp of pepper and garlic powder. You can add more or less depending on your taste. Add your peeled and deveined shrimp and shake to coat with flour mixture.
Another time saver is to store your leftover flour in the freezer in the same Ziploc bag, so it will be ready the next time you want to make this dish. And, I guarantee you will!
Add the shrimp to your pan in a single layer. Depending on the size of shrimp you use, you should be able to saute about 12-18 large shrimp at the same time, which coincidently is the perfect serving size for this appetizer.
Cook on one side for a few minutes, or until the shrimp are golden brown, and flip over to the other side and cook for another minute or so. Don't overcook, or they will be tough.
When your shrimp are done, remove from the heat and add about 2 tablespoons of Frank's Buffalo Sauce to the pan. Stir, and make sure all of your shrimp are coated with the sauce. If you don't like your shrimp really spicy, only add about 1 tablespoon of sauce and stir until they are only partially coated.
That's it! It couldn't get much easier or quicker. And you won't find a better or more delicious appetizer than this!
Thank you for visiting my blog! I hope you enjoy it and will try a recipe soon. If you do, please come back and leave a comment to let me know how you liked it.
If you haven't already subscribed to my blog, please take a minute now and do so. Simply add your email address where it says "Subscribe to blog via email, " and you will receive an email every time I post a recipe.
Quick and Easy Buffalo Shrimp
If you like shrimp and spicy foods, Quick and Easy Buffalo Shrimp is for you! Perfect as a main dish or as an appetizer, it only takes minutes to prepare.
Ingredients
1

lb

extra large shrimp

peeled and deveined, with the tails removed

3

Tbsp

olive oil

1

cup

flour

1

tsp

salt

1/2

tsp

pepper

1/2

tsp

garlic powder

1-3

Tbsp

buffalo sauce

to taste
Instructions
Heat the olive oil in a large saute pan.

Add the flour, salt and pepper and garlic powder to a gallon size ziploc bag.

Add your shrimp and shake well.

Shake off the excess flour and add the shrimp to the pan in a single layer.

Cook the shrimp for 1-2 minutes on one side, or until golden brown. Then turn over and cook on the other side for another 1-2 minutes.

When the shrimp are done, remove the pan from the heat and add the buffalo sauce. Stir until well coated and serve hot.
Notes
Nutrition
Calories:
229
kcal
|
Carbohydrates:
1
g
|
Protein:
19
g
|
Fat:
5
g
|
Saturated Fat:
1
g
|
Polyunsaturated Fat:
1
g
|
Monounsaturated Fat:
3
g
|
Cholesterol:
151
mg
|
Sodium:
318
mg
|
Sugar:
0.5
g
|
Vitamin A:
4
%
|
Vitamin C:
4
%
|
Calcium:
5
%
|
Iron:
9
%