Celebrate the holidays with my collection of over thirty of the Best Christmas Dessert Recipes, updated for 2023!  
'Tis the season for the sweetest of tidings and the merriest of memories, and these quick and easy, mostly make-ahead, decadent Christmas desserts are perfect for your holiday entertaining, whether you are throwing a big lavish party or simply making a special dinner for family or friends.
This collection includes options from traditional Christmas desserts to easy desserts for a crowd, plus everything in between. I have spent hours combing through hundreds of holiday dessert recipes from top bloggers, searching for the best of the best, and here they are, my Christmas gift to you!
So grab a cup of coffee, curl up on the couch, and prepare to have "visions of sugar plums dancing in your head…"
1. Easy No-Bake Cranberry Cheesecake – Grits and Pinecones
Easy, No-Bake Cranberry Cheesecake is loaded with fresh cranberries and luscious cream cheese. This delicious and decadent make-ahead recipe is perfect for the holidays and would look spectacular on your Christmas dessert table.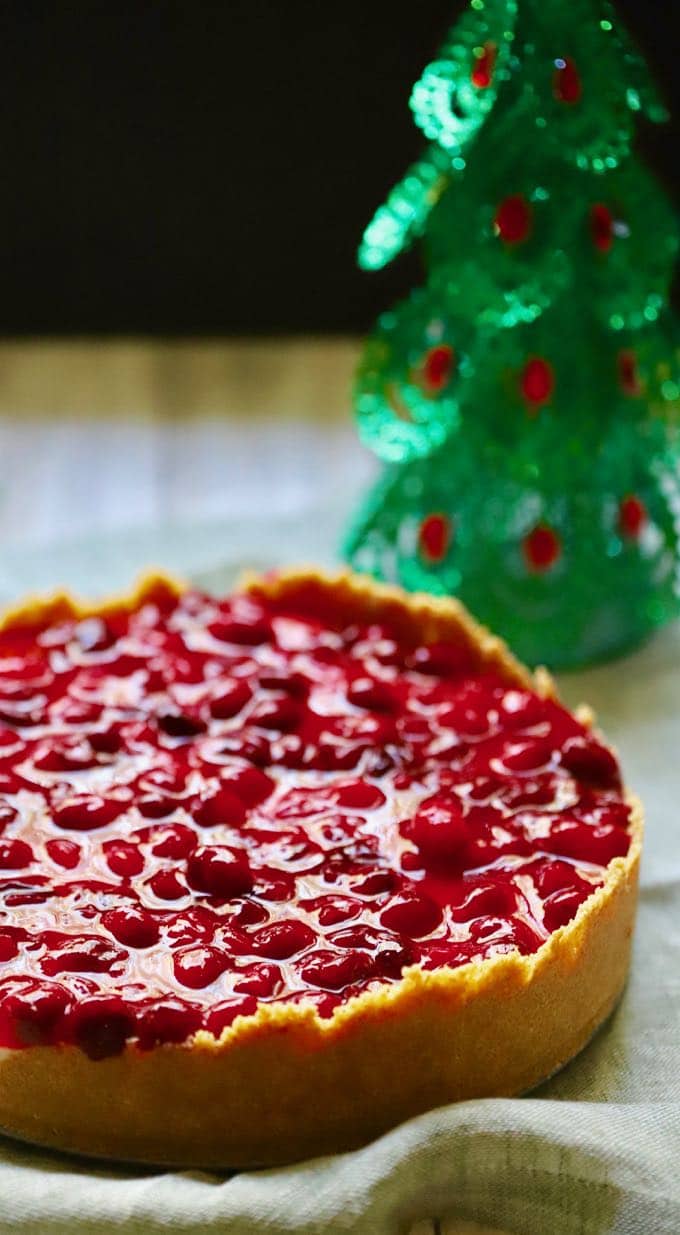 2. Christmas Surprise Lemon Bundt Cake – Pudge Factor
Brighten your holiday season with this rich and moist Christmas Surprise Lemon Bundt Cake. It may be cold outside, but the lemony cake feels like springtime and tastes amazing under a layer of lemon glaze. Every piece is a surprise!
3. Easy Cranberry Cake with Hard Sauce – Grits and Pinecones
A beautiful and festive dessert, Easy Cranberry Cake with Hard Sauce will make a unique sweet ending for your Christmas dinner. Full of fresh tart cranberries, this cake has it all; the colors of the season, a winning combination of flavors and textures, and the creamy, blissful yumminess of a decadent hard sauce.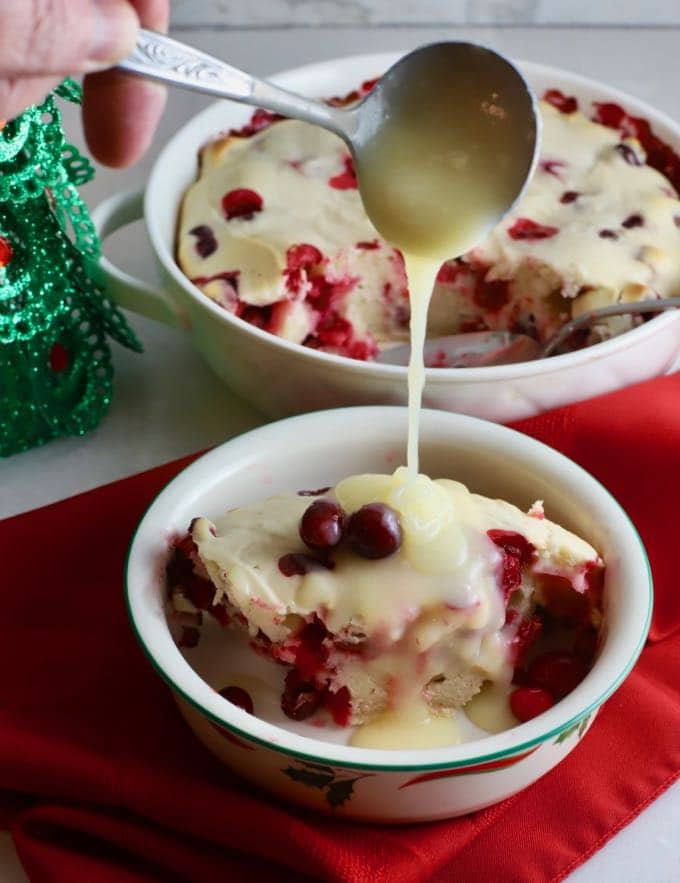 4. Candy Cane Ice Cream Pie – What a Girl Eats
Candy cane ice cream pie is a festive holiday dessert that is so easy to make! A chocolate cookie crust holds creamy candy cane ice cream, hot fudge, and crushed candy canes.
5. Gingerbread Cake with Cream Cheese Icing – Grits and Pinecones
Have you ever seen anything as sweet as this Gingerbread Cake with Cream Cheese Icing? With powerful notes of spicy ginger, molasses, warm cinnamon, and cloves, this easy, old-fashioned, moist cake will fill you with nostalgia and memories of past Christmases.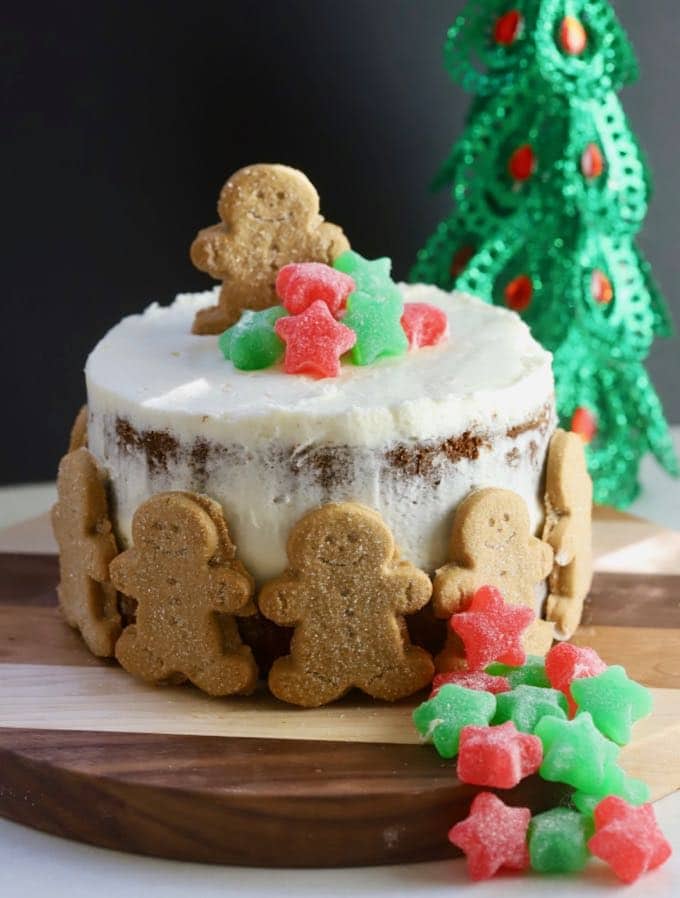 6. Classic Holiday Gingerbread Men – Pudge Factor
Classic Holiday Gingerbread Men are soft and chewy on the inside. They have just the right amount of crunch on the outside! They are the perfect homemade gift for the special people on your holiday gift list.
7. Easy Chocolate Peppermint Whoopie Pies – Grits and Pinecones
All wrapped up like a present with crushed candy canes, Easy Chocolate Peppermint Whoopie Pies are a Christmas dream come true for chocolate cookie lovers of all ages!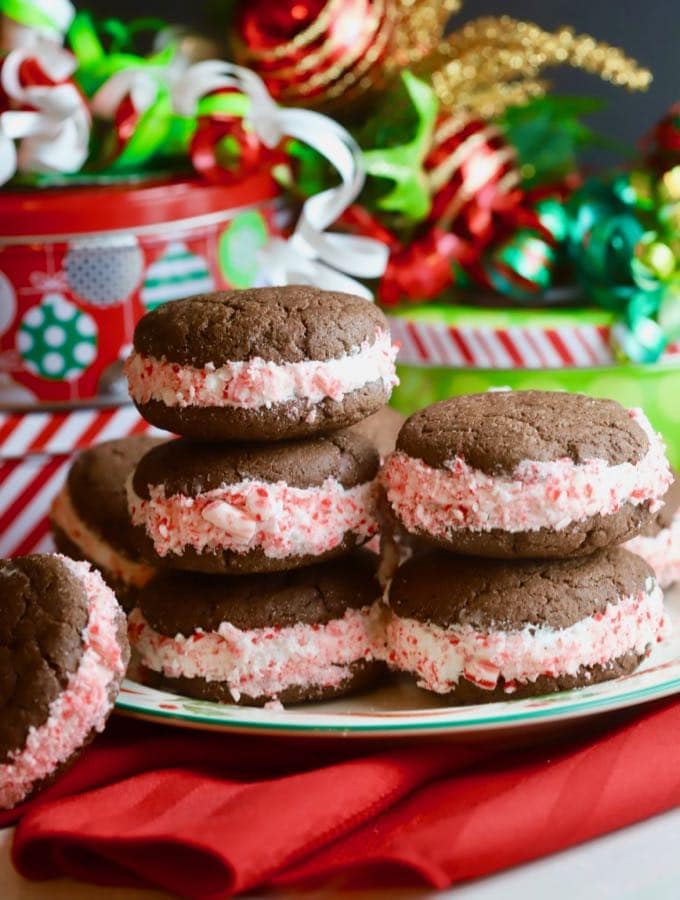 8. English Christmas Trifle – What a Girl Eats
Trifle is a classic English dessert with layers of pound cake, custard, fresh fruit, and whipped cream. This holiday trifle uses raspberries and poached pears, making it as delicious as it is beautiful.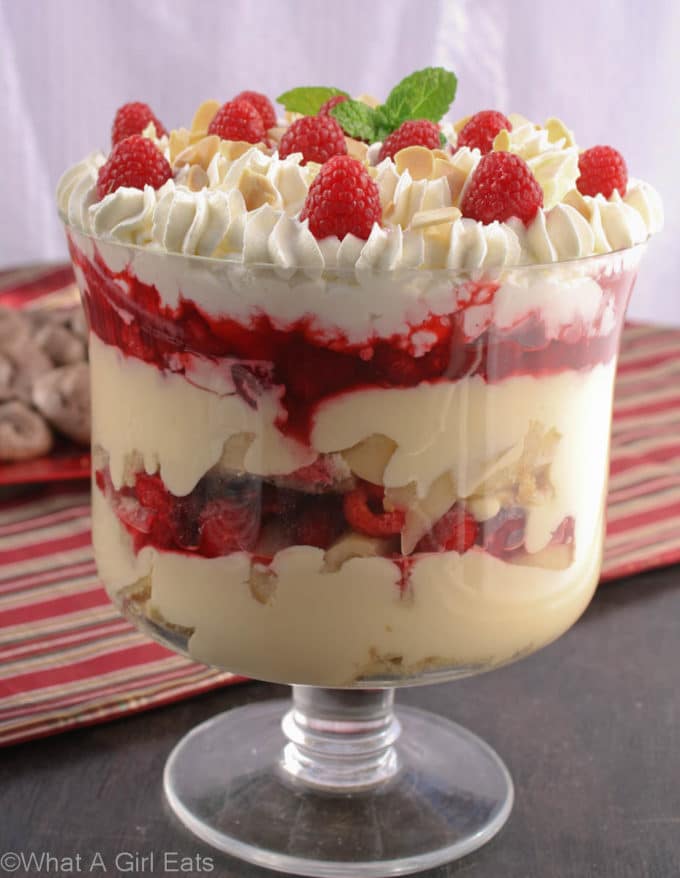 9. Pecan Pralines and Cream Ice Cream – Grits and Pinecones
A festive and decadent holiday dessert, luscious Pecan Pralines and Cream Ice Cream will make a sweet ending to any meal! Sometimes it's called Pralines and Cream Ice Cream, or even simply Praline Ice Cream, but no matter what you call it, the combination of pralines and cream is the perfect balance of richness and sweetness.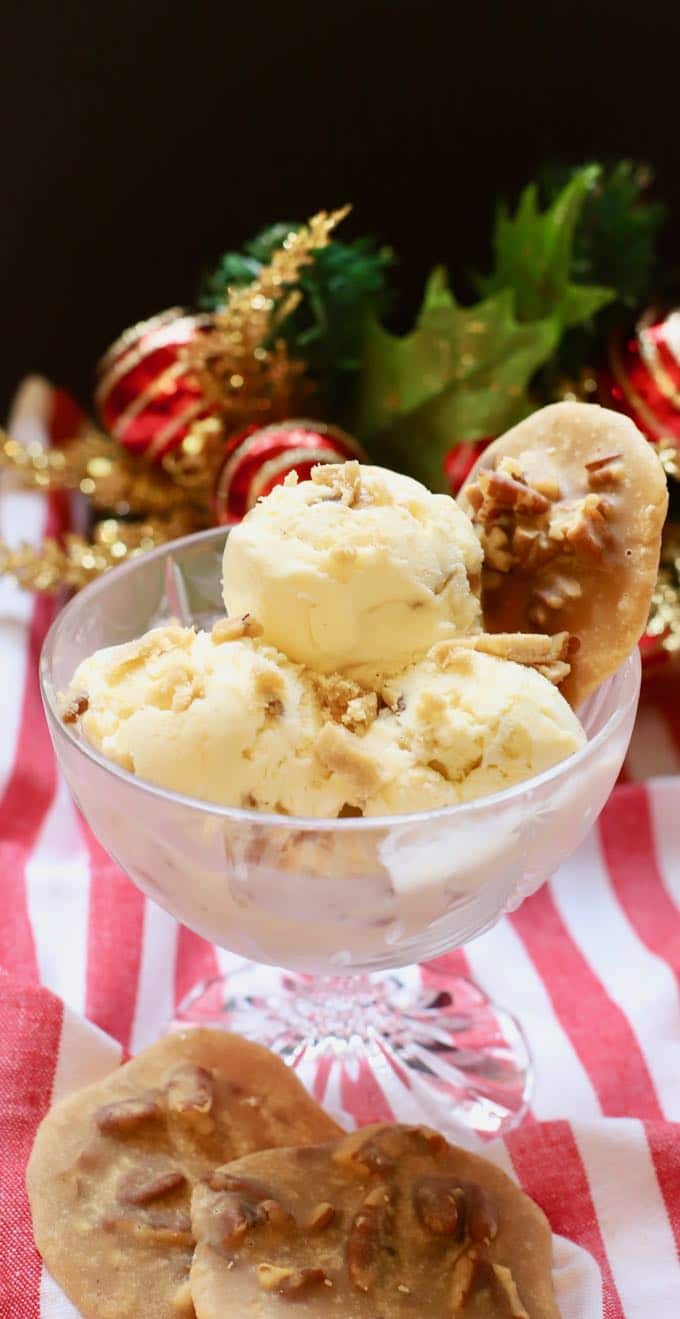 10. Fresh Cranberry Cake Recipe – Mom Foodie Crush
Real ingredients make holiday foods better. This fresh cranberry cake recipe is an example of that. The cranberry sour cream bundt cake features fresh cranberries and organic sour cream & butter.
11. Southern Pecan Praline Cheesecake – Grits and Pinecones
'Tis the season, and I have a scrumptious make-ahead holiday dessert for you today! Southern Pecan Praline Cheesecake is everything a cheesecake should be and includes a delicious and decadent pecan praline topping.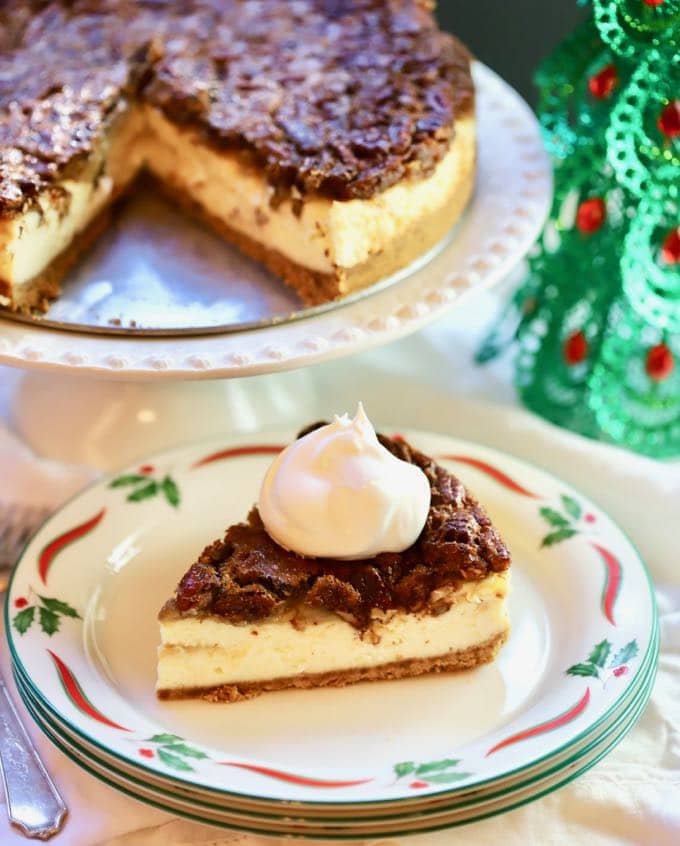 12. Tangerine Layer Cake with Tangerine Curd and Cream Cheese – Cooking LSL
Flavorful and tangerine cake layers, covered with a thin layer of tangerine curd, with sweet cream cheese frosting. These winter flavors come together perfectly in a beautiful cake. Topped with sugared cranberries and candied oranges for the ultimate holiday look!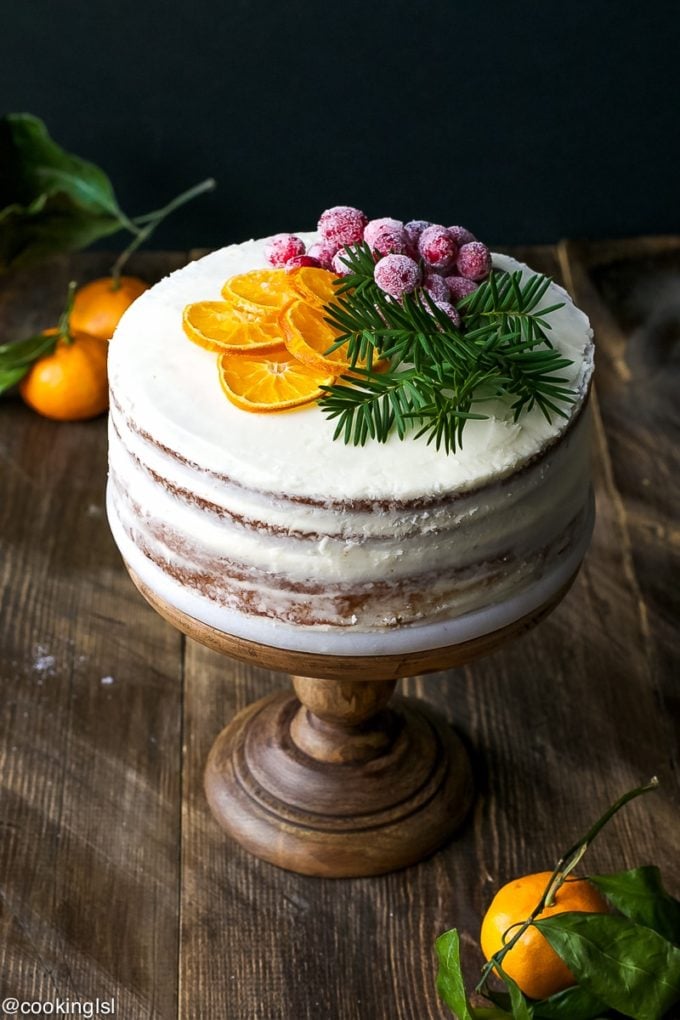 13. Classic English Lemon Posset – Pudge Factor
Lemon Posset is a Classic English dessert dating back to the Middle Ages. The modern version is chilled, with a velvety smooth texture that magically congeals with only three ingredients – cream, sugar, and lemon.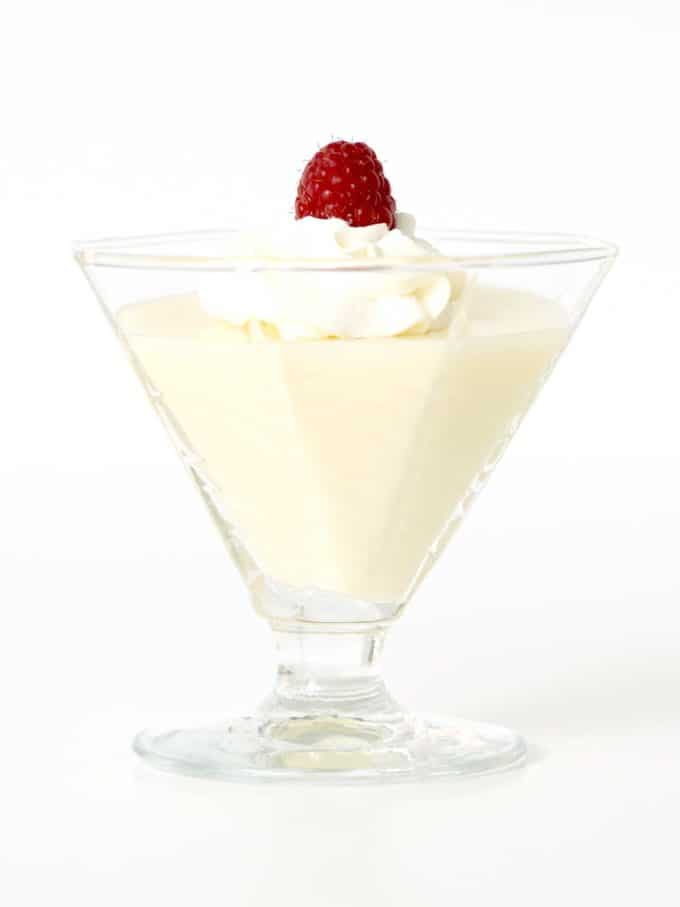 14. Ultimate Upside Down Cranberry Cake – Grits and Pinecones
This recipe for exceptionally moist Cranberry Upside-Down Cake, topped with luscious deep garnet cranberries, is a unique twist on the more familiar pineapple upside-down cake. This quick and easy confection combines fresh fruit, orange juice, brown sugar, and cornmeal with a box mix and takes only minutes to prepare.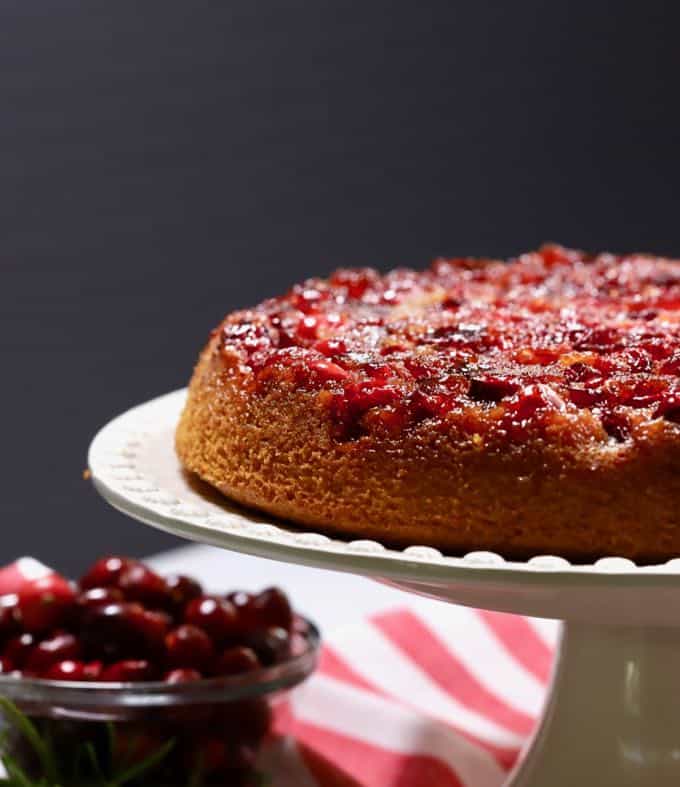 15. Strawberry Mousse Cake – Contemplating Sweets
Strawberry mousse cake is always a good option. And, just by adding these cute little Santa strawberries on top, you get a perfect Christmas cake.
16. Lemon Tart with Gingerbread Crust – Grits and Pinecones
When life gives you lemons, you need my easy Lemon Tart with Gingersnap Crust recipe. Made with Meyer Lemons, this tangy lemon tart with its crisp, spicy gingersnap cookie crust will have your taste buds singing the Hallelujah chorus.
17. Cranberry Clafoutis with Dark Chocolate and Pecans – Rubarbarians
Easy blender recipe for Cranberry Clafoutis. Loaded up with Dark Chocolate Chunks and Pecans. The classic French custardy breakfast with a holiday spin!
18. Gingerbread Cake with Cream Cheese Frosting – Liv for Cake
This Gingerbread Cake is perfect for the holidays! A moist and delicious ginger cake with a tangy cream cheese frosting.
Christmas Cranberry Pie with Orange Marmalade – Grits and Pinecones
Savor the flavors of fresh tart cranberries and citrusy orange marmalade as they come together in this unique and delicious Christmas Cranberry Pie. It's easy to make and incredibly delicious!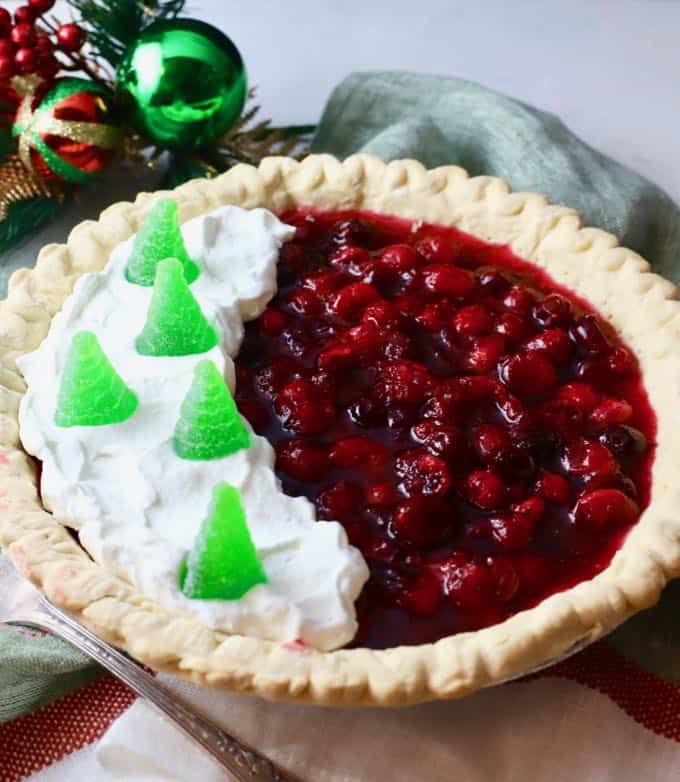 20. Candy Cane Dessert Minis – Upstate Ramblings
When it comes to the holiday season, I love things that are easy to make – and delicious, too, of course. These Candy Cane Dessert Minis are perfect because they are made with three simple ingredients!
21. Sous Vide Creme Caramel – Pudge Factor
The perfect Crème Caramel is silky smooth with a velvety texture. Sous vide is the way to achieve this perfection. It allows for precise temperature control, which is the key to producing the perfect crème caramel.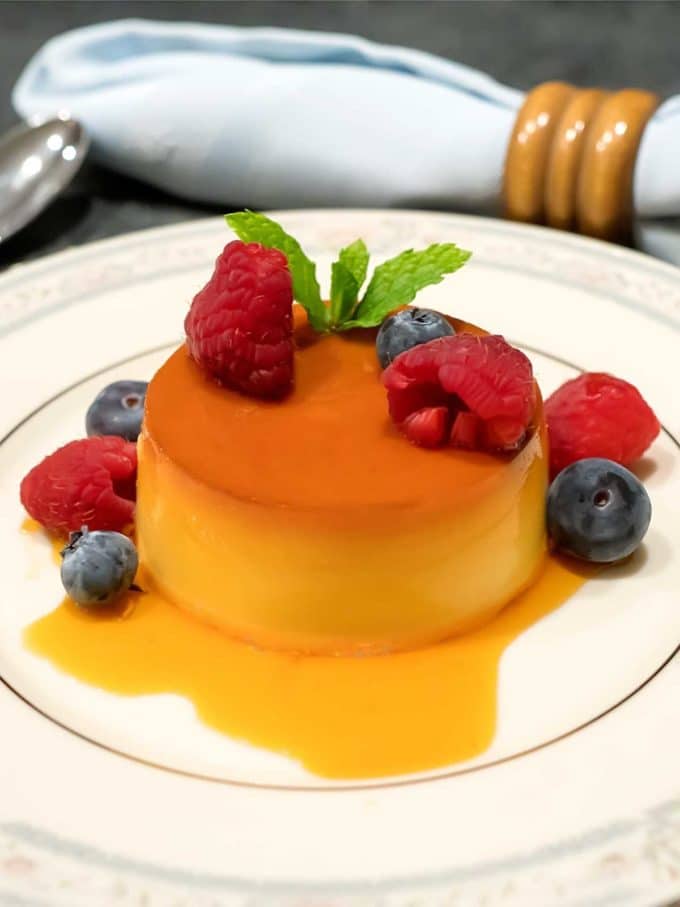 22. My Grandmother's Bourbon Balls – The Seasoned Mom
Add a fun and festive Christmas cookie to your holiday trays! My Grandmother was famous for her no-bake Bourbon Balls, which look like little snowballs, require only a few simple ingredients, and are spiked with just the right amount of something special!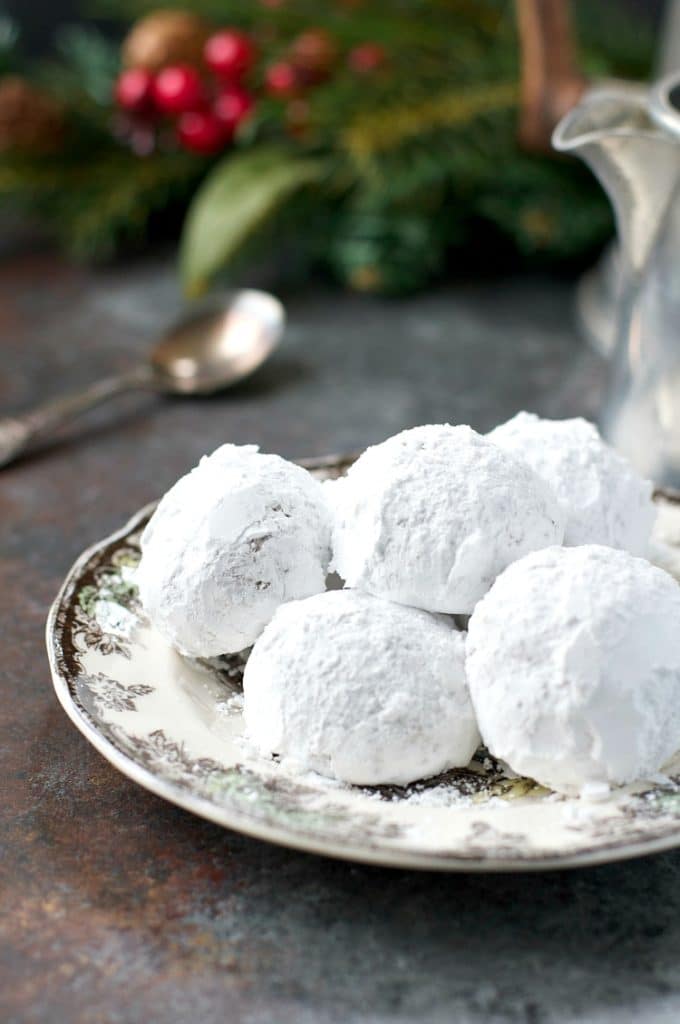 23. Eggnog Crepe Cake – La Petit Eats
This eggnog crepe cake is a show-stopping holiday dessert, with layers upon layers of delicate crepes filled with eggnog pastry cream.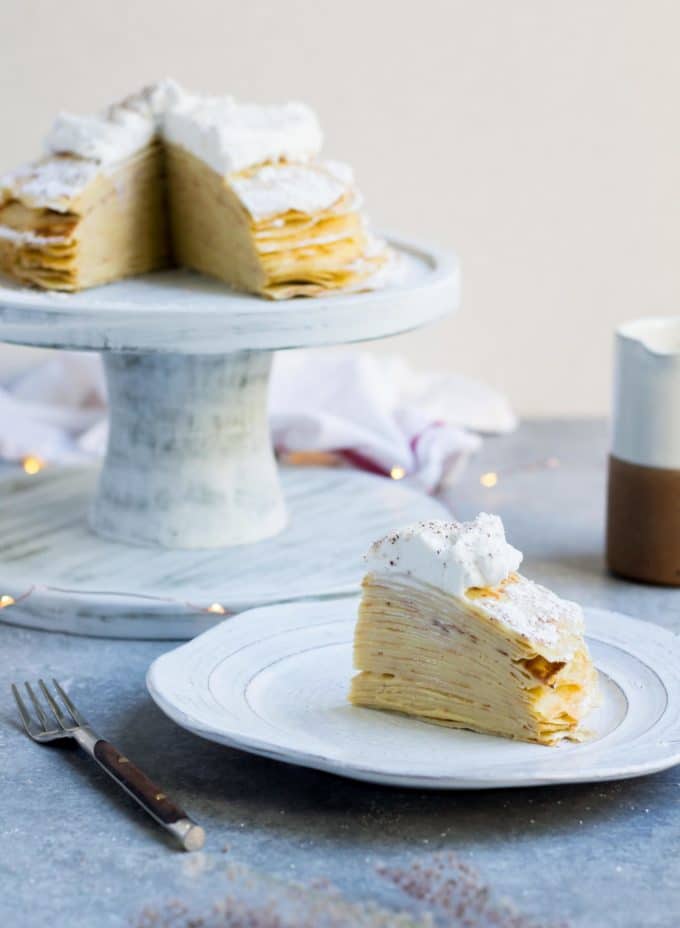 24. Red Wine Chocolate Raspberry Cake- Happy Feeds Tribe
Chocolate cake with red wine, raspberry mascarpone filling, and chocolate buttercream is so delicious you won't be able to resist another slice! There is no going back to the "ordinary" cakes once you've tried this one!
25. Amaretto Butter Cake with Pomegranate and Cream – Bacon Fatte
This beautiful butter cake would be absolutely gorgeous for the holidays, but you don't really need an excuse to make cake… Especially a butter cake. Their chunky crumb and ever-so-slightly rustic texture are perfect for everyday cravings.
You can dress them up or down – any way you like – which makes them the perfect "tradition" cake, just because.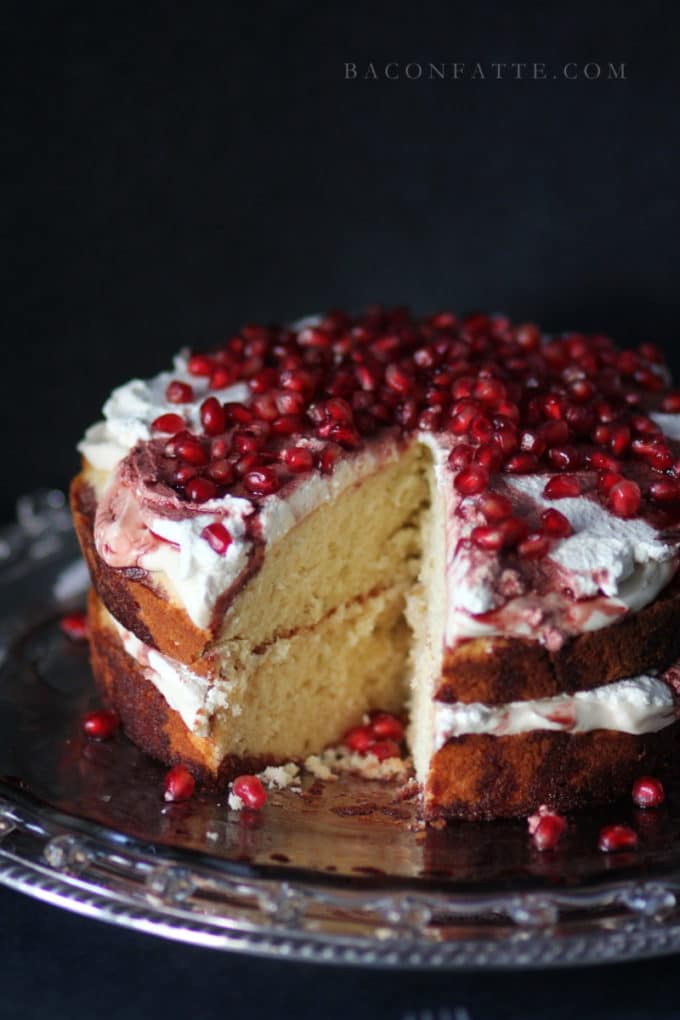 26. Dark Chocolate Mousse Pie – Just a Little Bit of Bacon
Rich and incredibly delicious, dark chocolate mousse is amazing all on its own. Pair it with a crisp cookie crust and mounds of whipped cream to top it off, and you have an impressive dessert that will be gone almost before you get a chance to put it down on the table.
27. Cranberry Orange Pie with Gingersnap Crust – Feast in Thyme
This recipe for Cranberry Orange Pie with Gingersnap Crust is luscious, sweet, and decadent to the extreme. Enjoy a slice for any occasion!
28. Festive Italian Cream Cake with Cranberry Curd and Sugared Cranberries – Her Modern Kitchen
A rustic yet festive cake to celebrate the holidays, this Italian Cream Cake with Cranberry Curd will be the star of your table, combining a light, sweet Italian Cream Cake with tart, creamy cranberry curd, and sugared cranberries.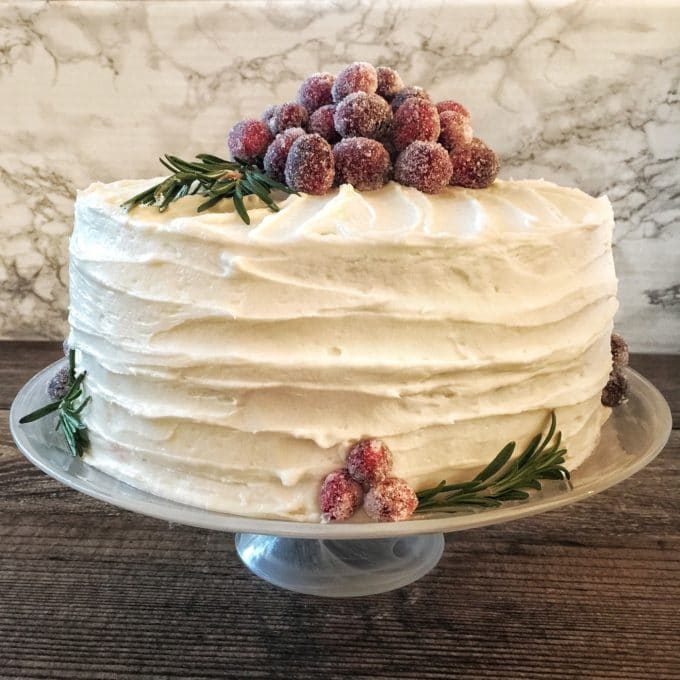 29. Reine de Saba (Julia Child's Chocolate and Almond Cake – Pudge Factor
Julia Child's famous Reine de Saba, or Chocolate Almond Cake, is an elegant dessert to serve with your holiday meals.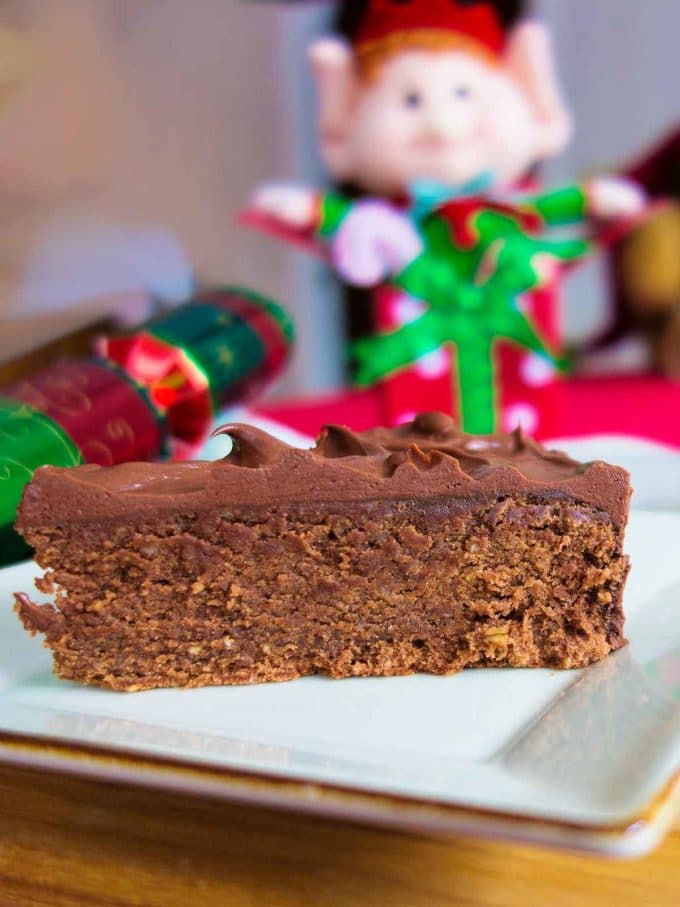 30. Gingerbread Cake with Cinnamon Cream Cheese Frosting – Supergolden Bakes
This gingerbread layer cake with cinnamon cream cheese frosting is simply perfect for Christmas celebrations! Decorate with gingerbread cookies or meringue kisses.
31. Cranberry Orange Holiday Cake – A Side of Sweet
Amazing rustic layered cranberry-orange holiday cake recipe – perfect for a Christmas wedding or a holiday party. It's easier to make than it looks!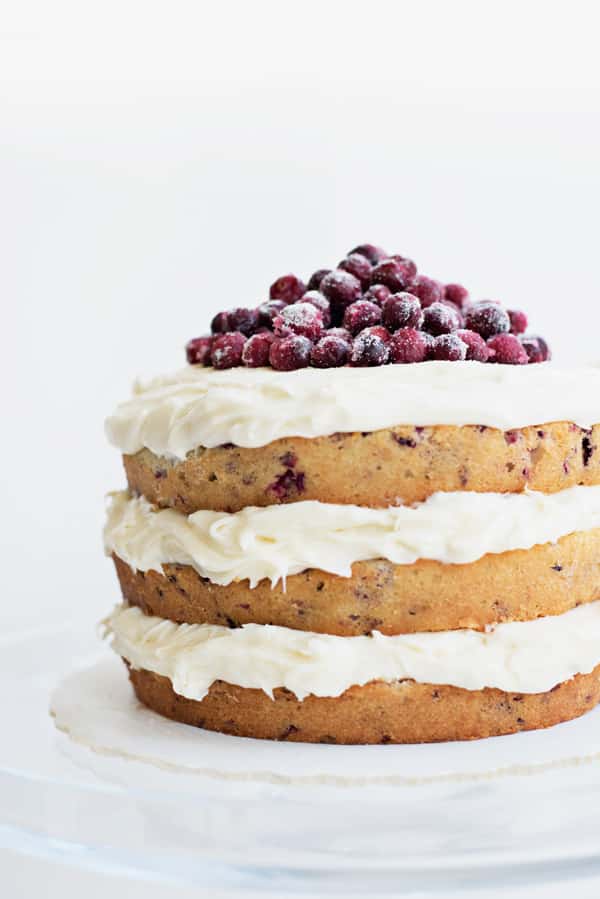 32.

Cream Sherry Bundt Cake – Nutmeg Nanny

This cream sherry bundt cake is my favorite part of the holiday season. It's super simple to make and only uses 6 ingredients! Lightly dust with powdered sugar before serving, and watch your guests fall in love with this tasty treat!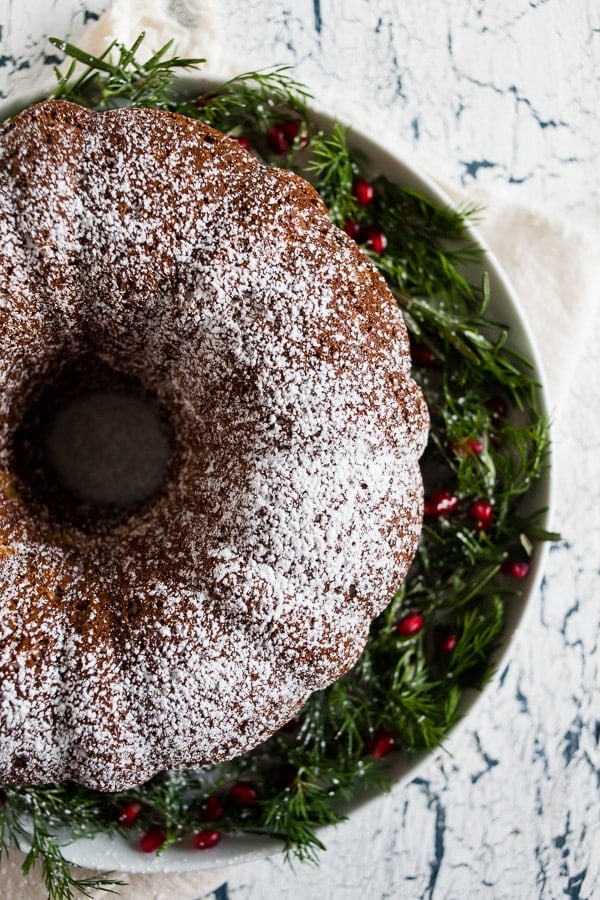 33. Christmas Jewel Squares – Lord Byron's Kitchen
Christmas Jewel Squares have it all, and they're the perfect Christmas treat!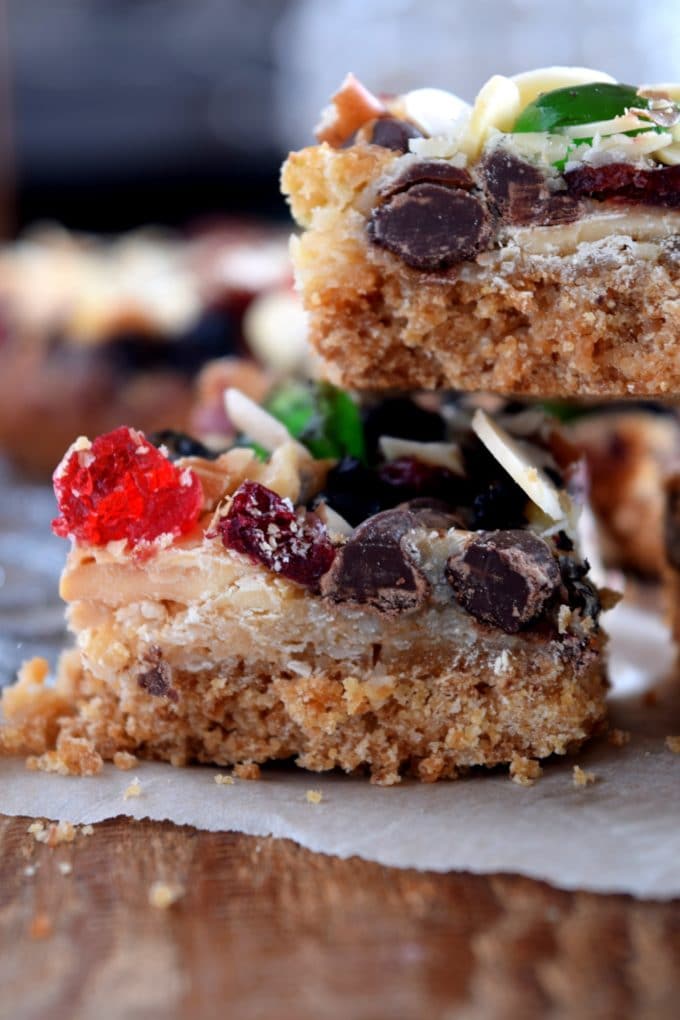 34. Easy Christmas Red Velvet Cake Trifle – Grits and Pinecones
It might be said that Easy Christmas Red Velvet Cake Trifle, with its festive candy cane colors and delicious and decadent layers, is a Christmas miracle!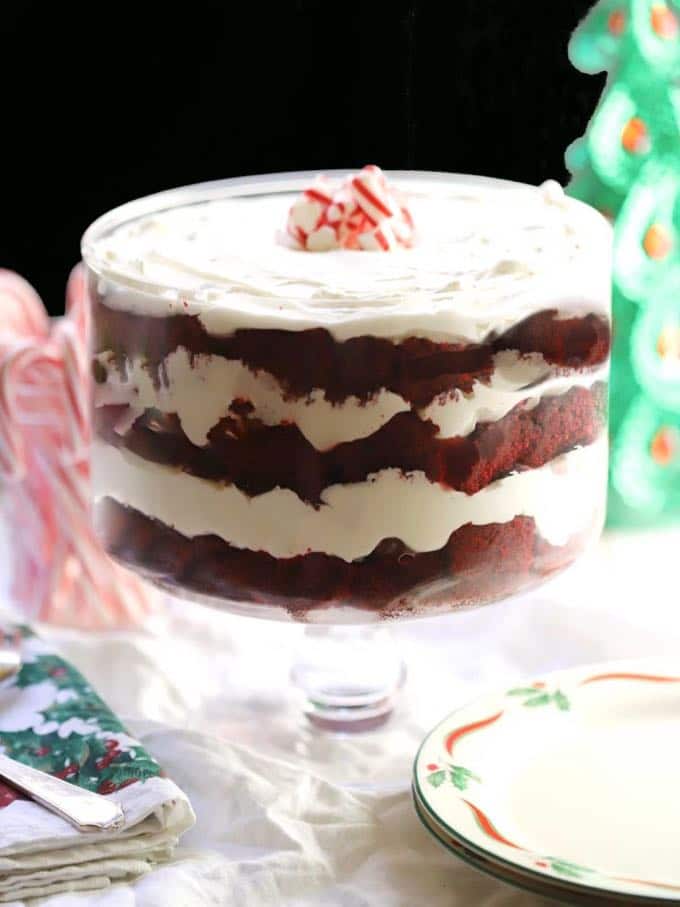 35. Christmas Cake – Preppy Kitchen
A moist and richly spiced gingerbread Christmas cake filled with and covered in silky Italian buttercream, faced with a beautiful buttercream Christmas tree.
36. Buche De Noel – Yule Log Cake – Low Carb Yum
A Buche de Noel yule log cake that is both low-carb and gluten-free. So delicious holiday guests will never know it's a sugar-free, low-carb dessert!
Frequently Asked Questions:
What are the most popular Christmas desserts in America?
The answer is it depends on where you live. Cheesecake seems to be the most popular, followed by assorted peppermint desserts and then red velvet cake.
What's the most well-known traditional Christmas dessert?
It would have to be a yule log, which is a rolled cake decorated to look like a log to symbolize the tradition of burning a yule log on Christmas.
What are some other traditional Christmas desserts which are popular in Europe?
Christmas Pudding, English Trifle, and Sticky Pudding are popular in Britain. Panettone is popular in Italy, and Christmas Stolen is popular in Germany.
What's the best Christmas dessert to bring to a potluck or to dinner away from home?
You want to choose a dessert that travels well, doesn't have to be refrigerated, and can be served at room temperature. A bundt cake, gingerbread cookies, or bourbon balls would all be good choices.
More Christmas recipe collections:
If you need more ideas or recipes, here is a link to all of my popular Christmas recipes
Aren't these Christmas desserts fabulous? I hope that your only problem will be deciding which of these decadent and delicious confections you will make first!
If you make any of these recipes, please leave a comment and let me know which ones you made and which are your favorites.
Thanks so much for visiting Grits and Pinecones!