'Tis the season for the sweetest of tidings and the merriest of memories! Celebrate the holidays with my collection of Twenty-Nine of the Best Christmas Dessert Recipes ever! Incredibility festive, these scrumptious Christmas desserts are perfect for your holiday entertaining, whether you are throwing a big lavish party or simply making a special dinner for family or friends.
This collection of 29 Best Christmas Desserts includes everything from traditional Christmas desserts to easy desserts for a crowd, plus everything in between. I have spent hours combing through hundreds of holiday dessert recipes from top bloggers searching for the best of the best, and here they are, my Christmas gift to you!
So grab a cup of coffee, curl up on the couch and prepare to have "visions of sugar plums dancing in your head…"
I have the perfect quick and merry Easy No-Bake Cranberry Cheesecake recipe for you today. Loaded with fresh cranberries and luscious cream cheese, this delicious and decadent make-ahead cranberry cheesecake is perfect for the holidays and would look spectacular on your Christmas dessert table.
This Gingerbread Cake is perfect for the Holidays! A moist and delicious ginger cake with a tangy cream cheese frosting.
Strawberry mousse cake is always a good option. And, just by adding these cute little Santa strawberries on top, you get a perfect Christmas cake.
Candy cane ice cream pie is a festive holiday dessert that is so easy to make! A chocolate cookie crust holds creamy candy cane ice cream, hot fudge, and crushed candy canes.
It might be said that Easy Christmas Red Velvet Cake Trifle with its festive candy cane colors and delicious and decadent layers is a Christmas miracle!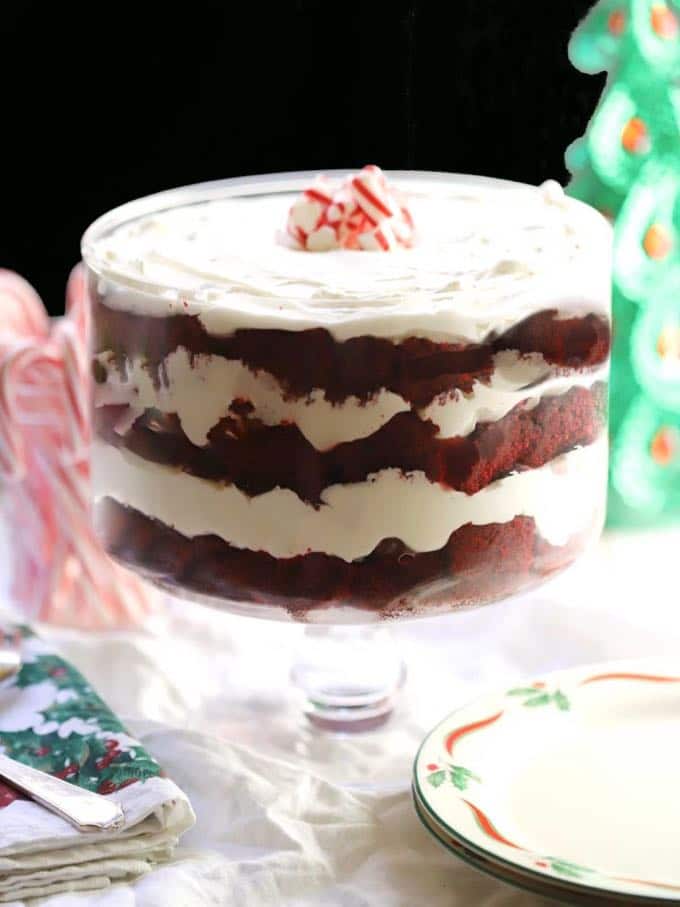 This is amazing cake features 2 chocolate cakes, a peanut butter cheesecake all covered in peanut butter buttercream and drizzled with chocolate ganache. The ultimate dessert.
Trifle is a classic English dessert, with layers of pound cake, custard, fresh fruit, and whipped cream. This holiday trifle uses raspberries and poached pears, making it as delicious as it is beautiful.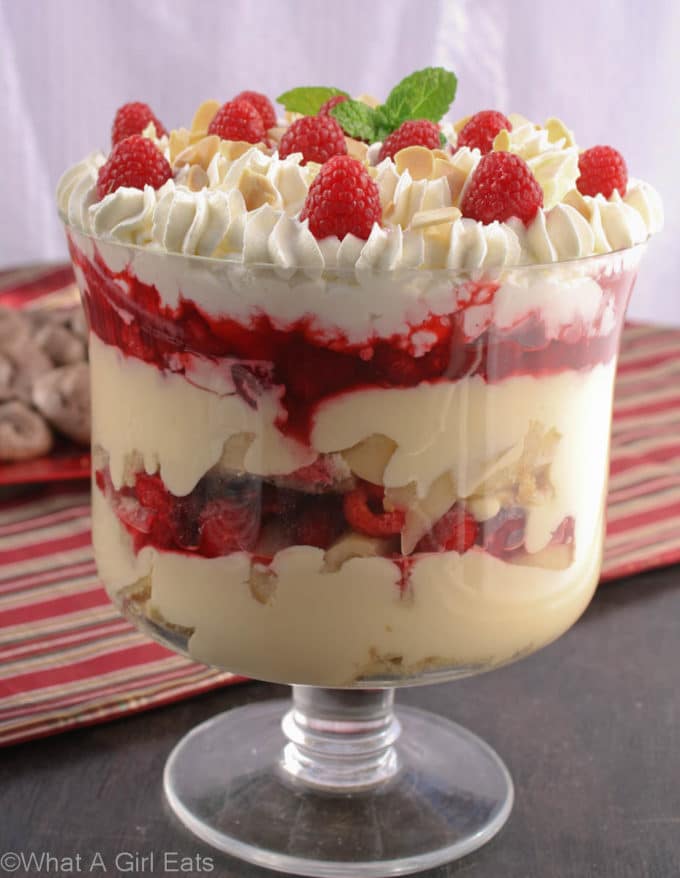 Real ingredients make holiday foods better. This fresh cranberry cake recipe is an example of that. The cranberry sour cream bundt cake features fresh cranberries and organic sour cream & butter.
'Tis the season, and I have a scrumptious make-ahead holiday dessert for you today! Southern Pecan Praline Cheesecake is everything a cheesecake should be and includes a delicious and decadent pecan praline topping.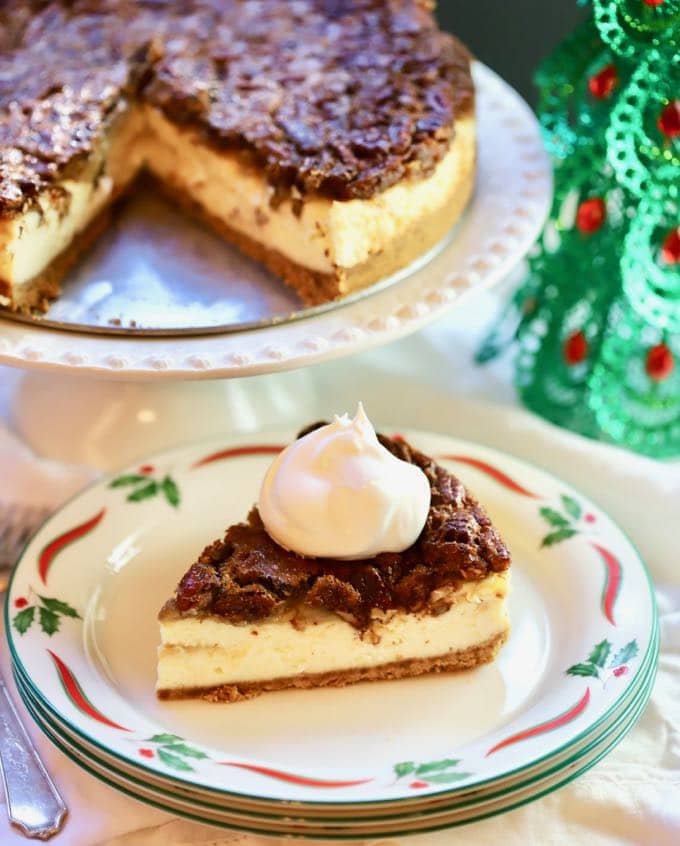 Lemon Posset is a Classic English dessert dating back to the Middle Ages. The modern version is chilled, with a velvety smooth texture that magically congeals with only three ingredients – cream, sugar, and lemon. Unlike Lady Macbeth who drugged King Duncan's guards with poisoned posset, you can WOW your guests with this simple to make and elegant dessert.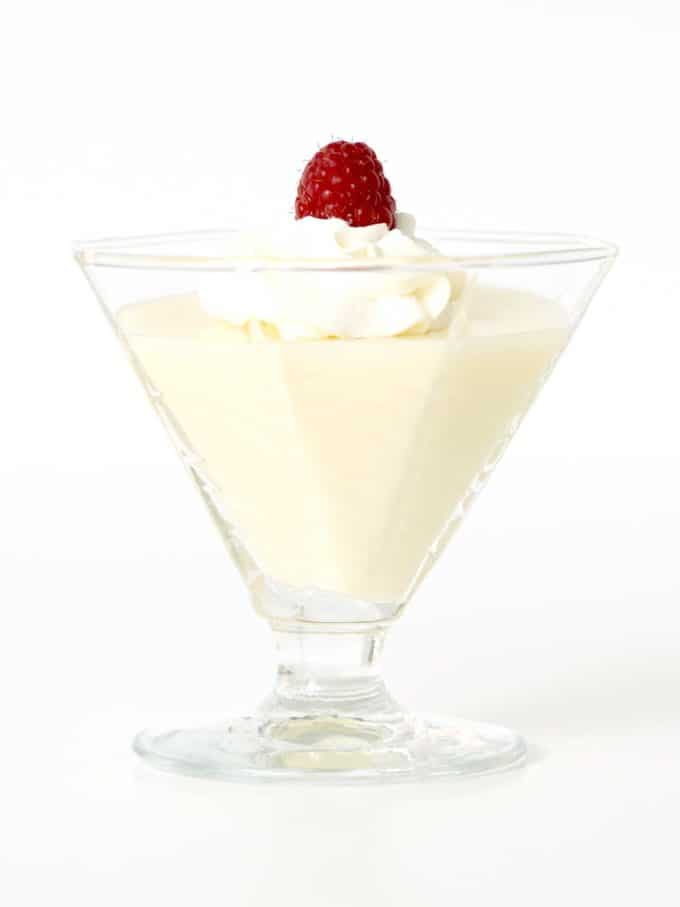 This decadent chocolate cake features a whipped buttercream and easy to make chocolate leaves and would be a showstopping Christmas dessert!
Easy blender recipe for Cranberry Clafoutis. Loaded up with Dark Chocolate Chunks and Pecans. The classic French custardy breakfast, with a holiday spin!
A Buche de Noel yule log cake that is both low carb and gluten-free. So delicious, holiday guests will never know it's a sugar-free low carb dessert!
When it comes to the holiday season I love things that are easy to make – and delicious too of course. These Candy Cane Dessert Minis are perfect because they are made with three simple ingredients!
The perfect Crème Caramel is silky smooth with a velvety texture. Sous vide is the way to achieve this perfection. It allows for precise temperature control which is the key to producing the perfect crème caramel.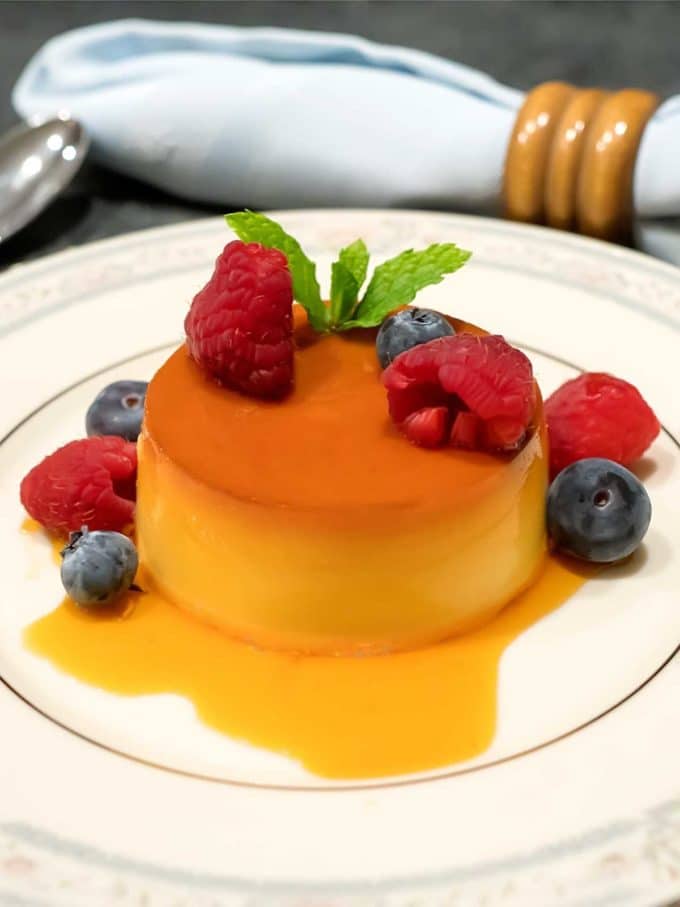 Add a fun and festive Christmas cookie to your holiday trays! My Grandmother was famous for her no-bake Bourbon Balls, which look like little snowballs, require only a few simple ingredients, and are spiked with just the right amount of something special!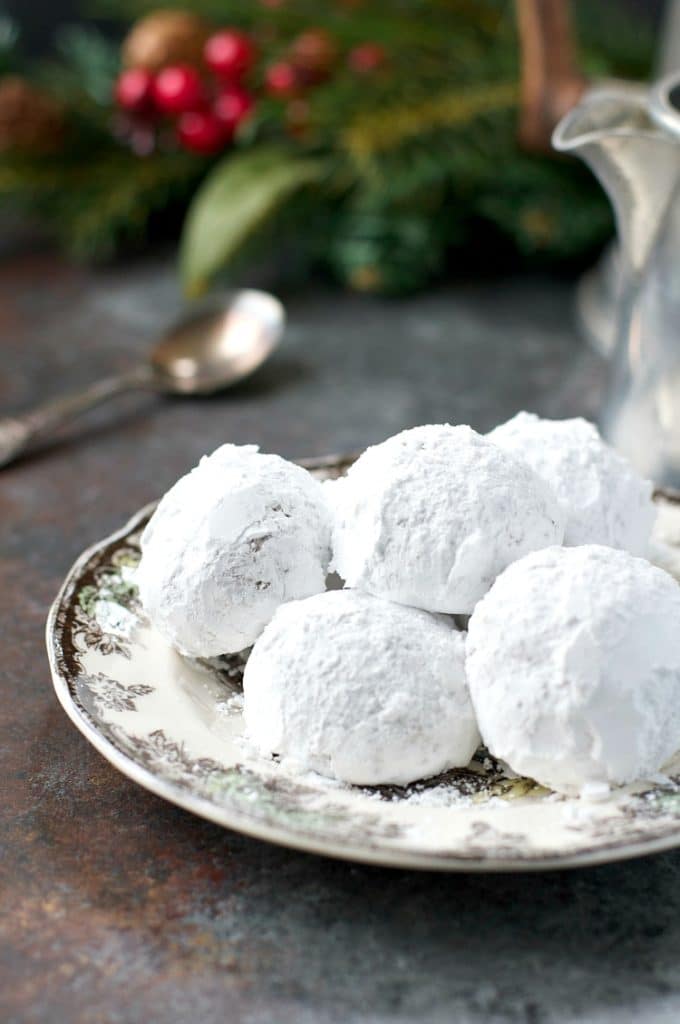 This eggnog crepe cake is a show-stopping holiday dessert, with layers upon layers of delicate crepes filled with eggnog pastry cream.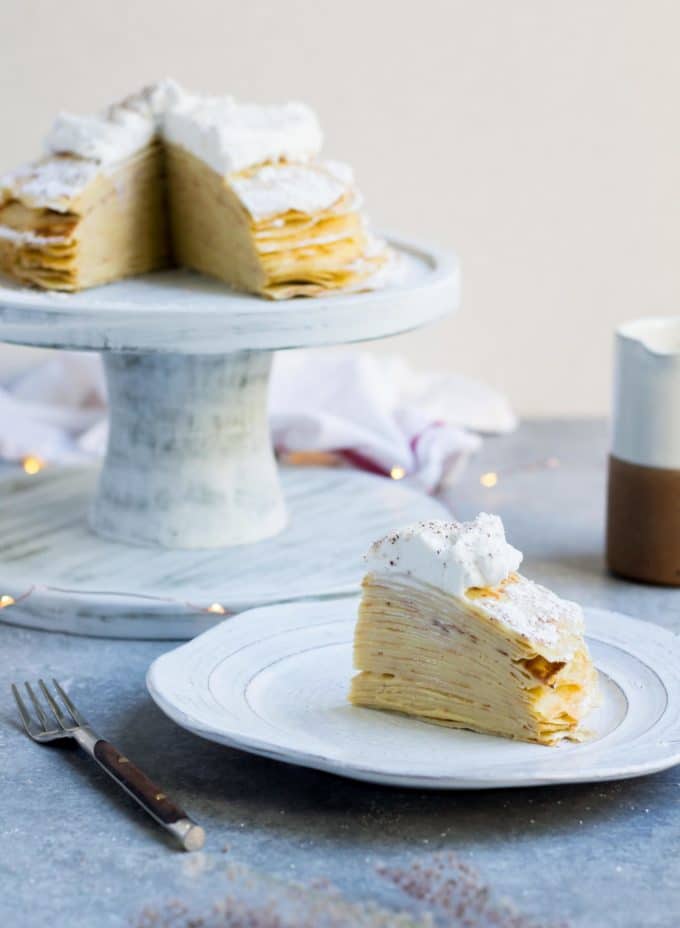 Chocolate cake with red wine, raspberry mascarpone filling, and chocolate buttercream is so delicious you won't be able to resist another slice! There is no going back to the "ordinary" cakes once you've tried this one!
Hope you will try this recipe soon, too. This beautiful butter cake would be absolutely gorgeous for the holidays, Valentine's Day, or a special Anniversary, but you don't really need an excuse to make cake… Especially a butter cake. Their chunky crumb and ever-so-slightly rustic texture are perfect for everyday cravings. You can dress them up or down – any way you like – which makes them the perfect "tradition" cake, just because.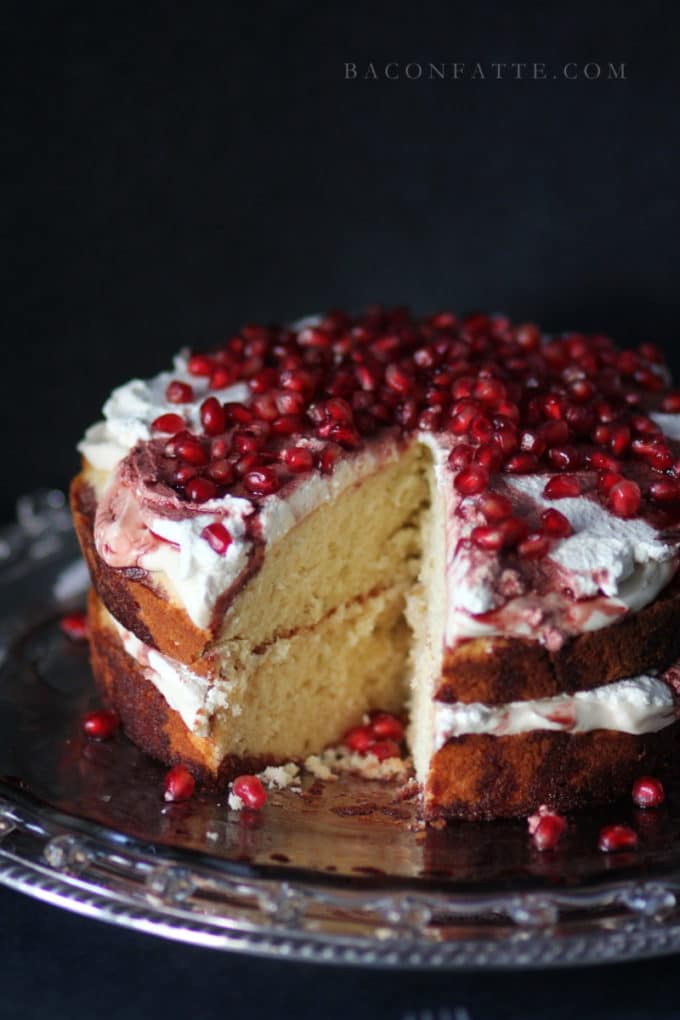 Rich and incredibly delicious, dark chocolate mousse is amazing all on its own. Pair it with a crisp cookie crust and mounds of whipped cream to top it off and you have an impressive dessert that will be gone almost before you get a chance to put it down on the table.
This recipe for Cranberry Orange Pie with Gingersnap Crust is luscious, sweet, and decadent to the extreme. Enjoy a slice for any occasion!
Flavorful and tangerine cake layers, covered with a thin layer of tangerine curd, with sweet cream cheese frosting. These winter flavors come together perfectly in a beautiful cake. Topped with sugared cranberries and candied oranges for the ultimate holiday look!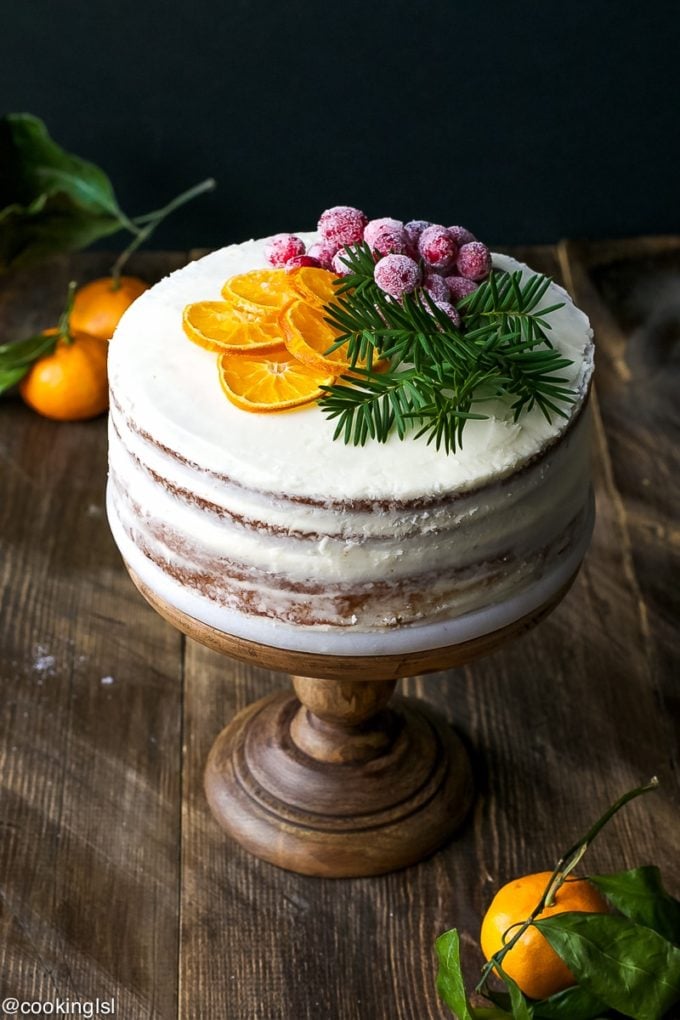 A rustic yet festive cake to celebrate the holidays, this Italian Cream Cake with Cranberry Curd will be the star of your table, combining a light, sweet Italian Cream Cake with a tart, creamy cranberry curd, and sugared cranberries.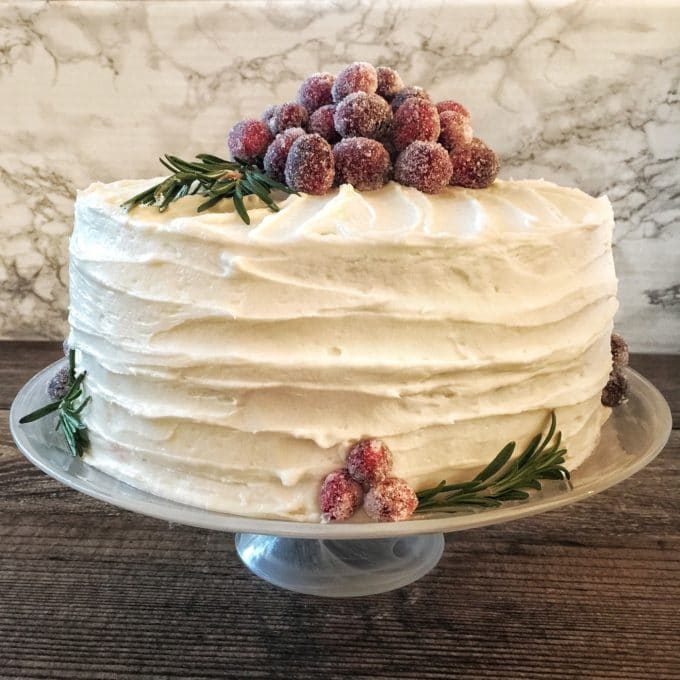 Julia Child's famous Reine de Saba or Chocolate Almond Cake is an elegant dessert to serve with your holiday meals.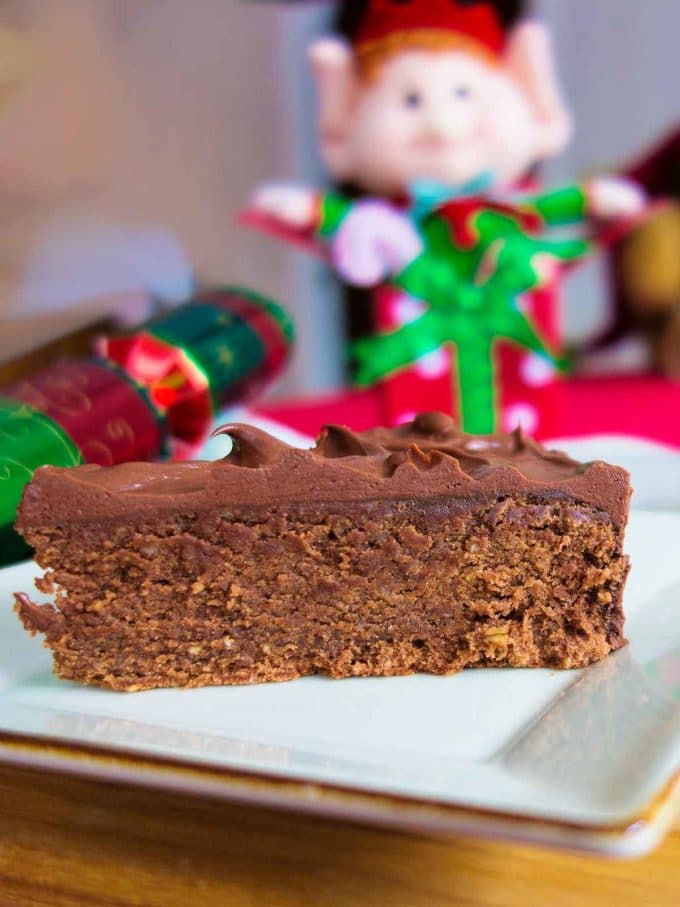 This gingerbread layer cake with cinnamon cream cheese frosting is simply perfect for Christmas celebrations! Decorate with gingerbread cookies or meringue kisses.
Amazing rustic layered cranberry orange holiday cake recipe – perfect for a Christmas wedding or a holiday party. It's easier to make than it looks!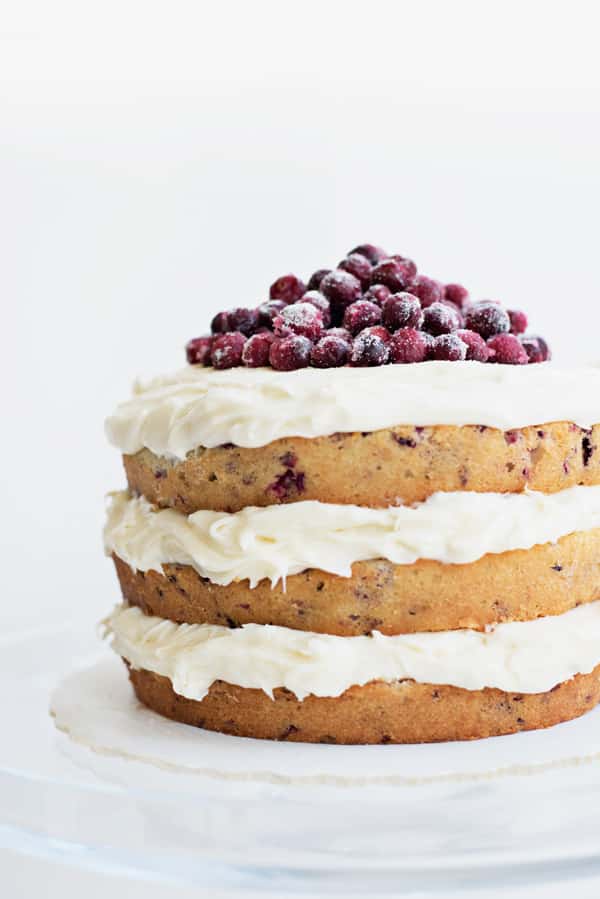 This traditional English trifle is a layered dessert made with ladyfingers soaked in sherry, fresh berries, vanilla pudding, and fresh whipped cream. The combination of these flavors and textures will blow you away!
This cream sherry bundt cake is my favorite part of the holiday season. It's super simple to make and only uses 6 ingredients! Lightly dust with powdered sugar before serving and watch your guests fall in love with this tasty treat!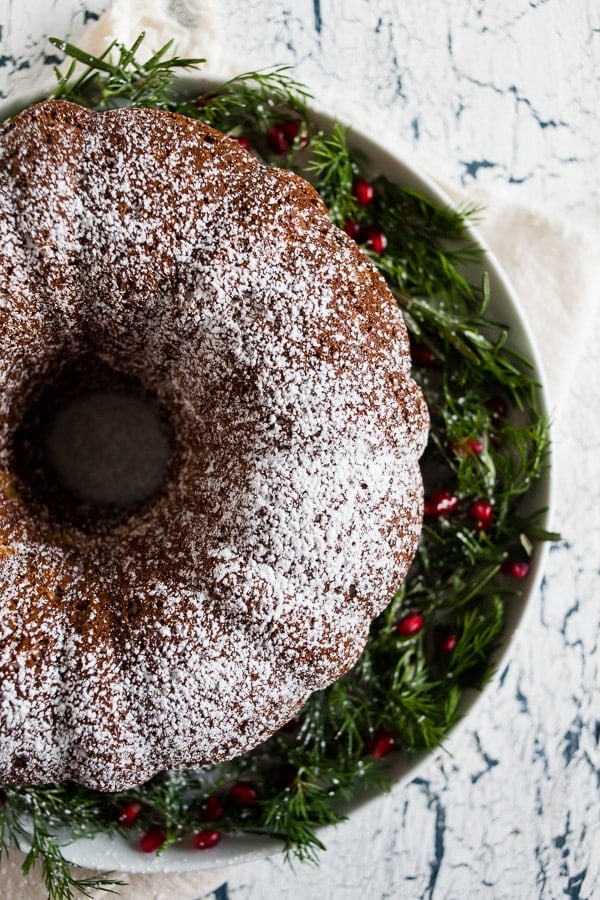 Christmas Jewel Squares have it all and they're the perfect Christmas treat!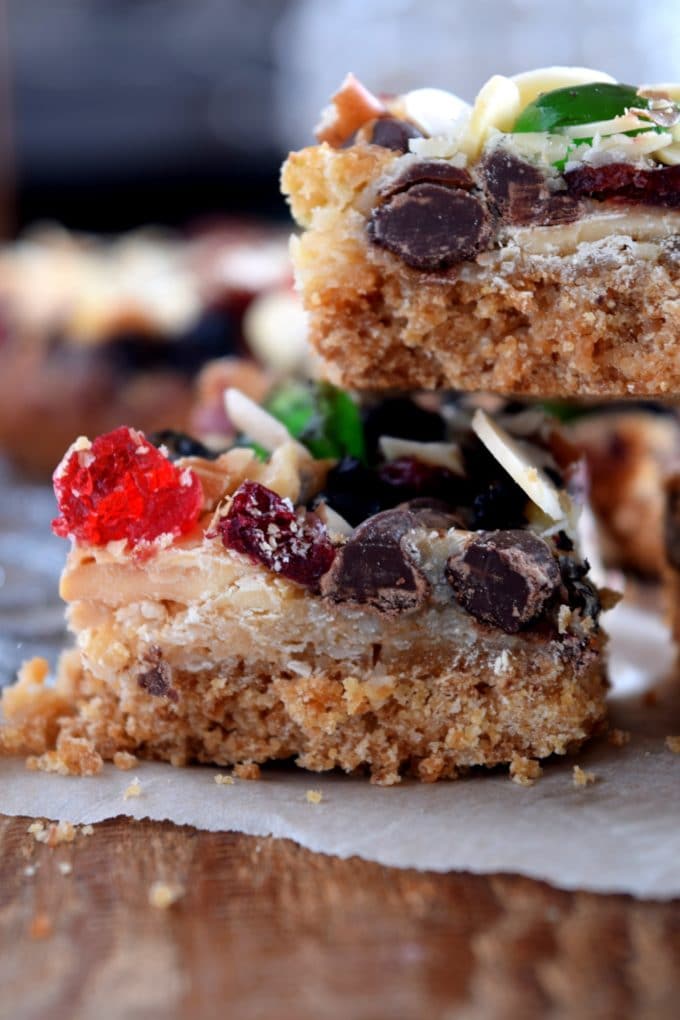 Have you ever seen anything as sweet as this Gingerbread Cake with Cream Cheese Icing? With powerful notes of spicy ginger, molasses, warm cinnamon, and cloves, this easy, old-fashioned, moist cake will fill you with nostalgia and memories of past Christmases.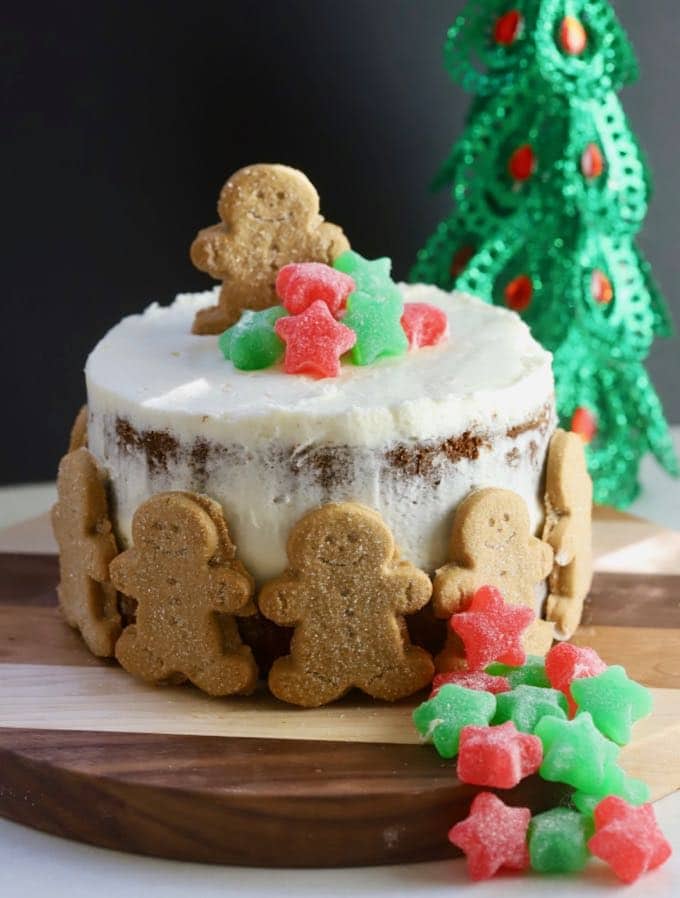 A beautiful and festive dessert, Easy Cranberry Cake with Hard Sauce will make a unique sweet ending for your Christmas meal. Full of fresh tart cranberries, this cake has it all; the colors of the season, a winning combination of flavors and textures, and the creamy, blissful yumminess of a decadent hard sauce.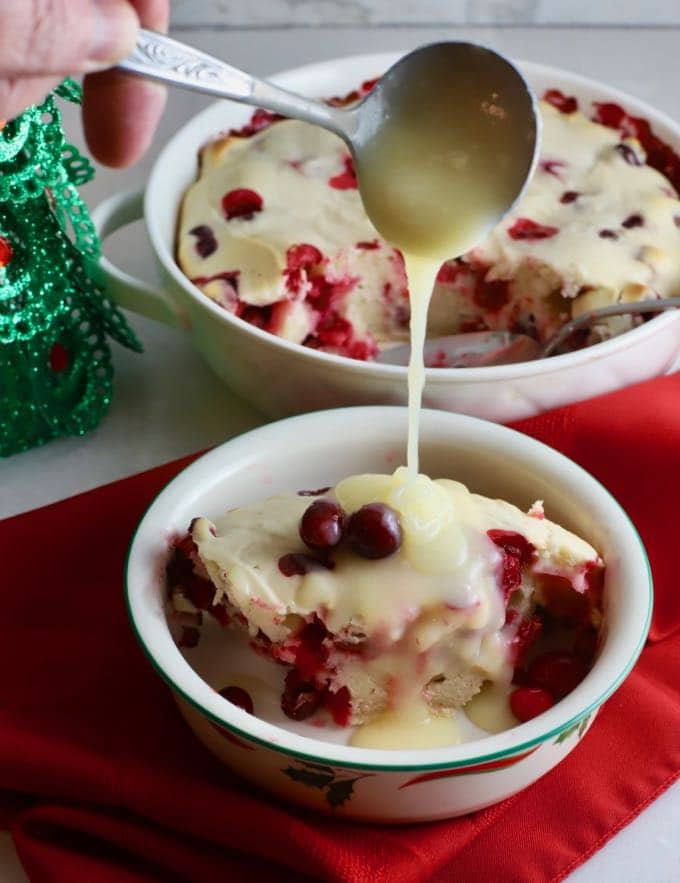 All wrapped up like a present with crushed candy canes, Easy Chocolate Peppermint Whoopie Pies are a Christmas dream come true for chocolate cookie lovers of all ages!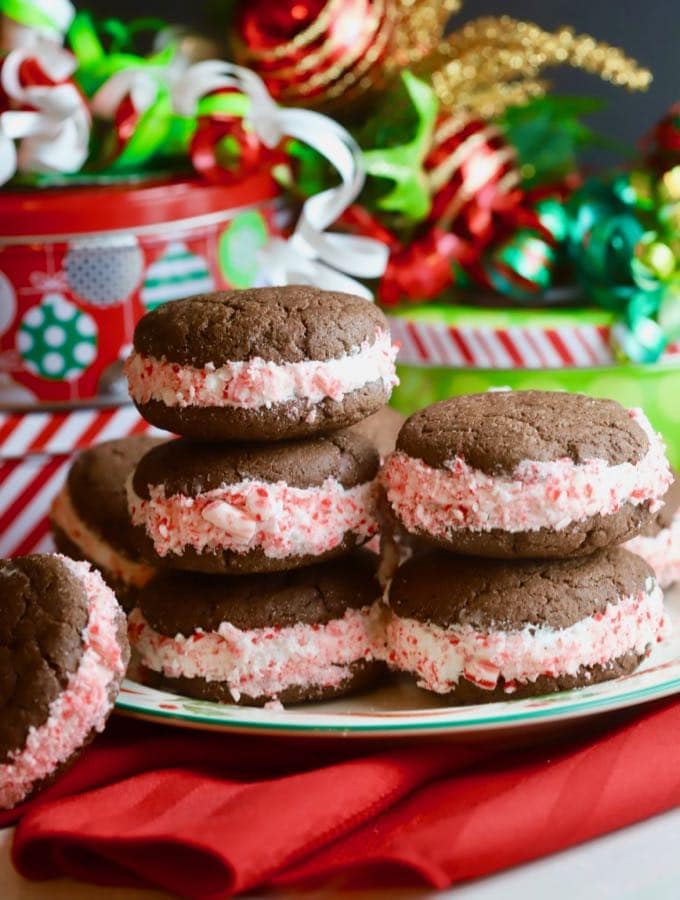 Aren't these Christmas desserts fabulous? My hope is that your only problem will be deciding which of these decadent and delicious confections you will make first!
If you make any of these recipes, please be sure to rate it and leave a comment. I love hearing from you! Also, please follow me on Pinterest, Facebook, and Instagram.
To be the first to receive notifications of new recipes by email enter your email address here or in the Subscribe box.
Thank you so much for visiting Grits and Pinecones!