Make this Christmas the most delicious ever with these 30 easy and elegant Christmas Dinner menu ideas and recipes. From appetizers to desserts and everything in between, these incredible dishes are as special as the holidays!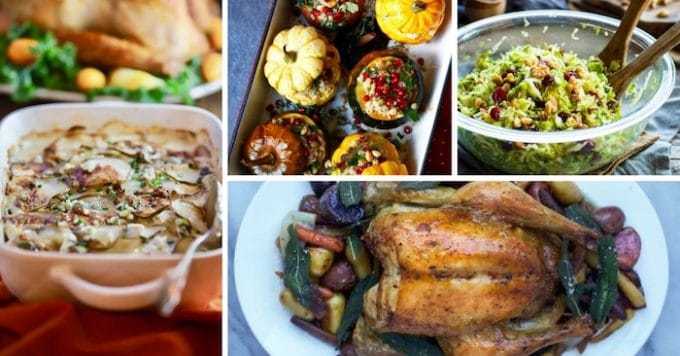 Perfect Beef Tenderloin with Gorgonzola Sauce – Grits and Pinecones
Nothing says the holidays like a showstopping, melt-in-your-mouth, Perfect Beef Tenderloin with Gorgonzola Sauce. This elegant and impressive, oven roasted dish is a classic entree for Christmas Dinner or makes a great appetizer for a holiday or New Year's Eve party. Check out the easy recipe, it's a must try!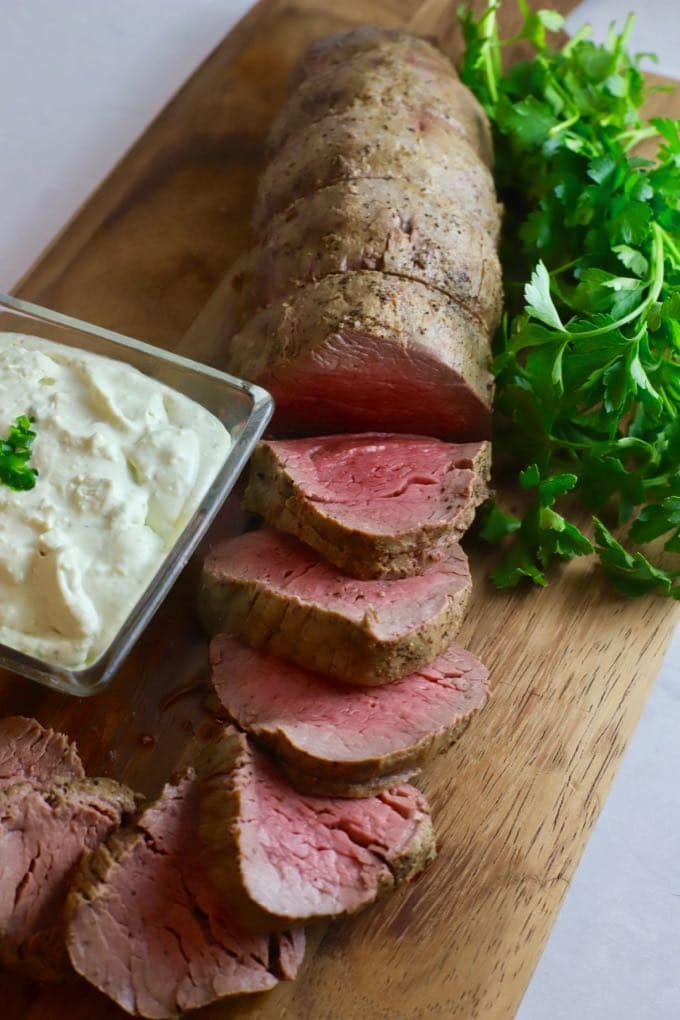 Cranberry Cake with Hard Sauce
Looking for Christmas dinner ideas? A beautiful and festive dessert, Easy Cranberry Cake with Hard Sauce will make a unique sweet ending for your Christmas meal. Full of fresh tart cranberries, this cake has it all; the colors of the season, a winning combination of flavors and textures, and the creamy, blissful yumminess of a decadent hard sauce.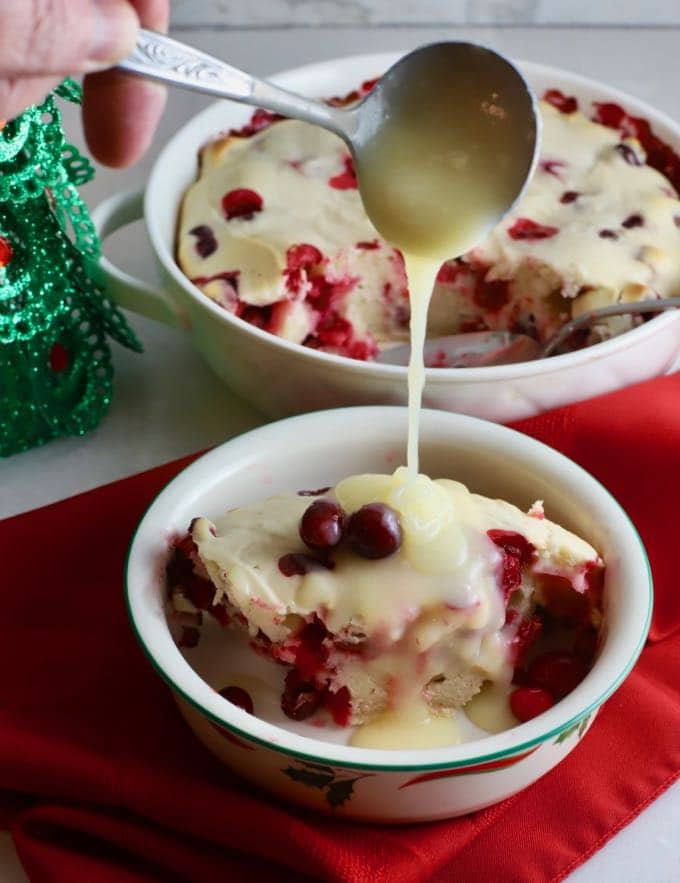 Crown Roast of Pork – Pudge Factor
Looking for a replacement for the traditional ham for your Christmas dinner? Try Crown Roast of Pork. It is an elegant entrée for your special holiday dinner.
Grilled Mahi Mahi in Lemon Butter Sauce – My Natural Family
This grilled Mahi Mahi recipe would be really good to cook for someone you want to impress. It would also be good for Christmas Dinner!
Delicious Whisky Ice Cream and Plum Pudding-Compass and Fork
Whisky ice cream plum pudding with butterscotch sauce is a go-to dessert at Christmas time. An easy, gluten-free and paleo recipe.
Ultimate Blue Cheese Potatoes Au Gratin – Grits and Pinecones
Are you looking for a delicious side dish for Christmas dinner or holiday entertaining? How about something just a little different from traditional mashed potatoes? Well, hold on to your Santa hat because Blue Cheese Potatoes Au Gratin will rock your world.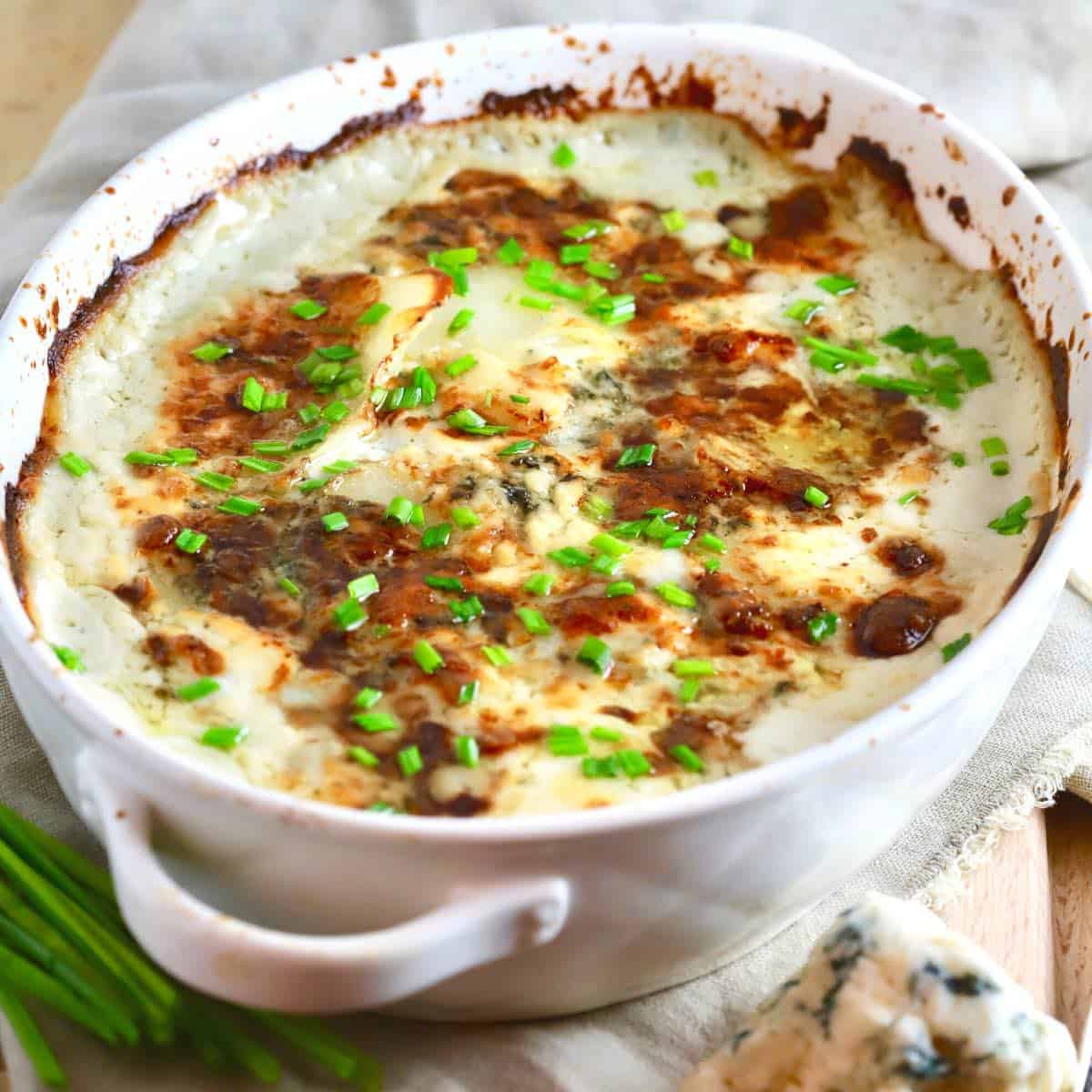 Make-Ahead Duchess Potatoes – Pudge Factor
Simple to make and elegant to serve, these Duchess Potatoes freeze beautifully for a make-ahead side dish for your Christmas or anytime feast.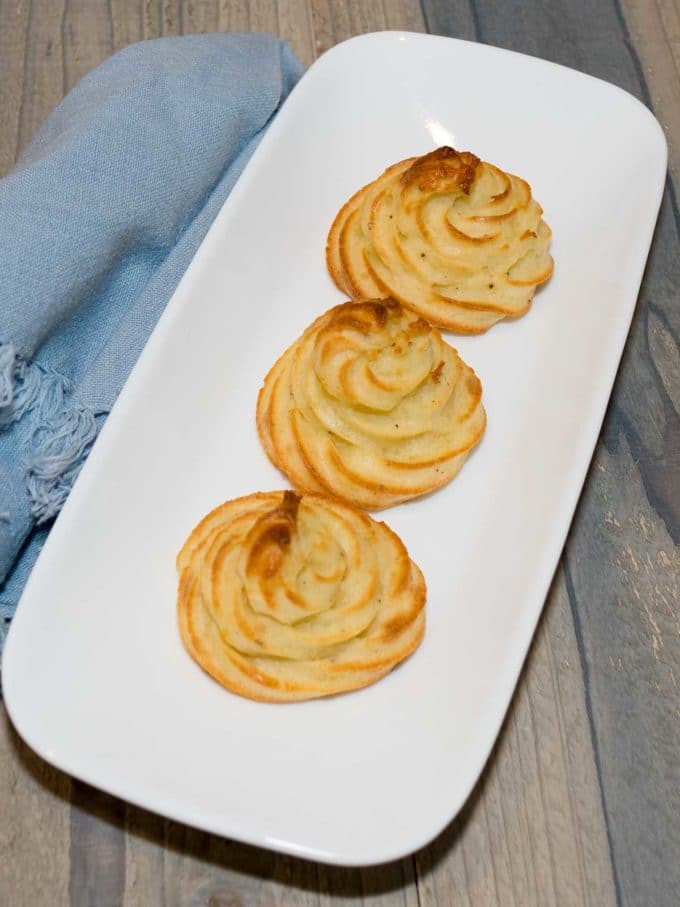 Cornish Game Hens with Cranberry Stuffing
Looking for Christmas dinner ideas? Check out Roasted Cornish Game Hens with Cranberry Stuffing. They are a delicious, elegant, and inexpensive main course for your Christmas dinner or a special dinner party!
Egg Nog Ice Cream with Hot Buttered Rum Sauce – The Merchant Baker
This ice cream is rich and very creamy, and custard-based just like the drink for which it is named. The egg yolks give it that unmistakable egg nog French vanilla color. A fresh vanilla bean steeps in the custard and leaves behind all of those telltale flecks of sweet vanilla flavor. The Rum Sauce is a buttery, rummy hot caramel sauce that works perfectly with this ice cream. If you love rum in your eggnog, then definitely add the rum and top it off with the sauce.
Baked Southern Candied Sweet Potatoes
Easy Baked Southern Candied Sweet Potato casserole features thinly sliced sweet potatoes, covered with brown sugar, cinnamon, nutmeg, and ground cloves, and then topped with sweet creamy butter and candied pecans. This easy classic Christmas casserole recipe comes together quickly and is both decadent and delicious!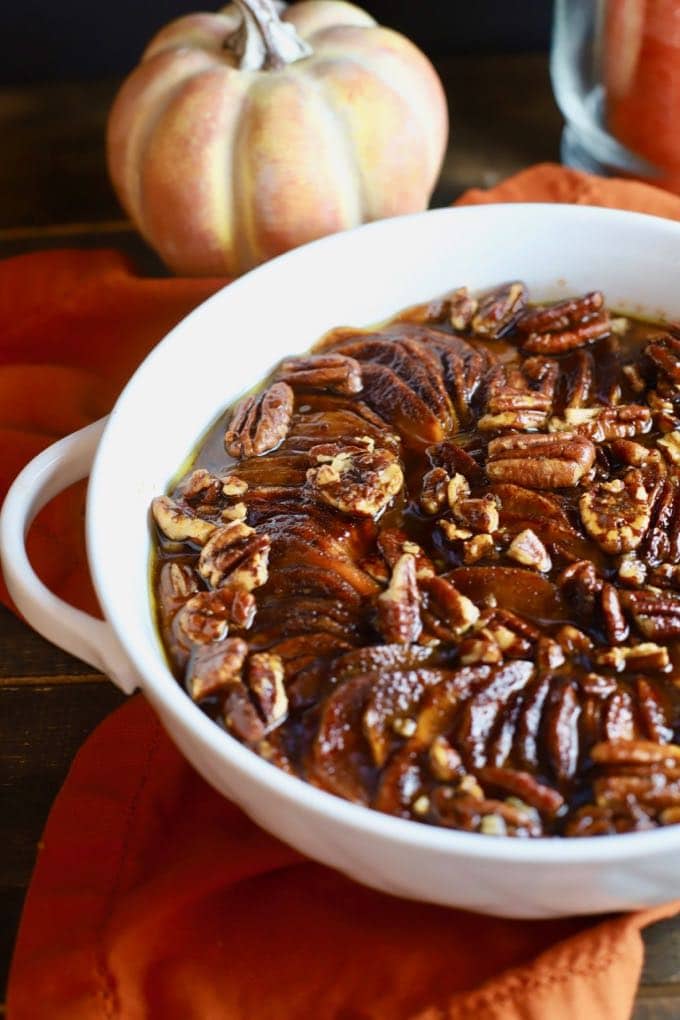 Mussels in White Wine Sauce – Happy Kitchen Rocks
Easy 10-minute recipe for a fancy and delicious dinner. Steam mussels with onion, garlic, white wine.
Champagne Roast Chicken with Grapes and Shallots – Cali Girl Cooking
We simply pour the champagne/sparkling wine all over the little chick, stuff it with lemons AND oranges, sprinkle it with salt and pepper, and pop it in the oven. It's perfect for your Christmas dinner!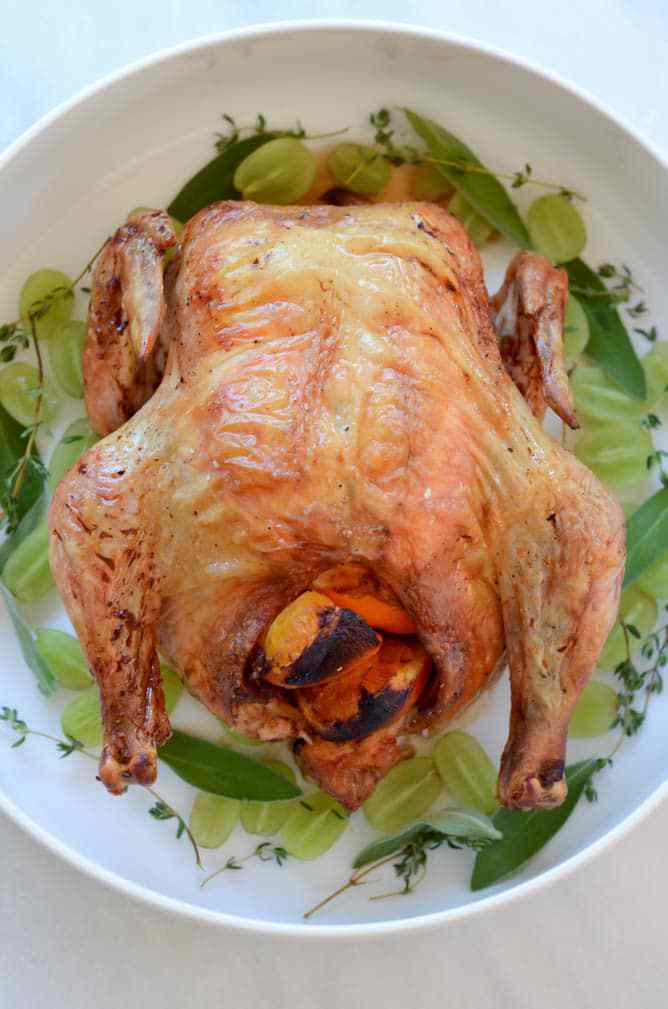 Frozen Caramel Silk Pecan Pie – Recipes Worth Repeating
This recipe is really easy to make and let me tell you when you sync your teeth into this one, you taste a silky caramel and vanilla ice cream flavor. But there is no ice cream in this one! This pie has a nice rich flavor that is not "too rich".
Easy Christmas Red Velvet Cake Trifle
It might be said that Easy Christmas Red Velvet Cake Trifle with its festive candy cane colors and delicious and decadent layers is a Christmas miracle, and if not that, it definetely wins first place for the best Christmas dinner idea!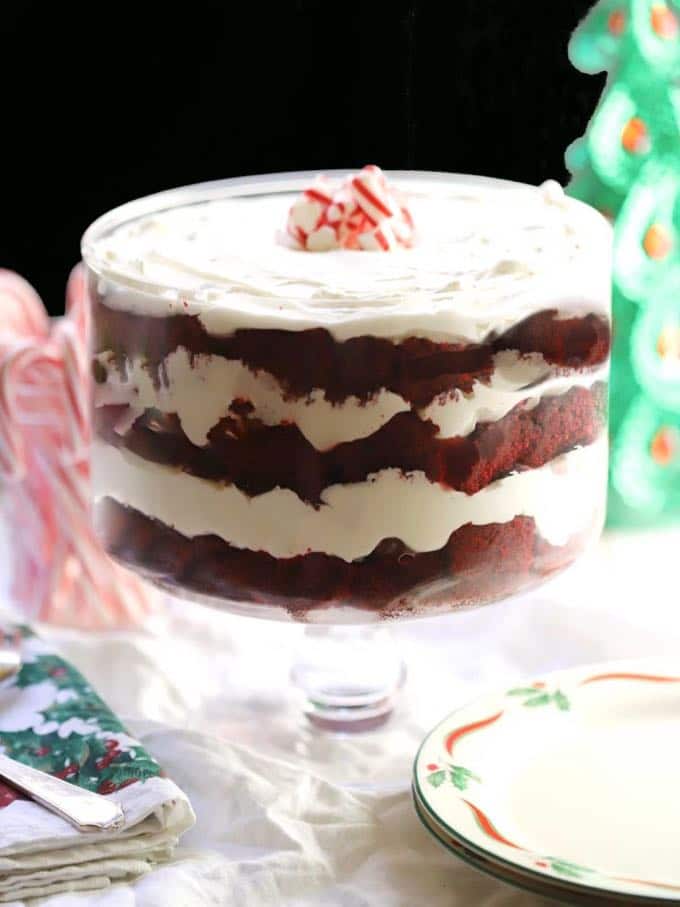 Roast Chicken with Rainbow Carrots and Crispy Sage – Feast and Fable Blog
Is this roast chicken beautiful or what!? Cue all the heart eye emojis and say HELLO Christmas. It's almost too good looking to eat – golden and crispy on the outside, tender and juicy on the inside and full of flavor from the thyme, lemon and garlic it's roasted with.
Vegan Shepard's Pie – Gluten Free – Vegan Chick Pea
If you're looking for a vegan, gluten-free or just healthier option for your Christmas table, this is it. You can even make the veggie and bean base for this the day before if you're planning a big meal and need to break up the cooking. Just pop the muffin pan back into the oven to warm up, and then broil with the addition of the potato topping before serving.
Sundried Tomato Pancetta Cornbread Stuffing – Foodie Girl Chicago
This Cornbread Stuffing puts a twist on the traditional by adding crispy pancetta and tangy sun-dried tomatoes for a delicious Christmas side dish!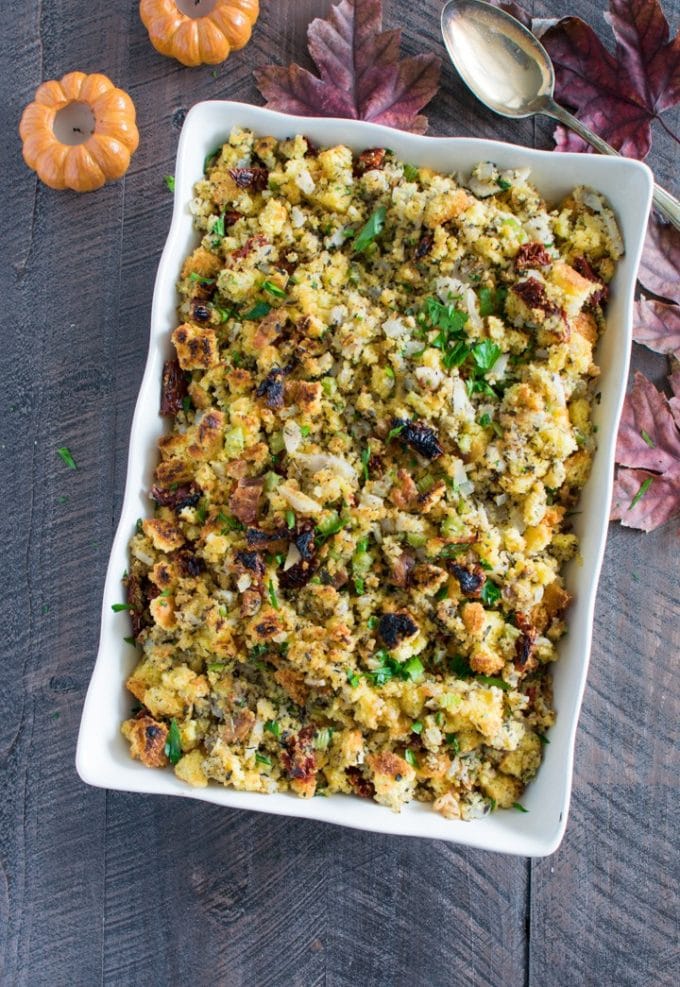 Roasted Butternut Squash with Sage – Every Day Eats
This Roasted Butternut Squash with Sage recipe features cubes of butternut squash cooked to perfection with olive oil, garlic, and fresh sage. A healthy and delicious holiday side dish that is naturally gluten-free, paleo, and vegan.
Quinoa Stuffed Squash with Walnuts and Pomegranate – Nirvana Cakery
I'm getting all festive on the blog today with this Quinoa Stuffed Squash with Walnuts and Pomegranate which is perfect for holiday season. It's a special plant-based, seasonal and super wholesome meal.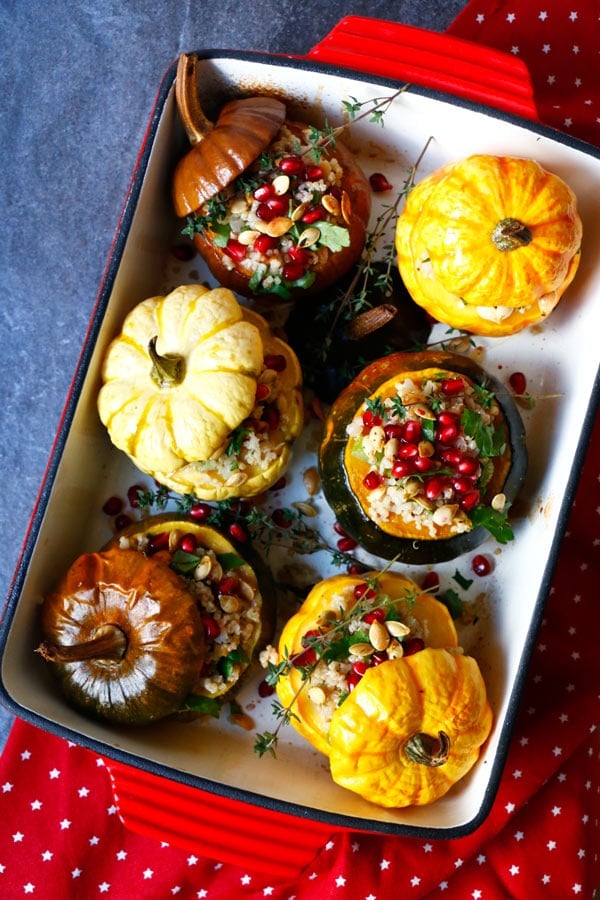 Roasted Beef Tenderloin with Onion Blue Cheese Sauce
This recipe for Roasted Beef Tenderloin with Onion Blue Cheese Sauce is the answer to your Christmas and holiday dinner prayers. Beef Tenderloins are prized for their tenderness and though expensive, when cooked in the oven are elegant, delicious, and make an impressive main dish for special occasions.
Ultimate Broccoli Cheese Casserole
When you see a recipe with the name Ultimate Broccoli Cheese Casserole you expect it to be, well, something pretty spectacular, and this delicious casserole loaded with cheesy goodness lives up to its name! It's the perfect Christmas dinner side dish.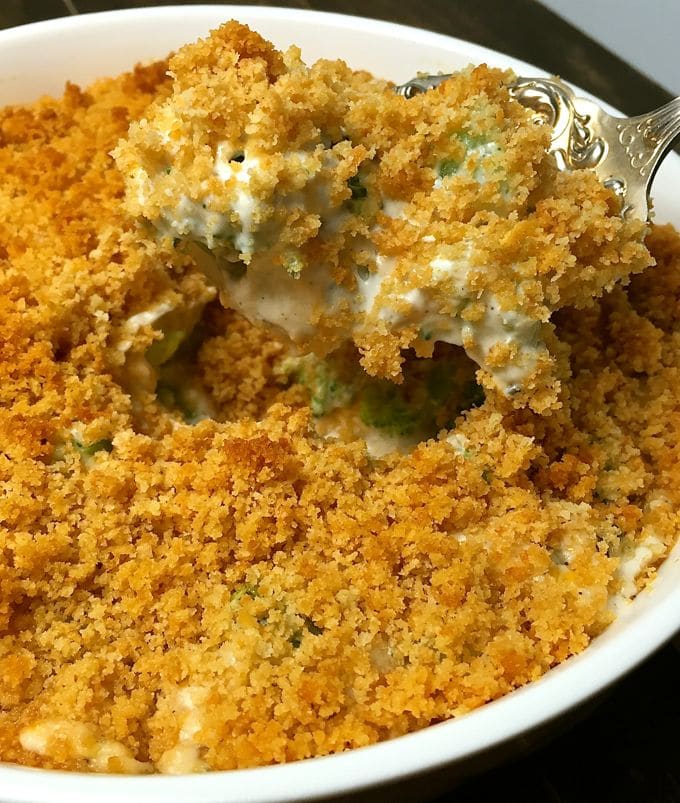 Sweet and Savory Sweet Potatoes – A Slice of KY
This recipe combines several contrasting flavors – sweet potato, salty bacon fat, savory herbs, and tangy cranberries. It may not sound like it at first, but they balance each other out perfectly. This would really make a great side dish at the holidays and doesn't take much time or effort to make.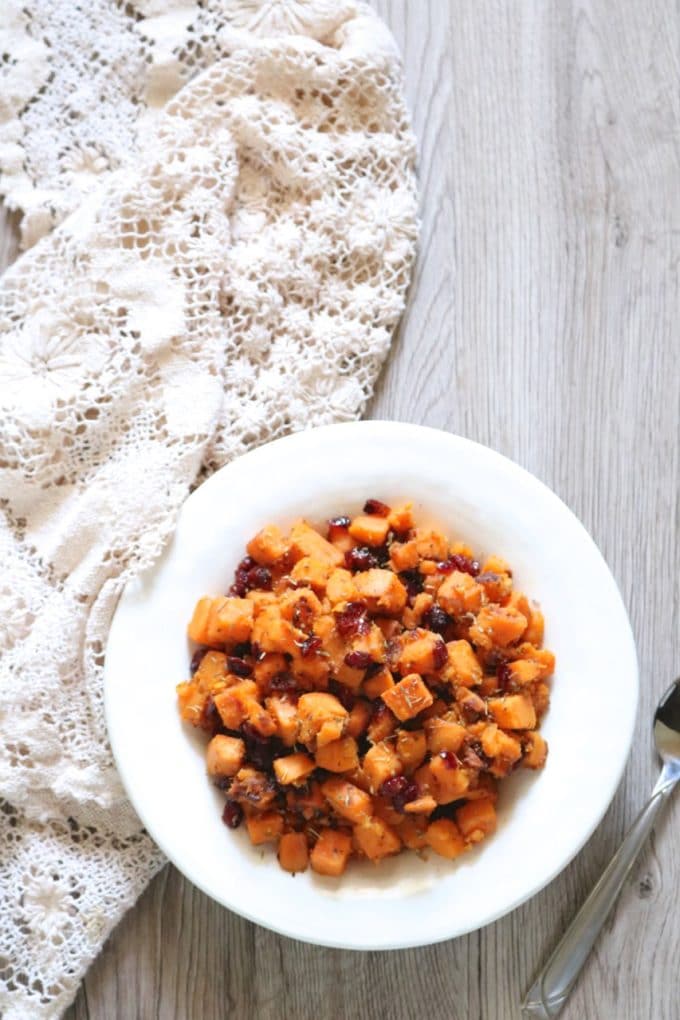 Green Bean Bundles Wrapped in Bacon
Easy delicious Green Bean Bundles Wrapped in Bacon will lend an elegant touch to your holiday dinner table. These divine little packages of tender green beans, wrapped in smoky bacon with a touch of brown sugar, are sure to be a favorite of your family and friends.
Molasses Dinner Rolls – My Modern Cookery
These Molasses Dinner Rolls are perfect for all of your holiday dinners! They're moist, fluffy and begging to be slathered with spiced butter.
Cauliflower Soup with Gingerbread Spices – Rockridge Kitchen
After you decorate your house for the Holidays and hang ornaments on your evergreen, you want to sit back and relax. And have a bit to eat. This gingerbread soup is the clear winner, keeping with the holiday spirit.
Green Salad with Grapefruit, Red and Golden Beets and Balsamic Dressing – Pass Me Some Tasty
Check out this gorgeous green salad with semi-sweet pink grapefruit tossed with raw red and golden beets, cherry tomatoes, sliced almonds, and goat cheese. Gotta have the goat cheese. So good. And then drizzled with a homemade balsamic dressing it's perfect for your holiday dining.
Roasted Acorn Squash with Pomegranate Seeds – Trial and Eater
Roasted Acorn Squash with pomegranate seeds. An easy and beautiful side dish for any dinner table.
Easy Parmesan Potatoes Au Gratin
This recipe for Easy Parmesan Potatoes Au Gratin is irresistibly delicious and the perfect special occasion side dish. With thinly sliced, tender Russet potatoes, nestled in a thick and decadent cream sauce and nutty parmesan cheese, this thoroughly indulgent side dish just might edge out your entrée and become the star of the show!
No Churn Peppermint Ice Cream – What Molly Made
No Churn Peppermint Ice cream with pieces of candy cane. Everyone will be screaming for more of this delicious and easy no churn ice cream recipe!
Grown-Up Green Been Casserole – Pudge Factor
Are you tired of the mandatory cream of mushroom soup Green Bean Casserole? If so, you should try this Grown-up Green Bean Casserole. It's easy to make and absolutely delicious! What's even better is that this Grown-up Green Bean Casserole is a cinch to make, can be made ahead of time, and reheats beautifully.
Skillet New York Strip Roast – Grits and Pinecones
Skillet New York Strip Roast is quite possibly the most delicious and tender roast beef you will ever taste and it's a perfect entrée for your holiday dinner! And, did I mention this flavorful roast beef is incredibly easy to prepare?
Broccoli-Cauliflower Salad with Cranberries
My easy, make-ahead, low-carb wonder, Broccoli-Cauliflower Salad with Cranberries is a holiday side-dish favorite. This healthy salad is full of crisp broccoli and cauliflower, sweet/tart cranberries and crunchy pistachios and it's equally at home on an elegant Christmas dinner table or at a covered dish neighborhood potluck.
Gingerbread Cake with Cream Cheese Icing
Have you ever seen anything as sweet as this Gingerbread Cake with Cream Cheese Icing? With powerful notes of spicy ginger, molasses, warm cinnamon, and cloves, this easy, old-fashioned, moist cake will fill you with nostalgia and memories of past Christmases.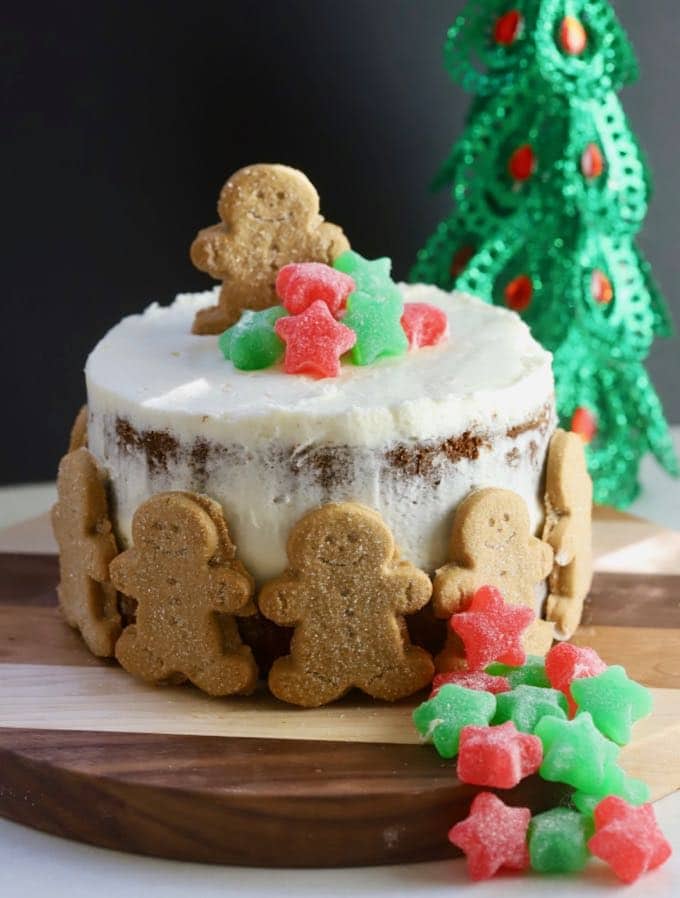 If you make any of these recipes, please be sure to rate it and leave a comment. I love hearing from you! Also, please follow me on Pinterest, Facebook, and Instagram.
To be the first to receive notifications of new recipes by email enter your email address here or in the Subscribe box.
Thank you so much for visiting Grits and Pinecones!
Need even more ideas? Check out these other holiday posts:
29 Best Christmas Dessert Recipes
37 Fun and Festive Christmas Appetizers, Cocktails and Sweet Endings
Put A Jingle In Your Bells With These 31 Easy to Make Edible Christmas Gifts