This simple recipe for quick and easy Cranberry Sauce with Fruit and Nuts features a sweet and tart homemade whole-berry cranberry sauce with a chunky texture. It is full of citrusy orange and lemon zest, crisp pieces of apple, and roasted pecans.
This is an elegant version of the Thanksgiving and Christmas classic cranberry sauce we all know and love, dressed up for the holidays. With only fifteen minutes and a handful of ingredients, you can transform a bag of cranberries into a unique and delicious side dish.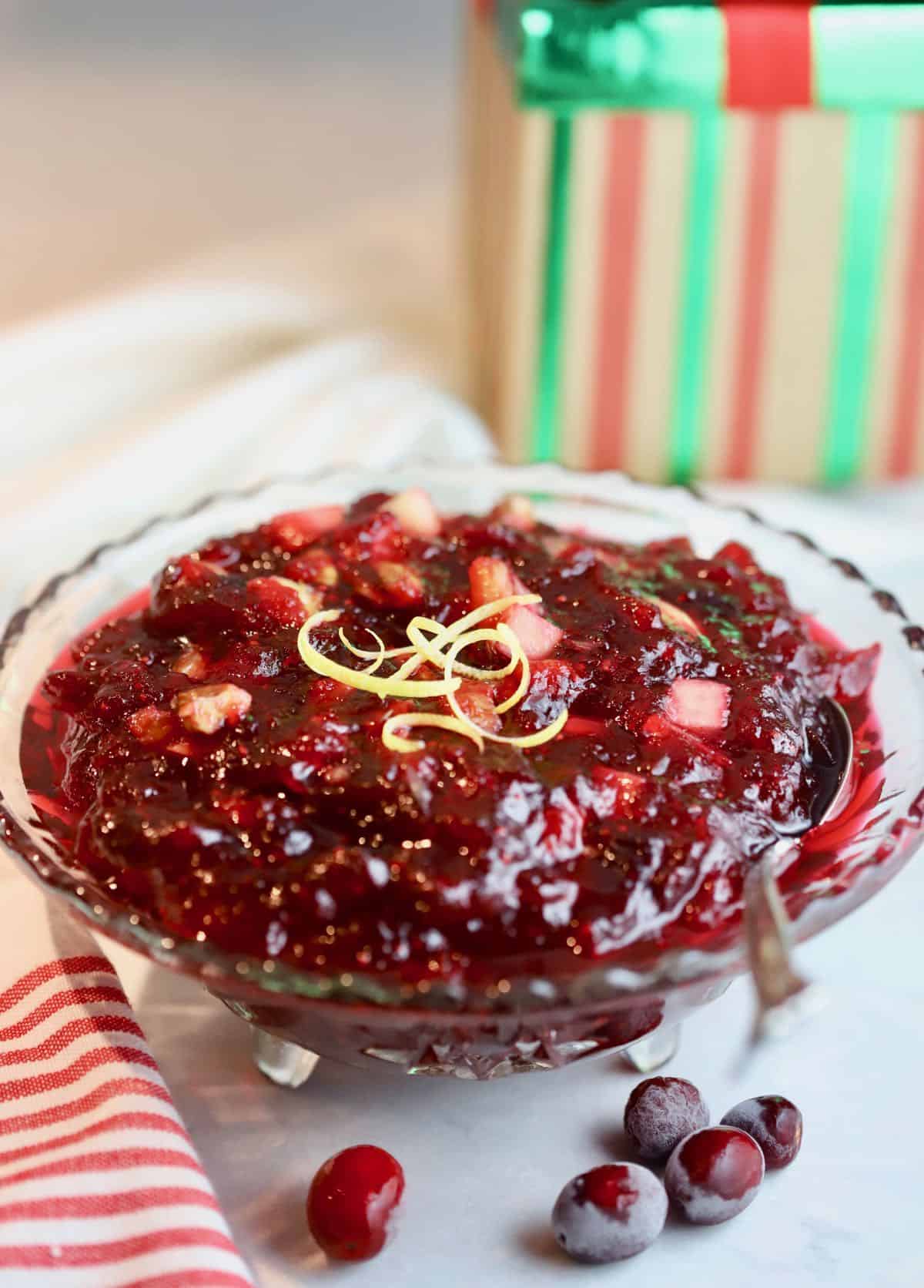 Whether you like it smooth or chunky, homemade cranberry sauce complements the traditionally rich dishes served for Thanksgiving and Christmas. There is no comparison to the canned stuff, and it's quicker and easier to make than you ever thought possible.
Like my Cranberry Jalapeno Cream Cheese Dip, my Cranberry Upside Down Cake, and my No-Bake Cranberry Cheesecake, this homemade cranberry sauce can be made well ahead of all of the holiday craziness!
Jump to:
Step-by-step directions:
Add the cranberries, sugar, and one cup of water to a medium-sized saucepan set over medium heat.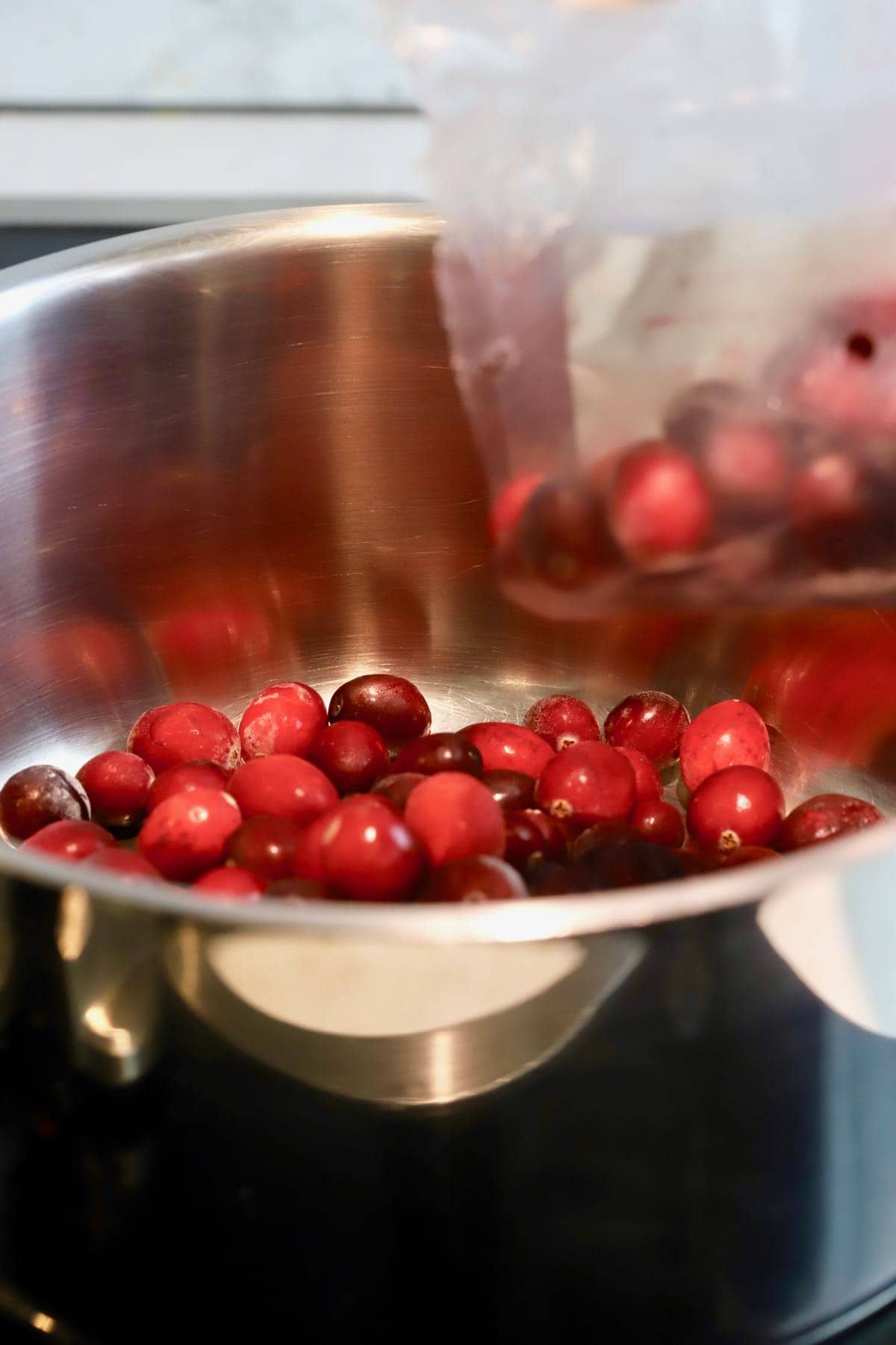 When the mixture starts to boil, turn the heat down to low and cook for about 15 minutes, stirring frequently.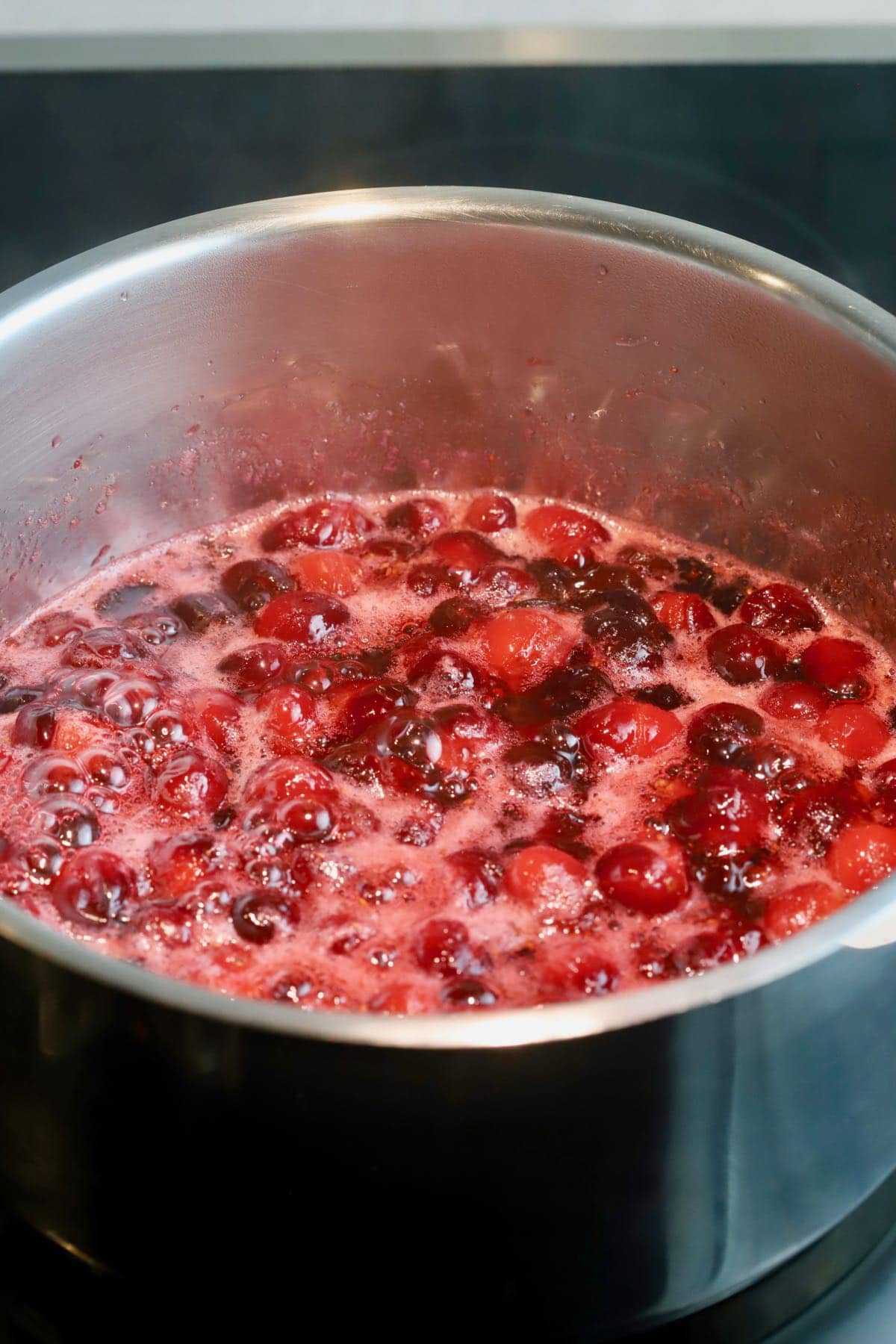 Remove the pan from the heat and allow it to cool. Add the orange and lemon zest, chopped-up apples, and pecans, and stir to combine.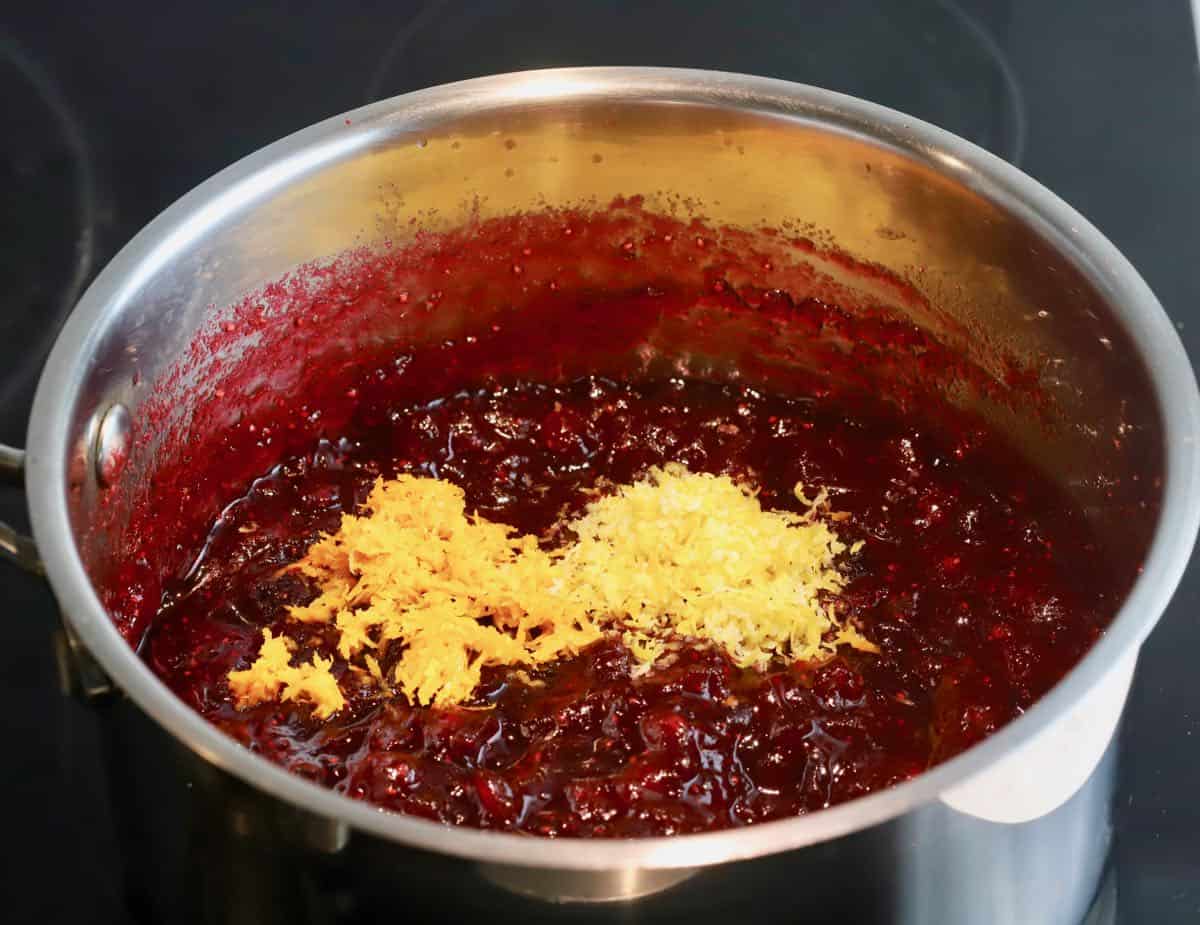 Chill in the refrigerator for at least two hours before serving.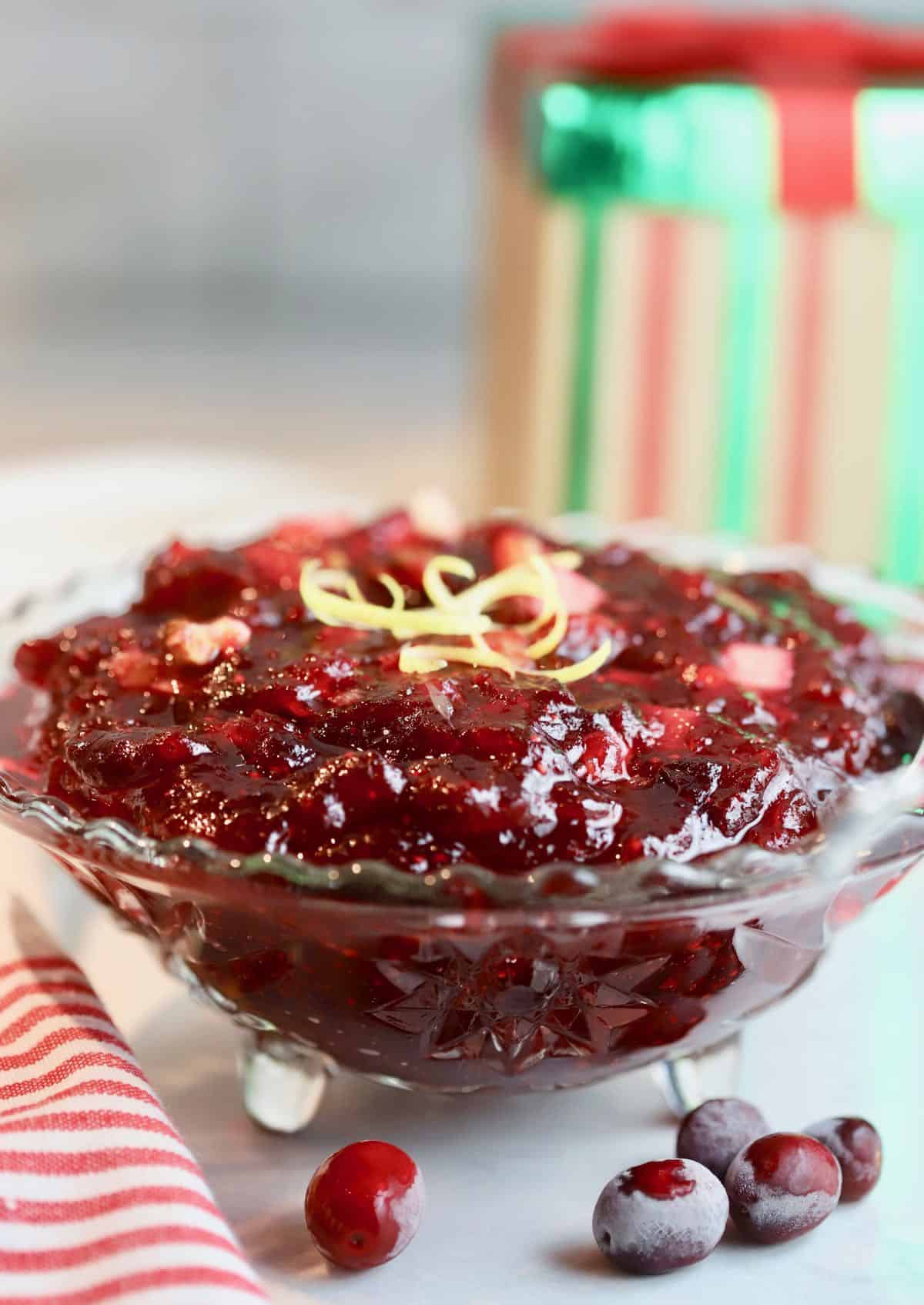 Recipe variations:
This is a versatile recipe you can customize to fit your family's tastes and preferences. I like to add orange and lemon zest, apples, and pecans, but feel free to personalize your sauce with any one or a combination of these other tasty additions:
Make it a boozy cranberry sauce by replacing some or all of the water with amaretto, Gran Marnier, wine, or bourbon.
Jalapeno peppers
Scallions or green onions
Replace some of the water with orange juice or apple juice, or cider
Clementines or satsumas
Pears, dried fruit, crushed pineapple, or blueberries
Recipe FAQs:
Sharon's tips:
If you use frozen cranberries, you do not need to thaw them before adding them to the sugar and water mixture.
Don't worry if your sauce looks a little runny after cooking it. It will firm up in the fridge.
If you need to roast your pecans since it's such a small amount, the easiest way is to microwave them. Simply spread out the chopped pecans on a microwave-safe plate, and microwave them for about five minutes. Start checking them at three minutes, and then start checking them at one-minute intervals until they are done.
★★★★★ If you make this recipe, please leave a comment and give it a star rating. I would love to know how you liked it!
Thanks so much for visiting Grits and Pinecones!
📋 Recipe:
**This recipe was originally published on November 11, 2016.