There are so many things to love about my holiday classic, Traditional Southern Cornbread Dressing, which includes hard-boiled eggs. In addition to the taste, which is divine, you can make this southern-style, old-fashioned Thanksgiving dressing recipe ahead, and it freezes beautifully.
This classic recipe, which includes both hard-boiled and raw eggs, is reminiscent of the homemade dressing or stuffing you probably remember your grandmother preparing.
In the South, cornbread dressing recipes have been passed down through generations, and there are almost as many variations as there are Thanksgiving Turkey Recipes.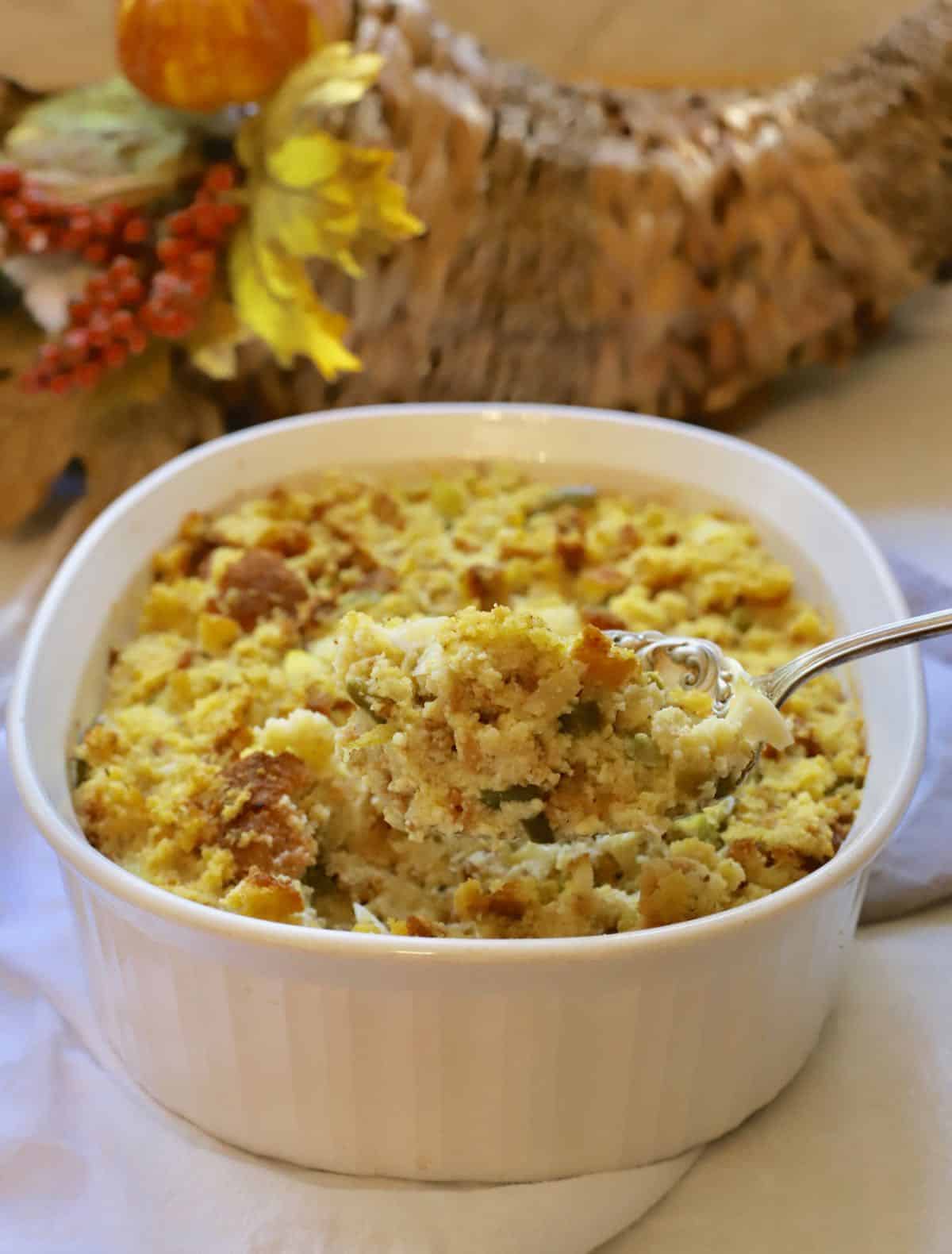 Besides hard-boiled and raw eggs, the one constant in most of these old-fashioned recipes is butter! And, this recipe calls for, hold on to your hat, two full sticks of butter! And it's the butter that makes this dressing so moist and flavorful!
Jump to:
Step-by-step directions:
Preheat the oven to 350 °F.
Add the butter to a large skillet over low heat. Stir in the onions, celery, and green bell pepper.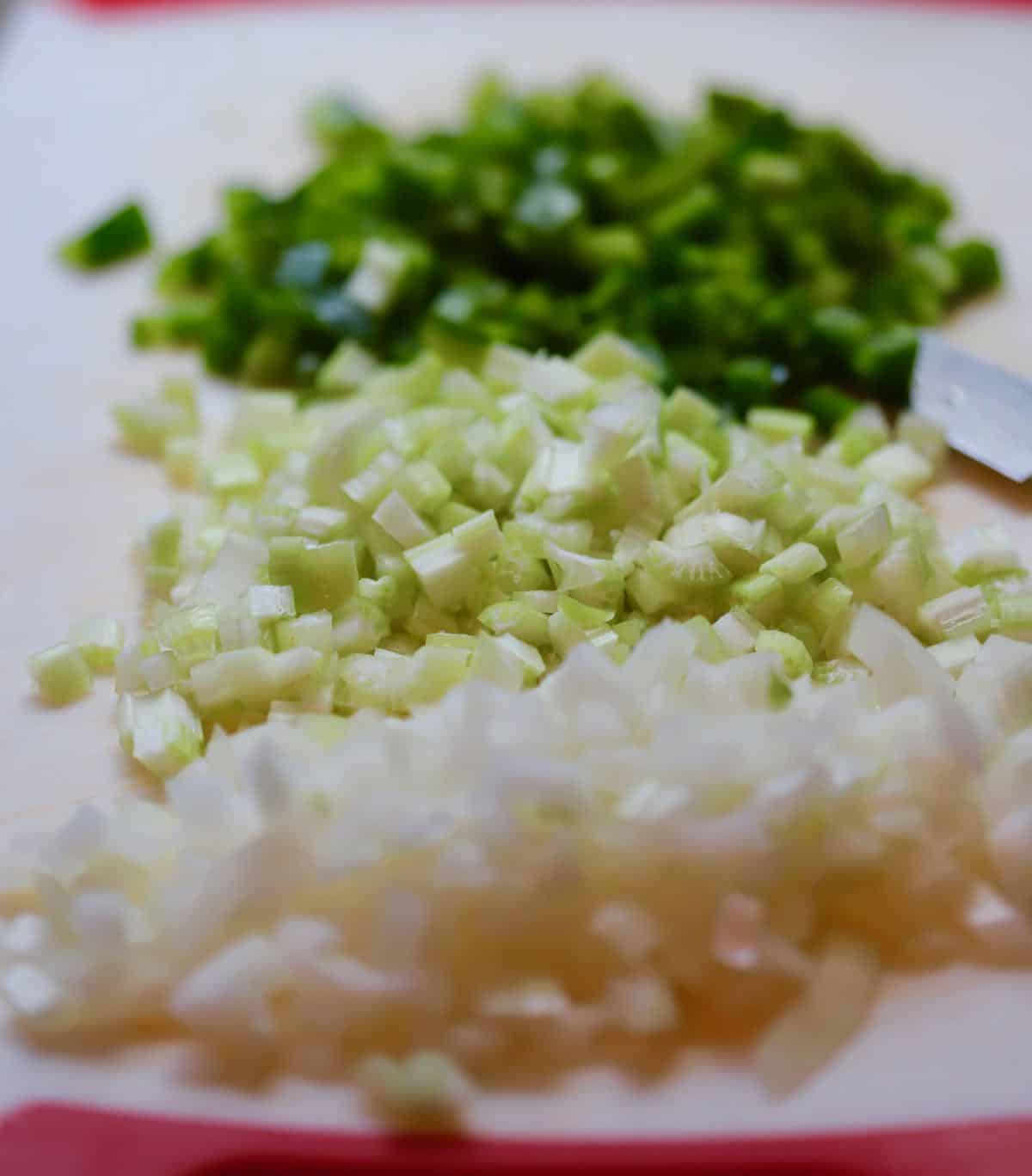 Cook the vegetables for ten minutes or until they are soft. Remove the pan from the heat and set aside to cool.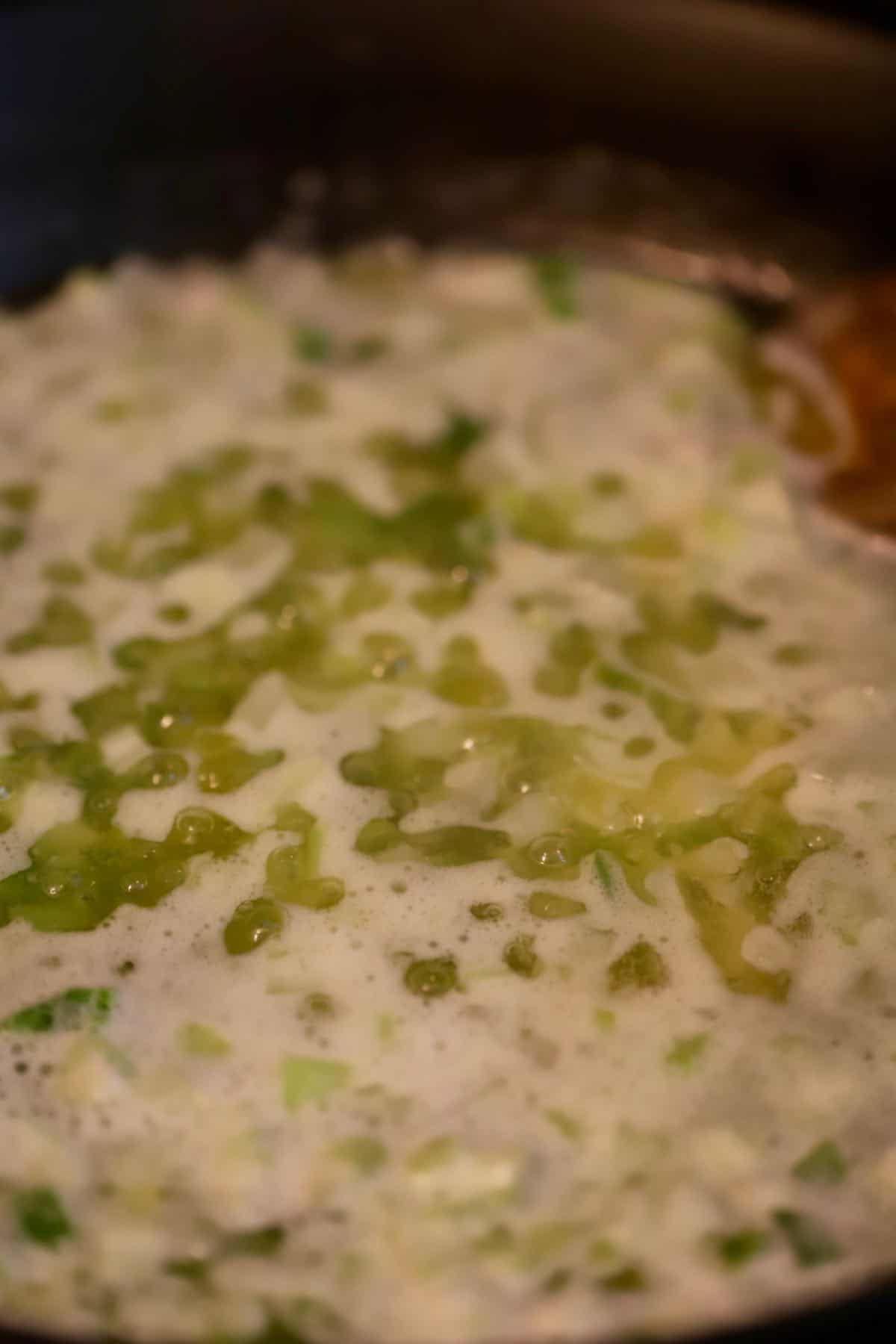 While the vegetables are cooking, crumble the cornbread in a large bowl and add the hard-boiled eggs, two cups of chicken broth, and the poultry seasoning.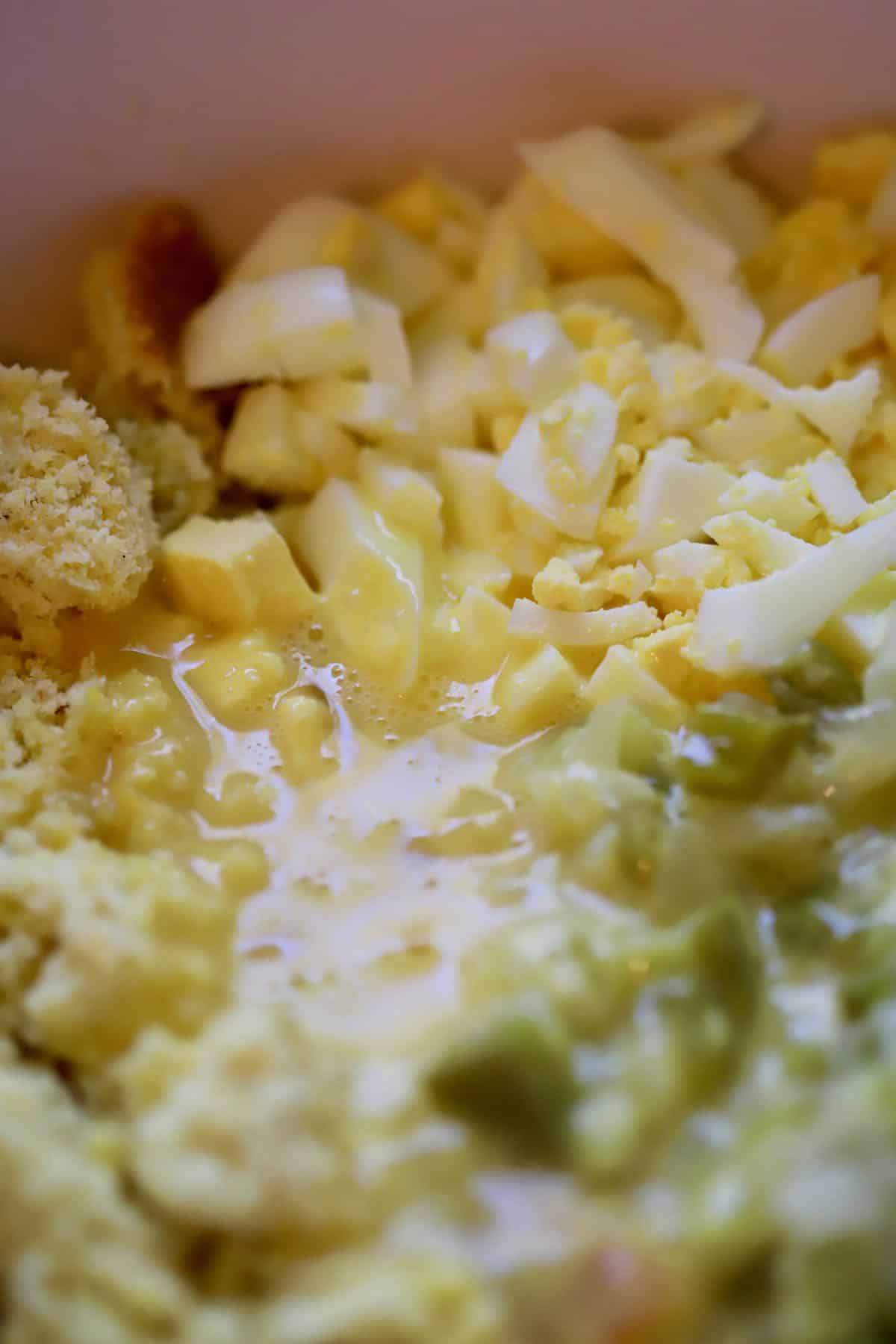 Add the cooked vegetables and butter to the crumbled cornbread and gently mix everything together. You can use a spoon, but your hands work best for this task.
Add the kosher salt and ground black pepper. Taste and add additional salt and pepper if you think it needs it.
Add the beaten raw eggs and mix well.
Don't be alarmed if the mixture is soupy. If it's not, add up to one more cup of chicken broth, a little at a time, until it is about the consistency of a thick cornbread batter.
Pour the mixture into a well-greased 9 x 13-inch baking dish or a two-quart baking dish.
Bake uncovered for 45 to 50 minutes or until the dressing is set and the top is golden brown and crispy. Serve immediately.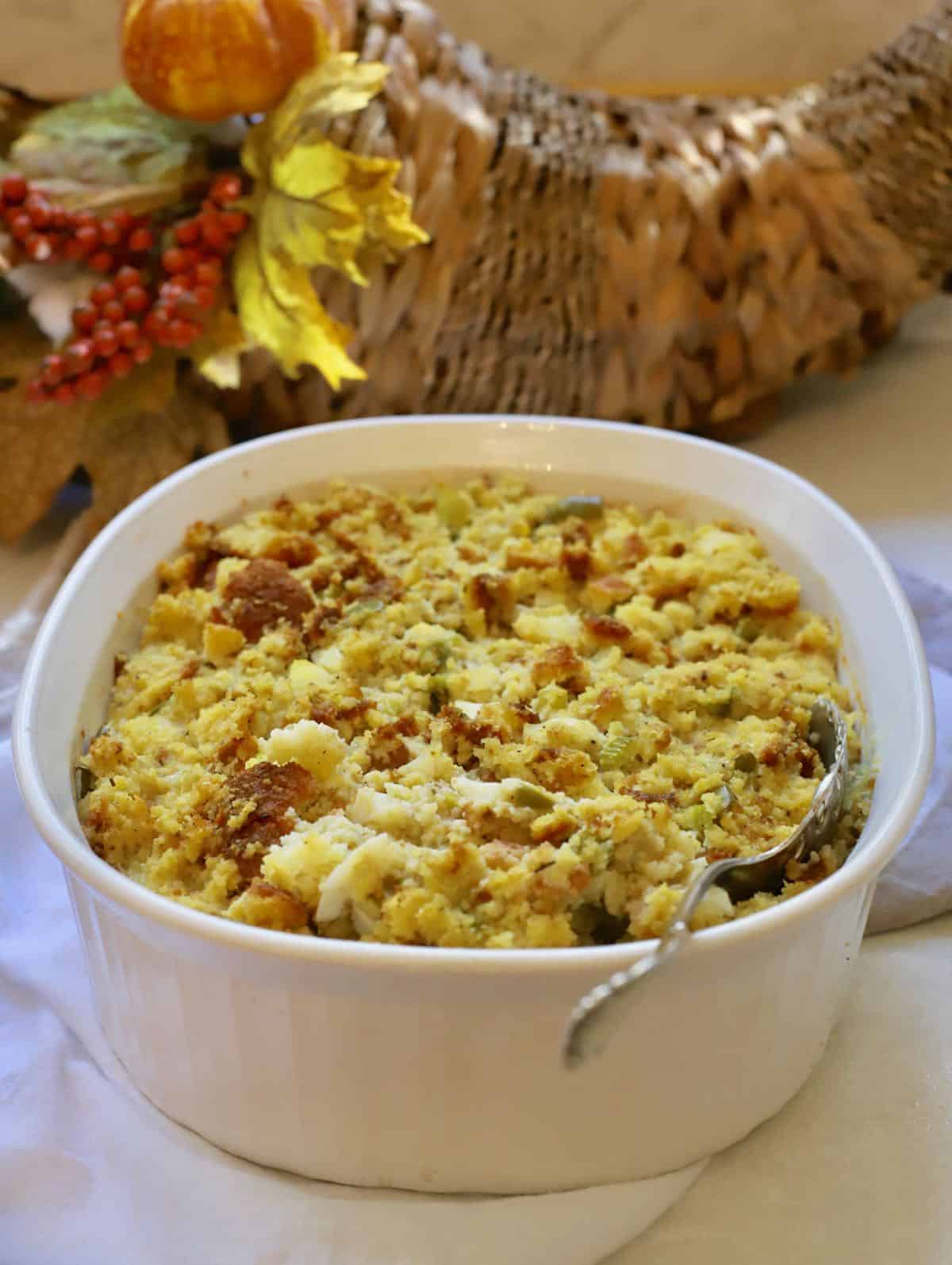 Recipe FAQs:
Sharon's tips:
If you get in a bind and run out of time to make cornbread for the dressing, around the holidays, most grocery stores and bakeries sell pre-made cornbread or corn muffins, which you can use instead of making your own. Just try to avoid cornbread with sugar added.
My easy Traditional Southern-Style Cornbread recipe is what I use when I make this dressing.
To make this dressing gluten-free, use my recipe for gluten-free Old-Fashioned Southern Buttermilk Cornbread. It doesn't contain any flour and is made with just cornmeal.
If making ahead, cover and refrigerate the unbaked cornbread dressing for up to three days or freeze for up to two months. Let it thaw overnight before baking.
It's best to make or purchase your cornbread two days or so ahead of making the dressing to allow it to dry out.
Be sure to taste the dressing before adding the raw eggs to see if you need to add more poultry seasoning, salt, or pepper.
Check your dressing about halfway through the cooking time. If it starts looking dry, sprinkle a few more tablespoons of chicken stock evenly over the top.
If you have trouble peeling hard boiled eggs, check out my post, Perfect Easy to Peel Hard Boiled Eggs. Or, it's perfectly fine to purchase your eggs already cooked and peeled.
★★★★★ If you make this recipe, please leave a comment and give it a star rating. I would love to know how you liked it!
Thanks so much for visiting Grits and Pinecones! I hope you come back soon!
📋 Recipe:
*This recipe was originally published on October 29, 2017.