It's not all about the turkey! This year, try one of these 19 Best Thanksgiving Savory Side Dishes from some of the top food bloggers in the country! These delicious and healthy side dishes are guaranteed to make you forget the turkey. And, I hope you will give one or more of them a place of honor on your Thanksgiving table!
Are you looking for the best and most delicious Thanksgiving side dishes? How about yummy Thanksgiving side dishes that are healthy or you can make ahead of the big day? And, would you like Thanksgiving side dish recipes that feature easy step-by-step directions? Well, you are in the right place! Choose from classic Thanksgiving recipes plus new twists on old favorites with these 19 best-of-the-best Thanksgiving Savory Side Dish recipes.
Are you looking for a delicious side dish for Thanksgiving? How about something just a little different from traditional mashed potatoes? Well, hold on to your Pilgrim hat because Blue Cheese Potatoes Au Gratin will rock your world.
I can eat only this for Thanksgiving, and I can even skip the pie! Because this dish tastes like dessert and a side dish at the same time. It's addictive, I warn you!
Are you tired of the mandatory cream of mushroom soup Green Bean Casserole? If so, you should try this Grown-up Green Bean Casserole. It's easy to make and absolutely delicious! What's even better is that this Grown-up Green Bean Casserole is a cinch to make, can be made ahead of time, and reheats beautifully.
These sweet and savory pan roasted brussels sprouts are definitely NOT the sprouts you heard about as a kid from the previous generations who had to eat them plain, boiled and waterlogged with maybe just a pinch of salt. These sprouts are dreamy and packed with a flavor profile that will have you asking for a second helping.
This creamy and cheesy Broccoli Rice Casserole is a delicious make-ahead side dish for your Thanksgiving or anytime feast. It contains just a few ingredients and is a snap to make.
No Thanksgiving Dinner is complete without Cranberry Sauce and boy do I have a doozy of a recipe for you today. This easy, make-ahead, homemade cranberry sauce with oranges and apples is out of this world delicious and deserves a place of honor on your Thanksgiving table.
For this recipe, I've used blue Hokkaido squash as I had some at home, but any squash would easily work. I've seen this recipe being often used with Acorn squash cut in half. You could also use two smaller ones instead of one, just keep in mind that it does need to sit nicely on the tray to keep the apple and cranberry mix in. Enjoy it as a part of a festive meal.
The leaves are tender from cooking and full of flavor from a pan sauce that becomes almost like a glaze. I remember remarking to my husband that this kale tasted like Thanksgiving with its sweet cranberries and savory onions and garlic; thus it became known as, "Thanksgiving Kale."
There are so many things to love about Traditional Southern Cornbread Dressing and, in addition to the taste which is divine, the other great things are that it's really easy to make and both the cornbread and the dressing can be made well ahead of the big day and frozen so that all you have to do is pop it in the oven.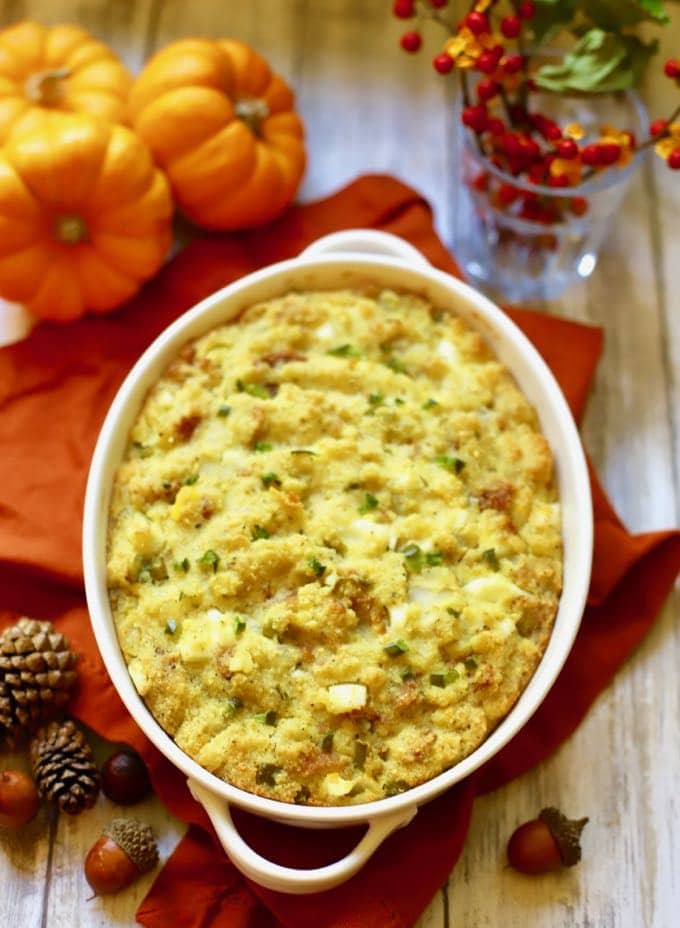 Mashed rutabaga is a delicious, naturally, sweet low-carb Thanksgiving side dish made even better with a little nutmeg. You won't want to go back to potatoes!
When you caramelize sweet potatoes and roast them in the oven, it brings out their sweet flavor. I think of it like a healthy treat. And I probably eat them WAY too much this time of year. Using coconut oil to roast them gives them a nice flavor and makes them perfect for Thanksgiving.
Easy Brussels Sprouts with Pinenuts and Parmesan is a go-to fall recipe. It's fast, contains just a handful of ingredients, and is perfect for any meal, from a weeknight supper to holiday get-togethers.
Did you know you can make smoked turkey gravy for Thanksgiving without a smoker?You can use store-bought smoked turkey drums, and simmer your chicken stock in them. This will infuse the stock with that lovely smoked flavor (basically creating your own smoked chicken stock). Then use a slurry to thicken the stock and create your gravy.
This fast and easy creamy Broccoli Potato Casserole is the perfect side dish. Three layers of broccoli, potatoes, a creamy sauce and a sprinkling of Parmesan will make this delicious bake a family favorite.
The best balsamic-maple roasted Brussels sprouts with butternut squash, pecans, cranberries and avocado roasted garlic dressing. Ultimate healthy vegan Thanksgiving side dish ready in just 40 minutes!
If one wants evidence that cooking is an alchemical process, one need look no further than this rich, savory puddle of a gratin that once was a head of savoy cabbage.
In the shadows of super trendy pumpkin lies the sweet potato. A classic Thanksgiving favorite that still remains somewhat of an underdog yet a staple fall root veggie. I would like to think it is slowly gaining in popularity – and not just in the format of a French fry. Sweet potatoes are versatile and fun to bake in many different forms. These bread rolls are a soft treat and a great way to get two dishes from one batch of mashed sweet potatoes (or a great way to use up leftovers).
Stuffed acorn squash makes a delicious meal or side dish paired with turkey or chicken. You can use a combination of any of your favorite ingredients from savory to sweet to compliment your meal.
The trick to making brussel sprouts a vegetable that you actually CRAVE is all in the outer leaves that fry up in a shallow pan and taste like flavorful potato chips!
Which one will you choose? Leave me a comment below and let me know which one is your favorite!
Need even more Thanksgiving dinner menu ideas? Check out these roundup posts:
Please follow me on Pinterest, Facebook, and Instagram. And, to be the first to receive new notifications of new posts by email, enter your email address in the Subscribe box. Thank you so much for visiting Grits and Pinecones!