One or more of these 23 Savory Dressing and Stuffing Recipes deserves a place of honor on your Thanksgiving dinner table. They are also perfect for Christmas and other special occasions.
Packed with flavor, this festive and unique collection of delicious Thanksgiving dressing and stuffing recipes has been updated for 2022 and has something for everyone!
Pair with a main dish such as roasted turkey, cornish hens, roasted chicken, baked ham, new york strip roast, or a rack of lamb, and they exemplify everything you love about these food-centric holidays.
The base for most of these dressing and stuffing recipes usually starts with cornbread or bread, and sometimes rice. But it's when other ingredients, such as sausage, bacon, cranberries, herbs, squash, pears, apples, figs, oysters, or pecans are added that the real magic happens.
This collection of savory dressing and stuffing recipes from bloggers around the country includes easy make-ahead and gluten-free options! You will also find recipes made in a slow cooker or crockpot and Instant Pot. Plus, there are vegetarian and vegan options as well.
Take your time and peruse all of these easy and mostly make-ahead recipes to find just the right choice for your family. All are delicious, and any one of these recipes will be the perfect complement to your Thanksgiving meal.
Traditional Southern Cornbread Dressing – Grits and Pinecones
There are so many things to love about my holiday classic, Traditional Southern Cornbread Dressing, which includes hard-boiled eggs. In addition to the taste, which is divine, you can make this southern-style, old-fashioned Thanksgiving dressing recipe ahead, and it freezes beautifully.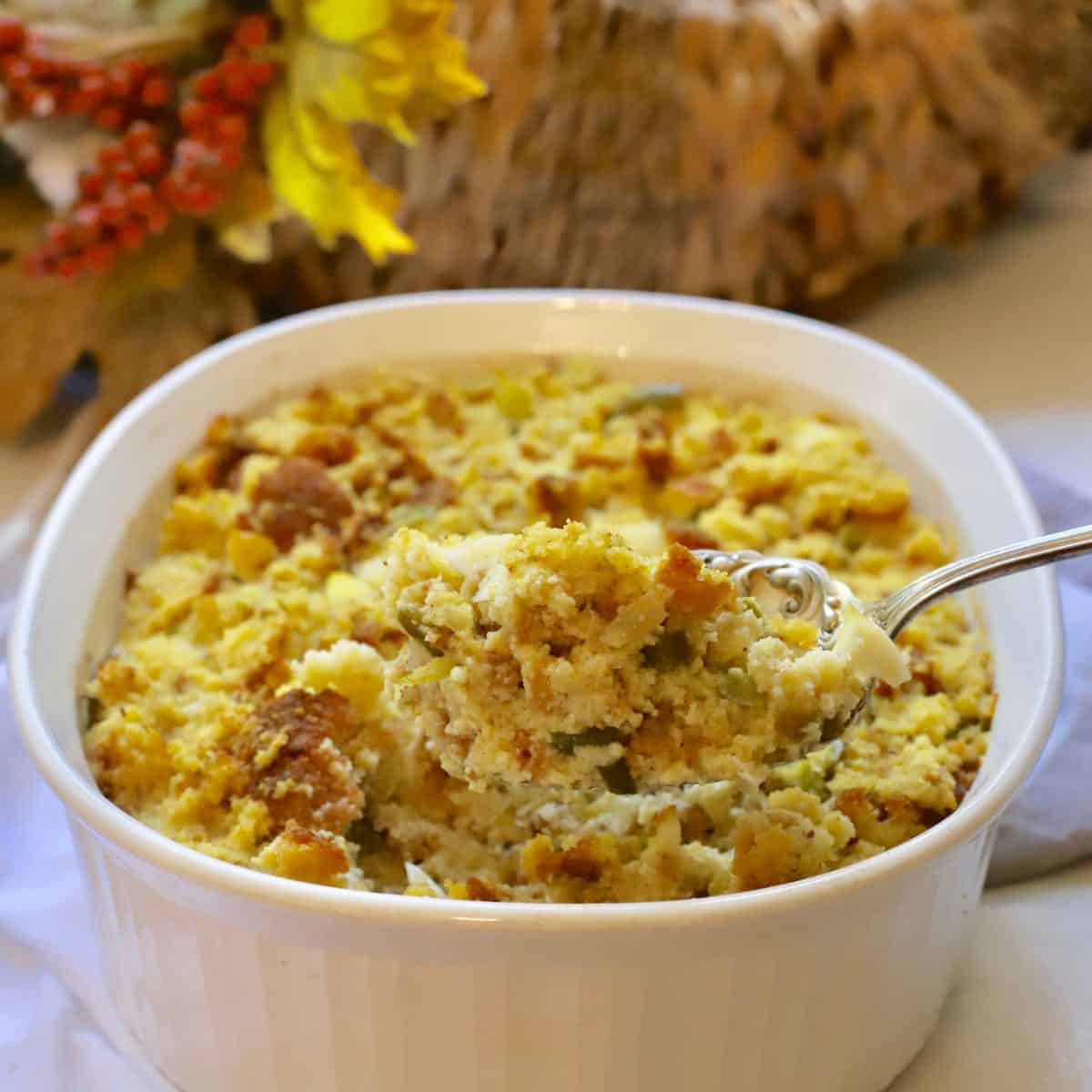 Apple Cranberry Crock Pot Stuffing – West via Midwest
Savory Stuffing made in your crockpot to save space in the oven! Make ahead this moist on the inside Apple Cranberry Stuffing with hints of sweet cranberry and tart apples with crunchy edges on the outside!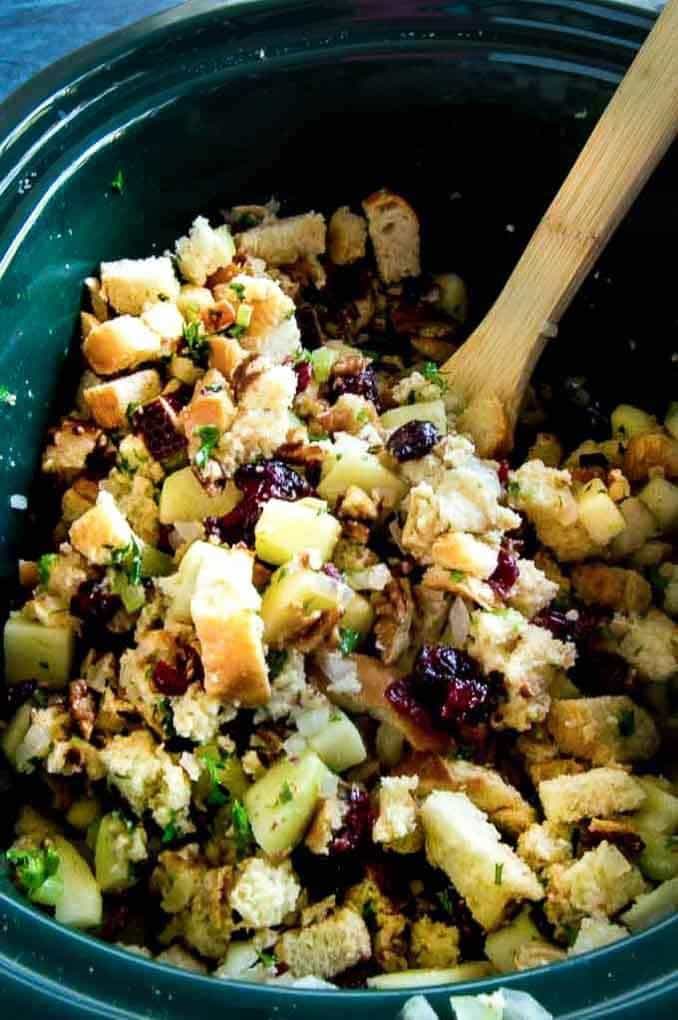 Make-Ahead Cornbread Dressing with Sausage and Pecans – Grits and Pinecones
If you are looking for the perfect dressing for Thanksgiving, you are in the right place. Southern make-ahead cornbread dressing with sausage and pecans makes for a crowd-pleasing Thanksgiving side dish. It's perfect because it's so delicious and can be made ahead. It freezes beautifully, and it's simple and easy to make.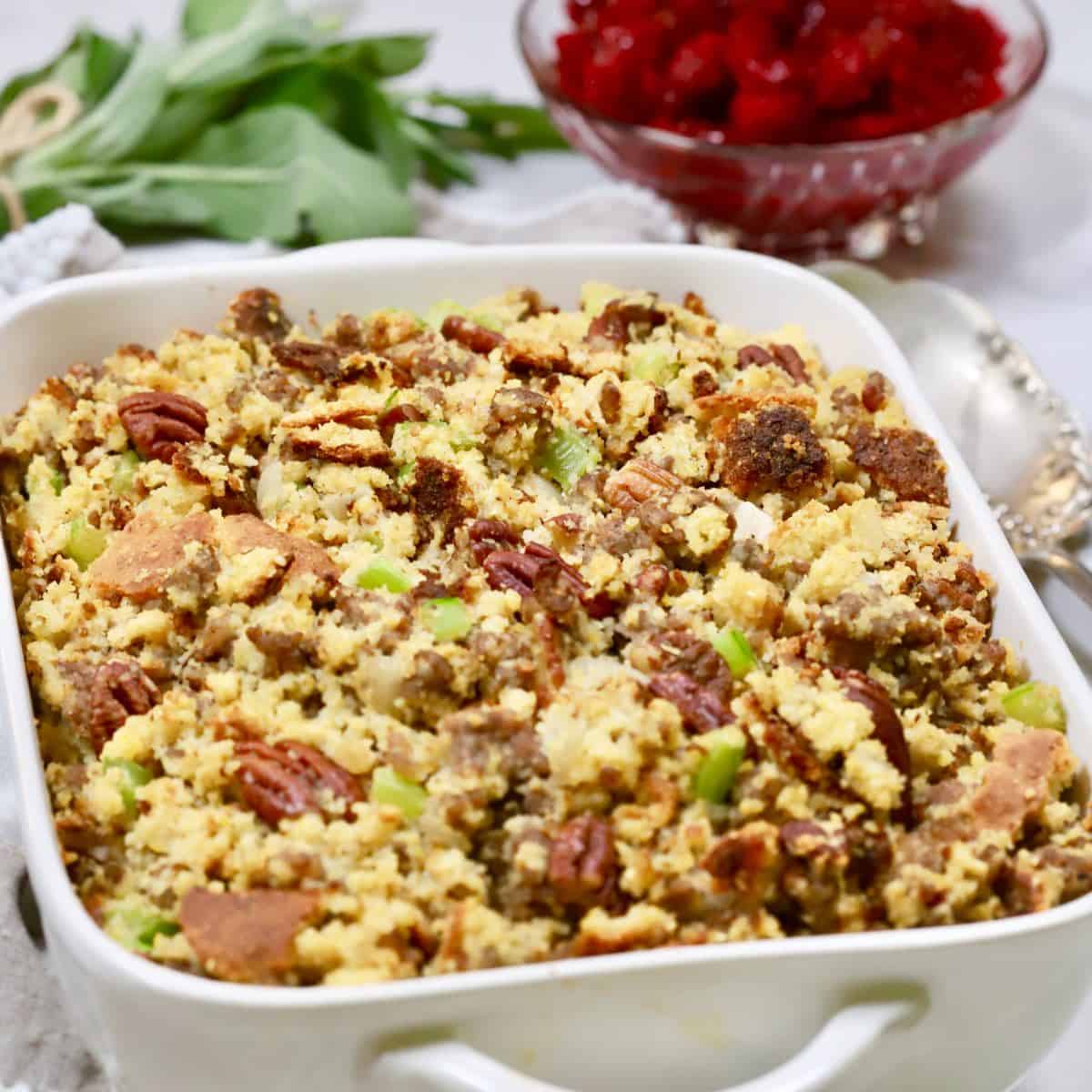 Instant Pot Stuffing Recipe – This Old Gal
Instant Pot Stuffing is an easy recipe made in the pressure cooker. It keeps you out of the kitchen so that you can spend quality time with your loved ones.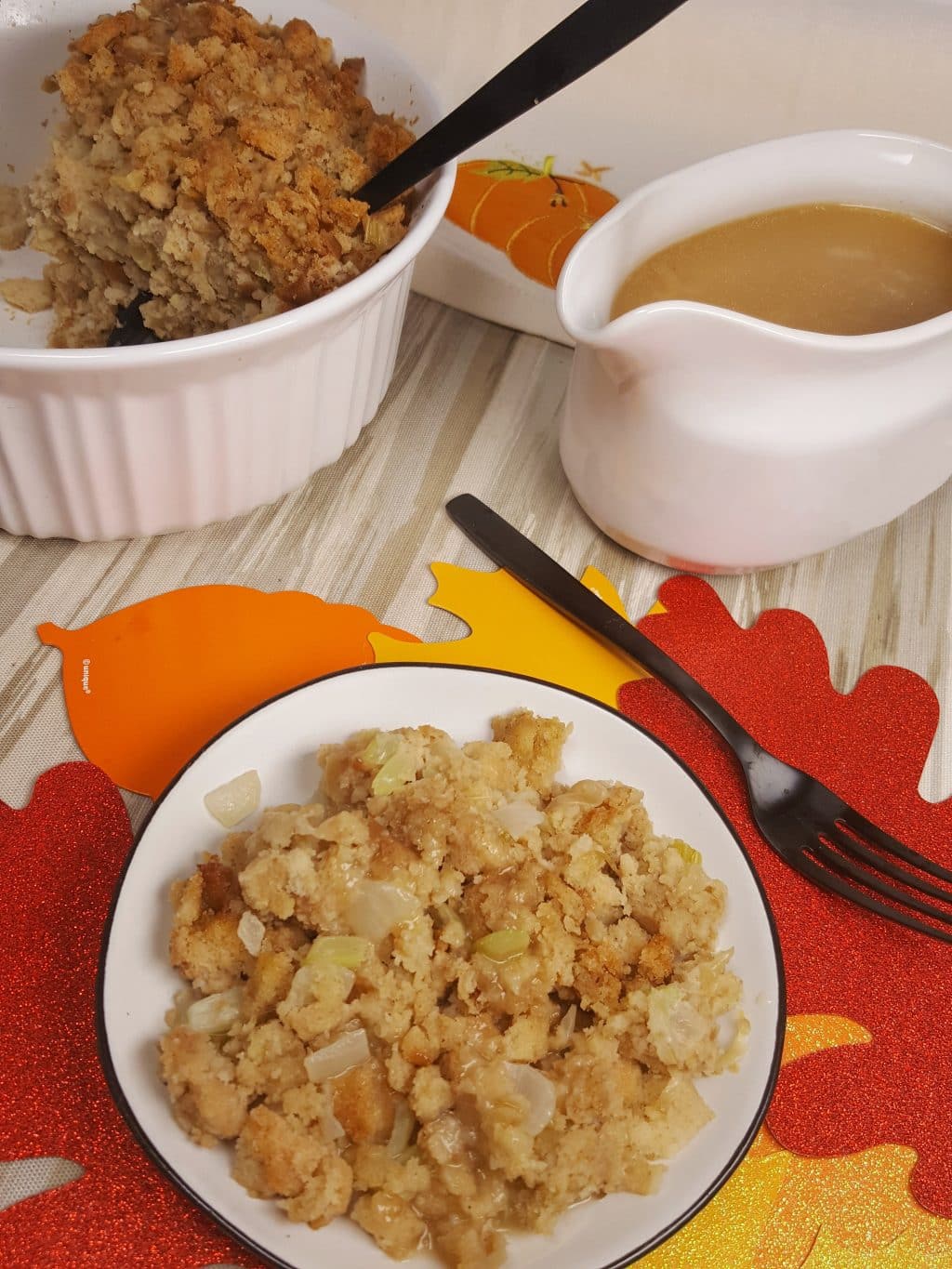 Vegetarian Wild Rice and Fennel Stuffing – The Rustic Foodie
This savory herb Wild Rice Stuffing recipe is baked with fennel. It's gluten-free, vegetarian, and a great Thanksgiving side dish! This aromatic side dish stuffing is perfect for Thanksgiving!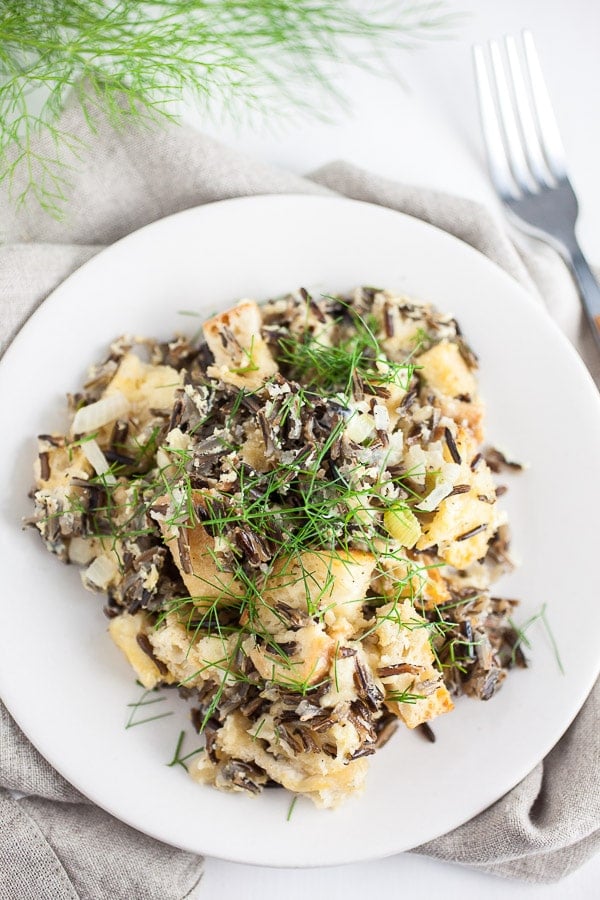 Gluten-Free Stuffing – Sunday Supper Movement
The flavor combination of this Gluten-Free Stuffing is the perfect side dish for the holidays. The meaty flavors of bacon and porcini mushrooms are natural partners for the leeks and thyme and create an enticing & elegant gluten-free side for the Thanksgiving table or any holiday meal.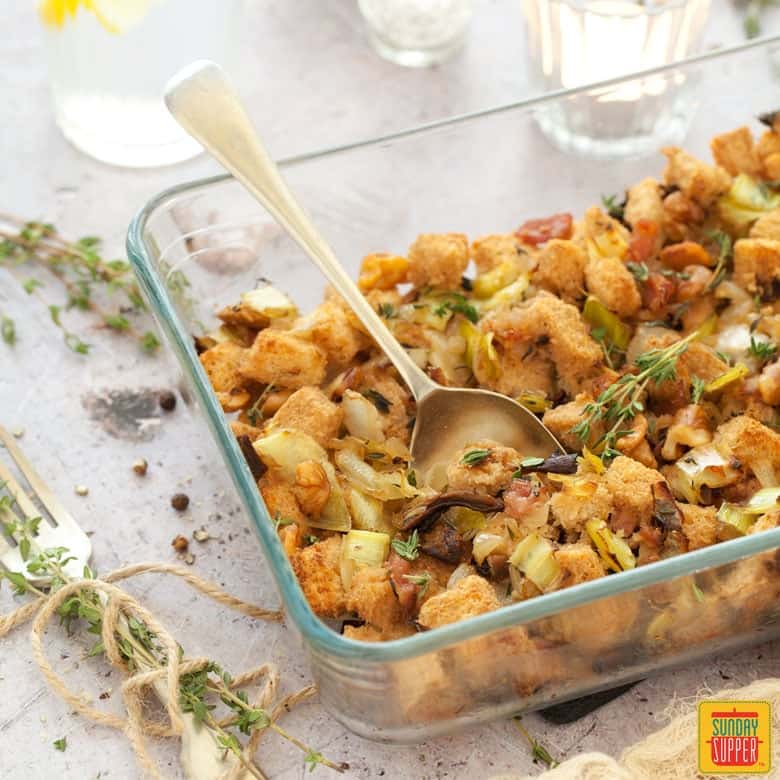 Sage and Onion Stuffing- Pudge Factor
Dressing or Stuffing – which one is it? Well, in the South, it's generally called dressing whether it goes into the turkey or not. However, because this is replicating what the Master Taste Tester remembered from growing up in England, we'll call it Stuffing, even though it doesn't go into the turkey!
Sourdough Thanksgiving Stuffing – Living Lou
Make your stuffing this holiday season outside of the bird with this recipe for sourdough Thanksgiving stuffing with apples, sausage, mushrooms, leeks, and celery.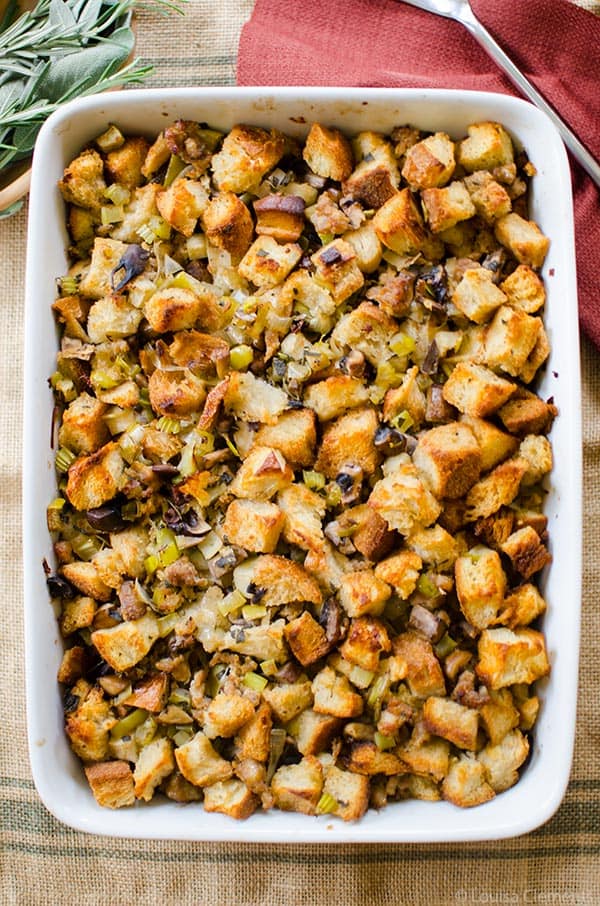 Sausage, Fig, and Cranberry Stuffing – The Merchant Baker
Breathe in…and you'll almost be able to smell the savory sausage, onions, and celery… the sweet cranberries and figs, the toasted pine nuts, and the scent of freshly chopped rosemary that the heat of the pan just released into the air. It smells like Thanksgiving!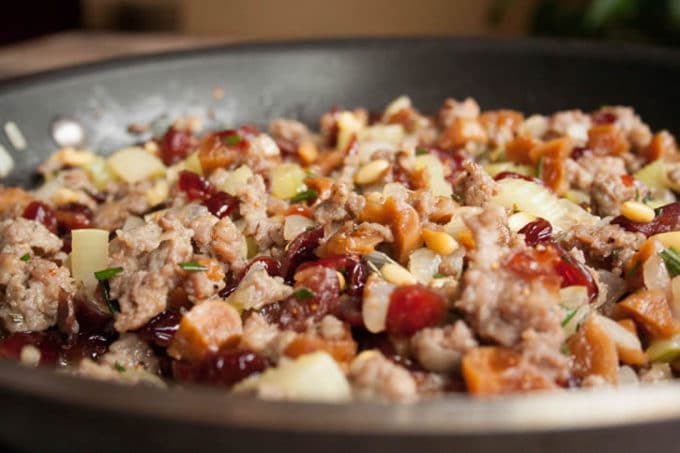 Vegan Wild Rice Stuffing with Cranberries – Marisa Moore
This vegan wild rice stuffing is easy to make and packed with the flavors of Thanksgiving!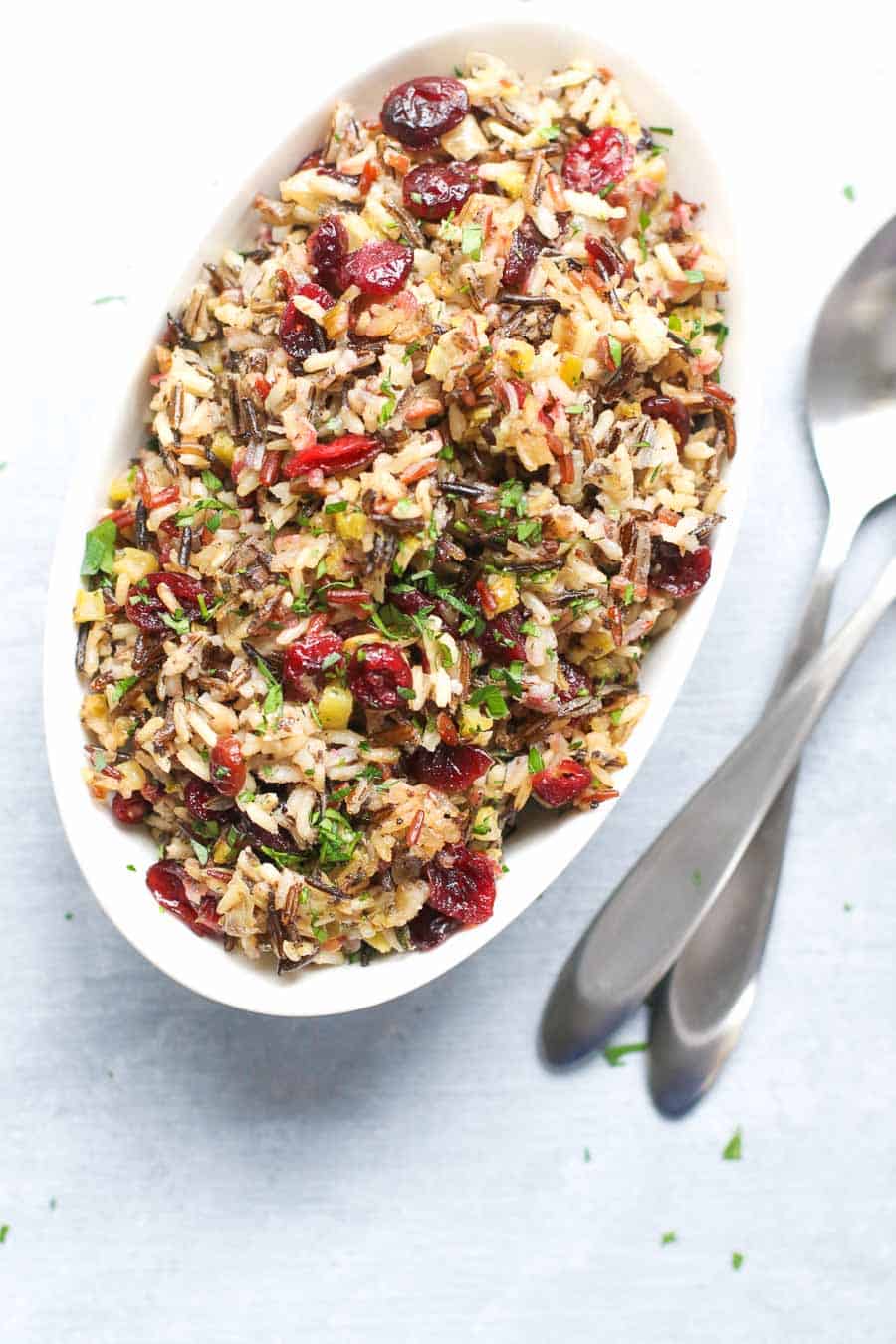 Butternut Squash Stuffing with Bacon – Went Here 8 This
Crispy bacon, chewy cubes of toasted, buttery bread, and a smattering of tender butternut squash make this Butternut Squash Stuffing with Bacon a total MUST MAKE for your holiday dinner. This easy homemade stuffing might just become your new favorite side dish, plus it's super simple to make!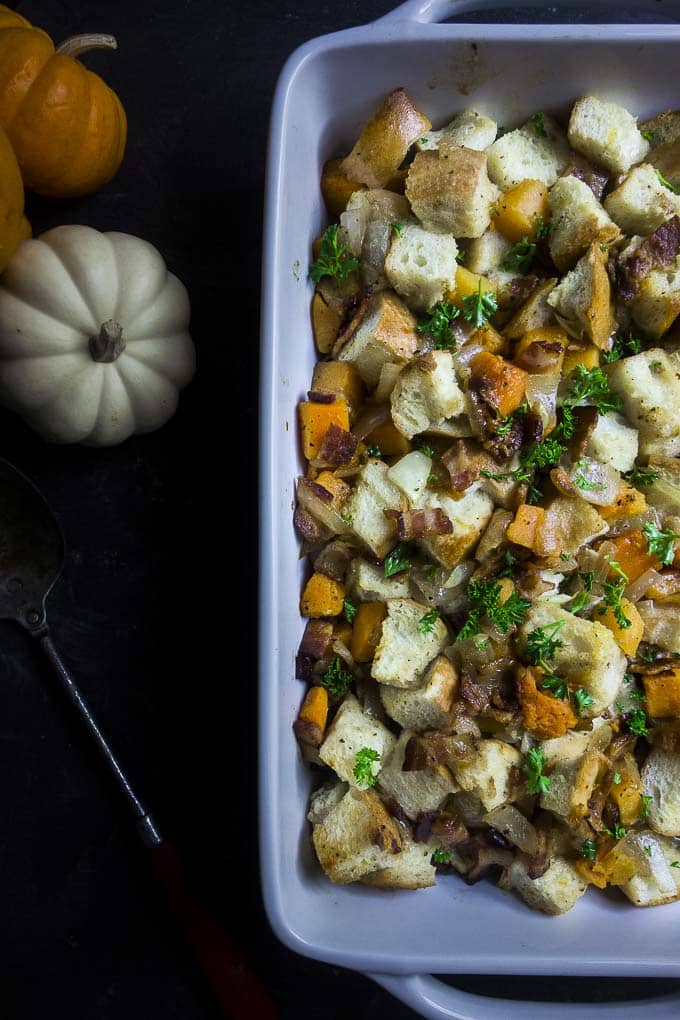 Gluten-Free Southern Cornbread Stuffing – Bessie Bakes
This cornbread stuffing, or as Southerners call it…dressing, is a version of my grandmother's beloved recipe. The main difference is that my grandmother added a few crumbled biscuits to the mix, which is what I've grown up with and devoured every Thanksgiving.
This year I decided to make a stuffing/dressing that was an all-cornbread base so that it was gluten-free.
Mushroom Wild Rice Dressing – Pudge Factor
Whether you use this delicious Mushroom Wild Rice Dressing as a stuffing or a side dish, it is sure to keep people coming back for seconds. It's a snap to put together, can be made ahead of time, and reheats beautifully. Who could ask for more?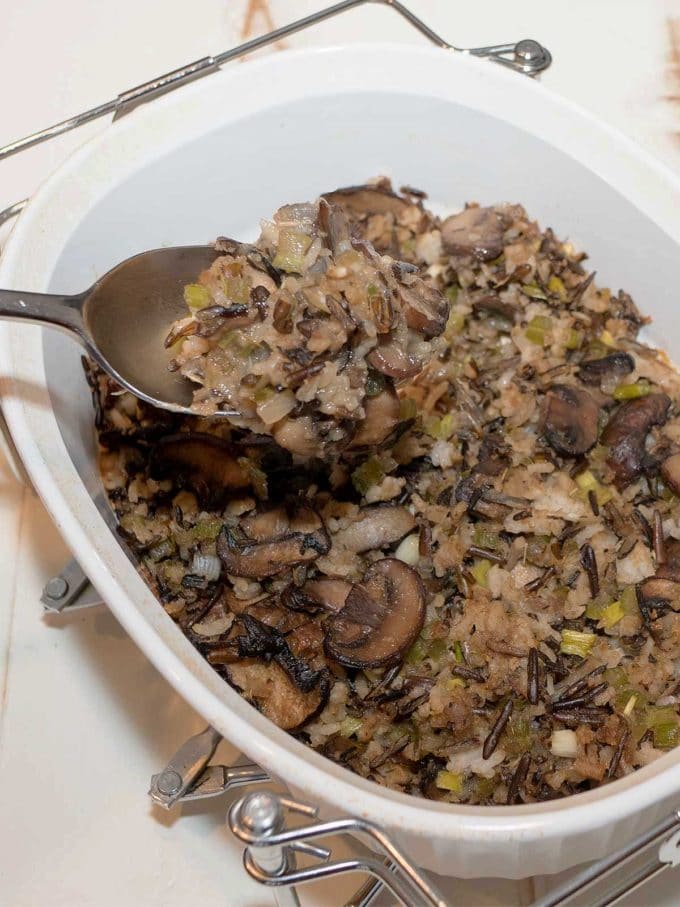 Fig Apple Sausage Stuffing – Celebrating Sweets
A delicious bread stuffing filled with savory sausage, fresh apples, herbs, and dried figs.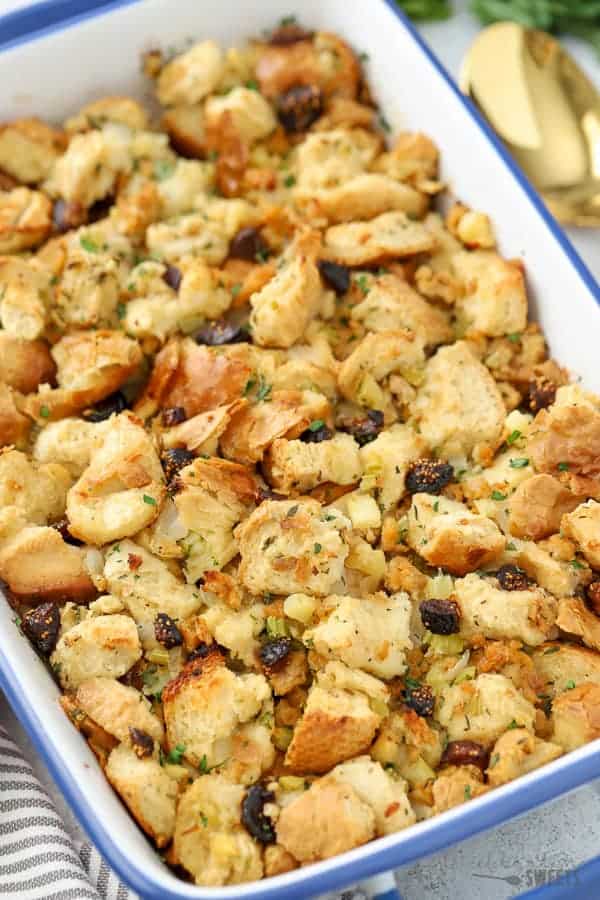 Traditional Herb Stuffing – Persnickety Plates
Traditional Herb Stuffing is very easy to make and filled with fresh, flavorful herbs. It'll be a hit on any Thanksgiving table! If you want to try a new stuffing recipe for your Thanksgiving table, this homemade recipe is so good and really easy.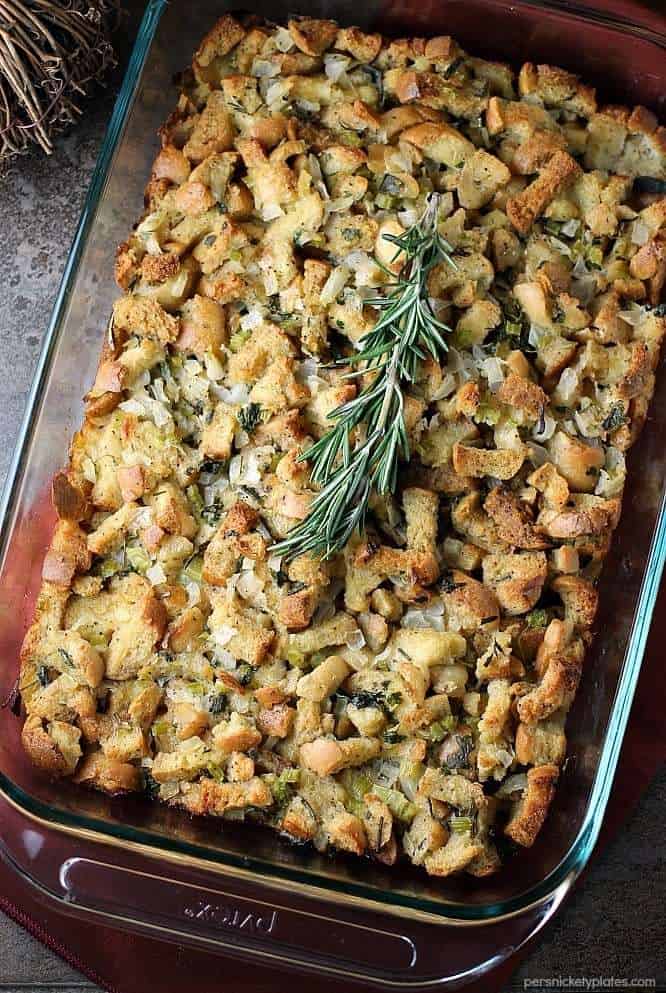 Mimi's Cornbread Dressing – The Hungry Waitress
Do you call this stuffing or dressing? Whatever you call it, it's delicious. Mimi's cornbread dressing is my favorite thing about Thanksgiving. The recipe comes from my grandma Mimi. She was a great entertainer and a great cook.
Old Fashioned Bread Stuffing with Sausage – The Hungry Blue Bird
Old-fashioned Bread Stuffing with Sausage, just like my dad's ~ almost. Easy, made from scratch bread stuffing with sausage, cooked outside the turkey in a casserole. The best side dish on the holiday table!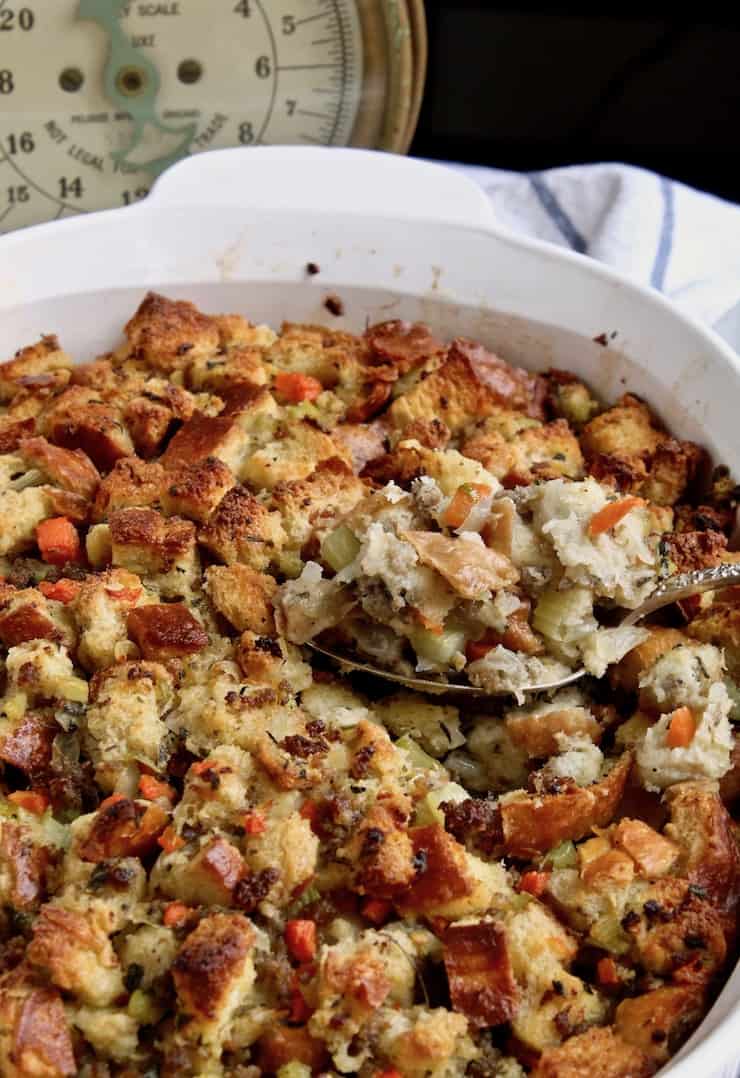 A Simple Traditional Cheater Stuffing Recipe with Smoked Oysters, Ham, and Pecans – Fusion Craft
A simple, traditional, cheater stuffing recipe that happens to be easy and super quick! A great solution for Thanksgiving or Christmas, our family's all-time favorite. Embrace the easy button on this hectic day.
This boxed stuffing is elevated to the next level with the addition of smoked oysters, chopped ham, and pecans.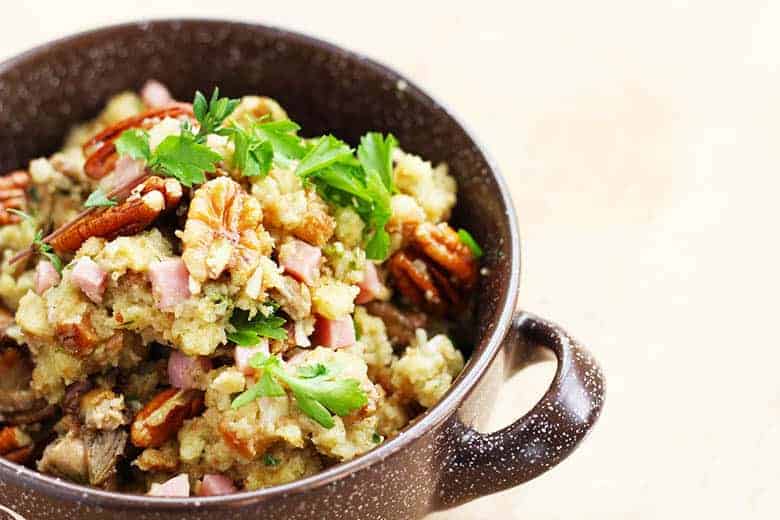 Chorizo Cornbread Stuffing – What Molly Made
Without a doubt, dressing is my favorite part of Turkey Day. I mean, it's full of carbs. How could you not love it?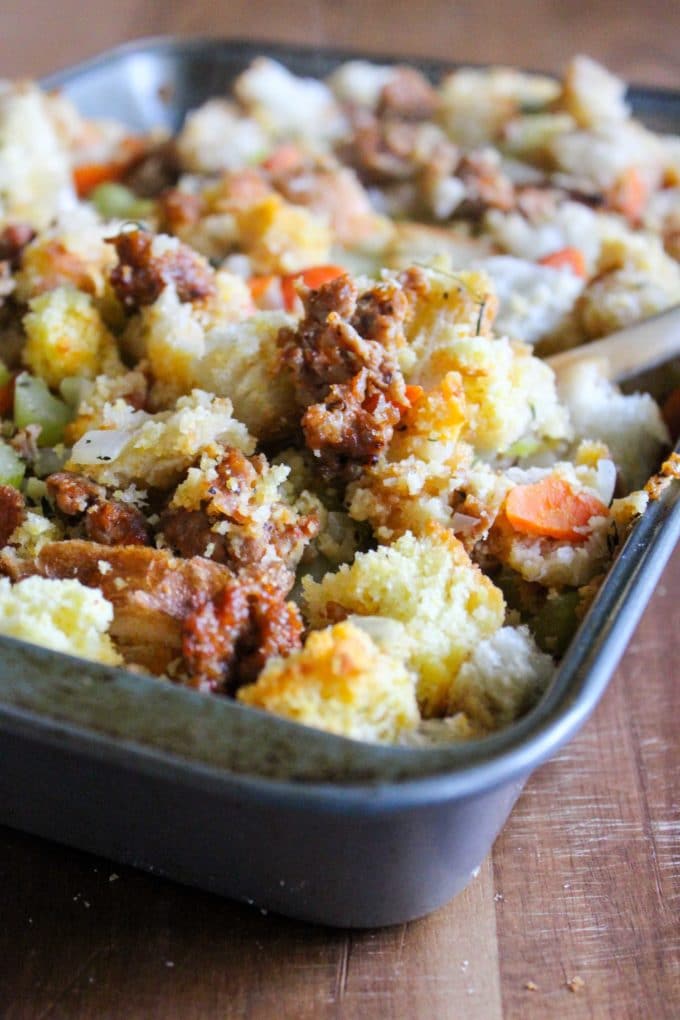 Thanksgiving Sausage, Pear, and Pecan Stuffing – Jessica Gavin
Italian sausage pear pecan stuffing is a sweet-savory side, combined with fresh sage, thyme, garlic, and onions. A perfect dish to go with your turkey!
Sourdough Sun-Dried Tomato Artichoke Dressing – Pinch Me, I'm Eating
Sourdough sun-dried tomato artichoke stuffing with parmesan is a unique and delicious take on a holiday staple! This recipe is sure to be a crowd-pleaser this Thanksgiving or Christmas!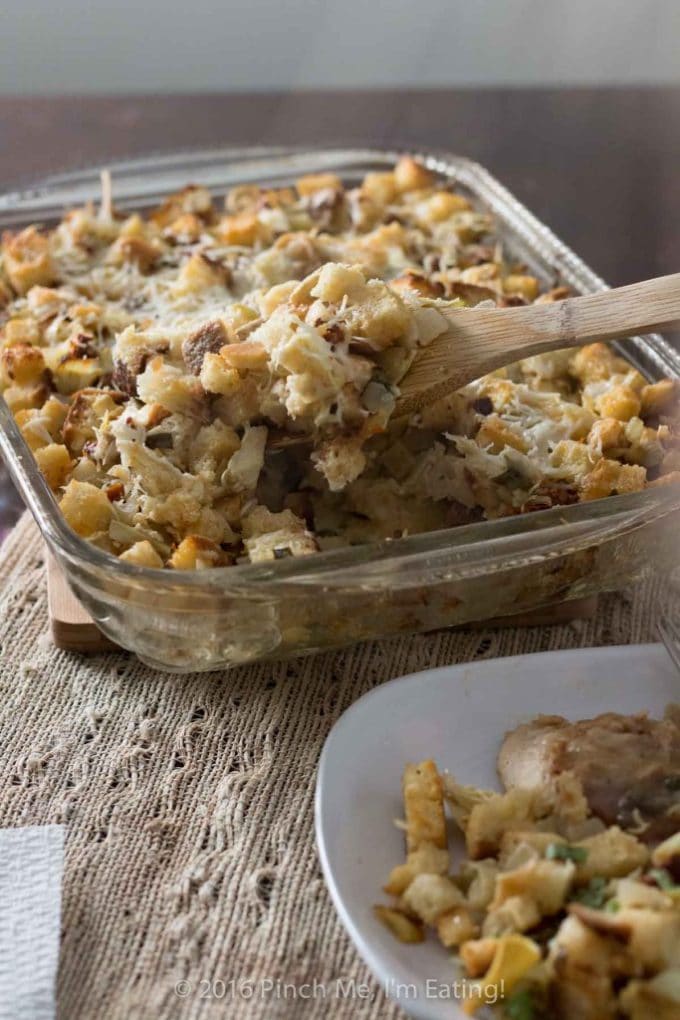 Italian Sausage and Apple Stuffing – The Organic Kitchen
The holidays are right around the corner, so now is the time to decide what you will be serving or bringing to the festivities. I hope your holiday meal will include this gorgeous Italian Sausage and Apple Stuffing!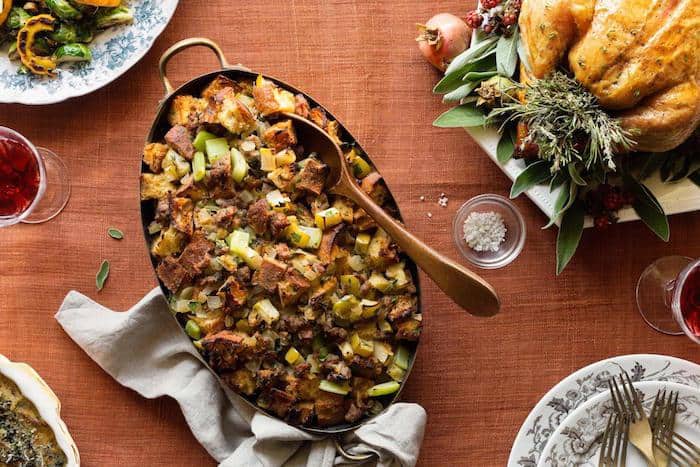 Butternut Sausage Stuffing – Wanderlust and Wellness
Stuffing, oh, stuffing, another one of my favorite Thanksgiving side dishes! This butternut sausage stuffing is gluten-free, savory, and full of flavor. You can use any of your favorite gluten-free bread with this recipe.
The sweet Italian chicken sausage brings out the additional flavor, along with the chicken broth, butternut squash, celery, onions, and seasonings. I promise you that removing gluten products from your diet does not mean you have to compromise on flavor.
Frequently asked questions:
What's the difference between stuffing and dressing?
The main difference between stuffing and dressing is generally where it is cooked. Stuffing is traditionally stuffed inside the turkey and then cooked. Dressing, on the other hand, is usually cooked in a pan outside of the turkey. 

That said, the line is blurred, and many folks use the terms interchangeably. It also depends on where you grew up. The majority of folks in the South call it dressing, and in the North, generally, stuffing is the term of choice. 

While most of these recipes are called dressing, most can easily be stuffed inside your turkey, and then they will be stuffing! 
Is homemade stuffing or dressing better than purchased?
My answer is it depends on who is making the dressing, what the ingredients are, and what recipe is used. It also depends on how busy you are and your personal preference.

In the past, homemade dressing and stuffing with fresh ingredients were much better than what you could buy at the store. However, these days most grocery stores and many restaurants offer premade dressing and stuffing around the holidays, which are really good.

So if you find yourself in a time crunch, don't hesitate to purchase your dressing already made.
What is the most popular base for dressing or stuffing?
At least in the South, the most popular base is cornbread. However, packaged stuffing mixes such as Pepperidge Farm Stuffing Mixes and Stove Top Stuffing Mix are gaining in popularity and are showing up in more recipes.
More Thanksgiving recipe collections:
And if you have a sweet tooth, I know you will surely want to check out these decadent and delicious dessert recipe collections:
Christmas recipe collections:
And, if you like to give homemade edible gifts to the foodies in your life, check out this collection of recipes: 31 Easy Homemade Edible Christmas Gifts
★★★★★ If you make any of these recipes, please leave a comment. I would love to know how you liked it!
Thank you so much for visiting Grits and Pinecones! I hope you come back soon!