Turn your Thanksgiving into a true celebration this year with quick and easy recipes and menu ideas from my 40 Best Desserts for Thanksgiving – 2022 collection.
Thanksgiving is all about family, friends, and food, and your family and friends will be thankful for these simple, mostly make-ahead desserts, which are as delicious as they are beautiful.
Like my collection of 40 Non-Traditional Thanksgiving Desserts, these showstopping Thanksgiving desserts are perfect for your dessert table or to take to a potluck. Chose from favorites, including make-ahead desserts to freeze and popular no-bake wonders.
If you are looking for a pumpkin dessert, you are in the right place. You will also find a wide array of luscious top-rated Thanksgiving desserts without pumpkin, featuring other ingredients such as fruit, chocolate, apples, pecans, and everything in between from top food bloggers around the globe.
And if you are looking for friends or family with dietary restrictions, I have included crowd-pleasing Thanksgiving dessert recipes that are gluten-free, paleo, vegan, sugar-free, dairy-free, and nut-free.
Easy Southern Sweet Potato Pie – Grits and Pinecones
My, oh my, Sweet Potato Pie! Easy Southern Sweet Potato Pie tastes like a cool crisp Fall day, warm, pungent spices, and Thanksgiving all wrapped up in one delicious and decadent bite. A wonderful alternative to pumpkin pie, it will quickly become a family favorite.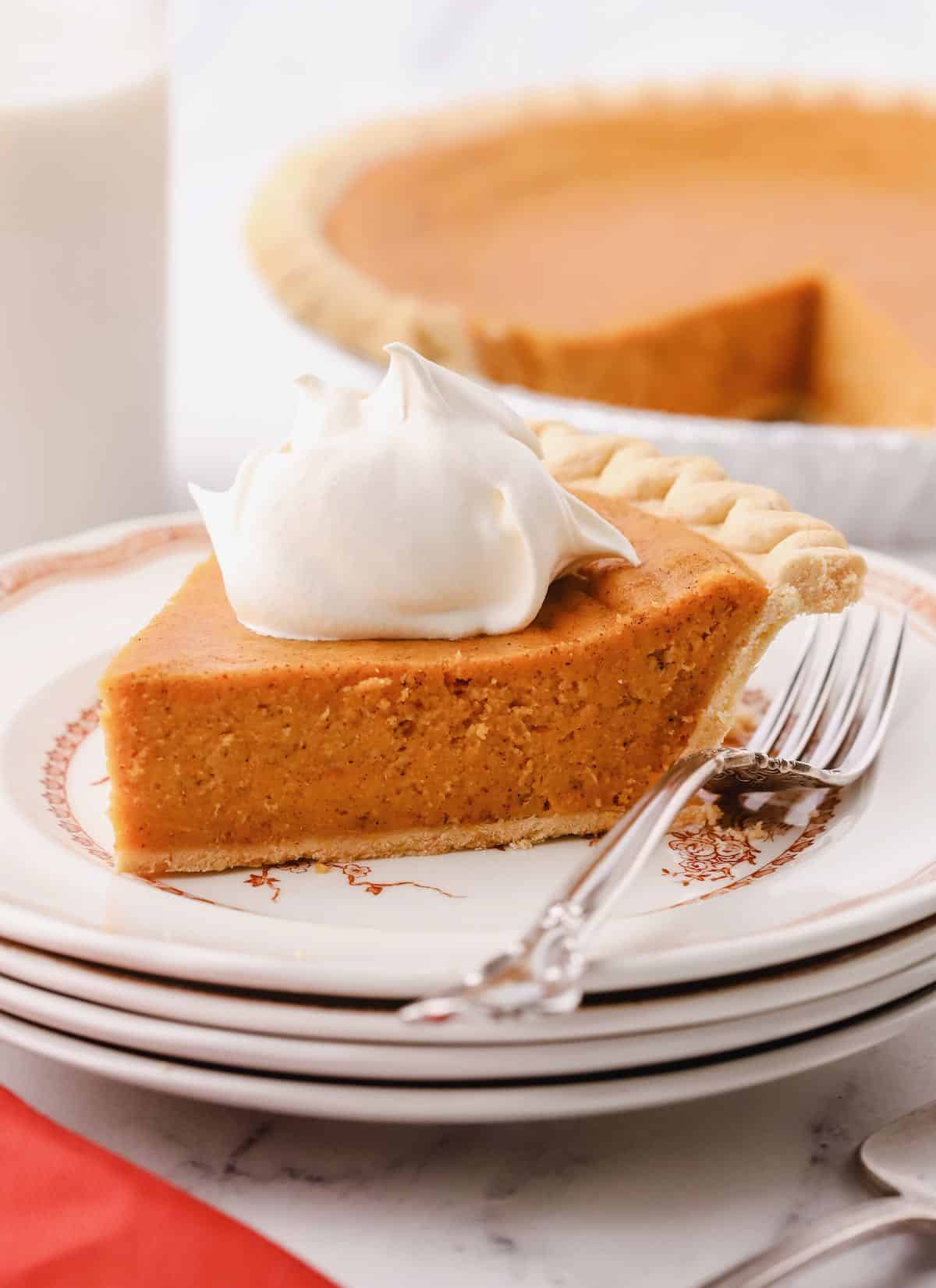 Cranberry Gingersnap Pie – The View from the Great Island
Cranberry Pie, with its spicy gingersnap crumb crust and silky cranberry curd filling, brings a little va-va-voom to the traditional dessert table ~ this vibrant pie going to be everybody's holiday favorite!
Nutella Tart with Toasted Hazelnut Crust – Sally's Baking Addiction
This Nutella tart tastes exactly how it looks: lush. It's a Nutella ganache of sorts, cooked on the… I'm sorry, wait. Did you read that just now? NUTELLA GANACHE. Like regular chocolate ganache but even better. Ok, so a Nutella ganache cooked on the stovetop in a matter of minutes and poured into a toasted hazelnut crust. It's rich, but not quite as rich as you would guess. Who am I kidding, the ingredients are heavy cream and Nutella. It's exactly as rich as you would imagine.
Old-Fashioned Southern Pecan Pie – Grits and Pinecones
One bite of this old-fashioned Southern Pecan Pie will have your taste buds swooning with crunchy, sweet, custardy, caramelly goodness. In the South, there are as many recipes for pecan pie as there are pecan trees. Every family has a favorite, and this is ours. A wonderfully rich, old-fashioned southern pecan pie recipe, which isn't cloyingly sweet like most pecan pies. Classic and simple, and along with pumpkin pie, it's a Thanksgiving tradition.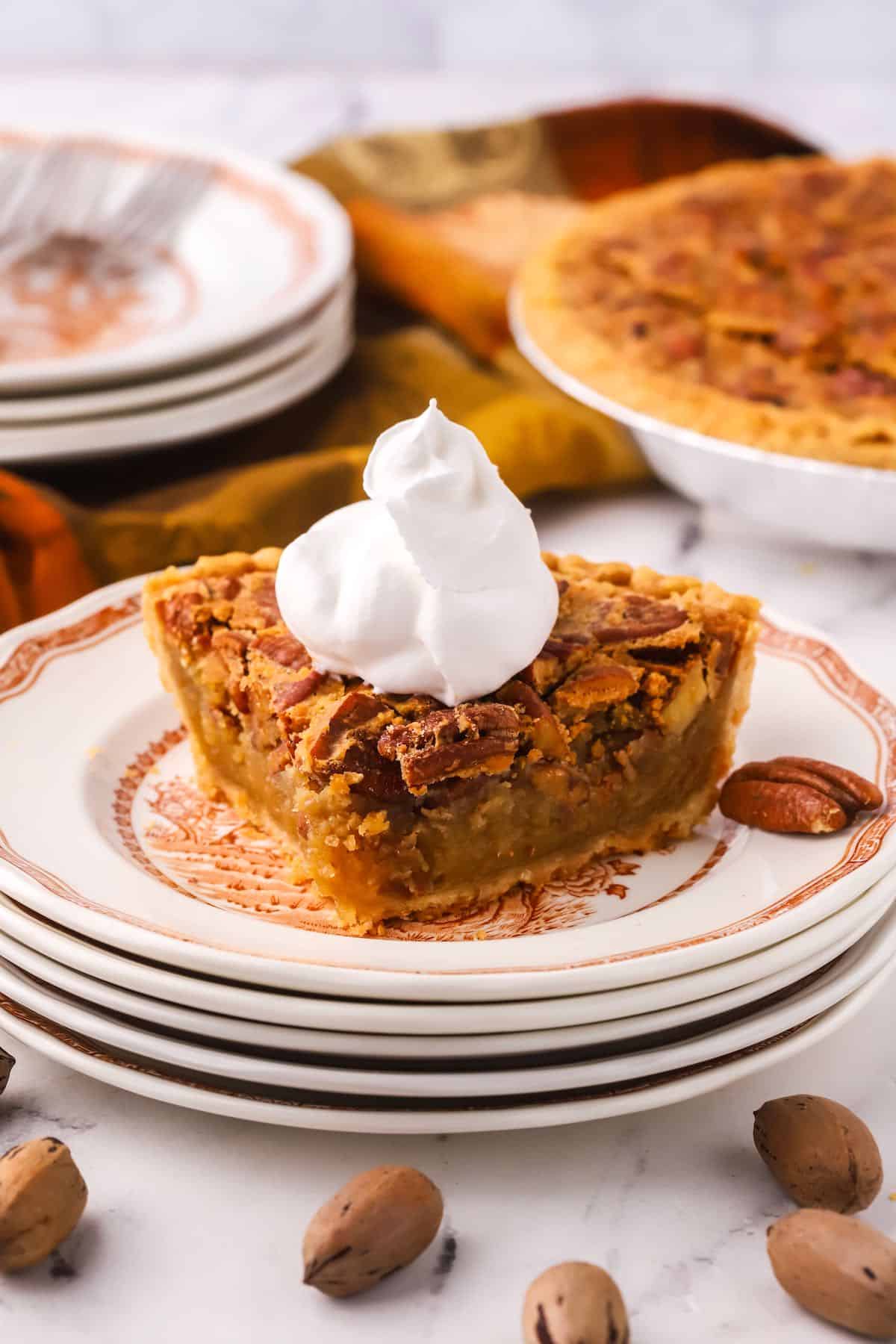 Easy Pumpkin Patties – Mom on Timeout
Delightfully easy Pumpkin Patties are the perfect no-bake treat to celebrate the season. The cute factor here is off the charts!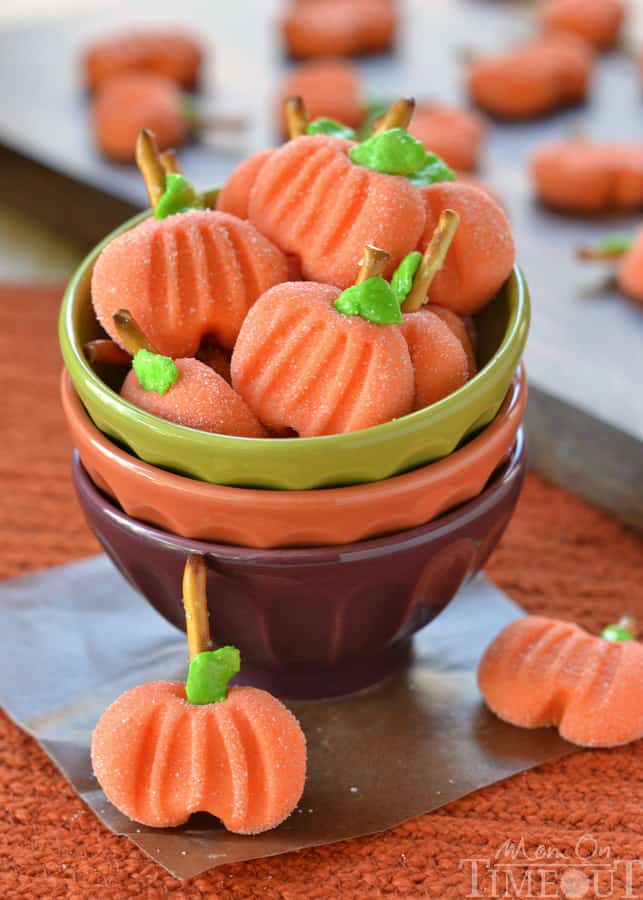 Southern Pecan Praline Cheesecake – Grits and Pinecones
This is the season, and I have a delicious make-ahead Thanksgiving dessert for you today! Southern Pecan Praline Cheesecake is everything a cheesecake should be and includes a delicious and decadent pecan praline topping.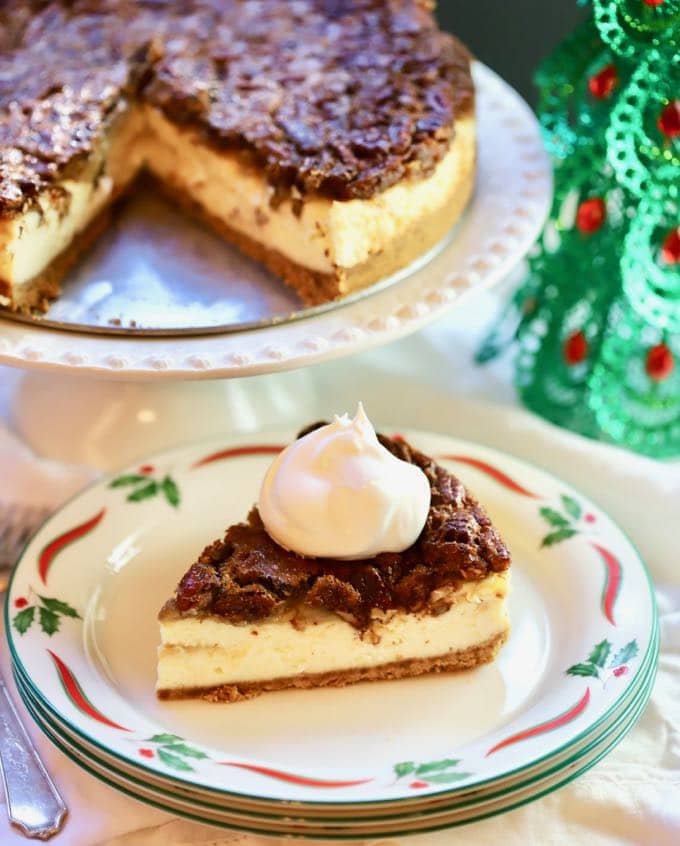 Pumpkin Ricotta Bundt Cake – The Merchant Baker
I originally was going to call this Pumpkin Ricotta Bundt Cake "Pumpkin Ricotta Custard Bundt Cake." But that's a mouthful of words that doesn't quite roll off the tongue. So, I took "Custard" out of the title and made peace with it. Or not. Because custard is the highlight of this cake, the pièce de résistance. And that custard forms magically for you in the oven!
Easy Cranberry Cake with Hard Sauce – Grits and Pinecones
A beautiful and festive dessert, Easy Cranberry Cake with Hard Sauce, will make a unique sweet ending for your Thanksgiving meal. Full of fresh tart cranberries, this cake has it all; the colors of the season, a winning combination of flavors and textures, and the creamy, blissful yumminess of a decadent hard sauce.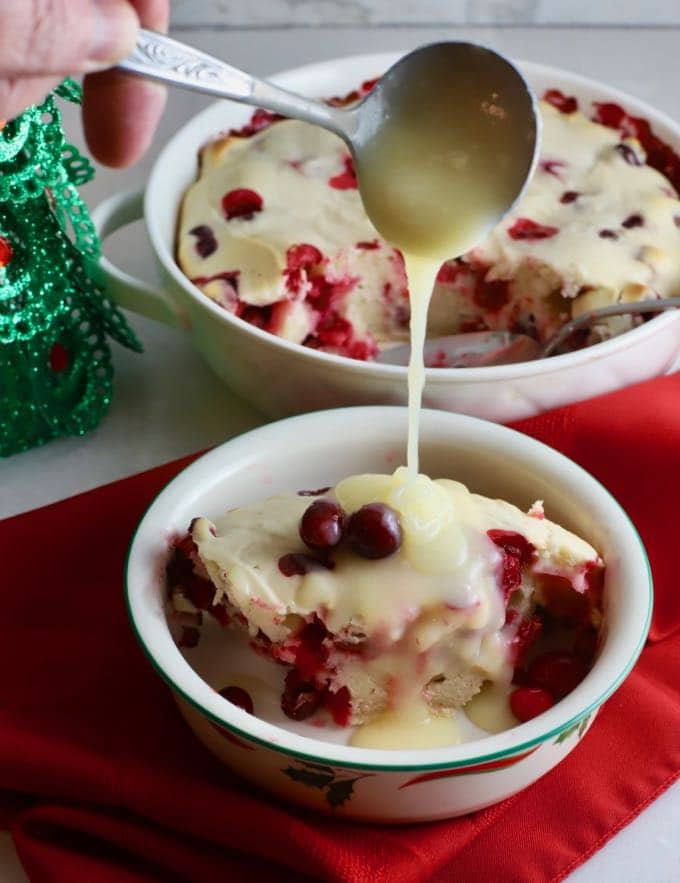 Grandma's Pumpkin Roll – Berly's Kitchen
Grandma's Pumpkin Roll Recipe is one of my family's favorites. Sweetened cream cheese filling rolled in light and moist pumpkin cake makes this dessert unforgettable!
Caramel Upside Down Apple Cake – An Italian in My Kitchen
Fast and Easy and so Delicious, this Caramel Upside Down Apple Cake has a self-making Caramel Sauce over a perfectly baked moist Apple Cake. The Best Thanksgiving Dessert.
Bourbon Butter Pecan Cake with Brown Butter Maple Frosting – The Flavor Bender
A pumpkin pie alternative for your Thanksgiving spread – this soft, moist, spiced Bourbon Butter Pecan Cake with Brown Butter Maple Frosting is made with ground pecan in the cake batter, plus chopped pecans sprinkled throughout for a rich, buttery pecan flavor throughout the cake.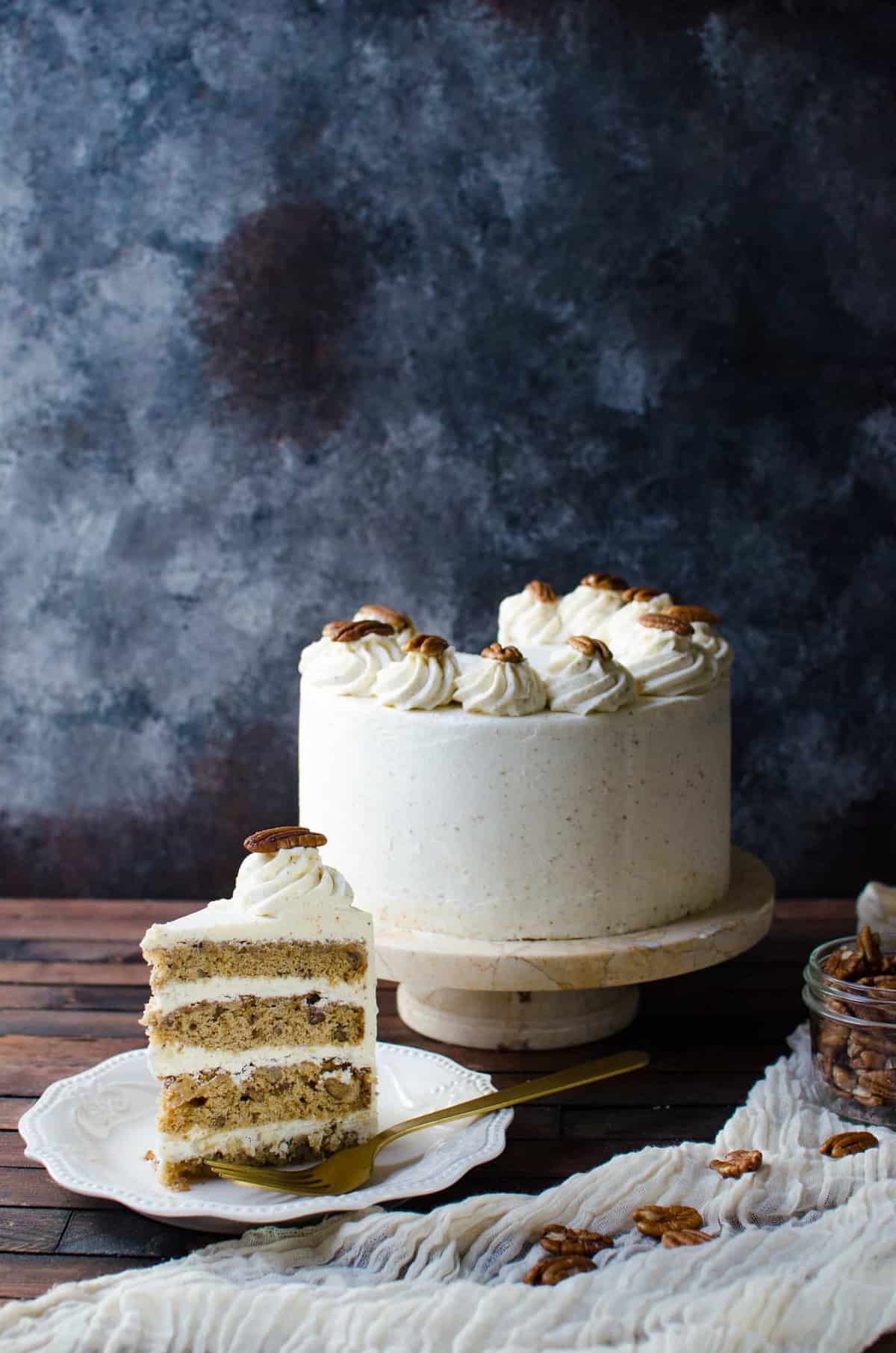 Susan's Perfect Pecan Pie – Pudge Factor
At Thanksgiving, friends and family members fight over getting a piece of Susan's Perfect Pecan Pie. It's dubbed perfect for two reasons: (1) It's perfectly delicious, and (2) it took almost ten years to perfect.
Pear Pie – Homemade with Fresh Pears – Grits and Pinecones
Imagine a delicious homemade pear pie laced with a flakey buttery crust and a juicy, cinnamon and nutmeg-infused fresh pear pie filling. It's how Thanksgiving dessert dreams without pumpkin are made!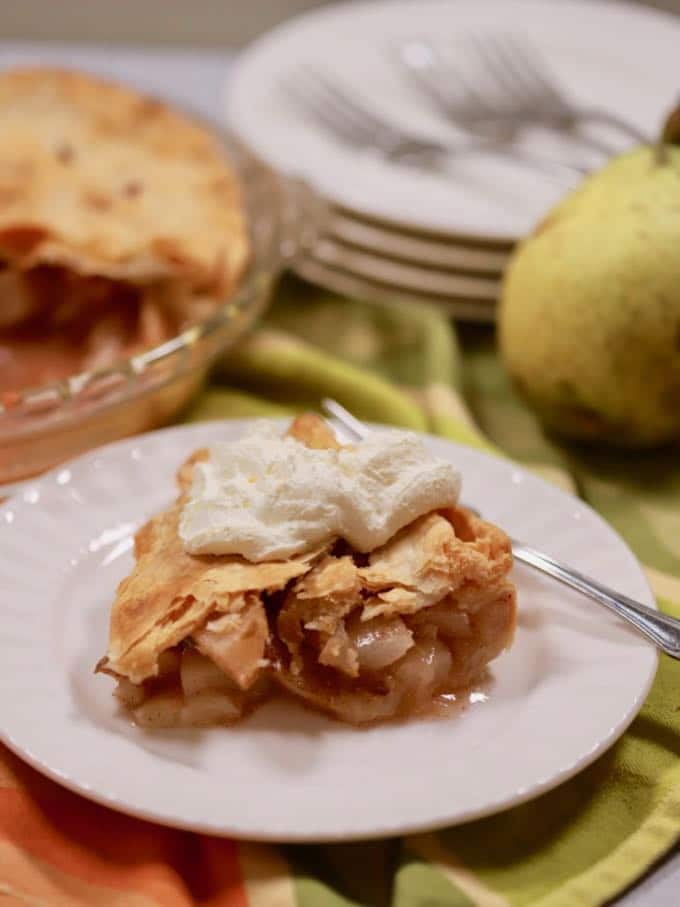 Pumpkin Banana Cream Pie Bars – Impeckable Eats
This recipe combines a classic old-fashioned pie with autumn flavors and fluffy marshmallows instead of whipped cream. Why marshmallow? Simply because I have a small obsession with the billowy, overly sweet melt-in-your-mouth confection. You can replace this with standard whipped cream if you prefer.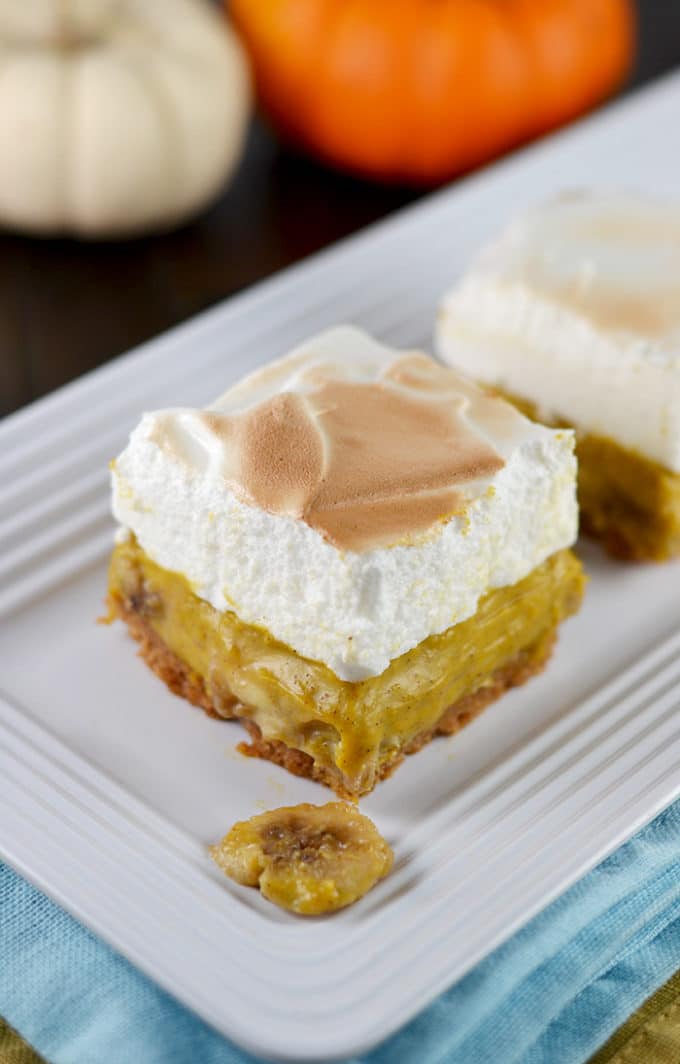 Apple Pie Cheesecake with Caramel Topping – Grits and Pinecones
Say yes to Apple Pie Cheesecake with Caramel Topping for a sweet ending to your holiday meals, and be prepared to be blown away by all of the flavorful layers and textures tucked into this delicious dessert!
Sharlotka Russian Apple Pie – Happy Kitchen Rocks
Sharlotka (Шарлотка) is the most well-known and easy Russian apple pie. This recipe uses honey, resulting in the moistest, healthy, and most delicious sharlotka.
Chocolate Pumpkin Tart – Vegan, Gluten-Free, Nut-Free – Nirvana Cakery
I've got just the right Thanksgiving dessert for you – Chocolate Pumpkin Tart. I've been working on this recipe for quite some time, and it is perfect!
Pumpkin Bundt Cake – Pudge Factor
Tired of the same old pumpkin pie for Thanksgiving? If so, you should try this incredible Pumpkin Bundt Cake. It has the same characteristic flavor of a pumpkin pie but will leave your family and guests saying, "WOW"! What's even better is that it's easy to make and can be made ahead of time and frozen.
Apple Dapple Cake with Caramel Glaze – Grits and Pinecones
It's fall and the time of year when it just seems right to put apples in everything. There is a season for everything, and fall and apples go together. Apples will never taste juicier or sweeter than they do right now. And what goes perfectly with apples, why caramel, of course! The perfect dessert to take to a Thanksgiving potluck!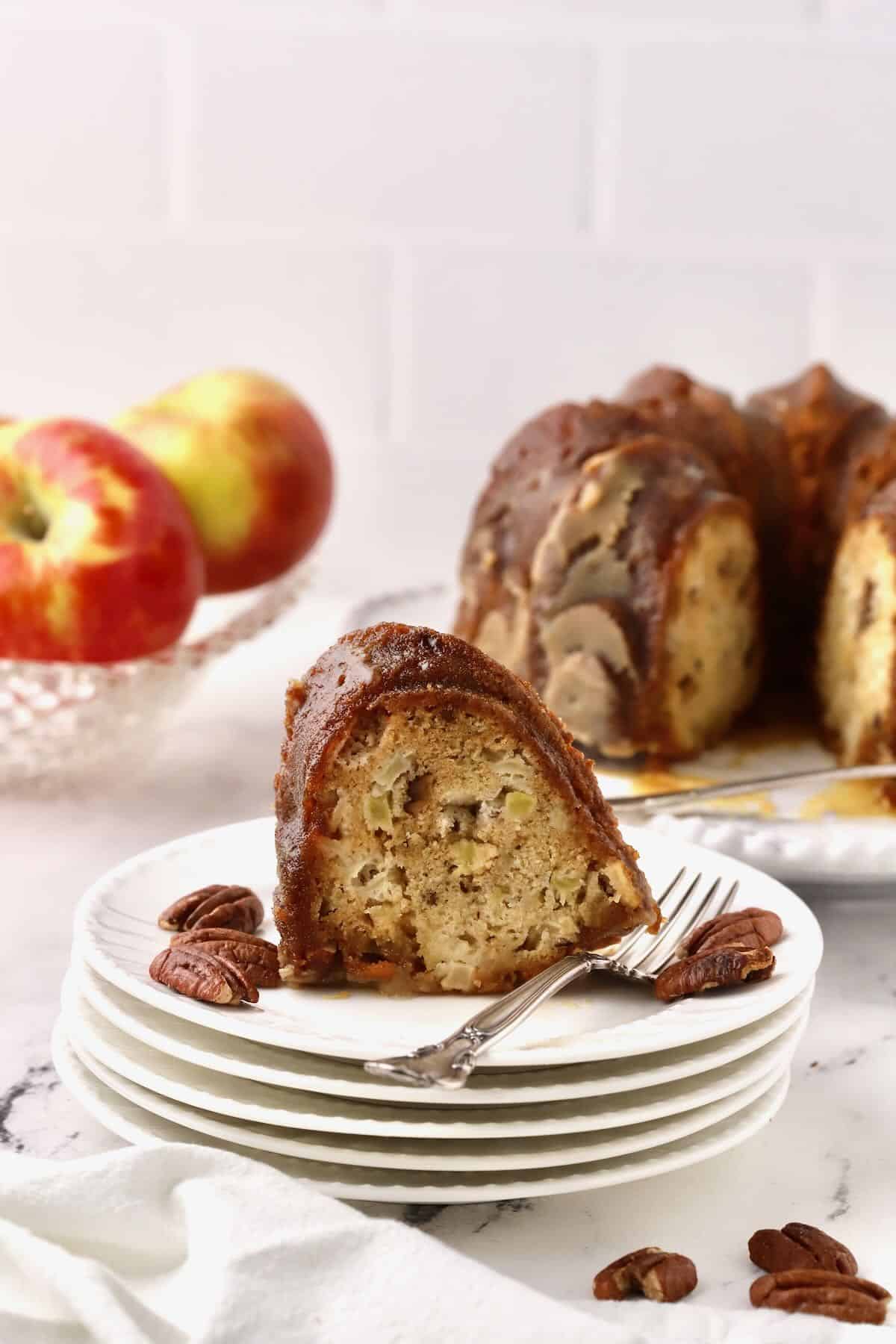 Pumpkin Cheesecake – Berly's Kitchen
Need a Thanksgiving dessert that is smooth, rich, creamy, and sure to please a crowd. Try this delicious pumpkin cheesecake.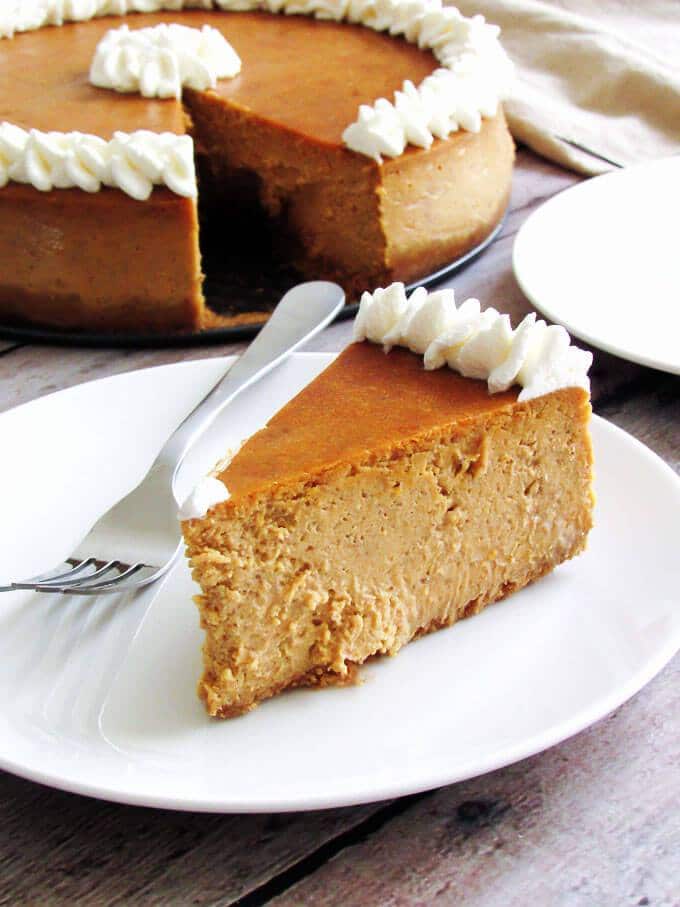 Mini Pumpkin Pies – Jar of Lemons
These Mini Pumpkin Pies, y'all. Everything glorious about a real pumpkin pie (which also happens to be my absolute FAVE), but mini and healthy and perfect for Thanksgiving!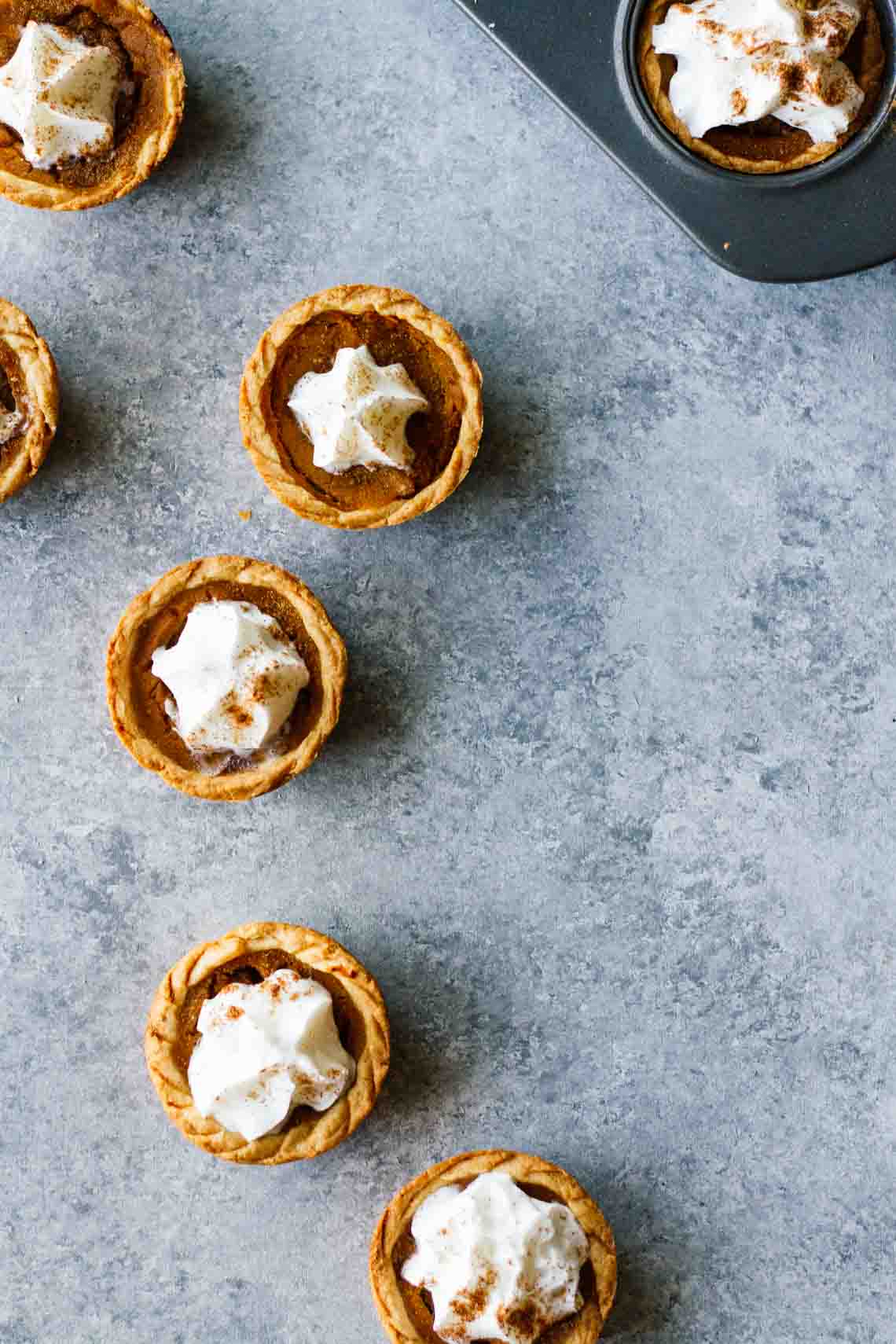 Paleo Pumpkin Bars( Gluten-Free, Sugar-Free, Dairy-Free – What Molly Made
Paleo bars filled with pumpkin and spice! These little squares of heaven taste just like pumpkin pie! And they're paleo:) Which means they're gluten-free, refined sugar-free, and dairy-free. They taste like fall in a bite and are topped with a light maple frosting you will be drooling over.
Homemade Classic Pumpkin Pie – Jessica Gavin
Classic pumpkin pie recipe with cinnamon, nutmeg, ginger, cloves, and black pepper infused in the creamy custard. This festive holiday treat is baked in a delicious flaky crust!
Pumpkin Ice Cream with Coconut, Caramel and Praline Pecans (Vegan) – Viktoria's Table
Pumpkin ice cream with coconut caramel and praline pecans – 3 ingredients, no-churn, vegan ice cream that's as creamy and delicious as pumpkin pie and decadent, drizzled with coconut caramel, toasted coconut chips, and maple-spiced praline pecans.
Gluten-Free Apple Pumpkin Spice Cake with Butter Rum Glaze – Recipes Worth Repeating
With all the wonderful Fall flavors going on right now, you're guaranteed to love this homemade Apple Pumpkin Spice Cake! It features apples and pumpkin mixed with ground cinnamon, clove, and nutmeg, topped with creamy butter and spiced rum glaze. This bundt cake is guaranteed to be one of your family's Fall favorites desserts!
Gluten-Free Mini Pumpkin Pies – Wanderlust And Wellness
Who wants pumpkin pie for dessert?? These gluten-free mini pumpkin pies will hit the dessert spot on Thanksgiving dinner. They are the perfect bite-sized dessert, so you don't overindulge when it comes to the dessert table, right?! I'm also including a maple cinnamon coconut cream in this recipe, too! So you'll get two recipes in one!
Easy Carrot Cake with Cream Cheese Icing – Grits and Pinecones
If you like carrot cake, you will love this recipe! Easy Carrot Cake with Cream Cheese Icing is chock full of pineapple, carrots, raisins, and, because I'm a Southern girl, pecans. If this isn't enough to get your attention, it's then topped with a quick and easy but decadent, luscious, and velvety smooth cream cheese icing.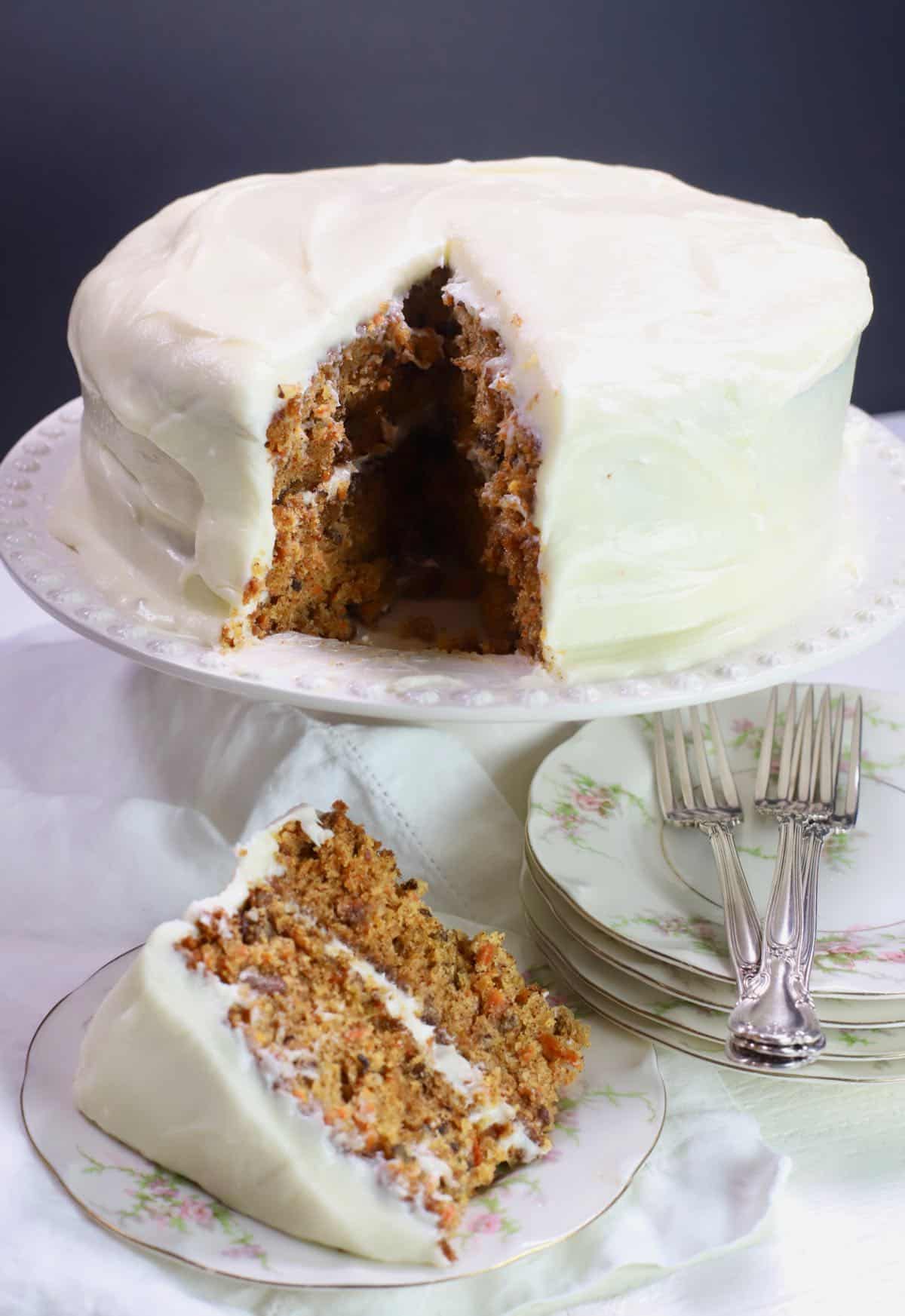 Flourless Chocolate Cake – Pudge Factor
Flourless Chocolate Cake is amazingly dense, rich, and decadent, with every bite packed with intense bittersweet chocolate flavor.
Pumpkin Ice Cream Sandwiches – What a Girl Eats
Pumpkin Ice Cream Sandwiches, with vanilla ice cream and chocolate chips or butter pecan and English toffee bits, is the best dessert I've had in a long time.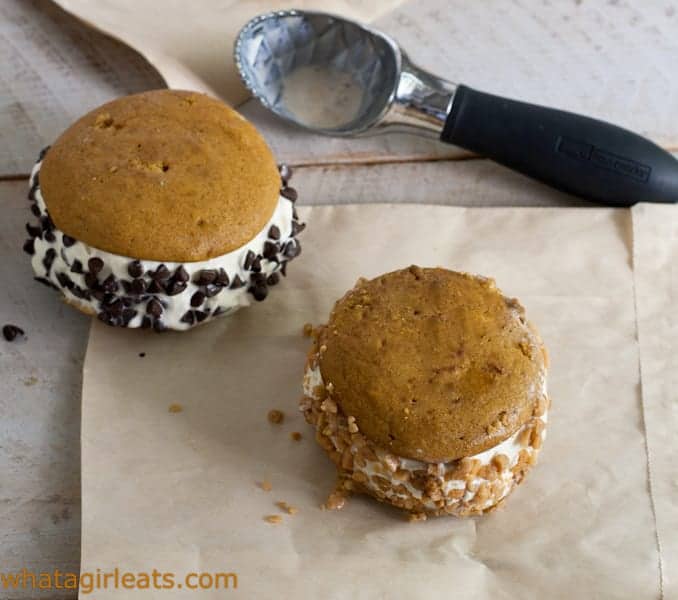 Partridgeberry Bundt Cake – Girl Heart Food
This Partridgeberry Bundt cake has tart partridgeberries, orange zest, and rosemary. It's easy to put together and super moist! Delicious on its own or paired with whipped cream!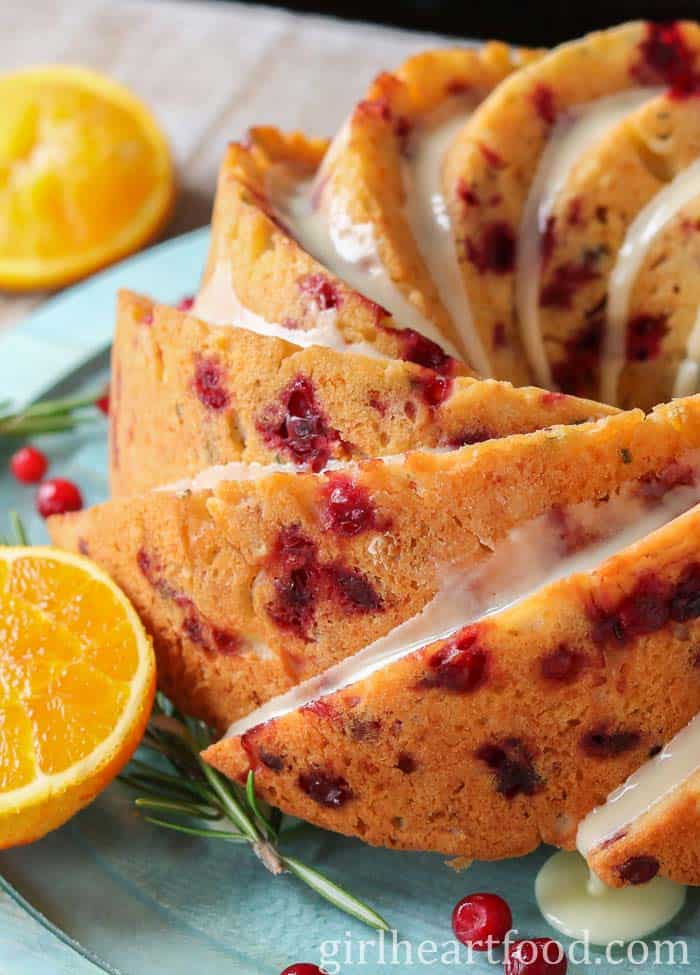 Easy Caramel Apple Galette – Sweet Tea and Thyme
A perfect fall treat: an easy apple galette made from scratch with warm caramel drizzled on top. They're elegant, rustic, and so easy to make their nickname is 'the lazy cook's apple pie'!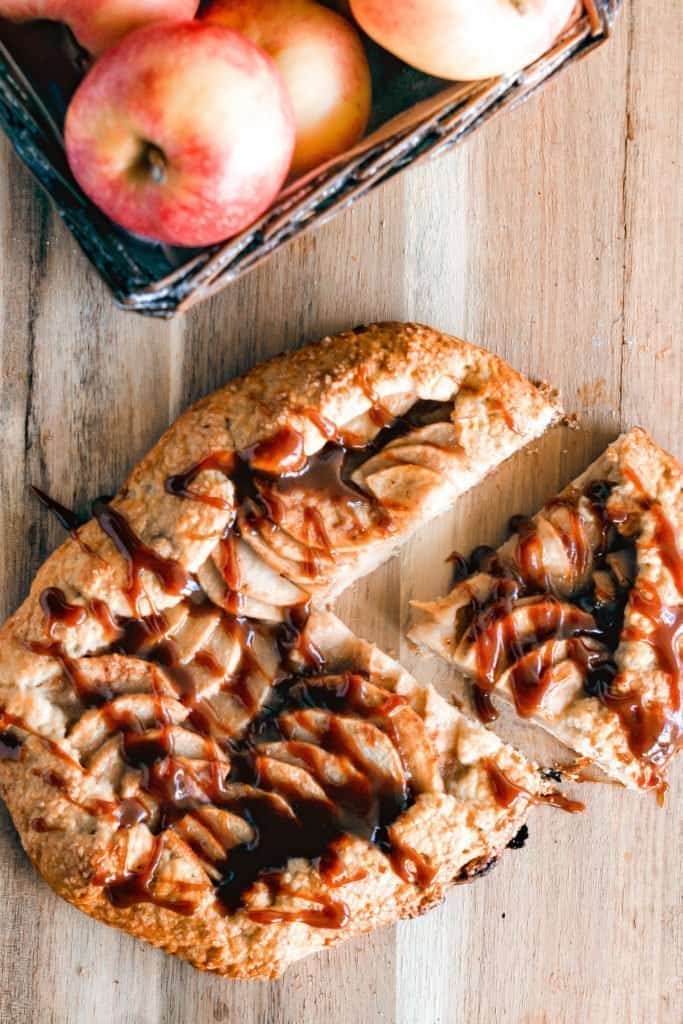 Pecan Pie Cheesecake Bars – The Unlikely Baker
Pecan pie cheesecake bars bring together two of Thanksgiving's favorite desserts — pecan pie and cheesecake. They are perfect for a delicious, stress-free holiday celebration.
Pumpkin Cheesecake Dessert – The Gunny Sack
Pumpkin Cheesecake Dessert has two layers of smooth, creamy cheesecake with a gingersnap crust. Made in a 9×13 inch pan, this cheesecake is made for sharing!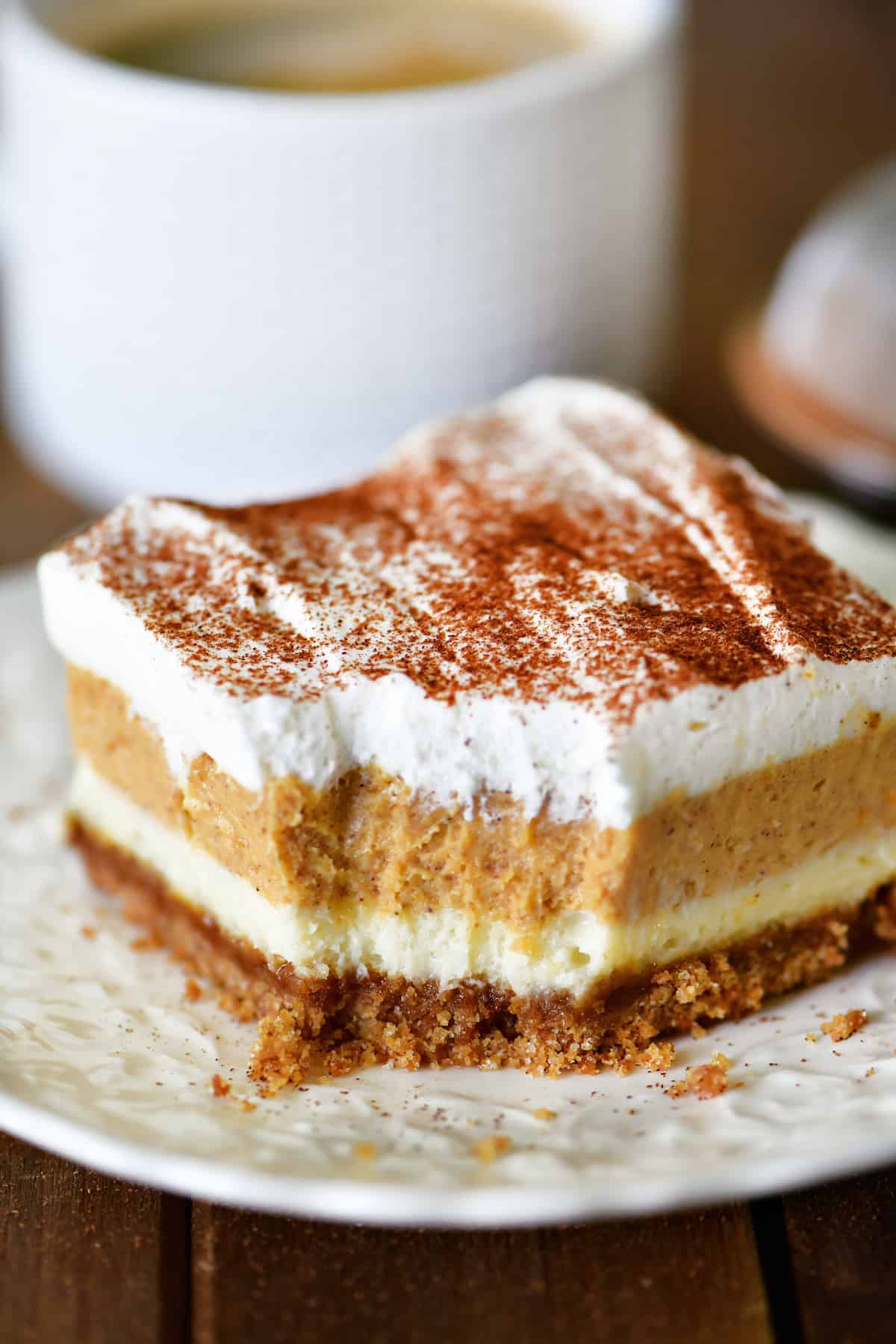 Pecan Cornbread Cobbler – South your Mouth
A pecan cobbler recipe made with cornbread for a rustic, sweet, Southern dessert perfect for Fall and Winter holiday meals!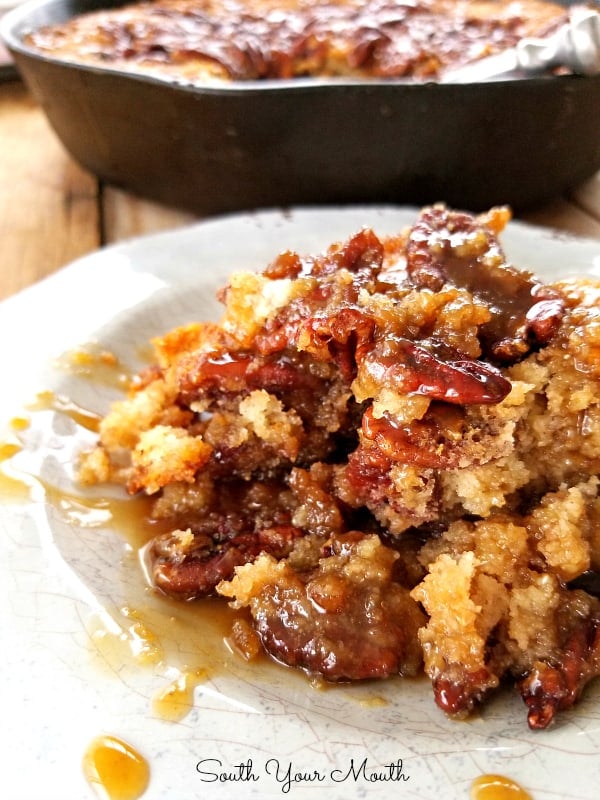 French Silk Pie Recipe – Salt and Baker
Silky smooth French silk pie with a graham cracker crust makes for the perfect Thanksgiving dessert. It's easy to make and loved by all!
Ultimate Cranberry Upside-Down Cake – Grits and Pinecones
This exceptionally moist Cranberry Upside-Down Cake, topped with luscious deep garnet cranberries, is a unique twist on the more familiar pineapple upside-down cake. This quick and easy cranberry cake combines fresh fruit, orange juice, brown sugar, and cornmeal with a box cake mix and takes only minutes to prepare.
Frequently asked questions:
What are the most popular Thanksgiving desserts?
The number one dessert across the country is pumpkin pie, however, this does vary depending on where you live.

In the South, sweet potato or pumpkin pie and pecan pie reign supreme and you would be hard-pressed to find a Thanksgiving dessert table without one or both!
More Thanksgiving recipe collections:
You can also find even more dessert choices in my collection of 50 Thanksgiving Dessert Recipes, and if you are looking for recipes for leftovers, you will want to check out my collection of 27 Best Thanksgiving Leftover Recipes!
Christmas recipe collections:
I also have a great collection of 31 Easy Homemade Edible Christmas Gifts full of recipes for the foodies in your life.
★★★★★ If you make any of these recipes, please leave a comment. I would love to know how you liked it!
I hope you enjoy these tasty desserts, and I wish you a year filled with warm memories and cherished moments. May you also find all joys and happiness that this heartfelt wish brings. Happy Thanksgiving!