Gobble, Gobble! It is all about the turkey! Check out these amazing Ten Best Turkey Recipes for Thanksgiving. All recipes include easy step-by-step directions with photos to make sure that this year's turkey is the star of the show!
Try smoking your turkey this Thanksgiving! Fresh Herb and Garlic Smoked Turkey tastes and looks amazing! Smoking gives the turkey a deep golden brown color and the meat is moist and tender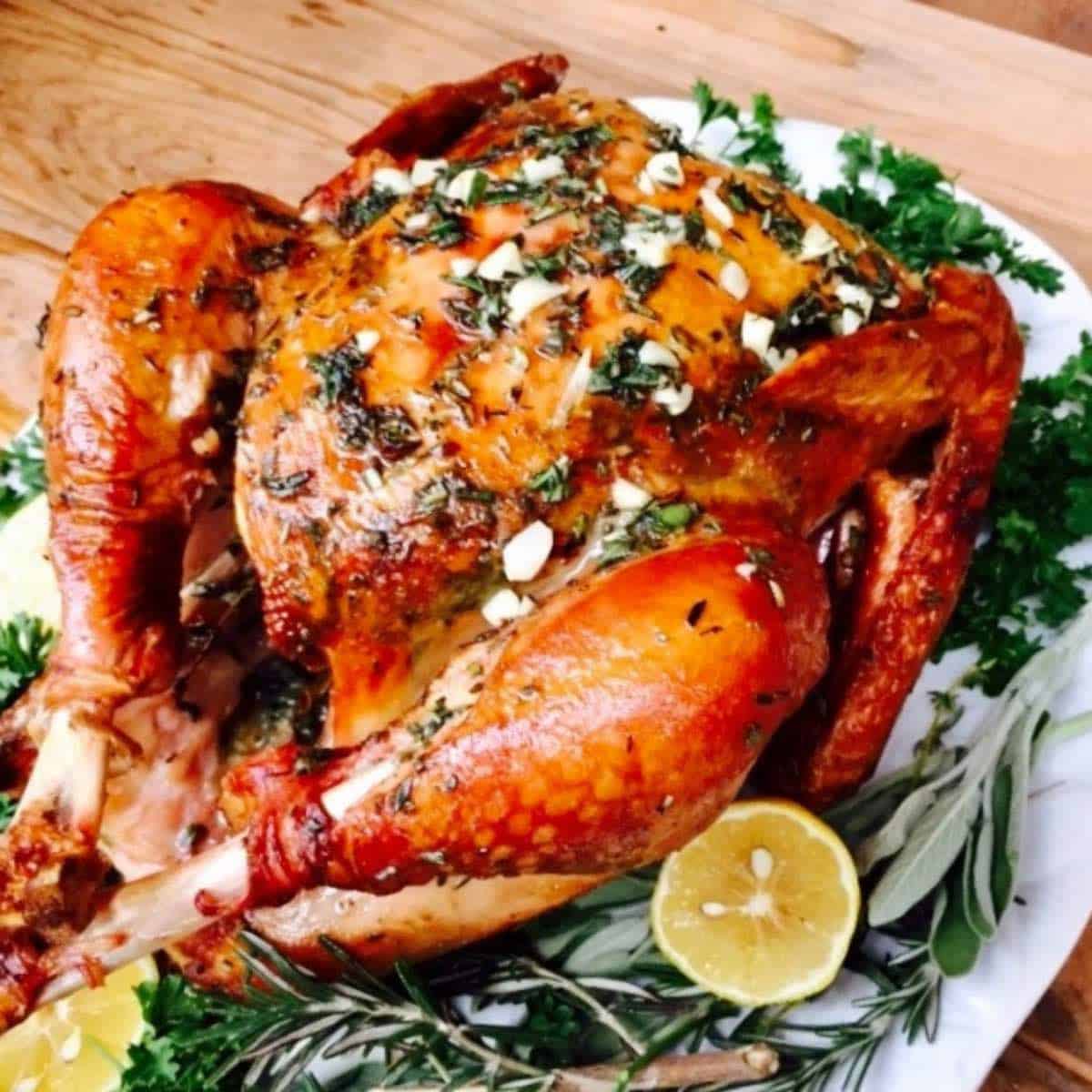 There's a widespread view that in the South, we'll eat anything that's fried, and fried turkey is no exception! Although fried turkey is not necessarily confined to the South, its origins are very Southern – the heart of Cajun country in Louisiana to be exact. What if you could achieve the crisp and crunchy outside, and moist and flavorful inside that is characteristic of a fried turkey without all of the oil that accompanies it?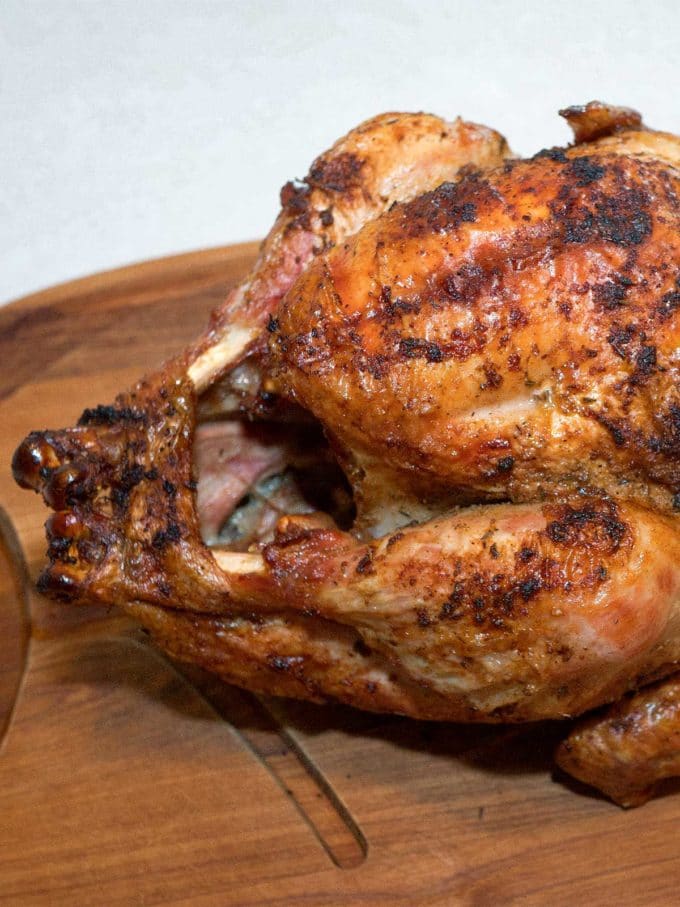 Brown Sugar Date Roast Turkey is a sweet way to serve up your next holiday dinner. Find out tricks to keep your turkey moist and flavorful and get this recipe for a sweet, gingery turkey baste.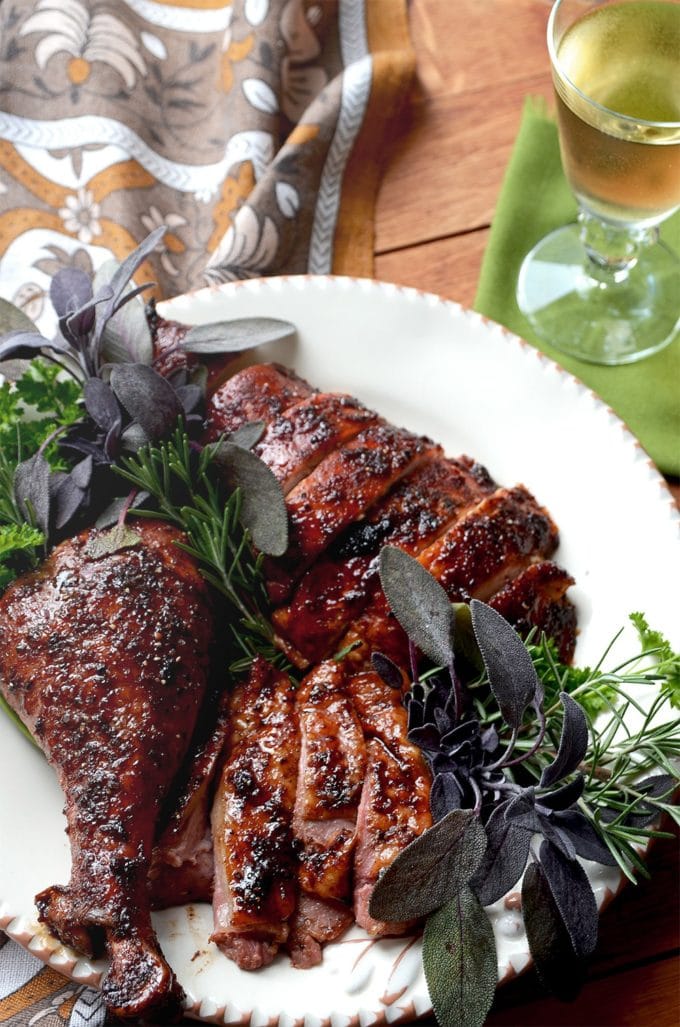 Spinach and Ricotta Stuffed Turkey Breast with Garlic Herb Sauce is perfect for a small-scale Thanksgiving or a nice family dinner.
Is this your first time making Thanksgiving dinner? Well, rest assured, roasting a turkey like this Butter & Herb Roasted Turkey is a snap! Follow these simple tips on How to Roast a Thanksgiving Turkey. This is definitely one of the best turkey recipes for Thanksgiving.
Are you hosting Thanksgiving dinner and want to learn how to make a roast turkey that your guests will be swooning over? Well then, this EPIC duck fat roasted turkey recipe is guaranteed to deliver an unforgettable turkey dinner!
This emergency turkey and gravy came about when I was thinking of my families busy schedule this year. Not only is my dad's birthday on Thanksgiving, but Nolan's is the day after. Then there is my sister's wedding coming up too. It's going to be a crazy few months. I wanted to challenge me and my mom to come up with a fast, easy turkey for this year. We were incredibly surprised how well these birds turned out!
I'm all about easy; especially when it comes to cooking meals for the holidays. I like to prepare most menu items before my guests arrive so that I have plenty of time to spend with them instead of being tied to the kitchen all day. This recipe for Maple Bacon Roasted Turkey is the perfect example of one of those recipes that take minutes to prepare; then let the oven do the rest of the work.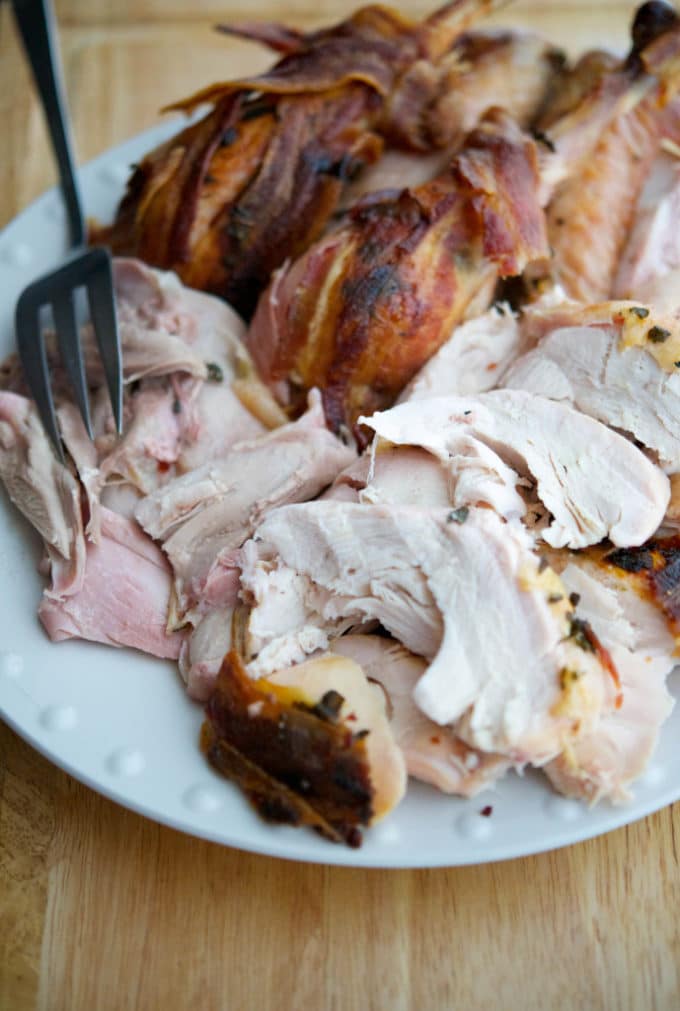 For an elegant main course for the holiday season, you should try this delicious Turkey Breast Roulade. It has everything you would want – amazing stuffing (my Mushroom Wild Rice Dressing to be exact), moist and perfectly cooked turkey breast, and a sauce that's out of this world! Because it's in a neat roll, there's no tricky carving. Just slice and serve!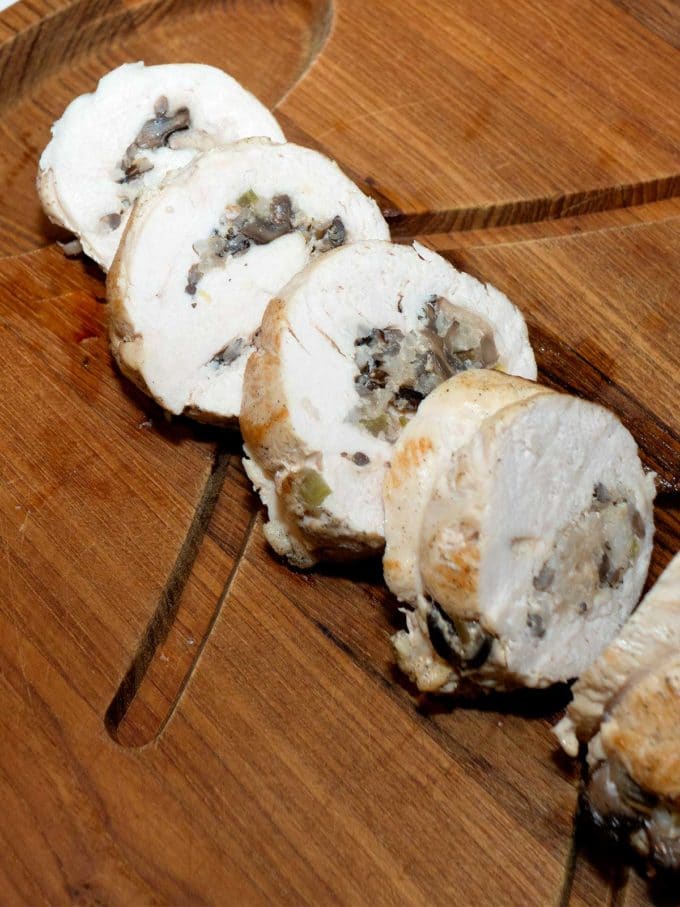 Easy Skillet Turkey Dinner for Four is the answer to your Thanksgiving Dinner prayers! An amazing, delicious, one-skillet turkey dinner that cooks in an hour and serves four people.
Dry Brined-Fried Turkey without Oil, crispy outside, juicy inside, a recipe for an easier, faster and healthier way to deep fry a turkey in an oil-less turkey fryer. Dry brining adds flavor and moistness throughout and cajun seasoning spices things up ever so slightly for a Thanksgiving turkey you will never forget!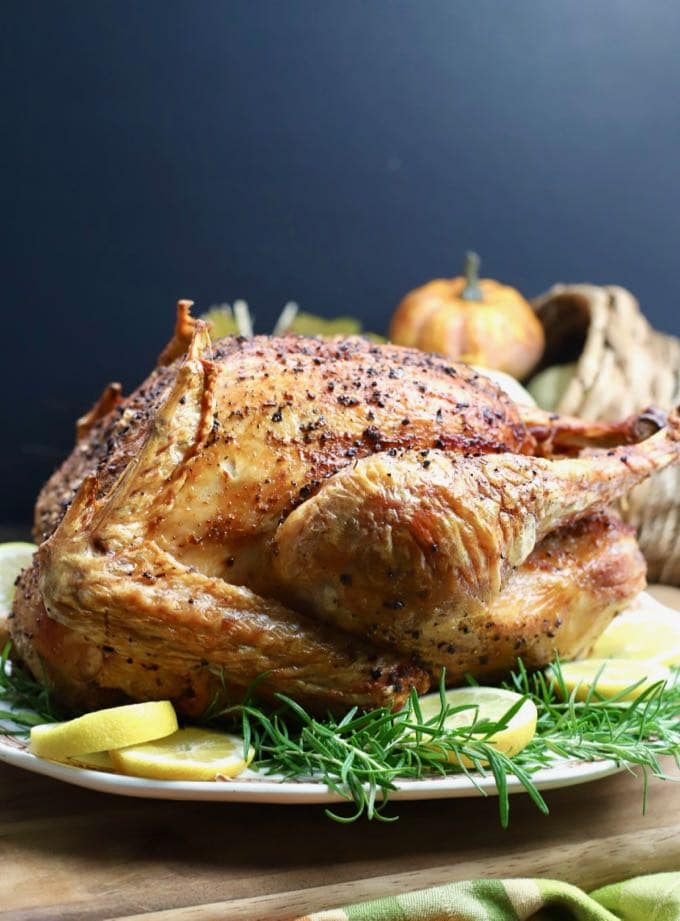 Well, what do you think? Don't they all look delicious? Now the hard part is figuring out which one to make. Leave me a comment to let me know your favorite(s)!
Need even more Thanksgiving dinner menu ideas? Check out these roundup posts:
31 Best Thanksgiving Dessert Recipes (2017)
19 Best Thanksgiving Savory Side Dishes
12 Best Thanksgiving Stuffing aka Dressing Recipes
27 Best Thanksgiving Dessert Recipes (2016)
12 Best Thanksgiving Leftover Recipes
113 Best Thanksgiving Recipes Ever
Top 10 Thanksgiving Sides and Menu Ideas
Please follow me on Pinterest, Facebook, and Instagram. And, to be the first to receive new notifications of new posts by email, enter your email address in the Subscribe box. Thank you so much for visiting Grits and Pinecones!