If you like to walk on the wild side and break with tradition this year, my collection of 50 Non-Traditional Thanksgiving Desserts updated for 2023 is for you.
It should be no surprise that Thanksgiving is the number one food holiday in the US! And for most families, especially in the South, pies such as pecan pie and sweet potato pie usually eclipse even the star of the show, the turkey.
But this year, forget about all of that, start a new tradition, and wow your family and friends with one or more unique and creative non-traditional desserts that are not pies.
Full of holiday flavors, these showstopping, top-rated, non-traditional desserts are from some of the top bloggers around the globe. Decadent and delicious, they will be the perfect sweet ending for your Thanksgiving feast!
Like my collections of Best Desserts for Thanksgiving, Christmas Desserts, Valentine's Day Desserts, and Easter Desserts, if you have family or guests with special dietary needs, I have you covered.
This crowd-pleasing collection of non-traditional Thanksgiving dessert recipes also includes gluten-free, paleo, vegetarian, vegan, and nut-free options.
Your only problem will be deciding which scrumptious non-traditional Thanksgiving desserts to prepare.
Southern Pecan Praline Cake – Grits and Pinecones
Southern Pecan Praline Cake is about as southern as you can get and perfect for Thanksgiving. If you like pecans and pralines, you will love this easy-to-make, decadent, and delicious make-ahead cake that starts with a cake mix.
Southern Hummingbird Mini-Bundtlettes – Pudge Factor
Southern Hummingbird Mini-Bundtlettes are bite-sized bundt cakes made with a slightly modified classic Hummingbird Cake recipe. Think carrot cake with bananas replacing the carrots, and you'll have an idea of the taste and texture of this amazing Thanksgiving cake. Don't forget, however, the decadent cream cheese frosting that sits like a jewel atop these mini-bundtlettes.
Caramel Apple Cake – Preppy Kitchen
Apple cakes are a Thanksgiving favorite, and this year I stepped up my game and made a little apple dipped in caramel sitting on top. I even broke my cardinal rule of not using fondant! Browned buttercream infused with Fall spices is completely addictive, by the way. If you don't do anything else, whip up a batch and slather it on everything!
Bourbon Ice Cream – Grits and Pinecones
If you are a bourbon fan and love homemade vanilla ice cream, you will love this decadent recipe for adults-only Bourbon Ice Cream. The custard base starts with the basics: rich, heavy cream, egg yolks, sugar, and vanilla paste.
The magic happens with the addition of brown sugar with its deep molasses flavor and bourbon, which adds the characteristic vanilla, caramel, and oak flavor profile.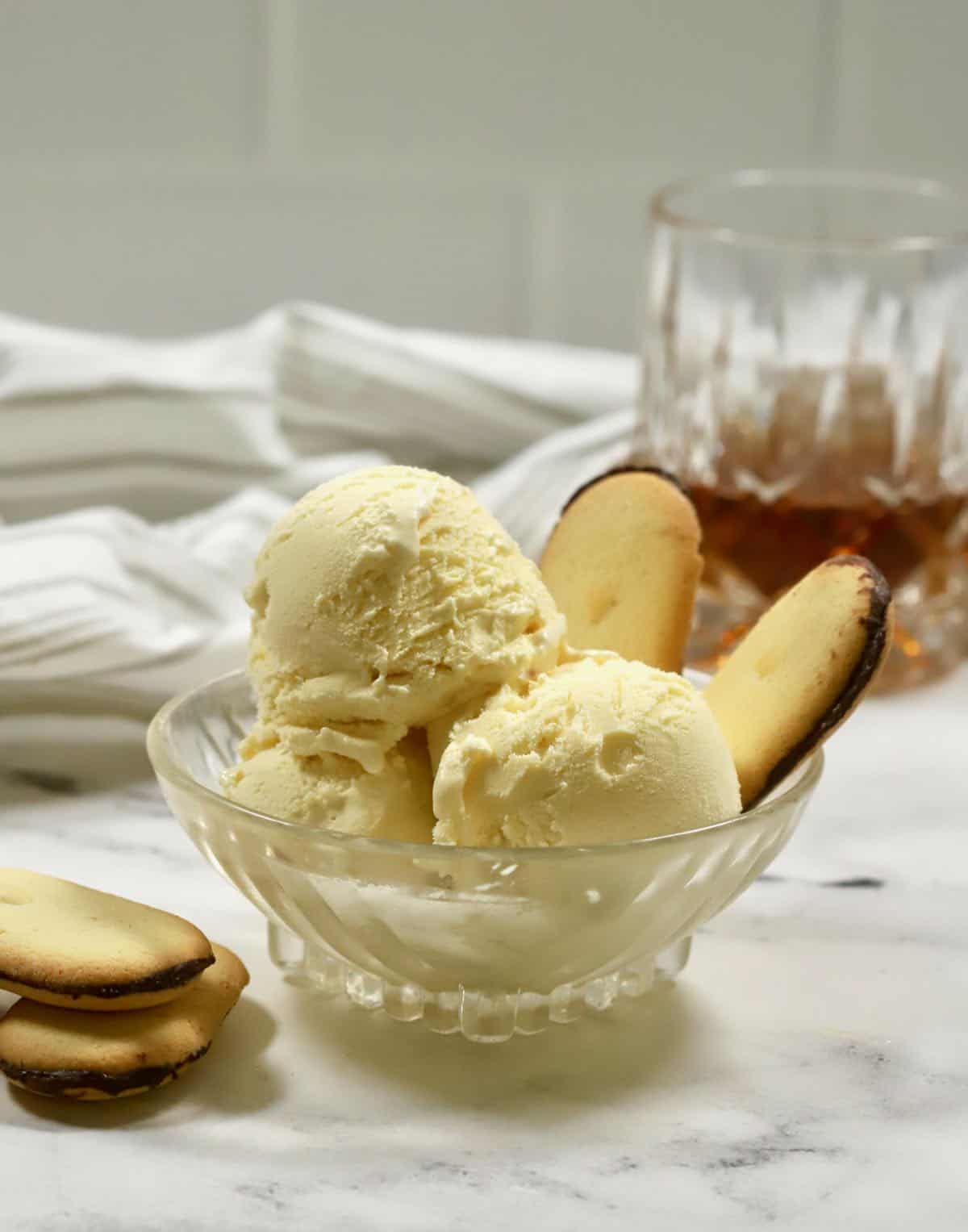 Moist Maple Sweet Potato Walnut Butter Cake – The Delicious Cresent
This Moist Maple Sweet Potato Walnut Butter Cake certainly packs a nutritional punch by utilizing some of the most nutritious and flavorful plant foods – sweet potatoes, walnuts, and maple syrup. What a delicious and sweet way to share some love with your loved ones and sneak in some veggies along the way!
Vanilla Panna Cotta – Grits and Pinecones
Easy to make, silky smooth, creamy Vanilla Panna Cotta, topped with sliced fresh strawberries, is the ultimate decadent dessert. A classic Italian dish, this recipe is made with sweetened heavy cream, a bit of sour cream, and thickened with unflavored gelatin.
Not only is panna cotta a fantastic dessefoolprooft can also be made in advance, served molded or unmolded, is practically foolproof, has endless flavor variations, and has many topping possibilities.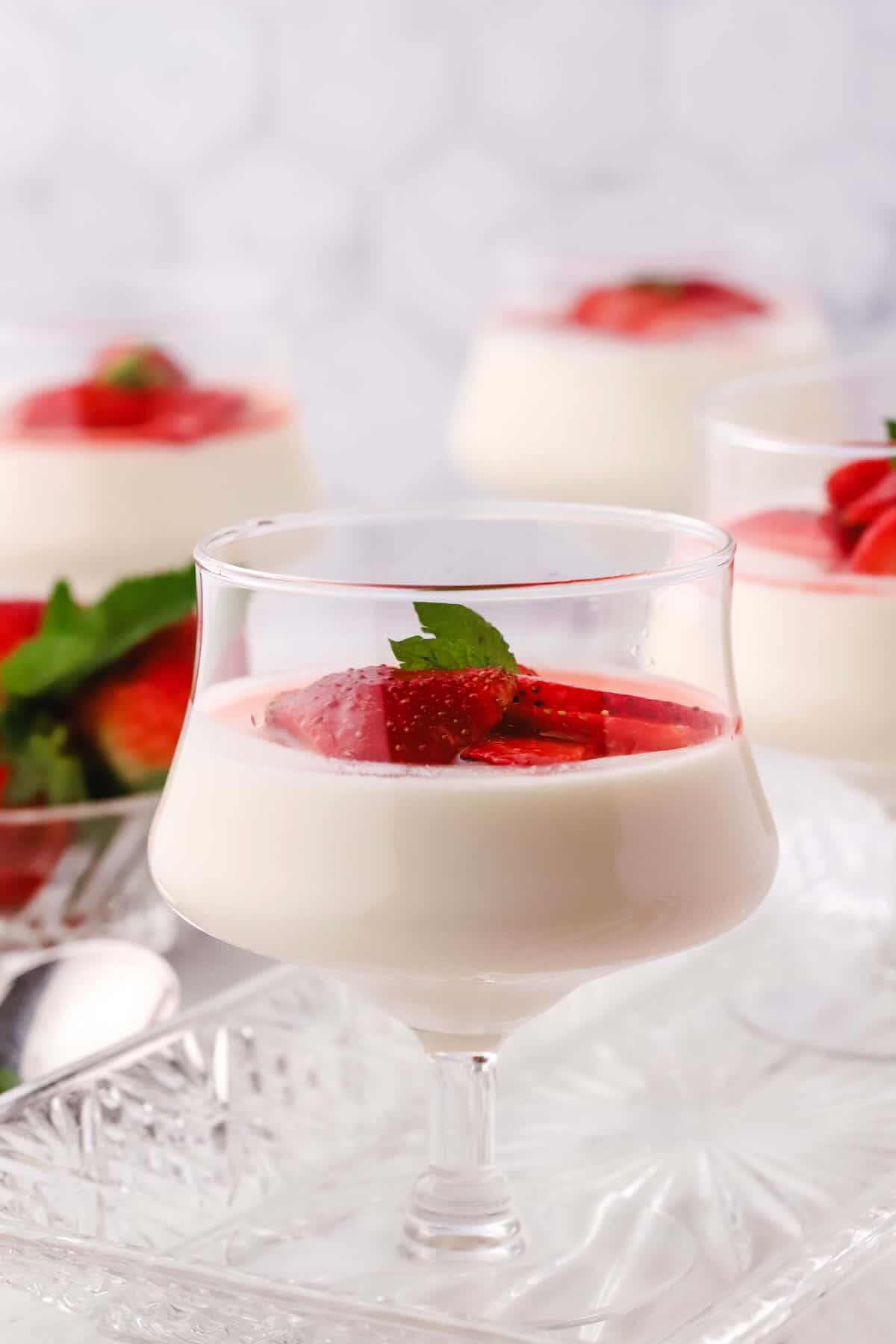 No-Bake Pumpkin Cheesecake – Spend with Pennies
No-Bake Pumpkin Cheesecake is a dreamy dessert with layers of cheesecake, spiced pumpkin, and whipped topping all nestled in a graham crust. It is so creamy and delicious; it will become your new Thanksgiving dessert go-to!
Greek Yogurt Pumpkin Cheesecake Mousse – Flavor and Savor
A rich and creamy no-bake dessert mousse made with canned pumpkin and Greek yogurt and sweetened with maple syrup. Top with whipped cream and caramel sauce for a decadent Thanksgiving dessert.
Georgia Cornbread Cake, AKA Pecan Cake – Grits and Pinecones
Georgia Cornbread Cake is a funny name for this simple, quirky, old-fashioned cake, which is much more like a pecan cake or coffee cake. Contrary to its title, Georgia Cornbread Cake doesn't contain any cornmeal, and I don't think it tastes or even looks like cornbread. But what I will say is this easy cake is perfect for Thanksgiving!
Cinnamon Caramel Apple Pecan Pie – Veggies Don't Bite
Cinnamon-flavored caramel marries an apple pie and takes up residence in a cute mason jar. Plant-based gluten and refined sugar-free love for Thanksgiving.
Apple Dapple Cake with Caramel Glaze – Grits and Pinecones
Where have you been all my life, Apple Dapple Cake with Caramel Glaze? If you never had this delicious cake and wonder what I am talking about. Check out my recipe and find out how to make this amazingly simple and wonderfully delicious apple cake. Oh, and don't forget the yummy caramel glaze!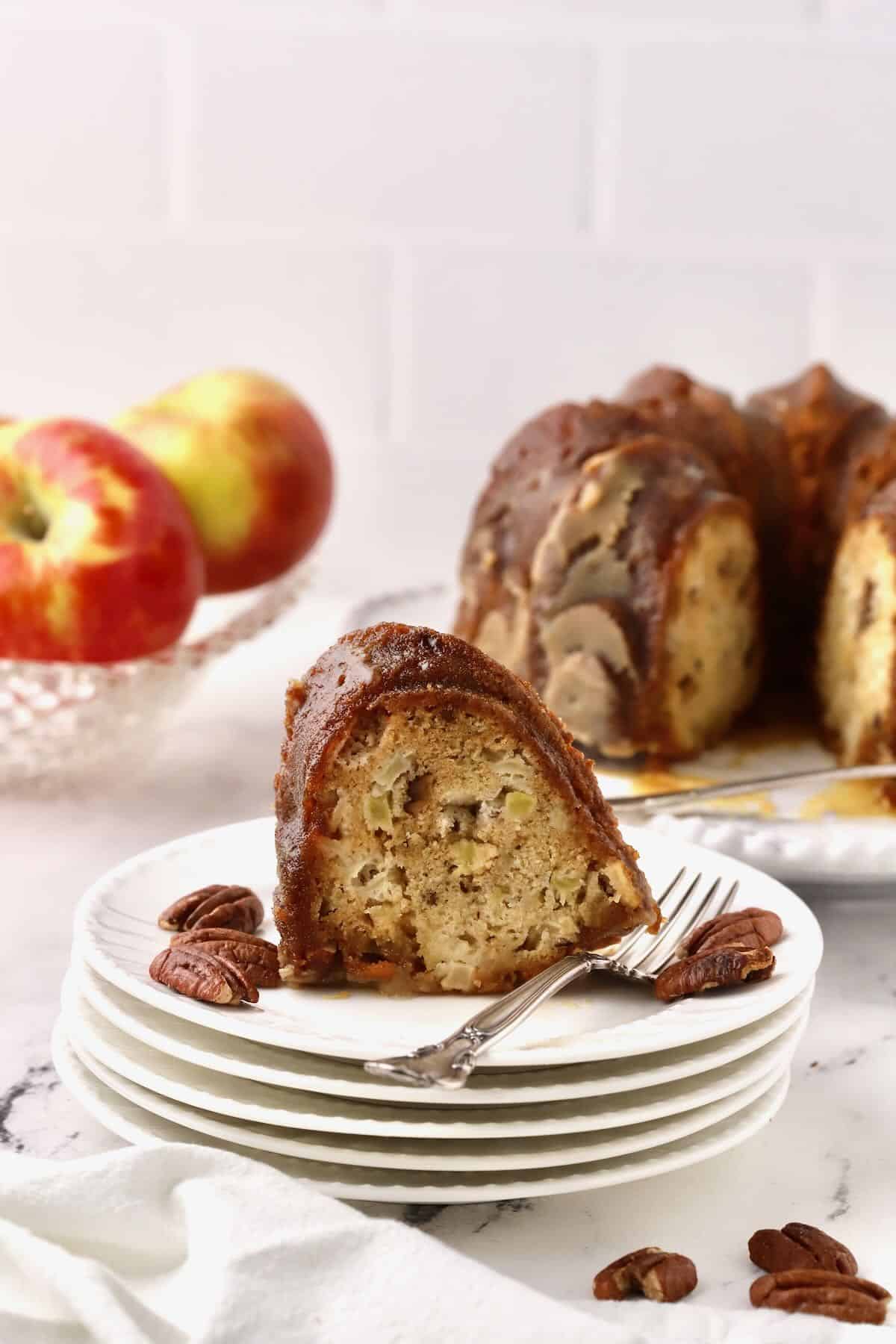 Apple Tart À La Mode – Pudge Factor
Apple Tart à la Mode is both simple to make and elegant to serve. Put it together ahead of time and bake it during dinner. Top with vanilla ice cream and bourbon caramel sauce for an unforgettable dessert.
Pumpkin Gooey Butter Cake – Dinner at the Zoo
This Pumpkin Gooey Butter Cake is rich, decadent, and incredibly delicious – you must make this! It would be the perfect ending to your Thanksgiving meal.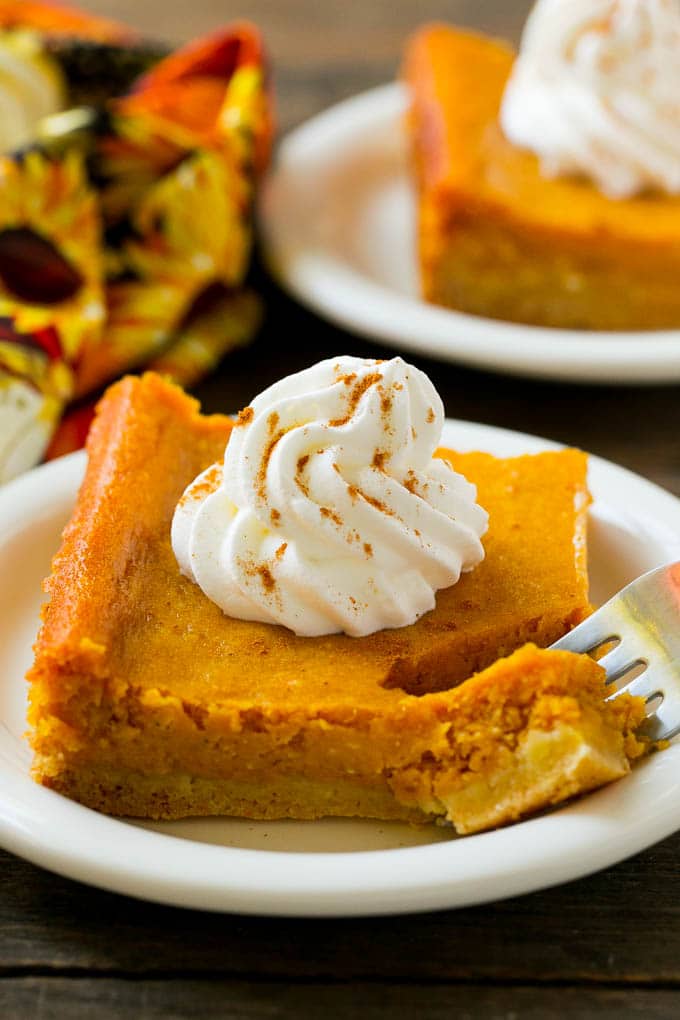 Spiked Eggnog Cake – Liv for Cake
This rum-spiked eggnog cake with cream cheese frosting and white chocolate ganache is just the thing to warm you up this holiday season.
Pumpkin Pecan Cheesecake – Lemon Blossoms
This Pumpkin Pecan Cheesecake is so delicious! An amazing combination of creamy pumpkin spiced cheesecake with a rich graham cracker and pecan crust. This Cheesecake combines all the fall flavors into one delicious and super creamy bite!
Easy Carrot Cake with Cream Cheese Icing – Grits and Pinecones
If you like carrot cake, you will love this recipe! Easy Carrot Cake with Cream Cheese Icing is chock full of pineapple, carrots, raisins, and pecans because I'm a Southern girl. If this isn't enough to get your attention, it's topped with a quick, easy, decadent, luscious, and velvety smooth cream cheese icing.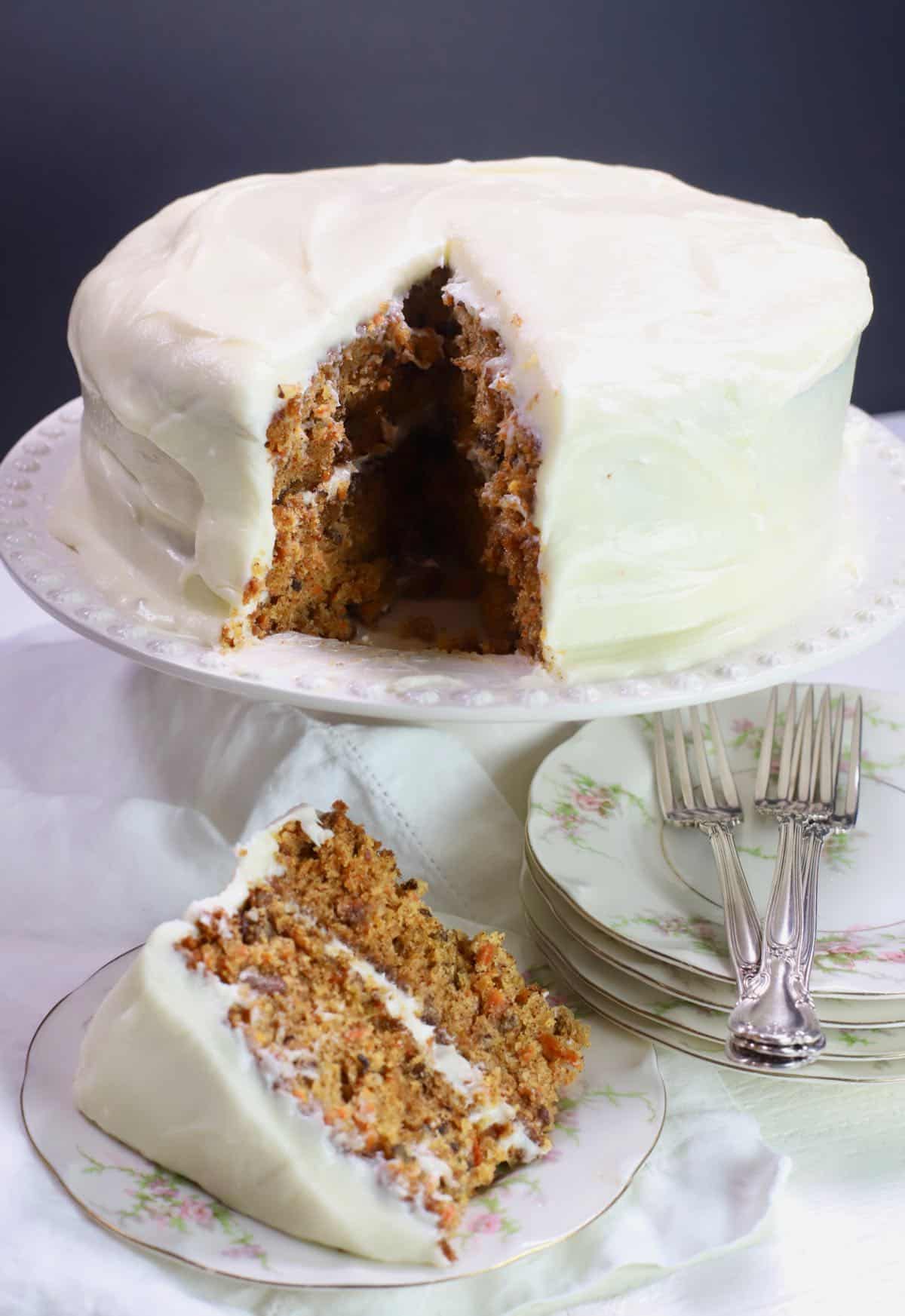 Pumpkin Bundt Cake – Pudge Factor
Are you tired of the same old pumpkin pie for Thanksgiving? If so, you should try this incredible Pumpkin Bundt Cake. It has the same characteristic flavor of a pumpkin pie but will leave your family and guests saying, "WOW"! Even better is that it's easy to make and can be made ahead of time and frozen.
Homemade Apple Dumplings – Grits and Pinecones
The BEST Apple Dumpling dessert recipe is perfection, with whole cinnamon-laced apples wrapped in a homemade flakey pie crust and then baked in a decadent sauce.
Pumpkin Coconut Panna Cotta – Spoonabilities
This Fall inspired dessert sounds fancy and complicated to make, but it's a quick dessert that you can throw together with just a few ingredients. Panna Cotta is creamy, smooth, light, doesn't need to be baked, and is so easy to make at home. You will impress your friends for sure by serving this delicious dessert for Thanksgiving.
Pumpkin Spice Cake with Cream Cheese Frosting and Toffee Sauce – Super Golden Bakers
This vegan pumpkin spice cake requires no mixer and only one bowl! Top with cream cheese frosting and toffee drizzle and watch it disappear fast…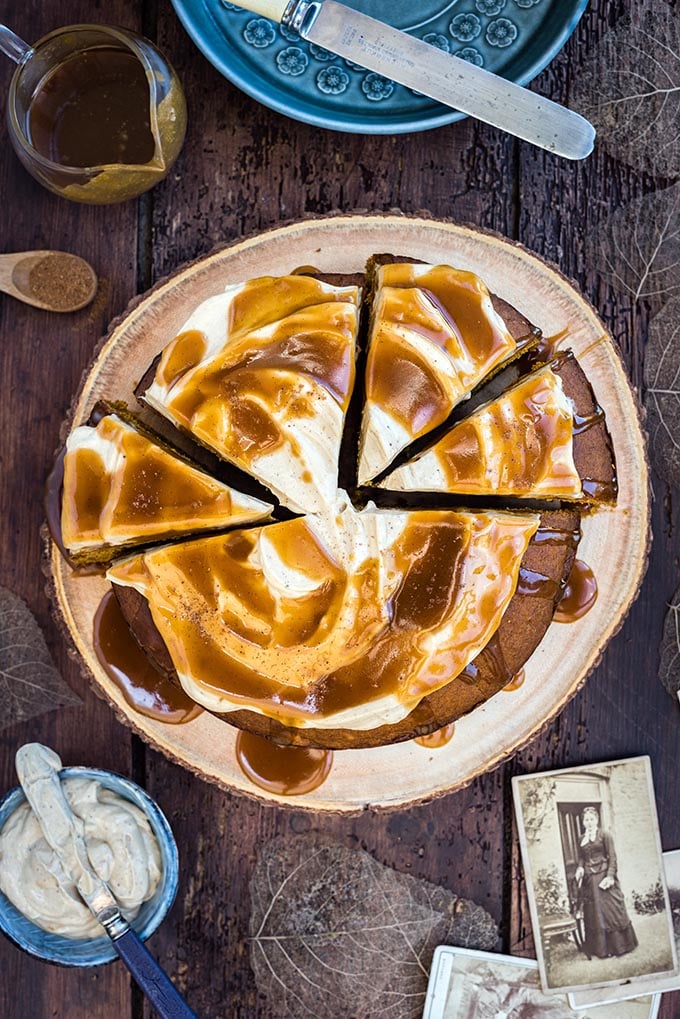 Vegan Pumpkin Ganache Cake with Maple Buttercream Frosting – This Seasons Table
Pumpkin Spice Cake with Maple Buttercream Frosting is not only AMAZINGLY delicious, but it is completely vegan. No dairy, no eggs, and uses whole wheat pastry flour instead of the regular refined white stuff.
It still contains sugar because, duh, it would kind of taste like garbage without it, but you can switch it out for a less refined option like coconut sugar or sucanat and still get great results.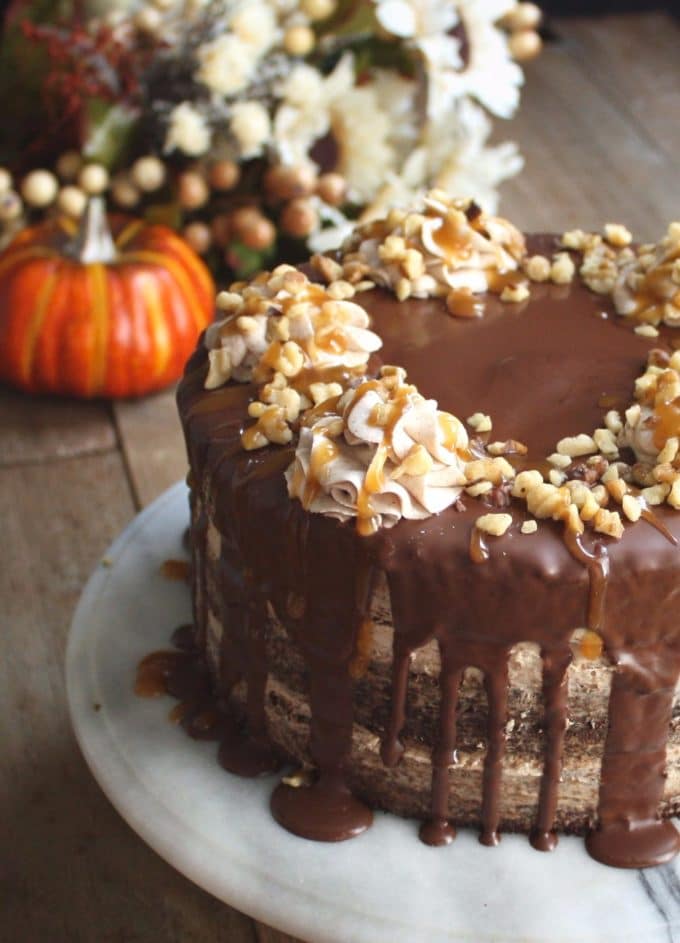 Sweet Potato Cake with Pecan Praline Icing – Biscuits and Burlap
Sweet Potato Cake with Pecan Praline Icing is the perfect Thanksgiving dessert. Cooking it in an iron skillet makes it even better!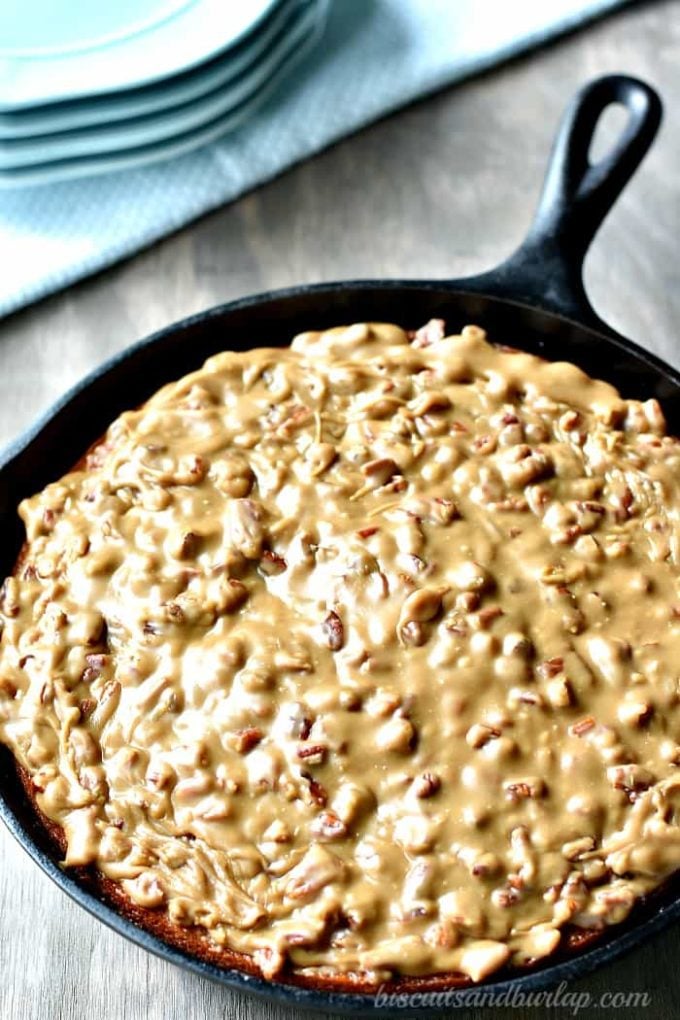 Chocolate Espresso Hazelnut Cake – Garden in the Kitchen
This Chocolate Espresso Hazelnut Cake is insanely flavorful, rich, super moist, and not overly sweet, with crunchy hazelnut bites and a hint of espresso!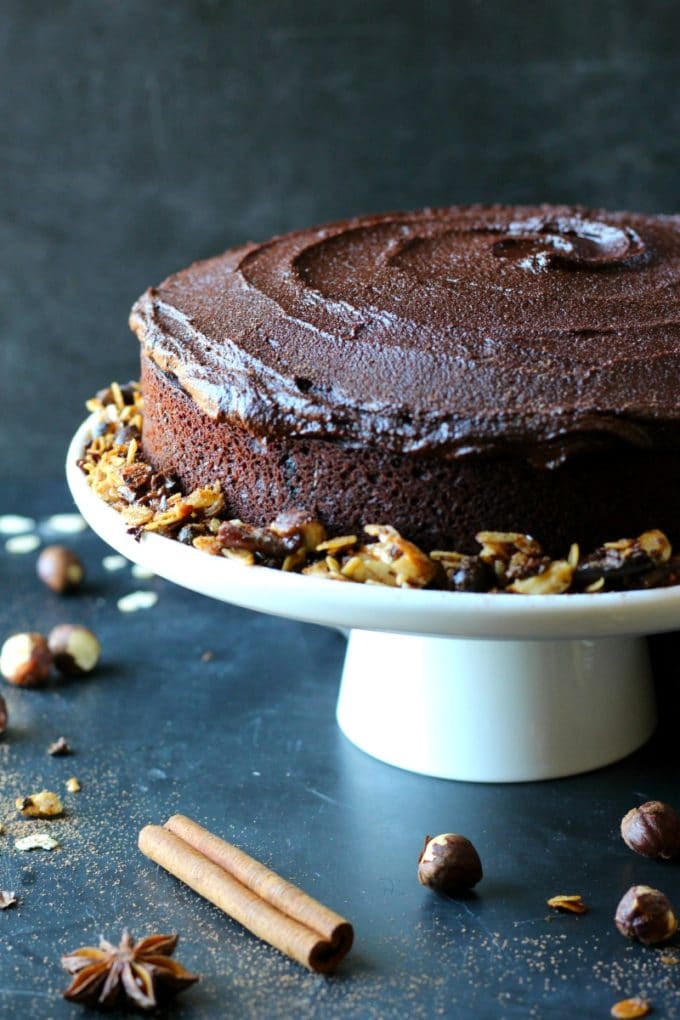 Butterfinger Cake Recipe – Living Sweet Moments
This delicious Butterfinger Cake Recipe dessert is made from scratch and features a moist chocolate cake with peanut butter frosting and butterfingers.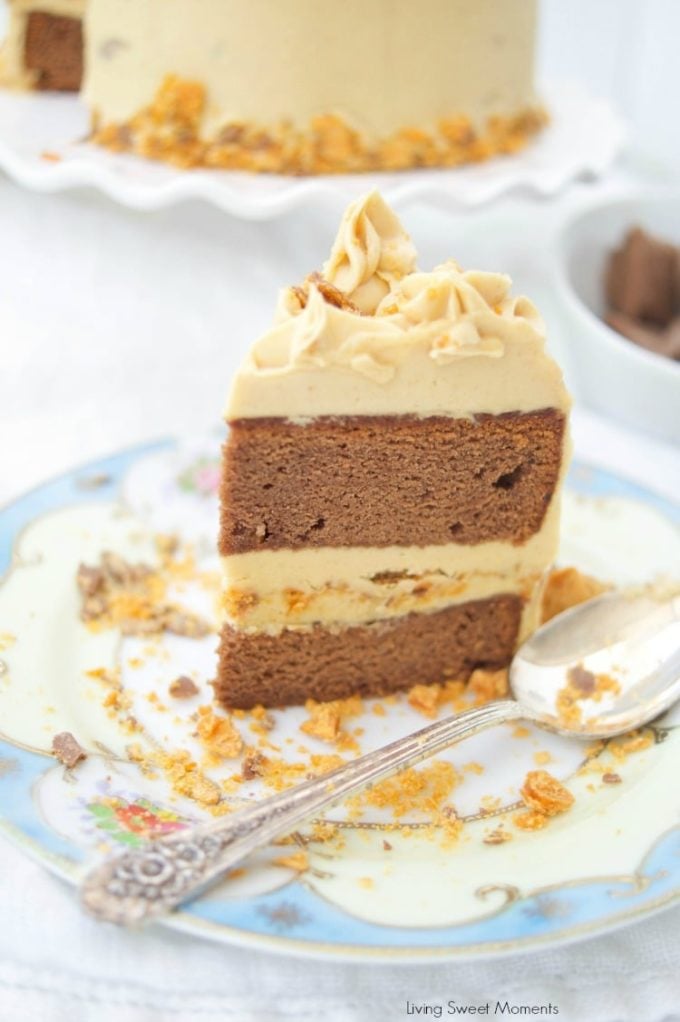 Salted Caramel Apple Cheesecake with Pecan Crisp Topping – The Unlikely Baker
Imagine – crunchy, buttery crust. Cinnamon apple layer. Creamy, melt-in-your-mouth cheesecake. Crispy pecan oat topping. Salted caramel drizzle. There is no better way to celebrate Thanksgiving than with this salted caramel apple cheesecake!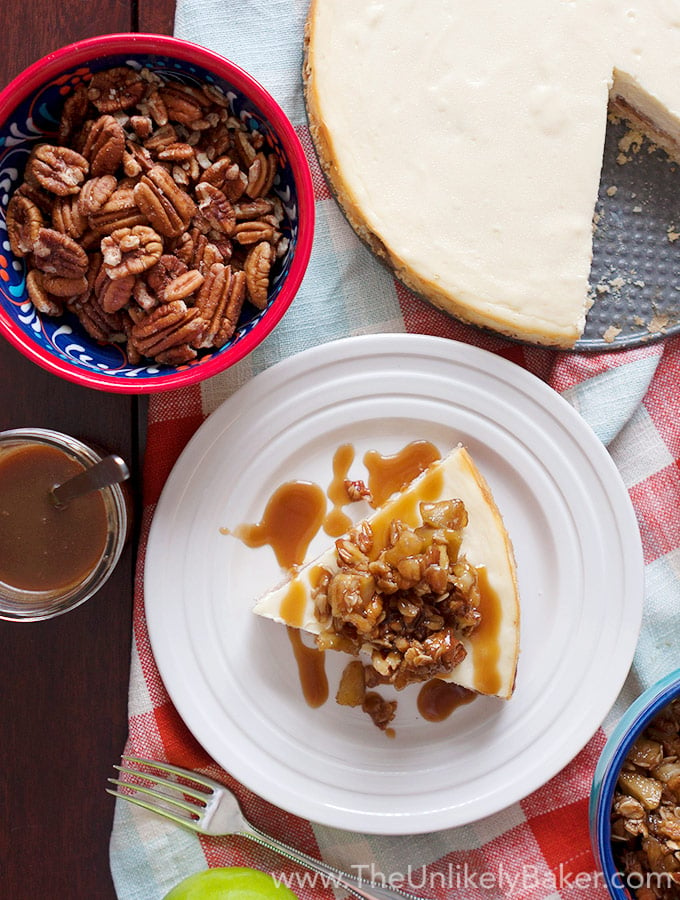 Pumpkin Cheesecake with Praline Sauce – The Gingfoolproof
This pumpkin cheesecake is the ultimate fuss-free dessert – its almost fool-proof, it doesn't require a finicky water bath, and it hardly ever cracks. And it doesn't matter if by some strange happenings, it does crack because you are topping it with a gorgeous brown sugar pecan sauce.
The whole thing ends up being dreamy and creamy and so silky smooth. Add a dollop of slightly sweetened whipped cream, and you have a decadent dessert that hardly requires any work. It's Thanksgiving dessert heaven.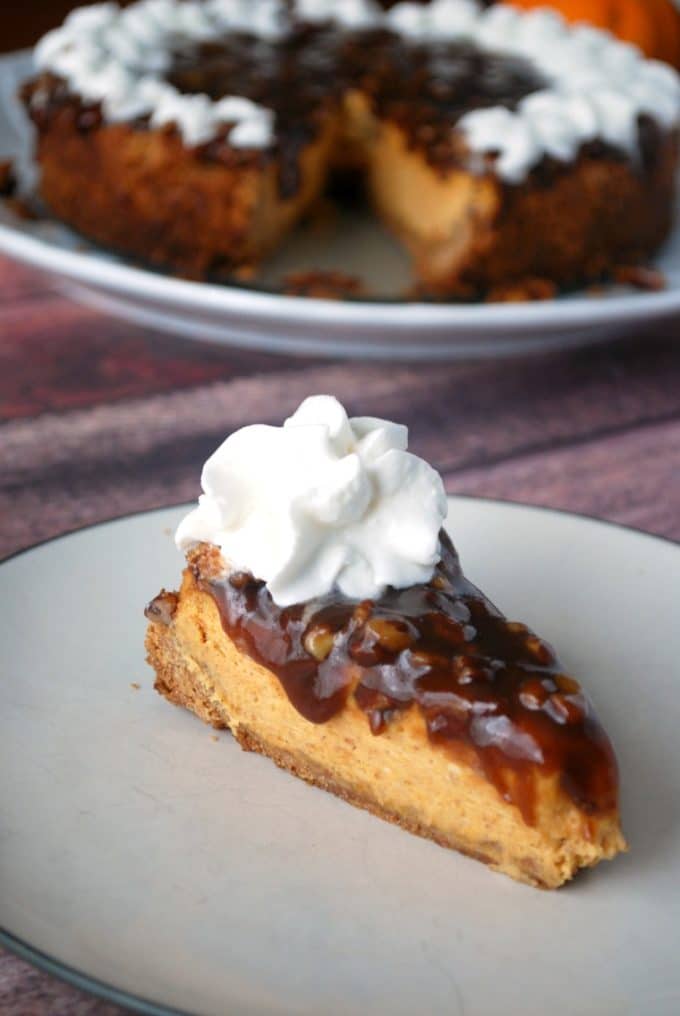 Ultimate Cranberry Upside Down Cake – Grits and Pinecones
This exceptionally moist Cranberry Upside-Down Cake, topped with luscious deep garnet cranberries, is a unique twist on the more familiar pineapple upside-down cake.
This quick and easy cranberry cake combines fresh fruit, orange juice, brown sugar, and cornmeal with a box cake mix and takes only minutes to prepare.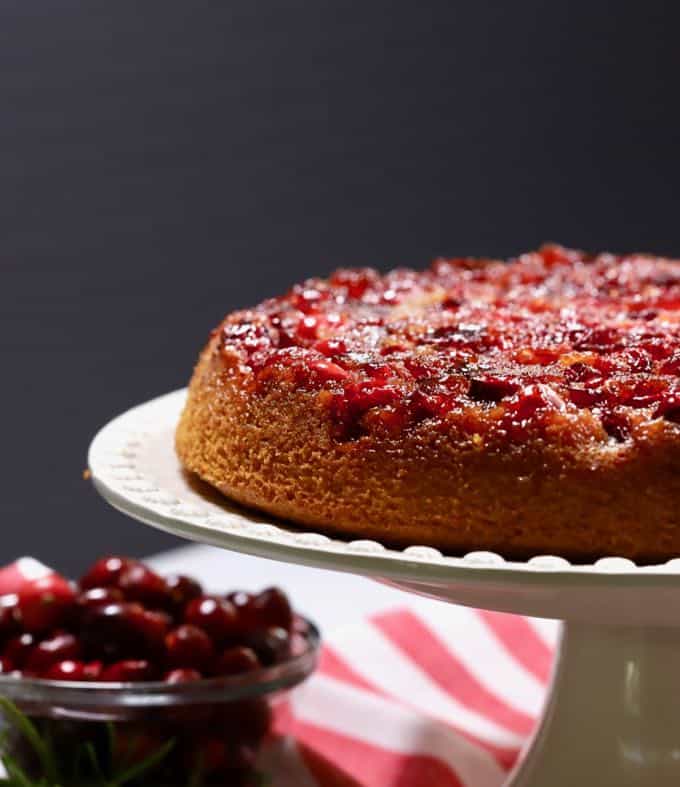 Paleo Pumpkin Pie Flan with Coconut Whipped Cream – This Seasons Table
Are you looking for an alternative to the same old pumpkin pie for Thanksgiving? Check out these amazing Pumpkin Flans – paleo with no dairy or refined sugar!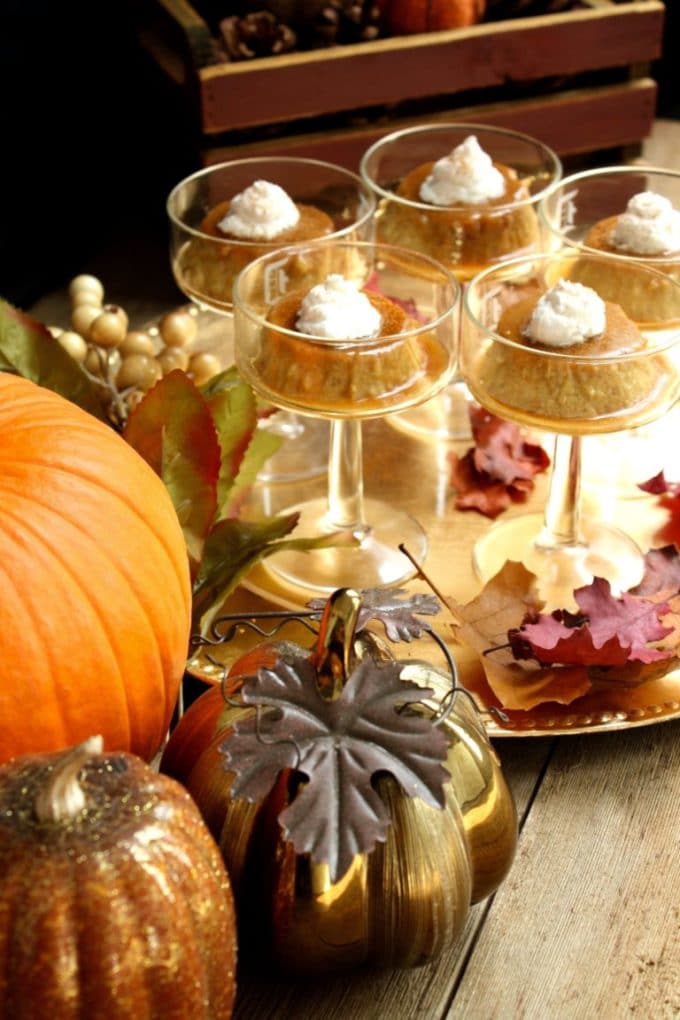 Easy Southern Banana Pudding Poke Cake – Grits and Pinecones
Banana Pudding Poke Cake is a classic Southern recipe and a unique Thanksgiving dessert made with creamy vanilla pudding, crisp vanilla wafers, heavenly whipped cream, and bananas.
To keep this banana pudding sheet cake recipe as simple as possible, it is made with a boxed cake mix and instant pudding!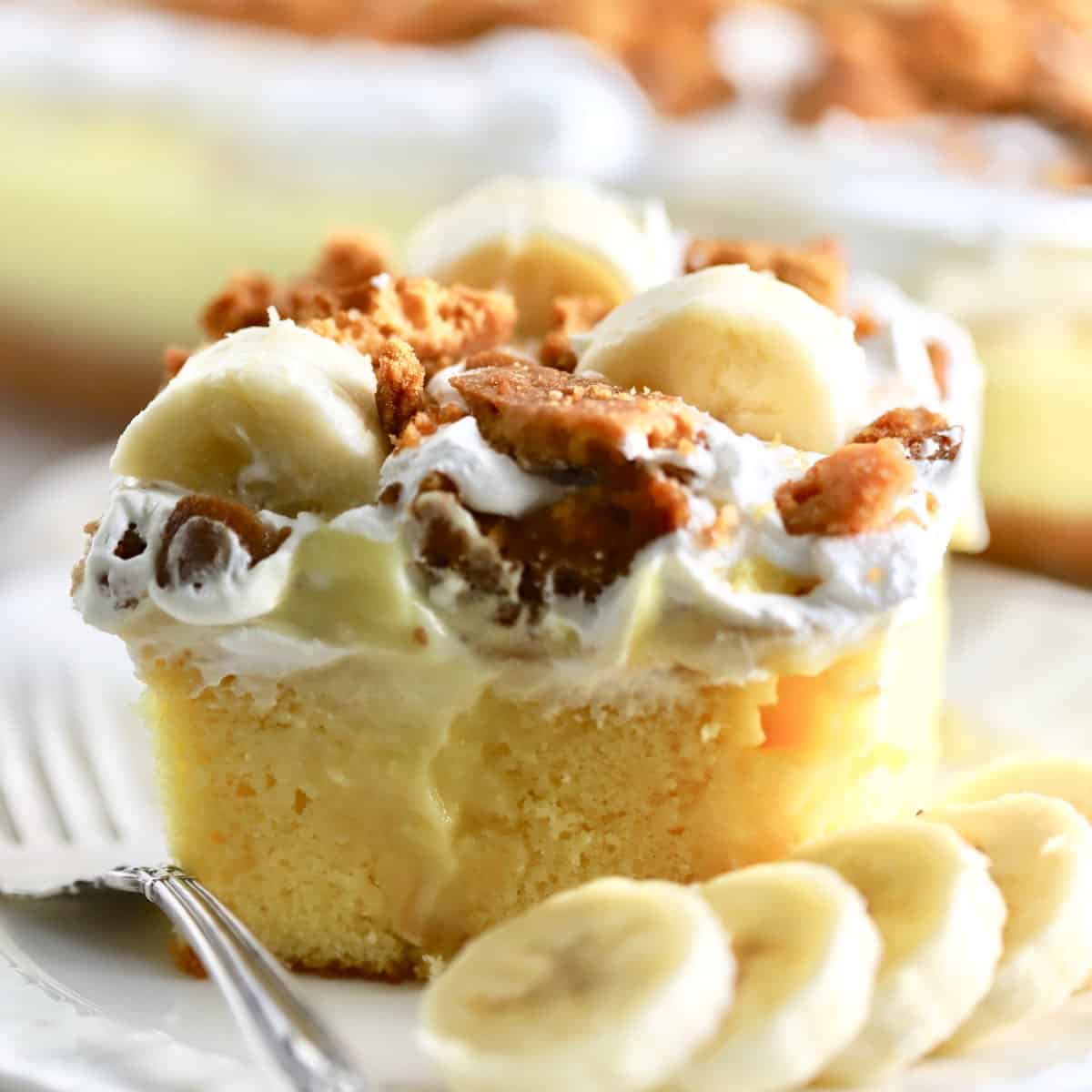 Tarte Normande Aux Pommes (Julia Child's Custard Apple Tart) – Pudge Factor
Julia Child's Tarte Normande aux Pommes, a.k.a. Custard Apple Tart from Mastering the Art of French Cooking, is a fantastic and creative Thanksgiving dessert. Unlike many desserts, this tart is not overly sweet. It is, however, quite delicious and has the perfect blend of apples and custard.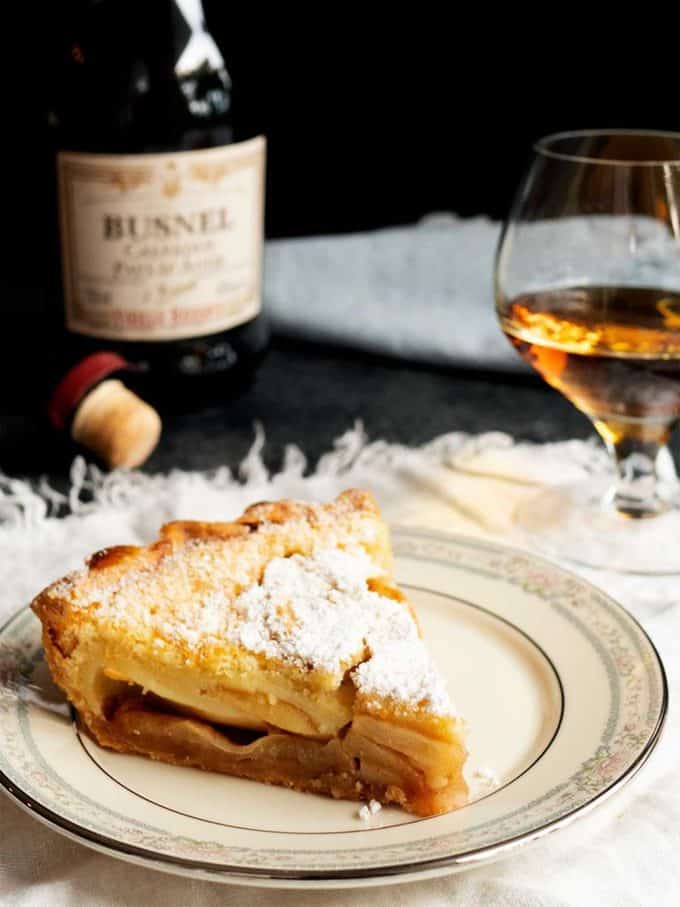 Turkey Sugar Cookies for Thanksgiving – Finding Zest
When I think of baking for the holidays, I usually think of sugar cookies for the Christmas season and pumpkin pies for Thanksgiving. But who says you can't decorate some fun cookies for Thanksgiving too? Imagine showing up to a Thanksgiving get-together with these adorable turkeys in tow.
Lemon Cream Cheese Bundt Cake – Pudge Factor
Brighten your Thanksgiving dessert table with this rich and moist Lemon Cream Cheese Bundt Cake. It feels like springtime and tastes incredible under a layer of lemon glaze. The perfect Thanksgiving cake.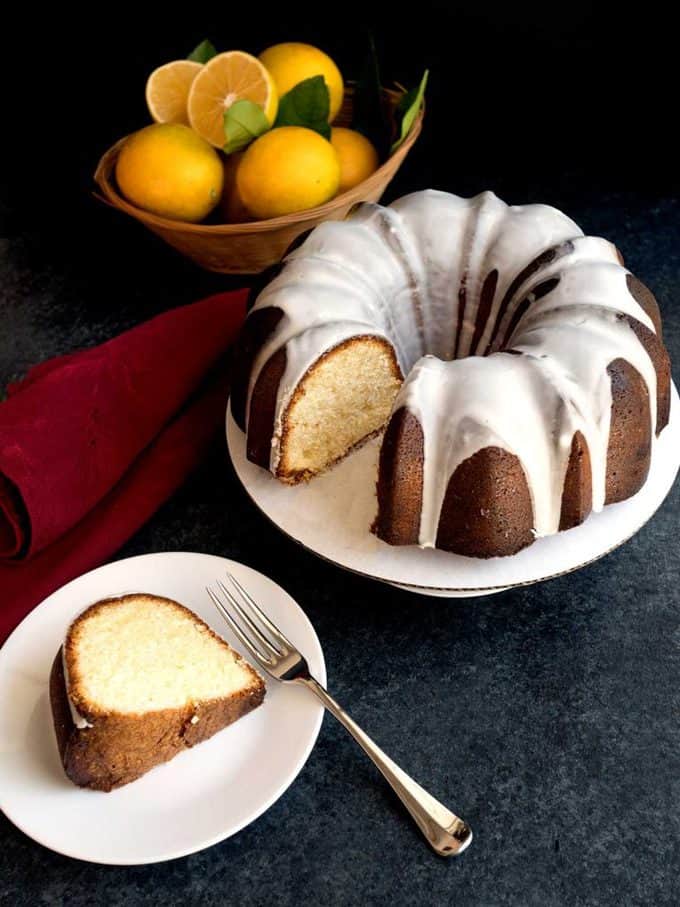 Cranberry Cake with Hard Sauce – Grits and Pinecones
A beautiful and festive Southern dessert, Easy Cranberry Cake with Hard Sauce, will make a unique sweet ending for your Thanksgiving meal.
Full of fresh tart cranberries, this cake has it all; the colors of the season, a winning combination of flavors and textures, and the creamy, blissful yumminess of a decadent hard sauce.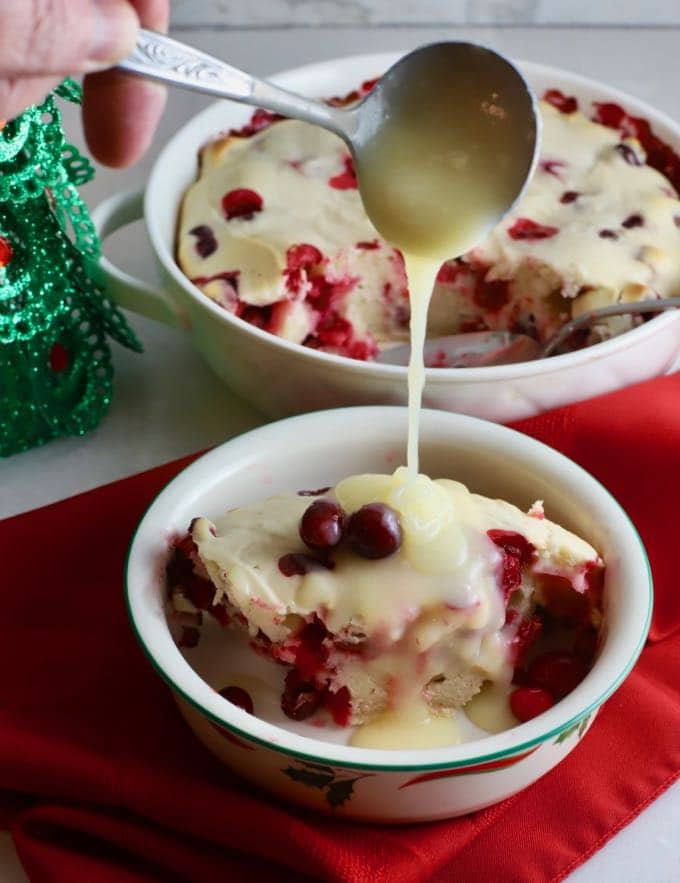 Pumpkin Pie Cream Puffs – A Farm Girl Dabbles
Are you looking for an alternative to pumpkin pie this Thanksgiving? How about these fantastically fun Pumpkin Pie Cream Puffs?
Meringues Chantilly – Pudge Factor
Meringues Chantilly is one of the most elegant Thanksgiving desserts that you could imagine. It's also one of the easiest desserts that you can make.
Imagine light and crispy meringue shells filled with whipped cream and topped with fruit and a decadent raspberry sauce. Are you drooling yet? What's even better is that everything can be made ahead of time!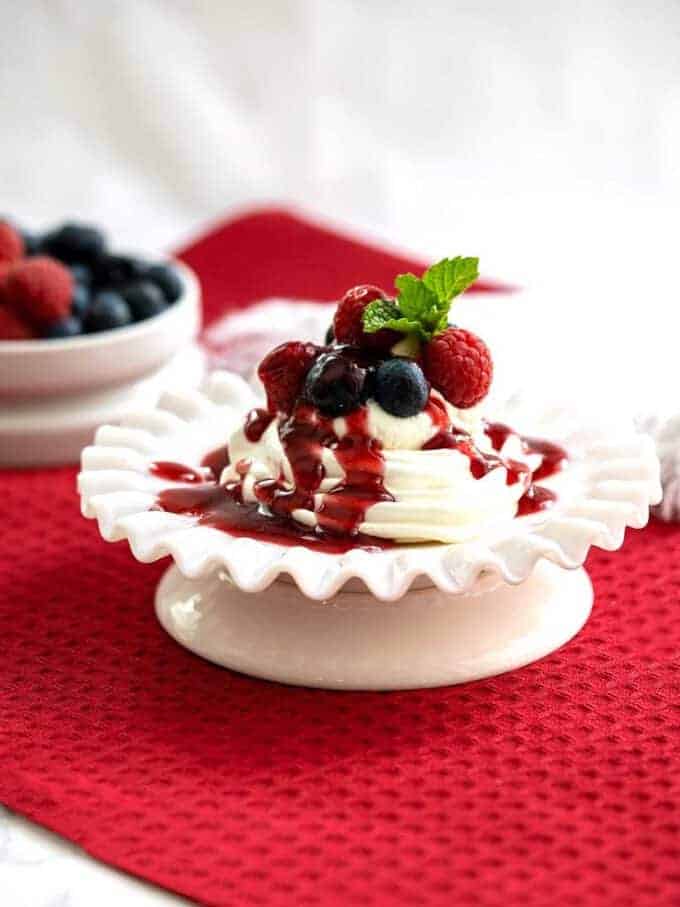 The Best Pumpkin Truffles – Sizzling Eats
Pumpkin Truffles are a delicious, bite-sized Thanksgiving dessert that your kids will love. A rich and creamy pumpkin filling is nestled inside a semi-sweet chocolate outer layer. This easy dessert recipe can be made ahead of time to make it an excellent choice for parties and potlucks.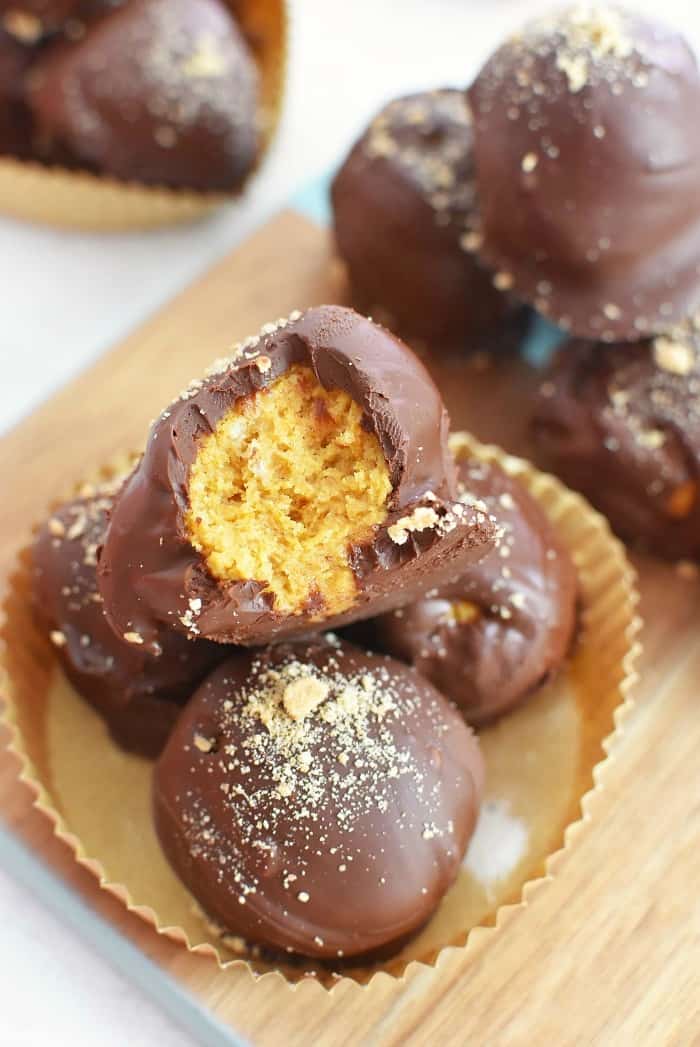 Apple Pie Cheesecake with Caramel Topping – Grits and Pinecones
Say yes to Apple Pie Cheesecake with Caramel Topping for a sweet ending to your holiday meals, and be prepared to be blown away by all of the flavorful layers and textures tucked into this delicious dessert!
Easy Tiramisu with Pound Cake – Feast and Farm
An easy tiramisu with pound cake is the perfect solution to your Thanksgiving dessert puzzle, and you'll be shocked to see how truly it easy it is to put together. Even better, it just tastes wonderful, is portable, and even people who hate coffee will like it.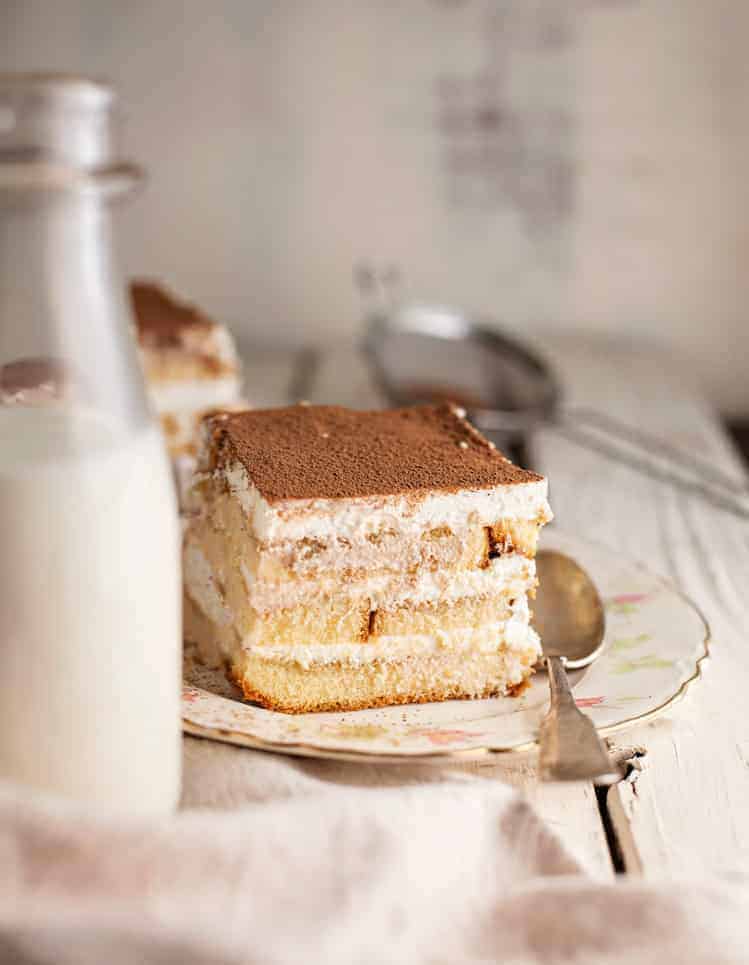 Southern Pecan Praline Cheesecake – Grits and Pinecones
Southern Pecan Praline Cheesecake is everything a cheesecake should be, including a delicious and decadent pecan praline topping. It's the stuff dessert dreams are made of.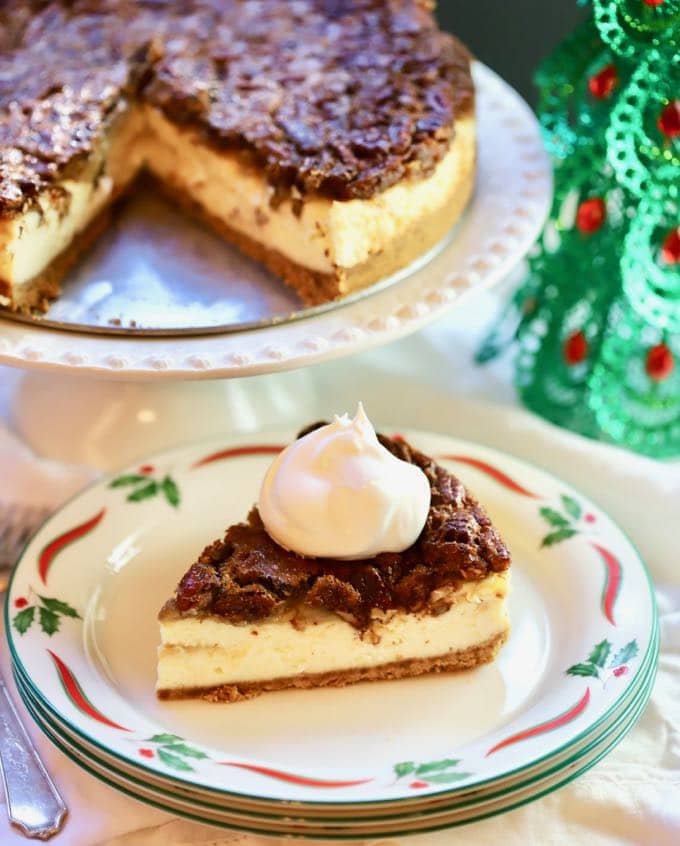 Pecan Upside Down Cake – Entirely Elizabeth
This Pecan Upside Down Cake is easy to make, delicious, and great for the holidays. It is baked in a single cake pan, but with two layers- gooey pecan topping and a moist vanilla cake. It is all the flavors of a classic pecan pie in cake form!
Thanksgiving Fudge – Cook, Clean, Repeat
This easy Thanksgiving fudge recipe is perfect for sharing during the holidays. It's a sweet treat everyone will love, with lots of perfectly fall flavors included. There's pumpkin, shortbread cookies, and even cranberries!
Turkey Cupcakes – My Mini Chefs
These cute Turkey Cupcakes are an easy diy dessert for Thanksgiving with the kids. They are made easily with a box of chocolate cake mix and simple, delicious homemade frosting…plus lots of candy! Enjoy at your Thanksgiving feast!
Amethyst Cheesecake Torte Recipe – Ask Chef Dennis
What could be better for your holiday table than my Amethyst Cheesecake Torte, a delicious blend of blueberries and cranberries topping a creamy, rich, and smooth cheesecake?
Pumpkin and White Chocolate Souffle Cake – Giangi's Kitchen
Autumn indulgence is at our door, and with that, lots of desserts… or at least lots of pumpkins. This pumpkin and white chocolate souffle cake is the absolute best way to channel the flavors of the season.
Pumpkin Cake with Cream Cheese Icing – What a Girl Eats
Pumpkin cake is one of those recipes I pull out once or twice in the fall, and every time I do, I wonder why we don't make pumpkin dishes year-round? This pumpkin cake recipe isn't fancy. It's a pretty easy cake, baked in a single layer, like an old-fashioned snack cake.
The Original Pumpkin Pie – The Way The Pilgrims Made It – Souffle Bombay
I am SO excited about this recipe!! I love it when an idea comes to fruition! This recipe for The Original Pumpkin Pie – The Way The Pilgrims Made It is one I hope you will try and make it a new Thanksgiving tradition.
Southern Pecan Buttermilk Pound Cake – Syrup & Biscuits
Southern Pecan Buttermilk Pound Cake is a traditional Southern pound cake with added flavor from pecans.
Old Fashioned Pure Maple Pecan Pie – Cooking with K
Pure Maple Pecan Pie, a sweet, deep flavor of maple syrup complementing the richness of pecans in a classic pecan pie. Perfect for any Thanksgiving meal!
Pecan Pralines and Cream Ice Cream – Grits and Pinecones
A festive and decadent holiday dessert, luscious Pecan Pralines, and Ice Cream will make a sweet ending to any meal! Sometimes it's called Pralines and Cream Ice Cream, or even simply Praline Ice Cream, but no matter what you call it, the combination of pralines and cream is the perfect balance of richness and sweetness.
Frequently Asked Questions:
What is a traditional Thanksgiving dessert?
In the South, pumpkin pie and pecan pie are the most popular desserts traditionally served at Thanksgiving.
What types of desserts travel well?
If you are traveling for Thanksgiving dinner and bringing dessert, you want to choose a sturdy dessert that can be made ahead and doesn't have to be refrigerated. Examples include my Georgia Cornbread Cake, Sweet Potato Cake from Biscuits and Burlap, or Pudge Factor's Pumpkin Bundt Cake.
What are the best desserts for a crowd?
A sheet cake, such as my Southern Praline Pecan Cake, can serve up to 15 people, plus it travels well and can be made ahead. It can also be frozen for up to several months.
What are the best desserts for kids?
Most kids love a fun handheld dessert such as the Pumpkin Pie Cream Puffs, Pumpkin Truffles, or the adorable Turkey Sugar Cookies.
What desserts can be made ahead?
Most cakes can be made up to several months ahead and frozen; then, all you have to do is add the glaze or icing.

Also, ice cream is a great make-ahead Thanksgiving dessert. My Bourbon Ice Cream or Pecan Praline Ice Cream would be great choices.
Sharon's tips:
Thanksgiving can be stressful, so don't try to be a superstar and make everything yourself. Instead, ask each guest to bring their favorite Thanksgiving dish.
Also, do as much as possible ahead of the big day. Plan your menu and prepare side dishes or desserts now that can be made ahead and frozen. I already have cornbread made and frozen in my freezer, and I plan to make my dressing next week and freeze it, so that is one less thing I have to worry about.
More Thanksgiving recipe collections:
Of course, if you are looking for a favorite recipe or need more ideas, you can check out all of my Thanksgiving recipes and menu ideas here.
Christmas recipe collections:
If you need even more inspiration, you can find all of my Christmas recipes here.
★★★★★ If you make any of these recipes, please leave a comment. we would love to know how you liked it!
Thanks so much for visiting Grits and Pinecones; I hope you come back soon!