Today I bring you 31 Best Thanksgiving Dessert Recipes ever! Whether you are looking for classic Thanksgiving desserts, new twists on old favorites or have special dietary needs; I have you covered. These thirty-one crowd-pleasing Thanksgiving dessert recipes include gluten-free, paleo, vegetarian, vegan and nut-free options. Your only problem will be deciding which of these scrumptious desserts to prepare!
It will come as no surprise that Thanksgiving is the number one food holiday! And for most people, Thanksgiving dessert eclipses even the star of the show, the turkey. These desserts are decadent, delicious and full of traditional Thanksgiving and Fall flavors like apples, pumpkin, pecans, and chocolate. These luscious and unforgettable top-rated dessert options are from some of the top bloggers around the globe and will be a perfect sweet ending to your Thanksgiving feast!
Southern Pecan Praline Cake is about as southern as you can get and perfect for Thanksgiving. If you like pecans and pralines you will love this easy to make, decadent and delicious make-ahead cake.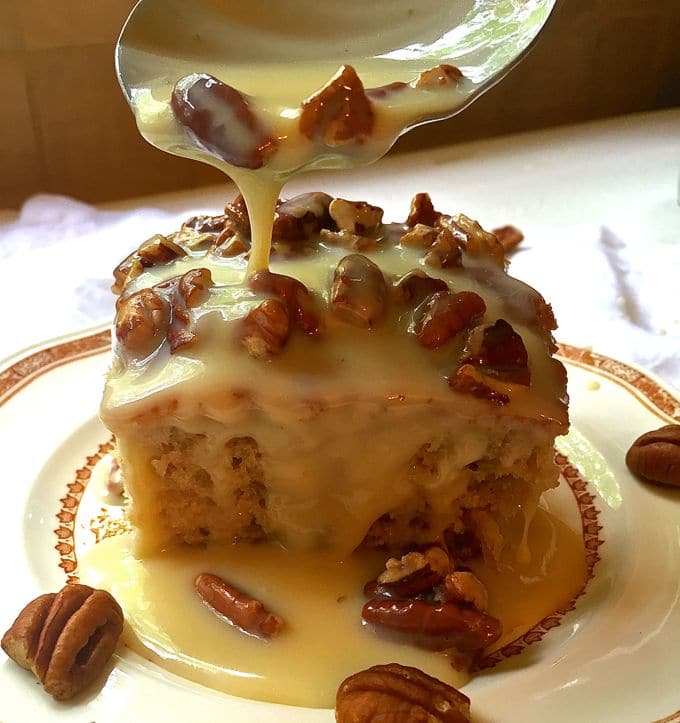 French Apple Cake is moist and flavorful with just the right amount of sweetness to counter the tart apples. With or without the scoop of the vanilla ice cream on the top, it tastes incredible.
Pecan pie filling rolled into a light sponge cake make this Pecan Pie Cake Roll a perfect Thanksgiving dessert.
Just in time for Thanksgiving! This Skinny Pumpkin Cheesecake is a great pumpkin pie alternative. So if you are looking for something a little different for your Thanksgiving dessert, give this healthy dessert a try. You will be amazed by how delicious this light cheesecake recipe tastes!
This Moist Maple Sweet Potato Walnut Butter Cake certainly packs a nutritional punch utilizing some of the most nutritious and flavorful plant foods – sweet potatoes, walnuts and maple syrup. What a delicious and sweet way to share some love with your loved ones and sneak in some veggies along the way!
No Bake Pumpkin Cheesecake is a dreamy dessert with layers of cheesecake, spiced pumpkin and whipped topping all nestled in a graham crust. It is so creamy and delicious; it will become your new Thanksgiving dessert go to!
A rich and creamy no-bake dessert mousse made with canned pumpkin, Greek yogurt, and sweetened with maple syrup. Top with whipped cream and caramel sauce for a decadent Thanksgiving dessert.
Cinnamon flavored caramel marries an apple pie and takes up residence in a cute mason jar. Plant-based gluten and refined sugar-free love for Thanksgiving.
This Pumpkin Gooey Butter Cake is rich, decadent and incredibly delicious – you must make this! It would be the perfect ending to your Thanksgiving meal.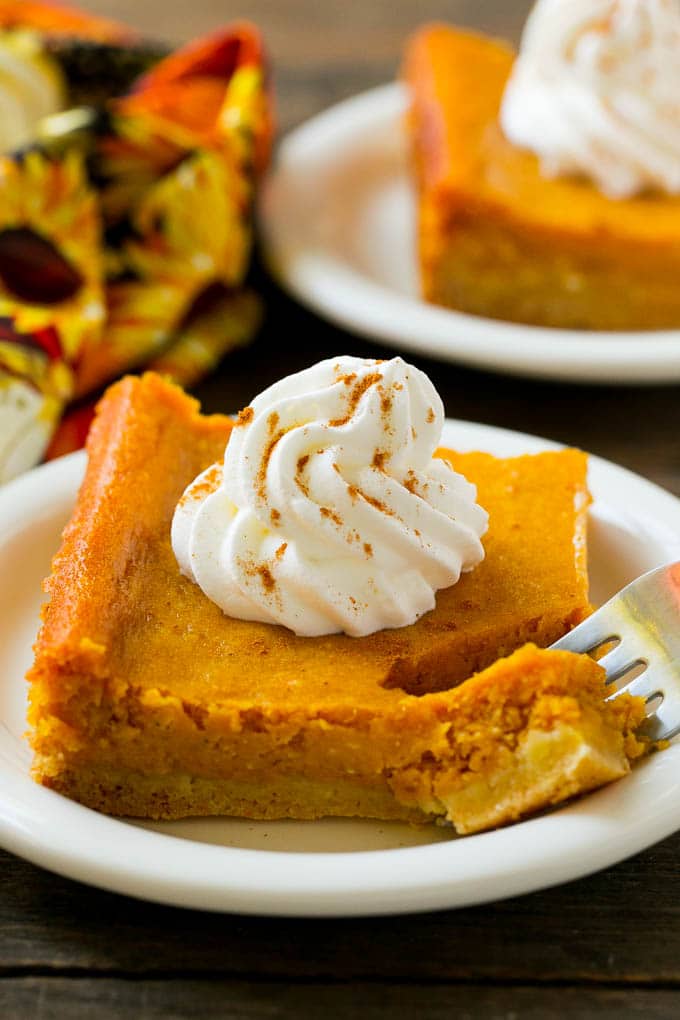 There's pie. And then there's pie. By that I mean there's your basic everyday pie, and then there's junked up but oh so delicious pie. This chocolate caramel pecan pie is an example of pie.
This Pumpkin Pecan Cheesecake is so delicious! An amazing combination of creamy pumpkin spiced cheesecake with a rich graham cracker and pecan crust. This Cheesecake combines all the fall flavors into one delicious and super creamy bite!
Apple cakes are a Thanksgiving favorite, and this year I stepped up my game and made a little apple dipped in caramel sitting on top. I even broke my cardinal rule of not using fondant!  Browned buttercream infused with Fall spices is completely addictive by the way. If you don't do anything else whip up a batch and slather it on everything!
Autumn is finally here and with that comes all the amazing flavors like pumpkin, apple, caramel and of course butterscotch.The flavors are perfect after even a heavy meal like Thanksgiving since the sweetened sour cream topping helps cut through the richness of the cheesecake providing a nice contrast.
In the South, there are as many recipes for pecan pie as there are pecan trees. Every family has a favorite, and this is ours. This is a wonderfully rich, old-fashioned southern pecan pie recipe, which isn't cloyingly sweet like most pecan pies. Classic and simple, and along with pumpkin pie, it's a Thanksgiving tradition. This pecan pie is also one of the easiest pies you will ever make!
Tired of the same old pumpkin pie for Thanksgiving? If so, you should definitely try this incredible Pumpkin Bundt Cake. It has the same characteristic flavor of a pumpkin pie, but will leave your family and guests saying "WOW"! What's even better is that it's easy to make, and can be made ahead of time and frozen.
This Fall inspired dessert sounds fancy and complicated to make, but it's a quick dessert that you can throw together with just a few ingredients. Panna Cotta is creamy, smooth, light, doesn't need to be baked, and is so easy to make at home. You will impress your friends for sure by serving this delicious dessert for Thanksgiving.
This vegan pumpkin spice cake requires no mixer and only one bowl! Top with cream cheese frosting and toffee drizzle and watch it disappear fast…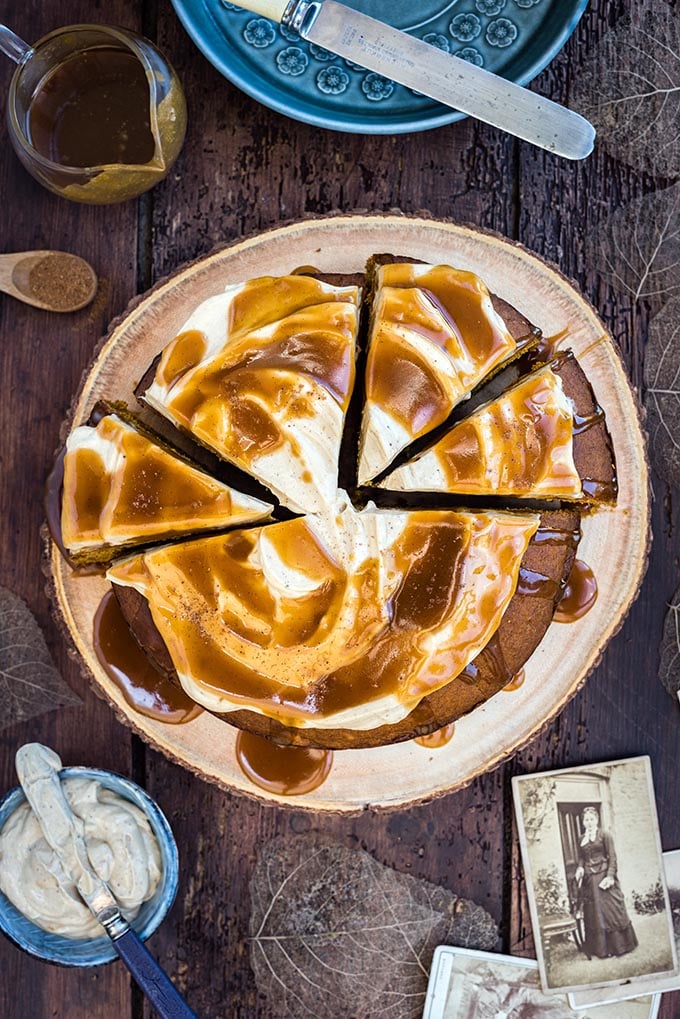 This rum-spiked eggnog cake with cream cheese frosting and white chocolate ganache is just the thing to warm you up this holiday season.
Pumpkin Spice Cake with Maple Buttercream Frosting is not only AMAZINGLY delicious, but it is completely vegan. No dairy, no eggs, and uses whole wheat pastry flour instead of the regular refined white stuff. It still contains sugar, because, duh, it would kind of taste like garbage without it, but you can switch it out for a less refined option like coconut sugar or sucanat and still get great results.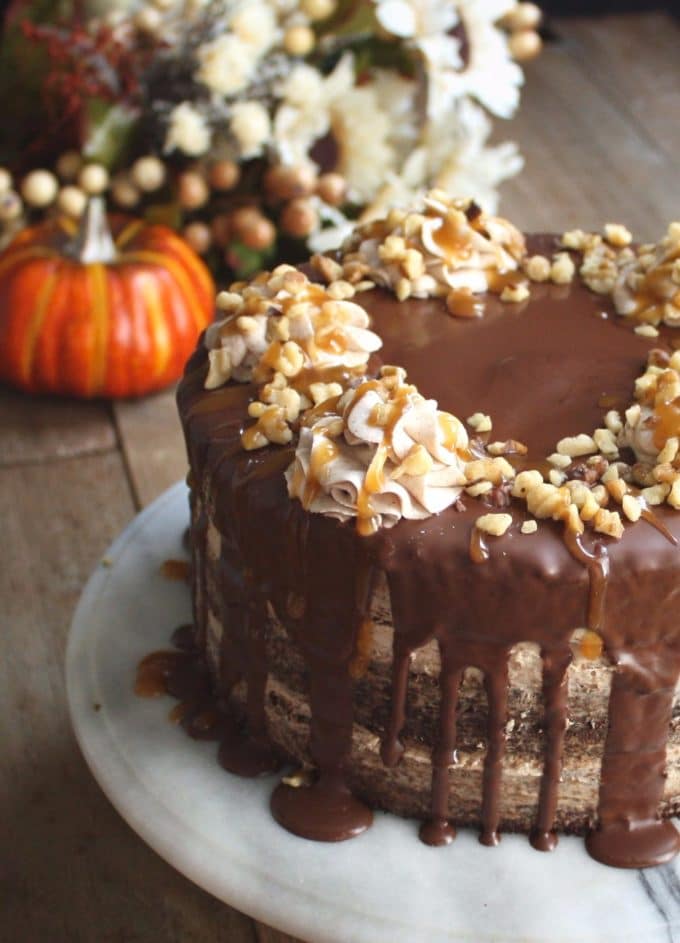 This made-from-scratch apple pie is the king of all apple pies!  Sweet apples with a perfect texture and a hint of cinnamon nested between the flaky tender crust dough – this is the best apple pie recipe ever!
This Chocolate Espresso Hazelnut Cake is insanely flavorful, rich, super moist, not overly sweet with crunchy hazelnut bites and a hint of espresso!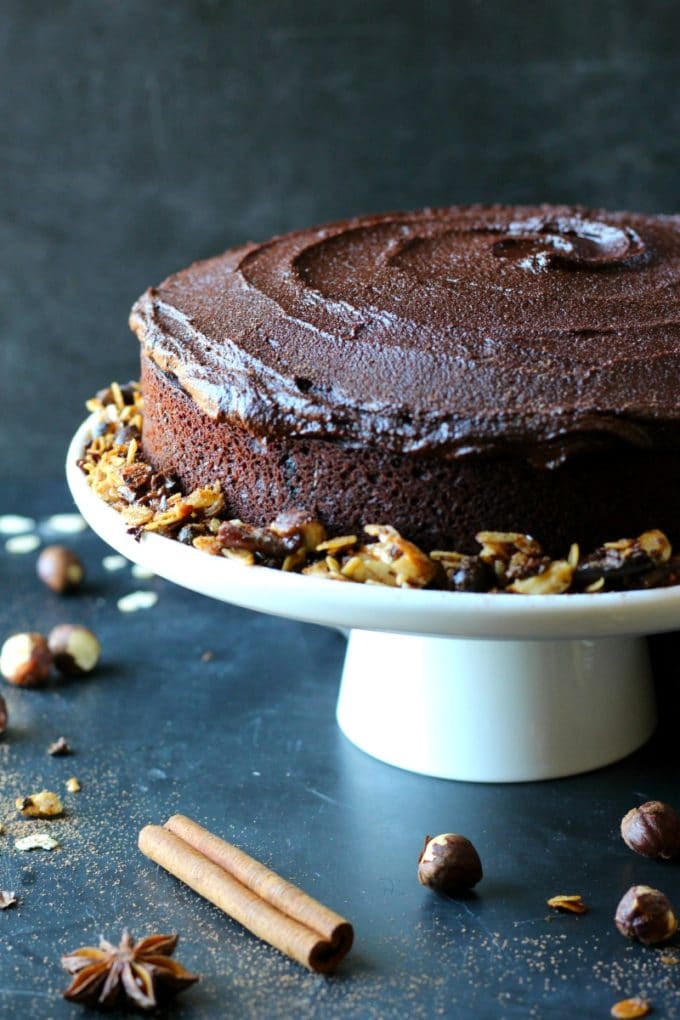 Cranberry Orange Cake is moist and packed with orange cranberry flavor. A perfect sweet treat to serve up for either a special breakfast or a tasty dessert.
This delicious Butterfinger Cake Recipe dessert is made from scratch and features a moist chocolate cake with peanut butter frosting and butterfingers.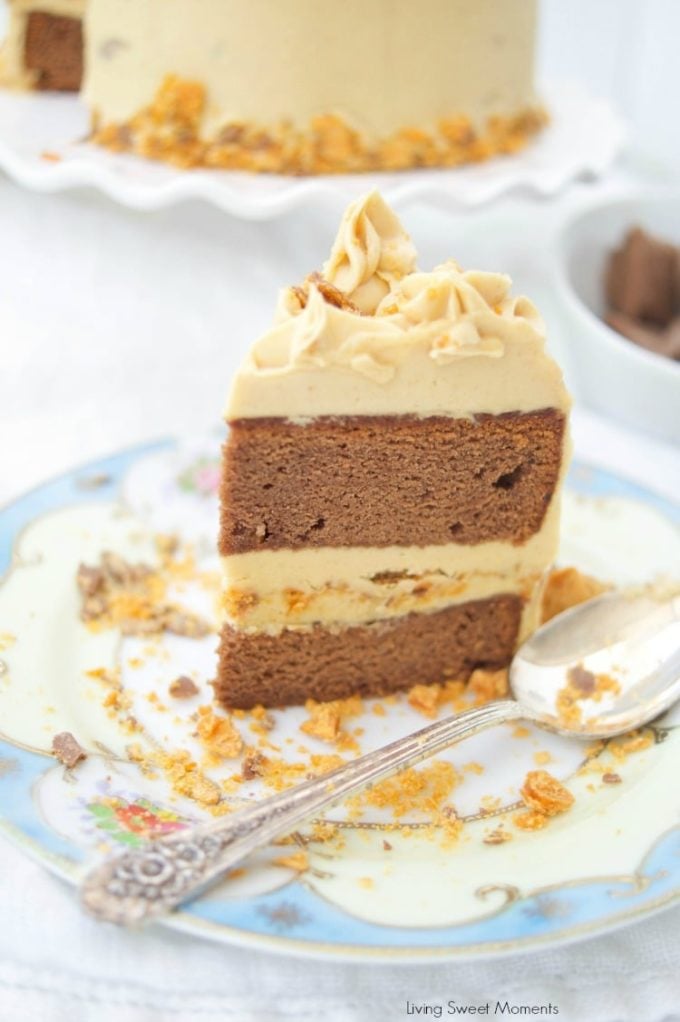 It's the season for all things pumpkin, and I'm finding inspiration in one of my favorite flavor combos: pumpkin and chocolate.  So today I give you the Pumpkin Chocolate Ganache Cake!
Imagine – crunchy, buttery crust. Cinnamon apple layer. Creamy, melt-in-your-mouth cheesecake. Crispy pecan oat topping. Salted caramel drizzle. There is no better way to celebrate Thanksgiving than with this salted caramel apple cheesecake!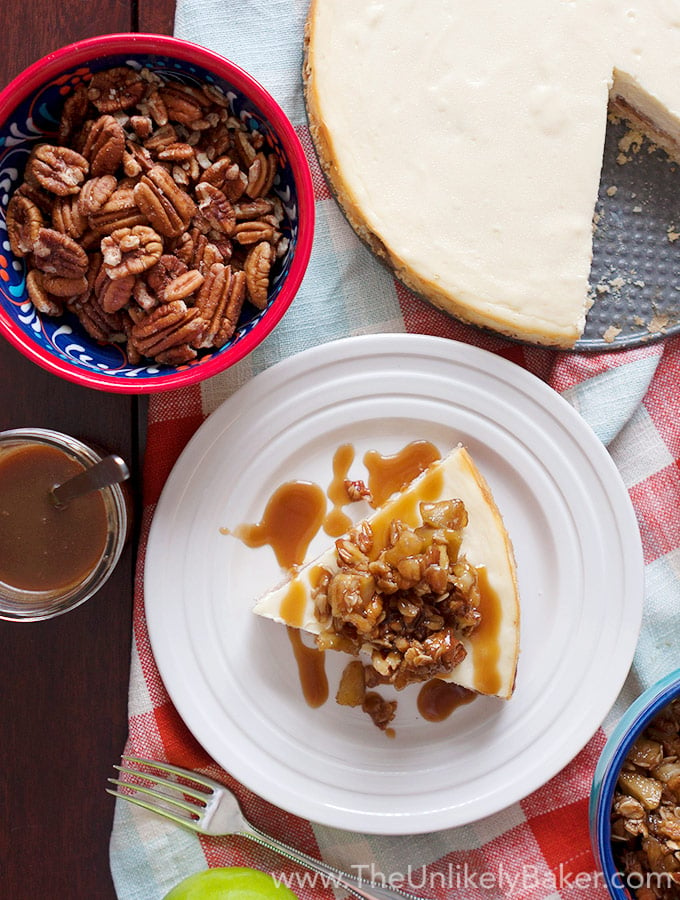 This pumpkin cheesecake is the ultimate fuss-free dessert – its almost fool-proof, it doesn't require a finicky water-bath, and it hardly ever cracks. And it doesn't really matter if by some strange happenings it does crack because you are topping it with a gorgeous brown sugar pecan sauce. The whole thing ends up being dreamy and creamy and so silky smooth. Add a dollop of slightly sweetened whipped cream, and you have a decadent dessert that hardly requires any work at all. It's holiday dessert heaven.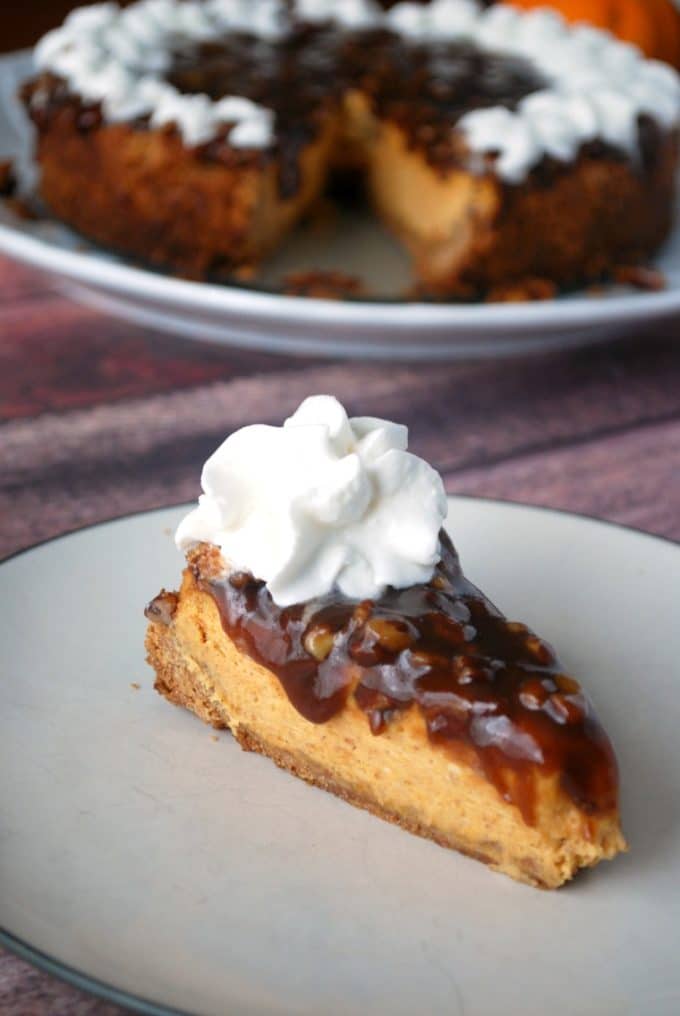 Sweet Potato Cake with Pecan Praline Icing is the perfect Thanksgiving dessert. Cooking it in an iron skillet makes it even better!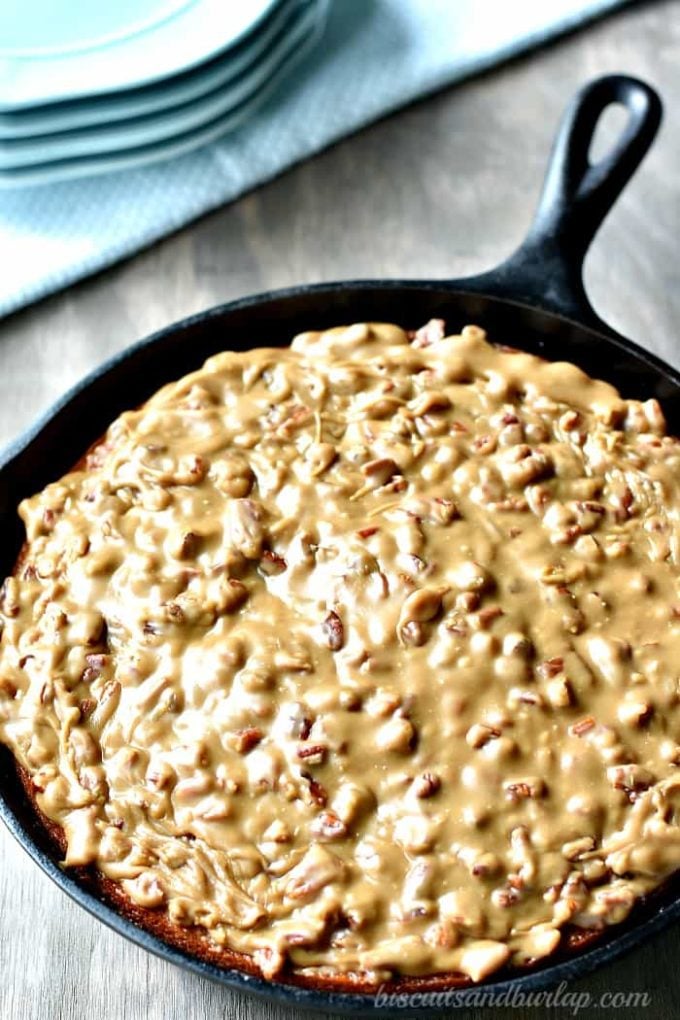 This delicious Apple Pie Cheesecake is a merger of two excellent desserts. The apple pie filling sits on top of a wonderful low-fat cheesecake surrounded by a crunchy graham cracker crust. The flavors compliment each other beautifully!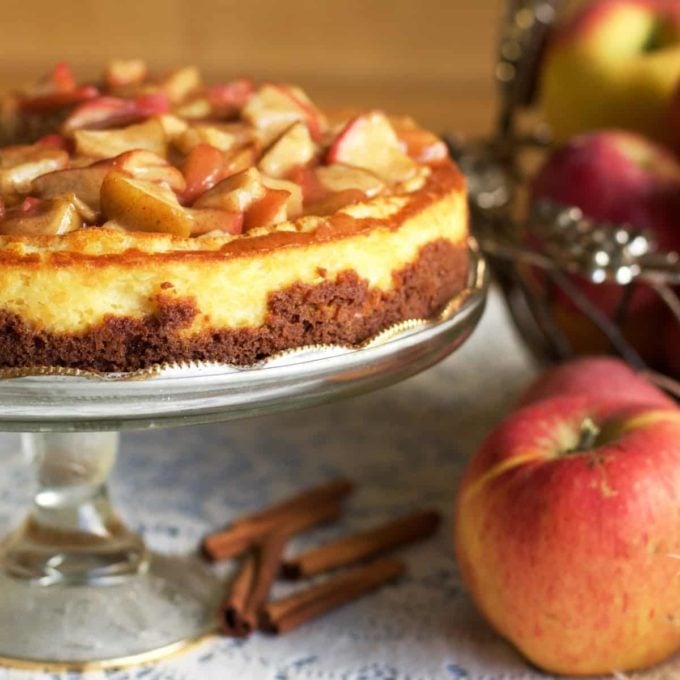 Turn your calorie counter off. Forget what a carb is for just a little while. Our Favorite Carrot Cake recipe is worth the indulgence. Savor every bite of this moist and perfectly spiced cake! This layered cake recipe is loaded with shredded carrots, fresh chopped pineapple, coconut, and pecans. Between each layer is a little wow-factor, and of course, the very best cream cheese frosting ever.
Looking for an alternative to the same old pumpkin pie for Thanksgiving? Check out these amazing Pumpkin Flans – paleo with no dairy or refined sugar!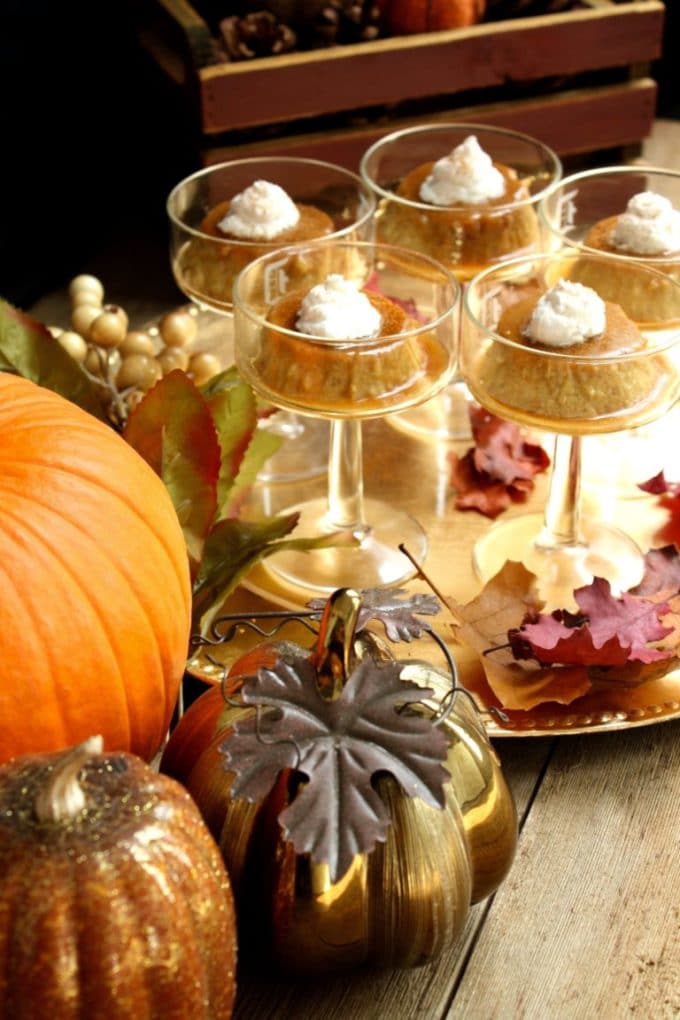 My oh my, Sweet Potato Pie! Easy Southern Sweet Potato Pie tastes like a cool, crisp Fall day, warm, pungent spices, and Thanksgiving all wrapped up in one delicious and decadent bite. And, it's a perfect Thanksgiving dessert
Well, what do you think? Isn't this an incredible roundup of luscious homemade Thanksgiving dessert recipes? Which one of these desserts will you choose?
Need even more Thanksgiving dinner menu ideas? Check out these roundup posts:
Please follow me on Pinterest, Facebook, and Instagram. And, to be the first to receive new notifications of new posts by email, enter your email address in the Subscribe box. Thank you so much for visiting Grits and Pinecones!