Serving one of these 15 insanely delicious sweet potato recipes from some of the top bloggers in the country will make your Thanksgiving a sweet success this year! Whether you are looking for a  traditional sweet potato recipe for Thanksgiving or want a new twist on an old classic, try one of these 15 Best Sweet Potato Recipes for Thanksgiving and sit back and enjoy the compliments!
1 Healthy Roasted Sweet Potato Salad – Grits and Pinecones
Healthy Roasted Sweet Potato Salad is a unique, colorful, healthy and best of all delicious choice for your Thanksgiving dinner.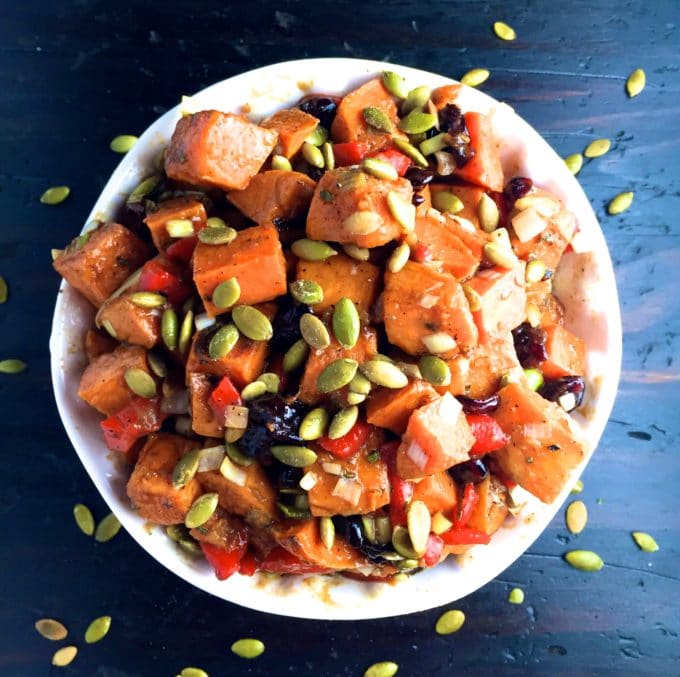 2. Jeannie's Sweet Potato Souffle – From a Chef's Kitchen
A special recipe in honor of a special lady, this delicious souffle deserves a special place on your Thanksgiving table.
3  Scalloped Sweet Potato Ring – The Healthy Foodie
This stunner of a dish is easy to make! In fact, it's so stupid easy to assemble, yet it looks so elegant, I think that it totally makes it the perfect sweet potato side dish recipe EVER, especially for Thanksgiving!
4  Paleo Candied Sweet Potatoes with Pecans and Dates (Paleo and Vegan – Paleo Running Momma
These Roasted Parmesan Herb Sweet Potatoes are seasoned with a blend of Parmesan cheese, garlic, and herbs. Roasted until crispy on the outside and soft on the inside, this easy side dish is full of flavor and perfect for Thanksgiving!
6  Sweet Potato Mash with Caramelized Onions – Allergy Girl Eats
If you are looking to bring something new to your Thanksgiving table, I highly suggest this top 8 allergen free mash. And it's super easy to make with only five ingredients!
7  Sweet Potato Casserole with Brown Sugar Topping – Pinch of Yum
I am tossing you a Thanksgiving recipe today. THANKSGIVING! And I want you to catch it and love it, okay? It is a deep, rich, sweet potato casserole with a crunchy brown sugar topping, and it's comforting and cozy and it's coming for you right now – ready?
8  Maple Roasted Sweet Potatoes – Neighbor Food Blog
It doesn't get much easier (or more delicious) than these Maple Roasted Sweet Potatoes. It's the side dish you'll want on your for Thanksgiving.
9  Savory Twice Baked Sweet Potatoes – Grits and Pinecones
Imagine if you will, soft, fluffy, and savory baked sweet potatoes, combined with shallots, thyme, butter, and delicious Fontina cheese. These Savory Twice Baked Sweet Potatoes should be making an appearance on your Thanksgiving table this year!
10  Baked Southern Candied Sweet Potatoes – Creme de la Crumb
Sweet, caramelized baked southern candied sweet potatoes make the perfect Fall side dish – especially for holidays like Thanksgiving and Christmas!
11  Roasted Sweet Potato Quinoa Salad with Zesty Lime Dressing – NOURISHED the Blog
A deliciously sweet and zesty Roasted Sweet Potato Quinoa Salad recipe all dressed up in a zesty lime vinaigrette. Perfect for lunch or as a side dish for dinner tonight.
12  Paleo Sweet Potato Casserole in the Slow Cooker – Food Faith Fitness
Let the slow cooker do all the work for you this Thanksgiving with this quick and easy paleo sweet potato casserole! You won't even miss the marshmallows!
13  Maple Apple Cider Sweet Potatoes – Brewing Happiness
These Maple Apple Cider Sweet Potatoes are the easiest and most unique Thanksgiving side dish, featuring a secret ingredient… TEA!
14  Sweet Potato Casserole with Marshmallows – Dinner at the Zoo
Sweet potato casserole with marshmallows and pecans, how can you go wrong with that combination? This easy sweet potato casserole is THE BEST, it's sure to become a tradition on your Thanksgiving table.
15  Lightened Up Sweet Potato Casserole – Healthy Toast
To make this less dessert-like and more dinner-table approved the white sugar gets swapped out for brown sugar and maple syrup. By using these more flavorful sugars, the total amount of sugar is able to be reduced. The butter is also reduced and evaporate milk gets to stay on the shelf as unsweetened vanilla almond milk can do the job with much fewer calories. Instead of 1/4 cup butter mixed with sugar and white flour, this topping is a bit healthier with just 1 tablespoon of butter, oats, whole wheat flour, walnuts, and brown sugar. If you aren't a fan of walnuts, almonds also work great!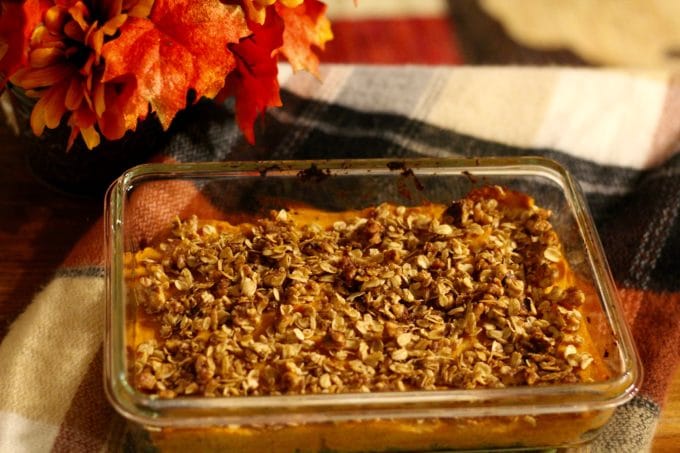 Bonus: Terry's Thanksgiving Sweet Potato Casserole – Grits and Pinecones
Are you looking for the most delicious Thanksgiving sweet potato casserole that you have ever eaten? One that is decadent beyond description and will have your family clamoring for more? Well, you are in the right place because Terry's Thanksgiving Sweet Potato Casserole is all that and more! It's the perfect side dish for Thanksgiving and it's also perfect for any other holiday gathering.
I know! So many choices! No matter which delicious sweet potato recipes for Thanksgiving you choose, your family and friends will love it! What's your favorite and which dish will you be making this year?
Need even more Thanksgiving dinner menu ideas? Check out these roundup posts:
Please follow me on Pinterest, Facebook, and Instagram. And, to be the first to receive new notifications of new posts by email, enter your email address in the Subscribe box. Thank you so much for visiting Grits and Pinecones!