Love is in the air on Valentine's Day, and these luscious desserts are the perfect opportunity to show the special people in your life how much you care for them!
This showcase of over 30 of the best Valentine's Day dessert and treat recipes includes all types of luscious and decadent romantic desserts. Believe it or not, there are even some healthy dessert options like gluten-free, paleo, low-carb, keto, and vegan that won't destroy your diet!
As you might imagine, there are also lots of options for chocolate lovers, and if you like strawberries and raspberries, you are in luck! There are also several easy dessert options for those of you that are just beginning to cook and some that don't require any cooking at all.
So pull up an easy chair and plan to spend some time perusing the gorgeous photos and enjoying these awesome desserts. Your only problem will be choosing just one of them!
1. Chocolate Cherry Valentine Torte – Grits and Pinecones
Chocolate Cherry Valentine Torte is the perfect cake, in the perfect shape, to say "I love you"! Three layers of heart-shaped chocolate cake, filled with sweet whipped cream and cherries and iced with chocolate whipped cream, this Valentine's Day dessert is the ultimate decadent and romantic dessert for that special someone for Valentine's Day.
2. Red Wine Chocolate Fudge Strawberry Cake – Food Meanderings
Believe me, you will want to find any excuse to celebrate with this decadent and delectable Red Wine Strawberry Chocolate Fudge Cake cake! A whipped creamy mascarpone strawberry kirsch filling is sandwiched between luscious red wine fudgy chocolate cake, all encased in a rich red wine dark chocolate ganache with ganache dipped strawberries on top. And best yet, there is no fancy decorating required! If you are looking for a Valentine's day cake for your sweetheart, this cake is the ultimate!
3. Meringue Hearts with Whipped Cream and Raspberries – What a Girl Eats
These Meringue Hearts with Whipped Cream and Raspberries are perfect for your sweetheart on Valentine's Day. Light, airy and crisp, filled with lightly sweetened whipped cream and some fresh raspberries, they are an extra special dessert.
4. Chocolate Ganache Tart with Raspberry Sauce – Grits and Pinecones
Chocolate Ganache Tart with Raspberry Sauce is the ultimate dessert for Valentine's Day and the chocolate lovers in your life. The rich and decadent filling with two kinds of chocolate is almost truffle-like in its consistency, and you won't believe how incredibly delicious the biscotti crust is!
5. Coeur à la Crème with Grand Marnier Raspberry Sauce – Pudge Factor
Coeur à la Crème with Grand Marnier Raspberry Sauce is an elegant dessert to serve for Valentine's Day. This classic dessert (French for heart of cream) is quite easy to prepare but amazing in its presentation and taste.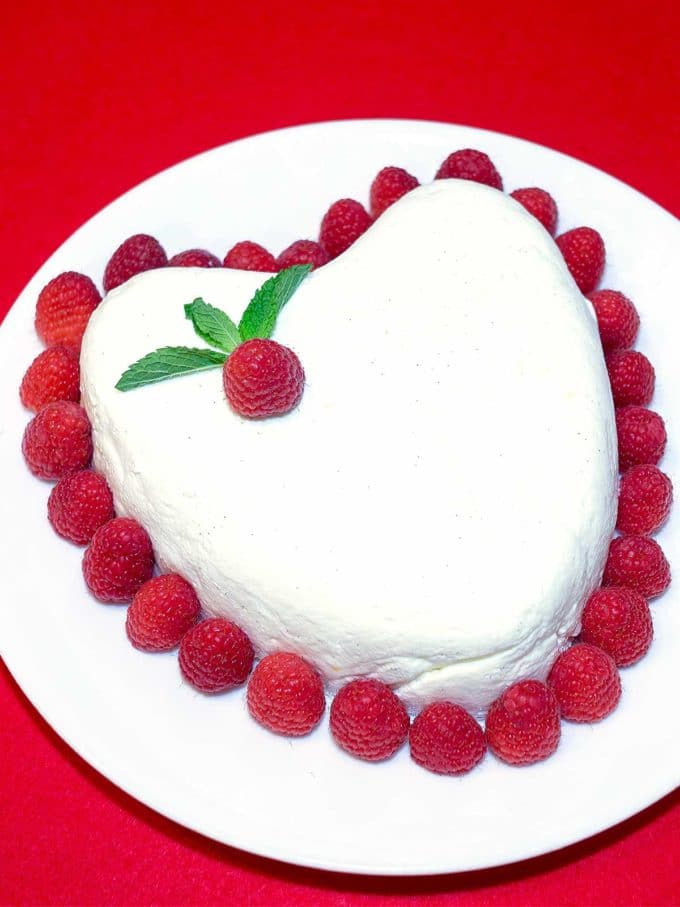 6. Chocolate Covered Strawberry Dump Cake for Two – The Seasoned Mom
Make dessert quick, easy, and incredibly delicious with a 3-Ingredient Chocolate Covered Strawberry Dump Cake that's ready for the oven in just 5 minutes! Whether you need a single-serving treat to satisfy a sweet tooth, a special dessert for a romantic date night for two, or a full-size cake to feed a crowd, this rich and fudgy dump cake is a perfect solution — no baking skills required!
7. Easy Raspberries and Cream Dessert – Grits and Pinecones
Sweeten your Valentine's Day this year with a creamy and decadent Raspberry Cream dessert. This sweetly romantic dessert of pure deliciousness would be the perfect ending to a romantic Valentine's Day dinner or any dinner for that matter.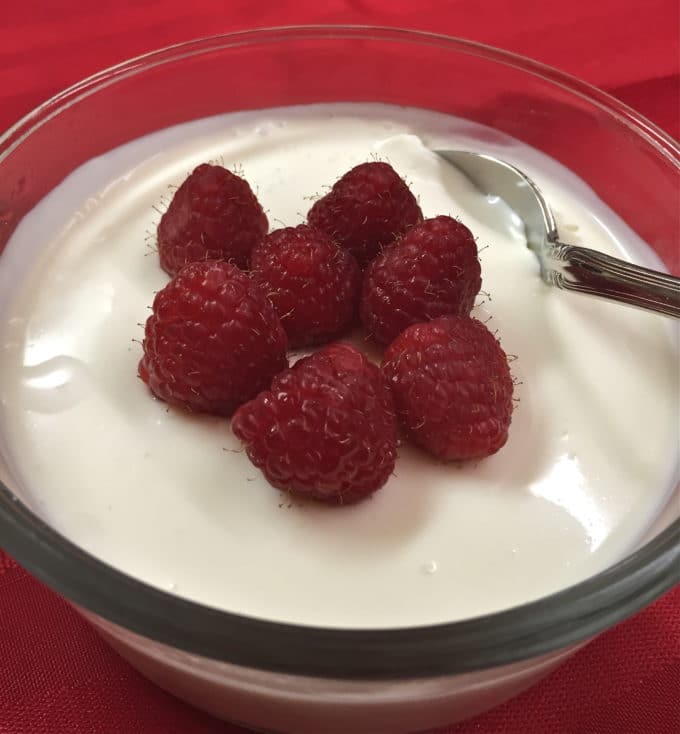 8. Vanilla Rose White Chocolate Cocktail – The Flavor Bender
Love White Chocolate? Alcohol? Vanilla? Then this is the kind of cocktail that'll turn your life upside down! Vanilla Rose and White Chocolate Cocktail (AKA Falooda Cocktail) is a delicious, sweet, creamy, floral cocktail that's pure decadence and is gorgeous to look at!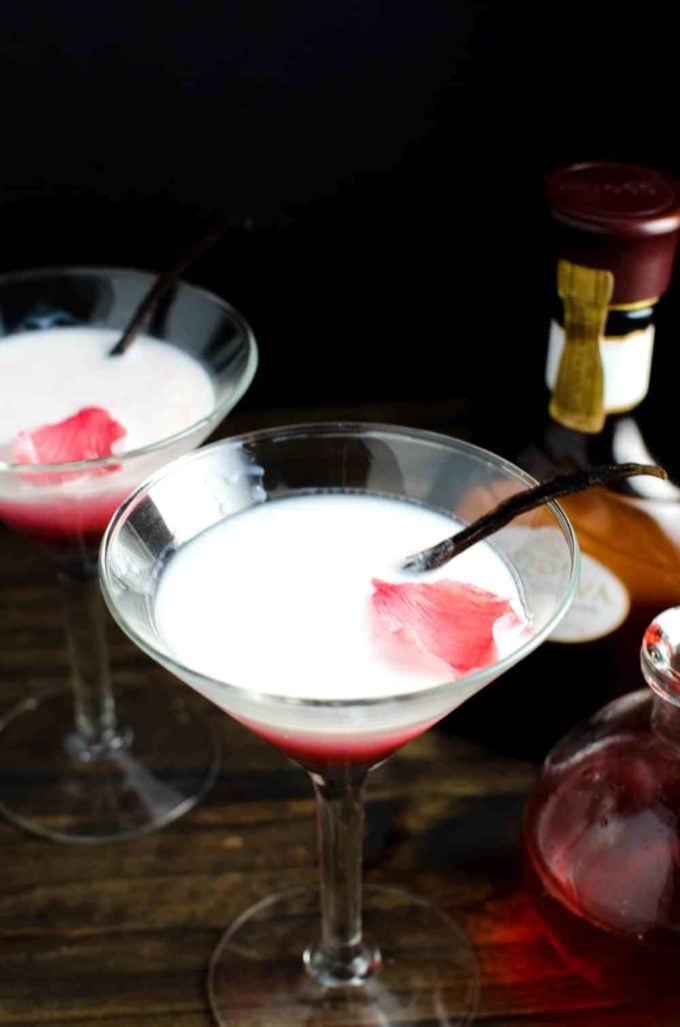 9. Valentine's Day Raspberry Brownie Parfait – Crayons and Cravings
This delicious Raspberry Brownie Parfait is sure to score some major brownie points and spark some romance this Valentine's Day!
10. Strawberry Shortcake and Lemon Curd Parfait – The Rising Spoon
Want an easy Valentine's Day dessert that'll leave you fighting over the leftovers? Look no further than these strawberry shortcake & lemon curd parfaits, a.k.a. blissful bursts of sunshine and sweetness in a glass.
11. Double Chocolate Mousse with Raspberry Sauce – Dani's Cooking
This delicious Double Chocolate Mousse with Raspberry sauce is the best dessert that you can prepare in less than one hour! It is decadent and full of flavor: a fantastic treat for every chocolate lover on Valentines's Day!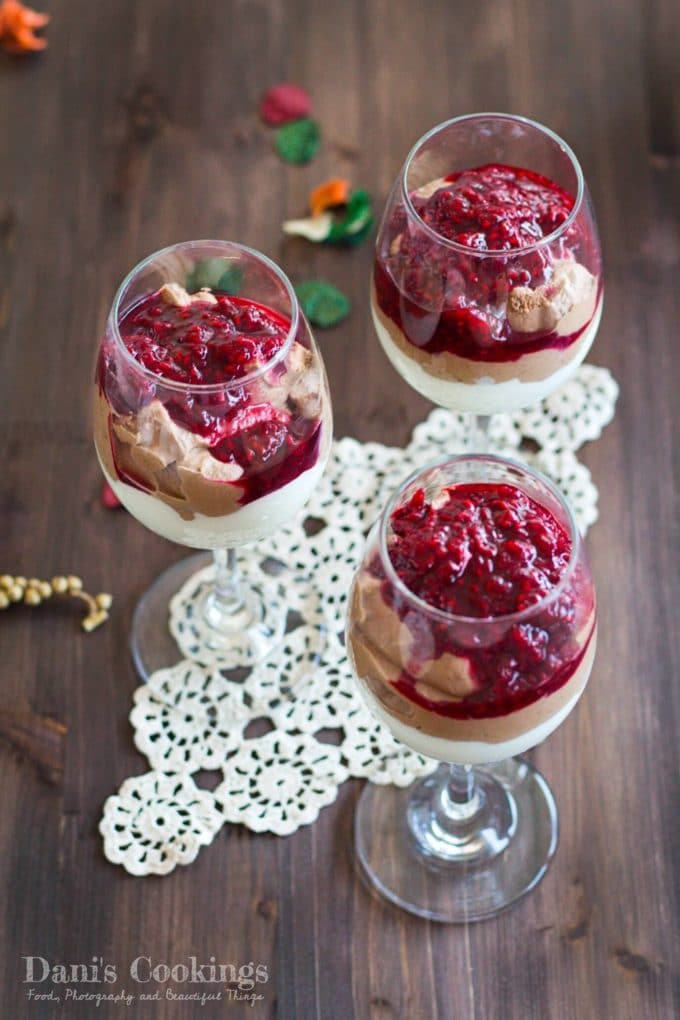 12. Raw Vegan Blackberry Cheesecake – One Clever Chef
These Raw Vegan Blackberry Cheesecake bars are super creamy and perfectly sweet. This easy no-bake dessert is also extremely healthy! You would never believe it's a dessert by simply looking at the nutritional values. This recipe is also Paleo, Gluten-free, and Dairy-Free!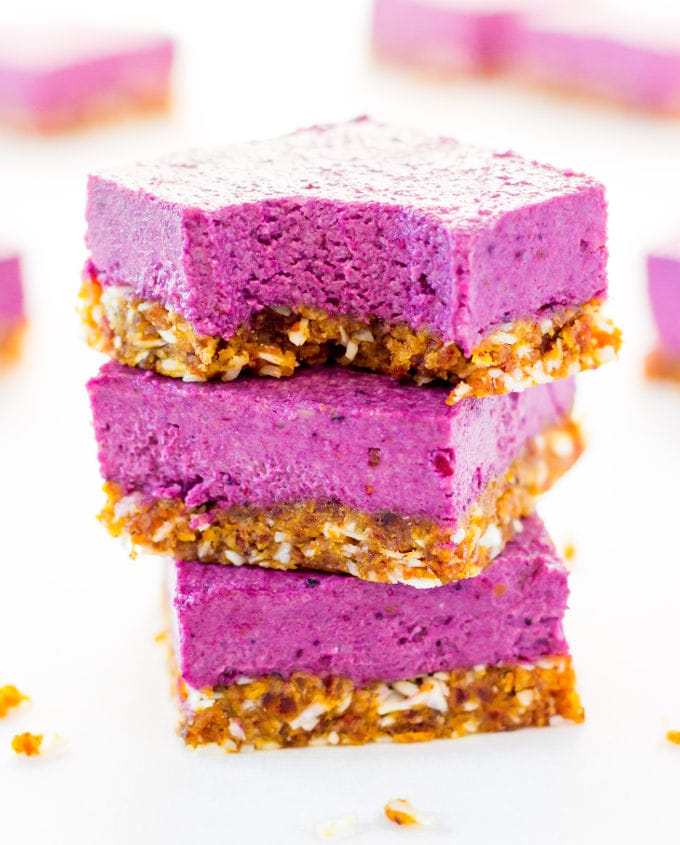 Chocolate and cherries are a classic flavor combination. Put them together in a simple dump cake with only four ingredients, and you have an irresistibly delightful dessert. A bonus, it's as perfect for Valentine's Day as it is for a neighborhood potluck.
14. Sweetheart Brownie Bliss – Buy This Cook That
You will love Sweetheart Brownie Bliss. And your sweethearts will love YOU! The bottom layer? Thick, fudgy brownies. Then we loaded it with a smooth and creamy layer of no-bake cheesecake. The wow factor? Bright and cheerful cherry topping. This sweet treat hits all the dessert must-haves in my book. Chocolate. Cheesecake. Cherries. What a perfect dessert for Valentine's Day.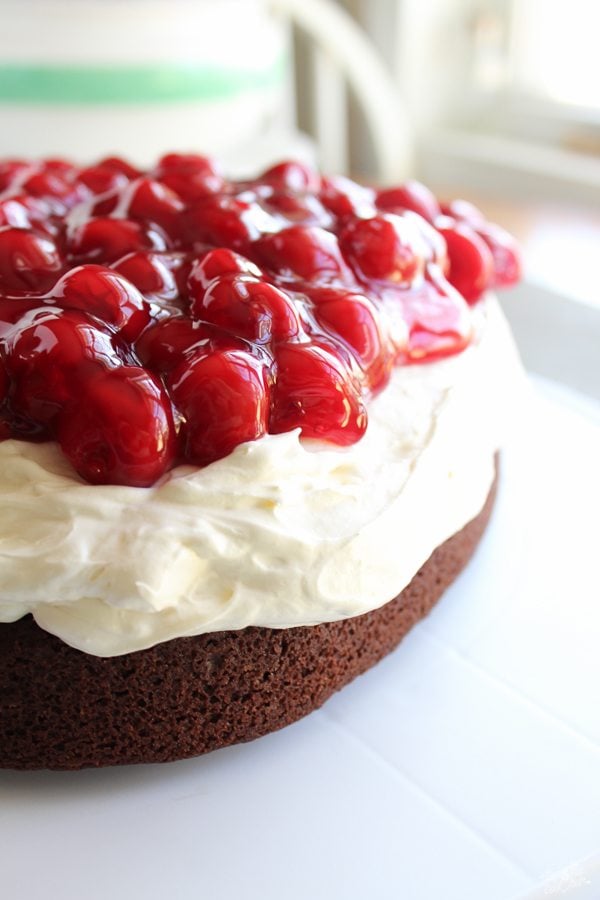 15. Butterscotch Bourbon Budino with Salted Caramel – Platings and Pairings
This Butterscotch Bourbon Budino with Salted Caramel is like a pudding cup for grown-ups. It's a rich and creamy indulgent treat that's not overly sweet, and it's perfect for Valentines's Day!
16. Three Ingredients Strawberry Mousse (Vegan and Gluten-Free) – Easy Cooking with Molly
Creamy, light, and absolutely divine mousse that's perfect for a quick Valentine's dessert. It's made using three simple ingredients and ready in 12 minutes.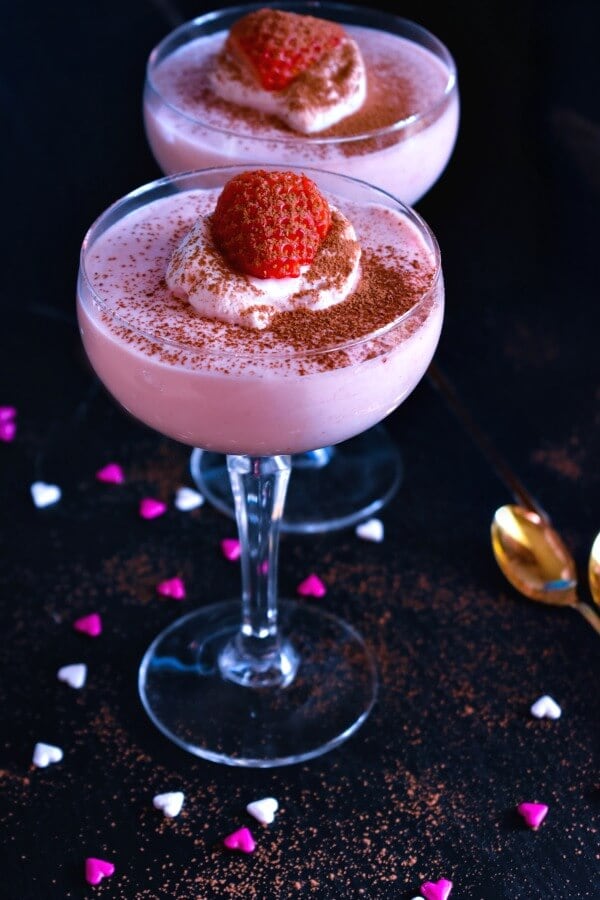 17. No-Churn Red Wine Strawberry and Salted Dark Chocolate Ice Cream – Pass Me Some Tasty
Leave your ice cream maker in the cupboard because when it comes to crazy good ice cream, we don't want to have to wait around for it. No pre-freezing your ice cream container, no cooking heavy cream and milk, and then whisk in egg yolks hoping to create a no-clump custard, and no waiting for your ice cream maker to finish churning before you can even get to the freezing process. This ice cream is happening now friends and just in time for Valentine's Day!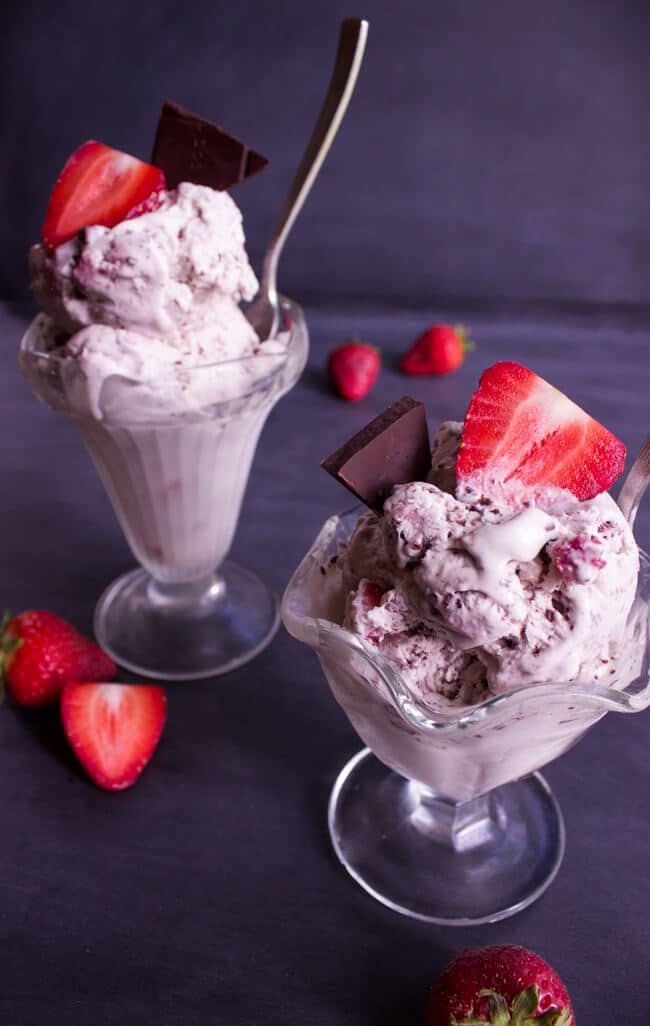 18. Easy Valentine's Day Heart Shaped Fudge Brownies – Lemon Baby
Deep, dark, and fudgy, this is not a brownie for cake lovers. It's a brownie for brownie lovers, and it won't disappoint, I promise!
19. Low-Carb Raspberry Swirl Cheesecake – Simply So Healthy
Celebrate Valentine's day with our Low-Carb Raspberry Swirl Cheesecake. This cheesecake is a refrigerator cheesecake that is simple to whip up. It makes a perfect dessert for people on low-carb, gluten-free, grain-free, ketogenic, diabetic, LC/HF, and Banting diets.
20. Red Wine Chocolate Raspberry Cake – Happy Foods Tube
Chocolate cake with red wine, raspberry mascarpone filling, and chocolate buttercream is perfect for Valentine's Day and so delicious you won't be able to resist another slice! There is no going back to the "ordinary" cakes once you've tried this one!
21. Red Velvet Madeleines – Pudge Factor
Heart-shaped Red Velvet Madeleines with a lemon glaze are a perfect confection for Valentine's Day. Valentine's day was first associated with romantic love in Chaucer's 14th-century poetry about "Valentines."
22. Vegan Vanilla and Berry Cake – Lauren Caris Cooks
Who said going vegan meant kissing delicious, light, fluffy layer cakes goodbye? Well, not me… If no one told me this cake was vegan, I would probably never know. A perfect dessert for your vegan sweetheart on Valentine's Day.
23. No-Bake Raspberry White Chocolate Tart – The Unlikely Baker
Chocolate cookie crust, white chocolate mascarpone filling, fresh raspberry topping. This no-bake raspberry white chocolate tart is an awesome summer treat!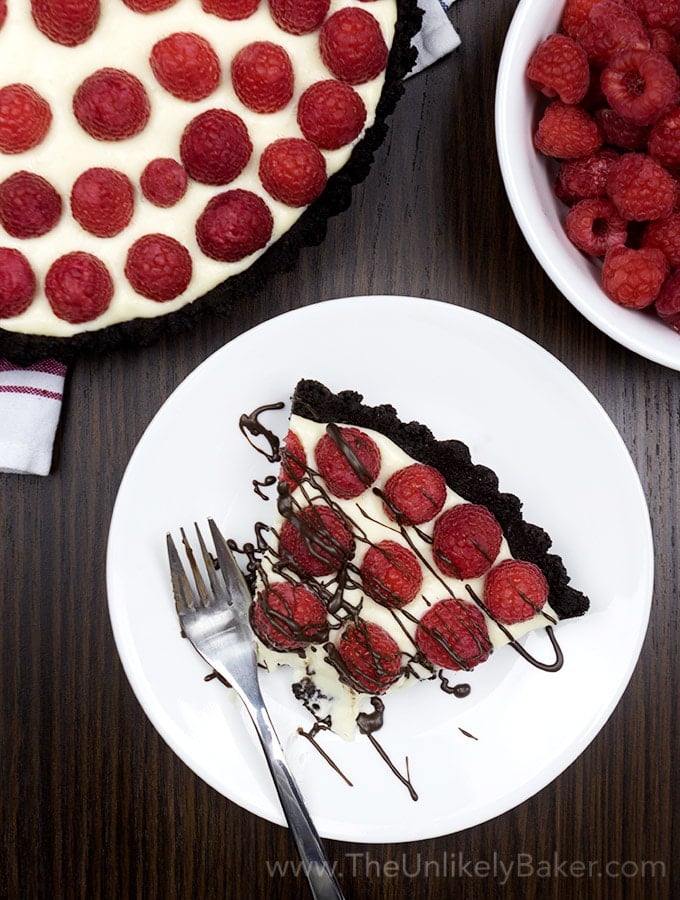 24. Paleo Flourless Chocolate Cake – Delicious Meets Healthy
If you love chocolate, or you have a chocolate lover in your life, this recipe is for you. It's a wonderful Paleo flourless chocolate cake, and the texture is AMAZING, dense, rich, and creamy. And the raspberry apricot glaze is oh-so-good, it pairs wonderfully with the dark creamy custardy cake and adds a nice sweet fruity flavor. Yum! This flourless chocolate cake is also gluten-free and paleo (if you use ghee). It's a chocolate lover's dream come true.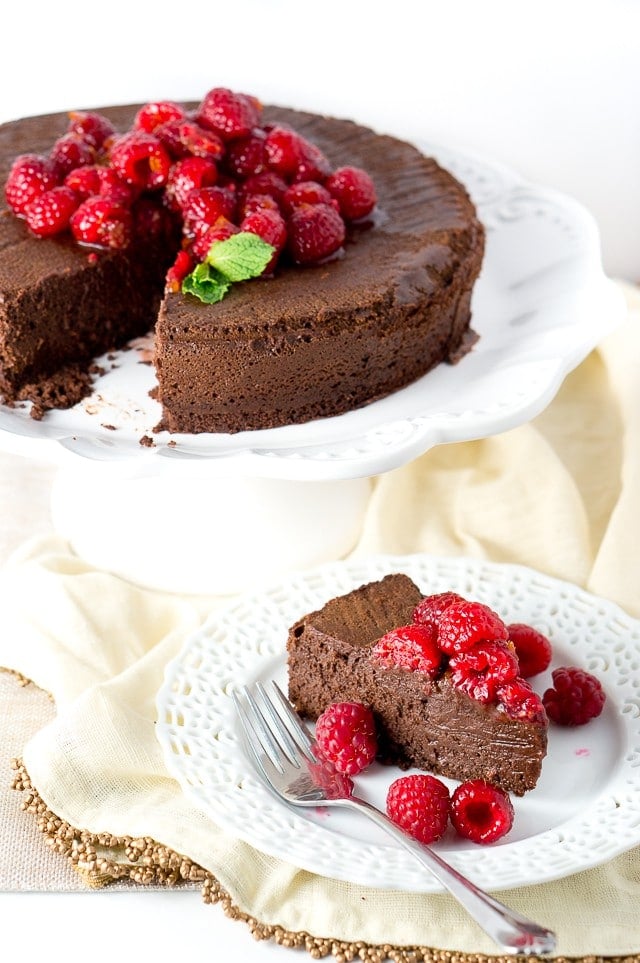 25. Strawberry Lemon Cream Crepe Cake – Taste and See
This Strawberry Lemon Creme Crepe Cake is light and creamy and perfectly sweet! With mascarpone cheese, lemon juice, fresh strawberries, and buttermilk crepes – it's the perfect recipe for celebrating a Happy Valentine's Day and sharing the love this holiday.
26. Bananas Foster Mini Skillet Flambe – The Kitchen Girl
One of my favorite things about this recipe, besides caramelized bananas smothered in ice cream, is that it's a delicious Valentine's Day dessert for two!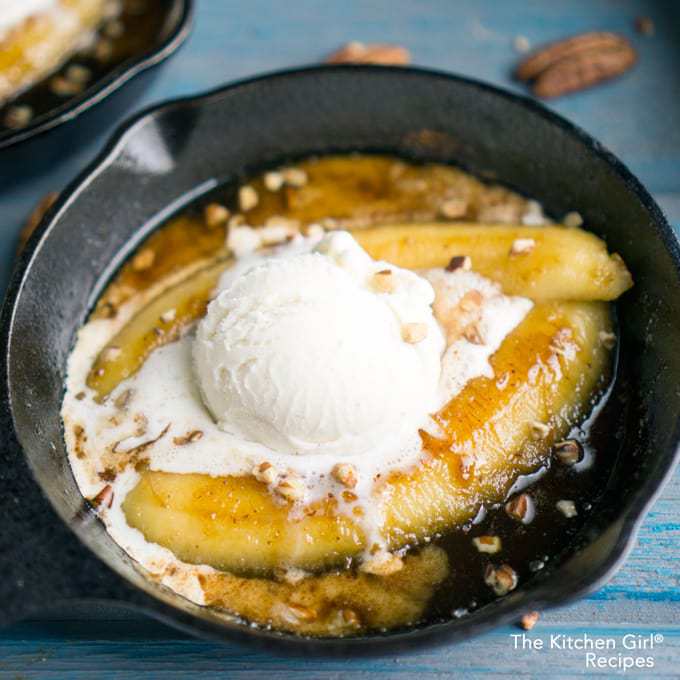 27. Sous Vide Crème Caramel – Pudge Factor
A perfect dessert for Valentines's Day, Crème Caramel is silky smooth with a velvety texture. Sous vide is the way to achieve this perfection. It allows for precise temperature control, which is the key to producing the perfect crème caramel.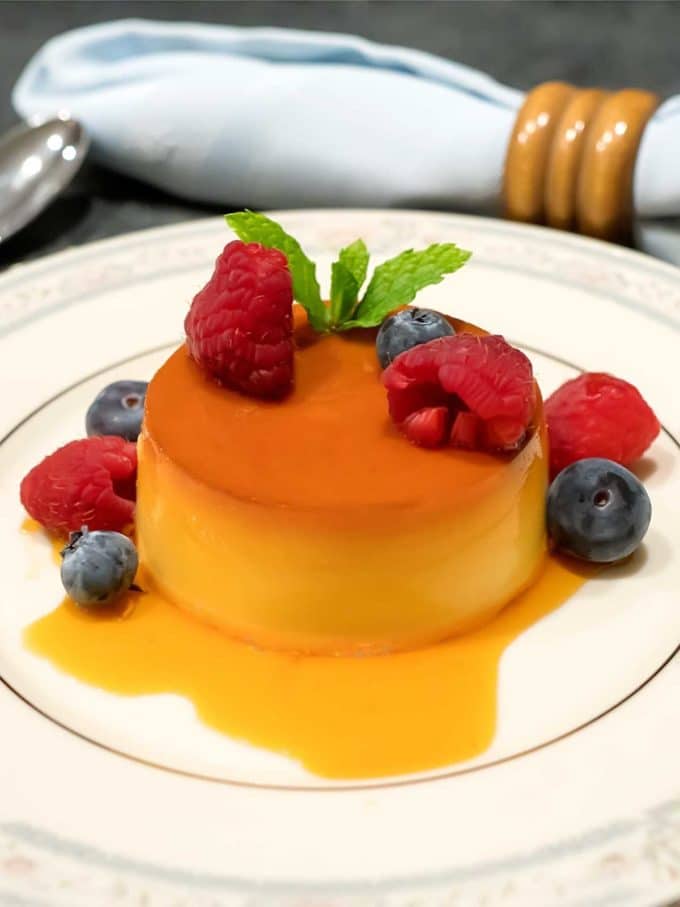 28. Raspberry Dusted Chocolate Fudge Brownie Truffles – Spabettie
Raspberry Dusted Chocolate Fudge Brownie Truffles – rich and chewy chocolate brownie filled truffles get a bright tart topping of raspberry dust! So fudgy good. The filling is divine even on its own – super chocolatey rich, like a chewy brownie. Dip them into melty chocolate and sprinkle with a vibrant tart raspberry dust, and you have an impressive Valentine's Day dessert.
29. Baked Alaska – The Missing Lokness
Baked Alaska is a stunning showstopper for Valentine's Day. Ice cream, cake, and toasted meringue all in one. Easier to make than you think!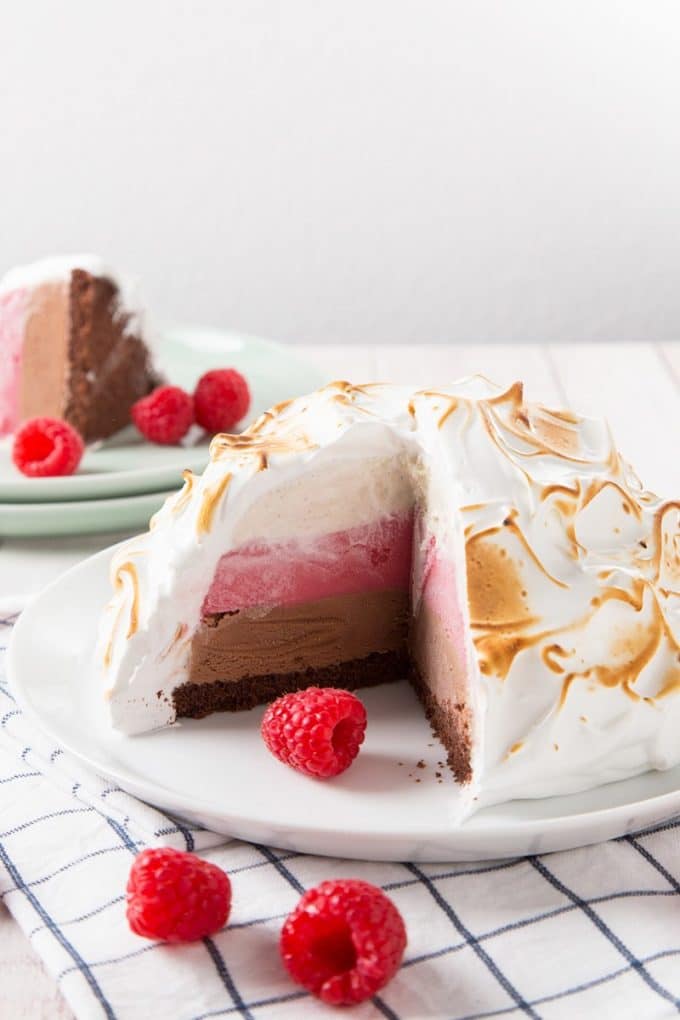 30. Chocolate Blancmange – Pudge Factor
Chocolate Blancmange, pronounced "blah-mahnj," is an old English dessert that is light and velvety smooth. Even though it contains no eggs, the texture of Chocolate Blancmange reminds me of a chocolate mousse. A good Blancmange has a slight wobble to it and is amazingly delicious and easy to make.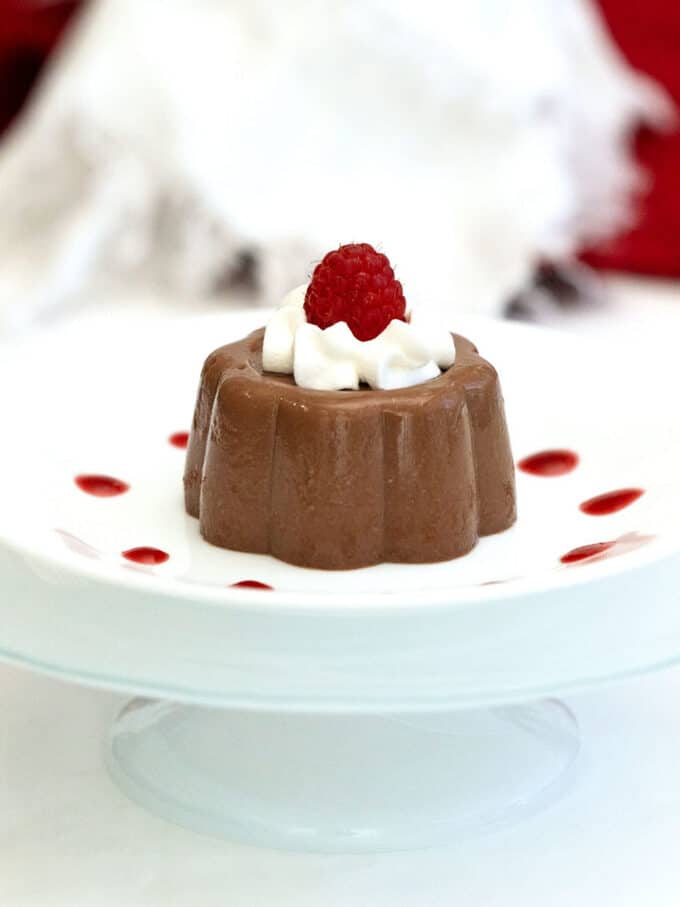 31. Chocolate Cherry Brownie Parfaits – Grits and Pinecones
You have come to the right place if you are looking for an easy but elegant Valentine's Day dessert! Chocolate Cherry Brownie Parfaits are full of fudgy goodness, sweet luscious cherries, and light as air whipped cream! And, this rich and decadent dessert is the perfect way to say "I love you," on Valentine's Day.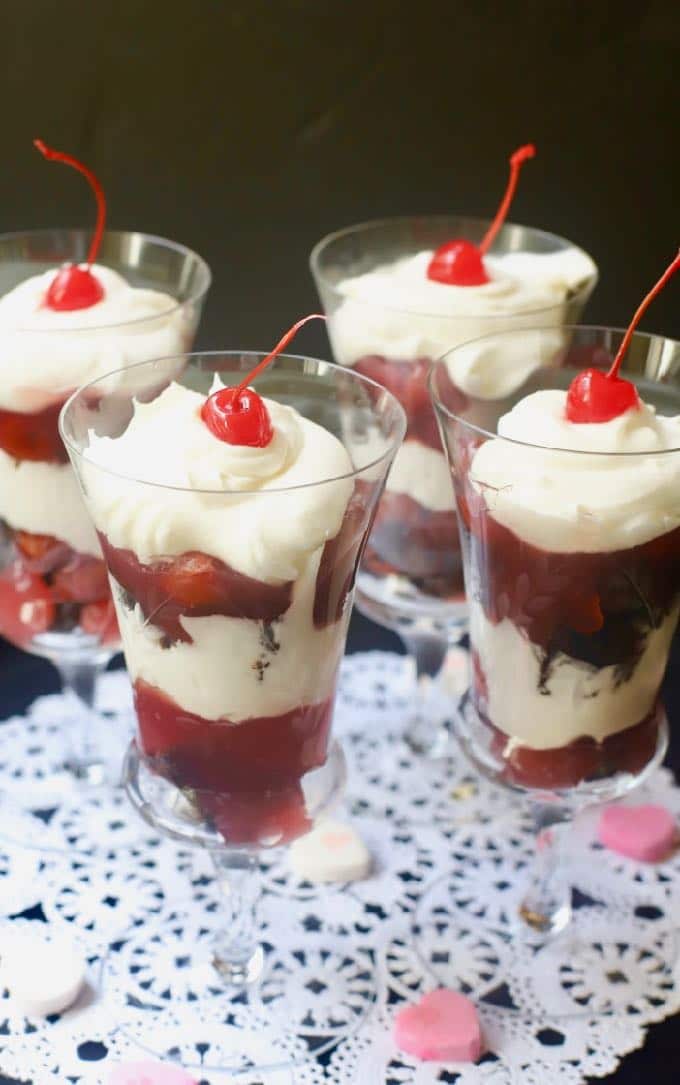 32. Flourless Chocolate Cake – Pudge Factor
Surprise your Valentine with this dense, rich, and decadent Flourless Chocolate Cake. Every bite is packed with intense bittersweet chocolate flavor. While this cake looks amazingly impressive, it is pretty simple to make.
Oh, my goodness! What a roundup of delicious and decadent looking Valentine's Day desserts! How can you choose?
Please leave me a comment letting me know which of these luscious desserts is your favorite and which one(s) you will be making for your loved ones!
Need even more dessert recipes?
Check out these dessert roundup posts full of the most delicious desserts ever:
Still, need more? Check out all of my dessert recipes here! And, check my roundup post The Ultimate Valentine's Day Dinner Menu and Recipes, if you are looking for the perfect romantic Valentine's Day menu.
Thank you so much for visiting Grits and Pinecones!
**This post was originally published on January 17, 2018. Republished on February 11, 2020, with the addition of four new recipes.