This delicious touchdown-worthy list of 41 Quick and Easy Game Day Snacks and Appetizers will help you score big with your family and friends! Whether you are tailgating, hosting a game day party, or sitting in a comfy chair at home, these game day recipes win every time!
If you need menu ideas and recipes for hosting a game day party, we have them all right here. Whether it's crowd-pleasing Southern Caviar Dip or classic football food like Easy Pigs in a Blanket or Buffalo Chicken Dip we've got you covered.
I've teamed up with my sister Chula at the Pudge Factor Blog to give you all of the options for football party food you will ever need. You will love these quick and easy game-day snack and appetizer recipes! Great taste in half the time!
Best Ever Easy Southern Caviar Dip aka Cowboy Caviar, Texas Caviar, Black Bean Salsa, Corn and Black Bean Salad, the list goes on and on. But, no matter what you call it, or how you serve it, this easy to make, healthy dip/salad/salsa is perfect for tailgating, or a game-day party.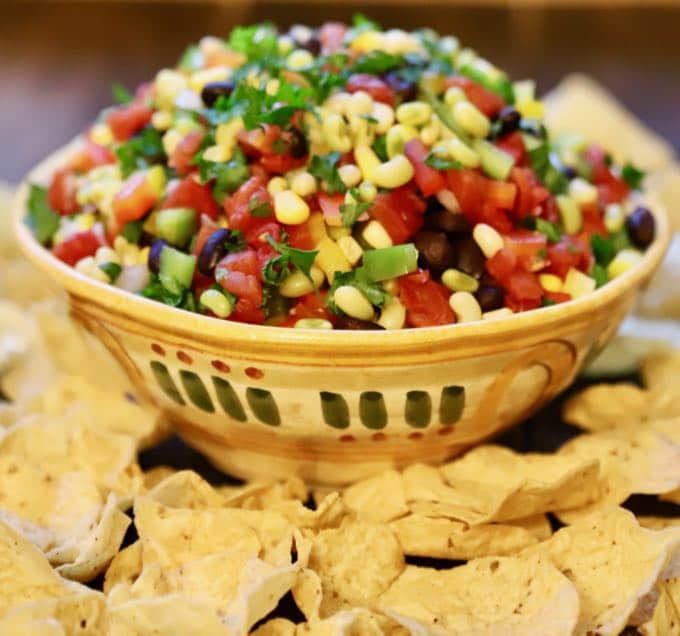 For a game day appetizer that is sure to WOW your guests, you should try Marinated Cheese. It has alternating layers of sharp Cheddar cheese and cream cheese, topped with an incredible marinade. Marinated cheese is a snap to make, and is awesome to serve.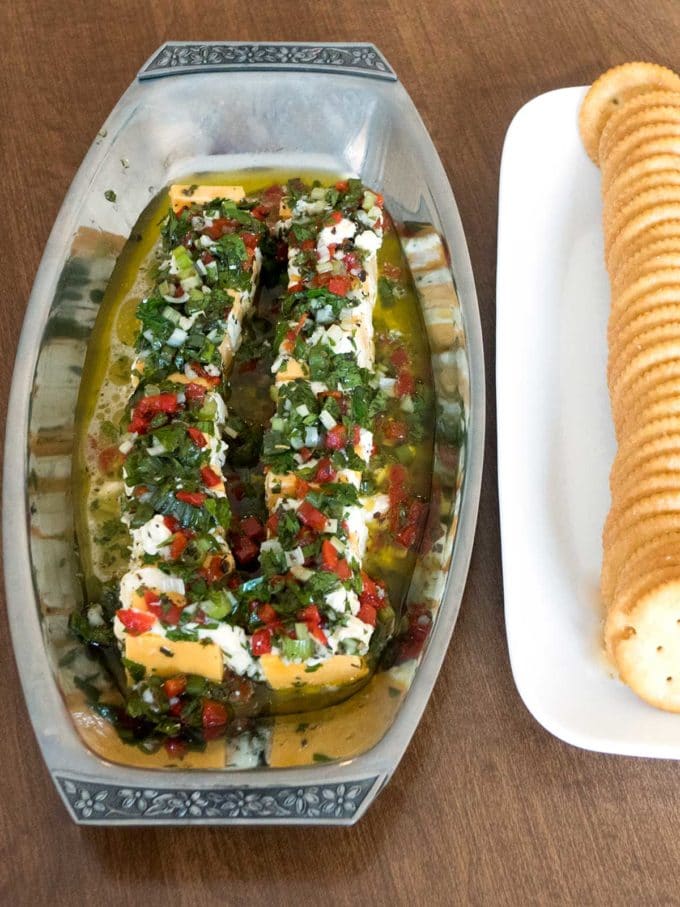 With a name like Easy Cheesy Hot Corn Dip, you would think that this delicious dip would be full of yummy corn and cheesy goodness, and you would be right! And, with a name like Easy Cheesy Hot Corn Dip, you would think that this southwestern inspired dip would be perfect to serve as a game day appetizer, and you would be right about that too!
If you like shrimp cocktail, you'll love this Layered Shrimp Cocktail Spread. It's quick and easy to prepare and tastes as good as it looks! It consists of spicy cocktail sauce and succulent shrimp on top of a savory cream cheese base.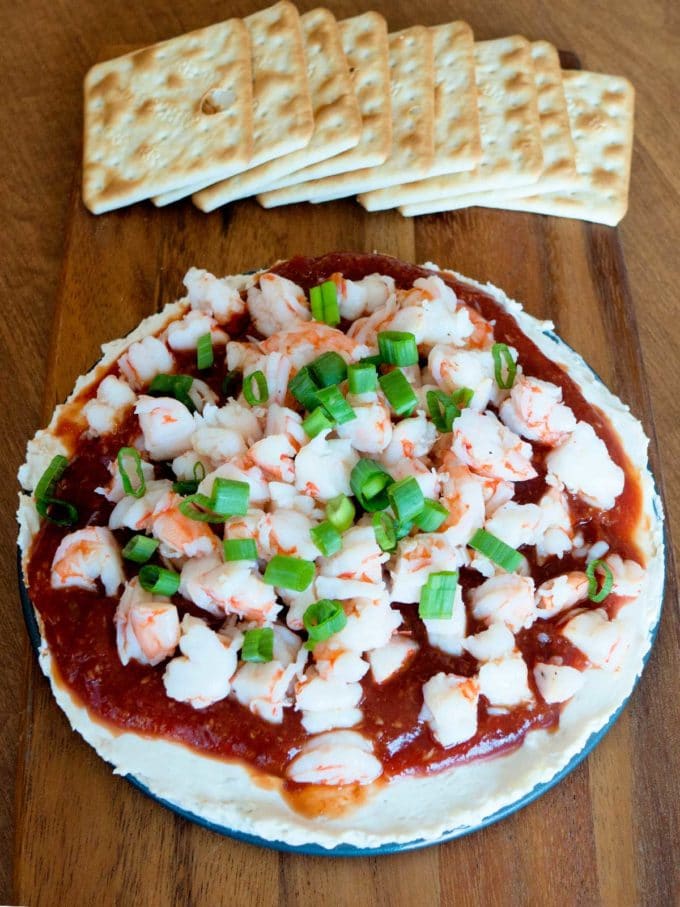 Easy Mardi Gras Hot Muffuletta Dip is a tantalizing game-day dip and the perfect football party food. It's made with tasty green olives, salami, provolone cheese, and tangy giardiniera.
Why not make some tasty egg salad sliders for your game day party? They have two main ingredients – egg salad, and slider buns. I prefer to make my slider buns, but you could certainly buy them already made. You could also use your egg salad recipe, but you should try mine – it's delicious!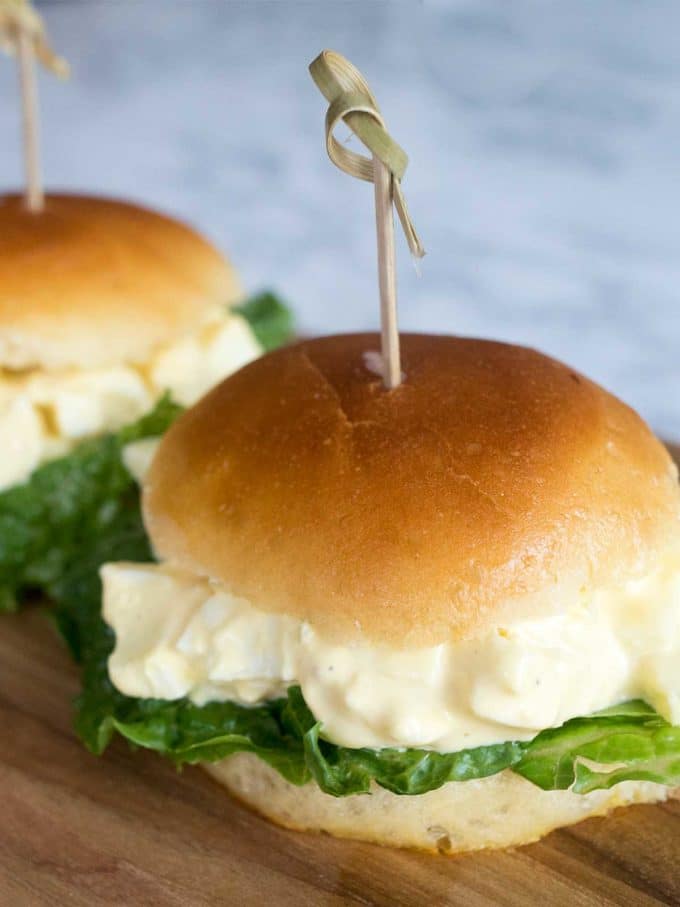 If you love Buffalo wings, you will love this dip! It tastes just like the wings, but without the mess and it's a perfect game day snack!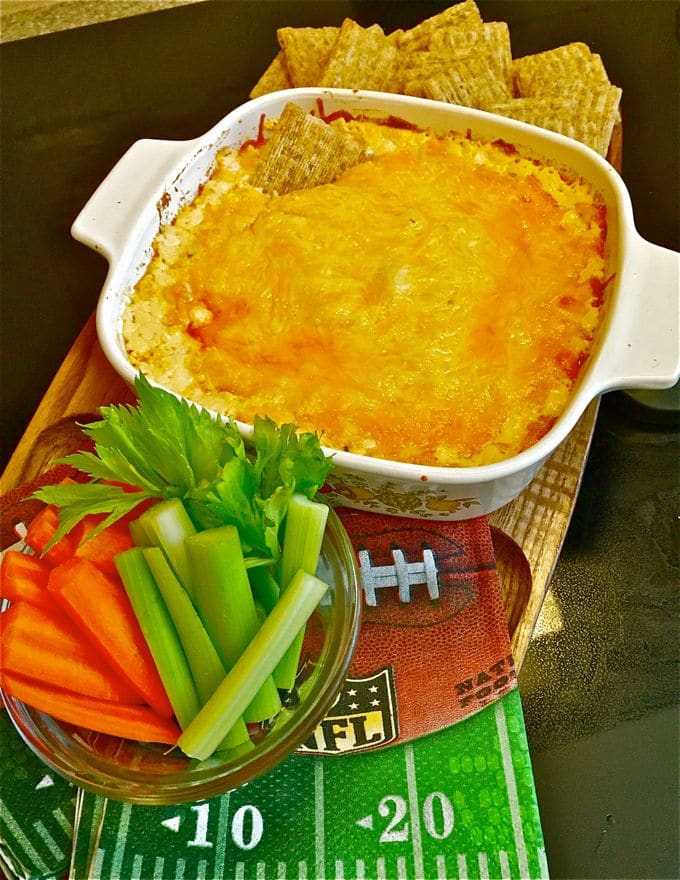 Cheese Straws are a highly addictive southern game-day appetizer. Crispy and buttery, Southern Cheese Straws are amazing when paired with an adult beverage, or just by themselves. It's impossible to eat just one!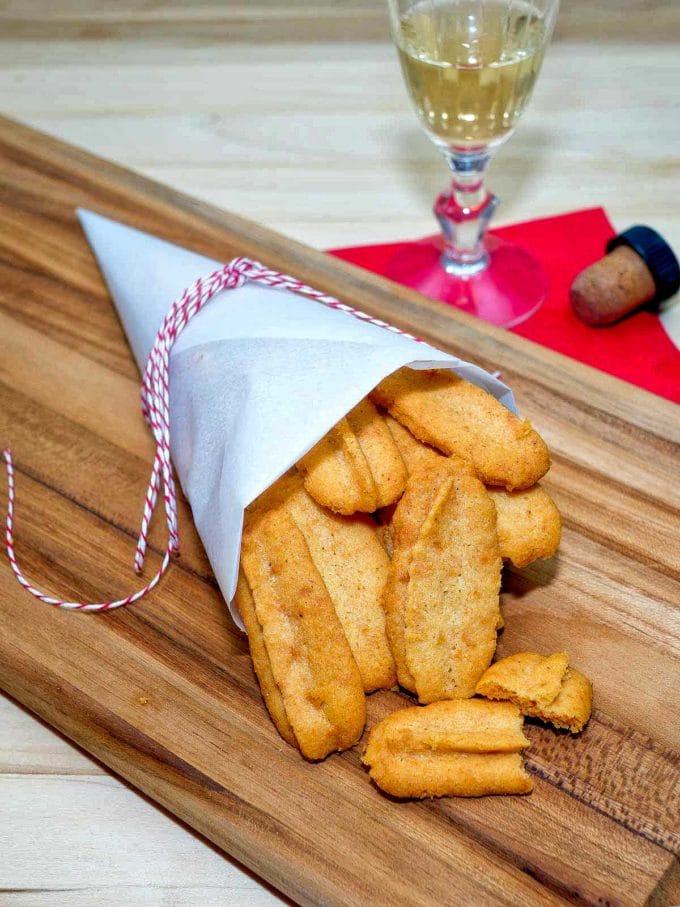 When game day rolls around be sure to serve touchdown-worthy appetizers and game day party food like these classic Easy Pigs in a Blanket.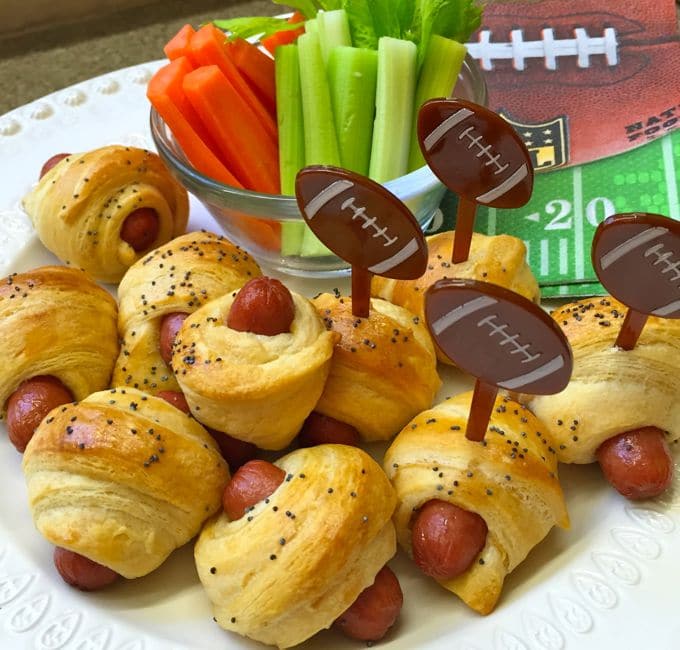 Easy Cheesy Sausage Balls are an easy game-day snack. With only three ingredients, these little gems have it all. They're super simple to make, taste incredible warm or at room temperature, freeze beautifully, and are just as good reheated. Who could ask for more?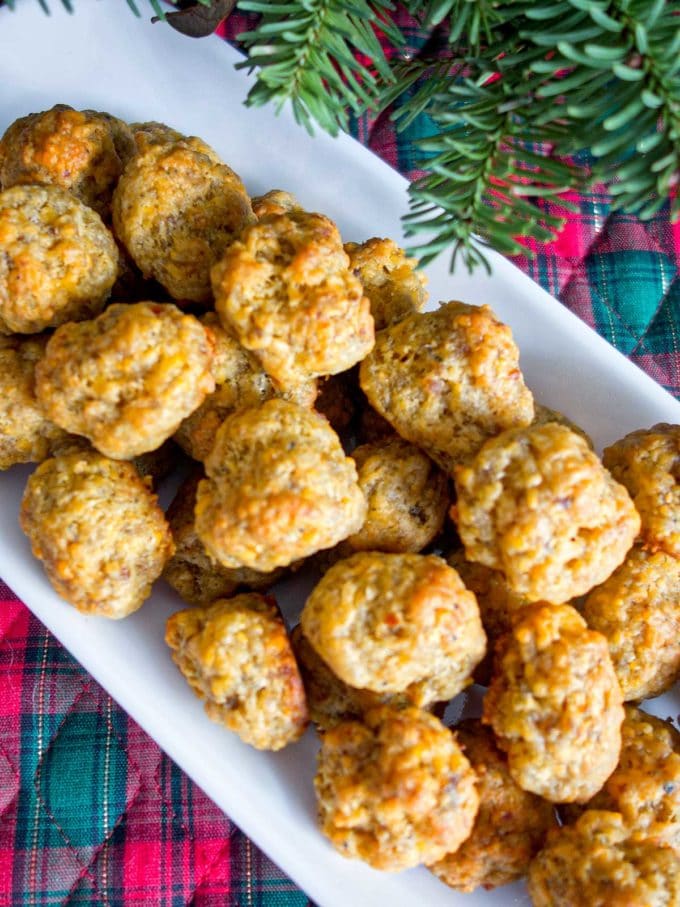 Some folks like to watch football and some that are just in it for the food. These, no silverware necessary, Skillet Macho Nachos are the perfect football party food.
If you like Reuben sandwiches, you'll love these delectable bite-sized morsels! They are the perfect game day party food.
I think there may be a law that mandates serving Buffalo Wings at game day parties. If not, there should be! It's inconceivable that you would even consider having a game day party without Buffalo Wings!
Make-Ahead Mushroom Croustades are the perfect bite-sized game day appetizer. With rich and creamy mushroom filling in a crispy toasted bread shell, they will WOW the most discerning football aficionados.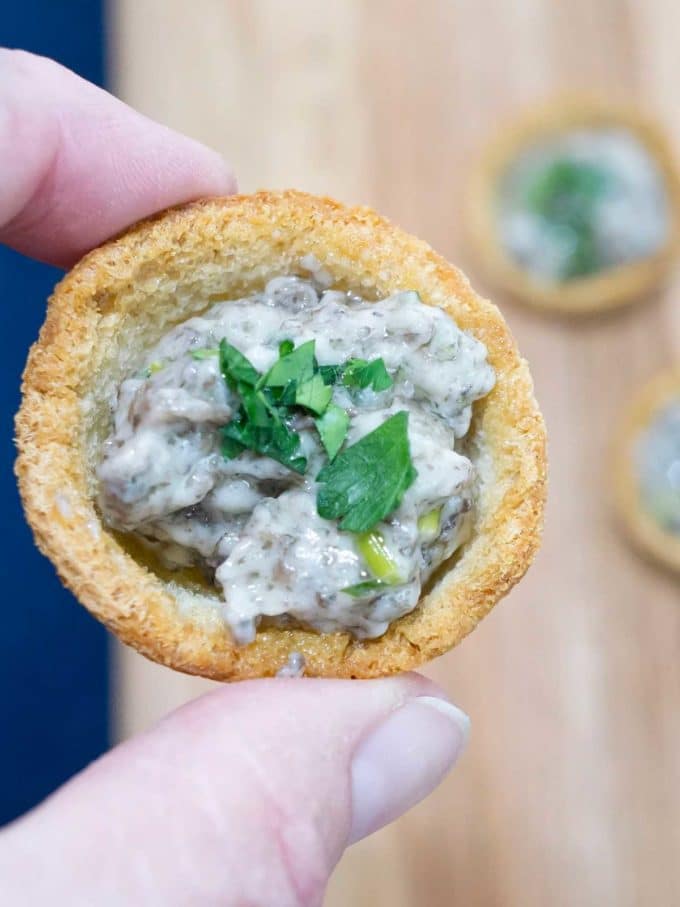 If you like shrimp and spicy foods, Quick and Easy Buffalo Shrimp is for you! Simple to prepare, this football finger food will quickly become your go-to game-day snack. It's the perfect marriage of fresh, briny shrimp and spices.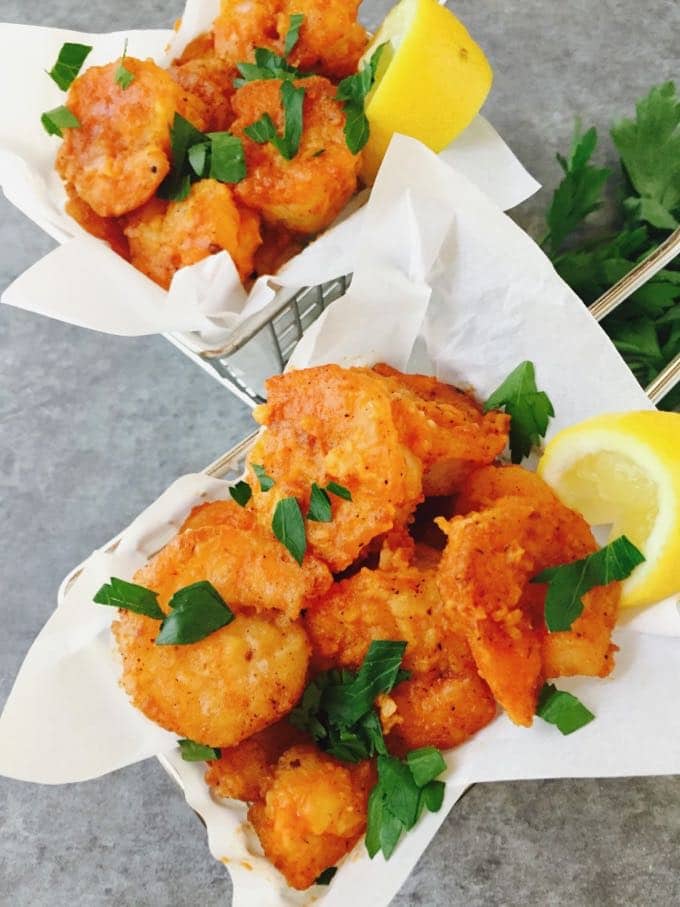 Shrimp Remoulade (pronounced ruma-lahd) is a quintessential New Orleans dish and perfect for your game day feast. Shrimp Remoulade is composed of cold boiled shrimp with a spicy mustard-based dressing.
I think, there is a saying that "nothing in life is easy" but, in the case of this delicious and easy Chicken Ranch Dip, nothing could be further from the truth. Easy Chicken Ranch Dip is a wonderful addition to your game day or tailgating party menu.
Bang Bang Chicken is a perfect appetizer for a game day party. It features extra crispy chicken bites drizzled with an amazing creamy sweet chili sauce. On top of that, it's quick and easy to prepare!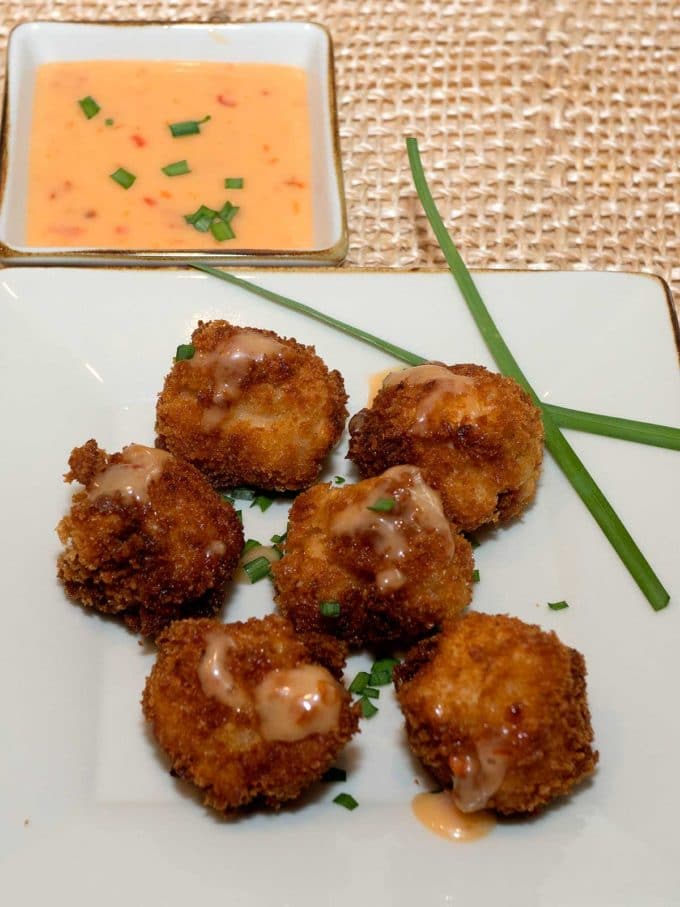 Artichoke Stuffed Mushrooms are a delicious snack for a game day party, an easy football party appetizer or finger food.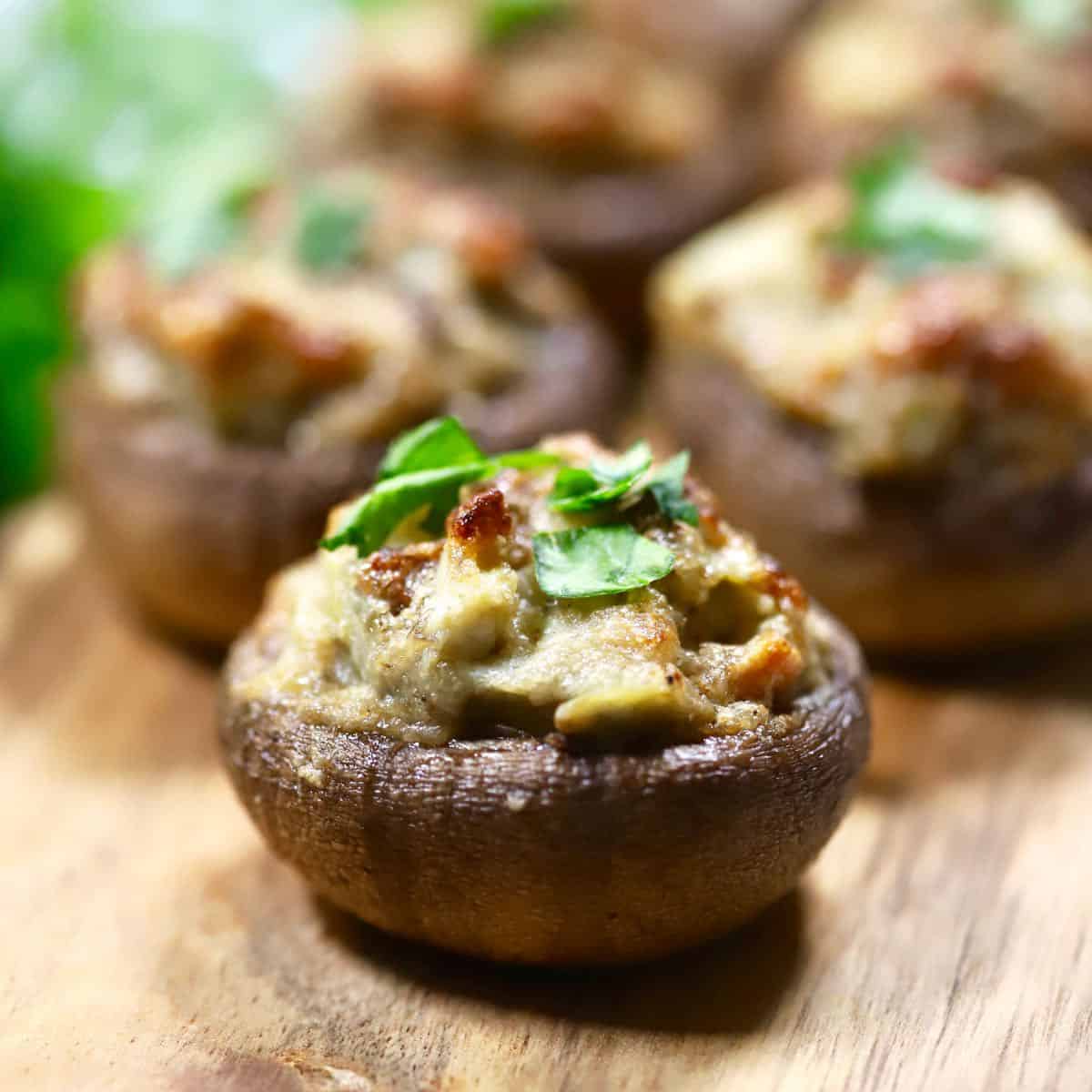 Tasty taco filling layered with melted cheese in crispy wonton wrappers makes the perfect game day appetizer. What's even better is that they're super easy to make and just as yummy made ahead of time and reheated!
Try my favorite recipe for Baked Bacon Ranch Jalapeño Poppers. These game-day snacks are also one of the easiest finger foods to make and the perfect game day appetizer.
Wow, your family and guests with these fried, loaded potato ball. Crispy on the outside, and filled with baked potatoes, cheese and bacon, they make the perfect make-ahead game day appetizer. or side dish.

Brown Sugar Glazed Bacon Wrapped Shrimp are the ultimate appetizer or can s an amazing entree! Perfect for a crowd for a game-day or holiday party or just a cozy evening for two!
Game Day Snack Mix is the ultimate game-day snack. Whip up a batch today with your favorite team colors to nibble on while you watch the game!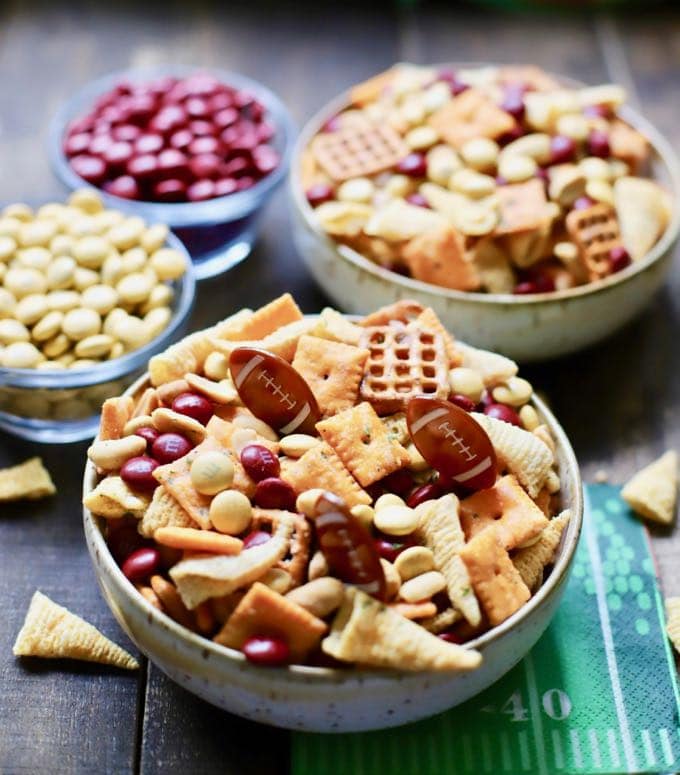 How about a beautiful, family-friendly, and flavorful relish tray for your next game-day party? Discover creative and modern ideas for quickly putting together these classic platters for game day parties and other special occasions.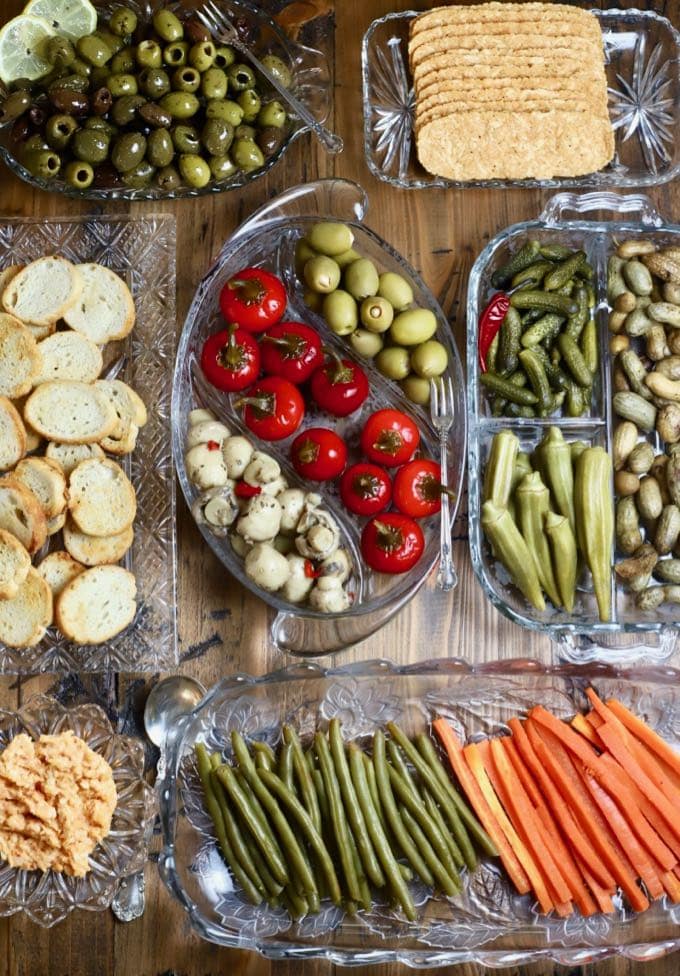 Easy Cheesy Zucchini Bites are loaded with grated zucchini, breadcrumbs, and cheddar cheese. They're the perfect appetizer eaten plain or dipped in ketchup or spicy marinara. The mixture can be made ahead of time and baked when you need them. Also, the leftovers are just as good when they've been refrigerated and reheated. Did I mention that they are super easy to make?
Serving up flavorful Bruschetta with Citrus Roasted Olives and Burrata today for game day or Super Bowl party. Close your eyes and imagine a buttery, toasted baguette slice topped with heavenly burrata, the queen of Italian cheeses. As if that wasn't enough, roasted green and black olives coated with a citrusy glaze are the crowning glories on this tasty dish. Every last bite is full of creamy, briny, crunchy deliciousness!
Wonton Mac & Cheese Bites take the ultimate comfort food to new levels. They are the perfect appetizer for young and old. Three-cheese macaroni and cheese is packaged in a crispy wonton cup and topped with melted cheese and crumbled bacon. What's even better is that they can be made ahead of time, frozen and reheated just in time to WOW your friends and family.
Easy Loaded Crispy Potato Skins, full of melted cheese and bacon, are a baked retro appetizer that harkens back to the late 1970s. They are the ultimate party food and would make great football party finger food.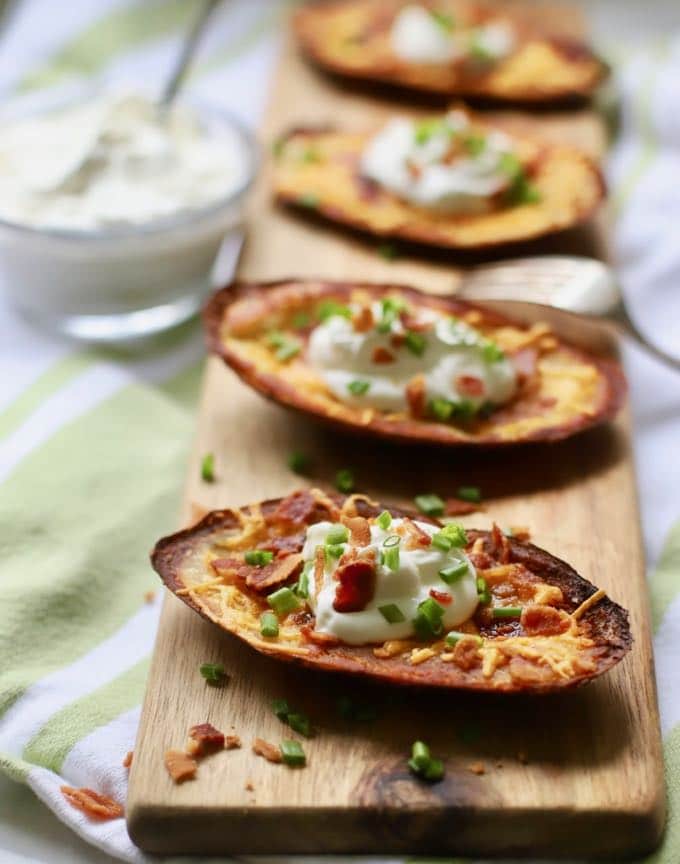 Cajun Pork Boulettes with Spicy Dip is an amazing appetizer. They are perfect for football parties and are easy to put together, albeit a bit time-consuming. The Cajun Pork Boulettes can be made ahead of time and freeze beautifully. What more could you ask?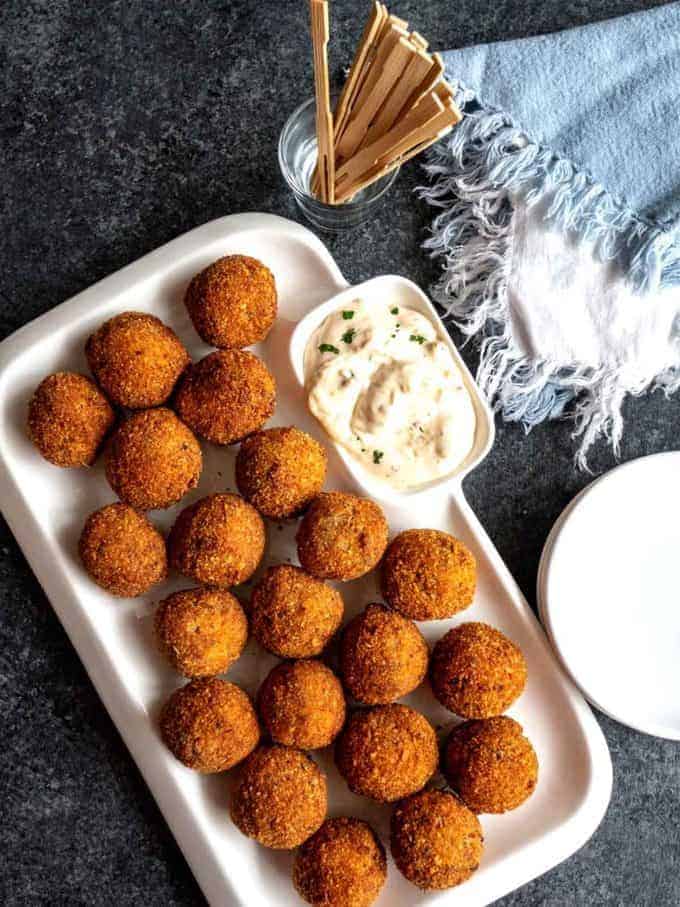 If you have never had a Hanky Panky, you are in for a treat! There is nothing improper about this Hanky Panky Recipe for old-fashioned, delicious, cocktail rye bread appetizers, sometimes called a "polish mistake," topped with a combination of sausage, hamburger meat and, what else, lots of gooey cheesy goodness!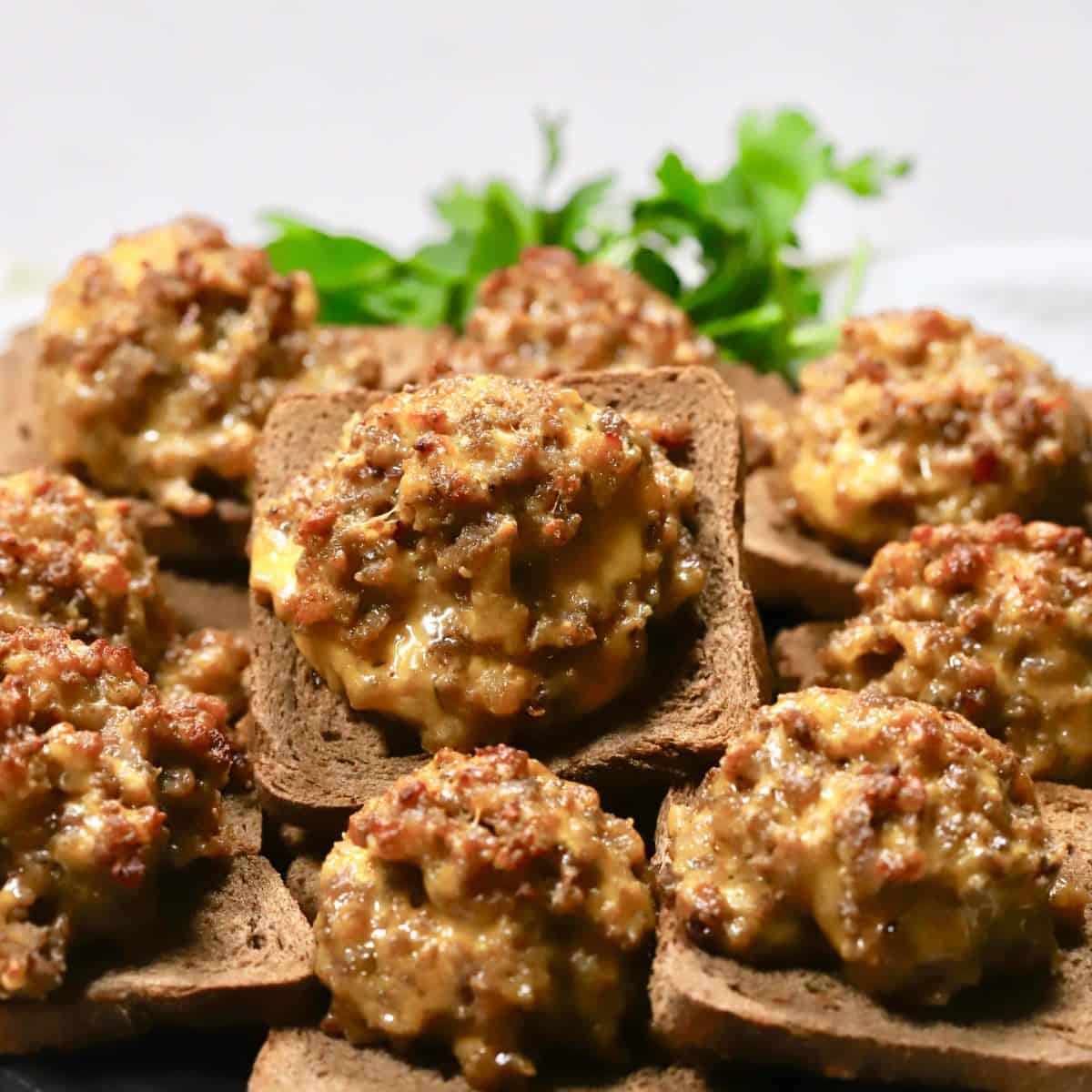 Fromage Fort, meaning "strong cheese" in French, is an easy and delicious cheese spread made with leftover cheeses that are in your refrigerator. It takes minutes to put together and produces an awesome appetizer that your guests will rave about.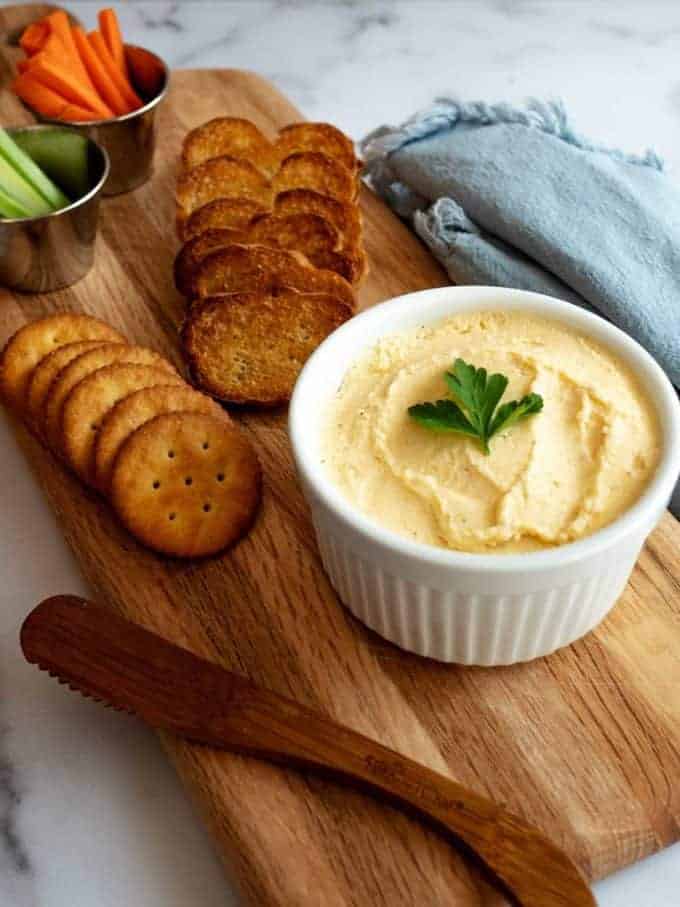 If you are not from the South or haven't spent much time here, it's possible you have never tasted boiled peanuts (aka goober peas). But, they are a classic game day appetizer and for a good reason. Everyone loves them!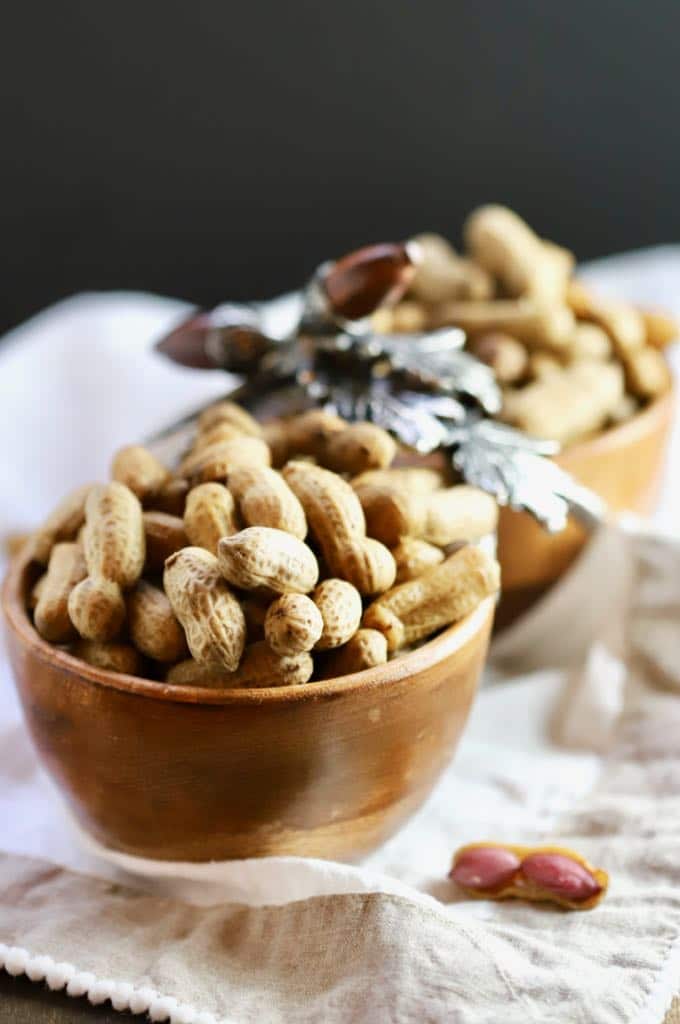 Loaded Crispy Crown Cups are crispy potato cups filled with your favorite loaded baked potato fixin's. Crispy Crowns form the Cups that are topped with melted cheese, sour cream, and crumbled bacon. Sound amazing? Well, they are! Be sure to make plenty; they disappear quickly.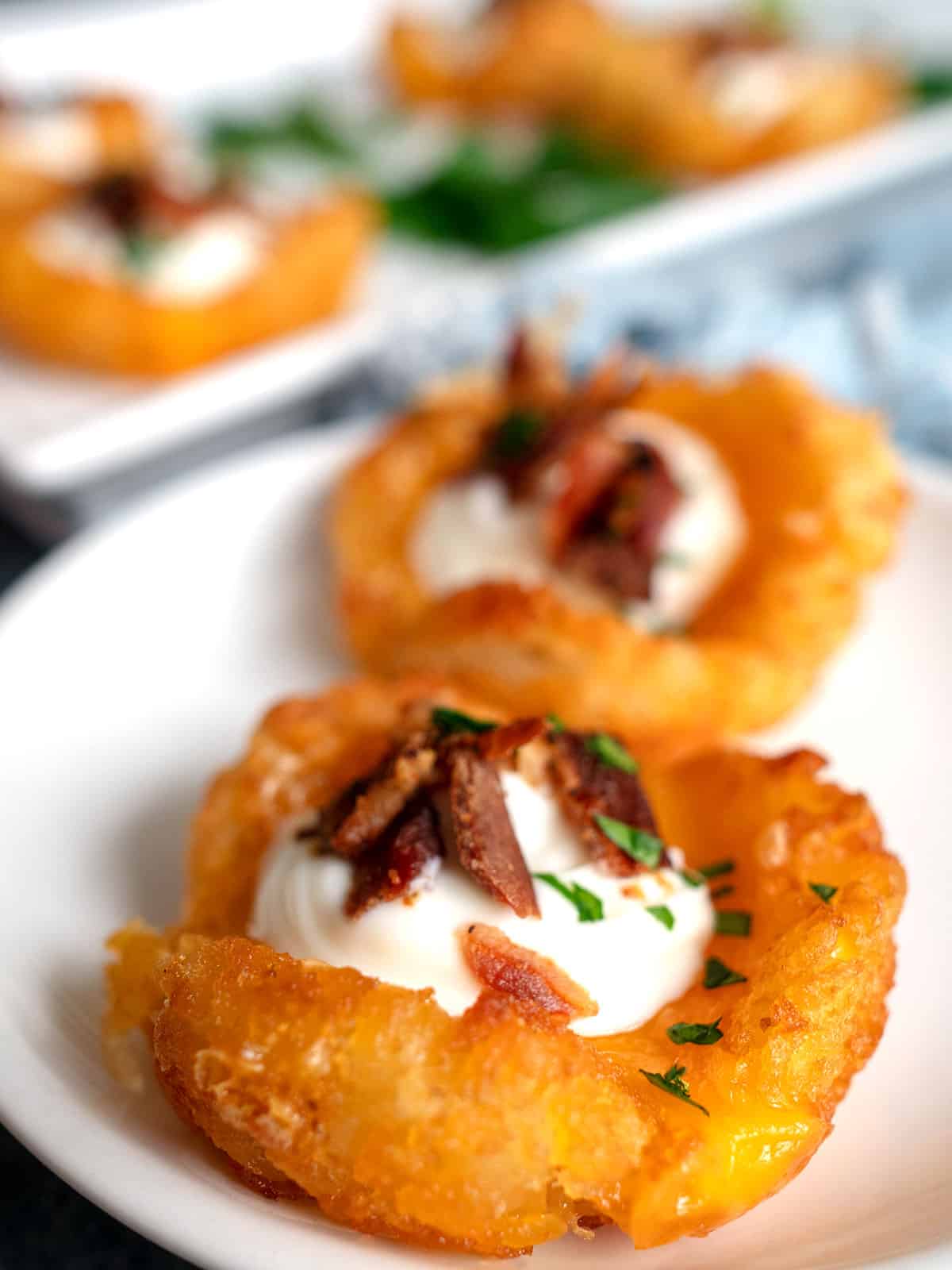 Hot and Cheesy Baked Shrimp Scampi Dip is everything the name implies! Fresh, briny juicy gulf shrimp are sautéed in butter, garlic, and white wine and then mixed with cream cheese, sour cream, mozzarella, and parmesan cheeses and baked until the lemony breadcrumb topping is golden brown and crusty.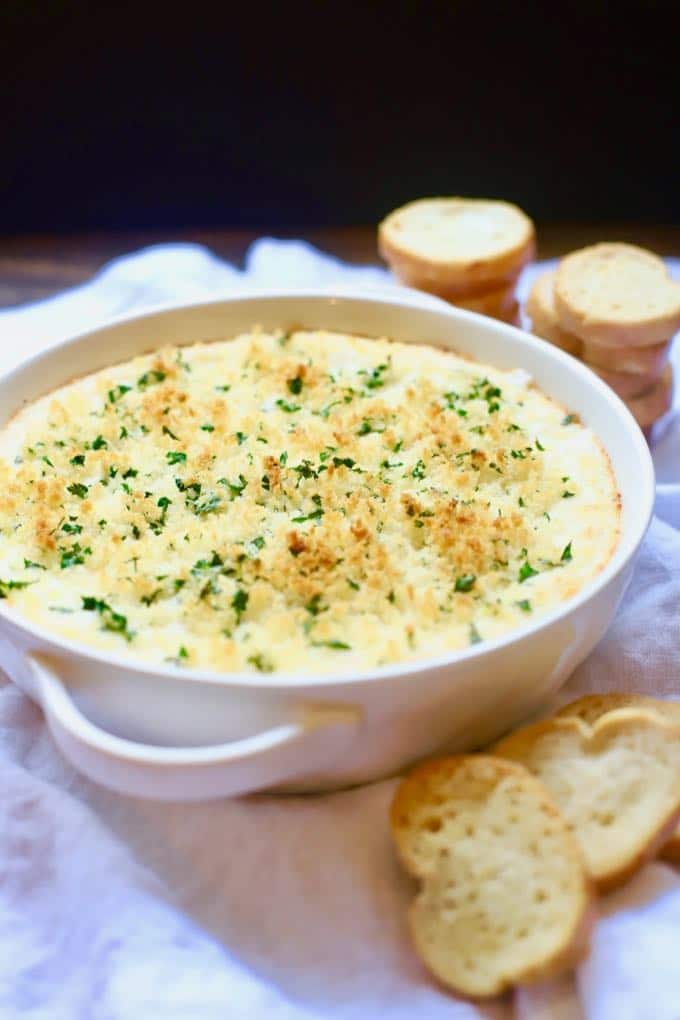 Spinach Artichoke Bread Ring Dip combines homemade rolls with an amazing Spinach Artichoke Dip. And guess what? The food processor does most of the work, including the kneading of the bread dough! This eliminates the need for a stand mixer or bread machine to produce awesome rolls!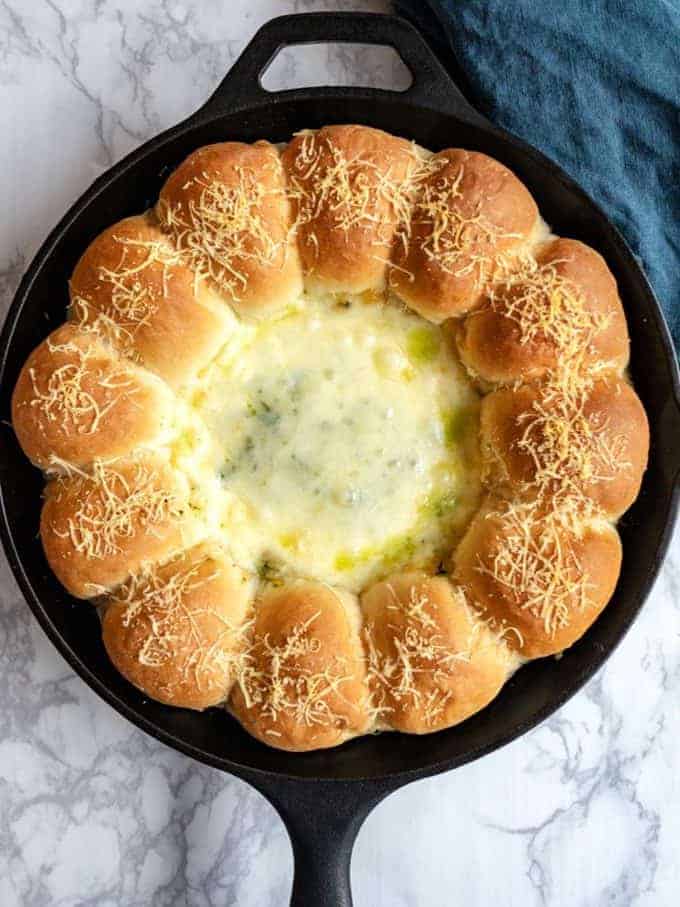 Easy Marinated Bacon-Wrapped Scallops are a sweet and salty, flavorful, make-ahead appetizer. They are perfect for a Super Bowl Party, or anytime you want to whip up a batch of delicious snacks or appetizers.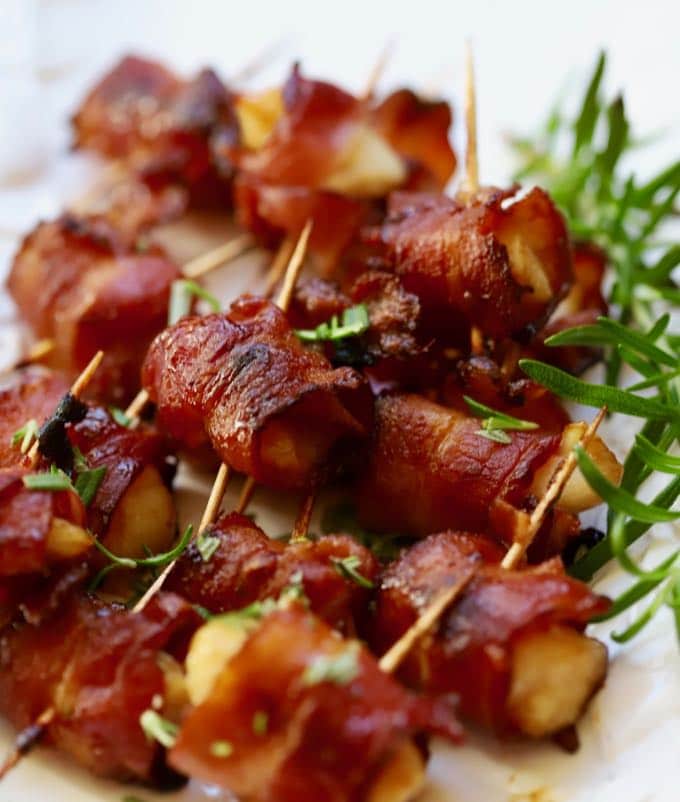 Parmesan Garlic Oyster Crackers are insanely easy to make and insanely addictive. They take minutes to put together and are a perfect munchie for any occasion or an anytime snack.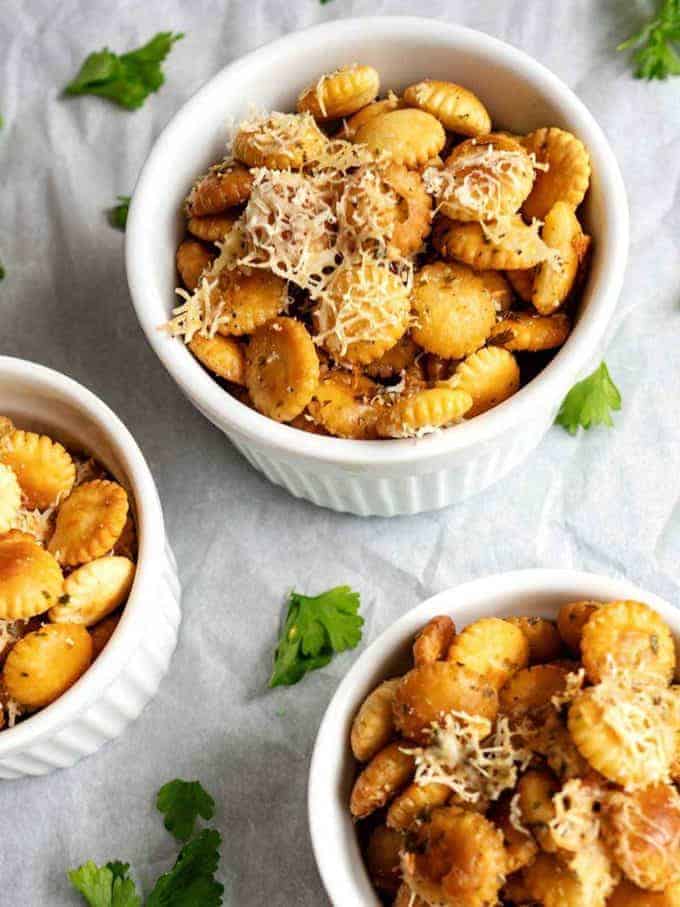 If you like jalapeño poppers, you'll love Wonton Jalapeño Popper Bites. The wonton wraps are stuffed with an amazing filling and baked to crispy perfection. They're super easy to make and can be eaten hot, warm, or cold. What's even better is that they can be made ahead of time and reheated for 5 minutes before serving.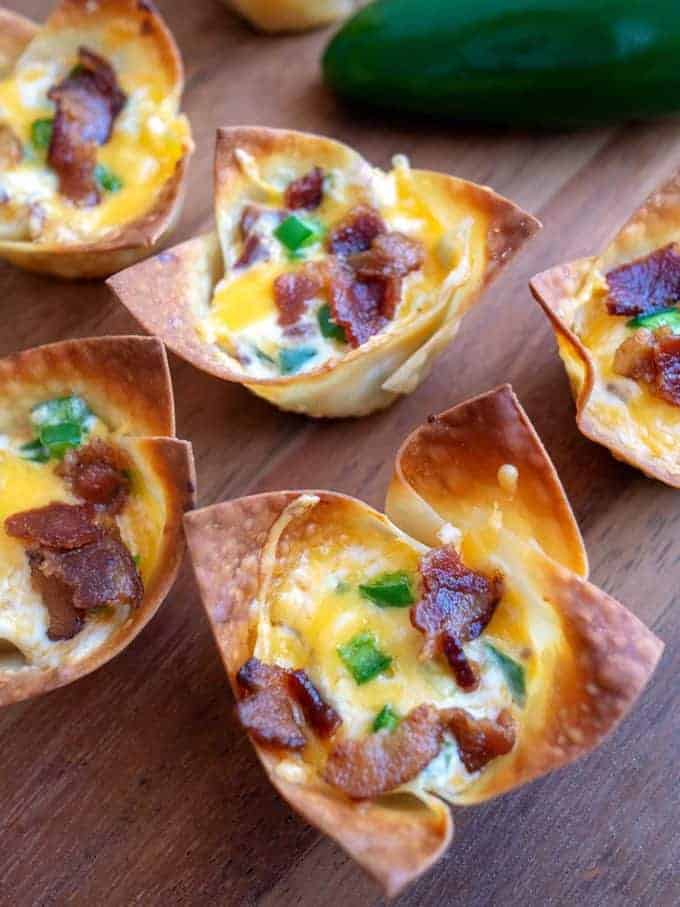 Cheesy Creole Shrimp Toast is a delicious, quick and easy (and mostly make-ahead) appetizer that is perfect for a football game day or Super Bowl party.
Sausage & Cheese Crescent Ring transforms three simple ingredients into an amazing and crowd-pleasing dish. Watch it quickly disappear when served at your game-day party!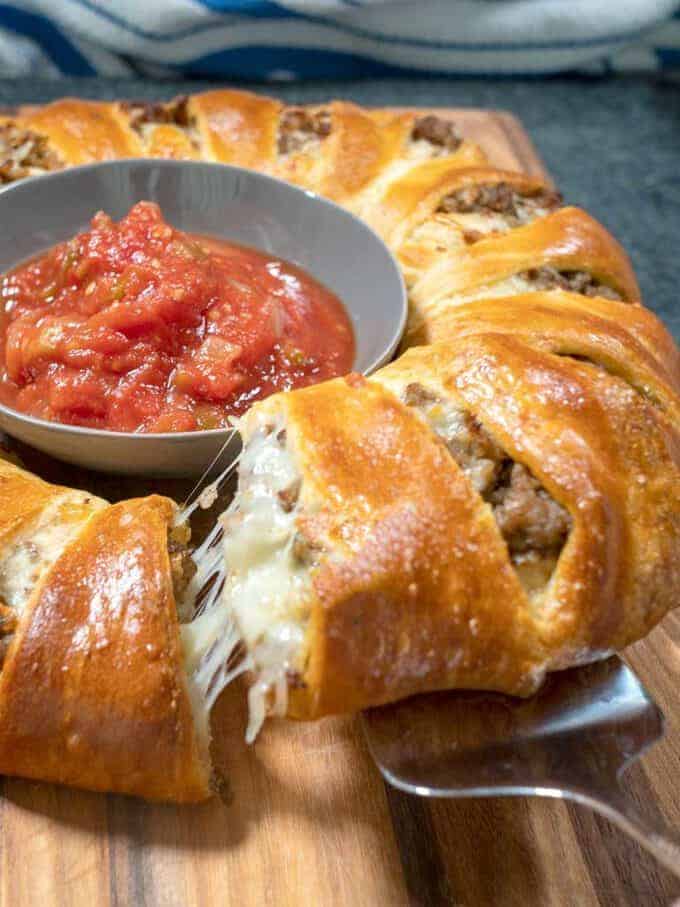 Well, what do you think? Isn't this fantastic choice of game-day snack and appetizer recipes?
Be sure to leave a comment and let me know which college or professional team you follow or is your favorite. We are a house divided; my husband is a die-hard University of Florida fan, and I like the Florida State Seminoles!
I'd also love to know what game-day snack(s) or appetizer(s) you will be making.
Thank you so much for visiting Grits and Pinecones!
*This post was updated and republished on September 16, 2019, to add eighteen new recipes.