If you are looking for good luck in 2020, be sure to plan your menu now for New Year's Day. It should include traditional New Year's Day dishes such as greens, pork, black-eyed peas, and cornbread.
According to folklore, a meal of black-eyed peas, green leafy vegetables like collard greens, pork, and cornbread help ensure good luck and fortune for the coming year.
I have rounded-up these tasty and lucky recipes to give you the best chance of a happy and prosperous 2020! I've also thrown in a festive cocktail recipe because every new year is a celebration!
Southern Black-Eyed Peas
In the South, Black-Eyed Peas are considered a classic New Year's Day tradition! And, according to tradition, eating Black-Eyed Peas on New Year's Day will bring good luck and prosperity in the new year! My healthy Southern Black-Eyed Peas recipe is also perfect when paired with brown rice for a delicious, low-calorie, nutritional bonanza!
Mary's Healthy Southern Collard Greens
Mary's Healthy Southern Collard Greens are made without traditional ham hocks or other pork products. Her simple, straightforward method of cooking the greens enhances the mild flavor of the fresh collards and keeps them crisp and tender. According to tradition, greens are the same color as money, and making a dish using green, leafy vegetables ensures good fortune for the coming year.
Easy Southern Hoppin' John
Another New Year's Day tradition in the South is eating Hoppin' John for dinner. Hoppin' John is nothing more than cooked Black-Eyed Peas served over white or brown rice, and this recipe couldn't be easier. Some folks also like to serve Hoppin' John with a side of cooked turnip or collard greens and a piece of cornbread to soak up all the delicious juices.
The Best Oven-Baked Baby Back Ribs
Oven-baked baby back ribs are mouthwateringly juicy and fall-off-the-bone tender. When slathered with tangy barbecue sauce, they are plain finger-lickin' good! According to tradition, the more pork you have on New Year's day, the more good luck you will have! And that's good enough for me!
Black-Eyed Pea Hummus
New Year's Day is coming up, and we have established that you need black-eyed peas so that you will have the best chance for good luck and prosperity. How about serving this hummus as an appetizer on New Year's Eve, and then another black-eyed pea recipe for New Year's Day? You can never have too much good luck.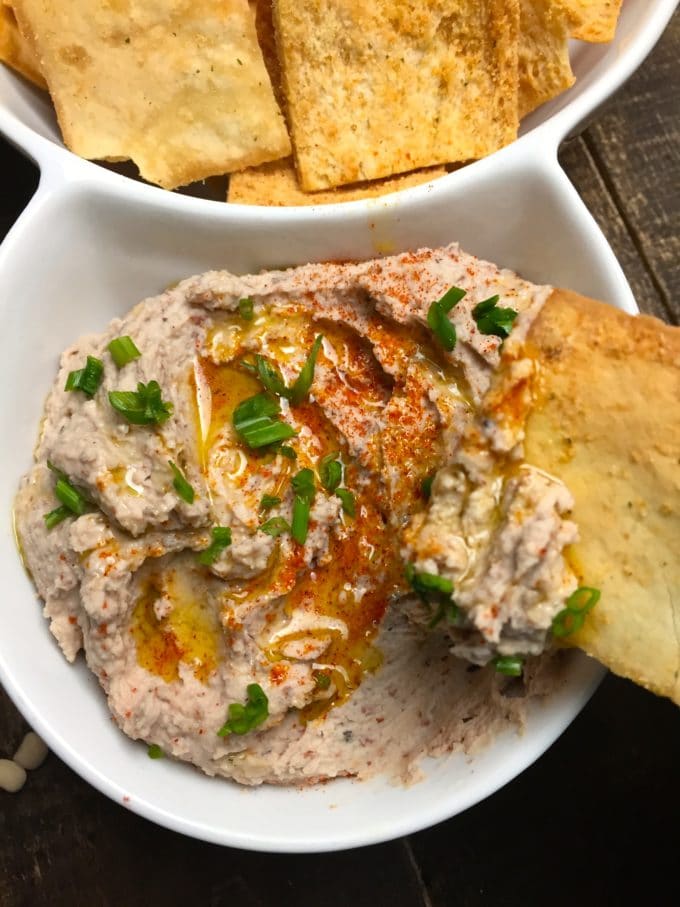 Old-Fashioned Southern Buttermilk Cornbread
Hot out of the oven, this Old-Fashioned Southern Buttermilk Cornbread with its delicious corn flavor and crispy, crunchy edges has been a family favorite for generations. And, it's a quick and easy, gluten-free recipe. Classic Southern cornbread made in a cast-iron skillet is a true Southern staple and, according to tradition, it symbolizes gold.
Lucky Black-Eyed Pea Salad
We have already established that eating Black-Eyed Peas on New Year's Day brings prosperity and good luck in the year ahead. That's why this delicious and nutritious dish is called Lucky Black-Eyed Pea Salad.
Brown Sugar Bourbon-Glazed Ham
Nothing says New Year's Day dinner like baked ham! Lots of it, especially this classic bourbon-glazed ham with pineapple! I know you and your family or guests will love this easy baked ham recipe. It's complete with traditional pineapple rings and maraschino cherries. Don't forget the more pork you have, the better your luck will be!
Traditional Southern Cornbread
Easy traditional southern cornbread, made with buttermilk and stone-ground cornmeal, is full of rich corn flavor and has a deliciously crunchy crust. A true reflection of southern goodness, this cornbread is made in a cast-iron skillet. It's versatile, easy to prepare, and it's a welcome addition to any meal. It is also amazing straight out of the oven topped with just a pat of butter. Try either this recipe or my gluten-free Old-Fashioned Southern Buttermilk Cornbread recipe. And, plan to serve it with your black-eyed peas and collard greens.
Bonus: Meyer Lemon French 75
See, just reading this roundup post about lucky foods has already brought you good luck! You are lucky to find this recipe for an elegant champagne cocktail to welcome in the New Year! It is a celebration after all. Not only is this cocktail delicious, but it is a great way to use up some of your Meyer lemons.
I guarantee all of these recipes taste great! The lucky part is up to you! Happy New Year!
If you are planning a New Year's Eve celebration, be sure to check out my round-up post 47 Fun & Festive Holiday Party Appetizer recipes. If you need more menu ideas, you can find all of my appetizer recipes here.
★ If you make any of these recipes, please leave a comment. I would love to know how you liked it!
Thanks so much for visiting Grits and Pinecones!