There's a reason that casserole recipes with chicken are one of the most heavily searched terms on the internet! Most casseroles with chicken can be made ahead, they are quick and easy to prepare with common pantry ingredients, and these one-dish wonders also freeze and travel well. As a bonus, leftovers are even better the next day!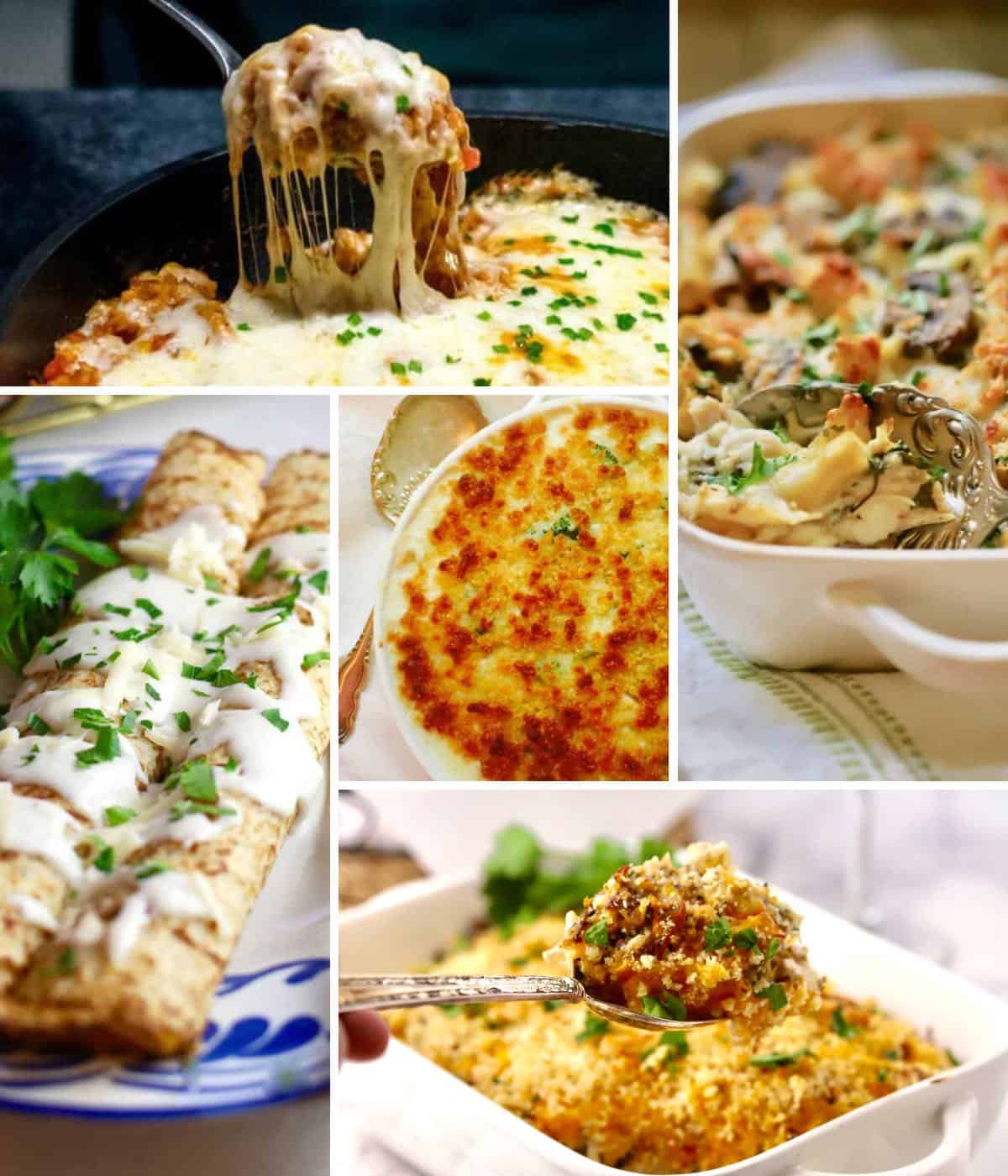 Most cooks in the South have an arsenal of make-ahead, family-friendly chicken casserole recipes they can prepare at a moment's notice for everything from potlucks to dinner parties.
I almost always have one or two in my freezer for emergencies or for busy nights when I need to get dinner on the table in a hurry. Chicken casseroles are also perfect when you need a meal to take to a new neighbor or sick friend.
Check out this collection of 21 of the best chicken casserole recipes you will find anywhere. These easy, top-rated recipes come from some of the country's best cooks and are perfect whether you are feeding a crowd or just two.
I've included something for everyone, there are even menu ideas and recipes for those of you that are following Weight Watchers, keto, low-carb, gluten-free, Whole30, or paleo diets.
Easy Chicken Mushroom Marsala Pasta Casserole – Grits and Pinecones
Easy Chicken Mushroom Marsala Pasta is a recipe that is not only delicious but it's also family-friendly. It's quick and easy enough for a weeknight dinner, and it's a perfect make-ahead recipe for a dinner party. This flavorful chicken and mushroom casserole is also the very definition of comfort food!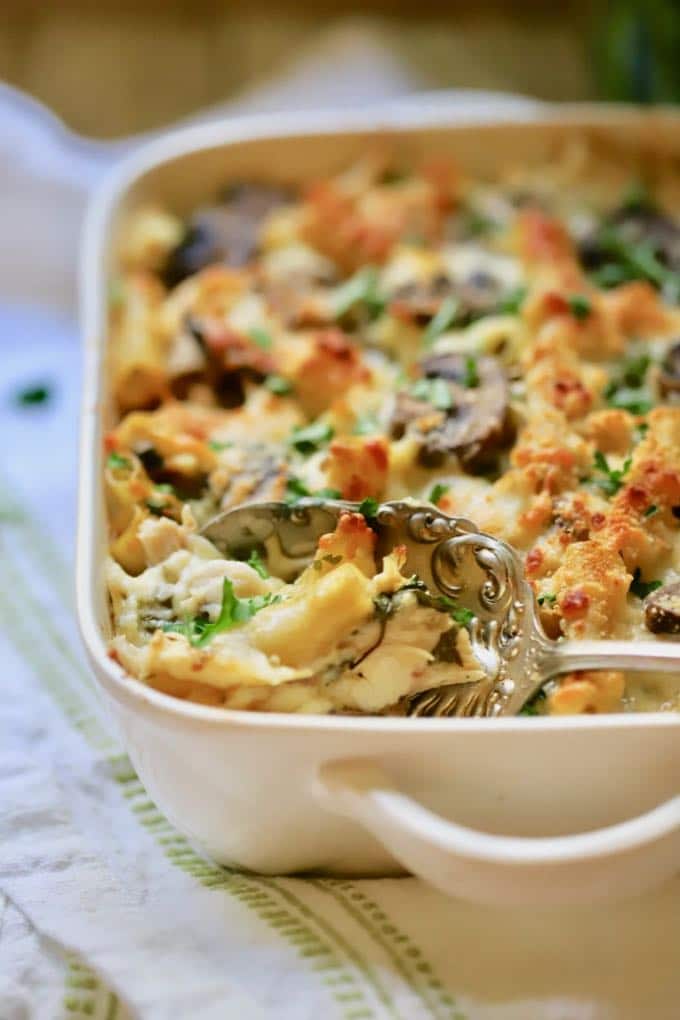 Easy Cheesy Mexican Rice with Chicken – Pudge Factor
Easy Cheesy Mexican Rice with Chicken is just in time for Cinco de Mayo. It's an amazing one-pot meal with an incredible blend of flavors and textures. It makes a lot, so be prepared for yummy leftovers!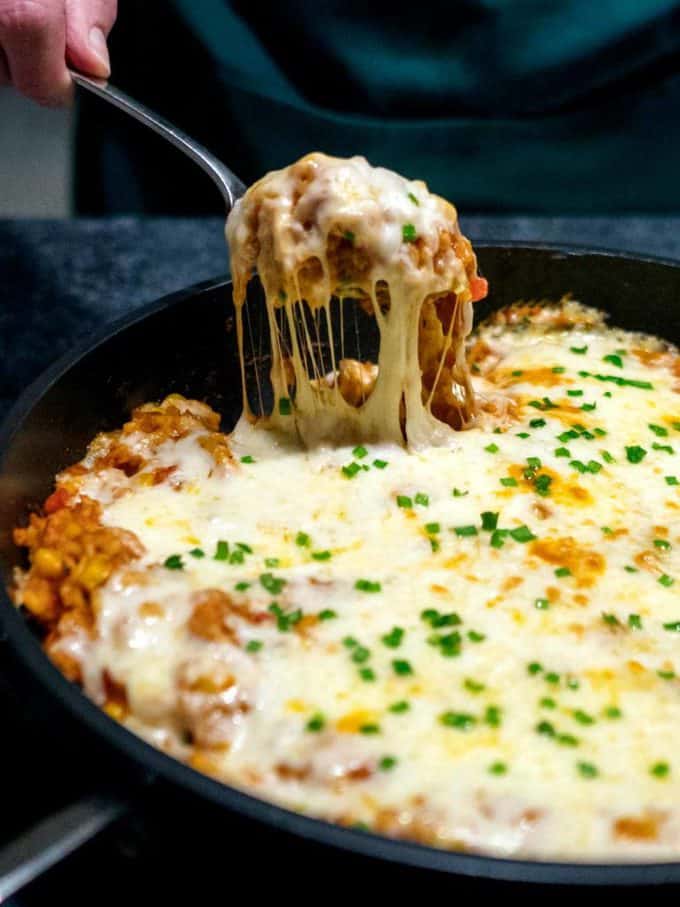 Savory Chicken Crepes with Mushrooms – Grits and Pinecones
Make-ahead Savory Chicken Crepes with Mushrooms is perfect for a romantic date night dinner, an elegant brunch dish, or a dinner party main dish. These easy savory chicken crepes blanketed in a cheesy mornay sauce not only look sensational, but you won't believe how delicious this casserole is.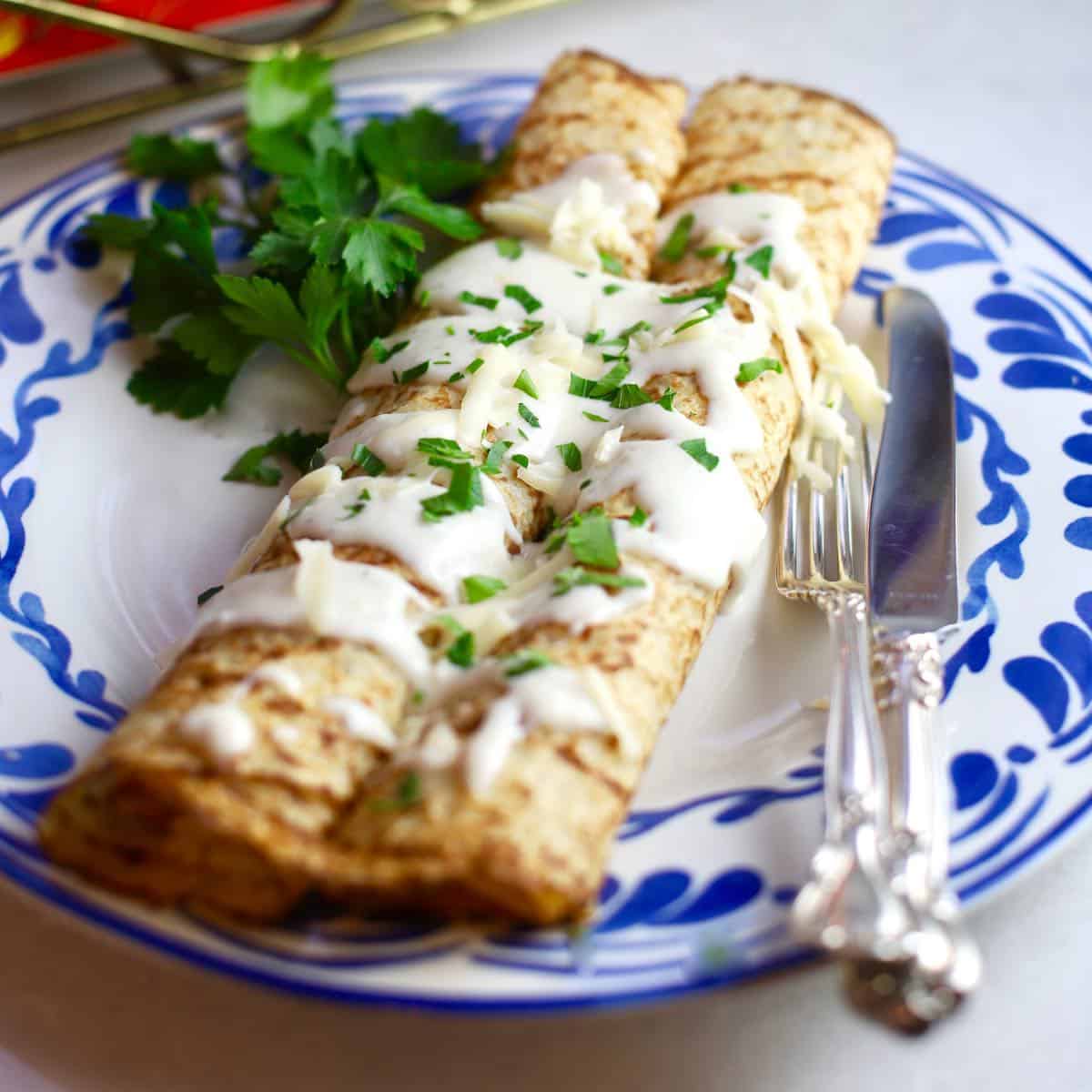 Easy Chicken Green Chili Casserole (Keto & Low-Carb) – Whole Lotta Yum
This healthy low-carb and keto green chili casserole makes the ultimate comfort food dinner recipe when you need something quick and easy. The combination of a savory chili Verde sauce, three kinds of cheese, and shredded chicken makes for the best chili Verde casserole you will absolutely love.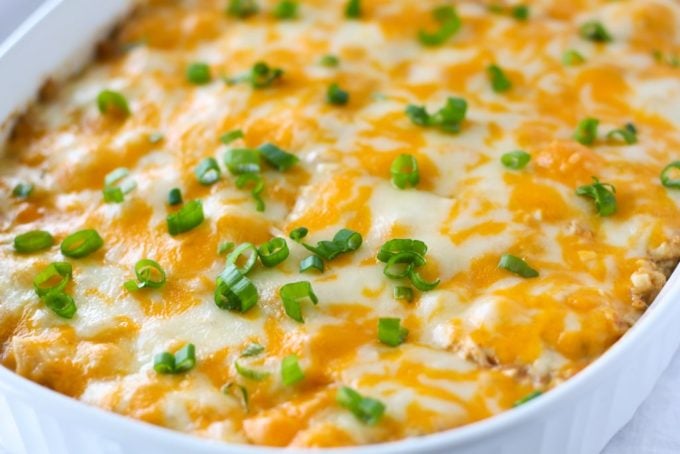 Ultimate Sour Cream Chicken Enchiladas – Grits and Pinecones
Ultimate Sour Cream Chicken Enchiladas are spicy, incredibly yummy, and a great make-ahead dish for a festive dinner party or a casual weeknight meal.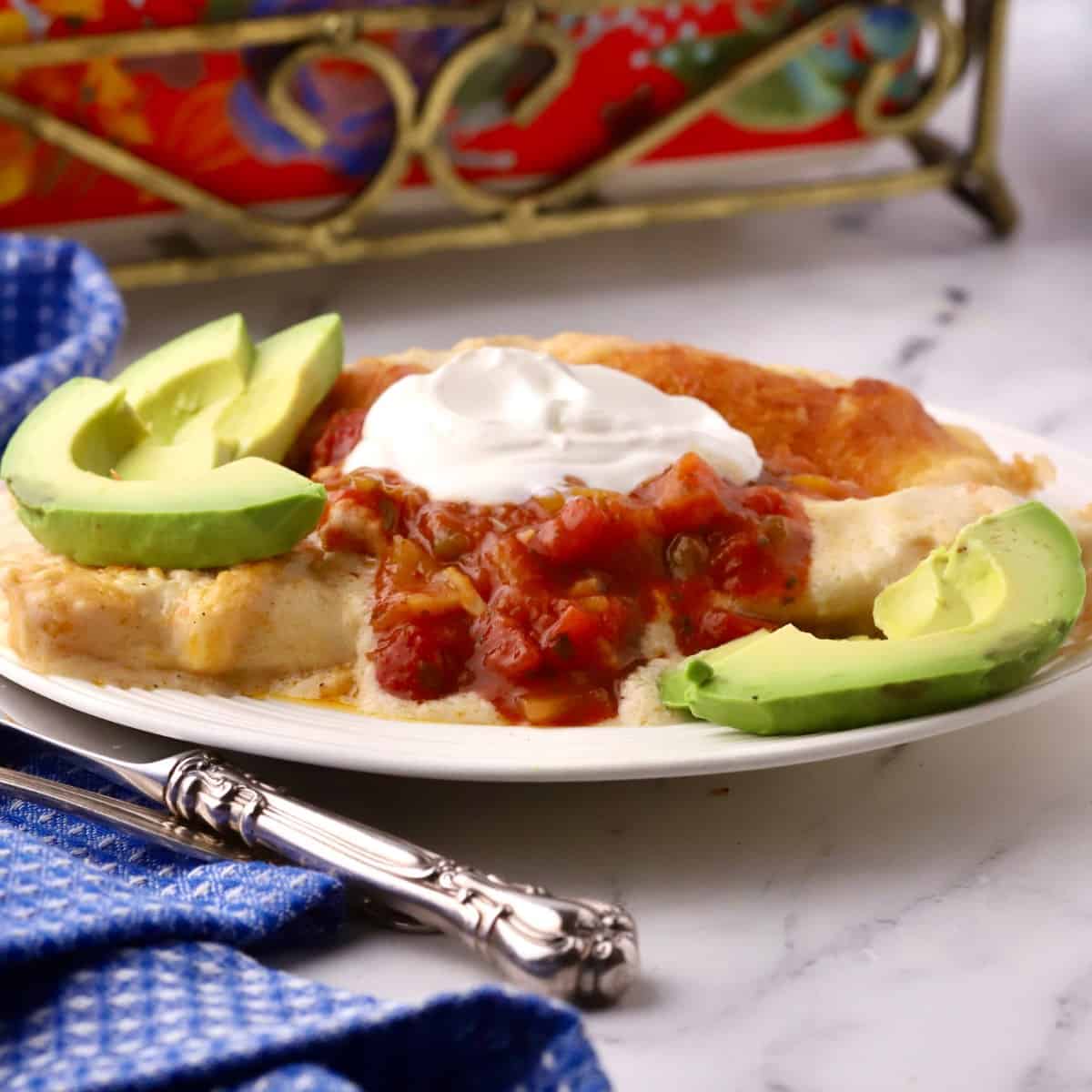 Chicken Hashbrown Casserole – Casserole Crissy
All-in-one Chicken Hashbrown Casserole is an easy family dinner or quick-covered dish recipe. This loaded hashbrown bake is made with tender chicken, hash browns, cream cheese, sour cream, yummy cheese, and crispy bacon.
Classic King Ranch Chicken Casserole – Grits and Pinecones
Classic King Ranch Chicken Casserole, aka Mexican Chicken Casserole or King Ranch Casserole, is an easy, make-ahead, delicious entrée loaded with melty cheese, yummy tomatoes, spicy peppers, green chilies, and juicy chicken sandwiched between layers of corn tortillas.
Whole30 Baked Buffalo Chicken Casserole – Meal Prep on Fleek
This Whole30 Baked Buffalo Chicken Casserole has all of the traditional buffalo chicken flavors that you love baked into one healthy dish! Gluten-free, low carb, and exceptionally easy. A meal-prep recipe doesn't get any better than this!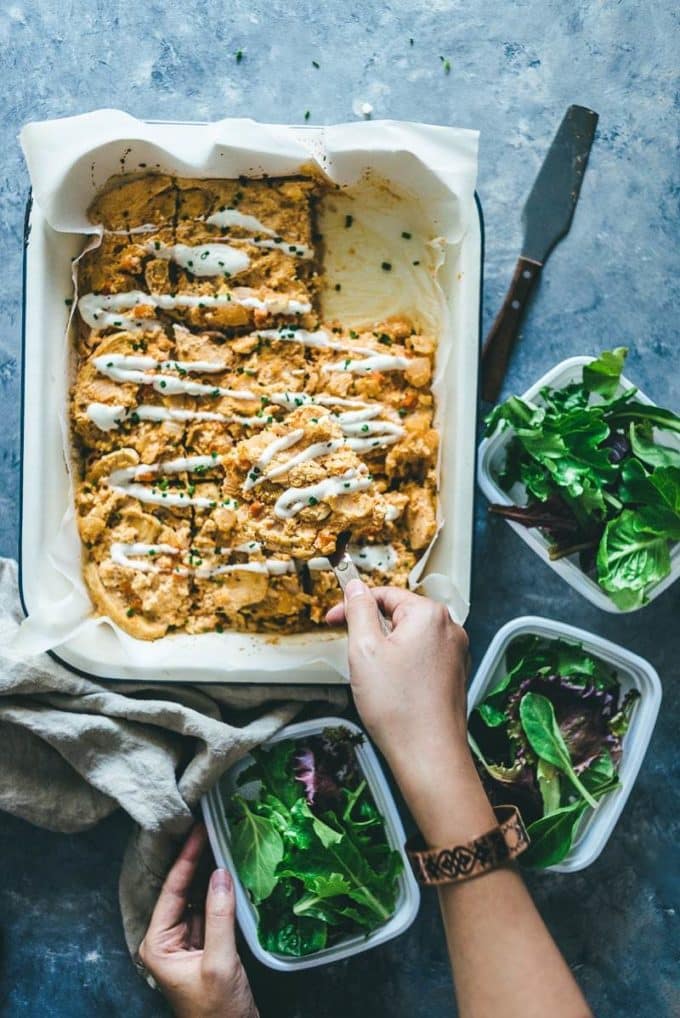 Easy Chicken and Wild Rice Casserole – Grits and Pinecones
Easy Chicken and Wild Rice Casserole is a delicious make-ahead, true comfort food recipe. A Southern favorite, creamy and flavorful, it's full of tender chicken, melty cheese, crunchy water chestnuts, and a blend of tasty seasoned white and wild rice.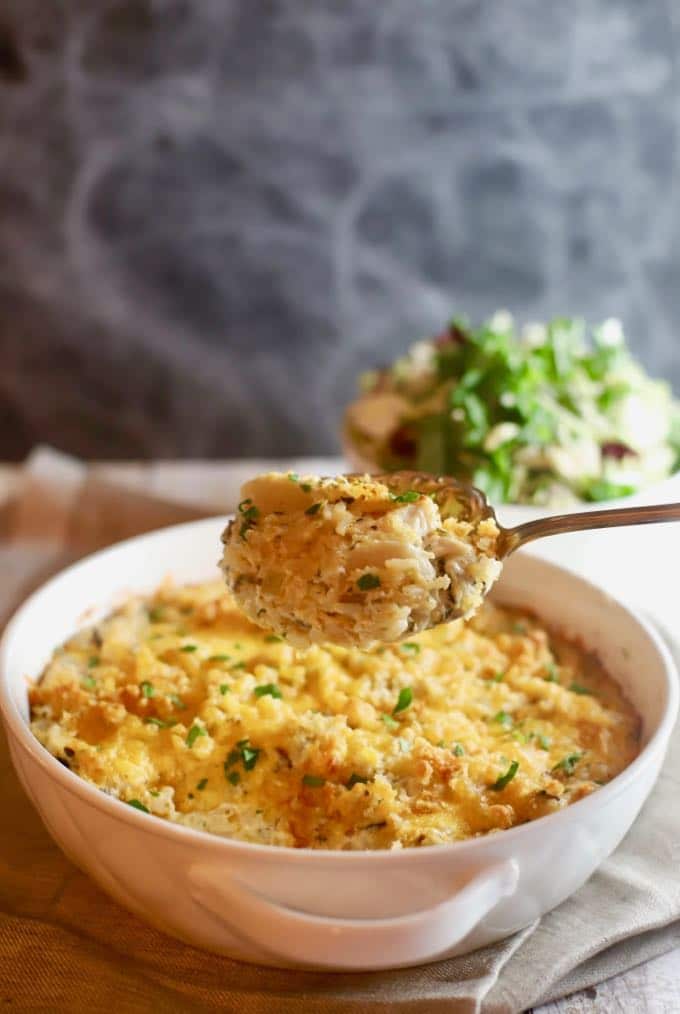 Creamy Lemon Chicken Pasta Bake – Caroline's Cooking
This creamy lemon chicken pasta bake has so much tastiness going on from the tarragon lemon cream sauce that wraps together the pasta, chicken, and spinach. Plus, you can serve it either straight up, while the sauce is creamier, or baked with added mozzarella for a cheesier bake. Either way, it's delicious.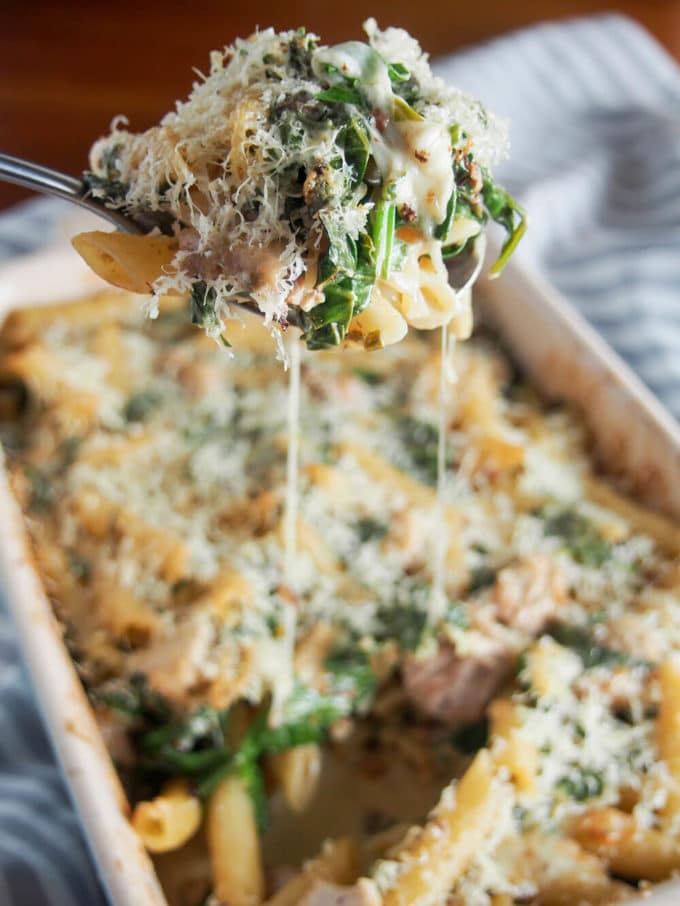 Chicken Divan with Curry – Grits and Pinecones
Chicken Divan with Curry is an iconic, much-loved, made-from-scratch southern chicken casserole that has been around for decades. Made without canned soup, this retro casserole is full of crisp fresh broccoli, succulent chicken, and the best-ever homemade, cheesy mornay sauce with sour cream.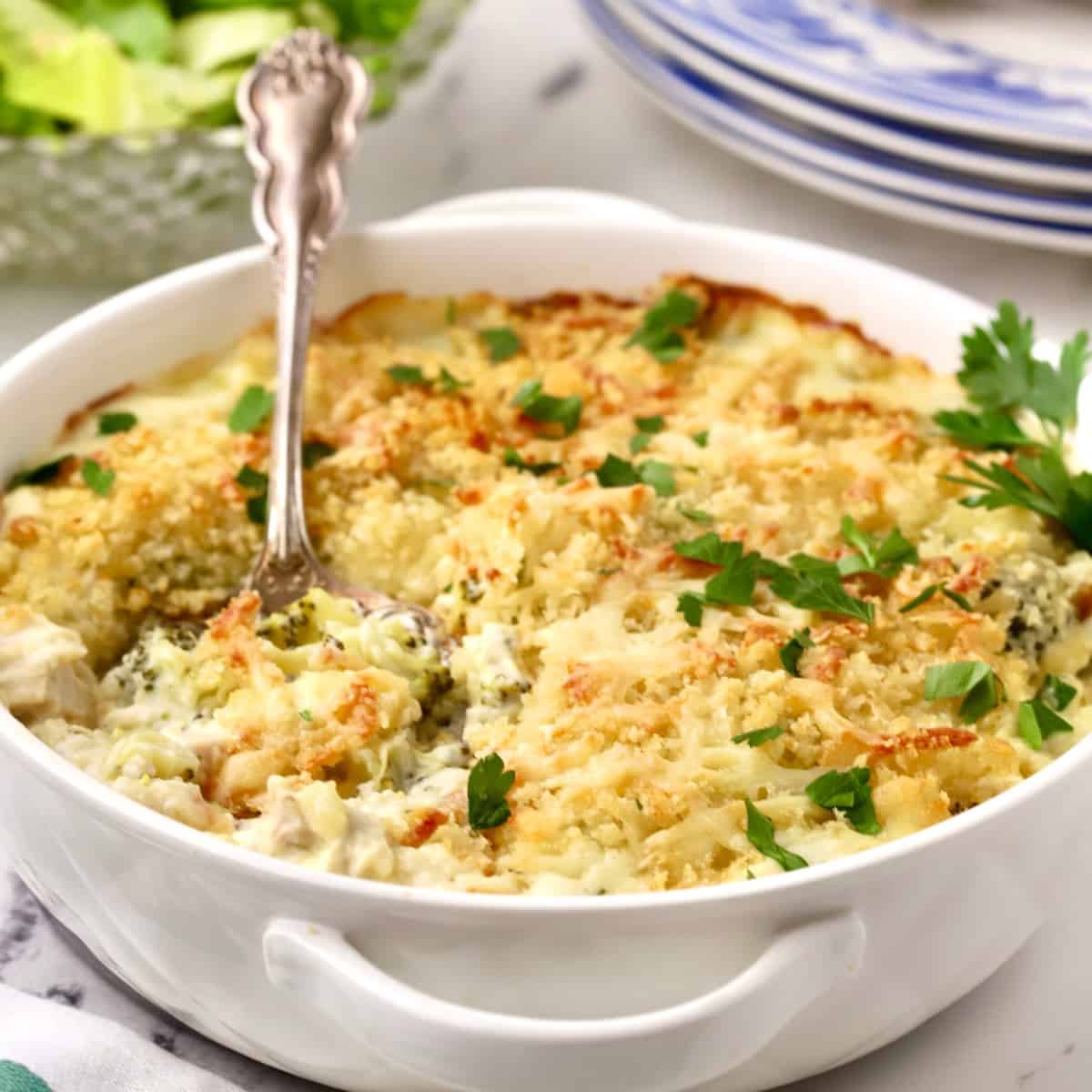 Chicken Parmesan Casserole (Keto, Low Carb, and Gluten-Free) – Keto Cooking Christian
Fried nuggets of chicken breaded in a Low Carb and Keto-friendly coating, baked in homemade marinara sauce, and topped with gooey mozzarella cheese!
Buffalo Chicken Pasta Bake – Grits and Pinecones
This quick and easy, oven-baked, creamy Buffalo Chicken Mac and Cheese casserole recipe is deliciously spicy, simple to make, and the ultimate comfort food!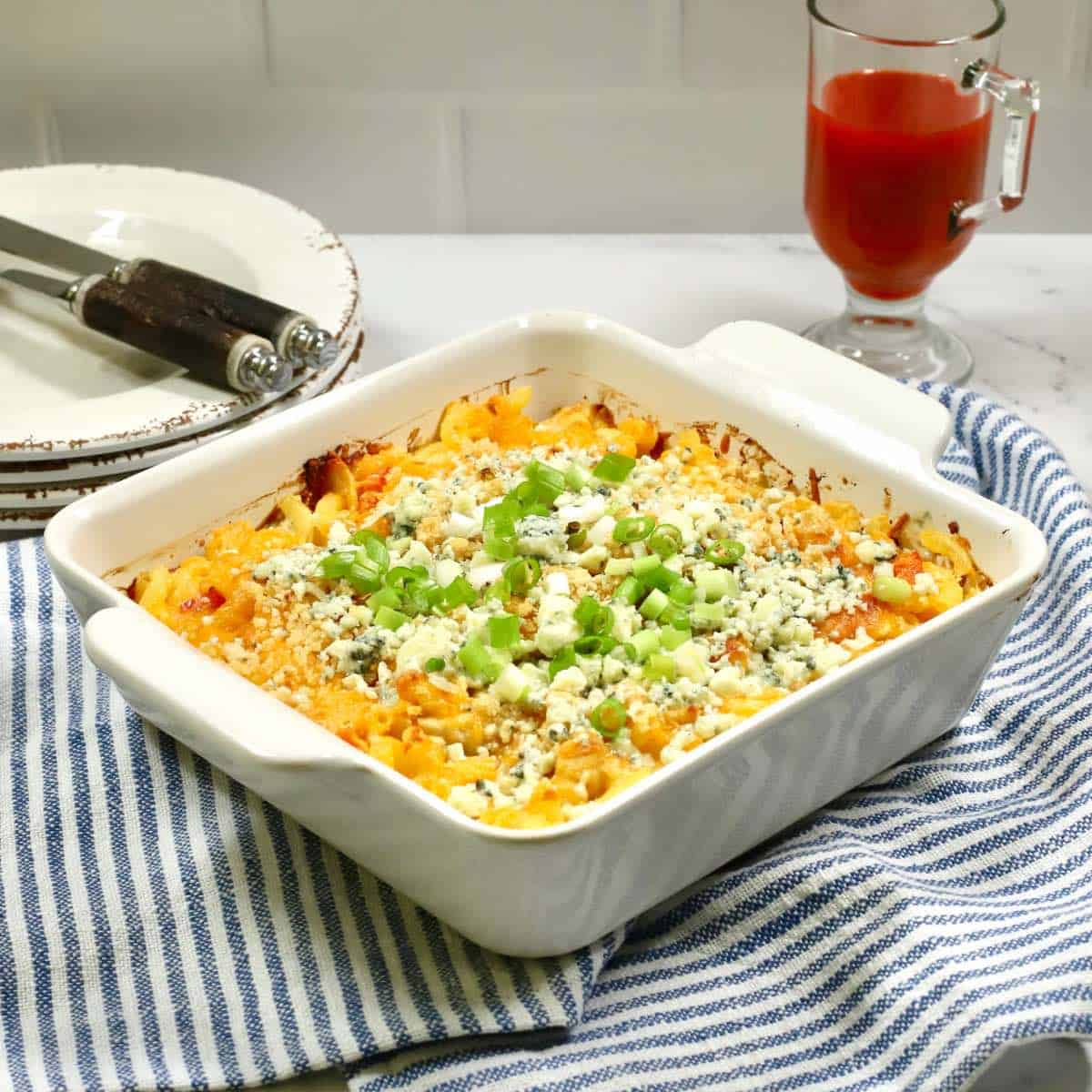 Chicken, Sausage, and Wild Rice Casserole – Grits and Pinecones
Chicken, Sausage, and Wild Rice Casserole is a one-pan wonder dinner that will quickly become one of your "go-to" meals. You know, the kind that only takes minutes to prepare and you can always count on to turn out perfectly. It's a make-ahead, freezer-friendly, family-friendly, one-dish miracle.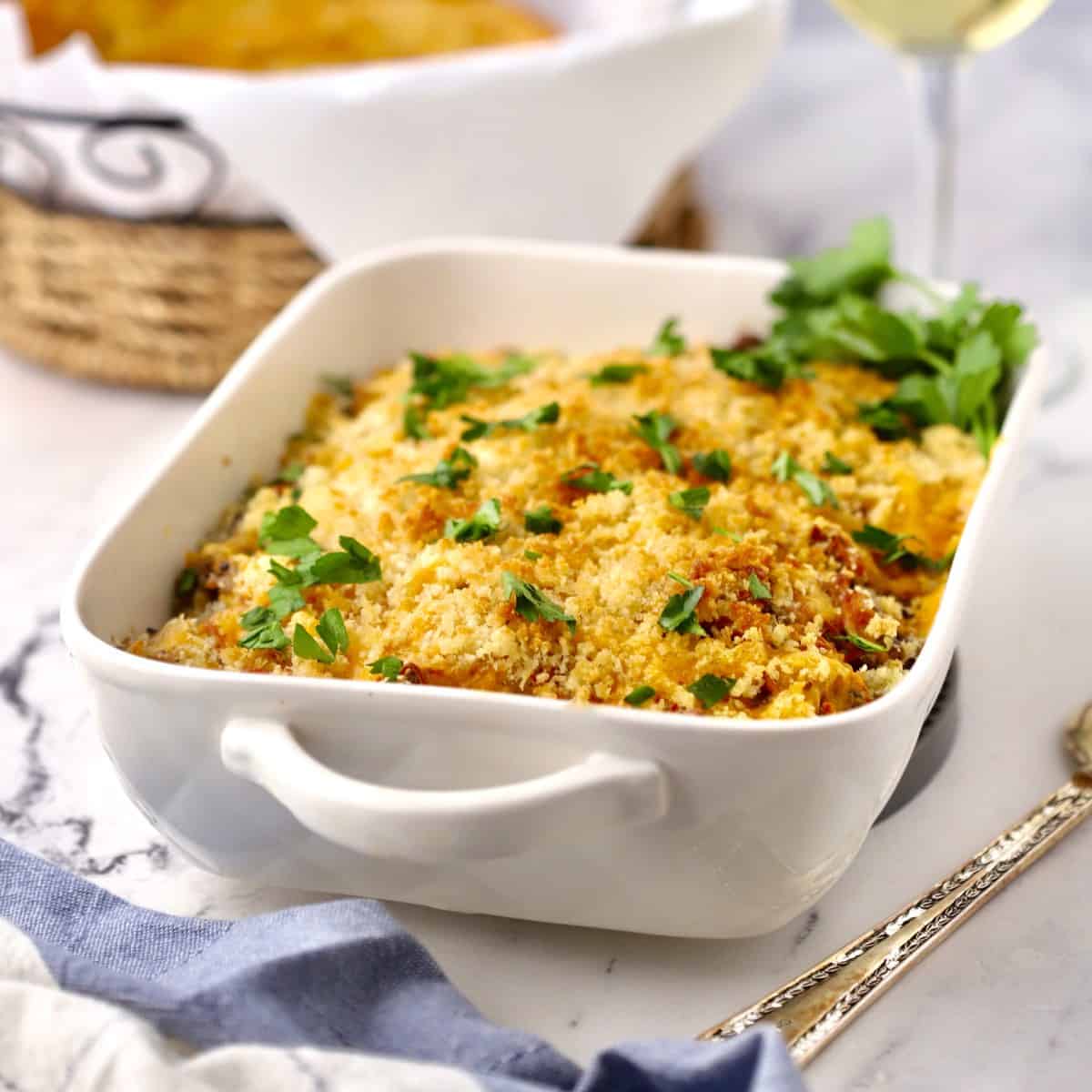 Easy Chicken Scalloped Potato Casserole (Paleo & Whole30) – Prepare and Nourish
This Easy Chicken Scalloped Potato Casserole comes together quickly and easily. With only 5 main ingredients, this bake is delicious and naturally Whole 30 compliant. Enjoy with a side salad for a complete nourishing meal.
Easy Tequila-Lime Chicken Enchiladas – Grits and Pinecones
Let's face it, everyone loves chicken enchiladas. I mean, what's not to love? But, hold on to your sombrero because today there is a new dish in town. Easy, made from scratch, Tequila-Lime Chicken Enchiladas that are made with hands-down the most unbelievably delicious marinade and sauce ever.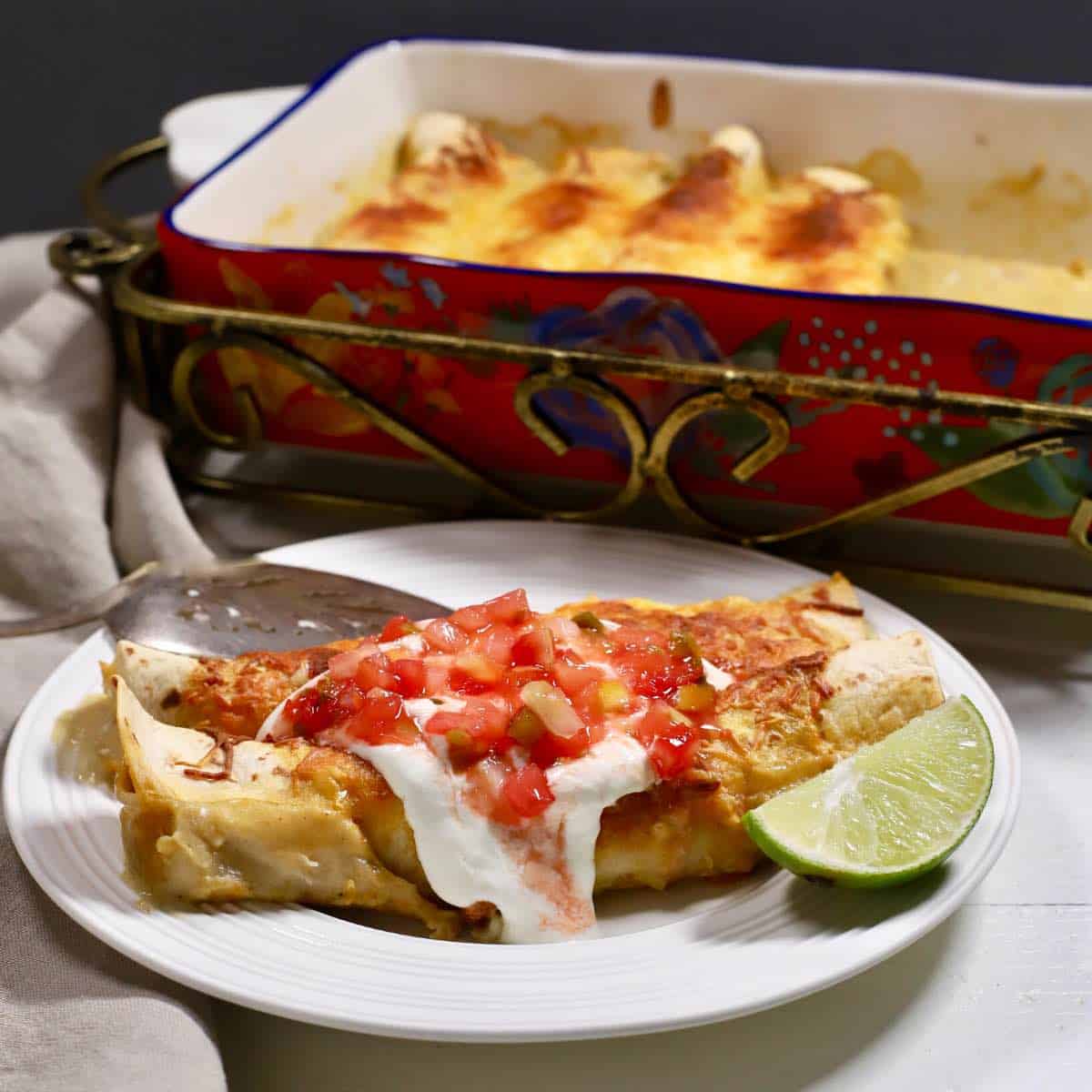 Chicken Cordon Bleu Crêpes – Pudge Factor
Chicken Cordon Bleu Crêpes are a variation of the traditional Chicken Cordon Bleu. The traditional Chicken Cordon Bleu features chicken stuffed with ham and Swiss cheese and topped with a sauce. With this variation, I stuffed crêpes with a cheesy mixture of chicken, ham, and mushrooms. As a finishing touch, I topped the crêpes with additional creamy sauce and Parmesan cheese.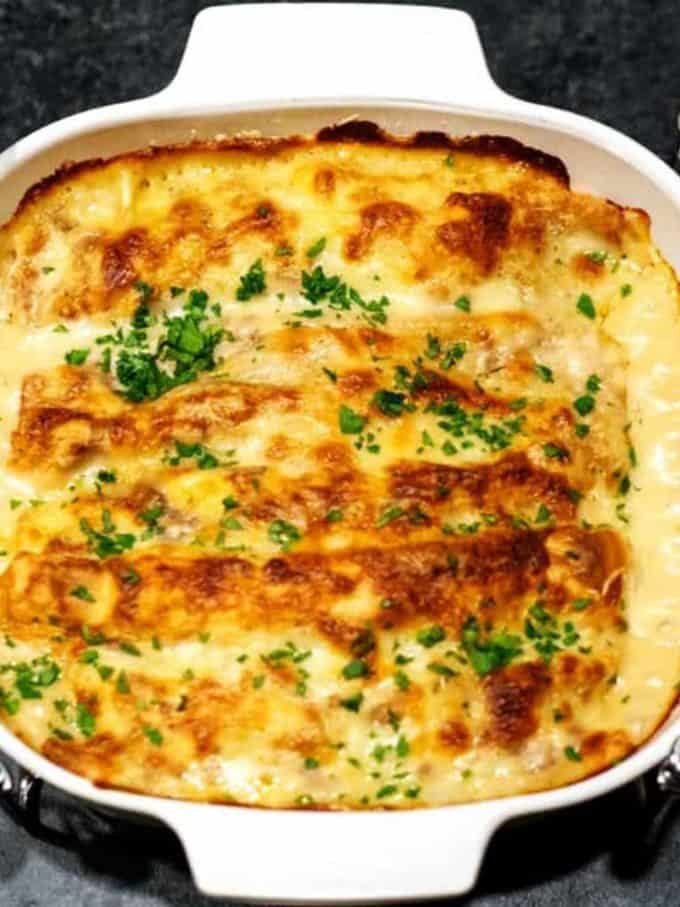 Cheesy Chicken Artichoke Casserole – West via Midwest
Cheesy Chicken Artichoke Casserole is your go-to meal for potlucks. Easily made ahead, it's full of melted cheese wrapped around tender chicken, bites of artichokes, and rice that give each bite the perfect mix.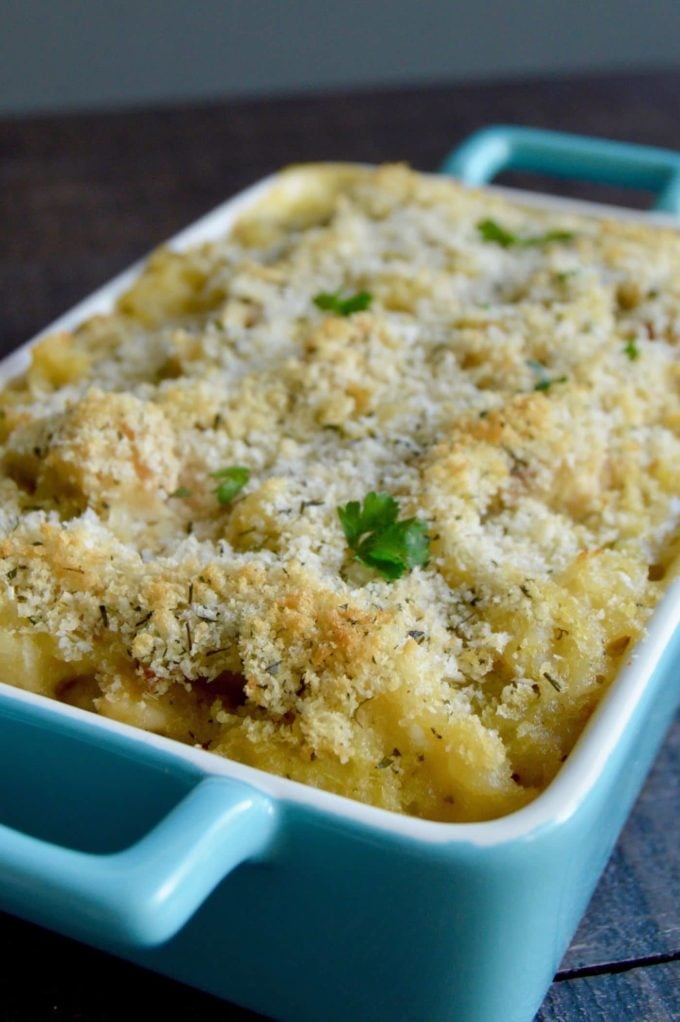 Easy Chicken Cordon Bleu Casserole – Grits and Pinecones
Oven-baked Easy Chicken Cordon Bleu Casserole has all of the flavor and crispiness of classic Chicken Cordon Bleu but none of the mess. It's quick and easy to prepare and, best of all, it can be made ahead.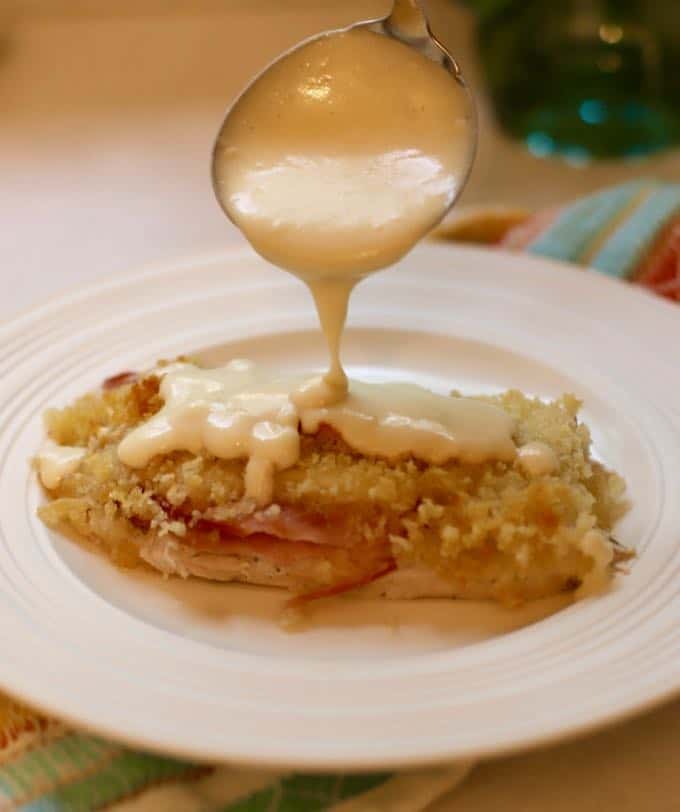 Creamy Chicken Casserole – Pointed Kitchen – Recipes for Weight Watchers
This Creamy Chicken Casserole is just six SmartPoints on the Weight Watchers Freestyle plan. It is creamy, filling, and delicious and what's more, you get a massive portion for your six SmartPoints!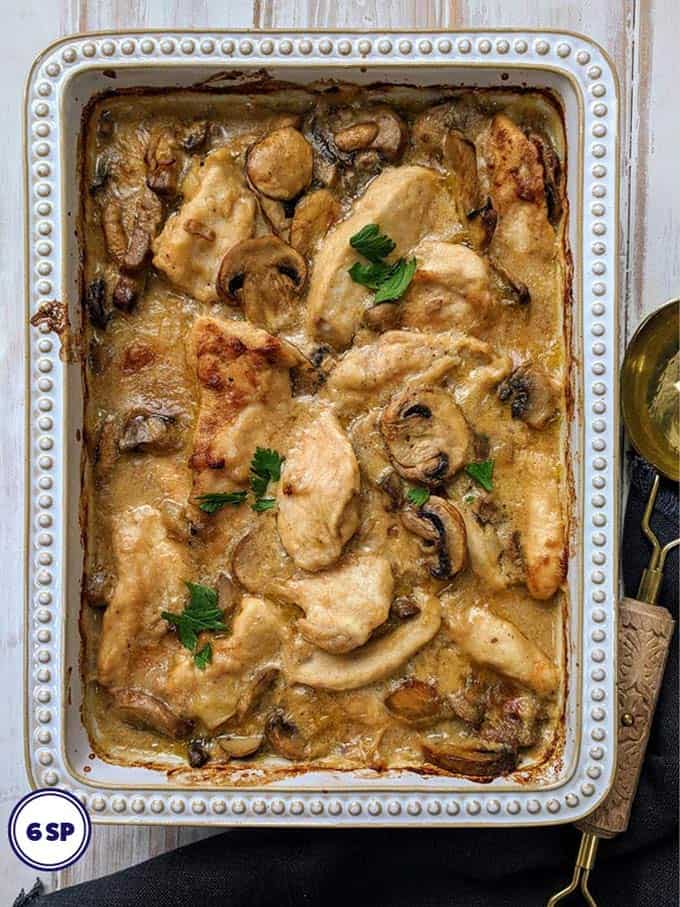 Easy Chicken, Rice and Broccoli Casserole – Pudge Factor
Easy Chicken Rice and Broccoli Casserole is a one-pot dish that's sure to become a family favorite. With the combination of chicken, rice, broccoli, and, of course, cheese, you know it's going to be delicious. It can be made ahead of time and produces awesome leftovers.
Frequently asked questions:
What sides are best to serve?
Because most casseroles are hearty meals in one, I usually only add a simple side salad such as my Cucumber and Tomato Salad, Broccoli Slaw, Apple Pecan Salad, or Brussels Sprout Salad

If you would like to add bread, these popular recipes would be good choices: Hoe Cakes, Traditional Cornbread, Cheesy Texas Toast Garlic Bread, or a slice of quick bread such as Sweet Potato Bread or Apple Bread.

Desserts that are on the lighter side such as my Fresh Strawberry Sherbet, Mixed Berry Sherbet, Frozen Fruit Salad, or Key Lime Mousse would be excellent choices if you want a sweet ending to your meal.
What are the most common components?
In general, most casseroles are made up of protein such as meat like chicken or beef, starch such as pasta, sauce such as cream of something soup or a bechamel sauce, sometimes vegetables, and in 99% of these dishes, cheese rounds things out.
How to freeze these recipes?
Unless you have unlimited baking dishes and room in your freezer, or the recipe states otherwise, follow these suggestions for the best results:
*Line the empty baking dish with heavy-duty aluminum foil and let the foil extend several inches above the dish.
*Prepare and assemble your casserole. Cover with another piece of foil and place in the freezer. When the casserole is frozen, use the extra length of foil on each side to lift it out.
*Wrap it tightly with an additional piece of foil, and place the package in a large plastic freezer storage bag. Be sure to label the bag with the date, name of the dish, and baking directions and store it in your freezer.
*The night before you are ready to bake it, remove it from the freezer and storage bag.
*Place it in the original baking dish, and allow it to thaw in the fridge overnight. Bake and serve as directed.
Are casseroles considered comfort food?
Yes, casseroles are the epitome of comfort food, and that's one reason they are so well loved. You know the kind that when you take a bite, it feels like a warm hug on a cold day, the way sunshine feels on your face when you walk outside, or it invokes favorite memories of loved ones or home-cooked meals.
Leftovers and storage?
Each recipe in this collection includes directions on how to handle leftovers and how best to store them. However, in general, depending on the freshness of the original ingredients, they should last up to four days covered in your refrigerator. Also, most can be frozen.
Sharon's tips:
To save on cleanup, I always place my casseroles on a baking sheet just in case it bubbles over while baking.
Casseroles can be heavy and unwieldy after baking. Be sure to use a sturdy metal or glass baking dish and don't overfill them. The last thing you want is to bake your dish in a flimsy pan that will bend and spill hot ingredients when you try to remove it from the oven.
Glass baking pans heat up and cook faster than metal ones. In general, you will want to reduce the baking temperatures by 25 degrees when using glass. The recipes listed above have taken this into account, but if you use a different kind of pan from what's specified, make sure to keep this in mind.
More casserole menu ideas and recipes:
Breakfast casserole favorites:
Popular vegetable casseroles:
Easy casseroles with beef or pork:
Don't stress trying to pick just one of these delicious recipes. Come back often and try all of them. No matter the occasion, I'm sure there is a casserole recipe here that would be perfect. Please let me know in the comments section which is your favorite!
Thank you so much for visiting Grits and Pinecones! I hope you come back soon!