There's a reason that chicken casserole recipes are so popular! Not only are they easy to prepare, but these one-dish wonders also freeze and travel well. And, for most, leftovers are even better the next day!
Most cooks have an arsenal of make-ahead, family-friendly chicken casserole recipes they can prepare at a moments notice for everything from potlucks to dinner parties. And, I almost always have one or two in my freezer for busy nights when I need to get dinner on the table in a hurry. Chicken casseroles are also perfect when you need a meal to take to a new neighbor or sick friend.
Check out this roundup of 21 of the best chicken casserole recipes you will find anywhere. These easy, top-rated casserole recipes come from some of the country's best cooks. There is something for everyone. I've even included recipes for those of you that are following Weight Watchers, keto, low-carb, gluten-free, Whole30 or paleo diets.
Just add a simple salad and rolls, and sit back and enjoy the rave reviews.
Easy Chicken Mushroom Marsala Pasta is a recipe that is not only delicious, but it's also family-friendly. It's also quick and easy enough for a weeknight dinner! It's a perfect make-ahead dinner party recipe. This chicken casserole is the very definition of comfort food at it's finest!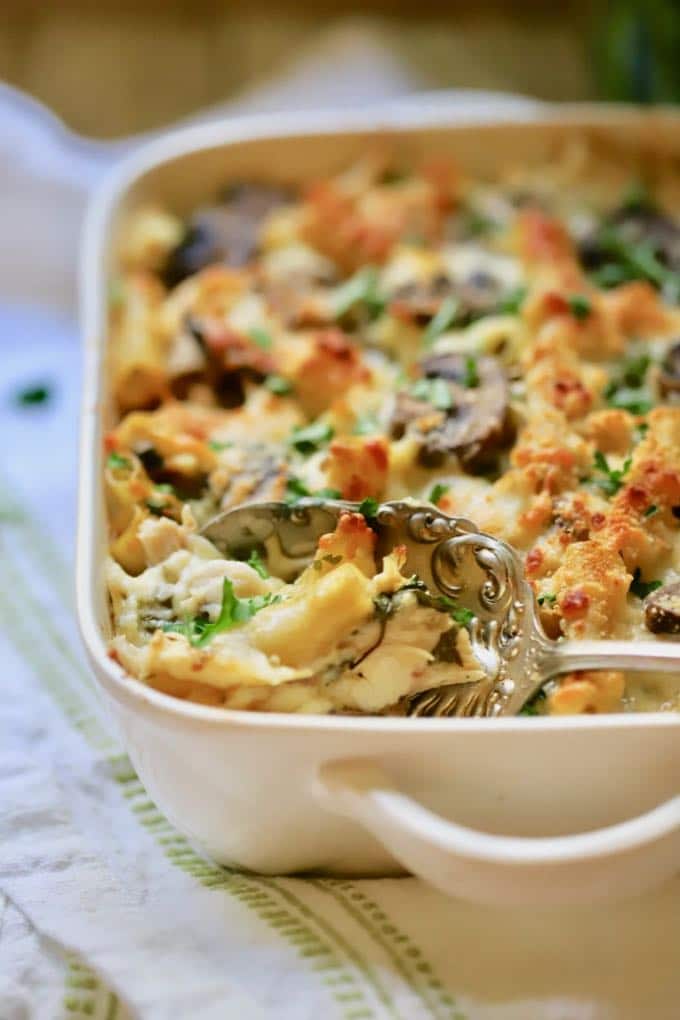 Easy Cheesy Mexican Rice with Chicken is just in time for Cinco de Mayo. It's an amazing one-pot meal with an incredible blend of flavors and textures. It makes a lot, so be prepared for yummy leftovers!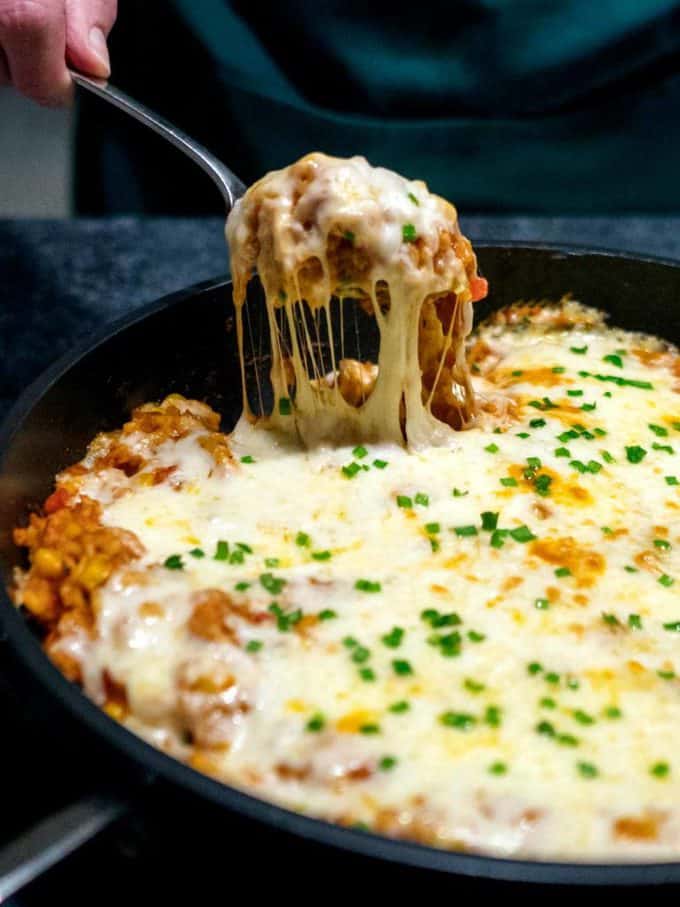 Make-ahead Savory Chicken Crepes with Mushrooms is perfect for a romantic date night dinner, an elegant brunch dish, or a dinner party main dish. These easy savory chicken crepes blanketed in a cheesy mornay sauce not only look sensational, but you won't believe how delicious they are.
This healthy low carb and keto green chili casserole makes the ultimate comfort food dinner recipe when you need something quick and easy. The combination of a savory chili verde sauce, three kinds of cheese, and shredded chicken make for the best chili verde casserole you will absolutely love.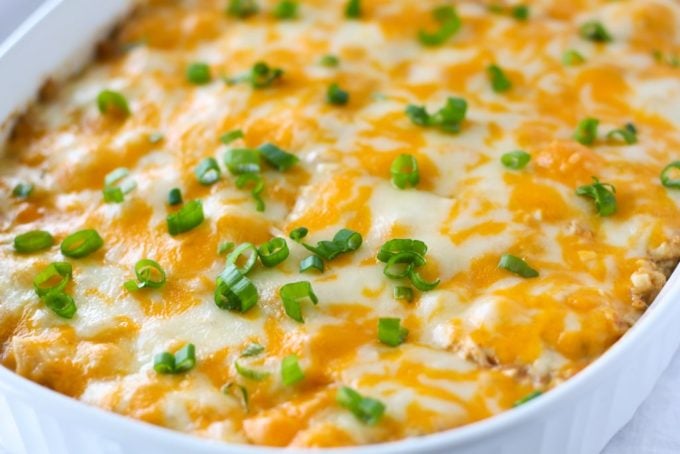 Ultimate Sour Cream Chicken Enchiladas are spicy, incredibly yummy, and a great make-ahead dish for a festive dinner party or a casual weeknight meal.
All-in-one Chicken Hashbrown Casserole is an easy family dinner or quick covered dish recipe. This loaded hashbrown bake is made with tender chicken, hash browns, cream cheese, sour cream, yummy cheese, and crispy bacon.
Classic King Ranch Chicken Casserole, aka Mexican Chicken Casserole or King Ranch Casserole, is an easy, make-ahead, delicious entrée loaded with melty cheese, yummy tomatoes, spicy peppers, green chilies and juicy chicken sandwiched between layers of corn tortillas.
This Whole30 Baked Buffalo Chicken Casserole has all of the traditional buffalo chicken flavors that you love baked into one healthy dish! Gluten free, low carb and exceptionally easy. A meal-prep recipe doesn't get any better than this!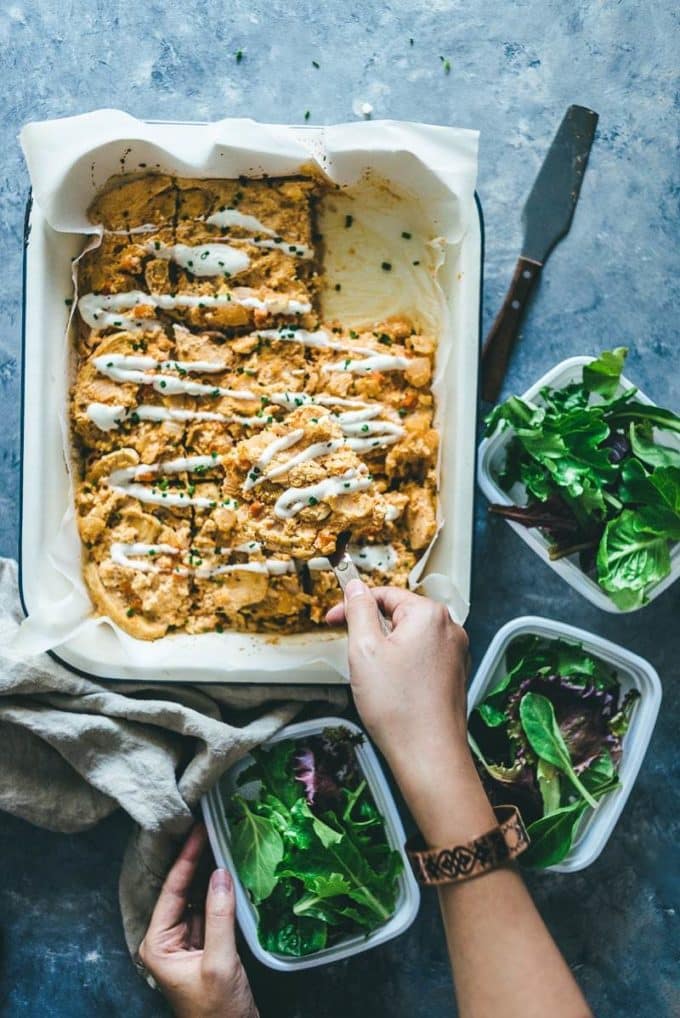 I've got a delicious make-ahead, true comfort food recipe for you today, Easy Chicken and Wild Rice Casserole. A Southern favorite, creamy and flavorful, Easy Chicken and Wild Rice Casserole is full of tender chicken, cheese, crunchy water chestnuts, and a blend of tasty seasoned white and wild rice.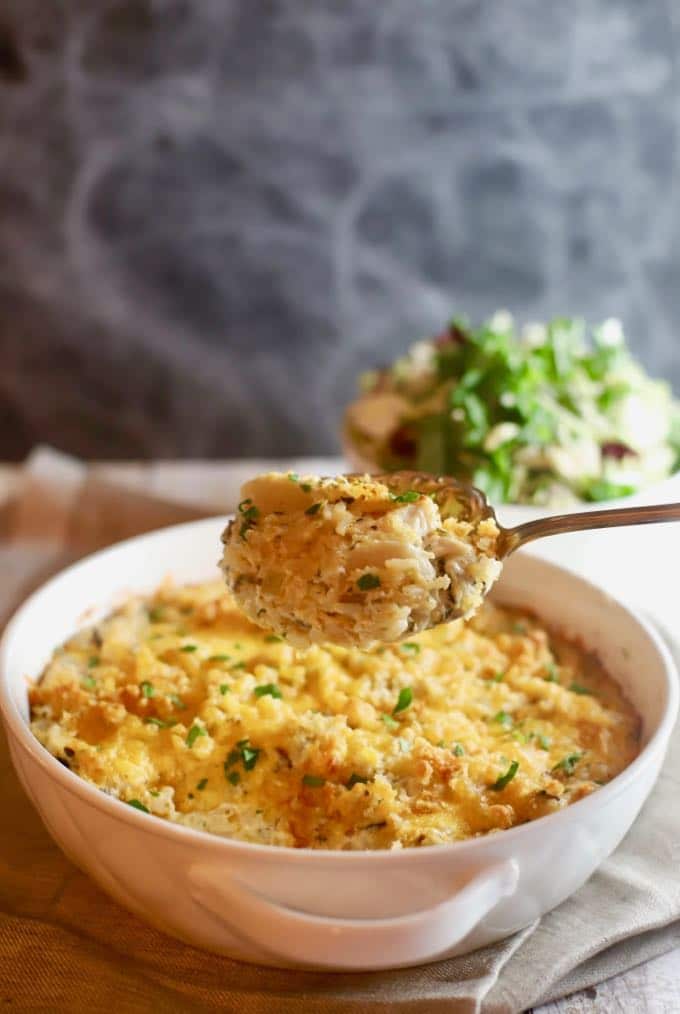 This creamy lemon chicken pasta bake has so much tastiness going on from the tarragon lemon cream sauce that wraps together the pasta, chicken, and spinach. Plus, you can serve it either straight up, while the sauce is creamier, or baked with added mozzarella for a cheesier bake. Either way, it's delicious.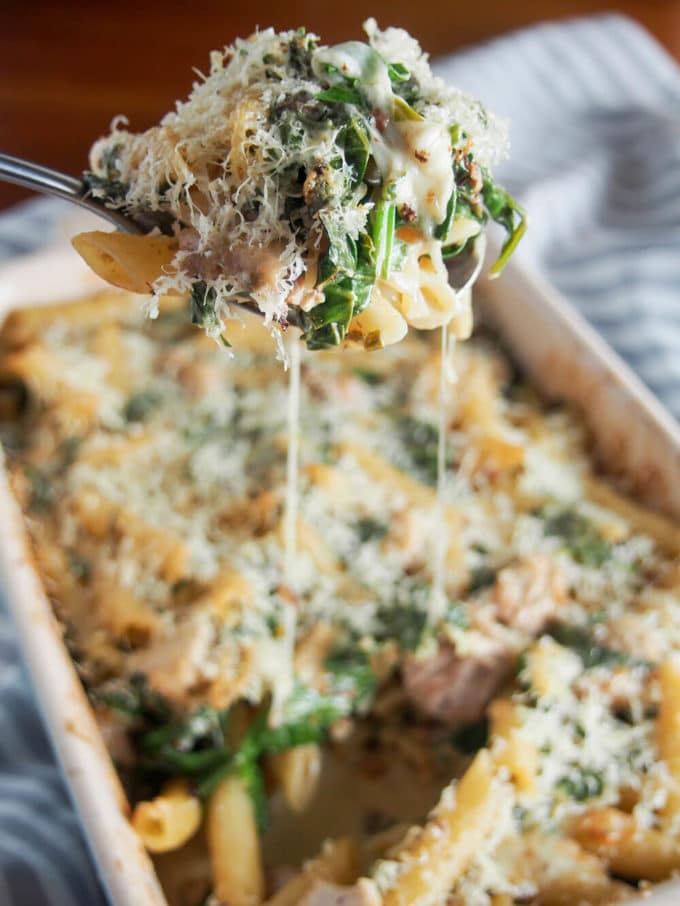 Easy Southern Style Chicken Divan is an iconic southern casserole that has been around for many years. In fact, there was a time many years ago when this delicious dish was served at almost every bridal or baby shower, neighborhood potluck dinner or church supper. It was also one of the first casseroles that every young southern bride learned to make and have in their arsenal of "company" dishes.
Fried nuggets of chicken breaded in a Low Carb and Keto friendly coating, baked in homemade marinara sauce and topped with gooey mozzarella cheese!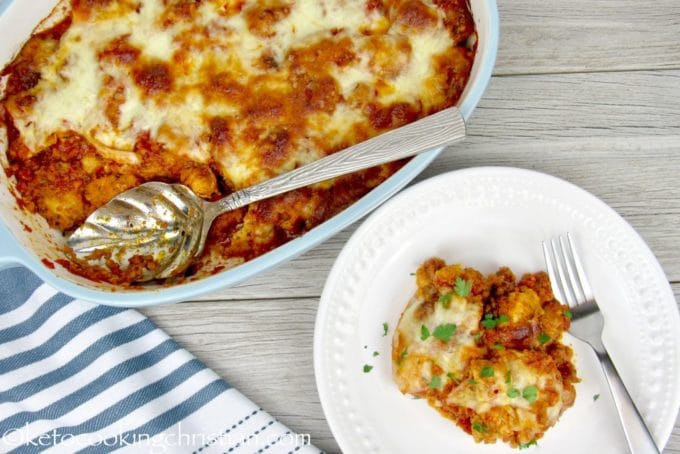 This quick and easy, oven-baked, creamy Buffalo Chicken Mac and Cheese casserole recipe is deliciously spicy, simple to make, and the ultimate comfort food!
This Chicken, Sausage, and Wild Rice Casserole will quickly become one of your "go-to" casseroles. You know the kind, a delectable casserole that you can always count on to turn out perfectly every time you prepare it!
This Easy Chicken Scalloped Potato Casserole comes together quickly and easily. With only 5 main ingredients, this bake is delicious and naturally Whole 30 compliant. Enjoy with a side salad for a complete nourishing meal.
Easy Tequila Lime Chicken Enchiladas – doesn't just hearing the name make you hungry? Well, wait until you taste this delicious, easy chicken enchiladas casserole, you will become a believer!
Chicken Cordon Bleu Crêpes are a variation on the traditional Chicken Cordon Bleu. The traditional Chicken Cordon Bleu features chicken stuffed with ham and Swiss cheese and topped with a sauce. With this variation, I stuffed crêpes with a cheesy mixture of chicken, ham, and mushrooms. As a finishing touch, I topped the crêpes with additional creamy sauce and Parmesan cheese.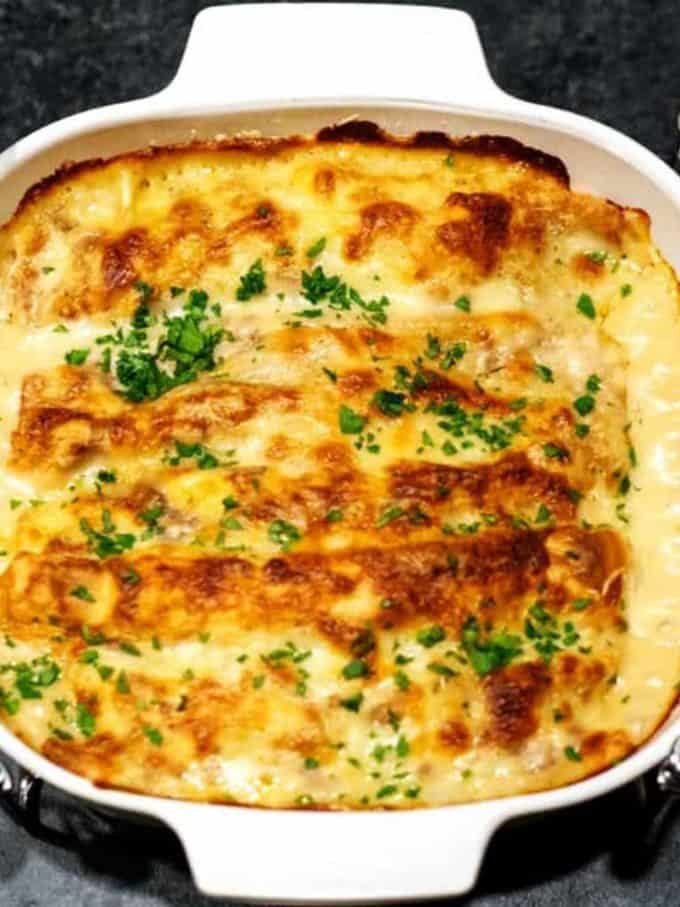 Cheesy Chicken Artichoke Casserole is your go-to meal for potlucks. Easily made ahead, it's full of melted cheese wrapped around tender chicken, bites of artichokes and rice that give each bite the perfect mix.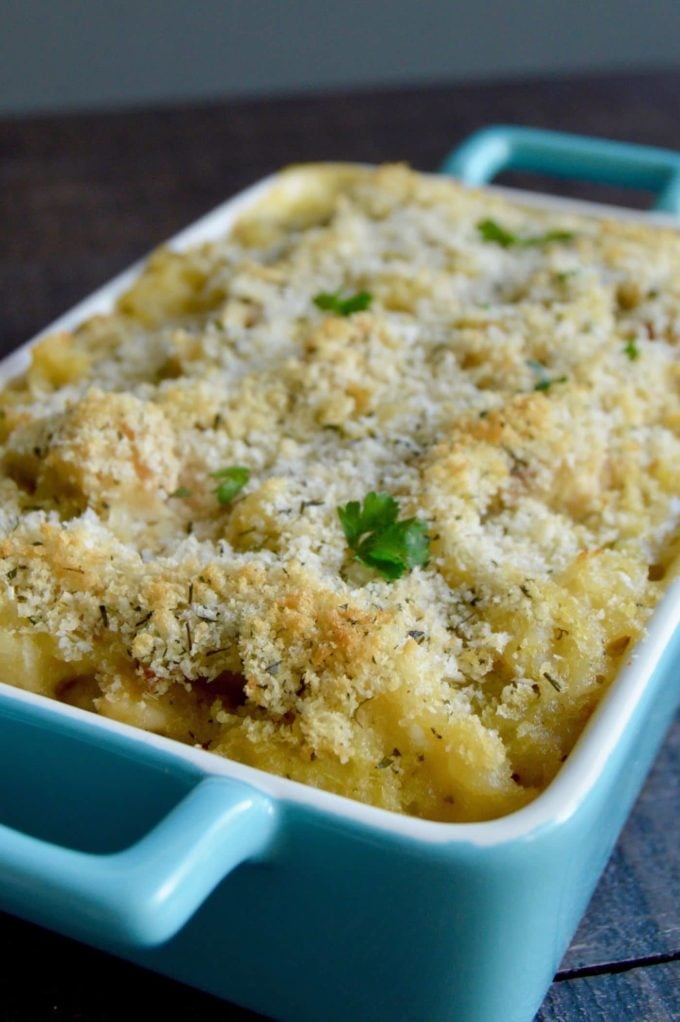 Oven-baked Easy Chicken Cordon Bleu Casserole has all of the flavor and crispiness of classic Chicken Cordon Bleu but none of the mess. It's quick and easy to prepare and, best of all, it can be made ahead.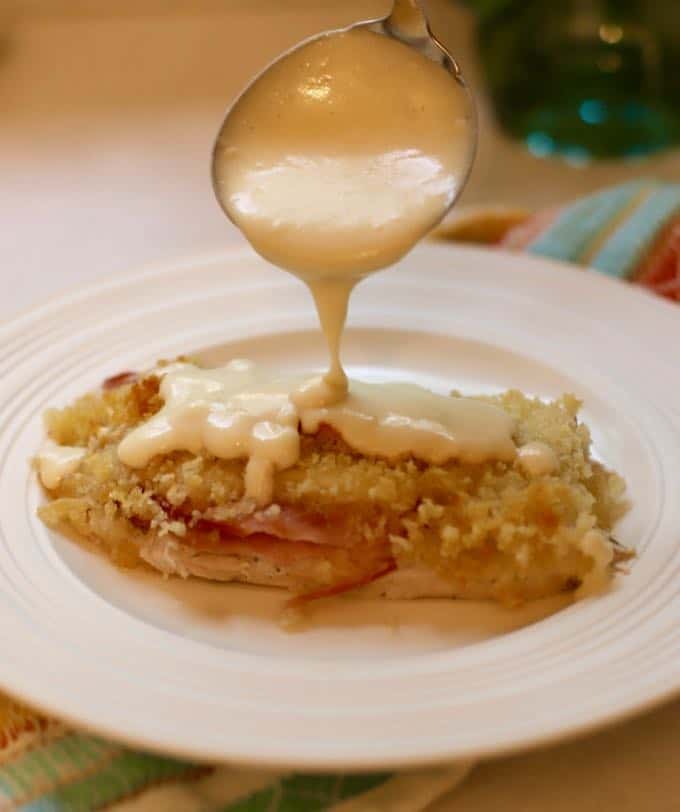 This Creamy Chicken Casserole is just 6 SmartPoints on Weight Watchers Freestyle plan. It is creamy, filling and delicious and what's more, you get a massive portion for your 6 SmartPoints!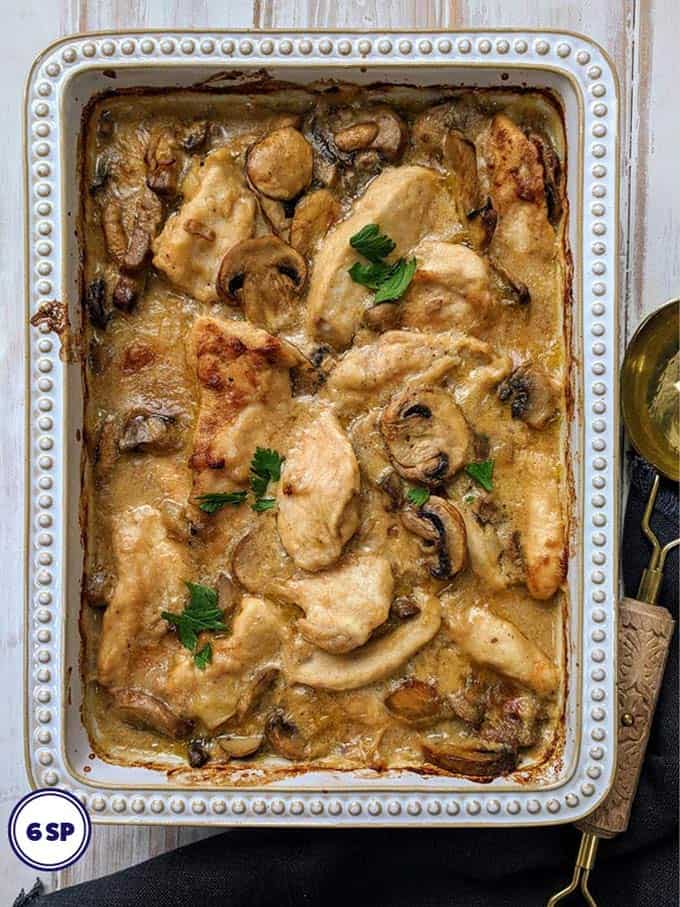 Easy Chicken Rice and Broccoli Casserole is a one-pot dish that's sure to become a family favorite. With the combination of chicken, rice, broccoli and, of course, cheese, you know it's going to be delicious. It can be made ahead of time and produces awesome leftovers.
No need to try and pick just one. Come back often and try all of these fabulous recipes. No matter the occasion, I'm sure there is a chicken casserole recipe here which would be perfect. Please let me know in the comments section which is your favorite!