Let the good times roll (laissez les bon temps rouler) with this roundup featuring delicious classic Cajun and Creole-style Mardi Gras recipes and menu ideas.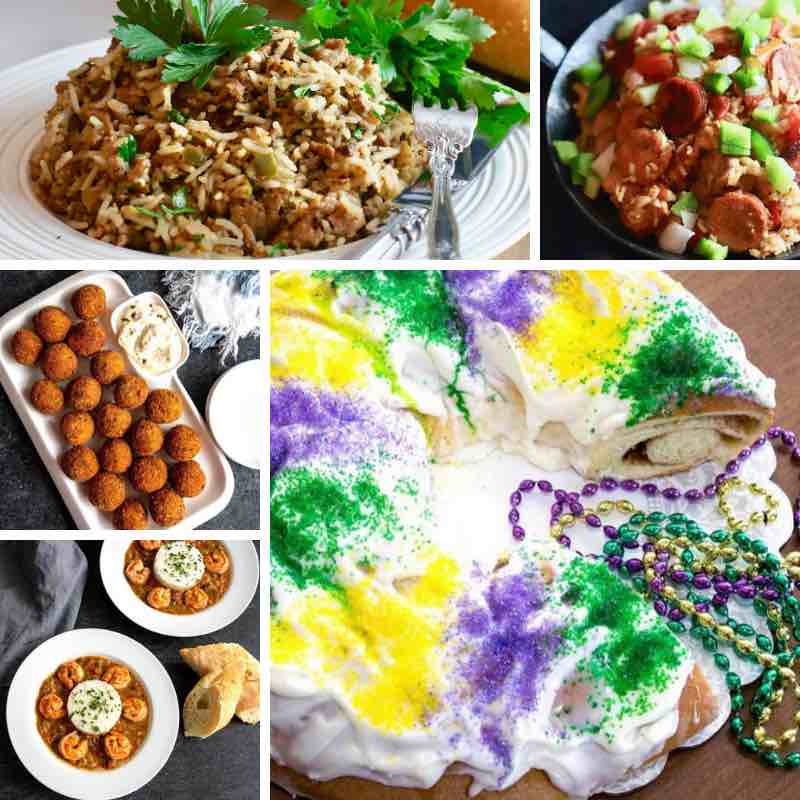 It includes everything you need to celebrate in style with food like King Cake, Beignets, Jambalaya, Shrimp Creole, and more!
When does Mardi Gras begin?
If you are wondering when it is, or what date it begins and ends, technically Mardi (French for Tuesday) Gras (French for Fat) refers to Shrove or Fat Tuesday, which is the day before Ash Wednesday. In reality, it refers to the Carnival celebrations that begin on January 6 (the Epiphany) and ends on Fat Tuesday.
When is Fat Tuesday?
Because it is tied to Ash Wednesday, which is aligned with Easter, the date changes every year. For 2020, Fat Tuesday is on Tuesday, February 25.
What are the Mardi Gras colors?
The colors are purple, green, and gold (yellow). Purple is said to represent justice, green to symbolize faith, and gold to represent power.
Where is Mardi Gras celebrated?
Because the celebration is tied to religious dates, it is celebrated all over the world, but most notably in New Orleans. Biloxi, Mobile, and Pensacola are cities east of New Orleans that also actively celebrate Mardi Gras with krewes, numerous parades, and balls.
Mardi Gras recipes and menu ideas:
I've teamed up with my sister Chula at the Pudge Factor Blog to bring you these classic recipes and menu ideas. We have included everything from appetizers to desserts as well as party food and dinner ideas. We hope you enjoy them!
Easy Chicken and Sausage Jambalaya
Easy Chicken and Sausage Jambalaya is the ultimate Mardi Gras food and a staple found all along the Gulf Coast, but especially in southern Louisiana. You won't believe how easy it is to prepare, and it's perfect for a quick weeknight meal with your family. It's also an excellent make-ahead dish to serve guests.
Lemon Bliss Bundt Cake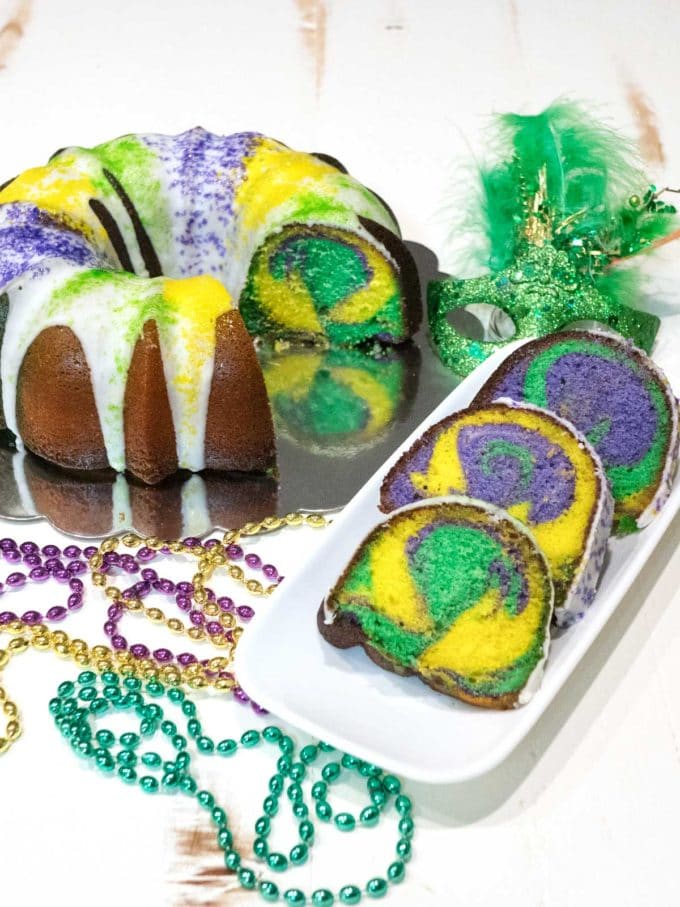 Brighten your celebrations with this rich and moist Lemon Bliss Bundt Cake. It feels like springtime and tastes amazing under a layer of lemon glaze. Every piece is a surprise. Laissez les bon temps rouler!
Easy Mardi Gras Hot Muffuletta Dip
This easy hot muffuletta dip is a tantalizing dip made with tasty green olives, salami, provolone cheese, and tangy giardiniera. These yummy ingredients are combined with cream cheese to make a hot and delicious dip that is guaranteed to make you swoon and is perfect for a party.
Shrimp Étouffée
Shrimp Étouffée is classic New Orleans at its best. It's perfect for your Fat Tuesday dinner with spicy shrimp cooked in a delicious roux-based sauce.
Hurricane Cocktails
Hurricane Cocktails were first created at the legendary Pat O' Brien's Bar in New Orleans in the 1940s as a creative way of utilizing large stocks of rum. Legend has it that the Hurricane got its name because the cocktail was first served in the glass piece of a hurricane lamp. And, as they say, the rest is history.
Mardi Gras King Cake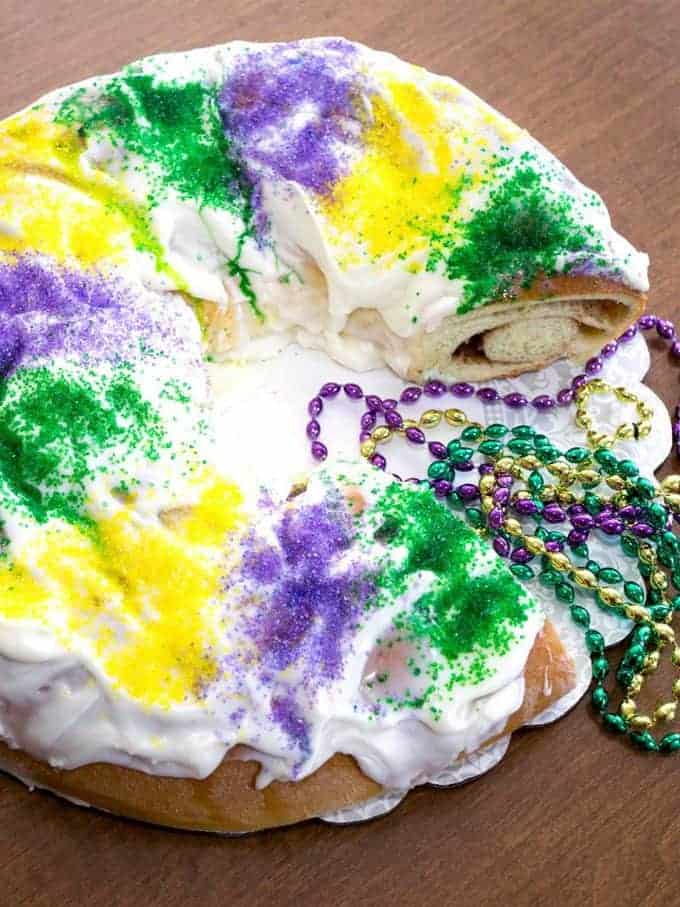 The King Cake is a quintessential confection that is decorated in Mardi Gras colors. Traditionally, a tiny plastic baby is hidden in the King Cake. Whoever ends up with the baby is named "King" for a day and bound by custom to host the next party and provide the King Cake.
Mardi Gras Snack Mix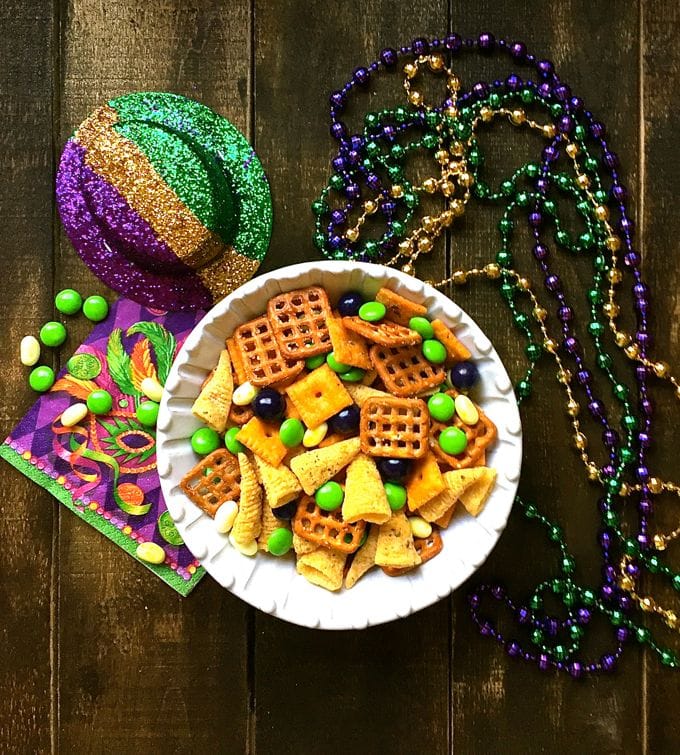 Mardi Gras Snack Mix is simple to make, full of delicious sweet and savory treats and festive with the colors of Mardi Gras, which are purple, green, and gold.
New Orleans Beignets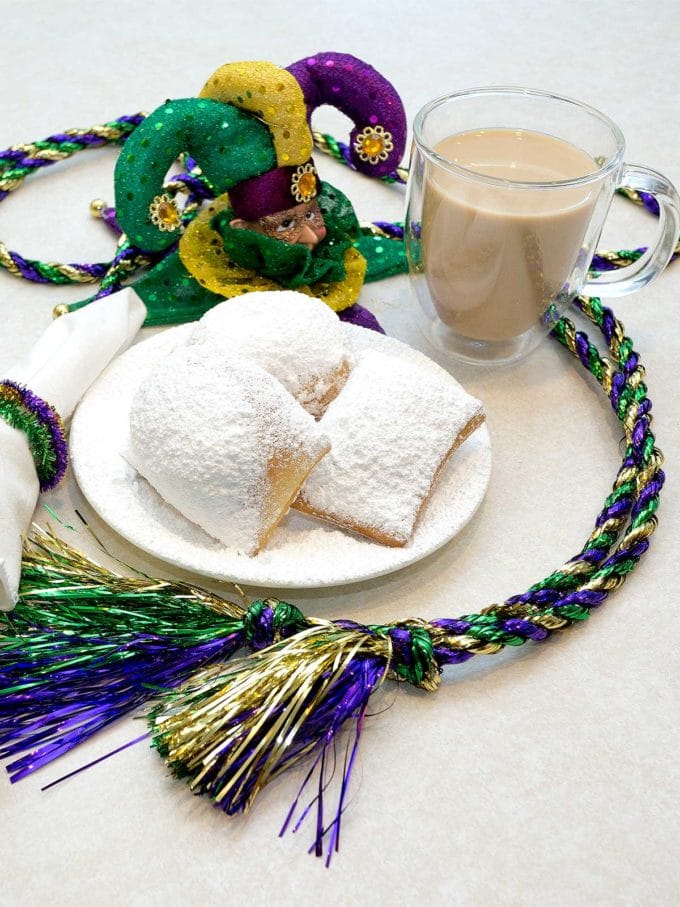 New Orleans Beignets – In New Orleans, beignets are a fried yeasted dough served with confectioners' sugar on top. They are traditionally prepared right before they're served to be eaten fresh and hot. They were brought to New Orleans in the 18th century by French colonists and made famous by the Café du Monde.
The Ultimate Quick and Easy Shrimp Creole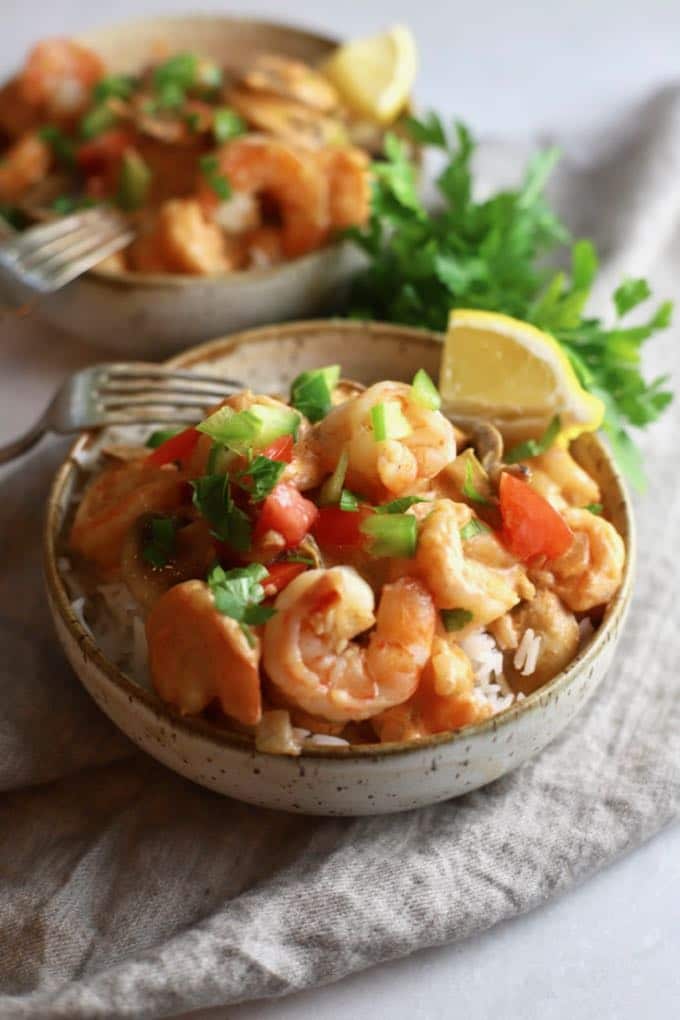 Shrimp Creole is a classic dish of Louisiana Creole origin consisting of cooked shrimp in a mixture of diced tomatoes, the holy trinity of onion, celery, and bell pepper, spiced with cayenne-based seasoning, and served over white rice. This Creamy Shrimp Creole recipe adds sour cream and mushrooms, which only increases the level of deliciousness of this dish and makes it the best Shrimp Creole I have ever tasted.
Old Fashioned Pecan Pralines
Old Fashioned Pecan Pralines are a classic New Orleans' candy, and these luscious, crunchy bites of heaven taste a little like a combination of creamy butterscotch, caramel, and pecans all wrapped up in a sugary, fudgy package!
Red Beans and Rice
In New Orleans, red beans are a cultural tradition dating back hundreds of years. Through the years, Red Beans and Rice was the quintessential dish associated with Mondays. Whatever day of the week, however, Red Beans and Rice is sure to please the pickiest of eaters.
Cheesy Creole Shrimp Toast
Cheesy Creole Shrimp Toast is a delicious, quick and easy (and mostly make-ahead) appetizer that is perfect for a Mardi Gras, game day or Super Bowl party.
Creamy Cajun Shrimp and Boursin Grits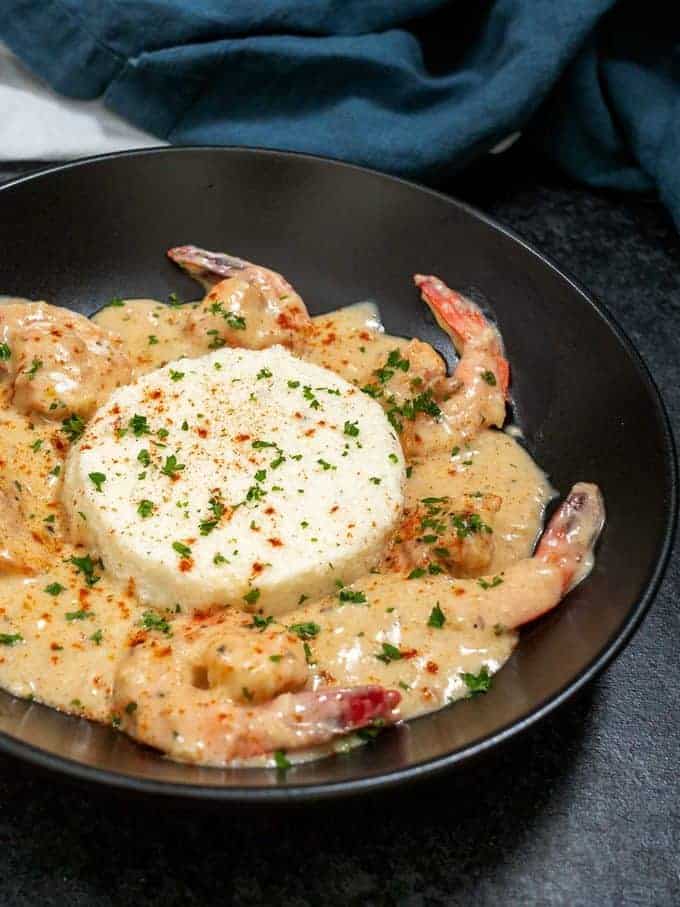 Creamy Cajun Shrimp and Boursin Grits is an easy to prepare but elegant dish to serve for any occasion. Succulent fresh shrimp are cooked to perfection in a creamy garlic and parmesan sauce. Ordinary grits are taken to new heights with the addition of not only Boursin cheese but also smoked Gouda cheese. Are you drooling yet?
Spicy Buffalo Shrimp Po' Boy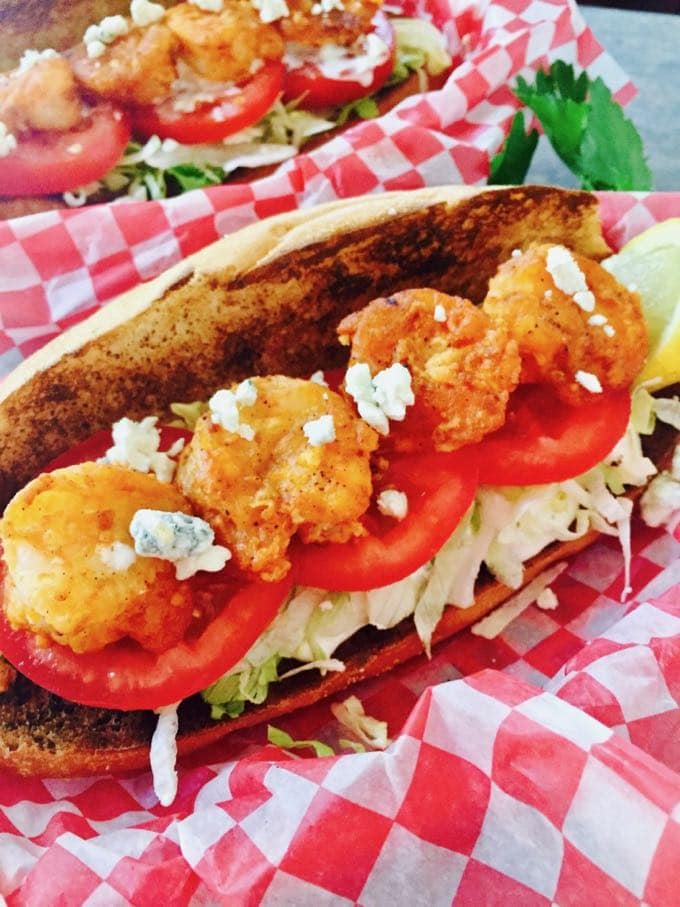 What better way to celebrate Mardi Gras than with my Spicy Buffalo Shrimp Po' Boy Sandwich, a quintessential New Orleans dish and a Po' Boy of your dreams.
Cajun Pork Boulettes with Spicy Dip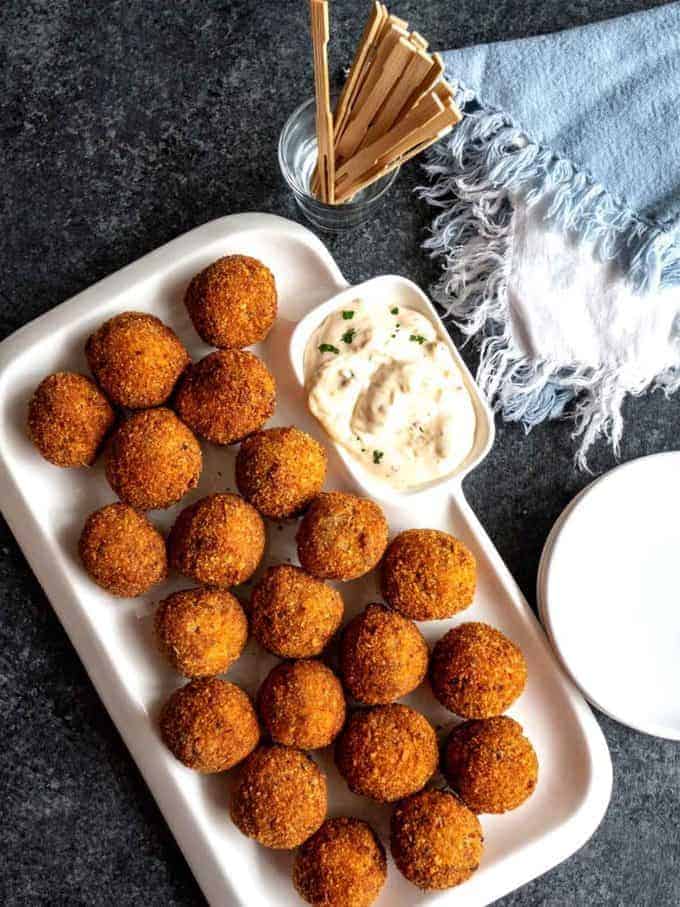 Cajun Pork Boulettes with Spicy Dip is an amazing appetizer. They are perfect for your Mardi Gras celebrations and are easy to put together, albeit a bit time-consuming. The Cajun Pork Boulettes can be made ahead of time and freeze beautifully. What more could you ask? Laissez les Bon Temps Rouler!
Classic Cajun Dirty Rice with Sausage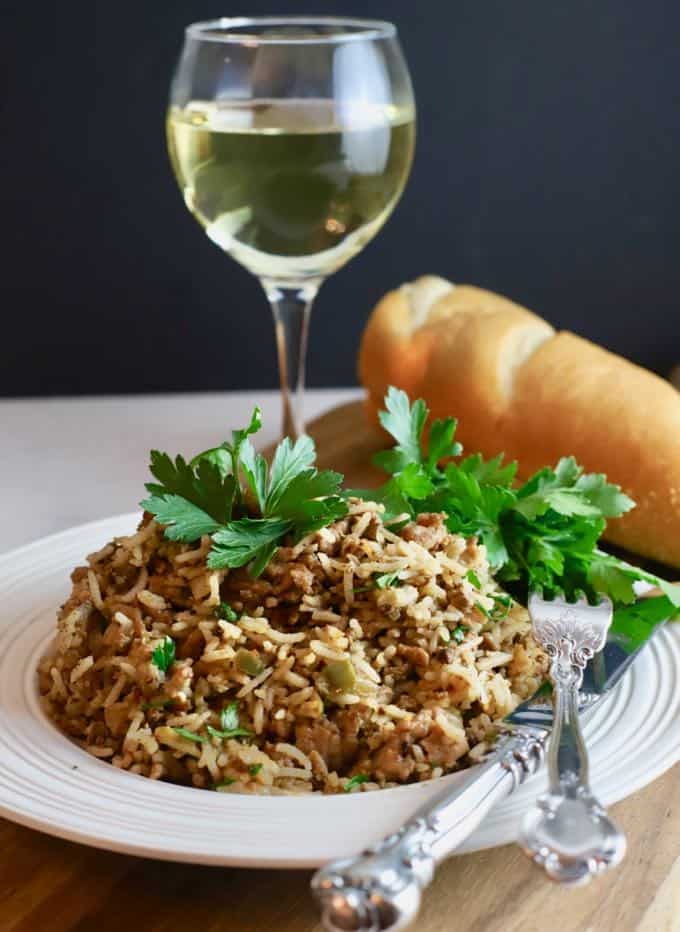 Classic southern comfort food at its finest, Dirty Rice is a delicious blend of cajun spices, vegetables, rice, sausage, and yes, chicken livers. Hailing from Louisiana, this one-pot wonder can be served either as a side or main dish.
We hope these recipes and menu ideas give you plenty of ideas to celebrate Mardi Gras properly. And, even if you aren't celebrating, these easy culinary creations are perfect for eating anytime. Let the good times roll!
★ If you make any of these recipes, please leave a comment and give the recipe a star rating. We would love to know how you liked it!
Thank you so much for visiting Grits and Pinecones!
**This post was originally published on February 19, 2017. It was republished on January 10, 2020, with the addition of six new recipes, and several new images.