The 4th of July coming up and I know many of you are trying to decide about what to serve on this fun and patriotic holiday, America's birthday!
I've put together my menu and thought you might like it too! Everything is easy, quick to make and you can prepare almost everything but the chicken the day before. It's also designed so that you can relax and enjoy the day with your family and friends. And, you know what, you could actually grill the chicken the day before too, and serve it cold. I mean who doesn't love cold barbecued chicken? I know I do!
All of these dishes can be packed up and put in a cooler and taken to the beach, the lake, a neighborhood cookout, or a fireworks display. And, of course, they would be perfect for a quiet 4th at home too!
And, if you need a few more choices, I have you covered with two fabulous 4th of July roundups, full of delicious entrees, fabulous sides, healthy salads, and scrumptious desserts.
Some of these recipes are mine, some are my sister's over at the Pudge Factor, but the majority of them are from other top food bloggers in the country, and they are, well they are all amazing!
Here is my suggested menu and it's what we are having! I can't wait!
Nothing brings out the flavor of chicken like grilling and this recipe for The Best and Easiest Grilled Chicken is finger-licking good!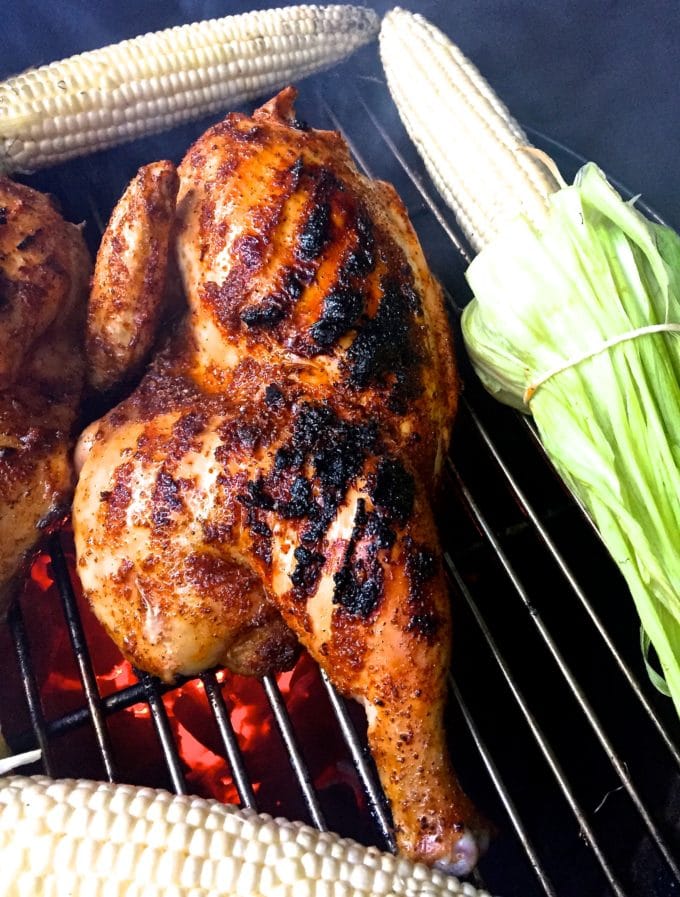 The 4th of July or summer picnics just wouldn't be the same without a tasty helping of potato salad, and this recipe for classic Southern Potato Salad is perfect! And, with over one hundred and thirty thousand views, it's one of the most popular recipes on my blog!
This delicious and healthy Corn, Tomato, and Avocado Salad is the very essence of summer eating! You know those days when the temperature is soaring, and all you want is something light, cool, and refreshing to eat.
With only five ingredients, this No-Bake Icebox Cake is a dream to make and just as dreamy to eat. Red, White, and Blue No-Bake Icebox Cake is the perfect dessert to take to a neighborhood barbecue or cookout, and your family and friends will think you slaved for hours to make this fun and old-fashioned patriotic dessert.
I thought you might like to see my 4th of July table setting. We are going to have company over and I wanted something simple yet patriotic with a red, white, and blue theme.
I had two small red and white checkered tablecloths which I overlapped on the table. Then I added blue wicker placemats, white plates, and two blue vases with red and white flowers.
Happy 4th of July everyone! I hope you have a fun and safe holiday!