Tender and juicy, Smoked Chicken Thighs topped with a luscious Peach Barbecue Sauce will soon become your new favorite way to smoke chicken on the grill or in a smoker.
Say goodbye to bland chicken and hello to this easy recipe that starts with a Big Green Egg or another grill or smoker and a sweet and spicy dry rub. My homemade Peach Barbecue Sauce is the crowning glory and transforms these smoked chicken thighs from ordinary to extraordinary.
All of this smoky deliciousness pairs beautifully with your favorite side dishes and sets the stage for a fun-filled family backyard BBQ or neighborhood potluck.
So what are you waiting for? Check out this simple recipe and step-by-step directions to find out just how easy it is to smoke chicken thighs like a barbecue pitmaster!
If the weather is too hot, cold, or rainy and you can't cook outside, all isn't lost; check out my tasty Baked BBQ Chicken Thighs, Broiled Chicken Thighs, or Baked Chicken Thighs, which are cooked in an oven.
Jump to:
How to make smoked chicken thighs and peach barbecue sauce:
To make the dry rub, combine the chili powder, garlic powder, brown sugar, salt, and pepper in a small bowl.
Brush olive oil over both sides of the thighs and top with the dry rub. Cover and refrigerate for two to twenty-four hours.
Remove the chicken from the refrigerator about 30 minutes before you plan to cook it, and allow it to come to room temperature.
Prepare your grill or smoker according to the manufacturer's directions. For a Big Green Egg, add a layer of charcoal, then add a handful of wood chips or a chunk or two of wood. Add another layer of charcoal and light the fire. Preheat the Egg to 275 degrees F. Add the plate-setter legs up, then the cooking grid.
Place the thighs, skin side up on the cooking grid, and insert the meat temperature probe (if using) in the thickest part, not touching the bone. Close the lid and let the smoke do its magic. Resist the urge to lift the lid and peek. Continually lifting the lid makes it harder to control the temperature and lets the heat and smoke out, which means that it will take longer for your meat to cook properly.
While the chicken is smoking, make the peach barbecue sauce by combining the preserves, barbecue sauce, ginger, and garlic powder in a small saucepan over low heat. When the preserves have melted, and the sauce is hot, remove from the heat and add the lime juice.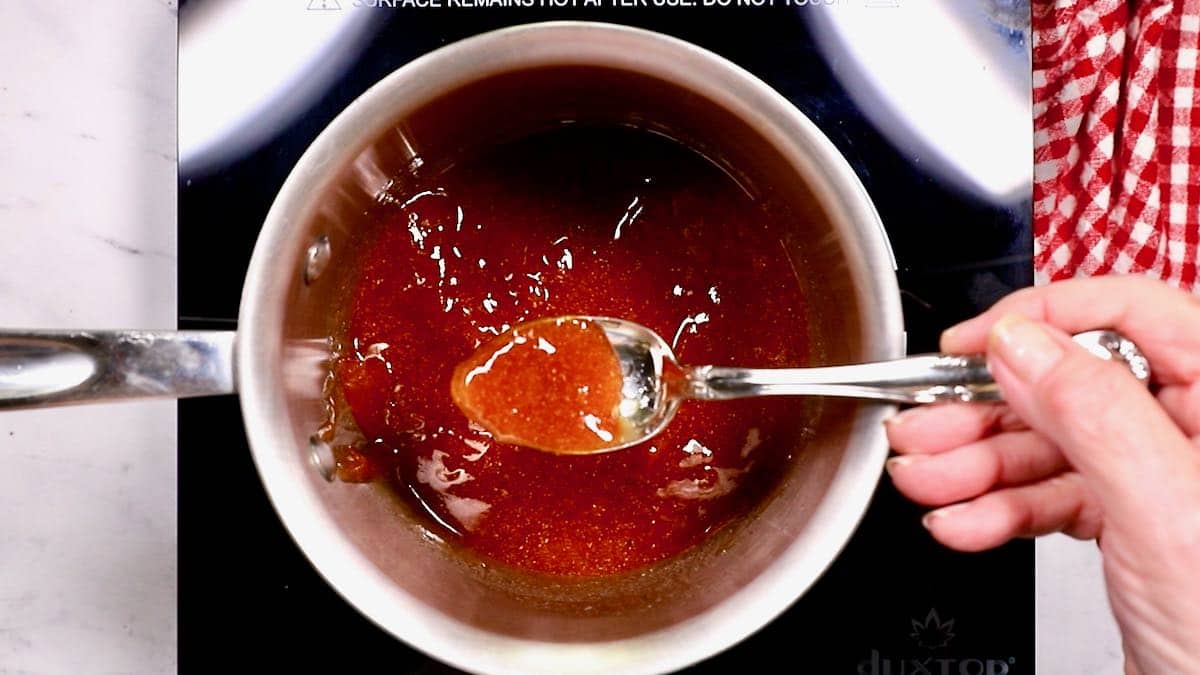 When the internal temperature of the chicken reaches 165 degrees, F. lift the lid and generously brush on the barbecue sauce. Close the lid and let the thighs continue cooking until they reach an internal temperature of 175 degrees.
Remove from the grill and serve immediately with the remaining BBQ sauce.
What to serve with this recipe:
When serving grilled or smoked main dishes, I have found simple lighter sides are best. I almost always serve my Classic Southern Potato Salad or coleslaw. Other simple sides that work well include Smoked Baked Beans, Southern Corn Salad, and Southern Broccoli Salad.
Southern Cucumber and Tomato Salad, Panzanella, Watermelon and Feta Salad, Fried Sweet Corn, Fried Cabbage with Bacon, or Southern Squash Casserole would also be great choices, as well as Fried Green Tomatoes or Mac and Cheese.
What is thin blue smoke, and why it's important in smoking:
Believe it or not, white or grey smoke billowing out of your smoker is not what you are looking for. It can be produced using too much or the wrong type of wood or adding wood before the fire has gotten hot enough.
Every smoker is different, and the techniques for achieving the desired thin blue smoke differ according to what you have.
For a Big Green Egg, you can either layer your wood chips or a chunk of wood with the charcoal, so everything gets hot at the same time or get your fire lit and burning properly before adding the wood. For this method, let the temperature stabilize, set your vents, and let any early white smoke dissipate before adding your meat.
If in doubt, err on the side of caution and use fewer chips or less wood than you think you might need; you can always add more later. You are looking for thin wisps of blueish smoke for the best flavor.
The difference between grilling and smoking:
Smoking is cooking something low and slow in a closed grill or a smoker with wood that produces smoke. Grilling means cooking something quickly over a fire.
Recipe FAQs:
Sharon's tips:
I like and usually use purchased Sweet Baby Ray's original barbecue sauce. You can use whatever tomato-based BBQ sauce you like or have on hand.
It's important to use a meat thermometer and cook the chicken to an internal temperature rather than relying on timing to tell when it's done.
In this recipe, you can substitute one-half teaspoon of dry ginger for the grated ginger.
I usually place a disposable aluminum pie plate on the plate setter under the meat I'm smoking to catch any drippings. This isn't mandatory, but it makes cleanup easier.
This recipe only calls for four chicken thighs, but there is enough dry rub and barbecue sauce for twice that many. If you are feeding a crowd, feel free to add more chicken.
I like to use chunks of wood for smoking because it lasts longer than chips. For a Big Green Egg, you don't have to soak your wood first.
Because it takes some work to get the smoker set up, and then it can pretty much cook all day, sometimes I like to batch smoke meat and either cook several types of meat at the same time or add another one once the first one comes off. For example, depending on the size of your smoker, you could smoke the chicken and a pork butt at the same time or add ribs or something else when the chicken comes off. However, remember that different types of meats will require different cooking times.
If you have them, leftovers can be stored covered in the refrigerator for three to four days. You can also store them in an airtight container in the freezer for two to three months.
📋 Recipe: