Did you know one of the top New Year's resolutions made by Americans is to spend more time with family and friends? A Super Bowl Party is a perfect opportunity to do just that! These crowd-pleasing, touchdown-worthy Super Bowl Party Food Ideas and Recipes are perfect for your game day party.
Plan to serve 5-6 different kinds of appetizers, with 3-4 pieces of each kind per person. Think of your menu as a meal and offer a variety of dishes. Also, choose at least some dishes you can make ahead of time, or at least prep ahead of time, so you aren't stressed on game day.
Check out the following quick and easy Super Bowl menu ideas and recipes:
Macho Nachos – There are some folks who like to watch football and some that are just in it for the food. A football game wouldn't be the same without nachos!
Pigs in a Blanket – Nothing fancy here, but a quick and easy classic game day treat that your guests will love.
Buffalo Chicken Dip – Buffalo Sauce, three kinds of cheese and chicken, need I say more? Quick and easy and can be made the day before, and baked the day of your party.
Buffalo Wings – I think there may be a law mandating serving wings at a Super Bowl Party. If not, there should be. This is a healthier version that is baked, not fried. I guarantee that your wing aficionados will never be able to tell the difference.
Bacon-Wrapped Dates – Bacon-wrapped anything works…. Yummy dates, stuffed with cream cheese and almonds. Simply delicious!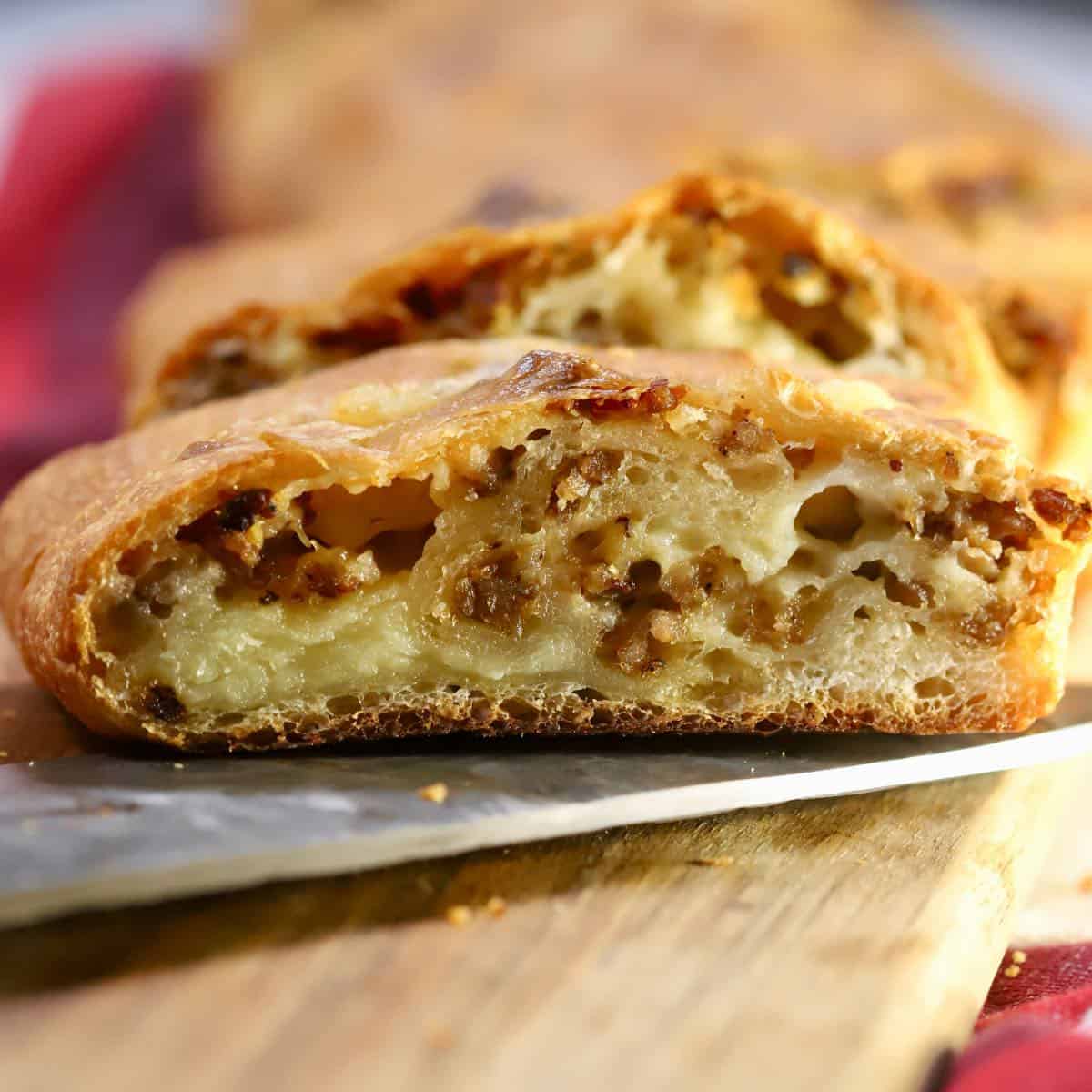 Sausage Bread – OK, not traditionally a football snack, but to heck with tradition. Make your tradition this year, with this easy, quick and delicious appetizer!
Easy Chicken Ranch Dip – I think there is a saying that"in life, nothing is easy." But in the case of this delicious and easy dip, nothing could be further from the truth! Honestly, it only takes about 5 minutes from start to finish. The ingredients are probably already in your pantry and fridge.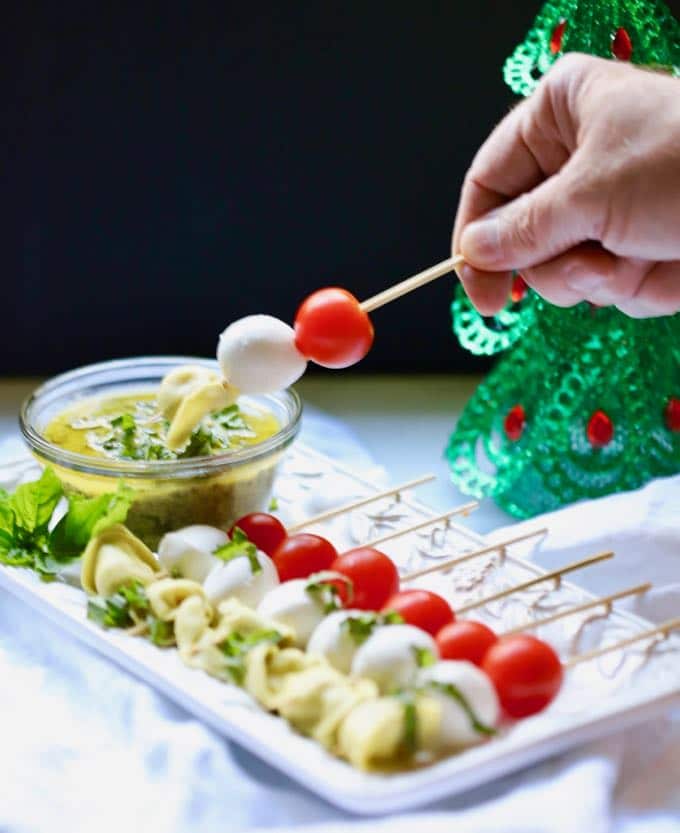 Caprese Skewers – Yes, I had to give you at least one healthy snack choice. These make-ahead skewers are just the dish to balance out the buffalo everything else.
Cranberry Jalapeno Cream Cheese Dip – My all-time very favorite dip. Make ahead, this colorful, cool and creamy dip made with fresh cranberries will wow your family and friends.
Buffalo Shrimp – These spicy shrimp are out of this world delicious. Unfortunately, they are best served right after cooking but would be a perfect dish to make and serve during half-time.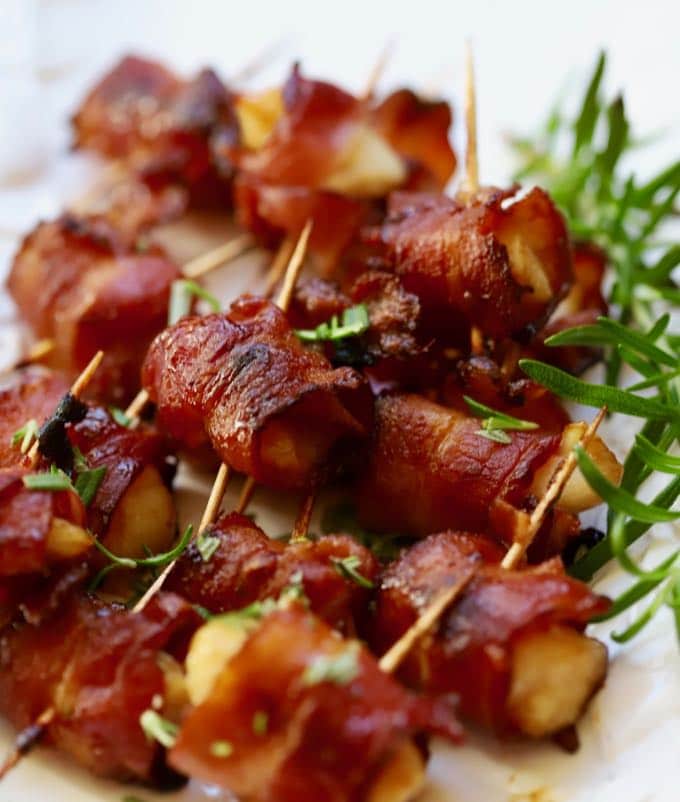 Easy Marinated Bacon-Wrapped Scallops -Easy Marinated Bacon-Wrapped Scallops are a sweet and salty, flavorful, make-ahead appetizer which is perfect for a Super Bowl Party. They are also great anytime you want to whip up a batch of delicious snacks or appetizer.
Are you looking for more quick and easy appetizer and snack ideas? Check out this post: Score Big with Super Bowl Snacks.
Keep your party and menu simple. There is no rule that you have to make everything yourself. If you are short on time or motivation, choose a few of these recipes to make, then order wings from your favorite wing joint, or a veggie platter from your grocery store deli, or pick up a pizza and cut it into bite-size snacks.
I hope whichever team you are rooting for wins!