Thanksgiving is the top food-related holiday in this country, and I know those of you that are planners, are already looking for tasty Thanksgiving Dinner Recipes and menu ideas. This resource which I've compiled includes 113 Best Thanksgiving Recipes is a one-stop resource for every recipe you could ever need to pull off the most amazing Thanksgiving Dinner ever!
I have scoured the blogosphere and received permission to share recipes from some of the top bloggers in the country to bring you this compilation of 113 Best Thanksgiving Recipes ever! There is something for everyone! I've included turkey recipes, dressing and stuffing recipes, sweet potato recipes, mashed potato recipes, awesome side dish recipes, and if that isn't enough to pique your interest, 27 insanely delicious Thanksgiving dessert recipes that will rock your world. And, for the day after Thanksgiving when you are wondering what in the world to do with all of the leftovers, I have you covered with 12 yummy recipes using your Thanksgiving leftovers.
Gobble, Gobble! It is all about the turkey! Check out these Ten Amazing Thanksgiving Turkey recipes. All recipes include easy step-by-step directions to make sure that this year's turkey is the star of the show!
Whether you call it dressing or stuffing, one of these twelve simple yet delicious Thanksgiving side dishes deserve a place of honor next to the turkey on your Thanksgiving table!
Serving one of these 15 insanely delicious sweet potato recipes from some of the top bloggers in the country will make your Thanksgiving a sweet success this year! Whether you are looking for a traditional sweet potato recipe for Thanksgiving or want a new twist on an old classic, try one of these amazing recipes!
Whether they are mashed, whipped, baked, or roasted, one of these 11 easy and awesome potato dishes should be on your Thanksgiving table! Potatoes are the most popular Thanksgiving side dish. And, one of these delicious potato recipes will please any crowd and deserves to grace your table this year.
It's not all about the turkey! One or more of these 26 mouth-watering Thanksgiving side dishes deserve a place of honor on your table!
Whether you are looking for delicious and decadent classic desserts or new twists on old favorites for the Thanksgiving, I have you covered. Check out these top-rated Thanksgiving dessert recipes featuring pumpkins, apples and everything in between from top food bloggers.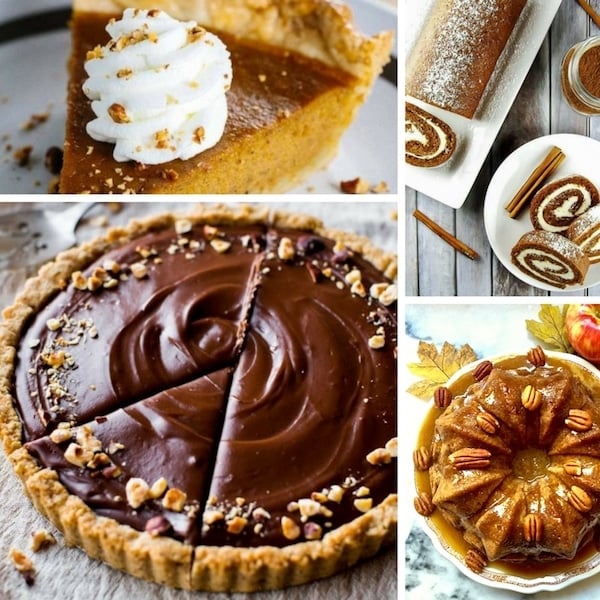 Thanksgiving is a time to be grateful! And what better way to be grateful for that yummy Thanksgiving leftover recipes.
Forget the turkey; the sides are the real star at Thanksgiving! Check out my Top 10 Thanksgiving Sides and sit back and bask in the accolades this year. These easy and traditional Thanksgiving side dish recipes include something for everyone.
Please accept my sincere appreciation for your confidence and loyalty this year. I am deeply thankful for your support and extend to you my best wishes for a happy and healthy Thanksgiving Day and a picture-perfect table with delicious food! If you get a chance, please leave me a comment and let me know which recipe ends up being your favorite. I hope you enjoy this compilation of my best Thanksgiving recipes!
May you enjoy a bountiful Thanksgiving, a joyous Holiday Season and a Happy New Year!