Thanksgiving is the top food-related holiday in this country. And, this roundup post that I've compiled includes 241 of the Best Thanksgiving Recipes and Menu Ideas. It's a one-stop resource for every recipe you could ever need to pull off the most amazing Thanksgiving dinner ever!
I have scoured the blogosphere to share these recipes from some of the top bloggers in the country to bring you this compilation of the best Thanksgiving recipes ever!
There is something for everyone, even for your pickiest eaters and those with special dietary needs! I've included turkey recipes, dressing and stuffing recipes, sweet potato recipes, and awesome side dish recipes.
If that isn't enough to pique your interest, this roundup post includes 90 insanely delicious Thanksgiving dessert recipes that will rock your world. And, for the day after Thanksgiving when you are wondering what in the world to do with all of the leftovers, I have you covered with 27 delicious recipes using your Thanksgiving leftovers.
Gobble, gobble, it's all about the turkey! This year, make one of these 22 Easy No-Fuss Thanksgiving Turkey Recipes for the most stress-free Thanksgiving ever. These simple and delicious turkey recipes deliver all of the flavor and juiciness you would expect from the perfect Thanksgiving turkey, every bite after incredible bite!
Whether you are looking for smoked, roasted, fried, or grilled turkey recipes, or plan to cook a whole turkey or just a turkey breast, I have you covered. So check out these highly-rated recipes as well as do's and don'ts for cooking the perfect turkey!
Are you looking for the best and most delicious Thanksgiving side dishes? How about yummy Thanksgiving side dishes that you can make ahead of the big day? And, would you like Thanksgiving side dish recipes that feature easy step-by-step directions as well as gluten-free, keto, paleo, vegetarian, and vegan options? Well, you have come to the right place!
Choose from reimagined Thanksgiving classics plus traditional and non-traditional choices, and new twists on old favorites with these 42 best-of-the-best Thanksgiving savory side dish recipes.
Whether you call it dressing or stuffing, one or more of these 25 Best Thanksgiving Stuffing and Dressing Recipes will be a superstar on your Thanksgiving dinner table! Packed with flavor, this festive and flavorful collection of recipes is everything you love about the holidays.
Moist and flavorful, these 25 Best Thanksgiving Stuffing and Dressing recipes from top bloggers around the country include something for everyone, including make-ahead and gluten-free options! There are also recipes made in the crock-pot and Instant Pot.
Whether you are looking for a traditional sweet potato casserole recipe or want a new twist on an old favorite, try one of these 35 of the Best and Easiest Sweet Potato Recipes for Thanksgiving. Then, sit back and enjoy the compliments!
Sweet potato casseroles are a classic Thanksgiving side-dish, right along with the turkey and dressing. But in addition to the classic casseroles, I have added paleo, gluten-free, and vegan sweet potato dishes.
Today I bring you the 50 Best Thanksgiving Dessert Recipes ever! Whether you are looking for classic or traditional Thanksgiving desserts, new twists on old favorites, or have special dietary needs, I have you covered.
These fifty crowd-pleasing, quick and easy Thanksgiving dessert recipes include gluten-free, paleo, vegetarian, vegan, and nut-free options. Your only problem will be deciding which of these scrumptious desserts to prepare!
Want even more luscious desserts to choose from? Turn your Thanksgiving into a true celebration with easy recipes and menu ideas from my 40 Best Desserts for Thanksgiving roundup. Thanksgiving is all about family and food, and your family will be thankful for these simple, mostly make-ahead desserts, which are as delicious as they are beautiful.
These 40 crowd-pleasing Thanksgiving dessert recipes also include gluten-free, paleo, vegan, sugar-free, dairy-free, and nut-free options for those with dietary restrictions.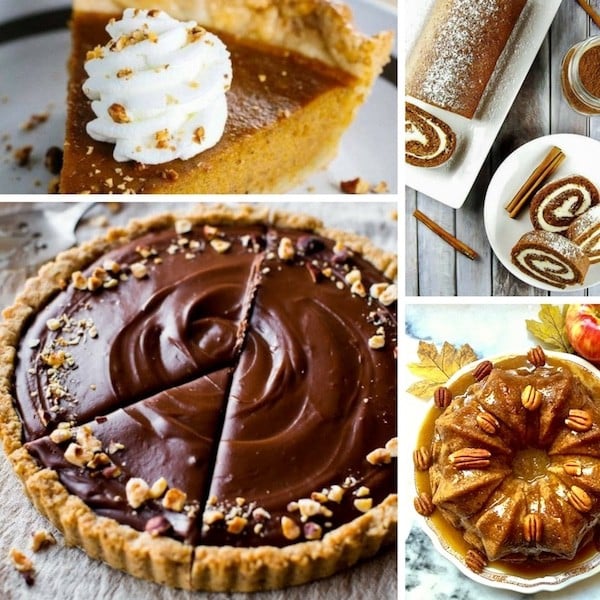 Thanksgiving is a time to be grateful! And what better to be grateful for than the delicious Thanksgiving leftovers. Enjoy these 27 Best Thanksgiving Leftover Recipes and Menu Ideas featuring both sweet and savory dishes.
Whether you have leftover turkey, mashed potatoes, cranberry sauce, or sweet potato pie, you can find a recipe here. Check out this comprehensive roundup of delicious leftover recipes designed to make your meals the day after Thanksgiving just as great as on the big day itself.
And, because Christmas isn't far behind, I thought you might be interested in these Christmas recipe roundup posts:
Please accept my sincere appreciation for your confidence and loyalty this year. I am deeply thankful for your support and extend to you my best wishes for a happy and healthy Thanksgiving Day and a picture-perfect table with delicious food!
If you get a chance, please leave me a comment and let me know which recipe ends up being your favorite. I hope you enjoy this compilation of my best Thanksgiving recipes and thank you for visiting Grits and Pinecones!
*This post was originally published in 2016. Republished on November 17, 2019, with the addition of 127 new recipes.